Doctor Strange in the Multiverse of Madness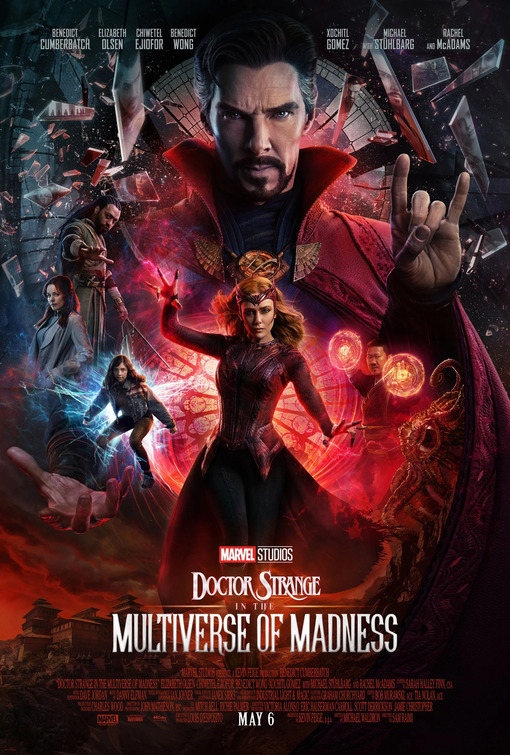 Director: Sam Raimi
Cast: Benedict Cumberbatch, Elizabeth Olsen, Rachel McAdams, Chiwetel Ejifor, Benedict Wong, Xochitel Gomez, Michael Stuhlbarg, John Krasinki, Patrick Stewart, Hayley Atwell, Lashana Lynch, Anson Mount
Running Time: 2 hours and 6 minutes
Film Rating: 6 out of 10
Six years after the first Doctor Strange film was made in 2016, Oscar nominee Benedict Cumberbatch (The Imitation Game, The Power of the Dog) reprises his role as the neurosurgeon turned warlock Doctor Steven Strange in director Sam Raimi's utterly bizarre sequel Doctor Strange in the Multiverse of Madness starring a new batch of stars while only Rachel McAdams, Benedict Wong and Chiwetel Ejifor reprise their roles from the first film.
Director Sam Raimi best known for doing the original Spiderman trilogy with Tobey Maguire and Kirsten Dunst but the director is far better known for helming some classic horror flicks including Drag Me to Hell in 2009 and The Evil Dead in 1981, takes this Doctor Strange sequel and turns the superhero genre on its head and transforms it into a ghoulish mixture of the bizarre with an extremely heavy dash of CGI thrown in. The storyline is incoherent and utterly weird.
This time Doctor Strange has to save a multiverse superhero called America Chavez played by Xochitel Gomez from the clutches of the Scarlett Witch also known as Wanda Maximoff wonderfully played with a demonic edge by Elizabeth Olsen (Avengers: Infinity War, Wind River) as she seeks to use America's superpowers to open the elusive book of Ashanti. Elizabeth Olsen is by far the best actress in this film as she gives the Scarlett Witch a degree of emotional depth and conflicting maternal instinct, making her character a far more unlikely villain.
Plenty of witchcraft and dream walking abound through a multitude of crazy universes including a particularly bizarre scene whereby Doctor Strange faces the Illuminati made up of Baron Mondo played by Chiwetel Ejifor (12 Years a Slave, Dirty Pretty Things, Kinky Boots), Captain Carter played by Hayley Atwell and wait for it…. an X-Men Professor and one of the characters of The Fantastic Four. Clearly this is not the multiverse of reality one expects.
Here the film completely loses the plot and director Sam Raimi goes for an utter freak show of scary scenes involving ghosts and demons instead of rounding off the narrative in a tightly controlled script.
After watching Benedict Cumberbatch deliver such a brilliant performance in The Power of the Dog, he looked continually anguished throughout this film at having to do a Doctor Strange sequel and not even a good one at that.
Essentially, my question is that if Marvel is so desperate to control the cinematic universe why did they get a horror director to take charge of what is meant to be a superhero film?
After watching the success of Spiderman: No Way Home and the excellent origin film The Batman, I was quite disappointed with the visual mess that is Doctor Strange in the Multiverse of Madness even despite some lavish special effects.
Doctor Strange in the Multiverse of Madness gets a film rating of 6 out of 10 and audiences should expect a superhero film which is way more scary than expected.
Downton Abbey: A New Era
Director: Simon Curtis
Cast: Maggie Smith, Hugh Dancy, Hugh Bonneville, Michelle Dockery, Dominic West, Tuppence Middleton, Elizabeth McGovern, Imelda Staunton, Penelope Wilton, Allen Leech, Nathalie Baye, Laura Haddock, Joanne Froggatt, Laura Carmichael, Sophie McShera, Robert James-Collier, Samantha Bond, Phyllis Logan, Jim Carter, Brendan Coyle, Michael Fox, Harry Hadden-Paton, Kevin Doyle, Charlie Watson, Jonathan Zaccai, Douglas Reith
Running Time: 2 hours and 5 minutes
Film Rating: 7.5 out of 10
Capitalizing on the success of the 2019 film Downton Abbey, a star studded sequel returns in its all glittering allure and this time Lady Violet Crawley wonderfully played with her usual coy dexterity by Oscar winner Maggie Smith (California Suite, The Prime of Miss Jean Brodie) reveals to her large and extended family at Downton that she has a villa in the South of France that was mysteriously left to her by a long last lover.
As Lady Crawley departs the gorgeously decorated drawing room she leaves with a final comment: "I will say good night and leave you all to discuss my mysterious past."
Oscar winning screenwriter of the acclaimed Robert Altman 2001 film Gosford Park, Julian Fellowes once again returns to fine form with a familiar cast and adds a touch of glamour as half the cast set off for the French Riviera to meet the previous owners a French mother and son, wonderfully played by Nathalie Baye (Catch Me if You Can) and Jonathan Zaccai.
As Lady Mary, beautifully played once again with a crisp diction by Michelle Dockery, holds the fort at Downton Abbey as some fast and fashionable film people arrive to use the lavish estate as a location for what they would soon learn to be one of their last silent films.
The film crew is headed up by the dashing director Jack Barber wonderfully played by Hugh Dancy (Hysteria, Late Night) accompanied with flamboyance by the film's stars Myrna Dagleish played by Laura Haddock and the male lead Guy Dexter superbly played with nuance by Dominic West (Chicago, Colette, Tomb Raider) as he reveals that he has hidden desires..
Fellowes cleverly gives all the cast members from the servants to the landed gentry equal screen time and an intriguing backstory, condensing the entire narrative into a poignant yet lavish affair which delicately reflects England and the Mediterranean at the end of the 1920's, an evolving world which saw cinema become talkies, in which American novelist F. Scott Fitzgerald made the French Riviera fashionable in July.
From the beautiful costumes to the witty dialogue, from the elegant subplots to the age old rivalry between the British and the French, Downton Abbey: A New Era is a cinematic treat expertly crafted with an ensemble cast that achieve a formidable pitch with humour and grace.
Definitely made for the fans of the brilliant TV series and the 2019 film, Downton Abbey: A New Era is highly recommended viewing and a perfect cinematic outing, which gets a film rating of 7.5 out of 10.
The Lost City
Directors: Adam and Aaron Nee
Cast: Sandra Bullock, Channing Tatum, Brad Pitt, Daniel Radcliffe, Oscar Nunez, Da'Vine Joy Randolph, Bowen Yang, Hector Anibal, Thomas Forbes-Johnson
Running Time: 1 hour and 52 minutes
Film Premiere: South by South West Film Festival – Austin, Texas, USA SXSWFF – March 2022
Film Rating: 7 out of 10
Directing duo and brothers Adam and Aaron Nee bring the fun filled adventure comedy The Lost City starring Sandra Bullock as best selling romance novelist Loretta Sage and Channing Tatum as her handsome buff cover model Dash as they have to contend with an evil media mogul wonderfully played with a sort of British panache by Harry Potter star Daniel Radcliffe.
The Lost City had its world premiere at the South by South West Film Festival in Austin, Texas, USA in March 2022 and clearly the brothers drew massive inspiration from the highly successful 1984 adventure film Romancing the Stone starring Michael Douglas, Kathleen Turner and Danny Devito.
The onscreen chemistry between Oscar winner Sandra Bullock (The Blind Side) and Magic Mike star Channing Tatum is undeniable and clearly both actors had loads of fun making this popcorn adventure film. Audiences should look out for a brief appearance by Oscar winner Brad Pitt (Once Upon a Time in Hollywood) who plays the action man Jack Trainer who when initially rescuing Loretta Sage says to him:
"Why are you so Handsome?"
Trainer replies casually after taking out six swarthy looking Dominicans, "My Father was a Weatherman!"
Other notable performances is Da'Vine Joy Randolph (The United States vs. Billie Holiday) as Loretta's exasperated publisher and book agent Beth Hatten who takes it upon herself to track down her No. 1 wayward romance adventure novelist Loretta Sage after mysteriously being kidnapped by the crazy Abigail Fairfax played by Daniel Radcliffe (Victor Frankenstein, Kill Your Darlings, Harry Potter and the Deathly Hallows) who clearly relished the chance of playing the villain in The Lost City.
It was comforting to see a near full auditorium when watching The Lost City and if audiences love an entertaining action adventure comedy then this film is for them.
Directors Adam and Aaron Nee kept the tone of the film extremely light making it a pure escapist adventure film helped by the sheer entertainment value of seeing the Miss Congeniality star Sandra Bullock act opposite two much younger leading men: the hilarious Channing Tatum and the super talented Daniel Radcliffe.
Take the kids, go and watch The Lost City, it's a well-rounded adventure film shot in the Dominican Republic. The Lost City gets a film rating of 7 out of 10 and is recommended viewing.
The 75th British Academy Film Awards, also known as the BAFAs, were held on 13 March 2022 at the Royal Albert Hall in London, honouring the best national and foreign films of 2021.
Best Film: The Power of the Dog
Best Director: Jane Campion – The Power of the Dog
Best Actor: Will Smith – King Richard
Best Actress: Joanna Scanlan – After Love
Best Supporting Actor: Troy Kotsur – CODA
Best Supporting Actress: Ariana de Bose – West Side Story
Best British Film: Belfast directed by Kenneth Branagh
Best Original Screenplay: Licorice Pizza – Paul Thomas Anderson
Best Adapted Screenplay: CODA
Best Costume Design: Jenny Beavan – Cruella
Best Foreign Language Film: Drive My Car directed by Ryûsuke Hamaguchi
Rising Star Award: Lashana Lynch
Ambulance
Director: Michael Bay
Cast: Jake Gyllenhaal, Yahya Abdul-Mateen II, Eiza Gonzalez, Garret Dillahunt, Keir O'Donnell, Jackson White, Moses Ingram, Colin Woodell, Cedric Sanders
Running Time: 2 hours and 16 minutes
Film Rating: 6.5 out of 10
Transformers and Armageddon director Michael Bay returns to the big screen with a California heist film Ambulance set in downtown Los Angeles and features to foster brothers Danny and Will Sharp played respectively by Oscar nominee Jake Gyllenhaal (Brokeback Mountain) and Emmy winner Yahya Abdul-Mateen II (Watchmen).
Danny lures Will into helping him with one last heist job at a Federal building in downtown Los Angeles and soon everything literally goes pear-shaped and amidst a massive shootout, Danny and Will escape in an ambulance transporting a wounded police officer played by Jackson White and accompanied by a beautiful headstrong paramedic Cam Thompson played by Eiza Gonzalez last seen in Baby Driver.
Captain Monroe, played by Garrett Dillahunt (12 Years a Slave, No Country for Old Men) and his band of armed policemen try to pursue the Ambulance until Danny Sharp unwittingly calls in the assistance of the Mexican gang to distract the police as the chase continues through the myriad of freeways, off ramps and roadways of downtown Los Angeles.
Director Michael Bay frames the city shots of Los Angeles with some sweeping takes including all the downtown skyscrapers whilst also managing to capture the trauma and anxiety of what is happening inside the Ambulance including keeping police officer Zach alive while the vehicle is being shot at and chased incessantly.
As the situation becomes increasingly desperate, the outlandish narrative takes too long to wrap up even though the action keeps audiences glued to the screen. At 2 hours and 16 minutes, Ambulance could have been edited by at least half an hour.
If audiences enjoy a good action, car chase bank robbery film, then Ambulance is just for you. It's filled with crazy car chases, sweeping road carnage and enough plot twists to keep audiences guessing right up until the medical vehicle reaches its intended destination.
Jake Gyllenhaal and Yahya Abdul-Mateen II both are very good in their respective roles particularly the latter as he realizes how crazy his estranged foster brother really is. Let's face it, Jake Gyllenhaal can play crazy in a cool kind of way!
Ambulance is an entertaining heist action film, big on flashy images of a city scape twisted by glass skyscrapers and fast cars on freeways featuring some desperate characters trying to get out of a really tense situation.
Ambulance gets a film rating of 6.5 out of 10 and while not entirely plausible, it certainly is a perfect popcorn action flick.
94th Academy Awards took place on Sunday 27th March 2022 at the Dolby Theatre in Hollywood, Los Angeles.
Best Picture: CODA
Best Director: Jane Campion – The Power of the Dog
Best Actor: Will Smith – King Richard
Best Actress: Jessica Chastain – The Eyes of Tammy Faye
Best Supporting Actor: Troy Kotsur – CODA
Best Supporting Actress: Ariana deBose – West Side Story
Best Original Screenplay: Kenneth Branagh – Belfast
Best Adapted Screenplay: Sian Heder – CODA
Best Cinematography: Greig Fraser – Dune
Best Costume Design: Jenny Beavan – Cruella
Best Make up & Hairstyling: The Eyes of Tammy Faye
Best Visual Effects: Dune
Best Film Editing: Joe Walker – Dune
Best Sound: Dune
Best Production Design: Dune
Best Documentary Feature: Summer of Soul directed by Questlove, Joseph Patel, Robert Fyvolent and David Dinerstein
Best Documentary Short Subject: The Queen of Basketball – directed by Ben Proudfoot
Best Live Action Short Film:
Best Original Score: Hans Zimmer – Dune
Best Original Song: No Time to Die – Billie Eilish and Finneas O'Connell
Best Animated Feature Film: Encanto
Best Animated Short Film:
Best Foreign Language Film: Drive My Car directed by Ryusuke Hamaguchi (Japan)
Mothering Sunday
Director: Eva Husson
Cast: Odessa Young, Josh O'Connor, Oscar winner Colin Firth (The King's Speech), Oscar winner Olivia Colman (The Favourite), Oscar winner Glenda Jackson (Women in Love, A Touch of Class), Patsy Ferran, Emma D'Arcy, Caroline Harker, Emily Woof, Sope Dirisu, Craig Crosbie, Simon Shepherd
Running Time: 1 hour 44 minutes
Film Rating: 7 out of 10
In a similar tone to director Joe Wright's film adaptation of Ian McEwan's novel Atonement, French director Eva Husson boldly adapts acclaimed British author Graham Swift's 2016 period romance novel Mothering Sunday to the big screen featuring some startlingly fresh and candid performances by Odessa Young and Josh O'Connor as the ill-fated lovers.
Rising star Josh O'Connor best known for his portrayal of the young Prince Charles in the Netflix series The Crown plays the only surviving son Paul Sheringham, a wealthy aristocrat who has an explicit affair with the house maid of his parents' best friends The Nivens, wonderfully played respectively by Oscar winners Colin Firth (The King's Speech) and Olivia Colman (The Favourite).
The nubile and unconventional housemaid in question is the beautiful Jane Fairchild, gorgeously played by the Australian actress Odessa Young.
Set almost entirely on a beautiful Spring day on the 30th March 1924, Jane Fairchild takes advantage of her liberty and commits to an illicit liaison with Paul Sheringham at his family estate before he is meant to meet his parents and future fiancée Emma Hobday played by Emma D'Arcy for a lavish lunch. Much of the film takes place during this gorgeous day as Paul and Jane spend a forbidden and passionate morning together while some of Paul's stuffy family members and friends are expecting his arrival at a very elegant lunch at Henley on Thames.
Mothering Sunday is a French take on how they view the British upper classes and director Eva Husson beautifully uses the young lovers in all their nudity to expose the decay of the rigid class lines that used to keep the British class system intact, which began unravelling spectacularly between the two World Wars.
Without the moral depth or psychological complexity of Atonement, Mothering Sunday is a stunning and sensual period film about forbidden love and the journey one young woman takes to becoming a writing, her courage to change her accepted place in society and evolve from being a housemaid to eventually becoming a famous writer.
At the end of the film the central character is seen in contemporary times and Jane Fairchild as a mature and established writer is portrayed by 1970's Oscar winner and screen legend Glenda Jackson (A Touch of Class, Women in Love) as she ruminates thoughtfully on her success at becoming a famous writer while looking back on that one fateful encounter with a posh young man which would change her life and inspire her creative genius.
Mothering Sunday is a languid British period film which is drawn out in parts but equally provocative.
Held together by a top calibre supporting cast, Mothering Sunday gets a film rating of 7 out of 10 and is worth seeing especially for the central performances by the two young and talented stars: Josh O'Connor and Odessa Young.
The Batman
Director: Matt Reeves
Cast: Robert Pattinson, Zoe Kravitz, Colin Farrell, Paul Dano, Jeffrey Wright, John Turturro, Peter Sarsgaard, Andy Serkis, Rupert Penry-Jones
Running Time: 2 hours and 56 minutes
Film Rating: 8.5 out of 10
War for the Planet of the Apes director Matt Reeves goes full out for the highly anticipated Batman remake simply called The Batman featuring Robert Pattinson as the stubbled caped crusader ready to fight off all Gotham's evil creatures. In this case there are several.
Drawing massive inspiration from such films as Ridley Scott's Blade Runner and David Fincher's Seven, Matt Reeves paints Gotham as a dark and seedy metropolis filled with particularly twisted individuals, corrupt politicians and a serial killer that leaves cryptic clues while he livestreams killing his victims.
Gotham becomes a City of Vengeance as The Batman has to battle the entirely twisted The Riddler superbly played with a particular sinister panache by Paul Dano (There will be Blood, 12 Years a Slave, Little Miss Sunshine). Paul Dano's The Riddler accurately rivals Joaquin Phoenix's Oscar winning portrayal of Joker in 2019.
Besides The Riddler that Batman has to contend with, there is the slinky Catwoman wonderfully played with a nefarious independence by Zoe Kravitz (Mad Max: Fury Road). The onscreen chemistry between Kravitz and Pattinson is electrifying as they reluctantly band together to track down The Riddler while also dealing with The Penguin played by an unrecognisable Colin Farrell (In Bruges, The Gentleman, The Beguiled) who is the henchman to the reclusive city gangster Carmine Falcone superbly played by John Turturro (Barton Fink, Quiz Show, Jungle Fever).
Screenwriters Matt Reeves and Peter Craig delve into all the Bruce Wayne mythology, including the dark and treacherous past of Bruce Wayne's wealthy parents and their link with the Arkham asylum.
Robert Pattinson comes across as a less confident Batman, a Billionaire cape crusader less comfortable with becoming the saviour of the city, until he reconciles that this is his destiny. Pattinson's Batman is far different from Ben Affleck as the arrogant Batman or Christian Bale as the wealthy, snobbish Batman who feels that it his right to defend the city because he inherited billions.
Pattinson is brilliant in the role of The Batman giving the iconic screen character a three dimensionality never seen before especially when forced to deal with the criminally insane but ingenious The Riddler who Paul Dano portrays as an extraordinary orphan with a meticulous grudge to bear against the rich, corrupt and powerful.
From the seedy nightclubs of Gotham including 44 below, from Zoe Kravitz's excellent interpretation of Catwoman, from the brilliant pacing of the film, from the quietly dark periods before the explosions rock the outskirts of Gotham and all hell breaks loose, The Batman gets a film rating of 8.5 out of 10.
This is a long film but director Matt Reeves gives every cinema goer their money's worth. This interpretation of The Batman is enthralling, gothic and grungy. Highly recommended viewing.
Belfast
Director: Kenneth Branagh
Cast: Jamie Dornan, Caitriona Balfe, Judi Dench, Ciaran Hinds, Jude Hill, Lewis McAskie
Film Rating: 9 out of 10
Running Time: 1 hour and 38 minutes
Director Kenneth Branagh delivers a stunning film, a cinematic ode to his childhood in Belfast in the film Belfast featuring an excellent cast including Jamie Dornan (The 9th Life of Louis Drax), Caitriona Balfe (Ford v Ferrari) Oscar winner Judi Dench (Shakespeare in Love) and Ciaran Hinds (Tinker Tailor Soldier Spy, Hamlet).
Set in August 1969, when the troubles began in Belfast, the entire film is viewed through the eyes of 9 year old boy Buddy brilliantly played by Jude Hill in his first ever cinematic role.
Shot mostly in Black and White, Belfast is an excellent film held together by superb supporting performances particularly from Judi Dench and Ciaran Hinds as Buddy's grandparents who are ultimately the ones that he will leave behind.
As buddy's parents' battle with the political and economic instability of Belfast at the end of the 1960's the lure of safer work opportunities in England, Buddy has to contend with his parents making this momentous decision to emigrate and leave for a more secure future.
As emigration and exodus affects families and communities around the world even more pertinently today from the Ukraine to South Africa, Belfast is an extremely relevant story, an ode to a city that was torn apart by sectarian violence and looting. Belfast could be a stand in for any city in the world that has experienced such devastation when the root of all communities is pulled out. That root is the family.
What makes Belfast as mesmerizing as a film is director Kenneth Branagh's unique perspective on an extremely difficult topic: a family's decision to emigrate from their home country amidst increasing political instability.
Peppered with shots from old films and trips to the theatre, Belfast is a brilliantly poignant film, expertly captured and shot by director Kenneth Branagh and beautifully acted by the entire cast from Jamie Dornan and Caitriona Balfe as Buddy's parents to the sad acceptance and subtle strength of Buddy's grandparents who soon realize that their son and his family and their grandchildren will be leaving them forever.
With a mixture of mischief and innocence, the superb performance of Jude Hill as Buddy is the emotional centre of the entire story of Belfast.
Both Judi Dench and Ciaran Hinds are phenomenal as Buddy's caring but stoic grandparents and deserve all the acting accolades already heaped upon them.
Belfast gets a film rating of 9 out of 10 and is highly recommended viewing, a fitting and beautiful tribute to a city torn apart by strife but then slowly re-emerging as the stable and flourishing capital of contemporary Northern Ireland.
Uncharted
Director: Ruben Fleischer
Cast: Tom Holland, Mark Wahlberg, Antonio Banderas, Sophia Ali, Tati Gabrielle, Steven Waddington
Film Rating: 7 out of 10
Running Time: 1 hour 56 minutes
Gangster Squad and Venom director Ruben Fleischer delivers a slick and glossy adventure film Uncharted set in New York City, Barcelona and the Philippines featuring the man of the moment British star Tom Holland as Nathan Drake opposite Oscar nominee Mark Wahlberg (The Departed, The Fighter) as Victor Sullivan.
Based upon the Playstation action adventure video game, Uncharted tracks the adventures of the treasure hunter Nathan Drake as he searches for his long last brother whose last words are "Things are lost but not gone". Nathan gets ensnarled into an international search for the Spanish explorer Magellan's gold which is rumoured to be somewhere in the Philippines archipelago.
Drake teams up with trickster Victor Sullivan as they track down an infamous gold and ruby encrusted ancient cross from a swish auction house in New York City to Barcelona as the duo come across an array of equally dodgy characters including the wealthy Spaniard Santiago Moncada wonderfully played by Oscar nominee Antonio Banderas (Pain and Glory) the mysterious Braddock played by Tati Gabrielle and the gruff Scotsman played by Steven Waddington (The Last of the Mohicans, The Imitation Game).
While the first half of Uncharted takes a while to get going, the onscreen chemistry between Tom Holland and Mark Wahlberg is mesmerizing particularly as it is mostly the extremely buff and energetic Tom Holland fresh from his hugely successful blockbuster Spiderman: No Way Home that performs most of the outrageous stunts from dangling from light fitting in Manhattan to sky diving out of aeroplanes with sports cars over the Philippines.
The second half of Uncharted is pure entertainment much like a real action adventure story and is worth seeing. While the script of Uncharted is not superb, it's also not meant to be as this is a film based on a video game. The main idea is to have the live action characters embodied on screen by two extremely likeable actors who should attract a large audience.
Clearly Tom Holland and Mark Wahlberg had loads of fun making this film and ensuring that audiences leave the cinema with a smile on their face as the closing credits role on. And be sure to stay beyond the ending for a hint that Uncharted will be the start of a franchise.
Look out for a captivating Sophia Ali as Chloe Frazer as the love interest of Nathan Drake.
Uncharted is basically an Indiana Jones for the Instagram generation and which better actor to put in lead role than the gorgeous Tom Holland who proves he can hold his own in a big budget action film which doesn't involve spandex or CGI.
Fabulously entertaining and packed with action and adventure, Uncharted gets a film rating of 7 out of 10. Recommended viewing.