Red Sparrow
Director: Francis Lawrence
Cast: Jennifer Lawrence, Joel Edgerton, Matthais Schoenaerts, Charlotte Rampling, Jeremy Irons, Ciaran Hinds, Mary-Louise Parker, Joely Richardson, Sakina Jaffrey, Douglas Hodge
Based upon the novel by former CIA Jason Matthews and adapted into a screenplay by Justin Haythe, Hunger Games director Francis Lawrence starts off Red Sparrow promisingly splicing a dodgy spy deal in Gorky Park with a fantastic ballerina sequence clearly inspired by Darren Aronofsky's Black Swan.
Set in Moscow and Budapest, Red Sparrow has a robust cast which should have delivered a lot more.
Oscar winner Jennifer Lawrence (Silver Linings Playbook) stars as ballerina turned spy Dominika Egorova who is coerced into joining the SVR (Russian intelligence) by her creepy uncle Vanya played by Matthais Schoenaerts (Far From the Madding Crowd) if she wants to keep looking after her sick mother Nina played by an unrecognizable Joely Richardson.
Dominika is sent to Sparrow school supervised by the manipulative Matron played by Oscar nominee Charlotte Rampling (45 Years) where she is vigorously taught the art of seduction and psychological warfare. Joel Edgerton plays Nate Nash an American CIA operative whom Dominika has to get close to.
What follows is a raunchy and long two and 20 minute tale about double crossing spies in Budapest and Moscow, with enough undercurrent tones which makes this film distinctly anti-Russian.
What bothered me is that the Russians actually make brilliant films, see Burnt by the Sun and there are some talented Russian screen actors out there but to populate an entire film about Russians with American, British and Australian actors is always questionable.
Red Sparrow would have been an engrossing spy drama if the script was more illuminating and resorted less to gratuitous sex scenes to spice up a convoluted story line.
The only actor who made a distinct impression, besides the remarkable Oscar winner Jeremy Irons (Reversal of Fortune) as the scheming General Korchnoi, was Mary-Louise Parker as the vodka swigging double agent Stephanie Boucher who audiences briefly glimpse in a London hotel room.
Red Sparrow despite some definable onscreen chemistry between Joel Edgerton and Jennifer Lawrence, plays like a bad 1980's spy drama, without a hint of nuance or narrative thrust. Director Frances Lawrence could have also toned down the torture sequences which were embellished for dramatic effect much like the steamy nudity.
Red Sparrow was entertaining but could have been so much better, but also the timing of this film being released just after the Oscar season is unfortunate marketing.
Red Sparrow gets a Film Rating of 6.5 out of 10 and could have been edited by at least 30 minutes.
Phantom Thread
Director: Paul Thomas Anderson
Cast: Daniel Day-Lewis, Lesley Manville, Vicky Krieps, Brian Gleeson, Gina McKee
Inherent Vice and The Master director Paul Thomas Anderson reunites with his Oscar winning star of There Will Be Blood which Anderson also directed, the hugely talented Daniel Day-Lewis in his new handsomely crafted film Phantom Thread.
Moving away from America, Paul Thomas Anderson sets Phantom Thread in 1950's post-war England in the glamourous yet stifling world of British fashion as Daniel Day-Lewis plays the fastidious fashion designer Reynolds Woodcock in a fine Oscar-nominated performance.
Like The Master, Phantom Thread incisively explores the intricacy of human relationships as the film centres on the tumultuous relationship between Woodcock, who hates to be disturbed at breakfast and his young muse, turned model, Alma, a superb performance by Luxembourgian actress Vicky Krieps who fills the screen with an unrivaled radiance.
This radiance is counterpointed by the incisive performance of British actress Lesley Manville (Maleficent, Mr Turner) as the immaculate sister of Reynolds, oddly named Cyril, whose ambivalent sexuality and headstrong business sense ensues that her talented brother is seldom thrown off course. Lesley Manville is utterly brilliant as Cyril and received an Oscar nomination for her integral supporting performance.
What really makes Phantom Thread worth seeing are the beautiful costumes designed by Mark Bridges who won an Oscar for Costume Design for this film as well as for director Michel Hazanavicius's Oscar winning film The Artist.
Central to Phantom Thread's narrative is the intense relationship between the feisty and young Alma and the brilliant yet tortured Reynolds Woodcock who naturally displays all the obsessiveness of his craft including retrieving a gorgeous emerald dress from a drunken society lady after her wedding.
Phantom Thread is a slow moving drama, supported by exceptional performances by Daniel Day-Lewis and Lesley Manville and will certainly appeal to audiences that have a love of fashion or have enjoyed Paul Thomas Anderson's previous films which are at times obscure, thought-provoking and significant. His filmography includes The Master, Boogie Nights and Inherent Vice and the Oscar winning There will be Blood.
Apparently Phantom Thread is to be Daniel Day-Lewis's last film as he hints at retirement, but hopefully it won't be his last onscreen performance as he has enjoyed a sumptuous career starting with a minor role in the Merchant Ivory film A Room with a View and appearing as Newland Archer in Martin Scorsese's The Age of Innocence. The supremely talented Day-Lewis is one of only a handful of actors to win three Best Actor Oscars for My Left Foot, There Will Be Blood and lastly in Steven Spielberg's Lincoln leaving an incomparable acting legacy behind.
Daniel Day-Lewis leaves behind an illustrious acting career in cinema and it's for this reason that Phantom Thread is worth seeing. His performance as the creative, yet obsessive fashion designer Reynolds Woodcock is flawless, exemplifying all the intensity and pressure of design.
Phantom Thread gets a film rating of 7.5 out of 10 and is a highly recommended period drama.
The 90th Academy Awards / The Oscars
Sunday 4th March 2018
OSCAR WINNERS AT THE 90TH ANNUAL ACADEMY AWARDS
Best Picture: The Shape of Water
Best Director: Guillermo del Toro – The Shape of Water
Best Actor: Gary Oldman – Darkest Hour
Best Actress: Frances McDormand – Three Billboards outside Ebbing, Missouri
Best Supporting Actor: Sam Rockwell – Three Billboards outside Ebbing, Missouri
Best Supporting Actress: Allison Janney – I, Tonya
Best Original Screenplay: Jordan Peele – Get Out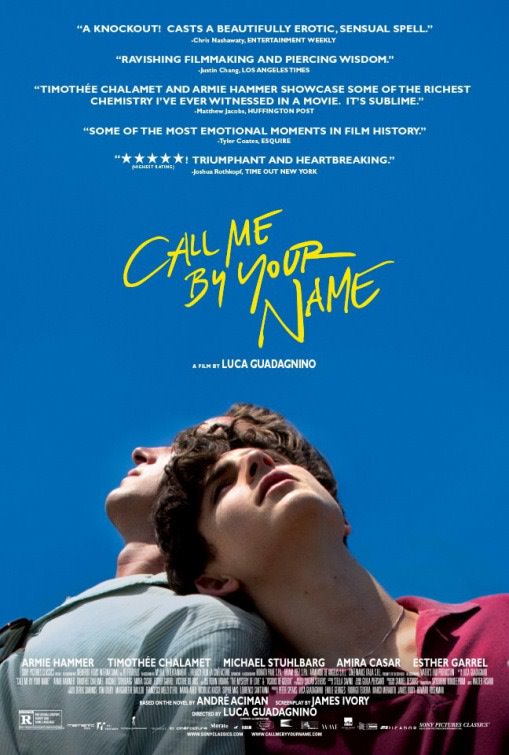 Best Adapted Screenplay: James Ivory – Call Me by Your Name
Best Cinematography: Roger Deakins – Blade Runner 2049
Best Costume Design: Mark Bridges – Phantom Thread
Best Make up & Hairstyling: David Malinowski, Lucy Sibbick and Kazuhiro Tsuji – Darkest Hour
Best Visual Effects: Richard R. Hoover, Paul Lambert, Gerd Nefzer and John Nelson – Blade Runner 2049
Best Film Editing: Lee Smith – Dunkirk
Best Sound Editing: Alex Gibson and Richard King – Dunkirk
Best Sound Mixing: Gregg Landaker, Gary A. Rizzo and Mark Weingarten – Dunkirk
Best Production Design: Paul Denham Austerberry, Jeff Melvin and Shane Viseau – The Shape of Water
Best Documentary Feature:  Icarus – Dan Cogan & Bryan Fogel
Best Original Score: Alexandre Desplat – The Shape of Water
Best Animated Feature Film: Coco
Best Foreign Language Film: A Fantastic Woman directed by Sebastian Lelio (Chile)
THE  71st BAFTA AWARDS /
THE BRITISH ACADEMY FILM AWARDS
Took place on Sunday 18th February 2018 in London at the Royal Albert Hall
BAFTA WINNERS IN THE FILM CATEGORY:
Best Film: Three Billboards outside Ebbing, Missouri
Best Director: Guillermo del Toro – The Shape of Water
Outstanding British film: Three Billboards outside Ebbing, Missouri directed by Martin McDonagh
Best Actor: Gary Oldman – Darkest Hour
Best Actress: Frances McDormand – Three Billboards outside Ebbing, Missouri
Best Supporting Actor: Sam Rockwell – Three Billboards outside Ebbing, Missouri
Best Supporting Actress: Allison Janney – I, Tonya
Rising Star Award: Daniel Kaluuya
Best Visual Effects – Blade Runner 2049
Best Production Design: The Shape of Water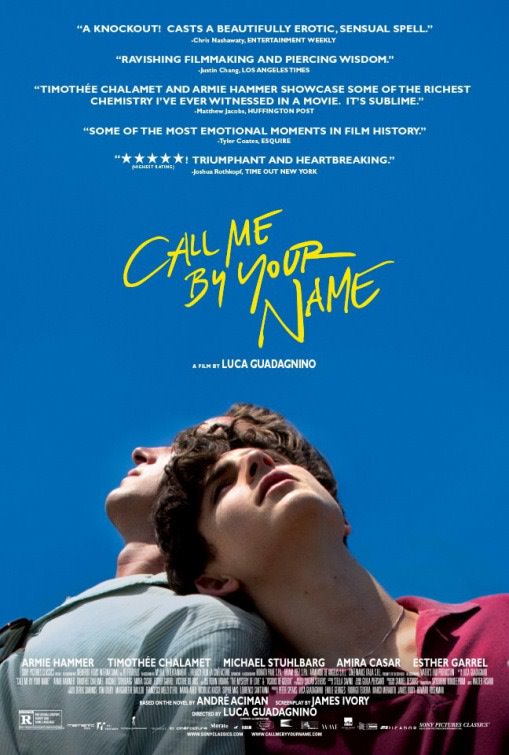 Best Adapted Screenplay: James Ivory – Call Me by Your Name based upon the novel by Andre Aciman
Best Original Screenplay: Martin McDonagh – Three Billboards outside Ebbing, Missouri
Best Editing: Baby Driver
Best Costume Design: Phantom Thread
Best Original Score: Alexandre Desplat – The Shape of Water
Best Hair and Makeup: Darkest Hour
Call Me by Your Name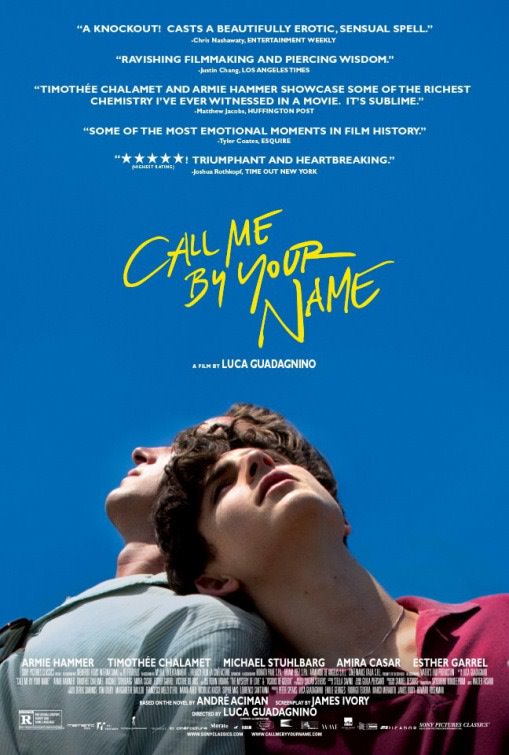 Director:  Luca Guadagnino
Cast: Timothee Chalamet, Armie Hammer, Michael Stuhlbarg, Amira Casar, Esther Garrel, Victorie du Bois
Andre Aciman's sensuous 1988 debut novel Call Me by Your Name is skilfully adapted into a superb screenplay by James Ivory of Merchant Ivory fame and beautifully brought to the big screen by Italian director Luca Guadagnino.
Call Me by Your Name centres on the erotic summer romance of Elio, a young Jewish Italian boy discovering the essence of his sexuality and his parents American house guest, a 24 year old American classics student Oliver wonderfully played by Armie Hammer (The Man from Uncle) in possibly his best on screen role yet, who is staying with the family in the summer of 1983 as a cultural exchange.
It is the break out performance of star Timothee Chalamet as the restless Elio which is the cinematic revelation and as he deftly centres the film in all its beauty skillfully conveying the nonchalance of youth and his perpetual desire for self-discovery.
Elio's parents Mr Perlman played by Michael Stuhlbarg (The Shape of Water) and Annella played by Amira Casar who are a liberal and fairly affluent Italian couple who allow their only son, young Elio all the indulgences of youth.
Director Luca Guadagnino sumptuously captures the Italian country summer creating a gorgeous landscape for Elio and Oliver to indulge in an intimate and erotic affair which is tenderly portrayed without moral judgement or vulgarity, a beautiful depiction of sexual discovery and emotional resonance made poignant by the brevity of their idyllic romance.
In a particularly insightful scene between Elio and his compassionate father, Mr Perlman utters the significant line: "Nature has a cunning way of finding our weakest spot."
Timothee Chalamet captures all the confusion and emotional insecurity of his various sexual encounters with a luminosity seldom seen in cinema today. Chalamet is indeed a star to watch out for. The luxuriant and lingering tone of the film transports audiences into a languid Italian summer, a beautiful sensuous stupor which they will find difficult to relinquish even as the closing credits appear on the screen.
Call Me by Your Name is beautifully acted particularly by its two male leads and superbly shot, making the film a mesmerizing cinematic experience. There are very few films being produced like this today and Luca Guadagnino captures that visual rarity of a first love on screen with a tenderness and beauty which is reminiscent of the Roman statue from antiquity emerging from Lake Garda.
Audiences that enjoyed the early Merchant Ivory films like Maurice and A Room with a View will love Call Me by Your Name.
This evocative film gets a rating of 9.5 out of 10 and is one of the most exquisite films I have seen aided by an equally brilliant soundtrack.
Black Panther
Director: Ryan Coogler
Cast: Chadwick Boseman, Lupita Nyong'o, Michael B. Jordan, Sterling K. Brown, Daniel Kaluuya, Martin Freeman, Andy Serkis, Forest Whitaker, Danai Gurira, Letitia Wright, Angela Bassett, Winston Duke, John Kani
Marvel successfully diversifies its Avengers universe with an inventive self-sustaining Black Panther film. The Black Panther aka T'Challa who becomes king of the technologically advanced yet exclusive central African kingdom of Wakanda after his father T'Chaka played by South Africa's John Kani is killed in an assassination.
Creed director, Ryan Coogler assembles an all-star cast for Black Panther including Oscar winners Lupita Nyong'o (12 Years a Slave) as Black Panther's love interest, the beautiful and noble Nakia as well as Forest Whitaker (The Last King of Scotland) as Zuri along with Angela Bassett as Black Panther's regal mother and Queen of Wakanda, Ramonda.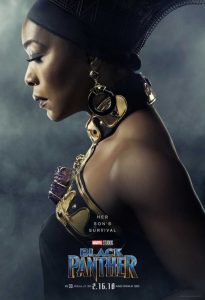 Black Panther has to fight off the likes of a crazy South African mercenary Ulysses Klaue dubiously played with a terrible accent by Andy Serkis (War for the Planet of the Apes) attempting to steal smuggled vibranium from Wakanda at a buying exchange in Busan, South Korea, a scene in the film which is both brilliantly shot and innovatively orchestrated with a virtual reality car chase sequence.
Back on African soil, T'Challa soon realizes that the real enemy is the American born Erik Killmonger wonderfully played by Michael B. Jordan (Fantastic Four). With the able assistance of his cheeky sister Shuri fantastically played by British-Guyanese star Letitia Wright, Black Panther manages to fight Killmonger in a noble duel about the paternal claim to be the future King of Wakanda.
Director Ryan Coogler ingenuously incorporates lots of African tribalism and cool technology into Black Panther however he does take the superhero genre too seriously by unashamedly politicizing it. This is the Avengers after all, which Spiderman has just joined. Superhero movies are meant to be pure escapism, which is precisely why director Taika Waititi's Thor: Ragnorak was such a refreshingly funny movie.
What remains to be seen is how effectively Black Panther will be blended into the mainstream Avengers films with the new Avengers: Infinity War opening soon. Chadwick Boseman is not as convincing as the main hero, Black Panther as his counterpart Michael B. Jordan who relishes playing the ruthless villain.
Lupita Nyong'o holds her own and kicks some butt in Black Panther as does rising star Letitia Wright who is an actress to watch out for. Golden Globe winner Sterling K. Brown has a minor role while Oscar nominee Daniel Kaluuya (Get Out) is suitably untrustworthy as Black Panther's best friend and Wakanda protector W'Kabi.
Whether the much hyped Black Panther's initial success in African cinemas is translated commercially to international audiences globally remains to be seen, yet the effort and rejuvenation of the highly anticipated Black superhero genre is applauded and provides starring roles for a host of African-American stars who have been clamouring for their own identifiable superhero film.
Marvel fans that enjoyed Captain America: Civil War and The Avengers franchise will certainly appreciate Black Panther, despite some uneven performances. At least now there is a guaranteed diversity of fans attending Comic-Con especially since its coming to Johannesburg in late 2018.
For all its vibrant celebrations of African culture, Black Panther gets a film rating of 7 out of 10.
All the Money in the World
Director: Ridley Scott
Cast: Michelle Williams, Mark Wahlberg, Christopher Plummer, Timothy Hutton, Charlie Plummer, Romain Duris, Andrew Buchan
Gladiator and Blade Runner director Ridley Scott returns to the big screen with a true life Italian kidnap drama All the Money in the World starring Oscar winner Christopher Plummer (Beginners) as oil billionaire J. Paul Getty whose 16 year old grandson J. Paul Getty III expertly played with a nuanced vulnerability by Charlie Plummer, is kidnapped in Rome in the summer of 1973, based on actual events.
Paul Getty III known as Paul whose mother Gail Getty superbly played by Oscar nominee Michelle Williams (Manchester by the Sea, My Week with Marilyn) who should have received another Oscar nomination for her role in this film, is caught in a precarious situation when she cannot physically pay the $17 million ransom demanded by the thuggish kidnappers.
Gail Getty desperately pleads with her immensely wealthy father-in-law who categorically refuses to pay the ransom for the reasons that if he had to pay $17 million for every grandchild of his that got kidnapped, it would dent his already vast fortune. Ruthless, selfish and thoroughly frugal, J. Paul Getty made his vast fortune through drilling for oil in Saudi Arabia in the late 1940's.
Similar to his Oscar nominated performance as Tolstoy in The Last Station, Christopher Plummer adds gravitas and respectability to the role of Oil Tycoon J. Paul Getty who surrounded himself with priceless antiquities and an expensive art collection worth millions on his massive Getty's estate in England, but did not have the compassion to pay for his grandson's release which would have secured his safe return from a truly nefarious mafia style gang of kidnappers in Calabria, in Southern Italy.
Gail Getty enlists the help of security broker Fletcher Chace played by Oscar nominee Mark Wahlberg (The Departed) as they both along with the Italian police try to expedite the safe return of Paul Getty. What follows is a tense kidnap drama in the style of Daniel Alfredson's Kidnapping Mr Heinken.
With cinematic panache, director Ridley Scott makes full use of his Italian locations with extensive shots of Rome and its ancient Ruins along with the frenetic buzz of the Italian capital augmented by the ever present paparazzi as they hound the Getty family in what was to become one of the most sensational kidnap dramas of the 1970's.
Gail Getty's ex-husband, J. Paul Getty II played by Andrew Buchan, goes from heading up his father's European oil empire to becoming a heroin addict in Morocco and is virtually out of the entire negotiation. The negotiation is a fiercely contested battle of the wills between Gail Getty and her ruthless father-in-law. She is desperate to get her beloved son Paul back in one piece.
Supporting actors include French actor Romain Duris as a sympathetic kidnapper Cinquanta as well as Oscar winner Timothy Hutton (Ordinary People) as the Getty's financier Oswald Hinge.
Christopher Plummer and Charlie Plummer (no relation) are both brilliant as grandfather and grandson. Michelle Williams is fantastic as a desperate mother caught in this prolific dynasty but who conveys increasing helplessness in not being able to rescue her resourceful teenage son.
All the Money in the World is a captivating, stylish and gritty kidnap drama expertly directed by Ridley Scott and receives a film rating of 8 out of 10.  
Darkest Hour
Director: Joe Wright
Cast: Gary Oldman, Kristin Scott Thomas, Lily James, Ben Mendelsohn, Stephen Dillane, Ronald Pickup, Samuel West, David Schofield, Joe Armstrong, David Strathairn
Oscar nominee Gary Oldman (Tinker Tailor Soldier Spy) gives an Oscar worthy performance in his nuanced portrayal of cantankerous British Prime Minister Sir Winston Churchill whose face is completely transformed to look like Churchill thanks to the superb makeup and prosthetic by Kazuhiro Tsuji.
Acclaimed director of Atonement Joe Wright is the perfect candidate to steer this compelling political war drama Darkest Hour as the story meticulously tracks the events from Churchill's inauguration as prime minister, including a particularly refined scene between the PM and King George VI wonderfully played by Ben Mendelsohn to the anxious events leading up to the ingenuous evacuation of British troops from the beaches at Dunkirk, successfully anticipated and engineered by Churchill himself and the British sea going public.
If Christopher Nolan's latest film, Dunkirk is a stunning depiction of that crucial maritime military evacuation, then Joe Wright's Darkest Hour is the companion film showing the political and administrative events which lead to that escape from the invading Nazi forces which were aggressively sweeping across the European continent in May 1940.
The fact that both Dunkirk and Darkest Hour are vying for Best Picture at the 90th Oscars is a testament to how exceptional both films are made. Joe Wright should have got an Oscar nomination for Best Director.
At the heart of Darkest Hour is Gary Oldman's finest onscreen performance, a superb acting tour-de-force in which he completely embodies every aspect of Winston Churchill from his unconventional drinking habits to his affectionate if often tumultuous relationship with his level headed wife Clementine superbly played by Oscar nominee Kristin Scott Thomas (The English Patient).
Oldman's performance rarely falters and actually improves as Darkest Hour progresses, a performance with such gusto and insight that all audiences will see is Winston Churchill, a seasoned politician, a risk taker and a man who had the entire fate of the British nation in his sometimes shaky hands, yet who realized the gravity of the approaching invasion of the Germans at the beginning of World War II.
Churchill's doubt about whether the British must fight Hitler to the bitter end or sue for an untrustworthy peace is conveyed in an extremely relevant scene between him and the king who politely suggests that perhaps as prime minister, Churchill should seek advice from the British public, encapsulated in a jingoistic scene whereby he discusses the grave decision with commuters on the London underground before stepping off at Westminster.
Aided by theatrical costumes by Oscar winner Jacqueline Durran (Anna Karenina) and a sumptuous production design, Darkest Hour is an epic film made all the more riveting by a staggering performance by Gary Oldman who must surely get the long awaited recognition he deserves for his limitless acting talent and his pivotal contribution to world cinema.
Darkest Hour gets a Film rating: 9.5 out of 10 and is highly recommended for viewers that love historical biographies such as The King's Speech and The Iron Lady.
2017 Berlin International
Film Festival Winners
The 67th annual Berlin International Film Festival was held from 9th to the 18th February, 2017
The Berlin International Film Festival known as the Berlinale takes places annually in February and is regarded as one of the most prestigious film festivals in the world.
Opening Night Film: Django starring Reda Kateb and Cecile de France
Golden Bear for Best Film: On Body and Soul  directed by Ildikó Enyedi
Silver Bear for Best Director:  Aki Kaurismäki for The Other Side of Hope
Silver Bear for Best Actor:  Georg Friedrich for Bright Nights
Silver Bear for Best Actress:  Kim Min-hee for On the Beach at Night Alone
Silver Bear for Best Script: Sebastián Lelio and Gonzalo Maza for A Fantastic Woman
Den of Thieves
Director: Christian Gudegast
Cast: Gerard Butler, Pablo Schreiber, Curtis Jackson, O'Shea Jackson Jr., Brian van Holt, Evan Jones, Kaiwi Lyman, Dawn Olivieri
First time director Christian Gudegast who was one of the screenwriters on another Gerard Butler film London has Fallen recasts Butler as the tough talking LA cop in the Californian crime drama Den of Thieves which is heavily influenced by the far superior Michael Mann directed thriller Heat.
Gerard Butler plays Big Nick O'Brien who heads up an elite team of L. A. detectives who are hell bent on busting a sophisticated crime ring which robs banks headed up by Merriman wonderfully played by Orange is The New Black's Pablo Shreiber (13 Hours, The Secret Soldiers of Benghazi).
Merriman along with his second in command Enson Levoux played by Curtis 50 cent Jackson (Get Rich or Die Trying) put in place an elaborate plan to rob the Los Angeles branch of the Federal Reserve Bank where they not only print new dollar bills, but also destroy old money, hoping to steal $30 million dollars before it gets incinerated.
What follows is a fascinating cat and mouse game between Merriman and O'Brien, which director Gudegast teases out the plot for maximum tension to create a gritty crime film that stretches from the seedier sides of L. A. to Long Beach, where there is no honour among thieves.
All the while, there comes between the two main protagonists, a nonchalant middleman and occasional barman Donnie Wilson wonderfully played by O'Shea Jackson Jr, (son of rapper Ice Cube), clearly taking inspiration from Kevin Spacey's Oscar winning turn in Bryan Singer's The Usual Suspects.
If audiences are looking for a macho action film, then go and see Den of Thieves.
There is a sufficient amount of action, plot twists and bromance to keep the action going, particularly the malevolent rivalry between O'Brien and Merriman which propels the crime caper to a tantalizing and violent climax shot in a Los Angeles traffic jam on a sun-drenched Californian underpass.
Den of Thieves gets a film rating of 7.5 out of 10 and is worth seeing particularly aimed at male viewers.