Patriots

Day
Director: Peter Berg
Cast: Mark Wahlberg, John Goodman, Kevin Bacon, Michelle Monaghan, J. K. Simmons, Themo Melikidze, Alex Wolff, Jake Picking, Jimmy O. Yang
Lone Survivor director Peter Berg likes to stick to actual events when directing films. He is an astute presenter of the horrific tragic events which have occurred recently, deeply embedded in the American psyche.
Whether it's the explosion of a Gulf of Mexico oil rig as documented in Deepwater Horizon or the chaotic 2013 bombing of the Boston marathon, his films are rather factual, bordering on the docudrama and definitely riveting.
His latest film Patriots Day once again features Oscar nominee Mark Wahlberg (The Departed) as the everyday hero, a hero that the average American cinema goer can relate to, and a working class hero who manages to survive under extraordinary circumstances.
Wahlberg knows the drill and in Patriots Day he plays Boston police sergeant Tommy Saunders who is given crowd control duty at the finish line of the epic Boston Marathon. The year is 2013.  An American city is once again under attack by radicalized terrorists.
This time those terrorists are of the non-descript home grown variety, the sociopathic Tsarnaev brothers played with desperation and cool nonchalance by Georgian actor Themo Melikidze and Alex Wolff (My Big Fat Greek Wedding 2).
As the events of April 15th 2013 unfold, from the horrific bombing at the finish line of the infamous Boston Marathon using pressure cooker bombs filled with nails and all sorts of nasty devices aimed at causing maximum damage and pain, director Berg keeps the pace tense and thoroughly absorbing as the FBI Special Agent Richard DesLauriers superbly played by a terse and efficient Kevin Bacon (Black Mass, Frost/Nixon) takes control of the city-wide investigation.
Oscar winner J. K. Simmons (Whiplash) plays Watertown police sergeant Jeffrey Pugliese who would ultimately be the person along with the PD that would apprehend the perpetrators as they make a desperate attempt to flee the greater Boston Metropolitan area. Audiences should look out for a brilliant scene involving the Tsarnaev brothers' carjacking a Chinese exchange student wonderfully played by Jimmy O. Yang.
Patriots Day is an edge of the seat action thriller, meticulously recreating the week of the Boston marathon bombing from the time of the incident to the dramatic capture in the neighbouring suburb of Watertown featuring some superb sound effects and a suitably tense original score by Oscar winning film composer duo Trent Reznor and Atticus Ross who did the haunting music for The Social Network and Gone Girl.
Highly recommended viewing for those that enjoyed Deepwater Horizon and 13 Hours: the Secret Soldiers of Benghazi, Patriots Day will surely hold audience's attention while they inadvertently lap up all the Patriotic images of America as Peter Berg drives home his point about the continued threat of urban terrorism as the film ends with the real life survivors accounts of their horrific experience of the Boston marathon bombing of April 2013.
In Patriots Day, director Peter Berg presents the facts in all their visceral details and lets the audience judge for themselves.
Hacksaw Ridge
Director: Mel Gibson
Cast: Andrew Garfield, Teresa Palmer, Luke Bracey, Sam Worthington, Rachel Griffiths, Hugo Weaving, Vince Vaughn, Milo Gibson, Ben O'Toole
Braveheart and The Passion of the Christ director Mel Gibson has assembled a mostly Australian cast in the World War II drama Hacksaw Ridge about the Virginia conscientious objector Desmond Doss who refused to bear arms during the war against the Japanese. Doss is played by Andrew Garfield (The Social Network) in one of his best acting roles yet.
Hacksaw Ridge opens in The Blue Ridge Mountains of Virginia in the early 1930's where young Doss and his brother are constantly engaged in fraternal rivalry while their drunken father Tom played by Hugo Weaving (The Dressmaker) mourns the loss of his friends in the Great War and beats their mother Bertha played by Rachel Griffiths (Muriel's Wedding).
As a practicing Seventh Day Adventist, Desmond from a young age takes a vow against violence yet is compelled to join the army soon after the Japanese attack Pearl Harbour. His romantic life is heightened when he meets Nurse Dorothy Schutte, a wonderful supporting role played by the gorgeous Teresa Palmer (Point Break, I am Number Four) which he soon proposes to.
While the first act of Hacksaw Ridge is taken up with establishing a credible back story of Desmond Doss, his religious beliefs, family and brief courtship, it's really the second act of the film that captures audience's attention as Doss undergoes basic military training under the supervision of Sgt Howell played by Vince Vaughn (Into The Wild, The Internship) and Captain Glover played by British actor Sam Worthington (Avatar, Clash of the Titans).
When it comes to target practice, the rest of the soldiers including a handsome Smitty Ryker played by Luke Bracey (The November Man) and Lucky Ford played by Gibson's son Milo Gibson are all eager to take up arms to defend their country, while Doss completely refuses to hold a rifle on the grounds that he is a conscientious objector.
After a military inquiry into whether Doss can still serve in the armed forces without bearing arms, the action swiftly moves into the third act, the dreaded battle sequence at Hacksaw Ridge, on the island of Okinawa, a battle so gruesome that many of his fellow soldiers are killed instantly as the ruthless Japanese attack the Americans without restraint.
Director Gibson excels in the battle sequences of Hacksaw Ridge as a combination of frenetic sound editing, utter brutality and emotional tension is vividly captured as the soldier bravely battle a more sophisticated and disciplined opponent. As the battle for Hacksaw Ridge continues, many American soldiers are left wounded, easy prey for the bayonets of the Japanese soldiers.
Doss in this terrifying battleground questions his own convictions and has a crisis of faith amidst bullets whizzing past him and bodies rotting in shallow graves.
Hacksaw Ridge was indeed a vicious battle of attrition, but Doss realizes that if he can save as many wounded American soldiers as possible then perhaps the American military might recognize his true valour and bravery.
In terms of recreating one of the most gruesome battles of the Pacific Theatre of World War II, Hacksaw Ridge is an excellent film comparable to similar war classics like Steven Spielberg's Oscar winning Saving Private Ryan and Oliver Stone's Platoon.
Historically accurate, Hacksaw Ridge superbly retells the unbelievable story of Desmond Doss, the first Conscientious Objector who was in a battle and received the Medal of Honour without firing a single shot. This is highly recommended viewing and judging by its critical claim, Hacksaw Ridge will have a cult following for lovers of genuine war films.
Source: https://en.wikipedia.org/wiki/Desmond_Doss
Manchester
by the Sea
Director: Kenneth Lonergan
Cast: Casey Affleck, Michelle Williams, Kyle Chandler, Gretchen Mol, Lucas Hedges, Tate Donovan, Matthew Broderick, C. J. Wilson, Josh Hamilton
Oscar nominee Casey Affleck gives a Golden Globe winning performance as the emotionally stunted Lee Chandler in director Kenneth Lonergan's atmospheric if slightly drawn out family drama Manchester by the Sea.
Affleck first came to critics' attention in the Western, The Assassination of Jesse James by the Coward Robert Ford opposite Brad Pitt, of which he received a Best Supporting Actor Oscar nomination. Although more reticent than his prolific older brother Ben Affleck, Casey Affleck has built up an impressive body of acting work (Gone Baby Gone, Interstellar, The Finest Hours).
In this moving study of American masculinity set in Massachusetts, playwright turned screenwriter and director Kenneth Lonergan sets the scene for a series of unfortunate events slowly revealing layers of secrets that his characters contain as the plot develops through a series of well executed flashbacks creating an extensive backstory particularly for Lee Chandler and his close relationship with his older brother Joe and nephew Patrick.
When Joe played by Kyle Chandler (Carol, Zero Dark Thirty, The Wolf of Wall Street) suddenly dies from congestive heart failure, Lee has to travel upstate to Manchester, Massachusetts to identify his brothers body and deal with the guardianship of Joe's son Patrick, a precocious outspoken teenager, superbly played by Lucas Hedges (The Grand Budapest Hotel, Moonrise Kingdom).
Patrick's mother Elise has moved away, a recovering alcoholic played with a brittle intensity by the hugely underrated Gretchen Mol who was so brilliant in the crime series Boardwalk Empire. Elise has set up a new life with boyfriend Jeffrey played by Matthew Broderick (Ferris Bueller's Day Off, Glory, The Producers).
But Lee Chandler, a foul mouthed janitor and handyman has his own demons to grapple with, a sense which Affleck conveys with perfect nuance. In between his mundane existence he suddenly starts bar fights in the local pubs letting violence replace his inner torment about a tragic event that occurred in his past.
As the story progresses, Lonergan does not give the audience all the narrative clues upfront something which adds to the emotional tension of the film. Halfway through we discover that Lee was married to Randi and had three beautiful children but his irresponsible ways destroyed their family forever. Randi is played by Oscar nominee Michelle Williams (My Week with Marilyn, Blue Valentine) who re-enters Lee's life at the point which he would least like to see her. His brother's funeral.
While Manchester by the Sea is drawn out, the script is brilliant especially in the tension filled scenes between uncle and nephew as they drive around trying to sort out all the tedious details of Joe's death including the funeral arrangements and the impact of Patrick's guardianship. Hedges' performance as Patrick electrifies the family drama with his back chatting confidence as he proudly tells his uncle that he has two girlfriends and plays in a band.
Manchester by the Sea clearly belongs to Casey Affleck as he is in virtually every scene of the film and is an intimate study of broken masculinity, a portrait of a man battling to deal with his older brother's death and the terrifying prospect of taking responsibility for his sixteen year old nephew.
Highly recommended viewing for a film with a first rate script and intelligently portrayed characters. Casey Affleck is definitely an actor to watch in future…
74th GOLDEN GLOBE AWARDS
Took place on Sunday 8th  January 2017 hosted by
the Hollywood Foreign Press Association in Beverly Hills, California
GOLDEN GLOBE WINNERS IN THE FILM CATEGORIES:
Best Film Drama: Moonlight
Best Film, Musical / Comedy: La La Land
Best Director: Damien Chazelle – La La Land
Best Actor Drama: Casey Affleck – Manchester by the Sea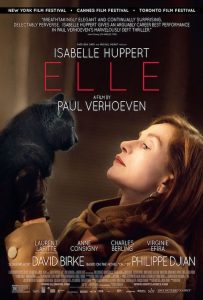 Best Actress Drama: Isabelle Huppert – Elle
Best Actor M/C: Ryan Gosling – La La Land
Best Actress M/C: Emma Stone – La La Land
Best Supporting Actor: Aaron Taylor-Johnson – Nocturnal Animals
Best Support Actress: Viola Davis – Fences
Best Foreign Language Film: Elle directed by Paul Verhoeven (France)
Passengers
Director: Morten Tyldum
Cast: Jennifer Lawrence, Chris Pratt, Michael Sheen, Laurence Fishburne, Andy Garcia
It's hard to believe that after the success of the Oscar nominated biographical film about Alan Turing, The Imitation Game, that Norwegian director Morten Tyldum would follow up with a sci-fi metaphorical film Passengers which doesn't quite elevate to a meaningful story despite its sexy wholesome stars.
Oscar winner Jennifer Lawrence (Silver Linings Playbook) and Hollywood's new kid on the block, Chris Pratt (Jurassic World, The Magnificent Seven) are basically the only two actors in Passengers which focuses on a luxurious space craft heading to a distant colony for space colonization only for the couple to awaken 90 years before their projected arrival at the planet aptly named Homestead.
Pratt who was so humorous in Guardians in the Galaxy, battles to keep a straight face as the mechanic from Colorado Jim Preston who realizes that himself and Aurora Lane, wonderfully played by a gorgeous Blonde Jennifer Lawrence are awake in a vast rotating space cruiser with only a smartly dressed android for company, the eloquent Arthur superbly played by Michael Sheen (The Queen, Midnight in Paris).
What saves Passengers from utter tedium is the brilliant visual effects and pristine cinematography by Rodrigo Prieto along with sleek production design by Guy Hendrix-Dyas who worked on such films as Alejandro Amenabar's Agora and Christopher Nolan's visually astounding film Inception.
The best scene in the film is when the space ship suddenly loses gravity and catches Aurora stuck inside a water bubble while she is swimming in an infinity pool which overlooks the infinite galaxy.
Jennifer Lawrence looks suitably panic stricken throughout Passengers mainly because she is so used to working with other actors in ensemble films like American Hustle and Joy. In Passengers, all she has to work with is Pratt who doesn't yet have the gravitas to pull off a major role on his own with one other actor.
Passengers is gorgeous to look at but the narrative centre of the film does not hold and one would have hoped for a more fascinating turn of events than a spaceship breaking down. Let's face it that has been done before with more sinister effects. Oscar Nominee Laurence Fishburne plays Gus Mancuso who has such a small part along with Andy Garcia who only briefly appears at the end of the film, without uttering a word.
Unlike Alfonso Cuaron's brilliant Oscar winning film Gravity, Passengers does not really get off the ground emotionally and whilst any film with only two actors in it is really difficult to pull off, it is even more so when the storyline is so lacklustre. At least Gravity had riveting visual effects and superb acting from both George Clooney and Sandra Bullock.
Passengers needed a far more effective twist to elevate the narrative out of a 21st century metaphorical tale about Adam and Eve in the Garden of Eden. One thing is for sure, director Tyldum does make a valid point that humans should not entirely place all their trust in machines. Just look what happened in Terminator. Viewers should judge for themselves.
Assassin's

Creed
Director: Justin Kurzel
Cast: Michael Fassbender, Marion Cotillard, Jeremy Irons, Charlotte Rampling, Michael K. Williams, Denis Menochet, Khalid Abdalla, Callum Turner, Brendan Gleeson
Whilst Australian director Justin Kurzel's Assassin's Creed does not match up to the theatricality of his cinematic version of Macbeth featuring the same two leads, Oscar nominee Michael Fassbender (12 Years a Slave) and Oscar winner Marion Cotillard (La Vie en Rose), the film version of the popular videogame is by no means boring.
Assassin's Creed like Warcraft does justice to the videogame and with glossy production values and a superb supporting cast including Oscar winner Jeremy Irons (Reversal of Fortune) as Rikkin and Oscar nominee Charlotte Rampling (45 Years, Angelheart) as High Priest of the Knights Templar Ellen Kaye, the film has an atmospheric quality as the action shifts from contemporary Madrid to the Spanish Inquisition in Seville to a gloomy rain drenched London.
Fassbender all muscled and taut, plays convicted murderer Callum Lynch who is about to be sentenced to death via lethal injection in Huntsville, Texas only to wake up in a specialist facility run by Abstergo Industries on the outskirts of Madrid where the gorgeous and sleek, Sofia Rikkin played by Cotillard administers him in a bizarre program to cure him of his inborn tendency for violence. The program includes the hunky and shirtless captive (Fassbender) being plugged into the animus which allows Lynch to channel the vivid experiences of his violent ancestors.
As for the rather confusing time-jumping narrative, the whole story hinges on the Assassins protecting the key to freewill the Apple of Eden from the Knights Templar, whose contemporary equivalent appears to be the shady corporation behind Abstergo Industries headed up by the mysterious Rikkin, who Irons embodies with a silky velvet voice filled with menace reminiscent of his creepy portrayal of Claus von Bulow in Reversal of Fortune.
As video game adaptations go, Warcraft was a better film, while Kurzel's Assassin's Creed does justice to the genre although the film would only really appeal to fans of the game familiar with the basic premise of the elaborate sword wielding fight sequences which are mostly set in 15th century Seville.
Whilst it is a cinematic pleasure to see Irons, Rampling, Fassbender and Cotillard all share the same screen, one wishes it was for a masterful spy drama or a film about political intrigue rather than a video game adaptation. Fassbender and Cotillard acting abilities are naturally not put to such good use as they were in Kurzel's visionary production of Macbeth, Assassin's Creed will no doubt appeal to the gamers most of whom are male, judging by the patriarchal nature of the plot.
After all, Man's free will was exercised by his taking of the apple in the Garden of Eden which the voluptuous Eve offered to him according to biblical legend. The key to freewill and the power to control it is all that the Knights Templar are after.
Assassin's Creed is recommended for those gamers which enjoy a cinematic pastiche of the future and the ancient worlds moulded together in a Spanish setting as the Assassins battle the Knights Templar in a vicious bid to halt the cure for violence. Audiences should look out for cameo appearances by Brendan Gleeson as Callum's father Joseph Lynch and Michael Kenneth Williams as Moussa.
Rogue One:

A Star Wars Story
Director: Gareth Edwards
Cast: Felicity Jones, Diego Luna, Forest Whitaker, Mads Mikkelsen, Riz Ahmed, Alan Tudyk, Ben Mendelsohn, Jimmy Smits, Donnie Yen, Wen Jiang, Alistair Petrie, Genevieve O'Reilly, Carrie Fisher, James Earl Jones
British director Gareth Edwards grew up on the original Star Wars Trilogy like most young kids born in the 1970's and was heavily influenced by directors George Lucas and Steven Spielberg. The Godzilla and Monsters director pays homage to the original Star Wars trilogy in the superb spinoff film, Rogue One: A Star Wars Story featuring a diverse ensemble cast.
In the lead roles are British actress and Oscar nominee Felicity Jones (The Theory of Everything, Inferno) as Jyn Eso and Mexican star Diego Luna (Milk, Elysium) as Cassian Andor along with Danish actor Mads Mikkelsen (Casino Royale) as Eso's father Galen Eso and unrecognizable Riz Ahmed (The Reluctant Fundamentalist) as treasonous Empire pilot turned Rebel Bodhi Rook.
Audiences must remember that Rogue One: A Star Wars Story is a prequel to the original Star Wars film made in 1977 and centres on the rebels lead by Eso who plan on stealing the plans to the Empire's galactic weapon of mass destruction, The Death Star. As the film unfolds and there is lots of inter-planetary travelling, Eso along with Andor and an Empire droid wonderfully played by Alan Tudyk battle the mighty Empire commandeered by an evil Orson Krennic superbly played by the blue eyed Australian star Ben Mendelsohn (Mississippi Grind).
What is most impressive about Rogue One: A Star Wars Story is the tight narrative and impressive visual effects, the plot ably written by screenwriters Tony Gilroy and Chris Weitz who pepper the action packed intergalactic journey with visual treasures and homages to the original Star Wars trilogy which dazzled the world back in the 1970's and 1980's.
Any fanboy or girl of the original trilogy especially the first two films, Star Wars and The Empire Strikes Back will appreciate all the references in Rogue One: A Star Wars Story including the Death Star, brief appearances by the malignant Darth Vader voiced again by James Earl Jones and even a glimpse of R2D2 and C3PO as the droids wave goodbye to Eso and the gang as they travel to Scarrif, a tropical island planet with an Empire base which resembles the Palm Jumeirah in Dubai resulting in one of the best battle sequences seen in any of the Star Wars films.
Director Edwards sets the bar high with Rogue One with a tight storyline, witty dialogue and solid central performances by Felicity Jones and Diego Luna. There is also some influential supporting roles including Oscar winner Forest Whitaker (The Last King of Scotland) as Saw Gerrera who is Jyn Eso's guardian after her father Galen is mysteriously captured by the Empire Stormtroopers and Jimmy Smits (Star Wars: Revenge of the Sith) reprising his role as Senator Bail Organa.
Rogue One: A Star Wars Story is a superb prequel, a visual sci-fi feast which will have specific appeal to the dedicated fans of the Star Wars franchise. Now that George Lucas has sold the rights to Disney, the Star Wars universe is going to expand exponentially and in more innovative ways, cashing in at the all international box offices as each new film gets released.
This is highly recommended viewing for lovers of this extraordinarily imaginative Sci Fi franchise. If you love Star Wars then don't miss Rogue One, it's a classic.
Inferno
Director: Ron Howard
Cast: Tom Hanks, Felicity Jones, Ben Foster, Omar Sy, Irrfan Khan, Sidse Babett Knudsen, Ana Ularu
Screenwriter David Koepp intentionally disorientates the viewer in a disrupted narrative through a series of flashbacks and blurred images in the first half of director Ron Howard's historical thriller Inferno as Professor Robert Langdon played again by Tom Hanks wakes up bewildered like Jason Bourne in a hospital in Florence. There Langdon is initially tended to by Dr Sienna Brooks played by Oscar nominee Felicity Jones (The Theory of Everything).
Soon the couple are shot at by a vicious but gorgeous female carabinieri Vayentha played by Romanian beauty Ana Ularu. As Langdon and Brooks seek shelter in her Florence apartment they soon discover that crazed Billionaire Bertrand Zobrist played by Ben Foster (Warcraft, Hell or High Water), seen only through a series of mediated images like a televised lecture and numerous flashbacks has decried the world's overpopulation and plans on letting off a deadly virus killing more than half the world's population as a form of human culling.
Langdon and Brooks travel to the Hall of the Five Hundred within the Palazzo Vecchio https://en.wikipedia.org/wiki/Palazzo_Vecchio to discover that Dante's death mask has been stolen. Hot on their heels is Brouchard played by French actor Omar Sy as well as a tactical team from the World Health Organisation headed by the beautiful Dr Elizabeth Sinskey played by Danish actress Sidse Babett Knudsen last seen as the doomed corporate executive in the thrilling HBO Sci-Fi series Westworld.
As the action moves from Florence to San Marks Square in Venice, Koepp's script strips away the confusion and reveals an enlightening moment as a significant plot twist occurs in the Venetian Piazza reminiscent of Casino Royale and Professor Langdon soon realizes who he can really trust.
With high production values and lots of flashing images of blood soaked streets and corpses writing in hell, the cinematic depiction of Dante's Inferno adds to the already suspenseful narrative as Langdon races against time taking in some of the ancient world's most iconic tourist attractions including Florence's Duomo and Istanbul's Hagia Sophia.
The second half of Inferno is captivating as the denouement is revealed and the true danger identified in a thrilling finale in Istanbul's Sunken Palace where a Solstice concerto is taking place amidst the possibilities of a dangerous virus being released into the ancient city's water supply.
It is a pity that Ben Foster and Tom Hanks did not have any screen time although like with Angels and Demon's and The Da Vinci Code, Inferno does not faithfully follow the thriller genre. Instead using a combination of visual clues heavily reliant on art history and a sense of urgency, the hero Professor Langdon in Inferno covers a touristic journey through some of the most cultural cities in Europe and Asia Minor.
Whilst Hanks and Jones are suitably impressive in their roles it is the supporting roles particularly played by Knudsen and Indian actor Irrfan Khan (Slumdog Millionaire, Life of Pi) which add a sense of diversity to this extraordinary tale. Inferno is a fast paced historical thriller boosted by contemporary fanaticism which makes the story all the more relevant within the global context of terrorism and unsuspecting horrors.
Inferno is a captivating thriller which by far is one of the best in the Dan Brown inspired cinematic franchise, transforming into a fitting third act to The Da Vinci Code and Angels and Demons.
A United Kingdom
Director: Amma Asante
Cast: David Oyelowo, Rosamund Pike, Jack Davenport, Tom Felton, Laura Carmichael, Terry Pheto, Vusi Kunene, Theo Landey, Jack Lowden
Oscar nominee Rosamund Pike (Gone Girl) reunites with Jack Reacher co-star David Oyelowo (The Paperboy, Queen of Katwe) in the Amma Asante directed biographical drama A United Kingdom focusing on the interracial love story between a working class British girl Ruth Williams and Prince Seretse Khama of Botswana. The year was 1947.
Whilst Belle director Amma Asante does not possess a gift for providing a truly compelling biographical story, A United Kingdom is saved by solid performances by Pike and Oyelowo along with a host of supporting actors including Jack Davenport (The Talented Mr Ripley) as a stuffy British High Commissioner Alistair Canning and a nasty cameo by Tom Felton (Belle, Rise of the Planet of the Apes) as a colonial upstart Rufus Lancaster.
A United Kingdom begins just after World War II in the fog ridden streets of London, as Britain is recovering from one of the worst wars in human history while battling to maintain its grip on its colonial territories. Furthermore, geographically significant South Africa is about to be plunged into one of the darkest periods of its history, as the segregationist policies of Apartheid would be put into law in 1948.
Against this historical backdrop, Ruth Williams accompanies her sister Muriel played by Downton Abbey's Laura Carmichael (Tinker, Tailor, Soldier, Spy) to a dance organised by the London missionary society. There she meets the intelligent and charismatic law student Seretse Khama wonderfully played by the highly underrated British actor David Oyelowo.
After a brief romance Khama and Williams decide to marry causing a diplomatic row both in London and in Khama's homeland of Bechuanaland which at the time was a British protectorate. The British authorities not wishing to upset their most powerful former colony on the tip of Africa, the mineral rich yet increasingly segregated South Africa, instruct Seretse Khama to go into exile.
Khama on the other hand also has to face the suspicion of his own people, the Bamangwato People of Bechuanaland of which his uncle Tshekedi was regent, played by South African actor Vusi Kunene. Even as Seretse brings an English woman back to the hot and dry plains of Botswana, Williams is initially greeted with contempt by his own sister Naledi, wonderfully played by Terry Pheto (Tsotsi, Mandela: Long Walk to Freedom).
As the narrative progresses, director Asante chooses to focus on the passionate love story between Khama and Williams instead of all the diplomatic intrigue so A United Kingdom is strong on images of reconciliation and fortitude but weak on a clear historic timeline. What saves A United Kingdom are brilliant performances by Oyelowo and Pike although the romance will not have a broader appeal beyond those that have a historical knowledge of Britain's relationship with the former protectorate of Bechuanaland now known as Botswana.
Incidentally, Botswana due to the discovery of diamonds, is now one of the wealthiest and peaceful democracies in Africa despite its sparse population. Ruth Williams also eventually become the first Lady of Botswana when her husband Seretse whose political party the Bechuanaland Democratic Party won the 1965 Democratic elections as Botswana gained their independence from Britain on the 30th September 1966.
A United Kingdom is a fascinating and cleverly titled film. A well-acted and beautifully portrayed love story historically tying Britain with one of the lesser known regions of Southern Africa.
Source: https://en.wikipedia.org/wiki/Ruth_Williams_Khama
https://en.wikipedia.org/wiki/Seretse_Khama
Fantastic Beasts and
Where to Find Them
Director: David Yates
Cast: Eddie Redmayne, Katherine Waterston, Colin Farrell, Samantha Morton, Dan Fogler, Ezra Miller, Jon Voight, Carmen Ejogo, Faith Wood-Blagrove
J.K. Rowling made an absolute fortune out of the Harry Potter novels and now to capitalize on her continued success she attempts to write the screenplay for a spinoff series Fantastic Beasts and Where to Find Them.
The Legend of Tarzan director David Yates is pulled in to coerce all the elements of an ultimately bland screenplay into a presentable and visually impressive fantasy film.
Yates who helmed the last three Harry Potter films, does an impressive job with Fantastic Beasts even though Oscar winner Eddie Redmayne (The Theory of Everything) maintains a continued perplexed expression on his face throughout this film as he plays the British wizard Newt Scamander who arrives in New York with a suitcase brimming with diabolically strange creatures.
Redmayne is joined by British actresses Katherine Waterston (Steve Jobs, Inherent Vice) as Tina Goldstein and Oscar nominee Samantha Morton (Minority Report, In America) as the cruel Mary Lou along with Colin Farrell as an American wizard Graves who is chief enforcer of Macusa or the Magical Congress of the United States of America.
Dan Fogler plays the hapless wannabe baker Jacob Kowalski who effectively serves as a sidekick character to the infinitely cooler Newt Scamander.
Whilst Fantastic Beasts and Where to Find Them is visually impressive and for once the filmmakers make effective use of the 3-D format and all the Beasts are both alluring and comical, the film itself suffers from a badly written script and an overdose of visual effects and a lack of critical editing.
Redmayne is far better in brilliant period films like My Week with Marilyn and The Theory of Everything and comes across throughout Fantastic Beasts with the impression of how the hell did I land up in a Harry Potter spin off franchise set in New York?
Unfortunately the rest of the characters do not get sufficient back story including the talented Samantha Morton's portrayal of a cruel orphanage mistress Mary Lou who constantly punishes the repressive Credence Barebone played by Ezra Miller (The Perks of Being a Wallflower, Suicide Squad).
Colin Farrell (Total Recall, Crazy Heart) is suitably bland as Percival Graves but that is perhaps due to Rowling's script not giving him much to work with.
Whilst there is an inherent fan base, Fantastic Beasts and Where to Find Them is not as dazzling as one expects although the visual effects are superb. Let's hope the Fantastic Beasts sequels which Warner Bros intends making employs a better scriptwriter. No offense to Rowling but she does not possess a talent for snappy dialogue. Then again who needs brilliant dialogue when the audience is constantly overwhelmed by magical creatures roaming 1920's Manhattan?