Battle of the Sexes
Directors: Valerie Faris & Jonathan Dayton
Cast: Emma Stone, Steve Carell, Andrea Riseborough, Sarah Silverman, Elisabeth Shue, Alan Cumming, Bill Pullman, Eric Christian Olsen, Wallace Langham, Austin Stowell
Little Miss Sunshine and Ruby Sparks directing duo Valerie Faris and Jonathan Dayton take on the extremely pertinent subject of gender inequality in sports in their latest film, Battle of the Sexes, a highly entertaining cinematic recreation of a historic tennis match which took place between the brash egotist and compulsive gambler Bobby Riggs and tennis women's superstar Billie Jean King at the Astrodome in Houston, Texas in 1973.
Oscar winner Emma Stone (La La Land) plays Billie Jean King a tennis champion at the top of her game who is married yet battling with her own sexuality as she meets the provocative Californian hairdresser Marilyn Barnett wonderfully played by Andrea Riseborough (Nocturnal Animals, Birdman).
Oscar nominee Steve Carell (Foxcatcher) plays the exuberant Bobby Riggs, the fiftyish tennis pro and self-proclaimed male chauvinist pig who is having a last gasp at his youth and decides to provoke Billie Jean King into a publicity tennis matched aptly named Battle of the Sexes. Riggs who is a sports hustler and whose lavish career is supported by his wealthy wife Priscilla Riggs superbly played against type by Oscar nominee Elisabeth Shue (Leaving Las Vegas).
Comedian Sarah Silverman stars as the outspoken Gladys Heldman who champions Billie Jean King and a collection of aspiring female tennis players to start their own female tennis match sponsored by Virginia slims cigarettes. This is in response to the chauvinism and unequal pay dispute between the women players and the exorbitant salaries that their male tennis players get which is almost ten times the amount.
The reason for this inequality, as sports commentator and organizer Jack Kramer played by Bill Pullman gives is that the tennis watching public love men's tennis and that the male tennis players have ten times the stamina, strength and speed to sustain an exciting match unlike their less competitive female counterparts. Naturally this outdated mode of thinking has thankfully be reversed by the recent star power of such female tennis champions as Venus and Serena Williams.
Battle of the Sexes is a relevant film not only in terms of recent sexual harassment scandals which has rocked the Hollywood establishment but also in terms of LGTQ rights in sports, a controversial subject which has barely been explored in contemporary cinema.
As Billie Jean King's husband Larry, played by Austin Stowell (Bridge of Spies), says to her lover in one poignant scene, all that sponsorship of hotel rooms, flights and TV coverage would evaporate if King came out as a lesbian. Which she eventually did in the wake of the 1970's queer rights campaign that activists like Harvey Milk and Cleve Jones fought for so vehemently, brilliantly illustrated in the Oscar winning Gus van Sant film Milk.
Battle of the Sexes is a thoroughly entertaining film about two tennis professionals who not only stake the reputations on a publicity tennis match. Battle of the Sexes is peppered with some flamboyant supporting roles including Sarah Silverman and Alan Cumming as Cuthbert Tinling whilst held together by exemplary performances by Stone and Carell.
Battle of the Sexes gets a film rating of 8 out of 10, featuring wonderful seventies tennis costumes by Costume Designer Mary Zophres capturing the zeitgeist of the decade, adding to a thoroughly slick and entertaining sports film.
Overdrive
Director: Antonio Negret
Cast: Scott Eastwood, Freddie Thorp, Ana de Armas, Gaia Weiss, Clemens Schick, Simon Abkarian
Legendary Hollywood actor and director Clint Eastwood's son Scott Eastwood seems to be making a prolific career for himself in film. Scott Eastwood's onscreen appearances is like watching the younger version of Clint Eastwood when he was the favourite star of the Sergio Leone spaghetti Western films such as The Good, the Bad and the Ugly and A Fistful of Dollars.
Besides starring in Suicide Squad and Fury and soon to be seen in Pacific Rim Uprising, Scott Eastwood stars in the European action thriller, Overdrive directed by Colombian director Antonio Negret and also starring British actor Freddie Thorp. The pair star as renegade car thief half-brothers Andrew and Garrett Foster.
Written by Michael Brandt and Derek Haas (Wanted, 3:10 to Yuma) Overdrive clearly gets inspiration from the 1980's Lethal Weapon films and more recently the Fast and Furious franchise.
Whilst the plot is a bit thin, the luxury cars are plentiful and the onscreen brothers are helped by two gorgeous co-stars Ana de Armas (Blade Runner 2049) and Gaia Weiss (Legend of Hercules) as they are hired by local Marseilles mobster Jacomo Morier played by Simon Abkarian (Rendition, Casino Royale) to steal cars, mainly beautiful red Ferrari's, from a rival German crime boss Max Klemp played by Clemens Schick (Point Break, Casino Royale).
Set in Marseilles, port city on the French Riviera, audiences can expect lots of grandiose car chases through spectacular scenery overlooking the Mediterranean. Overdrive is really entertaining except for the poor sound quality especially when it came to the dialogue although luckily the dialogue wasn't sophisticated.
If audiences love fast cars, beautiful women and chic French locations then they will love Overdrive. Besides those ingredients, there is not much to make this film exceptional.
Overdrive gets a film rating of 6 out 10. Recommended for those that enjoyed the Taken action film trilogy but without the grit.
Murder

on the Orient Express
Director: Kenneth Branagh
Cast: Kenneth Branagh, Johnny Depp, Michelle Pfeiffer, Daisy Ridley, Manuel Garcia-Rulfo, Penelope Cruz, Josh Gad, Derek Jacobi, Lucy Boynton, Olivia Colman, Judi Dench, Willem Dafoe, Leslie Odom Jr. Tom Bateman
Oscar nominee Kenneth Branagh (My Week with Marilyn) both stars as the infamous Belgian detective Hercule Poirot  and directs another remake of the classic Agatha Christie novel Murder on the Orient Express featuring a stunning cast including Oscar nominees Michelle Pfeiffer (Dangerous Liaisons, The Fabulous Baker Boys), Johnny Depp (Sweeney Todd, the Demon Barber of Fleet Street) and Oscar winners Penelope Cruz (Vicky Cristina Barcelona) and Judi Dench (Shakespeare in Love).
Sporting a profoundly massive mustache, Branagh takes Hercule Poirot to new extremes in this 21st century remake which is glossy and possesses sumptuous production design but like all extremely long train journeys is boring in the middle, despite the spectacular scenery.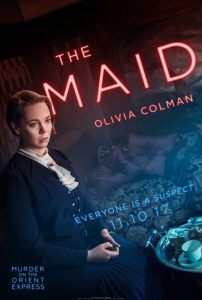 Murder on the Orient Express is set in 1934 and starts off promisingly with a fantastic opening, attention grabbing scene at the Wailing Wall in Jerusalem and then moves on to the Orient Express, a luxury train service which travels from the chaotic train station in Istanbul right across Europe to Paris.
As the gangster Edward Ratchett is found murdered in his compartment, stabbed multiple times everybody becomes a suspect on the Orient Express and soon Poirot has to interview all the cast as the train is stuck in an icy tunnel somewhere over Yugoslavia. A tangle of strangers confined to a luxury train which has gone off the rails.
Everybody is not what they seems, which is natural considering this is an Agatha Christie novel and while the cast does an admirable job, it is really Michelle Pfeiffer who wows audiences with her demure yet slightly vicious portrayal of globetrotting husband seeker Caroline Hubbard who stands out among a fairly impressive ensemble cast. Pfeiffer really acts.
Dame Judi Dench's turn as Princess Dragomiroff is hardly noticeable, while the best scenes in the film are between Pfeiffer and Branagh.
It is refreshing to see Michelle Pfeiffer making such a glorious big screen come back as she truly is a brilliant actress, not to mention singer – for she also sang the film's original song at the end.
Without revealing who the killer is, needless to say Kenneth Branagh will be returning with another big screen adaptation of an Agatha Christie novel, Death on the Nile. Should be fascinating if only he would curb that mustache.
Audiences that enjoyed the original seventies film adaptations of the Agatha Christie novels, will enjoy this ambitious if slightly flawed remake. Think Evil Under the Sun.
Recommended viewing but whether the film will dazzle at the box-office in an increasingly cluttered 21st century CGI film line-up remains to be seen. Murder on the Orient Express gets a film rating of 7 out of 10.
Justice League
Director: Zack Snyder
Cast: Ben Affleck, Henry Cavill, Gal Gadot, Amy Adams, Ezra Miller, Jason Momoa, Ray Fisher, Jeremy Irons, Diane Lane, Connie Nielsen, J. K. Simmons, Amber Heard, Joe Morton, David Thewlis, Billy Crudup, Ciaran Hinds
Uniformity of vision is key to director Zack Snyder's films from his earlier films including 300, Suckerpunch and Watchmen to his onscreen tackling of the DC Comics universe starting with Man of Steel (2013) Batman v Superman: The Dawn of Justice (2016) and now with the latest Superhero extravaganza Justice League.
Batman aka Bruce Wayne played with a deadpan sense of humour by Ben Affleck has to assemble a team to fight the inexplicable and mythical power of Steppenwolf voiced by Ciaran Hinds as the evil underworld monster plans on destroying the Earth with enough energy to wipe out Wonder Woman's secret Island and Aquaman's Atlantic underwater liar.
Speaking of which Israeli actress Gal Gadot reprises her role of Wonder Woman aka Diana Prince following the hugely successful standalone film earlier in 2017 by Monster director Patty Jenkins.
New to the cast is Hawaiian actor Jason Momoa who plays Aquaman aka Arthur Curry who besides being able to control the oceans has some serious authority issues along with Ezra Miller (The Perks of Being a Wallflower) as The Flash aka Barry Alan and Ray Fisher as Cyborg aka Victor Stone.
The best scenes in Justice League are when the superheroes come together especially Batman and Aquaman who naturally have a healthy distrust for each other. The dialogue is peppered with some great lines like "Cool, like a bat, I dig it!" or when The Flash asks Batman what his superpowers are, he simply replies "I am rich".
The good news is that Warner Brothers is set to release stand-alone films of Batman, Aquaman and Cyborg within the next three years, so fans can have a favourite superhero to themselves. Let's hope these films do as well as director Patty Jenkins remarkable all female superhero film Wonder Woman which smashed all box office records.
Director Zack Snyder's Justice League is slick, fast, action-packed and filled with quirky interactions between all the world's favourite superheroes without being puerile or garish. With suitably Gothic production design by Patrick Tatopoulos, Justice League cleverly hints at the upcoming Aquaman and The Batman films. Audiences should look out for Oscar winner J. K. Simmons as Commissioner Gordon.
With a funny screenplay by Chris Terrio and Joss Whedon, Justice League is sure to entertain audiences that loved the previous Zack Snyder superhero films and will possibly get a glimpse of the Man of Steel.
Justice League gets a film rating of 8 out 10 and is thoroughly entertaining, visually rewarding and definitely worth seeing. As the tagline goes: You Can't Save the World alone. Even Batman.
Tulip Fev

e

r
Director: Justin Chadwick
Cast: Alicia Vikander, Christoph Waltz, Dane DeHaan, Cara Delevingne, Judi Dench, Jack O'Connell, Kevin McKidd, Holliday Grainger, Tom Hollander, Zach Galifianakis, Joanna Scanlan, David Harewood, Sebastian Armesto, Matthew Morrison, Douglas Hodge
British director Justin Chadwick (The Other Boleyn Girl, Mandela: The Long Walk to Freedom, The First Grader) tackles a cinematic version of Deborah Moggarch's novel Tulip Fever with the literary assistance of Anna Karenina screenwriter Tom Stoppard.
Assembling an international cast including Oscar winner Christoph Waltz (Django Unchained) and fellow Oscar winner Alicia Vikander (The Danish Girl), Tulip Fever is set in Amsterdam in 1623 at the height of the Tulip trade which flourished in the Netherlands and was in essence the first stock market which blossomed illicitly behind Tavern doors and co-opted by solicitous nuns who grew the beautiful flowers in sacred abbeys away from the hustle of Dutch city life.
With sumptuous costumes by Michael O'Connor and suitably dark production design by Simon Elliott, Tulip Fever focuses on the young orphan Sophia Sandvoort superbly played by Vikander who is forced to marry the wealthy yet childless Burgermeester (local mayor) Cornelious Sandvoort played by Waltz.
Like all Dutch noblemen, Sandvoort commissions a young and impoverished painter to paint the couple's portrait, a 17th century trend which made Rembrandt famous. In steps the exuberant and excitable Jan van Loos played by Dane DeHaan (Valerian, Kill Your Darlings).
Soon van Loos falls for the ravishing Sophia and deception is conceived mainly for her to escape from her pompous husband who really wants to impregnate her with his preferably male heir.
In a parallel narrative, Sophia's devoted maid, Maria played by British actress Holliday Grainger (Jane Eyre, The Finest Hours, Cinderella) has fallen for the charming if not smelly fishmonger Willem Bok played by Jack O'Connell (Unbroken) who aspire to get married and have six children together.
In a bizarre twist both Bok and van Loos, two young men desperately trying to increase their liquidity embark on making money on the booming tulip trade, in which the precious bulbs fluctuated in price depending on their rarity and natural beauty of the elusive flower.
Oscar winner Judi Dench (Shakespeare in Love) plays the Abbess who has to sternly guide the young men in the flourishing yet turbulent tulip trade while the Netherlands was expanding its colonial empire to the Dutch East Indies and South Africa.
Despite the slightly convoluted plot and frenetic story line, Tulip Fever is an enjoyable and raunchy period drama held together by amazing performances by the four main leads which serves as a Dutch version of Twelfth Night.
Audiences that enjoyed Girl with a Pearl Earring and Shakespeare in Love, will undoubtedly love Tulip Fever, which provides a fascinating cinematic perspective on the brief but flourishing Tulip trade which made the Netherlands one of the riches countries in Europe especially in the 17th century, establishing their own national stability and making them the money lenders of Europe.
With all the deceit, obsession and money trading, Tulip Fever is a riotous period drama and gets a film rating of 7 out of 10.
Tulip Fever is recommended viewing as a historical drama with a uniquely Dutch twist.
Only the Brave
Director: Joseph Kosinski
Cast: Miles Teller, Josh Brolin, Jennifer Connelly, Andie MacDowell, Taylor Kitsch, James Badge Dale, Jeff Bridges, Ben Hardy, Josh Hopkins
Based on the GQ article No Exit written by Sean Flynn with the assistance of fellow screenwriters Ken Nolan and Eric Warren Singer, Only the Brave is an extraordinary tale of bravery, courage and heroism, illustrating the eternal battle of Man Versus Nature.
Oblivion director Joseph Kosinski using the cinematic motif of a grizzly bear running through the forest engulfed in flames, Only the Brave is a remarkable film held together by solid acting especially by Oscar nominee Josh Brolin (Milk) and Oscar winner Jennifer Connelly (A Beautiful Mind).
Set in the North American summer of 2013 and focusing on the small town of Prescott, Arizona near Phoenix, Only the Brave follows the story of a group of municipal firefighters that are deployed to help fight runaway forest fires in the canyons and mountainous regions in Arizona.
At times, sublime and dangerous, all the men realize that their jobs are extremely risky fighting unpredictable fires which can engulf entire forests in a matter of minutes depending on the wind speed and air temperature.
Brolin plays Eric Marsh, supervisor of the Granite Mountain Hotshots who has to look after a team of 18 men and train them into fighting one of nature's most unpredictable beasts: wildfires. Marsh takes a chance on Brendan McDonough, a recovering addict superbly played by rising star Miles Teller (War Dogs, Whiplash) while also dealing with his own relationship issues with his headstrong wife Amanda, a standout performance by Jennifer Connelly.
To add gravitas to the cast, Oscar winner Jeff Bridges (Crazy Heart) plays Marsh's mentor Duane Steinbrink. James Badge Dale (The Departed, The Walk) plays Marsh's deputy Jesse Steed while Taylor Kitsch (Savages, Lone Survivor) plays McDonough's friend and fellow firefighter Christopher MacKenzie.
What is most impressive about Only the Brave is the haunting cinematography by Oscar winning Chilean cinematographer Claudio Miranda who won for Ang Lee's Life of Pi.
Cinematically this film is excellent from vast aerial shots of the dramatic Arizona topography to the inner anguish of the team's social dynamics as they navigate their own fears and dreams in light of a grueling occupation which seldom takes survivors when the fires rage out of control.
Tron Legacy director Joseph Kosinski really does his best work with Only the Brave assembling a muscular cast to tell a robust narrative filled with searing bravado.
Only the Brave gets a film rating of 8 out 10 and is highly recommended viewing for those that enjoyed Lone Survivor, Dunkirk and the 1991 Kurt Russell film Backdraft.
Thor

:

Ragnarok
Director: Taika Waititi
Cast: Chris Hemsworth, Mark Ruffalo, Tom Hiddleston, Cate Blanchett, Anthony Hopkins, Jeff Goldblum, Idris Elba, Tessa Thompson, Benedict Cumberbatch, Karl Urban, Ray Stevenson, Scarlett Johansson, Luke Hemsworth, Sam Neill, Taika Waititi
New Zealand director Taika Waititi was Oscar nominated back in 2005 for his Live Action Short film Two Cars, One Night.
Marvel Studios recruited him to inject new life into the Thor films and that he certainly does with Thor: Ragnarok, a neon inspired family feud of mythical proportions featuring Thor played again by hunky Australian actor Chris Hemsworth along with his pesky brother Loki played by Tom Hiddleston and new addition to the family Hela played with vampish delight by Oscar winner Cate Blanchett (The Aviator, Blue Jasmine).
Thor returns to Asgard only to discover that Loki has banished Odin, their father to a virtual retirement home. Upon a brief visit, the brothers discover that Odin, wonderfully played with a sombre delight by Oscar winner Anthony Hopkins (The Silence of the Lambs) has got an elder daughter Hela who was banished from Asgard for being the Goddess of Death and wreaking havoc on the nine realms.
Cate Blanchett relishes her role as Hela, the Goddess of Death, inspired by Maleficent and certainly quite intent on destroying her defiant younger brothers.
Thor and Loki land up on a weird dystopian outer planet overseen by the demonic Grand Master, a superbly camp performance by Jeff Goldblum (Jurassic Park, Independence Day), who immediately instructs Thor to fight in a massive arena against a formidable beast: The Hulk. Enter Bruce Banner aka The Hulk, played with bewildering amusement by Mark Ruffalo (The Avengers, Foxcatcher, Spotlight).
Eventually Thor gets Loki, The Hulk and a hard-drinking Valkyrie played by Tessa Thompson last seen in the HBO series Westworld, to return to Asgard to defeat the demonic Hela who is assisted by a reluctant henchman Skurge played by Karl Urban (Dredd, Star Trek and The Loft).
The only criticism is that the middle section of Thor: Ragnarok detracts from the film's central narrative, which is essentially a legendary family conflict.
Thor: Ragnarok is a fun-filled comic book film which thankfully does not take itself or the characters too seriously and is a clear indication that Marvel films are definitely trying to create memorable characters for the lucrative toy manufacturing market just before Christmas.
As with all the latest Marvel films, franchise opportunities abound. Thor: Ragnarok is light-hearted and hellishly entertaining. Audiences should look out for a great cameo by Benedict Cumberbatch reprising his role as the illusive Doctor Strange.
If audiences enjoyed The Avengers and the first two Thor films, then they will definitely savour Thor: Ragnarok which is comically inspired from another Marvel hit franchise, The Guardians of the Galaxy.
Thor: Ragnarok gets a film rating of 7.5 out of 10.
The Mountain Between Us
Director: Hany Abu-Assad
Cast: Kate Winslet, Idris Elba, Beau Bridges, Dermot Mulroney
Based upon the novel by Charles Martin, The Mountain Between Us tentatively explores the strained relationship between two strangers who are stranded together on a remote mountain near the Rockies as their two seater plane crashes en route to Denver Colorado from Idaho.
Directed by Hany Abu-Assad who brought such strong films including the Oscar Nominated Foreign Language film Paradise Now and Omar to the international cinema audiences, The Mountain Between Us is held together literally by strong performances by Oscar winner Kate Winslet (The Reader) and Idris Elba (Prometheus, Pacific Rim) who play Alex and Ben.
Alex is trying to get to New York to marry her fiancée Mark briefly played by Dermot Mulroney (Truth, August: Osage County and Stoker), while Ben, a neurosurgeon, is planning on being in New York to perform an operation on a boy with a brain tumour.
As the trailer suggests, things go horribly wrong and Alex and Ben are left stranded on an icy mountain in the Rockies with only themselves to depend upon. At their wits end and with no hint of rescue insight they manage to assist each other in escaping the mountain for safer ground and search for any form of human habitation.
Naturally as their flight to safety becomes increasingly more perilous they began to not only trust each other but also gradually fall in love, despite being complete strangers.
Which goes to show that at the core of human relationships is a basic desire for survival. That desire outstrips any prejudice and preconceived notions of who is best equipped to survive, something which director Abu-Assad took great pains to reveal to the audience.
The Mountain Between Us could have been a brilliant film, but unfortunately it does get weighed down by its own emotional intensity which is a too heavy  and long winded considering that there really are two actors in the entire film.
Swift editing and some effective character backstory would have made Alex and Ben's fight for survival more fascinating and pertinent. 1 hour and 52 minutes is way too long for two people and a dog to be stranded on a mountain.
The film gets a rating of 7 out of 10 and is recommended for audiences that enjoy romantic disaster films which are rare to say the least.
Geostorm
Director: Dean Devlin
Cast: Gerard Butler, Jim Sturgess, Abbie Cornish, Andy Garcia, Ed Harris, Alexandra Maria Lara, Daniel Wu, Amr Waked, Richard Schiff, Mare Winningham
Scottish actor Gerard Butler (300, Olympus has Fallen) does his I will save the world routine in director Dean Devlin's fantastic disaster epic Geostorm as Jake Lawson alongside Jim Sturgess (21, Cloud Atlas) as his younger conniving brother Max Lawson and the steely secret service agent Sarah Wilson played by Australian actress Abbie Cornish (Bright Star, Limitless, Robocop).
Romanian/ German actress Alexander Maria Lara (Rush) plays the German astronaut Ute Fassbinder while Cuban actor Andy Gracia (The Untouchables, Night Falls on Manhattan) plays the US president Andrew Palma who is trying to prevent earth from being entirely obliterated by a series of freak weather patterns mainly controlled in space by a massive orbital satellite affectionately known as Dutchboy, named after the fabled hero who stopped the Netherlands from imminent flooding.
Think Firestorms in Hong Kong, Tsunami's in Dubai, Freezing temperatures on the Ipanema Beach in Rio de Janeiro and Lightning strikes at the Democratic Convention in Orlando, Florida. How ironic considering that the Donald Trump led Republican administration recently pulled America out of the Paris Climate Agreement.
Veteran actor Ed Harris (The Abyss, A Beautiful Mind, Pollock) recently seen in the brilliant HBO series Westworld, a remake based on the iconic 1970's film, plays Leonard Dekkam.
While Geostorm can be seen as a veiled attempt at illustrating Global warming, it is a reminder that no matter how invincible human beings feel, nature is more powerful. Especially considering the recent geological disasters: Hurricane Irma in the Caribbean and Florida, the recent devastation in Puerto Rico and the deadly earthquake in Mexico City.
Geostorm is a fun-filled, visually impressive popcorn film with some genuine fraternal conflict between the two brothers Max and Jake, the former being a smooth talking government lobbyist (Jim Sturgess) and the latter a gung-ho action man with anger management issues (Gerard Butler).
Like Moonraker meets Gravity with overtones of An Inconvenient Truth, except Geostorm is no documentary but an epic disaster film neatly packaged for American consumerism.
My only criticism is that in Geostorm, America remains relatively unscathed while Mumbai, India, Hong Kong and Dubai are subjected to severe weather patterns which makes for stunning visuals but questionable cinematic ideology.
Audiences that enjoyed The Day After Tomorrow and Armageddon, will love Geostorm. That being said, it is a fun way to spend a Saturday afternoon, without seriously contemplating the 21st century phenomenon of climate change coupled with rapidly developing digital technology.
The entertaining Geostorm gets a Film Rating of 7 out of 10. Recommended for audiences that like their global warming glossy and romanticized.
This film was kindly sponsored by Ster Kinekor https://movies.sterkinekor.co.za/browsing/ Musgrave Cinemas, Durban, South Africa.
The Snowman
Director: Tomas Alfredson
Cast: Michael Fassbender, Rebecca Ferguson, Charlotte Gainsbourg, Chloe Sevigny, Val Kilmer, J. K. Simmons, James D'Arcy, Toby Jones, Jonas Karlsson, Jakob Oftebro, David Dencik
Norwegian novelist Jo Nesbo's thriller The Snowman is brought to cinematic life by Iranian screenwriter Hossein Amini and co-written by Peter Staughan. Tinker Tailor Soldier Spy director Tomas Alfredson brings this bleak Norwegian thriller to the big screen with a constantly icy landscape concerning a ruthless and psychopathic serial killer who kills his victims every time the snow begins falling, which in a Scandinavian winter, would be consistently often.
Assembling an international cast including Oscar nominee Michael Fassbender (12 Years a Slave, Steve Jobs) as hard-drinking detective Harry Hole opposite art house actress Charlotte Gainsbourg, the muse of Danish auteur Lars von Trier who starred in such films as Anti-Christ and Nymphomaniac as his ex-girlfriend Rakel, personally I had high hopes for this thriller being a captivating cinematic experience. My criticism is that in The Snowman, the character relationships were not clearly defined, which made navigating this thriller virtually impossible.
Having not read the Jo Nesbo novel, I found this film version slightly lacklustre especially in the slow moving first half. Despite a refreshing change of watching an entire film shot in Norway, The Snowman didn't quite pack the same verve as David Fincher's utterly compelling film version of Stieg Larsson's blockbuster thriller The Girl with the Dragon Tattoo.
Rebecca Ferguson who appeared in Life and Florence Foster Jenkins also stars as co-detective Kathrine Bratt who is harbouring secrets of her own especially as she tries to entice Norwegian businessman Arve Stop played by Oscar winner J. K. Simmons (Whiplash) into a honey trap, since he has a peculiar penchant for photographing beautiful girls. Rarely seen actor Val Kilmer (Kiss Kiss Bang Bang, Heat and Pollock) makes a welcome comeback as Gert Rafto a Bergen based detective following a similar murder case years earlier.
While The Snowman's narrative visibility is as convoluted as the blurry icy landscape of Oslo and Bergen, the acting comes off as flat and uninspired. Which is a great pity considering the film's acting talent.
Fassbender does a reasonably good job of bringing some dimension to Harry Hole, the lonely but observant detective, however one gets the sense that he fully was committed to the role as he was in director Justin Kurzel's Macbeth.
Perhaps the reason for my lukewarm response to this supposedly icy thriller was that I had a nightmarish cinematic experience coupled with expectations that director Tomas Alfredson would make an equally impressive film as his gripping adaptation of John le Carre's Tinker Tailor Soldier Spy.
The Snowman for all its gripping plot-twists, peppered with gruesome murders, gets a film rating of 6.5 out of 10.