Deep End
Durban based film director Eubulus Timothy makes superb use of Durban Beachfront in his cross cultural surf drama Deep End starring Carishma Basday and Greg Kriek (The Recce).
Deep End centres on the story of an independently minded South African Indian young woman who is desperate to escape the clutches of her father played by TV personality turned actor Mahendra Raghunath as she embraces the surf culture of Durban which historically was only made up of young white people.
The competitive surfing world clashes with the arranged marriages family orientated world of a Hindi South African family as the main character Sunitha Patel takes to the waves in a bid to surf where she meets disgraced American surfer Corey Taylor who is lying low in South Africa. Corey is ironically played by South African actor Greg Kriek who was so brilliant in the South African Afrikaans war drama The Recce which has just won Best Foreign Feature Drama at the Idyllwild indie film festival in California – http://www.idyllwildcinemafest.com/awards-iifc-2019/
But back to Durban and what better way to show off the city's miles of beautiful beaches and warm Indian Ocean, by making a surf film set in a city synonymous with some of the best surfing in the world.
Deep End is by no means a brilliant film and at times the storyline and script is slightly contrived but director Eubulus Timothy does the best he can with a film that not only shows off Durban's delightful coastline but focuses on two very fascinating subcultures – the surfing community in Durban as well as Durban's unique Indian cultural dynamic which is exemplified in the forbidden cross-cultural romance between Corey Taylor and Sunitha Patel.
There is also some comic moments thrown in to Deep End and the middle section of the film could have been edited more efficiently. Overall if you want to support South African cinema then Deep End is a fun filled cross cultural surfing movie which fantastically showcasing Durban as a surfing city with beautiful beaches and a superb vibe especially showcasing urban locations including North Beach and the hip Florida Road precinct in Morningside.
Deep End is a fun filled surf film and gets a film rating of 6.5 out of 10. Recommended viewing for some light home grown entertainment.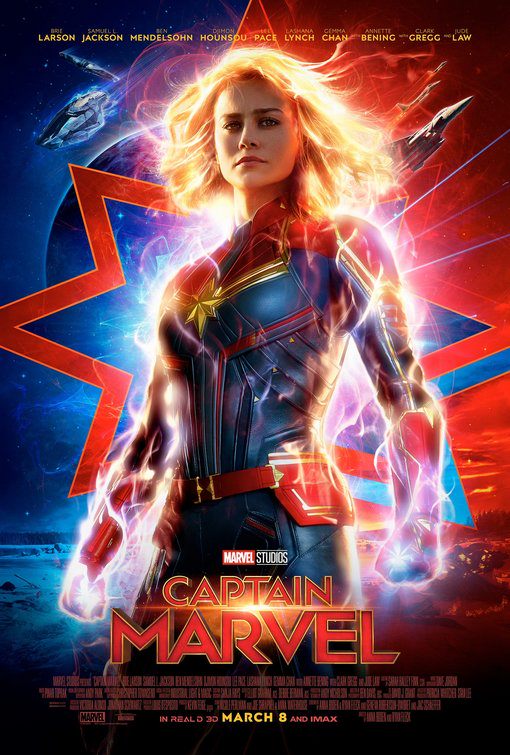 Captain Marvel
Directors: Anna Boden & Ryan Fleck
Cast: Brie Larson, Samuel L. Jackson, Annette Bening, Jude Law, Ben Mendelsohn, Lashana Lynch, Lee Pace, Clark Gregg, Gemma Chan, Djimon Hounson, Chris Evans, Scarlett Johansson, Rune Temte
Just before Avengers: Endgame hits theatres, Marvel had to introduce one more superhero to the galaxy of stars. It's the Retro intergalactic Captain Marvel wonderfully played by Oscar winner Brie Larson also known as Airforce Pilot Carol Danvers who gets whisked into space to become indoctrinated by the Kree Civilization, an advanced alien race headed up by the mysterious Supreme Being icily played by Annette Bening in her Marvel Comics debut.
Audiences can be forgiven for thinking that they had bought cinema tickets to a Star Trek reboot as the first twenty minutes of Captain Marvel is entirely set in space. Until Captain Marvel miraculously escapes an intergalactic feud between the Kree and the Skrull tribes and lands up in Los Angeles in 1995 in a blockbuster video store of all places, the film effortlessly shifts its location from outer space to a particular time and place.
In California, Captain Marvel teams up with a youthful Nick Fury wonderfully played by Samuel L. Jackson whose screen chemistry with Brie Larson is electrifying.   
Like all the other Marvel films and particularly those that loved Avengers: Infinity War, then Captain Marvel is a fun mixture of superhero and Guardians of the Galaxy and fits right in with the current trajectory the Marvel films are going. More significantly it is the first entirely female centred superhero film, with Brie Larson doing a sterling job, although admittedly the film does not quite match up to DC Comics's brilliant Wonder Woman directed by Patty Jenkins.
There is sufficient plot twists, location changes as Captain Marvel and Nick Fury travel to Louisiana to discover her real human identity as Airforce Pilot Carol Danvers as they team up with fellow co-pilot Maria Rambeau played by rising British star Lashana Lynch.
Oscar nominee Jude Law (The Talented Mr Ripley) plays the arrogant Kree commander Yon Rogg who proves to be a worthy adversary to Captain Marvel.
Captain Marvel is a fun filled retro intergalactic romp of a film engagingly written and populated with some witty one liners. Brie Larson pulls off the role of the latest female action superhero with credibility and nuance as she struggles to discover her real identity and where her role as Captain Marvel fits in to the larger Avengers scheme of things.
Flashy visual effects and some great onscreen chemistry save Captain Marvel from being just another superhero film and this gets a film rating of 7 out of 10.
Audiences should definitely see Captain Marvel before watching Avengers: Endgame. Recommended Viewing for Marvel fans only and regular attendees of Comicon.
3 Days to Go
Director: Bianca Isaac
Cast: Leeanda Reddy, Kajal Bagwandeen, Lilette Dubey, Jonathan Boynton-Lee, Jailoshini Naidoo, Rahul Brijnath, Tumi Morake, Kiara Govender
In my 2019 bid to support South African cinema, I went to see a local film 3 Days to Go directed by Bianca Isaac. 3 Days to Go is basically a Durban Family reunion film focusing on a slightly dysfunctional South African Indian family whose father passes away unexpectedly.
As the mother and now grieving widow of the family brilliantly played by Lillette Dubey last seen in The Best Exotic Marigold Hotel and The Second Best Exotic Marigold Hotel calls her children together for a Hindi burial, the siblings are forced to confront the strained relations between them as well as the twisted rivalries which have developed of the years.
Local stars Leeanda Reddy, Kajal Bagwandeen and Jailoshini Naidoo (Keeping up the Kandasamy's) play the three sisters Janet, Melissa and Amy while there is naturally an irresponsible gambling brother Riki played by 31 Million Reasons star Rahul Brijnath, who unknowingly puts the family in danger.  Top Billing TV presenter turned actor Jonathan Boynton-Lee stars as Reddy's love interest.
The best scenes in the film are between Reddy and Boynton-Lee whose natural screen presence holds the film together. Lilette Dubey does a reasonably good job portraying the matriarch Laksmi Isaac considering that she has acted opposite Dev Patel, Dame Judi Dench and Richard Gere in the Marigold Hotel films.
Director Bianca Isaac could have done with some editing as the middle of 3 Days to Go, as the plot seemed slightly directionless and melodramatic, however, I did like the ending of the film especially with the entire family on Durban beachfront overlooking the warm Indian Ocean.
On that note, Bianca Isaac could have showed off more locations in Durban in 3 Days to Go, but perhaps it was due to budgetary constraints or lack of directorial imagination.
3 Days to Go is not a brilliant film, but it is a good attempt at a South African family drama with a uniquely Durban twist. However it does point out that the South African film industry is miles behind the international films being released. But as with all burgeoning industries, this unique and multi-faceted film industry does have lots of potential and is a step in the right direction.
3 Days to Go get a film rating of 6.5 out of 10 and will have a distinctly local South African appeal.
The films translation beyond the borders of South Africa will be severely limited, due to the insular and mostly provincial cultural references. Recommended viewing for those that love South African melodrama.
The 91st Academy Awards took place on Sunday 24th February 2019 at the Dolby Theatre, Hollywood, Los Angeles, California
Best Picture: Green Book
Best Director: Alfonso Cuaron – Roma
Best Actor: Rami Malek – Bohemian Rhapsody
Best Actress: Olivia Colman – The Favourite
Best Supporting Actor: Mahershala Ali – Green Book
Best Supporting Actress: Regina King – If Beale Street Could Talk
Best Original Screenplay: Green Book
Best Adapted Screenplay: Spike Lee – BlackkKlansman
Best Cinematography: Roma
Best Costume Design: Black Panther
Best Make up & Hairstyling: Vice
Best Visual Effects: First Man
Best Film Editing: Bohemian Rhapsody
Best Sound Editing: Bohemian Rhapsody
Best Sound Mixing: Bohemian Rhapsody
Best Production Design: Black Panther
Best Documentary Feature: Free Solo
Best Original Score: Ludwig Goransson – Black Panther
Best Original Song: Shallow from A Star is Born
Best Animated Feature Film: Spiderman: Into the Spiderverse
Best Foreign Language Film: Roma – directed by Alfonso Cuaron
Green Book
Director: Peter Farrelly
Cast: Viggo Mortensen, Mahershala Ali, Linda Cardellini, P. J. Byrne, Sebastian Maniscalco, Dimiter D. Marinov, Paul Sloan, Anthony Mangano
Oscar nominee Viggo Mortensen (Captain Fantastic, Eastern Promises) and Oscar winner Mahershala Ali (Moonlight) give top notch performances as Tony "The Lip" a working class Italian American bouncer from the Bronx and a classical music pianist, the erudite Dr Don Shirley in the superb road film Green Book directed by Peter Farrelly.
When Tony the Lip, a loud mouth, aggressive and compulsive eater bouncer finds himself out of work at a New York nightclub he takes the job as a hired driver for the sophisticated and refined Dr Don Shirley who has an itinerary of classical concerts to perform in the deep South from Raleigh in North Carolina to Birmingham in Alabama in 1962 at the height of racial segregation and tensions in the American Southern States.
Mortensen gives one of his best on screen performances in a reversal of the classic Bruce Beresford film Driving Miss Daisy, as the crass chauffeur for the cool and occasionally collected Dr Shirley beautifully played by Mahershala Ali who expertly masks deeper resentments at having to play for these wealthy white audiences in Country Clubs in the deep South yet knowing that he will not be treated as an equal.
Often the managers offer him separate amenities such as change rooms or even a linen closet to utilize highlighting the hideous social repercussions of racial segregation not to mention the obvious hypocrisies inherently contained in such an absurd policy. While Tony is quick to protest this treatment, Dr Don Shirley insists that dignity must prevail and they must not lose their cool.
The title of the film, Green Book refers to an American road user's guide for Negroes as they travel through the Deep South even offering alternative places of accommodations and what rules to comply with.
Director Peter Farrelly never overemphasizes the theme of racial segregation but rather subtly hints at it through many humorous scenes as the two men from vastly different backgrounds form an unlikely bond especially when Tony has to somehow curb Dr Shirley self-destructive streak and pluck him from some rather awkward situations.
The onscreen chemistry between Mortensen and Ali is beautiful and makes Green Book shine as a fascinating portrait of male friendship struck up through a thoroughly historical and unusual set of social circumstances in 1962.
Green Book has fantastic music, a wonderful supporting cast including a lovely performance by Linda Cardellini as Tony's patient wife Dolores who Dr Shirley assists Tony in writing beautiful love letters to while the duo are on the road in hostile territories.
Green Book is highly recommended viewing and both Viggo Mortensen and Mahershala Ali deserve Oscars for their brilliant performances.
Green Book gets a film rating of 9 out of 10 and is all the more relevant since it is based on a true story.
THE 72nd BAFTA AWARDS /
THE BRITISH ACADEMY FILM AWARDS
Took place on Sunday 10th February 2019 in London
at the Royal Albert Hall
BAFTA Winners in the Film Category:
Best Film: Roma
Best Director: Alfonso Cuaron
Best Actor: Rami Malek – Bohemian Rhapsody
Best Actress: Olivia Colman – The Favourite
Best Supporting Actress: Rachel Weisz – The Favourite
Best Supporting Actor: Mahershala Ali – Green Book
Best Original Screen Play: Deborah Davis & Tony McNamara – The Favourite
Best Adapted Screenplay: BlackkKlansman
British Rising Star Award: Letitia Wright
Best British Film: The Favourite
Best Cinematography: Roma
Outstanding Debut Film: Beast
Best Foreign Language Film: Roma
Best Costume Design: Sandy Powell – The Favourite
Best Visual Effects: Black Panther
The Upside
Director: Neil Burger
Cast: Bryan Cranston, Nicole Kidman, Kevin Hart, Tate Donovan, Julianna Margulies, Golshifteh Farahani, Aja Naomi King
Limitless director Neil Burger gives an American spin on the remake of the superb 2011 French film The Intouchables starring Omar Sy and Francois Cluzet about a billionaire quadriplegic striking up an unlikely bond and friendship with his down and out carer.
This time the parts are played by Oscar nominee Bryan Cranston (Trumbo) and comedic actor Kevin Hart as Dell Scott the paroled carer who gets the unlikely position of becoming a full time male nurse to art collector and writer Philip Lacasse wonderfully played by Cranston in The Upside.
The Upside aims to make audiences feel all warm and fuzzy, about the underlying compassion which should be instinctive in human nature. In this respect, The Upside is a perfectly well-directed American Take on a French Tale.
Oscar winner Nicole Kidman (The Hours) plays the Harvard educated Yvonne who is Lacasse's personal sectary who is initially aghast at her employer's decision to hire the rough around the edges Dell Scott who is desperate to earn some cash to redeem himself in the eyes of his ex-wife Latrice played by Aja Naomi King.
While The Upside doesn't quite capture the quirky relationship between Billionaire and poverty stricken carer as it did in the original French film The Intouchables, there are some funny moments particularly played by Kevin Hart who does not usually play serious roles.
The Good Wife's Julianna Margulies (Snakes on a Plane) makes a cinematic appearance as Lily an epistolary flame that Philip has been dutifully corresponding with.
Tate Donovan appears as the snobbish Manhattan neighbour Carter and Iranian actress Golshifteh Farahani plays the practical physiotherapist Maggie who expertly advises Dell on how to insert a catheter and generally care for the wheelchair bound angst ridden Lacasse.
Cranston holds the film together, acting mostly with his expressive eyes.
Viewers that have not seen the original French film will enjoy this light hearted comedic drama, but those that saw The Intouchables will feel that The Upside doesn't possess that emotional gravitas which was central to the French version. In any events, The Upside is a light hearted look at the complexity of unique human relationships and will be sure to find a suitable audience.
Recommended viewing, The Upside gets a film rating of 6.5 out of 10.
On The Basis of Sex
Director: Mimi Leder
Cast: Felicity Jones, Armie Hammer, Justin Theroux, Kathy Bates, Sam Waterston, Jack Reynor, Cailee Spaeny, Chris Mulkey
Oscar nominee Felicity Jones (The Theory of Everything) takes on the role of gender activist lawyer Ruth Bader Ginsburg in director Mimi Leder's informative if slightly over talkative legal biography On The Basis of Sex.
Armie Hammer (The Social Network, Call Me By Your Name) stars as her supportive lawyer husband Martin Ginsburg.
Also in the cast are Justin Theroux (The Girl on the Train) as Mel Wulf a fellow human rights lawyer and Oscar winner Kathy Bates (Misery) as Dorothy Kenyon a lawyer that unsuccessfully tried to challenge the state and federal laws which discriminate against people on the basis of their gender.
Pay it Forward and Deep Impact director Mimi Leder does a reasonably good job of handling the legal subject matter although the material does not dazzle onscreen and this film will really only appeal to those interested in the legal precedent that Ruth Bader Ginsburg won and how she successfully reversed gender discrimination.
Felicity Jones does a brilliant job of portraying Ruth Bader Ginsburg, yet unfortunately On The Basis of Sex which was released amidst all the Oscar nominated films for 2019 does not shine as a particularly memorable film. On the Basis of Sex is a fascinating if slightly too talkative portrayal of a female lawyer who challenged the American legal established and reversed most federal and state laws which were based on pure gender discrimination, unfairly favouring men over women.
Jack Reynor (Detroit, A Royal Night Out, Macbeth) and Sam Waterston (Miss Sloane, The Killing Fields) play chauvinist lawyers Jim Bozarth and Erwin Griswold who are attempting to rebuke Ginsburg legal argument.
On The Basis of Sex gets a film rating of 7 out of 10 and given the acting talent in this film, this legal biographical drama could have been brilliant but falls short of the mark.
Yet, the film remains a fascinating portrait of a female lawyer who fought the establishment in the early 1970's and irrevocably altered the legal precedent in America just as the climate of social change was sweeping through this influential democratic country.
The Favourite
Director: Yorgos Lanthimos
Cast: Olivia Colman, Rachel Weisz, Emma Stone, Joe Alwyn, Nicholas Hoult, Mark Gatiss, James Melville, Timothy Innes, Basil Eidenbenz
When Queen Mary II died in 1694 and her husband King William III died in 1702, the British throne passed to Mary's sister Queen Anne in 1702 who bore 17 children through her marriage to Prince George of Denmark all of whom died in childbirth. The reign of Queen Anne was short lived, having only occupied the throne for 12 years.
Greek art house director Yorgos Lanthimos provides a bizarre parody of royal favouritism, jealousy and court rivalry in his lavish critically acclaimed period film The Favourite set during Queen Anne's reign at the beginning of the 18th century. Audiences should note that this is not an accurate historical drama in the vein of director Shekhar Kapur's epic films Elizabeth and Elizabeth, The Golden Age in which Cate Blanchett played the Virgin Queen. The Favourite is meant to be viewed as a parody.
The Favourite is a spiteful royal romp which has three deliciously brilliant portrayals of different women at its core.
Oscar winner Rachel Weisz (The Constant Gardner) is absolutely superb as the manipulative and influential Lady Sarah who is usurped in her position at the court by her young cousin a feisty Abigail wonderfully portrayed by Oscar winner Emma Stone (La La Land).
Both women are trying to gain favour with the sickly and constantly bored Queen Anne beautifully played by British actress Olivia Colman who gives a career best performance as a Queen who is both commanding and fickle, a female regent constantly plagued by the death of all her children and her inability to produce a viable heir.
With gorgeous costumes by Sandy Powell and a brittle inventive script by Deborah Davis and Tony McNamara, Yorgos Lanthimos's inventive portrayal of British Royalty is both cheeky, outrageous and utterly thought-provoking, a vicious parody of those who hold power and the others who circle precariously around the centre of that regal orbit.
Beautifully constructed and wonderfully filmed, The Favourite is not going to be everyone's cup of perfectly brewed tea but it will certainly challenge viewers' perception of the pedestal that royalty places itself on.
Love it or hate it, The Favourite is a challenging and lavish film about vile characters, utter debauchery and a satirical look at how powerful women can outwit each other, while the vain and ineffectual men particularly Harley played by Nicholas Hoult (A Single Man) and Masham played by Joe Alwyn (Billy Lynn's Long Halftime Walk) are mere pawns in this whimsical game of deception and influence over a powerful Queen that was equally swayed by her closest companions.
The Favourite gets a film rating of 9 out of 10 and is utterly bizarre, a ravishing parody of royalty which will leave an inedible impression on the viewer.
Vice
Director: Adam McKay
Cast: Christian Bale, Amy Adams, Sam Rockwell, Steve Carell, Alison Pill, Eddie Marsan, Justin Kirk, Lisa Gay Hamilton, Jesse Plemons, Shea Whigham, Tyler Perry
Thanks to a preview screening organized by United International Pictures at Suncoast Cinecentre, Durban, I was fortunate enough to see director Adam McKay's highly anticipated biopic Vice about Republican Vice President Dick Cheney featuring an utterly unrecognizable Christian Bale as Cheney and Oscar nominee Amy Adams as his ambitious wife Lynne.
Inventively directed by Adam McKay, Vice does for Republican politics what The Big Short did so brilliantly for the 2008 Financial Meltdown on Wall Street. McKay, besides extracting superb performances out of Christian Bale and Amy Adams, also incisively cuts into the heart of Republican politics especially from George W. H. Bush's Presidency in 2000 and right through the crucial months which followed the devastating attacks on the World Trade Centre in New York in September 2001 to the eventual invasion of Iraq in 2003.
This is 21st century contemporary history which affected the world and writer and director McKay taps into the zeitgeist of those crucial turning points which changed American History and effectively portrays Vice President Dick Cheney to be a ruthless and opportunistic politician who believed in the executive powers theory which basically sees the President and Vice President of a country make executive decisions without any checks or balances from Congress or the U. S. House of Representatives.
Vice is an incisive look at American Politics and is much about how America got Trump into the Oval Office in 2016 as it is about any potential Republican failings in terms of U.S. foreign policy.
At the centre of this comedic biopic are two utterly transformative performances by Oscar winner Christian Bale (The Fighter) and Oscar nominee Amy Adams (The Master, Doubt, American Hustle) as this unassuming Wyoming couple who become the most powerful couple at the White House during the Bush administration from 2000-2008, always staying a step ahead of the decision curve.
Oscar winner Sam Rockwell (Three Billboards outside Ebbing, Missouri) is equally charismatic as the young George W. Bush who asks Dick Cheney to be his running mate for the 2000 elections.
Director Adam McKay also assembles an excellent supporting cast including Oscar Nominee Steve Carell (Foxcatcher) as Donald Rumsfeld and Tyler Perry as Colin Powell.
The film's narrative is incisively told in a cleverly constructed pastiche of dubious politics touching on some controversial subjects like torture and rendition with some extremely graphic images thrown in. Vice is a fascinating portrait of an unassuming bureaucrat who becomes so powerful that he fabricated reasons to invade a sovereign state and start the American invasion of Iraq, a move which definitely destabilized the Middle East as a whole.
For lovers of excellent political films, then viewers have to see Vice.
It's an incredibly well researched indictment of the Republican Party made all the more pertinent by the disruptive Trump presidency which is currently dominating global media headlines.
Adam McKay's Vice is brilliant and thought-provoking making Christian Bale a hot contender for another Oscar win as his transformative performance dazzles in every frame much like Gary Oldman 's vivid portrayal of Winston Churchill in Darkest Hour.
Vice gets a film rating of 8 out of 10 and accurately portrays how decisive strategic political actions by a global superpower like America can be indirectly attributed to the rise of global conflict and international terrorism in other regions of the world. Terrifying and fascinating stuff!