Moon
light
Director: Barry Jenkins
Cast: Mahershala Ali, Naomie Harris, Trevante Rhodes, Janelle Monae, Andre Holland, Alex Hibbert, Ashton Sanders
Director Barry Jenkins breaks new visual ground in his evocative film Moonlight based upon the unproduced play "In the Moonlight Black Boys look Blue" written by Tarell Alvin McCraney.
Premiering at the Telluride film festival in Colorado, Moonlight has attracted huge critical acclaim and awards buzz anchored by two superb performances by Mahershala Ali, last scene in the brilliant series House of Cards, as a African-American Cuban drug dealer Juan and British actress Naomie Harris (Skyfall) in a breath taking role as the crack addicted mother Paula.
Moonlight deconstructs masculinity, sexuality and race in an incisive portrayal of one man's growth from childhood into adulthood. Set in a poverty stricken Miami neighbourhood, Chiron played in three life stages by Alex Hibbert as a young boy nicknamed Little, Ashton Sanders as a teenager named Chiron and Trevante Rhodes as a muscle bound young man nicknamed Black.
Throughout this study of maturity and evolving masculinity, Chiron has to contend with his drug addicted mother Paula, who incidentally is being supplied crack cocaine by Juan who initially takes Little under his wing as a foster father and teaches him to swim in one of the film's most effective scenes. The ethical conflict of these two parental figures adds to Chiron's inability to express his emotions except to ask direct questions like: What is a faggot?
Moonlight is a stunning film, a visual masterpiece superbly directed by Barry Jenkins which gets under the viewers skin and inhabits their perceptions, changing every misconception there is about socially constructed identities – what it means to be black, what it means to be an addict and what it means to be gay.
Chiron's sexual awakening on a moonlit beach in Miami as he kisses school friend Kevin played by Andre Holland sets the stage for a provocative and important film.
Moonlight is sure to be discussed and analyzed in terms of visual identity and perception but more poignantly it's a superb portrayal of one man's emotional journey from bullied child and teenager to a muscle bound man who manages to escape the confines of his conflicted childhood and reconcile with his real identity and find love in the process. The scene between Chiron and a much older Paula is truly phenomenal.
Moonlight is highly recommended viewing, a visually impressive film already generating critical acclaim and incisive film analysis.
Live By Night
Director: Ben Affleck
Cast: Ben Affleck, Sienna Miller, Chris Messina, Chris Cooper, Zoe Saldana, Elle Fanning, Brendan Gleeson, Remo Girone, Titus Welliver, Max Casella, Clark Gregg, Anthony Michael Hall
Oscar winner Ben Affleck (Argo, Good Will Hunting) approaches another passion project with the cinematic adaptation of Dennis Lehane's riveting gangster novel Live By Night about the rise of Irish mobster Joe Coughlin.
Set in Prohibition era America in the mid 1920's, Live By Night features Affleck as the main character as well as him adapting the screenplay and directing the film version. To his credit, Affleck assembles a fine cast including an unrecognizable Sienna Miller as the gangster's moll with a strong Irish accent, Emma Gould who Coughlin first meets in Boston.
Also in the cast are Brendan Gleeson (In Bruges) as Coughlin's father Thomas who happens to be Boston police chief, Oscar winner Chris Cooper (Adaptation) as Tampa police chief Figgis, Elle Fanning (Trumbo, Maleficent) in a stand out role as a recovering heroin addict Loretta Figgis and Zoe Saldana as Cuban beauty Graciela whom Coughlin eventually falls in love with after he moves to Tampa, Florida after fleeing Boston.
If viewers have not read Lehane's book they might find the film version of Live By Night drawn out with a screenplay which delivers but doesn't elevate the film to such genre classics as The Untouchables, Casino or even Goodfella's.
Whilst the gorgeous period production design of Live By Night can be applauded as well as some stunning sequences in Florida, where after the initial gloom of Boston, the film definitely brightens to show a much more diverse and fascinating world in the deep South, the overall effect of Live By Night is laboured but not exhilarating.
Personally I loved the film, but I had read the novel so knew ahead what was install.
Ben Affleck's ambitious plans to write, direct and star in a big screen adaptation of the novel might fall short, although his effort in doing so is admirable. What does elevate Live By Night are the superb supporting cast including Sienna Miller who after Burnt and Foxcatcher has an ability to disappear into any screen role and certainly is one of the most underrated actresses in Hollywood. Fanning as a bible preaching morally conflicted young woman comes across as sacrificial, yet her performance is brilliant despite the minimal screen time.
The best scenes in the film are between Affleck and Chris Messina who is wonderful as Coughlin's best friend and crime partner, the wise cracking Dion Bartolo, a role which he played against type. It is refreshing to watch Zoe Saldana (Guardians of the Galaxy) play in a period film as the gorgeous Cuban business woman Graciela although her role in the film is not as detailed as it is in the novel.
What Affleck does successfully is portraying America as a Fallen World, where as prohibition ends, there is nothing left except repression, bigotry and violence. Live By Night is a gritty, stylish and violent gangster film similar to Gangster Squad but not as brilliant as Bugsy or Public Enemies.
Audiences should only see Live By Night if they are ardent fans of gangster films, a genre which is difficult to get right at the best of times. Despite Affleck's talent as a director, he is no Martin Scorsese or Brian de Palma. Although his evocative visual efforts should be commended.
Recommended viewing for those that enjoyed Gangster Squad.
XXX

: The Return of

Xander Cage
Director: D. J. Caruso
Cast: Vin Diesel, Toni Collette, Samuel L. Jackson, Donnie Yen, Ruby Rose, Deepika Padukone, Nina Dobrev, Rory McCann, Ice Cube, Hermione Corfield, Michael Bisping, Tony Jaa, Kris Wu
Franchise star Vin Diesel returns in the third instalment of the XXX series, unimaginatively named XXX: The Return of Xander Cage directed by D. J. Caruso (Disturbia, Eagle Eye and I am Number Four).
Assembling a diverse multinational cast ensures its broader international box office appeal especially in Asia. Joining the cast of XXX: The Return of Xander Cage are Ruby Rose, Danish Bollywood star Deepika Padukone, Kris Wu, Scottish actor from HBO's Game of Thrones, Rory McCann (Clash of the Titans), Donnie Yen (Rogue One: A Star Wars Story) and Thai actor Tony Jaa (Furious 7).
As the action moves swiftly from The Dominican Republic to a jungle rave in the Philippines, then onto the final showdown in Detroit, this popcorn film delivers for sheer enjoyment ably assisted by a great supporting cast including Australian actress Toni Collette (Muriel's Wedding, Hitchcock) and veteran star Samuel L. Jackson (Kingsman: The Secret Service, Avengers: The Age of Ultron) reprising his role of Augustus Gibbons founder of the covert extreme sports unit XXX.
Whilst there is not enough of the mind blowing stunts that made the original XXX film in 2002 so captivating, there are a fair share including skiing in a jungle (I kid you not), jet skiing off the Philippine coastline and the usual array of car chases, satellites crashing down on major cities to keep audiences thoroughly entertained.
The plot involves a device known as Pandora's Box which can bring down orbital satellites and hold superpowers to ransom. Naturally, Xander Cage and his team of rebels are asked to retrieve and deliver Pandora's Box to supposedly safe hands by a blonde haired Jane Marke played by Toni Collette.
The gorgeous Hermoine Corfield (Mission Impossible: Rogue Nation, Mr Holmes) pops up as a sexy hacker in London, making the British capital more sexy than it really is as her opening sequence involves her swimming in a rooftop heated pool.
To make the plot more interesting there is a couple of twists where the real villain is not clearly identified until half way through, but director Caruso approaches the XXX film like a comic book pastiche heavily reliant on CGI and giving audiences exactly what they want: fantastic thrills in exotic locations and enough action to satisfy any adrenaline junkie.
XXX: The Return of Xander Cage is a fun filled action film, which thankfully doesn't take itself too seriously and delivers an enjoyable popcorn thrill ride made all the more amusing by Vin Diesel's continued smirk on his face and a surprise addition to the cast to link up the franchise into a XXX trilogy. Similar to the hugely successful Fast and Furious franchise, there is bound to be a fourth film in the XXX series now that the producers have received funding from the Shanghai Media Group.
Audiences will enjoy XXX: The Return of Xander Cage for action and laughs but it doesn't deliver anything more than it's expected to.
La La Land
Director: Damien Chazelle
Cast: Ryan Gosling, Emma Stone, J. K. Simmons, Finn Wittrock, Rosemarie DeWitt, John Legend, Josh Pence
After the success of Whiplash, writer and director Damien Chazelle achieves the virtually impossible, a magnificent and dazzling modern day musical set in Los Angeles which is fresh, original and utterly captivating. La La Land pairs two of Hollywood's hottest stars the dapper and ever charming Ryan Gosling (The Nice Guys, The Big Short) with the quirky and talented Emma Stone (Magic in the Moonlight) in one of the best on screen pairings ever seen on film.
La La Land is superb, a gorgeous brightly coloured ode to all those that have ever dreamed, that have harboured artistic expression, to those that have repeatedly been told to relentlessly follow your dreams. If you are talented and passionate then they will come true. But like all dreams, however magical there is always a price to pay.
Unashamedly, La La Land is also a tribute to Los Angeles, a glorious picture perfect film to all the major attractions of the magical city of stars where dreams come to be realized or dashed, where glamour is epitomized, where everyone wants to sing and dance and act on film.
La La Land sets the tone for a lavish musical, with the opening number starting as a traffic jam on one of the city's major highways transforming into an extraordinary sing and dance number. Soon Mia an aspiring actress played with relish and nuance by Oscar nominee Emma Stone (Birdman) surrounded by a bevy of beautiful flat mates unexpectedly meets Sebastian a jazz-obsessed pianist whose dreams entwine in a seasonal musical which pays homage to Casablanca and Singing in the Rain.
Chazelle's directorial style pays tribute to auteurs such as Robert Altman, David Lynch and Pedro Almodovar and his superb sense of timing is matched by his brilliant screenplay especially in the romantic scenes between Mia and Sebastian as they both embark on a romantic affair which is impulsive and beautiful from their first date watching Rebel without a Cause at the Rialto to their dancing under the stars at the iconic Griffin Observatory.
With an original score by Justin Hurwitz and some catchy tunes like City of Stars, La La Land will captivate audiences with its fanciful colours, its bold delight at music and refusal not to become too serious. In fact, La La Land is simply masterful in every way from the beautiful costumes mostly in primary colours to the fabulous production design, this film is like a tonic for everything cruel and horrible that is happening in the world.
Like a cinematic soufflé, La La Land hits all the right notes made all the more poignant by the fantastic performances by Gosling and Stone assisted with some wonderful cameo's by John Legend, Rosemarie DeWitt and Oscar winner J. K. Simmons (Whiplash).
La La Land is the third collaboration of Stone and Gosling after Crazy, Stupid, Love and Gangster Squad and clearly this Hollywood chemistry is working judging by all the critical acclaim.
This is cinema at its best. La La Land is utterly phenomenal, a marvellous musical which is just what audiences are longing for: a visually spectacular tribute to the dreamers which makes living purely inspirational.
Allied
Director: Robert Zemeckis
Cast: Brad Pitt, Marion Cotillard, Jared Harris, August Diehl, Lizzy Caplan, Marion Bailey, Matthew Goode, Simon McBurney, Josh Dylan
Flight director Robert Zemeckis's hopes to rekindle the World War II genre with the Nazi thriller Allied pairing Oscar nominee Brad Pitt (Twelve Monkeys, The Curious Case of Benjamin Button) and Oscar winner Marion Cotillard (La Vie en Rose) are severely dashed.
Whilst Cotillard holds her own as femme fatale Marianne Beausejour speaking French in the stunning Moroccan opening sequence, it is Brad Pitt who looks forlorn as the flaky Canadian spy Max Vatan as he parachutes into the Sahara desert to enter an intriguing plot in Casablanca to assassinate the Nazi German ambassador to the Vichy occupied French Morocco.
The most engaging sequences in Allied is the first act, all set in exotic Morocco, but if the film is aiming to recapture the allure of Anthony Minghella's Oscar winning masterpiece The English Patient, it falls short of the mark. Despite a competent script by Steven Knight although not his best work (Eastern Promises, Locke), Allied fails to deliver as a riveting war drama mainly due to the surprising lack of screen chemistry between Pitt and Cotillard.
Unlike in director David Ayer's blood-soaked Fury, Brad Pitt wasn't on his best acting form, pre-empting the drama of the Brangelina breakup which overshadowed the post-production publicity of Allied to such an extent that Marion Cotillard had to issue a press statement denying that she was the cause of the split between Pitt and Angelina Jolie.
Publicity aside, the second half of Allied set in rain-drenched London during the Blitz is far more dreary than its spectacular opening sequence despite a strong group of British supporting actors including Jared Harris (Sherlock Holmes: A Game of Shadows), Matthew Goode (Brideshead Revisited, Stoker), Marion Bailey (Mr Turner) and Simon McBurney (Mission Impossible: Rogue Nation, The Last King of Scotland).
Audiences should look out for two superb cameos by German actor August Diehl as the Nazi commander Hobar who incidentally also acted with Pitt in Tarantino's revisionist war drama Inglourious Basterds and Lizzy Caplan (The Interview) as Max's bohemian sister Bridget.
As Max Vatan and the mysterious Marianne Beausejour marry and set up home in Hampstead during the war, there are rumours circulating that Beausejour is a double agent, secretly working for the Nazi's and that the entire Casablanca affair was a ruse to get Vatan to trust her. As Marianne states in the opening scenes, "I keep my emotions real. That's why it works" which beguiles Max into falling in love with the sophisticated yet steely eyed Frenchwoman.
Whilst Allied is an engaging film in the first half, with stylish 1940's costume to match, the second half fails to keep the audience interested and develops into a slightly soppy second half as the truth emerges.
Allied is an average war drama from a screenwriter that could have delivered far better and from two stars that required a more dynamic plot to compensate for their dismal lack of onscreen chemistry.
Lion
Director: Garth Davis
Cast: Dev Patel, Nicole Kidman, Rooney Mara, Sunny Pawar, David Wenham, Priyanka Bose, Abhishek Bharate
If child trafficking or the plight of India's lost street children is the point of the true life drama Lion, then first time Australian director Garth Davis achieves a momentous and riveting family film made particularly poignant by the breakout performance of the young Saroo, aged five, wonderfully played with a resilience by screen newcomer Sunny Pawar.
Hindi speaking Sunny Pawar portrays the streetwise Saroo, a young Indian boy who after losing his older brother Guddu played by Abhishek Bharate on a train platform in Khandwa, central India mistakenly gets on a decommissioned train heading for Calcultta, some 1600 kilometres away from his family and his beloved mother Kamla played by Priyanka Bose. Surviving on the overcrowded and voluminous streets of Calcutta, Saroo is eventually picked up by child services and placed in a poverty stricken orphanage.
Fortunately, Saroo is adopted by an Australian couple John and Sue Brierley, played by Australian actor David Wenham (300, Public Enemies) and Oscar winner Nicole Kidman (The Hours). Fast forward roughly twenty years from 1987 to 2008 and the young man Saroo, superbly played by Dev Patel (The Best Exotic Marigold Hotel) who burst onto international screens in the Oscar winning smash hit film Slumdog Millionaire in 2008.
In the second half of the film, set in Tasmania, Australia where the twenty something Saroo Brierley starts questioning his real identity in a move to Melbourne where his passion to find his real mother and siblings is ignited with the help of his American girlfriend Lucy, brilliantly played by Oscar nominee Rooney Mara (Carol, The Girl with the Dragon Tattoo).
With the assistance of Google earth and threw a series of random calculations, Saroo manages to identify the exact train station in India where he first went missing and was fatefully separated from his birth family.
With a measured screenplay by Luke Davies coupled with stirring music by Dustin O' Holloran and Volker Bertelmann, Lion is sure to pull at any audiences heartstrings, as the film intricately explores the issues of family, adopted or birth, identity and the continued quest to find answers.
What makes Lion so exhilarating is the first half of the film primarily focused on the harrowing experiences of young Saroo expertly acted by Sunny Pawar who takes on each challenge in Calcutta with a tenacity and bravery that a very smart young boy is known for. Lion is assisted by strong supporting roles particularly by the ever versatile Kidman as Sue Brierley whose intense scenes with her adopted son, played by Patel are electrifying.
Lion is a nuanced portrayal of one man's search for his real identity, an emotional journey emblematic of the many train tracks he inadvertently stumbles on both literally and metaphorically.
Director Davis focuses the emotional crux of Lion on an overwhelming human desire to find meaning in one's existence and a naturally passionate urge to reconnect with one's birth family. This is a fascinating and complex film, beautifully shot and exceptionally well-acted by Kidman and Patel adding to its cross cultural appeal which is even more refreshing because it does not have an American context.
Lion is highly recommended viewing, an intelligent exploration of a truly extraordinary real life story spanning decades and two very different countries: India and Australia.
Source: https://en.wikipedia.org/wiki/Saroo_Brierley
Patriots

Day
Director: Peter Berg
Cast: Mark Wahlberg, John Goodman, Kevin Bacon, Michelle Monaghan, J. K. Simmons, Themo Melikidze, Alex Wolff, Jake Picking, Jimmy O. Yang
Lone Survivor director Peter Berg likes to stick to actual events when directing films. He is an astute presenter of the horrific tragic events which have occurred recently, deeply embedded in the American psyche.
Whether it's the explosion of a Gulf of Mexico oil rig as documented in Deepwater Horizon or the chaotic 2013 bombing of the Boston marathon, his films are rather factual, bordering on the docudrama and definitely riveting.
His latest film Patriots Day once again features Oscar nominee Mark Wahlberg (The Departed) as the everyday hero, a hero that the average American cinema goer can relate to, and a working class hero who manages to survive under extraordinary circumstances.
Wahlberg knows the drill and in Patriots Day he plays Boston police sergeant Tommy Saunders who is given crowd control duty at the finish line of the epic Boston Marathon. The year is 2013.  An American city is once again under attack by radicalized terrorists.
This time those terrorists are of the non-descript home grown variety, the sociopathic Tsarnaev brothers played with desperation and cool nonchalance by Georgian actor Themo Melikidze and Alex Wolff (My Big Fat Greek Wedding 2).
As the events of April 15th 2013 unfold, from the horrific bombing at the finish line of the infamous Boston Marathon using pressure cooker bombs filled with nails and all sorts of nasty devices aimed at causing maximum damage and pain, director Berg keeps the pace tense and thoroughly absorbing as the FBI Special Agent Richard DesLauriers superbly played by a terse and efficient Kevin Bacon (Black Mass, Frost/Nixon) takes control of the city-wide investigation.
Oscar winner J. K. Simmons (Whiplash) plays Watertown police sergeant Jeffrey Pugliese who would ultimately be the person along with the PD that would apprehend the perpetrators as they make a desperate attempt to flee the greater Boston Metropolitan area. Audiences should look out for a brilliant scene involving the Tsarnaev brothers' carjacking a Chinese exchange student wonderfully played by Jimmy O. Yang.
Patriots Day is an edge of the seat action thriller, meticulously recreating the week of the Boston marathon bombing from the time of the incident to the dramatic capture in the neighbouring suburb of Watertown featuring some superb sound effects and a suitably tense original score by Oscar winning film composer duo Trent Reznor and Atticus Ross who did the haunting music for The Social Network and Gone Girl.
Highly recommended viewing for those that enjoyed Deepwater Horizon and 13 Hours: the Secret Soldiers of Benghazi, Patriots Day will surely hold audience's attention while they inadvertently lap up all the Patriotic images of America as Peter Berg drives home his point about the continued threat of urban terrorism as the film ends with the real life survivors accounts of their horrific experience of the Boston marathon bombing of April 2013.
In Patriots Day, director Peter Berg presents the facts in all their visceral details and lets the audience judge for themselves.
Hacksaw Ridge
Director: Mel Gibson
Cast: Andrew Garfield, Teresa Palmer, Luke Bracey, Sam Worthington, Rachel Griffiths, Hugo Weaving, Vince Vaughn, Milo Gibson, Ben O'Toole
Braveheart and The Passion of the Christ director Mel Gibson has assembled a mostly Australian cast in the World War II drama Hacksaw Ridge about the Virginia conscientious objector Desmond Doss who refused to bear arms during the war against the Japanese. Doss is played by Andrew Garfield (The Social Network) in one of his best acting roles yet.
Hacksaw Ridge opens in The Blue Ridge Mountains of Virginia in the early 1930's where young Doss and his brother are constantly engaged in fraternal rivalry while their drunken father Tom played by Hugo Weaving (The Dressmaker) mourns the loss of his friends in the Great War and beats their mother Bertha played by Rachel Griffiths (Muriel's Wedding).
As a practicing Seventh Day Adventist, Desmond from a young age takes a vow against violence yet is compelled to join the army soon after the Japanese attack Pearl Harbour. His romantic life is heightened when he meets Nurse Dorothy Schutte, a wonderful supporting role played by the gorgeous Teresa Palmer (Point Break, I am Number Four) which he soon proposes to.
While the first act of Hacksaw Ridge is taken up with establishing a credible back story of Desmond Doss, his religious beliefs, family and brief courtship, it's really the second act of the film that captures audience's attention as Doss undergoes basic military training under the supervision of Sgt Howell played by Vince Vaughn (Into The Wild, The Internship) and Captain Glover played by British actor Sam Worthington (Avatar, Clash of the Titans).
When it comes to target practice, the rest of the soldiers including a handsome Smitty Ryker played by Luke Bracey (The November Man) and Lucky Ford played by Gibson's son Milo Gibson are all eager to take up arms to defend their country, while Doss completely refuses to hold a rifle on the grounds that he is a conscientious objector.
After a military inquiry into whether Doss can still serve in the armed forces without bearing arms, the action swiftly moves into the third act, the dreaded battle sequence at Hacksaw Ridge, on the island of Okinawa, a battle so gruesome that many of his fellow soldiers are killed instantly as the ruthless Japanese attack the Americans without restraint.
Director Gibson excels in the battle sequences of Hacksaw Ridge as a combination of frenetic sound editing, utter brutality and emotional tension is vividly captured as the soldier bravely battle a more sophisticated and disciplined opponent. As the battle for Hacksaw Ridge continues, many American soldiers are left wounded, easy prey for the bayonets of the Japanese soldiers.
Doss in this terrifying battleground questions his own convictions and has a crisis of faith amidst bullets whizzing past him and bodies rotting in shallow graves.
Hacksaw Ridge was indeed a vicious battle of attrition, but Doss realizes that if he can save as many wounded American soldiers as possible then perhaps the American military might recognize his true valour and bravery.
In terms of recreating one of the most gruesome battles of the Pacific Theatre of World War II, Hacksaw Ridge is an excellent film comparable to similar war classics like Steven Spielberg's Oscar winning Saving Private Ryan and Oliver Stone's Platoon.
Historically accurate, Hacksaw Ridge superbly retells the unbelievable story of Desmond Doss, the first Conscientious Objector who was in a battle and received the Medal of Honour without firing a single shot. This is highly recommended viewing and judging by its critical claim, Hacksaw Ridge will have a cult following for lovers of genuine war films.
Source: https://en.wikipedia.org/wiki/Desmond_Doss
Manchester
by the Sea
Director: Kenneth Lonergan
Cast: Casey Affleck, Michelle Williams, Kyle Chandler, Gretchen Mol, Lucas Hedges, Tate Donovan, Matthew Broderick, C. J. Wilson, Josh Hamilton
Oscar nominee Casey Affleck gives a Golden Globe winning performance as the emotionally stunted Lee Chandler in director Kenneth Lonergan's atmospheric if slightly drawn out family drama Manchester by the Sea.
Affleck first came to critics' attention in the Western, The Assassination of Jesse James by the Coward Robert Ford opposite Brad Pitt, of which he received a Best Supporting Actor Oscar nomination. Although more reticent than his prolific older brother Ben Affleck, Casey Affleck has built up an impressive body of acting work (Gone Baby Gone, Interstellar, The Finest Hours).
In this moving study of American masculinity set in Massachusetts, playwright turned screenwriter and director Kenneth Lonergan sets the scene for a series of unfortunate events slowly revealing layers of secrets that his characters contain as the plot develops through a series of well executed flashbacks creating an extensive backstory particularly for Lee Chandler and his close relationship with his older brother Joe and nephew Patrick.
When Joe played by Kyle Chandler (Carol, Zero Dark Thirty, The Wolf of Wall Street) suddenly dies from congestive heart failure, Lee has to travel upstate to Manchester, Massachusetts to identify his brothers body and deal with the guardianship of Joe's son Patrick, a precocious outspoken teenager, superbly played by Lucas Hedges (The Grand Budapest Hotel, Moonrise Kingdom).
Patrick's mother Elise has moved away, a recovering alcoholic played with a brittle intensity by the hugely underrated Gretchen Mol who was so brilliant in the crime series Boardwalk Empire. Elise has set up a new life with boyfriend Jeffrey played by Matthew Broderick (Ferris Bueller's Day Off, Glory, The Producers).
But Lee Chandler, a foul mouthed janitor and handyman has his own demons to grapple with, a sense which Affleck conveys with perfect nuance. In between his mundane existence he suddenly starts bar fights in the local pubs letting violence replace his inner torment about a tragic event that occurred in his past.
As the story progresses, Lonergan does not give the audience all the narrative clues upfront something which adds to the emotional tension of the film. Halfway through we discover that Lee was married to Randi and had three beautiful children but his irresponsible ways destroyed their family forever. Randi is played by Oscar nominee Michelle Williams (My Week with Marilyn, Blue Valentine) who re-enters Lee's life at the point which he would least like to see her. His brother's funeral.
While Manchester by the Sea is drawn out, the script is brilliant especially in the tension filled scenes between uncle and nephew as they drive around trying to sort out all the tedious details of Joe's death including the funeral arrangements and the impact of Patrick's guardianship. Hedges' performance as Patrick electrifies the family drama with his back chatting confidence as he proudly tells his uncle that he has two girlfriends and plays in a band.
Manchester by the Sea clearly belongs to Casey Affleck as he is in virtually every scene of the film and is an intimate study of broken masculinity, a portrait of a man battling to deal with his older brother's death and the terrifying prospect of taking responsibility for his sixteen year old nephew.
Highly recommended viewing for a film with a first rate script and intelligently portrayed characters. Casey Affleck is definitely an actor to watch in future…
74th GOLDEN GLOBE AWARDS
Took place on Sunday 8th  January 2017 hosted by
the Hollywood Foreign Press Association in Beverly Hills, California
GOLDEN GLOBE WINNERS IN THE FILM CATEGORIES:
Best Film Drama: Moonlight
Best Film, Musical / Comedy: La La Land
Best Director: Damien Chazelle – La La Land
Best Actor Drama: Casey Affleck – Manchester by the Sea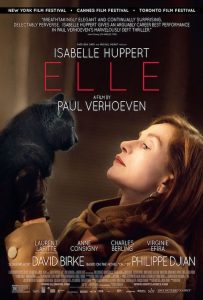 Best Actress Drama: Isabelle Huppert – Elle
Best Actor M/C: Ryan Gosling – La La Land
Best Actress M/C: Emma Stone – La La Land
Best Supporting Actor: Aaron Taylor-Johnson – Nocturnal Animals
Best Support Actress: Viola Davis – Fences
Best Foreign Language Film: Elle directed by Paul Verhoeven (France)