Black
Mass
Director: Scott Cooper
Cast: Johnny Depp, Joel Edgerton, Benedict Cumberbatch, Kevin Bacon, Adam Scott, Corey Stoll, David Harbour, Peter Sarsgaard, Dakota Johnson, Julianne Nicholson, Juno Temple.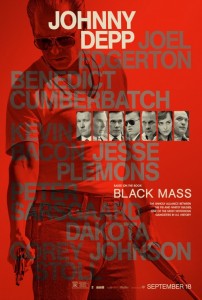 Crazy Heart director Scott Cooper brings to life a gripping and violent cinematic adaptation of the 2001 non-fiction book Black Mass: The True Story of an Unholy Alliance Between the FBI and the Irish Mob by Dick Lehr and Gerard O'Neill based upon the exploits of Irish-American crime lord and fugitive James "Whitey" Bulger played with a menace not seen on screen since Sweeney Todd, The Demon Barber of Fleet Street, by Oscar nominee Johnny Depp.
Cooper assembles an all-star cast including Benedict Cumberbatch (The Fifth Estate) as Whitey Bulger's brother and senator William Bulger, Joel Edgerton (The Great Gatsby, Warrior) in a career defining performance as conflicted FBI agent John Connolly, Dakota Johnson as James Bulger's wife Lindsey and David Harbour (Quantum of Solace) as Connolly's co-worker John Morris.
Audiences should look out for Kevin Bacon as FBI boss Charles McGuire and a stunning cameo by Peter Sarsgaard (Blue Jasmine) as coked up Florida businessman Brian Halloran and Corey Stoll as the non-nonsense prosecutor Fred Whysak.
James "Whitey" Bulger superbly played by Depp in his most menacing performance yet, is a pure psychopath whose relentless ambition is to rid his own South Boston gang, known as the Winter Hill gang not only of informants, who he casually kills at the drop of a hat but of their main opposition the Italian mafia in the form of the Angiulo Brothers which control North Boston.
Bulger and his band of thugs control South Boston and he soon becomes a so-called informant at the request of oily FBI agent Connolly whose childhood loyalty to Bulger is blinded by the real monster that Bulger has become. This is a man who strangles a prostitute with his bare hands, who casually shoots his friend in the head after a bar room altercation, yet will simultaneously sit down and play cards with his elderly mother. Insight in to the source of Bulger's psychopathic behaviour comes from a line in Black Mass, when he admits to doing trials for LSD during an eight year prison stint in Alcatraz and Levenworth.
The tipping point in Bulger's blood thirst occurs when his young son unexpectedly dies from Reyes syndrome after an allergic reaction to aspirin. Bulger's manipulation of his alliance with Connolly is brilliantly portrayed in Black Mass with Australian actor Joel Edgerton giving a remarkable performance akin to that of Matt Damon in Martin Scorsese's The Departed.
Connolly is heavily beholden to Bulger and his professional and personal judgement suffers after his close association with such a violent mobster, highlighting the extent of corruption endemic in American cities in the 1980's. Even Connolly's wife Marianne played by Julianne Nicholson last seen in August: Osage County remarks on her husband's new clothes and his flashy almost cocky swagger.
Joel Edgerton deserves an Oscar nomination for his role in Black Mass as does Johnny Depp, although at times the menace portrayed by Depp obliterates any audience empathy for his character. For James "Whitey" Bulger is a true psychopath, blood thirsty, unpredictable, paranoid and completely ruthless. Audiences should be warned of some exceptionally violent scenes in Black Mass, akin to Scorsese's Goodfellas or Tarantino's Reservoir Dogs.
Scott Cooper skilfully directs Black Mass and uses the multi-talented cast to bring to cinema the true story of American gangsters in South Boston in the 1970's and 1980's while remaining faithful to the source material, based on a meticulously researched screenplay by Jez Butterworth and Mark Mallouk.
Whether Black Mass will garner nominations in the upcoming awards season remains to be seen, but as a film it is worth watching and brilliantly acted. Highly recommended viewing for those that enjoyed Kill the Messenger and The Departed.