Black Panther
Director: Ryan Coogler
Cast: Chadwick Boseman, Lupita Nyong'o, Michael B. Jordan, Sterling K. Brown, Daniel Kaluuya, Martin Freeman, Andy Serkis, Forest Whitaker, Danai Gurira, Letitia Wright, Angela Bassett, Winston Duke, John Kani
Marvel successfully diversifies its Avengers universe with an inventive self-sustaining Black Panther film. The Black Panther aka T'Challa who becomes king of the technologically advanced yet exclusive central African kingdom of Wakanda after his father T'Chaka played by South Africa's John Kani is killed in an assassination.
Creed director, Ryan Coogler assembles an all-star cast for Black Panther including Oscar winners Lupita Nyong'o (12 Years a Slave) as Black Panther's love interest, the beautiful and noble Nakia as well as Forest Whitaker (The Last King of Scotland) as Zuri along with Angela Bassett as Black Panther's regal mother and Queen of Wakanda, Ramonda.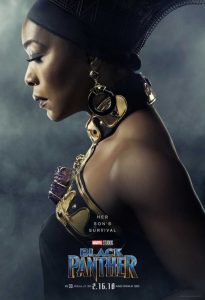 Black Panther has to fight off the likes of a crazy South African mercenary Ulysses Klaue dubiously played with a terrible accent by Andy Serkis (War for the Planet of the Apes) attempting to steal smuggled vibranium from Wakanda at a buying exchange in Busan, South Korea, a scene in the film which is both brilliantly shot and innovatively orchestrated with a virtual reality car chase sequence.
Back on African soil, T'Challa soon realizes that the real enemy is the American born Erik Killmonger wonderfully played by Michael B. Jordan (Fantastic Four). With the able assistance of his cheeky sister Shuri fantastically played by British-Guyanese star Letitia Wright, Black Panther manages to fight Killmonger in a noble duel about the paternal claim to be the future King of Wakanda.
Director Ryan Coogler ingenuously incorporates lots of African tribalism and cool technology into Black Panther however he does take the superhero genre too seriously by unashamedly politicizing it. This is the Avengers after all, which Spiderman has just joined. Superhero movies are meant to be pure escapism, which is precisely why director Taika Waititi's Thor: Ragnorak was such a refreshingly funny movie.
What remains to be seen is how effectively Black Panther will be blended into the mainstream Avengers films with the new Avengers: Infinity War opening soon. Chadwick Boseman is not as convincing as the main hero, Black Panther as his counterpart Michael B. Jordan who relishes playing the ruthless villain.
Lupita Nyong'o holds her own and kicks some butt in Black Panther as does rising star Letitia Wright who is an actress to watch out for. Golden Globe winner Sterling K. Brown has a minor role while Oscar nominee Daniel Kaluuya (Get Out) is suitably untrustworthy as Black Panther's best friend and Wakanda protector W'Kabi.
Whether the much hyped Black Panther's initial success in African cinemas is translated commercially to international audiences globally remains to be seen, yet the effort and rejuvenation of the highly anticipated Black superhero genre is applauded and provides starring roles for a host of African-American stars who have been clamouring for their own identifiable superhero film.
Marvel fans that enjoyed Captain America: Civil War and The Avengers franchise will certainly appreciate Black Panther, despite some uneven performances. At least now there is a guaranteed diversity of fans attending Comic-Con especially since its coming to Johannesburg in late 2018.
For all its vibrant celebrations of African culture, Black Panther gets a film rating of 7 out of 10.