Spiderman: Far From Home
Director: Jon Watts
Cast: Tom Holland, Jake Gyllenhaal, Samuel L. Jackson, Marisa Tomei, Jon Favreau, Cobie Smulders, Zendaya, Angourie Rice, Tony Revolori
Spiderman: Homecoming 38 years old director Jon Watts returns with a sequel Spiderman: Far From Home which follows directly on from Avengers: Endgame and Captain Marvel so theoretically this film is strictly for Marvel fans who have been following the series of MCU films.
British rising star Tom Holland reprises his role as the geeky school kid Peter Parker aka Spiderman and this time we join him and his friends on a summer science trip to Europe taking in the best locations including Venice, Prague and Berlin.
However at the insistence of Aunt May, wonderfully played by Oscar winner Marisa Tomei (My Cousin Vinny) Peter Parker packs his Spiderman suit for the trip to the continent. As predicted the moment they are in Venice enjoying the canals a mysterious elemental force wreaks havoc on the Venetian waterways and is miraculously saved by Mysterio aka Quentin Beck wonderfully played with a sly malevolence by Oscar nominee Jake Gyllenhaal (Brokeback Mountain).
Naturally the impressionable Peter Parker trusts Quentin Beck with some sophisticated technology produced by Stark industries only for Mysterio to go all Donnie Darko on us.
Nick Fury played with relish by Oscar nominee Samuel L. Jackson (Pulp Fiction) enlists the help of the awkward school going kid Peter Parker to save Europe from total destruction specifically London and Venice. Spiderman must not only figure out who the real enemy is but also pluck up the courage to kiss the love of his life MJ played by Zendaya (The Greatest Showman) and trust her enough to reveal his true identity.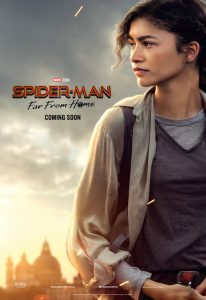 Humour in Spiderman: Far From Home is provided by Flash Thompson played by Guatemalan-American actor Tony Revolori (The Grand Budapest Hotel) who has some witty one liners and Spiderman's father figure is played by Happy Hogan played zest by Jon Favreau (Iron Man).
What makes Spiderman: Far from Home so brilliant are the dazzling visual effects especially displayed with professional dexterity in the film's second half. Gyllenhaal is brilliant as the crazy computer genius Quentin Beck and is a perfect foil to the charming but insatiably awkward Spiderman for the Instagram generation wonderfully acted by Tom Holland who beats Tobey Maguire in the Sam Riami trilogy and the doomed casting of Andrew Garfield in The Amazing Spiderman.
In any event, the amount Disney paid Sony to use Spiderman in the Marvel Avengers cinematic universe is worth its weight in gold judging by how fill a Saturday matinee was at the theatre.
Spiderman: Far from Home gets a Film Rating of 8 out of 10 and is worth seeing for the brilliant visual effects, great onscreen chemistry between Gyllenhaal and Holland and a perfect action adventure film which will surely inspire the millennials to embrace this crazy web slinger who likes taking selfies as he flies around Manhattan skyscrapers.