Archive for the 'Luca Guadagnino' Category
Call Me by Your Name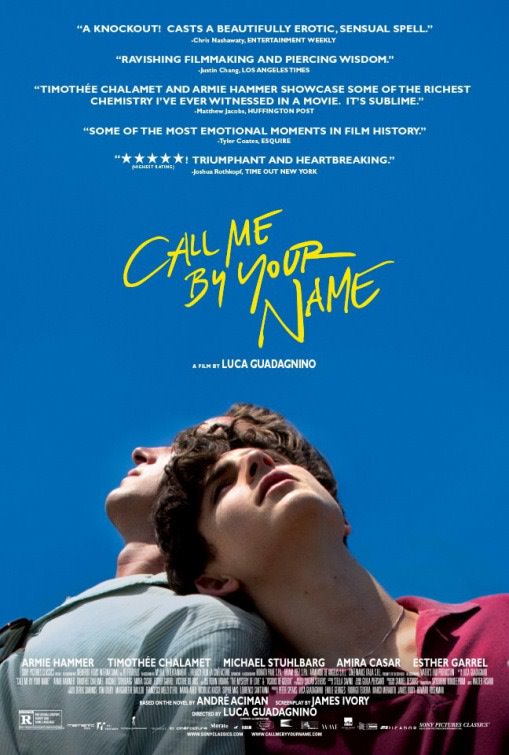 Director:  Luca Guadagnino
Cast: Timothee Chalamet, Armie Hammer, Michael Stuhlbarg, Amira Casar, Esther Garrel, Victorie du Bois
Andre Aciman's sensuous 1988 debut novel Call Me by Your Name is skilfully adapted into a superb screenplay by James Ivory of Merchant Ivory fame and beautifully brought to the big screen by Italian director Luca Guadagnino.
Call Me by Your Name centres on the erotic summer romance of Elio, a young Jewish Italian boy discovering the essence of his sexuality and his parents American house guest, a 24 year old American classics student Oliver wonderfully played by Armie Hammer (The Man from Uncle) in possibly his best on screen role yet, who is staying with the family in the summer of 1983 as a cultural exchange.
It is the break out performance of star Timothee Chalamet as the restless Elio which is the cinematic revelation and as he deftly centres the film in all its beauty skillfully conveying the nonchalance of youth and his perpetual desire for self-discovery.
Elio's parents Mr Perlman played by Michael Stuhlbarg (The Shape of Water) and Annella played by Amira Casar who are a liberal and fairly affluent Italian couple who allow their only son, young Elio all the indulgences of youth.
Director Luca Guadagnino sumptuously captures the Italian country summer creating a gorgeous landscape for Elio and Oliver to indulge in an intimate and erotic affair which is tenderly portrayed without moral judgement or vulgarity, a beautiful depiction of sexual discovery and emotional resonance made poignant by the brevity of their idyllic romance.
In a particularly insightful scene between Elio and his compassionate father, Mr Perlman utters the significant line: "Nature has a cunning way of finding our weakest spot."
Timothee Chalamet captures all the confusion and emotional insecurity of his various sexual encounters with a luminosity seldom seen in cinema today. Chalamet is indeed a star to watch out for. The luxuriant and lingering tone of the film transports audiences into a languid Italian summer, a beautiful sensuous stupor which they will find difficult to relinquish even as the closing credits appear on the screen.
Call Me by Your Name is beautifully acted particularly by its two male leads and superbly shot, making the film a mesmerizing cinematic experience. There are very few films being produced like this today and Luca Guadagnino captures that visual rarity of a first love on screen with a tenderness and beauty which is reminiscent of the Roman statue from antiquity emerging from Lake Garda.
Audiences that enjoyed the early Merchant Ivory films like Maurice and A Room with a View will love Call Me by Your Name.
This evocative film gets a rating of 9.5 out of 10 and is one of the most exquisite films I have seen aided by an equally brilliant soundtrack.