Archive for the 'Marvel Cinema Universe' Category
Wakanda Forever
Director: Ryan Coogler
Cast: Letitia Wright, Angela Bassett, Lupita Nyong'o, Winston Duke, Danai Gurira, Tenoch Huerta, Martin Freeman, Dominique Thorne, Julia Louis-Dreyfus
Running Time: 2 hours and 41 minutes
Film Rating: 7 out of 10
When Black Panther star Chadwick Boseman died unexpectedly in August 2020, it left a film franchise without a definite superhero scuppering director Ryan Coogler's plans for a sequel. However not to be daunted the Creed director forged ahead with a lavish sequel retaining most of the original cast except for Oscar winner Daniel Kaluuya (Judas and the Black Messiah) and of course Boseman himself.
The lavish fantasy sequel Wakanda Forever is part of phase four in the Marvel Cinematic Universe and is certainly a spectacle to behold as Letitia Wright takes a much bigger role as Shuri as she tries to hold the Kingdom of Wakanda together amidst a new threat from an underwater Mayan civilization led by King Namor played by Mexican actor Tenoch Huerta who has all sorts of evading oceanic abilities.
As Wakanda and the devious Mayans fight it out for the vibranium that is remaining, the conflict gets the attention of the US government represented rather blandly by characters Everett K. Ross played by Martin Freeman and Valentina played by Julia Louis-Dreyfus.
At 2 hours and 41 minutes, Wakanda Forever is very long and really a lavish tribute to its main late star Chadwick Boseman who made the original Black Panther so riveting, but what is left is a superhero movie without a definitive hero, leaving the middle of the film bloated.
Oscar nominee Angela Bassett (What's Love Got to do With it?) reprises her role as Queen Ramonda as does Oscar winner Lupita Nyong'o (12 Years a Slave) as Nakia, which helps elevate the convoluted plot. Fortunately Lupita Nyong'o lifts the spirit of the film by her excellent acting.
Visually, Wakanda Forever is stunning and is efficiently directed by Ryan Coogler although the middle of the film was lacking and at times, the viewer might be forgiven for thinking they are watching the Avatar sequel with all those blue Mayans swimming around.
As the action travels around the globe from Haiti to Cape Verde to Cambridge, Massachusetts whereby Shuri and the warrior Okoye played excellently by Danai Gurira track down a science genius played energetically by Dominique Thorne.
Viewers must realise that they are watching complete fantasy and in that genre, Wakanda Forever excels and there are some light hearted moments provided by M'Baku played by Winston Duke. What was interesting in Wakanda Forever was the complete lack of male actors in this sequel compared to the original film.
Despite its visual dazzle, the storyline falters and Wakanda Forever only gets a film rating of 7 out of 10.
Recommended viewing for those that enjoyed Black Panther and follow the entertaining Marvel Cinematic Universe.
Doctor Strange in the Multiverse of Madness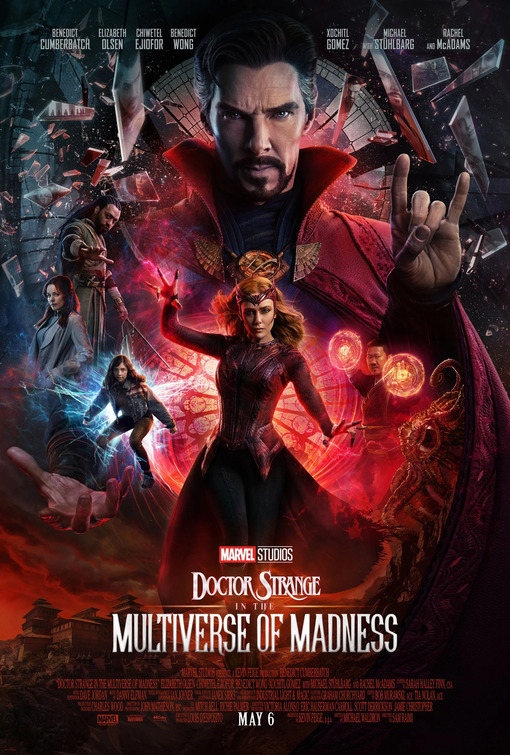 Director: Sam Raimi
Cast: Benedict Cumberbatch, Elizabeth Olsen, Rachel McAdams, Chiwetel Ejifor, Benedict Wong, Xochitel Gomez, Michael Stuhlbarg, John Krasinki, Patrick Stewart, Hayley Atwell, Lashana Lynch, Anson Mount
Running Time: 2 hours and 6 minutes
Film Rating: 6 out of 10
Six years after the first Doctor Strange film was made in 2016, Oscar nominee Benedict Cumberbatch (The Imitation Game, The Power of the Dog) reprises his role as the neurosurgeon turned warlock Doctor Steven Strange in director Sam Raimi's utterly bizarre sequel Doctor Strange in the Multiverse of Madness starring a new batch of stars while only Rachel McAdams, Benedict Wong and Chiwetel Ejifor reprise their roles from the first film.
Director Sam Raimi best known for doing the original Spiderman trilogy with Tobey Maguire and Kirsten Dunst but the director is far better known for helming some classic horror flicks including Drag Me to Hell in 2009 and The Evil Dead in 1981, takes this Doctor Strange sequel and turns the superhero genre on its head and transforms it into a ghoulish mixture of the bizarre with an extremely heavy dash of CGI thrown in. The storyline is incoherent and utterly weird.
This time Doctor Strange has to save a multiverse superhero called America Chavez played by Xochitel Gomez from the clutches of the Scarlett Witch also known as Wanda Maximoff wonderfully played with a demonic edge by Elizabeth Olsen (Avengers: Infinity War, Wind River) as she seeks to use America's superpowers to open the elusive book of Ashanti. Elizabeth Olsen is by far the best actress in this film as she gives the Scarlett Witch a degree of emotional depth and conflicting maternal instinct, making her character a far more unlikely villain.
Plenty of witchcraft and dream walking abound through a multitude of crazy universes including a particularly bizarre scene whereby Doctor Strange faces the Illuminati made up of Baron Mondo played by Chiwetel Ejifor (12 Years a Slave, Dirty Pretty Things, Kinky Boots), Captain Carter played by Hayley Atwell and wait for it…. an X-Men Professor and one of the characters of The Fantastic Four. Clearly this is not the multiverse of reality one expects.
Here the film completely loses the plot and director Sam Raimi goes for an utter freak show of scary scenes involving ghosts and demons instead of rounding off the narrative in a tightly controlled script.
After watching Benedict Cumberbatch deliver such a brilliant performance in The Power of the Dog, he looked continually anguished throughout this film at having to do a Doctor Strange sequel and not even a good one at that.
Essentially, my question is that if Marvel is so desperate to control the cinematic universe why did they get a horror director to take charge of what is meant to be a superhero film?
After watching the success of Spiderman: No Way Home and the excellent origin film The Batman, I was quite disappointed with the visual mess that is Doctor Strange in the Multiverse of Madness even despite some lavish special effects.
Doctor Strange in the Multiverse of Madness gets a film rating of 6 out of 10 and audiences should expect a superhero film which is way more scary than expected.
Venom: Let There Be Carnage
Director: Andy Serkis
Cast: Tom Hardy, Michelle Williams, Woody Harrelson, Naomie Harris, Scott Reid, Stephen Graham
Film Rating: 7 out of 10
Running Time: 97 minutes
Oscar nominee Tom Hardy (The Revenant) reprises his role as struggling San Francisco journalist Eddie Brock aka Venom in the sequel to the 2018 film Venom, now called Venom: Let There Be Carnage.
Directed with a sort of Gothic efficiency by fellow actor Andy Serkis, Venom: Let There Be Carnage is a fun-filled monster flick about Brock who is fighting with his dark alter ego Venom who continuously wants to eat anything in sight, while trying to maintain a semblance of a routine existence.
Venom is soon drawn into the world of insane serial killers when he is asked to interview Cletus Kassidy aka Carnage wonderfully played with a crazy attitude by Oscar nominee Woody Harrelson (The People versus Larry Flynt; Three Billboards outside Ebbing, Missouri) who is incarcerated in an insane asylum and longs to be reunited with his one true love, the equally devilish Frances Barron played by Oscar nominee Naomie Harris (Moonlight).
Soon Cletus Kassidy and Frances Barron break out of their respective institutions and are ready to infect chaos in the life of Eddie Brock including his gorgeous ex-girlfriend Anne Weying played by Oscar nominee Michelle Williams (Brokeback Mountain, Blue Valentine, My Week with Marilyn) and her new boyfriendm, the straight laced Dr Dan Lewis played by Reid Scott.
But Eddie firstly has to find Venom who escapes his body and goes on a gaudy Halloween jaunty only to discover that Brock's body is the best place to host this symbiosis.
The four main actors made this film savagely enjoyable and director Andy Serkis fortunately did not make an overly cluttered production of this sequel and kept the running time to about 97 minutes while successfully linking Venom into the greater Sony/ Marvel Cinematic Universe as seen by the hilarious end scene in the closing credits. It's definitely worth staying in your cinema seat for as the film ends.
Venom: Let There be Carnage does not pretend to be high-brow but it is loads of fun particularly for fans of the first film and Tom Hardy relishes in playing the role of Eddie Brock, a struggling journalist who has a hard time reconciling with his inner demon in this case the increasingly ravenous Venom.
Hardy's body language throughout the film is amazing and so is Woody Harrelson and the final showdown in a dark Cathedral outside San Francisco is dripping with murky B-Grade Horror film references particularly the attempted marriage scene between Cletus Kassidy and Frances Barron.
Audiences should also look out for the clever animation sequence inserted in the middle of the film.
So relax and go watch Venom: Let There Be Carnage, it's a fun-filled crazy superhero film which does not take itself or the entire caper scenario very seriously.
Efficiently directed by Andy Serkis, Venom: Let There be Carnage gets a film rating of 7 out of 10 and is not brilliant but a worthy sequel to the 2018 original.
Black Widow
Director: Cate Shortland
Cast: Oscar nominee Scarlett Johansson (Marriage Story; Jojo Rabbit), Oscar nominee Florence Pugh (Little Women), Oscar winner Rachel Weisz (The Constant Gardener), BAFTA Nominee Ray Winstone (Nil By Mouth; That Summer!) Oscar winner William Hurt (Kiss of the Spider Woman), David Harbour, O-T Fagbenle, Olga Kurylenko
Film Rating: 8 out of 10 – and this film is currently showing in cinemas
Marvel's phase four of blockbuster Superhero films was meant to kick off in 2020 with the highly anticipated release of the spinoff film Black Widow, focusing on the origin story of the more elusive Avenger, Black Widow aka Natasha Romanoff and her extended espionage family.
Unfortunately, the Coronavirus Pandemic wreaked havoc in 2020 with theatrical release dates, forcing parent company Disney to push back the date to mid-2021 and also allowing Disney sufficient time to develop their online streaming service Disney Plus.
The Disney owned Marvel studio's big female driven film of 2020 Black Widow, finally did get released in mid-2021 and simultaneously went onto streaming on Disney Plus prompting the main star Oscar nominee Scarlett Johansson (Marriage Story; Jojo Rabbit) to sue Disney for contractual misconduct as she was hoping to reap some of the benefits of Black Widow, like she presumably did in the biggest Box office success of 2019, the theatrically released Avengers: Infinity War, which grossed billions of dollars worldwide in cinema ticket sales in the pre-pandemic era of packed cinemas.
Despite all the impending litigation, Black Widow is a superb spy film, directed by Australian director Cate Shortland with a fantastically talented cast besides Scarlett Johansson.
Completely upstaging Johansson is 2019's Oscar nominated breakout star of Little Women, Florence Pugh as the feisty "younger sister" Yelena Belevoa. Florence Pugh steals every scene in Black widow as the wisecracking Yelena along with the equally talented Oscar winner Rachel Weisz (The Constant Gardener) who plays Black Widow and Yelena's mysterious "mother" Melina.
There is the Red Guardian himself, the "father" of Natasha and Yelena, wonderfully played with a humorous bravado bordering on the crazy by character actor David Harbour (Black Mass, Suicide Squad, Quantum of Solace).
Black Widow's entire plot of Russian sleeper agents living in mid-Western America is carefully lifted from the hit TV series The Americans and director Cate Shortland pays homage to the 007 film Moonraker as she steers an entirely female lead Jason Bourne style action film.
Taking place in several global locations including Morocco, Norway and Budapest, Black Widow, which for all its narrative inconsistencies is absolutely saved by superb acting on the part of Scarlett Johansson, Florence Pugh and the really evil Russian villain, Dreykov superbly played by highly talented BAFTA Nominee Ray Winstone (Nil By Mouth; That Summer!) who is a sinister megalomaniac, who is paranoid about losing control of the sleeper international Black Widow program.
Winston mirrors French actor Michael Lonsdale's performance as Hugo Drax in Moonraker.
For all the drama, both on and off screen, Black Widow is fantastic to watch, with some memorable female lead action sequences and gets a film rating of 8 out of 10.
See it now on the Big Screen and support Scarlett Johansson's bid to recover her take of the Box Office earnings. Highly recommended viewing and way above standard for a Marvel film especially considering the talent involved.
Spiderman: Far From Home
Director: Jon Watts
Cast: Tom Holland, Jake Gyllenhaal, Samuel L. Jackson, Marisa Tomei, Jon Favreau, Cobie Smulders, Zendaya, Angourie Rice, Tony Revolori
Spiderman: Homecoming 38 years old director Jon Watts returns with a sequel Spiderman: Far From Home which follows directly on from Avengers: Endgame and Captain Marvel so theoretically this film is strictly for Marvel fans who have been following the series of MCU films.
British rising star Tom Holland reprises his role as the geeky school kid Peter Parker aka Spiderman and this time we join him and his friends on a summer science trip to Europe taking in the best locations including Venice, Prague and Berlin.
However at the insistence of Aunt May, wonderfully played by Oscar winner Marisa Tomei (My Cousin Vinny) Peter Parker packs his Spiderman suit for the trip to the continent. As predicted the moment they are in Venice enjoying the canals a mysterious elemental force wreaks havoc on the Venetian waterways and is miraculously saved by Mysterio aka Quentin Beck wonderfully played with a sly malevolence by Oscar nominee Jake Gyllenhaal (Brokeback Mountain).
Naturally the impressionable Peter Parker trusts Quentin Beck with some sophisticated technology produced by Stark industries only for Mysterio to go all Donnie Darko on us.
Nick Fury played with relish by Oscar nominee Samuel L. Jackson (Pulp Fiction) enlists the help of the awkward school going kid Peter Parker to save Europe from total destruction specifically London and Venice. Spiderman must not only figure out who the real enemy is but also pluck up the courage to kiss the love of his life MJ played by Zendaya (The Greatest Showman) and trust her enough to reveal his true identity.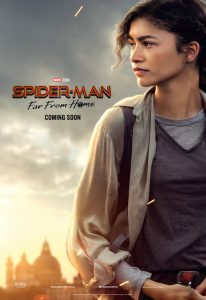 Humour in Spiderman: Far From Home is provided by Flash Thompson played by Guatemalan-American actor Tony Revolori (The Grand Budapest Hotel) who has some witty one liners and Spiderman's father figure is played by Happy Hogan played zest by Jon Favreau (Iron Man).
What makes Spiderman: Far from Home so brilliant are the dazzling visual effects especially displayed with professional dexterity in the film's second half. Gyllenhaal is brilliant as the crazy computer genius Quentin Beck and is a perfect foil to the charming but insatiably awkward Spiderman for the Instagram generation wonderfully acted by Tom Holland who beats Tobey Maguire in the Sam Riami trilogy and the doomed casting of Andrew Garfield in The Amazing Spiderman.
In any event, the amount Disney paid Sony to use Spiderman in the Marvel Avengers cinematic universe is worth its weight in gold judging by how fill a Saturday matinee was at the theatre.
Spiderman: Far from Home gets a Film Rating of 8 out of 10 and is worth seeing for the brilliant visual effects, great onscreen chemistry between Gyllenhaal and Holland and a perfect action adventure film which will surely inspire the millennials to embrace this crazy web slinger who likes taking selfies as he flies around Manhattan skyscrapers.
Avengers: Endgame
Directors: Anthony & Joe Russo
Cast: Robert Downey Jr, Chris Hemsworth, Mark Ruffalo, Chris Evans, Scarlett Johansson, Jeremy Renner, Paul Rudd, Robert Redford, Michael Douglas, Josh Brolin, Gwyneth Paltrow, Don Cheadle, Anthony Mackie, Chadwick Boseman, Benedict Cumberbatch, Tilda Swinton, Brie Larson, Tom Holland, Karen Gillen, Zoe Saldana, Evangeline Lilly, Tessa Thompson, Rene Russo, Elizabeth Olsen, Sebastian Stan, Tom Hiddleston, Danai Gurira, Benedict Wong, Pom Klementieff, Dave Bautista, Chris Pratt, Vin Diesel, Letitia Wright, John Slattery, Jon Favreau, Hayley Atwell, Natalie Portman, Marisa Tomei, Angela Bassett, Michelle Pfeiffer, William Hurt, Cobie Smulders, Linda Cardellini, Frank Grillo, Hiroyuki Sanada, James D'Arcy, Bradley Cooper, Samuel L. Jackson, Ty Simpkins    
Marvel Cinematic Universe continues with the highly anticipated sequel to Avengers: Infinity War with Avengers: Endgame featuring all the famous superheroes that fans have grown to love including Iron Man, Captain America, Thor, The Hulk, Antman, Hawkeye and Captain Marvel as they band together to go back in time to retrieve the infinity stones to reverse the evil Thanos's ultimate revenge at the end of Infinity War where he made half the population vanish including such beloved heroes as Spiderman, Black Panther and Doctor Strange.
As Endgame starts, Ironman is stuck in space, Thor takes to drink in the New Asgard and Captain America is despondent that the Avengers are at their lowest point ever.
Captain Marvel played by Brie Larson rallies the troops along with Black Widow played by Scarlett Johansson. Jeremy Renner returns sporting a fantastic haircut as Clint Barton, aka Hawkeye to assist the remaining Avengers as they devise a time travel device to allow them to go back in time to three separate intergalactic locations to retrieve the highly precious and powerful Infinity Stones. It's the ultimate Time Heist as Antman points out.
What follows is a fantastic feast of Superheroes which directors Anthony and Joe Russo will have hard core Marvel fans both laughing and crying at the deluge of their cinematic idols as they all band together to destroy the evil Thanos.
While some of the plot points in this three hour long superhero extravaganza don't all get resolved, it certainly opens up a whole lot of new possibilities such a possible separate Hawkeye film? Sequels to the hugely successful Black Panther and Guardians of the Galaxy are both on the cards as well as another Spiderman film. So there is no shortage of geek fan crushing that will occur in Avengers: Endgame and the subsequent films to follow. Once again Marvel knocks it out of the park judging by the lucrative response at the international box office.
Avengers: Endgame is a culmination of all the Marvel films of the last decade and hints at a new start for some of the lesser known superheroes to flesh out their story lines. Let's face it with an overcrowded universe, audiences will battle to identify with any one superhero but rather applaud and cheer at the massive team of Avengers and all their trusted sidekicks. Audiences should look out for cameos by Tessa Thompson as Valkyrie, Sebastian Stan as the Winter Soldier and of course Thor's malevolent brother Loki played by Tom Hiddleston.
Avengers: Endgame is definitely for Marvel fans and trust me everyone from the previous films are in it. It's definitely worth seeing and gets a film rating of 7.5 out of 10.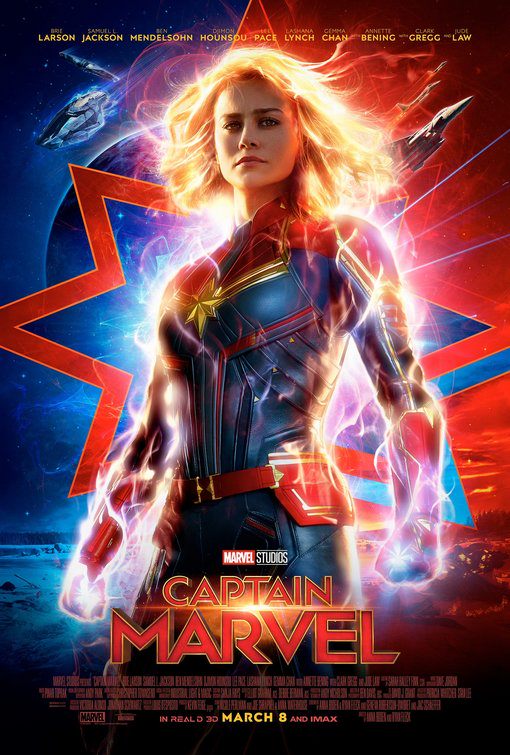 Captain Marvel
Directors: Anna Boden & Ryan Fleck
Cast: Brie Larson, Samuel L. Jackson, Annette Bening, Jude Law, Ben Mendelsohn, Lashana Lynch, Lee Pace, Clark Gregg, Gemma Chan, Djimon Hounson, Chris Evans, Scarlett Johansson, Rune Temte
Just before Avengers: Endgame hits theatres, Marvel had to introduce one more superhero to the galaxy of stars. It's the Retro intergalactic Captain Marvel wonderfully played by Oscar winner Brie Larson also known as Airforce Pilot Carol Danvers who gets whisked into space to become indoctrinated by the Kree Civilization, an advanced alien race headed up by the mysterious Supreme Being icily played by Annette Bening in her Marvel Comics debut.
Audiences can be forgiven for thinking that they had bought cinema tickets to a Star Trek reboot as the first twenty minutes of Captain Marvel is entirely set in space. Until Captain Marvel miraculously escapes an intergalactic feud between the Kree and the Skrull tribes and lands up in Los Angeles in 1995 in a blockbuster video store of all places, the film effortlessly shifts its location from outer space to a particular time and place.
In California, Captain Marvel teams up with a youthful Nick Fury wonderfully played by Samuel L. Jackson whose screen chemistry with Brie Larson is electrifying.   
Like all the other Marvel films and particularly those that loved Avengers: Infinity War, then Captain Marvel is a fun mixture of superhero and Guardians of the Galaxy and fits right in with the current trajectory the Marvel films are going. More significantly it is the first entirely female centred superhero film, with Brie Larson doing a sterling job, although admittedly the film does not quite match up to DC Comics's brilliant Wonder Woman directed by Patty Jenkins.
There is sufficient plot twists, location changes as Captain Marvel and Nick Fury travel to Louisiana to discover her real human identity as Airforce Pilot Carol Danvers as they team up with fellow co-pilot Maria Rambeau played by rising British star Lashana Lynch.
Oscar nominee Jude Law (The Talented Mr Ripley) plays the arrogant Kree commander Yon Rogg who proves to be a worthy adversary to Captain Marvel.
Captain Marvel is a fun filled retro intergalactic romp of a film engagingly written and populated with some witty one liners. Brie Larson pulls off the role of the latest female action superhero with credibility and nuance as she struggles to discover her real identity and where her role as Captain Marvel fits in to the larger Avengers scheme of things.
Flashy visual effects and some great onscreen chemistry save Captain Marvel from being just another superhero film and this gets a film rating of 7 out of 10.
Audiences should definitely see Captain Marvel before watching Avengers: Endgame. Recommended Viewing for Marvel fans only and regular attendees of Comicon.
Antman

and

the Wasp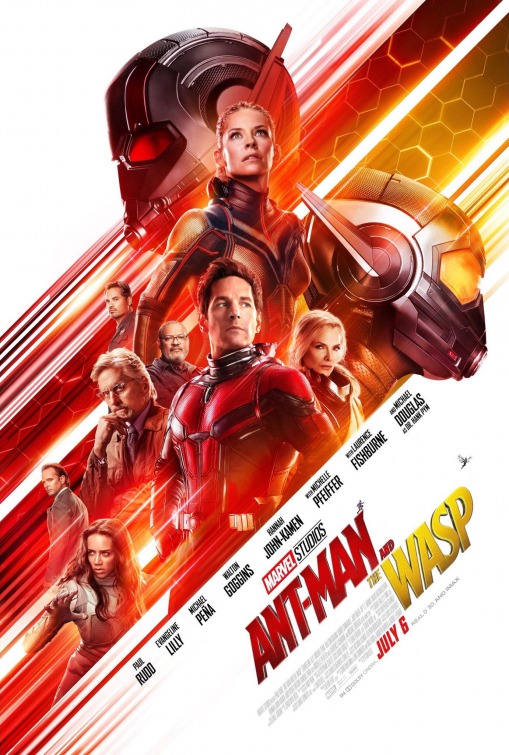 Director: Peyton Reed
Cast: Paul Rudd, Evangeline Lilly, Michael Douglas, Michelle Pfeiffer, Michael Pena, Walton Goggins, Hannah John-Kamen, Laurence Fishburne, Bobby Cannavale, Judy Greer, David Dastmalchian, Randall Park
The Marvel Cinematic Universe is continually expanding with a sequel to the 2015 film Antman, entitled Antman and the Wasp, reprising the original cast along with some newcomers including Walton Goggins (Tomb raider) as Sonny Burch and Oscar nominee Michelle Pfeiffer (Dangerous Liaisons) as Janet van Dyne, long lost wife of Hank Pym played again by veteran Oscar winner Michael Douglas (Wall Street).
Director Peyton Reed returns at the helm with Paul Rudd as Scott Lang aka Antman and Evangeline Lilly as Hope van Dyne aka the Wasp and while most of the nifty action consisting of shrinking or growing strange objects from cars to Hello Kitty dispensers, at times the storyline would seem puerile, it's nevertheless fun entertainment for the kids.
Antman and the Wasp's main storyline consists of the three main characters trying to retrieve a portable laboratory so they can blast themselves into some mystifying quantum realm to retrieve the lost Janet played by Pfeiffer, the narrative is punctuated by some funny scenes provided by Michael Pena who purely shines as Antman's friend Luis in this otherwise malleable superhero drama without many plot twists or a really definable villain.
Of course, clearly aimed at the Marvel fans who have enjoyed the original Antman, Black Panther and The Avengers: Infinity War, Antman and the Wasp is a fun filled comic caper of seismic proportions held together by the witty charm of Paul Rudd as the reluctant supposedly housebound superhero who is desperately trying to be the coolest Dad in San Francisco.
Personally, I would have liked to see more of the hugely talented Michelle Pfeiffer on screen, who appears to be making a major cinematic comeback, but Antman and The Wasp is worth seeing for its radically disproportionate special effects and a particularly clever car chase sequence along the hilly streets of downtown San Francisco. Take the kids, they will love it!
With malleable dimensions, Antman and The Wasp gets a film rating of 7.5 out of 10 and is recommended viewing for those that enjoyed the original film. 
Avengers:
Infinity War
Directors: Anthony and Joe Russo
Cast: Robert Downey Jr, Chris Evans, Chris Hemsworth, Chris Pratt, Mark Ruffalo, Scarlett Johansson, Don Cheadle, Benedict Cumberbatch, Tom Holland, Chadwick Boseman, Zoe Saldana, Tom Hiddleston, Idris Elba, Paul Bettany, Elizabeth Olsen, Anthony Mackie, Sebastian Stan, Danai Gurira, Peter Dinklage, Dave Bautista, Vin Diesel, Bradley Cooper, Gwyneth Paltrow, Josh Brolin, Benicio del Toro, William Hurt, Letitia Wright, Pom Klementieff, Carrie Coon, Winston Duke
Following the phenomenal success of Thor: Ragnorak and Black Panther, Marvel has capitalized on its extended cinematic universe with the new Avengers: Infinity War featuring a plethora of superheroes from Spiderman to Ironman, from Captain America to The Hulk not to mention bringing in the Guardians of the Galaxy gang for additional support.
If Avengers: Infinity War feels a bit excessive, that's because it probably is combining the Avengers franchise with that of the more quirky Guardians of the Galaxy. Some fantastic moments occur when Spiderman played by Tom Holland meets Peter Quill aka StarLord played by Chris Pratt or when Iron Man, played by Robert Downey Jr disagrees with the wizard Doctor Strange played by Benedict Cumberbatch. The snappy dialogue is sometimes lost amidst the greater quest to fight the evil universe destroyer Thanos played by Josh Brolin.
Thanos is equally conflicted about having to gather all the infinity stones including the one for Souls in which he has to make a choice between himself and his adopted daughter Gamora played by Zoe Saldana. In the meantime, his evil minions are wreaking havoc on earth in New York and in the magical technologically advanced African kingdom of Wakanda where Vision played by Paul Bettany along with Captain America  and Scarlett Witch played by Elizabeth Olsen seek the assistance of Black Panther played by Chadwick Boseman.
Audiences have to suspend their disbelief but judging by how packed the cinemas are for Avengers Infinity War, they are quite happy to do so. This film is pure sci-fi fantasy with little of the action taking place on earth. Most of the fight sequences occur on outer galactic planets like Titan.
Thor needs his hammer back and seeks the help of Eitri played by Peter Dinklage who forges a brilliant new weapon out of a powerful star, the celestial capability of which was last seen on the forgotten kingdom of Asgard.
Whilst directing brothers Anthony and Joe Russo compile an absolute Geekfest with Avengers: Infinity War with enough alien creatures and superheroes to stockpile Comicon for the next decade, it's a clear sign that the Marvel Universe has ambitious plans to expand even further.
That said Avengers: Infinity War has a convoluted story line weighed down by too many subplots but if viewers see it as a precursor to a second film then they will not find the surprise ending so disruptive….
Avengers: Infinity War gets a film rating 7.5 out of 10 and is strictly for Marvel comic book fans who have followed all the films from the original Iron Man 10 years ago.
The visual effects are fantastic as will be the box office receipts. See it to believe it.
Black Panther
Director: Ryan Coogler
Cast: Chadwick Boseman, Lupita Nyong'o, Michael B. Jordan, Sterling K. Brown, Daniel Kaluuya, Martin Freeman, Andy Serkis, Forest Whitaker, Danai Gurira, Letitia Wright, Angela Bassett, Winston Duke, John Kani
Marvel successfully diversifies its Avengers universe with an inventive self-sustaining Black Panther film. The Black Panther aka T'Challa who becomes king of the technologically advanced yet exclusive central African kingdom of Wakanda after his father T'Chaka played by South Africa's John Kani is killed in an assassination.
Creed director, Ryan Coogler assembles an all-star cast for Black Panther including Oscar winners Lupita Nyong'o (12 Years a Slave) as Black Panther's love interest, the beautiful and noble Nakia as well as Forest Whitaker (The Last King of Scotland) as Zuri along with Angela Bassett as Black Panther's regal mother and Queen of Wakanda, Ramonda.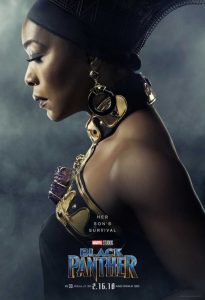 Black Panther has to fight off the likes of a crazy South African mercenary Ulysses Klaue dubiously played with a terrible accent by Andy Serkis (War for the Planet of the Apes) attempting to steal smuggled vibranium from Wakanda at a buying exchange in Busan, South Korea, a scene in the film which is both brilliantly shot and innovatively orchestrated with a virtual reality car chase sequence.
Back on African soil, T'Challa soon realizes that the real enemy is the American born Erik Killmonger wonderfully played by Michael B. Jordan (Fantastic Four). With the able assistance of his cheeky sister Shuri fantastically played by British-Guyanese star Letitia Wright, Black Panther manages to fight Killmonger in a noble duel about the paternal claim to be the future King of Wakanda.
Director Ryan Coogler ingenuously incorporates lots of African tribalism and cool technology into Black Panther however he does take the superhero genre too seriously by unashamedly politicizing it. This is the Avengers after all, which Spiderman has just joined. Superhero movies are meant to be pure escapism, which is precisely why director Taika Waititi's Thor: Ragnorak was such a refreshingly funny movie.
What remains to be seen is how effectively Black Panther will be blended into the mainstream Avengers films with the new Avengers: Infinity War opening soon. Chadwick Boseman is not as convincing as the main hero, Black Panther as his counterpart Michael B. Jordan who relishes playing the ruthless villain.
Lupita Nyong'o holds her own and kicks some butt in Black Panther as does rising star Letitia Wright who is an actress to watch out for. Golden Globe winner Sterling K. Brown has a minor role while Oscar nominee Daniel Kaluuya (Get Out) is suitably untrustworthy as Black Panther's best friend and Wakanda protector W'Kabi.
Whether the much hyped Black Panther's initial success in African cinemas is translated commercially to international audiences globally remains to be seen, yet the effort and rejuvenation of the highly anticipated Black superhero genre is applauded and provides starring roles for a host of African-American stars who have been clamouring for their own identifiable superhero film.
Marvel fans that enjoyed Captain America: Civil War and The Avengers franchise will certainly appreciate Black Panther, despite some uneven performances. At least now there is a guaranteed diversity of fans attending Comic-Con especially since its coming to Johannesburg in late 2018.
For all its vibrant celebrations of African culture, Black Panther gets a film rating of 7 out of 10.