Archive for the 'Marvel Cinema Universe' Category
Avengers: Endgame
Directors: Anthony & Joe Russo
Cast: Robert Downey Jr, Chris Hemsworth, Mark Ruffalo, Chris Evans, Scarlett Johansson, Jeremy Renner, Paul Rudd, Robert Redford, Michael Douglas, Josh Brolin, Gwyneth Paltrow, Don Cheadle, Anthony Mackie, Chadwick Boseman, Benedict Cumberbatch, Tilda Swinton, Brie Larson, Tom Holland, Karen Gillen, Zoe Saldana, Evangeline Lilly, Tessa Thompson, Rene Russo, Elizabeth Olsen, Sebastian Stan, Tom Hiddleston, Danai Gurira, Benedict Wong, Pom Klementieff, Dave Bautista, Chris Pratt, Vin Diesel, Letitia Wright, John Slattery, Jon Favreau, Hayley Atwell, Natalie Portman, Marisa Tomei, Angela Bassett, Michelle Pfeiffer, William Hurt, Cobie Smulders, Linda Cardellini, Frank Grillo, Hiroyuki Sanada, James D'Arcy, Bradley Cooper, Samuel L. Jackson, Ty Simpkins    
Marvel Cinematic Universe continues with the highly anticipated sequel to Avengers: Infinity War with Avengers: Endgame featuring all the famous superheroes that fans have grown to love including Iron Man, Captain America, Thor, The Hulk, Antman, Hawkeye and Captain Marvel as they band together to go back in time to retrieve the infinity stones to reverse the evil Thanos's ultimate revenge at the end of Infinity War where he made half the population vanish including such beloved heroes as Spiderman, Black Panther and Doctor Strange.
As Endgame starts, Ironman is stuck in space, Thor takes to drink in the New Asgard and Captain America is despondent that the Avengers are at their lowest point ever.
Captain Marvel played by Brie Larson rallies the troops along with Black Widow played by Scarlett Johansson. Jeremy Renner returns sporting a fantastic haircut as Clint Barton, aka Hawkeye to assist the remaining Avengers as they devise a time travel device to allow them to go back in time to three separate intergalactic locations to retrieve the highly precious and powerful Infinity Stones. It's the ultimate Time Heist as Antman points out.
What follows is a fantastic feast of Superheroes which directors Anthony and Joe Russo will have hard core Marvel fans both laughing and crying at the deluge of their cinematic idols as they all band together to destroy the evil Thanos.
While some of the plot points in this three hour long superhero extravaganza don't all get resolved, it certainly opens up a whole lot of new possibilities such a possible separate Hawkeye film? Sequels to the hugely successful Black Panther and Guardians of the Galaxy are both on the cards as well as another Spiderman film. So there is no shortage of geek fan crushing that will occur in Avengers: Endgame and the subsequent films to follow. Once again Marvel knocks it out of the park judging by the lucrative response at the international box office.
Avengers: Endgame is a culmination of all the Marvel films of the last decade and hints at a new start for some of the lesser known superheroes to flesh out their story lines. Let's face it with an overcrowded universe, audiences will battle to identify with any one superhero but rather applaud and cheer at the massive team of Avengers and all their trusted sidekicks. Audiences should look out for cameos by Tessa Thompson as Valkyrie, Sebastian Stan as the Winter Soldier and of course Thor's malevolent brother Loki played by Tom Hiddleston.
Avengers: Endgame is definitely for Marvel fans and trust me everyone from the previous films are in it. It's definitely worth seeing and gets a film rating of 7.5 out of 10.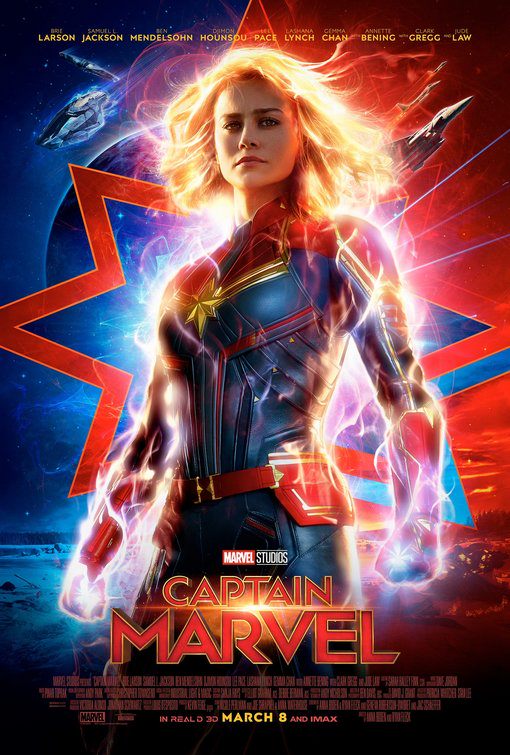 Captain Marvel
Directors: Anna Boden & Ryan Fleck
Cast: Brie Larson, Samuel L. Jackson, Annette Bening, Jude Law, Ben Mendelsohn, Lashana Lynch, Lee Pace, Clark Gregg, Gemma Chan, Djimon Hounson, Chris Evans, Scarlett Johansson, Rune Temte
Just before Avengers: Endgame hits theatres, Marvel had to introduce one more superhero to the galaxy of stars. It's the Retro intergalactic Captain Marvel wonderfully played by Oscar winner Brie Larson also known as Airforce Pilot Carol Danvers who gets whisked into space to become indoctrinated by the Kree Civilization, an advanced alien race headed up by the mysterious Supreme Being icily played by Annette Bening in her Marvel Comics debut.
Audiences can be forgiven for thinking that they had bought cinema tickets to a Star Trek reboot as the first twenty minutes of Captain Marvel is entirely set in space. Until Captain Marvel miraculously escapes an intergalactic feud between the Kree and the Skrull tribes and lands up in Los Angeles in 1995 in a blockbuster video store of all places, the film effortlessly shifts its location from outer space to a particular time and place.
In California, Captain Marvel teams up with a youthful Nick Fury wonderfully played by Samuel L. Jackson whose screen chemistry with Brie Larson is electrifying.   
Like all the other Marvel films and particularly those that loved Avengers: Infinity War, then Captain Marvel is a fun mixture of superhero and Guardians of the Galaxy and fits right in with the current trajectory the Marvel films are going. More significantly it is the first entirely female centred superhero film, with Brie Larson doing a sterling job, although admittedly the film does not quite match up to DC Comics's brilliant Wonder Woman directed by Patty Jenkins.
There is sufficient plot twists, location changes as Captain Marvel and Nick Fury travel to Louisiana to discover her real human identity as Airforce Pilot Carol Danvers as they team up with fellow co-pilot Maria Rambeau played by rising British star Lashana Lynch.
Oscar nominee Jude Law (The Talented Mr Ripley) plays the arrogant Kree commander Yon Rogg who proves to be a worthy adversary to Captain Marvel.
Captain Marvel is a fun filled retro intergalactic romp of a film engagingly written and populated with some witty one liners. Brie Larson pulls off the role of the latest female action superhero with credibility and nuance as she struggles to discover her real identity and where her role as Captain Marvel fits in to the larger Avengers scheme of things.
Flashy visual effects and some great onscreen chemistry save Captain Marvel from being just another superhero film and this gets a film rating of 7 out of 10.
Audiences should definitely see Captain Marvel before watching Avengers: Endgame. Recommended Viewing for Marvel fans only and regular attendees of Comicon.
Antman

and

the Wasp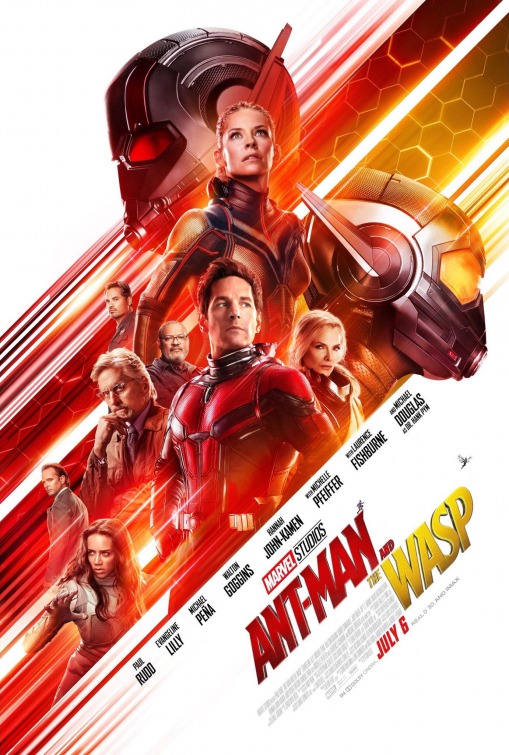 Director: Peyton Reed
Cast: Paul Rudd, Evangeline Lilly, Michael Douglas, Michelle Pfeiffer, Michael Pena, Walton Goggins, Hannah John-Kamen, Laurence Fishburne, Bobby Cannavale, Judy Greer, David Dastmalchian, Randall Park
The Marvel Cinematic Universe is continually expanding with a sequel to the 2015 film Antman, entitled Antman and the Wasp, reprising the original cast along with some newcomers including Walton Goggins (Tomb raider) as Sonny Burch and Oscar nominee Michelle Pfeiffer (Dangerous Liaisons) as Janet van Dyne, long lost wife of Hank Pym played again by veteran Oscar winner Michael Douglas (Wall Street).
Director Peyton Reed returns at the helm with Paul Rudd as Scott Lang aka Antman and Evangeline Lilly as Hope van Dyne aka the Wasp and while most of the nifty action consisting of shrinking or growing strange objects from cars to Hello Kitty dispensers, at times the storyline would seem puerile, it's nevertheless fun entertainment for the kids.
Antman and the Wasp's main storyline consists of the three main characters trying to retrieve a portable laboratory so they can blast themselves into some mystifying quantum realm to retrieve the lost Janet played by Pfeiffer, the narrative is punctuated by some funny scenes provided by Michael Pena who purely shines as Antman's friend Luis in this otherwise malleable superhero drama without many plot twists or a really definable villain.
Of course, clearly aimed at the Marvel fans who have enjoyed the original Antman, Black Panther and The Avengers: Infinity War, Antman and the Wasp is a fun filled comic caper of seismic proportions held together by the witty charm of Paul Rudd as the reluctant supposedly housebound superhero who is desperately trying to be the coolest Dad in San Francisco.
Personally, I would have liked to see more of the hugely talented Michelle Pfeiffer on screen, who appears to be making a major cinematic comeback, but Antman and The Wasp is worth seeing for its radically disproportionate special effects and a particularly clever car chase sequence along the hilly streets of downtown San Francisco. Take the kids, they will love it!
With malleable dimensions, Antman and The Wasp gets a film rating of 7.5 out of 10 and is recommended viewing for those that enjoyed the original film. 
Avengers:
Infinity War
Directors: Anthony and Joe Russo
Cast: Robert Downey Jr, Chris Evans, Chris Hemsworth, Chris Pratt, Mark Ruffalo, Scarlett Johansson, Don Cheadle, Benedict Cumberbatch, Tom Holland, Chadwick Boseman, Zoe Saldana, Tom Hiddleston, Idris Elba, Paul Bettany, Elizabeth Olsen, Anthony Mackie, Sebastian Stan, Danai Gurira, Peter Dinklage, Dave Bautista, Vin Diesel, Bradley Cooper, Gwyneth Paltrow, Josh Brolin, Benicio del Toro, William Hurt, Letitia Wright, Pom Klementieff, Carrie Coon, Winston Duke
Following the phenomenal success of Thor: Ragnorak and Black Panther, Marvel has capitalized on its extended cinematic universe with the new Avengers: Infinity War featuring a plethora of superheroes from Spiderman to Ironman, from Captain America to The Hulk not to mention bringing in the Guardians of the Galaxy gang for additional support.
If Avengers: Infinity War feels a bit excessive, that's because it probably is combining the Avengers franchise with that of the more quirky Guardians of the Galaxy. Some fantastic moments occur when Spiderman played by Tom Holland meets Peter Quill aka StarLord played by Chris Pratt or when Iron Man, played by Robert Downey Jr disagrees with the wizard Doctor Strange played by Benedict Cumberbatch. The snappy dialogue is sometimes lost amidst the greater quest to fight the evil universe destroyer Thanos played by Josh Brolin.
Thanos is equally conflicted about having to gather all the infinity stones including the one for Souls in which he has to make a choice between himself and his adopted daughter Gamora played by Zoe Saldana. In the meantime, his evil minions are wreaking havoc on earth in New York and in the magical technologically advanced African kingdom of Wakanda where Vision played by Paul Bettany along with Captain America  and Scarlett Witch played by Elizabeth Olsen seek the assistance of Black Panther played by Chadwick Boseman.
Audiences have to suspend their disbelief but judging by how packed the cinemas are for Avengers Infinity War, they are quite happy to do so. This film is pure sci-fi fantasy with little of the action taking place on earth. Most of the fight sequences occur on outer galactic planets like Titan.
Thor needs his hammer back and seeks the help of Eitri played by Peter Dinklage who forges a brilliant new weapon out of a powerful star, the celestial capability of which was last seen on the forgotten kingdom of Asgard.
Whilst directing brothers Anthony and Joe Russo compile an absolute Geekfest with Avengers: Infinity War with enough alien creatures and superheroes to stockpile Comicon for the next decade, it's a clear sign that the Marvel Universe has ambitious plans to expand even further.
That said Avengers: Infinity War has a convoluted story line weighed down by too many subplots but if viewers see it as a precursor to a second film then they will not find the surprise ending so disruptive….
Avengers: Infinity War gets a film rating 7.5 out of 10 and is strictly for Marvel comic book fans who have followed all the films from the original Iron Man 10 years ago.
The visual effects are fantastic as will be the box office receipts. See it to believe it.
Black Panther
Director: Ryan Coogler
Cast: Chadwick Boseman, Lupita Nyong'o, Michael B. Jordan, Sterling K. Brown, Daniel Kaluuya, Martin Freeman, Andy Serkis, Forest Whitaker, Danai Gurira, Letitia Wright, Angela Bassett, Winston Duke, John Kani
Marvel successfully diversifies its Avengers universe with an inventive self-sustaining Black Panther film. The Black Panther aka T'Challa who becomes king of the technologically advanced yet exclusive central African kingdom of Wakanda after his father T'Chaka played by South Africa's John Kani is killed in an assassination.
Creed director, Ryan Coogler assembles an all-star cast for Black Panther including Oscar winners Lupita Nyong'o (12 Years a Slave) as Black Panther's love interest, the beautiful and noble Nakia as well as Forest Whitaker (The Last King of Scotland) as Zuri along with Angela Bassett as Black Panther's regal mother and Queen of Wakanda, Ramonda.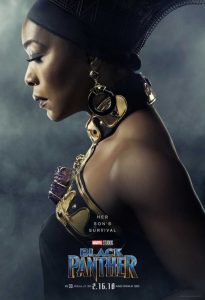 Black Panther has to fight off the likes of a crazy South African mercenary Ulysses Klaue dubiously played with a terrible accent by Andy Serkis (War for the Planet of the Apes) attempting to steal smuggled vibranium from Wakanda at a buying exchange in Busan, South Korea, a scene in the film which is both brilliantly shot and innovatively orchestrated with a virtual reality car chase sequence.
Back on African soil, T'Challa soon realizes that the real enemy is the American born Erik Killmonger wonderfully played by Michael B. Jordan (Fantastic Four). With the able assistance of his cheeky sister Shuri fantastically played by British-Guyanese star Letitia Wright, Black Panther manages to fight Killmonger in a noble duel about the paternal claim to be the future King of Wakanda.
Director Ryan Coogler ingenuously incorporates lots of African tribalism and cool technology into Black Panther however he does take the superhero genre too seriously by unashamedly politicizing it. This is the Avengers after all, which Spiderman has just joined. Superhero movies are meant to be pure escapism, which is precisely why director Taika Waititi's Thor: Ragnorak was such a refreshingly funny movie.
What remains to be seen is how effectively Black Panther will be blended into the mainstream Avengers films with the new Avengers: Infinity War opening soon. Chadwick Boseman is not as convincing as the main hero, Black Panther as his counterpart Michael B. Jordan who relishes playing the ruthless villain.
Lupita Nyong'o holds her own and kicks some butt in Black Panther as does rising star Letitia Wright who is an actress to watch out for. Golden Globe winner Sterling K. Brown has a minor role while Oscar nominee Daniel Kaluuya (Get Out) is suitably untrustworthy as Black Panther's best friend and Wakanda protector W'Kabi.
Whether the much hyped Black Panther's initial success in African cinemas is translated commercially to international audiences globally remains to be seen, yet the effort and rejuvenation of the highly anticipated Black superhero genre is applauded and provides starring roles for a host of African-American stars who have been clamouring for their own identifiable superhero film.
Marvel fans that enjoyed Captain America: Civil War and The Avengers franchise will certainly appreciate Black Panther, despite some uneven performances. At least now there is a guaranteed diversity of fans attending Comic-Con especially since its coming to Johannesburg in late 2018.
For all its vibrant celebrations of African culture, Black Panther gets a film rating of 7 out of 10.
Thor

:

Ragnarok
Director: Taika Waititi
Cast: Chris Hemsworth, Mark Ruffalo, Tom Hiddleston, Cate Blanchett, Anthony Hopkins, Jeff Goldblum, Idris Elba, Tessa Thompson, Benedict Cumberbatch, Karl Urban, Ray Stevenson, Scarlett Johansson, Luke Hemsworth, Sam Neill, Taika Waititi
New Zealand director Taika Waititi was Oscar nominated back in 2005 for his Live Action Short film Two Cars, One Night.
Marvel Studios recruited him to inject new life into the Thor films and that he certainly does with Thor: Ragnarok, a neon inspired family feud of mythical proportions featuring Thor played again by hunky Australian actor Chris Hemsworth along with his pesky brother Loki played by Tom Hiddleston and new addition to the family Hela played with vampish delight by Oscar winner Cate Blanchett (The Aviator, Blue Jasmine).
Thor returns to Asgard only to discover that Loki has banished Odin, their father to a virtual retirement home. Upon a brief visit, the brothers discover that Odin, wonderfully played with a sombre delight by Oscar winner Anthony Hopkins (The Silence of the Lambs) has got an elder daughter Hela who was banished from Asgard for being the Goddess of Death and wreaking havoc on the nine realms.
Cate Blanchett relishes her role as Hela, the Goddess of Death, inspired by Maleficent and certainly quite intent on destroying her defiant younger brothers.
Thor and Loki land up on a weird dystopian outer planet overseen by the demonic Grand Master, a superbly camp performance by Jeff Goldblum (Jurassic Park, Independence Day), who immediately instructs Thor to fight in a massive arena against a formidable beast: The Hulk. Enter Bruce Banner aka The Hulk, played with bewildering amusement by Mark Ruffalo (The Avengers, Foxcatcher, Spotlight).
Eventually Thor gets Loki, The Hulk and a hard-drinking Valkyrie played by Tessa Thompson last seen in the HBO series Westworld, to return to Asgard to defeat the demonic Hela who is assisted by a reluctant henchman Skurge played by Karl Urban (Dredd, Star Trek and The Loft).
The only criticism is that the middle section of Thor: Ragnarok detracts from the film's central narrative, which is essentially a legendary family conflict.
Thor: Ragnarok is a fun-filled comic book film which thankfully does not take itself or the characters too seriously and is a clear indication that Marvel films are definitely trying to create memorable characters for the lucrative toy manufacturing market just before Christmas.
As with all the latest Marvel films, franchise opportunities abound. Thor: Ragnarok is light-hearted and hellishly entertaining. Audiences should look out for a great cameo by Benedict Cumberbatch reprising his role as the illusive Doctor Strange.
If audiences enjoyed The Avengers and the first two Thor films, then they will definitely savour Thor: Ragnarok which is comically inspired from another Marvel hit franchise, The Guardians of the Galaxy.
Thor: Ragnarok gets a film rating of 7.5 out of 10.
Spiderman
Homecoming
Director: Jon Watts
Cast: Tom Holland, Michael Keaton, Marisa Tomei, Jon Favreau, Gwyneth Paltrow, Donald Glover, Bokeem Woodbine, Tyne Daly, Logan Marshall-Green, Jennifer Connelly, Laura Harrier, Angourie Rice, Zendaya
Young British star Tom Holland, who was riveting as Naomi Watt's son Lucas in director J. A. Bayona's The Impossible, takes on the iconic superhero role of Spiderman in the Sony Marvel reboot of the webslinger franchise in the captivating Spiderman Homecoming directed by Jon Watts.
Since Marvel entered into a rights partnership agreement to use the Sony copyrighted superhero in Captain America: Civil War when audiences first caught a brief glimpse of Tom Holland as the new Spiderman it was inevitable that he would get a film of his own.
Spiderman Homecoming is thoroughly entertaining augmented by Holland's spunky performance as the brash young Peter Parker who is struggling to complete High School while also being mentored by Tony Stark, aka Iron Man, played by Robert Downey Jnr. The young Spidey has allusions of grandeur of being inducted into the Avengers army but Tony Stark is rather letting him prove his worth first.
In a poignant moment, Stark says to Peter Parker, if you are nothing without this suit then the suit will mean nothing. In other words, the clothes do not maketh the man.
Parker, played with humour and courage by Holland soon proves his worth and apparent screen appeal when while revealing his alter ego to his best friend also has to contend with an evil villain Vulture wonderfully played by Oscar nominee Michael Keaton (Birdman) and his protective aunt May, whom he loves dearly played by another Oscar winner Marisa Tomei (My Cousin Vinny).
While all this parental authority weighs down on the young webslinger he soon finds his own feet as he saves his science group from a diabolical end in the Washington monument whilst on a school trip to Washington D. C. The Washington monument and the action packed ferry sequences are two of the best in Spider Homecoming, both scenes being awash with symbolic American patriotism.
The irony is that Tom Holland is British is not lost on a more erudite viewer of pop culture.
Spider Homecoming has with some great cameo's including Jon Favreau as Happy Hogan, Gwyneth Paltrow as Pepper Potts and Bokeem Woodbine of Fargo TV series fame as Herman Schultz, Vulture's evil sidekick known as Shocker 2. Logan Marshall-Green (Prometheus) plays the ill-advised first evil sidekick Shock 1.
Parker's love interest is high school crush Liz played by Laura Harrier which allows for the narrative to set up an interesting twist towards the end and will definitely satisfy any lack of diversity disclaimers.
Audiences should forget Tobey Maguire as Spiderman in the Sam Raimi Trilogy or the ill-fated Amazing Spiderman films starring Andrew Garfield. Tom Holland presents a revitalized savvy young superhero which will ensure the franchise's continued survival in the cluttered Marvel universe as he will next be appearing in the anticipated The Avengers: Infinity War.
You never too old to watch Spiderman.
Spiderman Homecoming is blissfully entertaining and gets a film rating of 7.5 out of 10.
Guardians of the Galaxy 2
Director: James Gunn
Cast: Chris Pratt, Zoe Saldana, Dave Bautista, Bradley Cooper, Vin Diesel, Kurt Russell, Michael Rooker, Karen Gillan, Sylvester Stallone, Pom Klementieff, Elizabeth Debicki, Sean Gunn
Director James Gunn's second foray into the Guardians universe is not as brilliant as his original film, mainly because the quirkiness of the characters of the first Guardians of the Galaxy has worn off slightly. If viewers enjoy psychedelic action with lots of CGI then Guardians of the Galaxy volume 2 is for you.
All the original cast reprise their roles with a bigger screen time for Chris Pratt and Zoe Saldana who both have familial issues to contend with. Pratt's character Peter "Star Lord" Quill has to contend with unresolved father issues when he meets his dad aptly named Ego charismatically played by Kurt Russell who is definitely having a rejuvenation in his career. While Zoe Saldana's Gamora has to contend with sibling rivalry with the unexpected arrival of her sister Nebula played by Karen Gillan.
Dave Bautista's Drax seems to be more contented and has the best lines in the film. While Bradley Cooper who provides the voice of Rocket and Vin Diesel who does the voice of Baby Groot really just had to the star power.
The best scenes in the film are between Kurt Russell and Chris Pratt as Starlord discovers that his biological father is a slight megalomaniac with unresolved desire to consume the universe. Spoiler Alert there!
Sylvester Stallone pops up briefly as Stakar Ogord and unfortunately has too little screen time to give his character any credibility. Chameleon actress Elizabeth Debicki who was so brilliantly in the series The Night Manager and was seen in Macbeth and The Great Gatsby also unfortunately has too little screen time to really give her golden genetically enhanced character Ayesha – Ruler of the Sovereign race any menace although she does look absolutely gorgeous in all that gold.
Elizabeth Debicki should use her remarkable talents as an actress in a far better genre than psychedelic sci-fi  but then again Marvel are calling the shots. Marvel are certainly luring talented stars to play in their films. Just look at the cast of Doctor Strange.
Unlike Doctor Strange which was really well done with awesome special effects, James Gunn's Guardians 2 with the tag line "Obviously" seems to much of the same and nothing remotely original. Strip away all the CGI and the plot is basically a father and son story about a son who slowly becomes disillusioned with the image of what his father should be, never mind the fatal legacy that Ego has install for Starlord and the rest of the gang.
Fans of the Guardians of the Galaxy will certainly enjoy this hasty sequel but lets face it this version is never as innovative as the original film. Now what remains to be seen is how the Guardians will fare in the upcoming Avengers: Infinity movie scheduled for a 2018 release featuring a combination of all the Avengers, plus Spiderman and the Guardians – Should be fun.
Guardians of the Galaxy volume 2 is a fantastic fun-filled popcorn film but nothing more. Viewers will be dazzled by fantastic CGI that the whole universe will be dripping with neon.  Although, the Guardians films are enjoyable they are not in the league of Star Wars but then again my loyalties lie elsewhere.
Guardians of the Galaxy volume 2 gets a rating of 6.5 out of 10 but is strictly for the fans of the first film. Its quirky, fun, but nothing spectacular despite the presence of Kurt Russell and Elizabeth Debicki both of whom add gravitas to an otherwise skimpy plot line. On the plus side – the music is fantastic and Baby Groot is really cute!
Doctor
Strange
Director: Scott Derrickson
Cast: Benedict Cumberbatch, Rachel McAdams, Chiwetel Ejiofor, Tilda Swinton, Benedict Wong, Mads Mikkelsen, Michael Stulbarg, Benjamin Bratt, Scott Adkins, Chris Hemsworth
Marvel is certainly expanding their cinematic universe at a rapid rate. First it was The Avengers and then The Guardians of the Galaxy and now they have turned their attention to the mystical antihero Doctor Strange, transforming the comic book character into a visually dazzling film version by director Scott Derrickson.
Heavily influenced by Christopher Nolan's surreal city scape bending visuals in his 2010 blockbuster Inception, Doctor Strange is a spectacular anti-hero film centred on an arrogant neurosurgeon wonderfully played by Oscar nominee Benedict Cumberbatch (The Imitation Game).
As the film begins, audiences catch a glimpse of Doctor Strange medical expertise as well as his supreme arrogance and wealth. However all that suave egotistical bravado comes crashing down when he plunges his sports car off a cliff outside New York City and soon loses all nerve sensations in his hand.
At first he is naturally devastated and despite being comforted by sometime lover and co-worker Dr Christine Palmer, played by Oscar nominee Rachel McAdams (Spotlight), Doctor Strange sets off for an alternative cure prompted by a meeting with a miracle paraplegic Jonathan Pangborn played by Benjamin Bratt (Love in the Time of Cholera, Traffic).
Naturally the action shifts to Kathmandu, Nepal, where Doctor Strange is introduced to the mystical arts by the shaven head guru The Ancient One, superbly played by Oscar winner Tilda Swinton (Michael Clayton). The best dialogue in the film are reserved for Cumberbatch and Swinton as The Ancient One strips Doctor Strange of his arrogance and he discovers a mystical world of parallel universes and scriptures written in ancient languages.
Soon Doctor Strange takes a liking to a flying crimson cape and has sideburns to match Frankenstein. With a new mystical persona, Doctor Strange delves into pure fantasy with brilliant mind bending visual effects to match.
The Visual Effects are so inspiring that they should get an Oscar on their own. In this case Doctor Strange has come up trumps with a perfect cast, most of them Oscar nominees and winners and a strong narrative which establishes more films in the Defenders Universe.
As the action shifts to Hong Kong, Doctor Strange with the help of Mordo played by Oscar Nominee Chiwetel Ejiofor (12 Years a Slave) and Wong played by Benedict Wong, this diverse mystical trio must battle the evil and embittered Kaecilius played by Danish actor Mads Mikkelsen (Casino Royale) who is intent on unleashing dark forces on planet earth in a bid to achieve immortality.
Doctor Strange is visually brilliant and superbly acted by the cast, due to some clever casting choices by Marvel Studios. The fact that Tilda Swinton, initially known for her art house films like Sally Potter's Orlando and Benedict Cumberbatch seen in British period films like Atonement and Creation are both in a Marvel's Anti-Hero movie is testament to how seriously the film studio takes their brand as they continuously expand all the various superhero franchises and even delve into quirky Sci-Fi.
Audiences must stay seated after the credits as Doctor Strange has an unexpected meeting with Asgard's protector…
Highly recommended viewing for those that enjoy all of Marvel's films or would love to visit Comicon.
Captain

America

: Civil War
Director: Anthony and Joe Russo
Cast: Robert Downey Jr, Chris Evans, Scarlett Johansson, Elizabeth Olsen, Daniel Bruhl, Anthony Mackie, Jeremy Renner, Chadwick Boseman, William Hurt, Paul Bettany, Martin Freeman, Tom Holland, Alfre Woodard, Frank Grillo, Don Cheadle, Sebastian Stan, Paul Rudd, Emily Van Camp, John Kani, Marisa Tomei
I was never a fan of superhero comics as a kid, but as an adult, the superhero films have captured my imagination. Who can forget The Dark Knight Trilogy by Christopher Nolan who reinvented Batman? Or the recent Batman v Superman blockbuster by Zack Snyder, a sure precursor to the Justice League films set for release in 2017 and 2018?
Moving away from DC comics, their direct rival Marvel has expanded their superhero universe exponentially and in the third installment of Captain America: Civil War, a more iconic superhero pops up, Spiderman curtesy of a Marvel and Sony sharing agreement to reinvent Spiderman within The Avengers universe. Smart move on the part of Marvel and especially Sony whose two previous Spiderman reincarnations were faltering: The Amazing Spiderman and its psychedelic sequel.
Captain America: Civil War features a plethora of superheroes, so many in fact that the inevitable showdown which the title refers to is quite spectacular to behold.
Captain America leads the one camp as he defends his friend Bucky Barnes aka The Winter Soldier, played by Sebastian Stan along with the help of Sam Wilson, aka The Falcon played by Anthony Mackie (The Hurt Locker, Antman), Antman played by the hilarious Paul Rudd, Hawkeye returning from retirement played by the roguish Jeremy Renner.
The other camp is headed up by opinionated tech billionaire Iron Man, wonderfully played again by Robert Downey Jnr, joined by the War Machine played by Don Cheadle (Iron Man 2) and Black Widow played by Scarlett Johansson. Tony Stark aka Iron Man also enlists the help of a young and precocious Peter Parker, wonderfully played by young British actor Tom Holland (The Impossible) as he reinvents Spiderman promising an energetic reinvention when Holland will appear in his stand alone film called Spiderman: Homecoming.
Adding some much needed diversity to The Avengers universe, Black Panther played by Chadwick Boseman (Gods of Egypt), who is also starring in his own origin Black Panther film coming in 2018 also joins team Iron Man as he aggressively fights Bucky Barnes who he believes is responsible for the death of his father, a suitable cameo by South African acting legend John Kani (Coriolanus, The Ghost and the Darkness).
While the Clash of the Superheroes is spectacular and at times appears like a spandex orgy it is really Daniel Bruhl (Rush, Woman in Gold) as the master villain Zemo who has instigated the division between the Avengers as revenge for what occurred in The Avengers: The Age of Ultron, in which his whole family was killed in a supernatural skirmish in some fictional East European country.
Captain America: Civil War is a superb superhero film as the Russo brothers who direct this third instalment of the Captain America trilogy dexterously managing to combine all these diverse superheroes in a brilliant duel whilst also introducing some new and iconic characters. Fans of Iron Man, Ant Man and all The Avengers films will relish this caper standoff sure to capture the imaginations of many Comic con fans and paving the way for Marvel's relentless cinematic expansion of all their gang of masked crusaders, a sure rival to DC Comics Justice League, although both superhero franchises will definitely benefit financially at the box office.
Captain America: Civil War is highly recommended viewing especially for some superb cameos by seasoned character actors including William Hurt, Alfre Woodard, Martin Freeman and Marisa Tomei.