Archive for the 'Peyton Reed' Category
Antman

and

the Wasp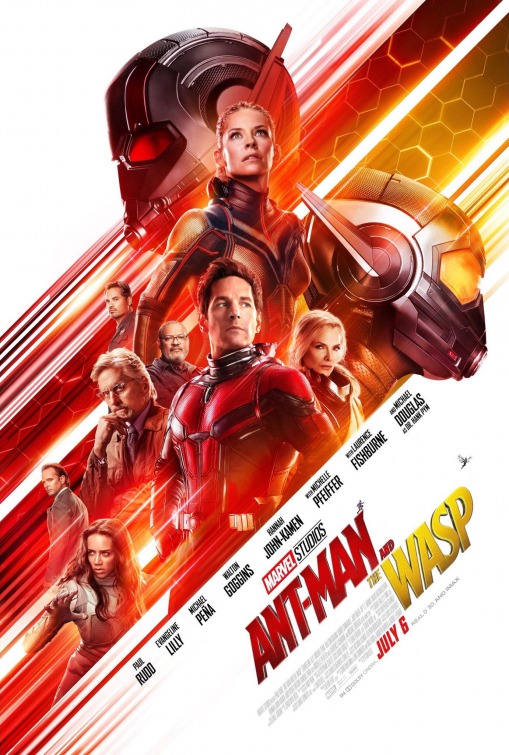 Director: Peyton Reed
Cast: Paul Rudd, Evangeline Lilly, Michael Douglas, Michelle Pfeiffer, Michael Pena, Walton Goggins, Hannah John-Kamen, Laurence Fishburne, Bobby Cannavale, Judy Greer, David Dastmalchian, Randall Park
The Marvel Cinematic Universe is continually expanding with a sequel to the 2015 film Antman, entitled Antman and the Wasp, reprising the original cast along with some newcomers including Walton Goggins (Tomb raider) as Sonny Burch and Oscar nominee Michelle Pfeiffer (Dangerous Liaisons) as Janet van Dyne, long lost wife of Hank Pym played again by veteran Oscar winner Michael Douglas (Wall Street).
Director Peyton Reed returns at the helm with Paul Rudd as Scott Lang aka Antman and Evangeline Lilly as Hope van Dyne aka the Wasp and while most of the nifty action consisting of shrinking or growing strange objects from cars to Hello Kitty dispensers, at times the storyline would seem puerile, it's nevertheless fun entertainment for the kids.
Antman and the Wasp's main storyline consists of the three main characters trying to retrieve a portable laboratory so they can blast themselves into some mystifying quantum realm to retrieve the lost Janet played by Pfeiffer, the narrative is punctuated by some funny scenes provided by Michael Pena who purely shines as Antman's friend Luis in this otherwise malleable superhero drama without many plot twists or a really definable villain.
Of course, clearly aimed at the Marvel fans who have enjoyed the original Antman, Black Panther and The Avengers: Infinity War, Antman and the Wasp is a fun filled comic caper of seismic proportions held together by the witty charm of Paul Rudd as the reluctant supposedly housebound superhero who is desperately trying to be the coolest Dad in San Francisco.
Personally, I would have liked to see more of the hugely talented Michelle Pfeiffer on screen, who appears to be making a major cinematic comeback, but Antman and The Wasp is worth seeing for its radically disproportionate special effects and a particularly clever car chase sequence along the hilly streets of downtown San Francisco. Take the kids, they will love it!
With malleable dimensions, Antman and The Wasp gets a film rating of 7.5 out of 10 and is recommended viewing for those that enjoyed the original film. 
Ant-

Man
Director: Peyton Reed
Cast: Paul Rudd, Evangeline Lilly, Michael Douglas, Michael Pena, Corey Stoll, Martin Donovan, Bobby Cannavale, Hayley Atwell, Anthony Mackie, Judy Greer
Comedy star Paul Rudd (Our Idiot Brother, Wanderlust) embraces the role of Ant-Man, the latest superhero to join the Marvel Universe. In this case size does matter and Ant-Man's unique ability to shrink to the size of an ant and evade capture while destroying intricate servers is something to marvel at.
Director Peyton Reed's Ant-Man is humorous, hilarious and filled with spectacular moments which will find the audience rooting for the diminutive superhero who is desperate to join the Avengers team. Oscar winner Michael Douglas (Wall Street) plays quantum physicist Dr Hank Pym has developed a unique formula which can reduce a man to the size of an ant and cause damage along with his army of assistant ants. For once this is a superhero who is without any angst, but just an average guy who happens to be a convicted felon desperate to see his daughter again.
Scott Lang, wonderfully played to perfection by Paul Rudd, and for once the casting could not have been better is a down and out cat burglar and at the request of his dumb friends, led by the dim-witted Luis hilariously played by Michael Pena breaks into the San Francisco home of Dr Pym to steal jewels and cash.
Instead, Lang steals an Ant-Man suit and unwittingly shrinks and realizes that this nifty ensemble enables him to escape from most situations, including jail, where he is arrested by his daughter's stepfather Detective Paxton played by the ubiquitous Bobby Cannavale.
Soon Lang is rescued by Dr Pym and his gorgeous daughter Hope van Dyne played by Evangeline Lilly (The Hobbit: Desolation of Smaug) who train Lang to be the elusive Ant-Man.
The evil villain is the megalomaniac scientist Dr Darren Cross, played by Corey Stoll who is keen on developing his own shrinking suit and selling the sought after formula to the sinister Hydra which is out to destroy SHIELD, of whom the Avengers are a part of.
The fact that the final battle between Cross and Ant-Man takes place on top of a Thomas the Tank engine toy in Lang's daughter's bedroom is emblematic of who the target audience is. Nevertheless Ant-Man is visually spectacular, comical and often hilarious and a much better film than anticipated.
This is a superhero movie which does not take the entire genre too seriously, but has huge ambitions to join The Avengers. Fans should watch out for cameo appearances by Anthony Mackie as Falcon and Hayley Atwell as Agent Carter.
Ant-Man may not match up to the likes of Captain America or Iron Man but could certainly prove that size does count and in this case being smaller is infinitely better. The 3-D visual effects are amazing and Rudd keeps the entire film light and quirky. Ant-Man is recommended viewing for those that enjoyed The Avengers and Guardians of the Galaxy.