Once Upon a Time in Hollywood
Director: Quentin Tarantino
Cast: Leonardo di Caprio, Brad Pitt, Margot Robbie, Emile Hirsch, Bruce Dern, Dakota Fanning, Maya Hawke, Timothy Olyphant, Austin Butler, Damian Lewis, Al Pacino, Kurt Russell, Margaret Qualley
Oscar winner for Best Original Screenplay for Pulp Fiction and Django Unchained, writer and director Quentin Tarantino returns to the big screen with his 9th feature film the brilliantly titled Once Upon a Time in Hollywood starring Oscar winner Leonardo DiCaprio (The Revenant) and Brad Pitt as buddies actor Rick Dalton and his stunt double Cliff Booth in a fictional tale set in Los Angeles in 1969.
1969 was the year that the real life film director Roman Polanski's pregnant wife Sharon Tate was brutally murdered by the followers of the Charles Manson cult which shocked the American film industry to its rotten core.
Firstly two disclaimers: this is an extremely long film and secondly it's really only aimed at serious movie buffs and serves as Tarantino's ode to the end of Hollywood's Golden Age before the film making industry got taken over by corporations, sequels, digitization and streaming.
Tarantino artfully pays homage to the act of buying a ticket and going to the cinema in a rather poignant scene when the young actress Sharon Tate superbly played by Oscar nominee Margot Robbie (I, Tonya) actually pays to watch a film she is starring in at a Westwood cinema.
The rest of this marvelously meandering film belongs to the two major stars, DiCaprio who is superb as the washed up TV actor Rick Dalton who is desperately trying to make a Big Screen comeback but lands up starring in a string of Spaghetti Westerns in Rome.
Oscar nominee Brad Pitt (12 Monkeys) is phenomenal as the stunt double past his prime Cliff Booth in one of his best onscreen performances yet especially the gorgeous scene when he takes his shirt off on the roof of Dalton's Hollywood Hills mansion in the scorching Californian sun to fix the TV aerial.
Booth also inadvertently stumbles across the hippie cult followers of Charles Manson in an abandoned studio lot in Chatsworth, California featuring some great cameos by Dakota Fanning (Ocean's 8, War of the Worlds) as Squeaky Fromme , Oscar nominee Bruce Dern (Nebraska) as George Spahn and Margaret Qualley (The Nice Guys) as the seductive hippie hitchhiker Pussycat.
Tarantino expertly captures the zeitgeist of Los Angeles in 1969 at the peak of the counter-culture movement with lurid production design by Barbara Ling and costumes by Oscar nominated costume designer Arianne Phillips (Walk the Line, A Single Man, Nocturnal Animals, W. E.).
With some expertly placed cameos including Oscar winner Al Pacino (Scent of a Woman) as hot shot producer Marvin Schwarz and Damian Lewis as real life star Steve McQueen.
Once Upon a Time in Hollywood is slowing moving in the first two acts of the film, while the third act is phenomenal especially the hippie flame throwing sequence.
Tarantino could have quickened the film's pace in the beginning to actively propel the narrative forward but he is a notorious auteur and not interested in packaging films to please audience expectations.
Unbelievably, Once Upon a Time in Hollywood did get a standing ovation at its glittering film premiere at the 2019 Cannes Film Festival so Tarantino did something right.
This film gets a rating of 8 out of 10 and accurately portrays acting as artifice.
This is not Tarantino's best work but written and directed in the vein of his crime thriller Jackie Brown, Once Upon a Time In Hollywood is strictly recommended for Tarantino fans and those that enjoyed Pulp Fiction, Django Unchanged and Inglourious Basterds.
Blinded by the Light
Director: Gurinder Chadha
Cast: Viveik Kalra, Kulvinder Ghir, Meera Ganatra, Aaron Phagura, Hayley Atwell, Dean-Charles Chapman, Nell Williams, Sally Phillips, Frankie Fox
Sometimes it's the small British films which are the most impressive.
Bend it like Beckham and Viceroy's House director Gurinder Chadha returns with a delightful coming of age story Blinded by the Light a comic snapshot of an Immigrant Pakistani family living in Luton, Northern England in the dark end of the 1980's during Margaret Thatcher's iron grip on Britain.
Blinded by the Light is set in 1987 and focuses on the dreams and aspirations of Javed beautifully played by Viveik Kalra whose struggling to find his identity as a British Asian young male who is harbouring dreams of becoming a successful writer.
Viveik Kalra has already won the breakthrough actor's award at the Seattle International Film Festival and his performance as Javed is spot on, a tortured teenager dealing with an overbearing father, a claustrophobic family and an urge to break free out of Luton, which in 1987 was rife with racial intolerance, economic recession and hardship.
When Javed is sent to the local college to do his A Levels he is encouraged to continue writing poetry and find his own voice by his free thinking English Literature teacher Ms Clay played by Hayley Atwell (Brideshead Revisited, The Duchess). More significantly he befriends Roops played by Aaron Phagura who introduces him to the working class music of The Boss, the New Jersey singer Bruce Springsteen who become famous in the early 1980's. Instantly Javed identifies with the lyrics of Springsteen who becomes his role model.
Springsteen's music helps Javed find his writing voice much to the horror of his conservative father who keeps thinking that Springsteen is a Jewish American.
Blinded by the Light deals with more than one teenager's musical obsession, as director Gurinder Chadha makes insightful comments on racism, following one's dreams and the economic sacrifices an immigrant family has to make when moving to a new country: in this case Britain in the 1980's.
Soon Javed discovers his inner writing talent, learns to stand up to his father and even travels to New Jersey after winning a literary competition. Blinded by the Light is a wonderful musical drama focusing on one young man's dream to leave his bigoted hometown and discover his real talent. In a poignant scene when Javed confronts his hard-working conservative father Malik played by Kulvinder Ghir, he states that "These words paid for my dreams" after he writes an article for the Luton Herald about the local Mosque being threatened with imminent closure.
Blinded by the Light is a gem of a film and gets a rating of 8 out of 10.
Audiences will love this heartwarming story of Javed whose literary dreams are inspired by the lyrics of Bruce Springsteen, although this distinctly British film is personal, relevant and less flashy.
Angel Has Fallen
Director: Ric Roman Waugh
Cast: Gerard Butler, Danny Huston, Nick Nolte, Jada Pinkett-Smith, Morgan Freeman, Frederick Schmidt, Piper Perabo, Tim Blake Nelson, Martin Behrman, Lance Reddick
Shot Caller director Ric Roman Waugh directs the follow up to 2013's Olympus has Fallen and 2016's London has Fallen with muscular Scottish actor Gerard Butler (Den of Thieves, 300) reprising his role of Secret Service Agent Mike Banning in Angel has Fallen also starring Oscar winner Morgan Freeman (Million Dollar Baby) as President Trumbull and Danny Huston as the ruthless Independent Defence Contractor Wade Jennings.
When Banning is framed for the attempted assassination of President Trumbull in a dramatic drone attack, chaos reigns as Banning fights to clear his name and discover the real perpetrators behind the merciless attack which annihilated all of President Trumbull's other secret service agents.
In a similar gritty style to Olympus has Fallen and London has Fallen, Angel has Fallen is extremely violent action packed and absolutely thrilling to watch made more enjoyable by the appearance of veteran actor and Oscar nominee Nick Nolte (Warrior, Affliction, Prince of Tides) as reclusive Ex-Vietnam veteran and father to Mike Banning, Clay Banning, who proves just as able as his macho son to ward off any unseen attackers in his West Virginian hideout.
As the action moves from rural West Virginia to the corridors of power in Washington D. C. and to an explosive hospital scene in Maryland, Angel has Fallen is a suitably thrilling conclusion to this violent but enjoyable trilogy. For viewers that saw Olympus has Fallen and London has Fallen, Angel has Fallen follows the same generic pattern of a high body count, tense action sequences and betrayals that shock the audience as Banning realizes that there are few allies in the secret service and that his trusted friend Jennings is his most worthy adversary.
Female stars to lighten the macho cast include Piper Perabo (Looper) as Banning's wife Leah and Jada Pinkett –Smith (Collateral, Magic Mike XXL, Matrix Reloaded) as the decisive Agent Thompson. Other stars include Tim Blake Nelson as the slimy Vice President Kirby and Frederick Schmidt (Mission Impossible: Fallout) as Travis Cole, Wade Jennings's second in command.
Angel has Fallen gets a film rating of 7 out of 10 and is recommended viewing for hard core action fans and this film's rather predictable storyline is saved by a brilliant performance by Nick Nolte who lifts the entire story out of obscurity and makes this action packed thriller worth watching.
Be sure to stay after the opening credits for a very humorous scene….
Noah Wise
Director: Ben Zuckert
Cast: Mat Vairo, Raffaella Meloni, Kevin Kilner, Craig Newman, Kate Middleton, Meg Gibson
Spoiler Alerts Valid for Date of Commercial release
Writer, director and composer Ben Zuckert's second feature film Noah Wise also premiered at the 40th Durban International Film Festival and basically tells the quirky story of a Brooklyn Jazz Hustler played by Matt Vairo.
Audiences should not expect too much to occur in this film, suffice to say it is more a humorous commentary on one young man's journey to maturity as he navigates the perils of being broke, independent and trying to hit the big time as a saxophonist.
Noah Wise encounters several setbacks including his quartet taking a break due to a lack of performance gigs, and then Noah find a stable job teaching primary school children how to play musical instruments.
Along the way he meets the brash singer-songer writer Rachel played by Rafaella Meloni who has recently moved to New York from Minneapolis.
Quirky independent American cinema doesn't get better than Noah Wise as he battles through the journeys of unrequited love, dealing with his parents who keep telling him that he desperately needs to take a real interest in current affairs and revealing to Rachel that he is just another broke young jazz hustler who cannot cook and eats canned Sardines.
Noah Wise is a slow moving film, sprinkled with intelligent dialogue about a young couple's challenge to achieve their individual dreams even at the detriment of their own shifting relationship.
Perhaps, the narrative structure of Noah Wise could have done with less nuance and more action, but overall, it is a gentle compelling tale about a young couple's love for music in the Big Apple.
Director Ben Zuckert's Noah Wise received its international premiere at the 52nd Hof International Film Festival in Germany in 2018 before being screened at the 40th Durban International Film Festival in July 2019.
Noah Wise is recommended for audiences that enjoy American independent cinema where action is overtaken by subtle dialogue and episodic events. Noah Wise gets a film rating of 7 out of 10 as the storyline needed to be injected with some dramatic conflict to propel the narrative further.
The White Line
No Poster Available at time of Publication
Director: Desiree Kahikopo
Cast: Jan-Barend Scheepers, Girley Charlene Jazarama, Sunet van Wyk, Mervin Uahupirapi
Spoiler Alert Valid until Date of Commercial Release
Director Desiree Kahikopo's stunning Namibian film The White Line had its South African film premiere at the 40th Durban International Film Festival and I was lucky enough to catch a screening of it at the Suncoast Entertainment Complex.
Admittedly, I have not seen many films from the Namibian Film Commission or films that deal so brilliantly with Namibia's tortured past prior to independence in 1990 when it was called South West Africa which fell under the special administrative region of the then South African Apartheid government.
The White Line superbly deals with the complexities of an inter-racial relationship when it was a crime for black and white persons to have a sexual relationship under the immorality act. Set in 1963, The White Line tells the story of a young South West African white policeman Pieter de Wit played by Jan-Barend Scheepers who falls in love with his black domestic worker Sylvia Kamutjeno wonderfully played by Girley Charlene Jazarama.
More significantly, The White Line deals with the ugly overt racism that existed in South West Africa especially evident in the Afrikaner rural community displayed by the policeman's sister and husband who are inevitably shocked when he confesses his affair to his brother-in-law.
The consequences are far worse for the domestic worker who is imprisoned for breaking the immorality act. In a particular poignant scene, the two main characters have an argument in the desolate Namibian countryside at dusk whereby Sylvia tells Pieter that he has no idea how difficult it is to live in the skin she has.
The White Line is framed by the 1990 opening scenes of Namibia's formal independence as a newly formed African country and how that independence comes with the gradual reconciliation of past secrets and a passionate plea for acceptance and diversity for Namibia's post-independence born free generation.
The White Line is a stunning film, simply told with most of the dialogue in Afrikaans with English subtitles and is a superb example of the emerging talent of Namibian cinema.
At the Q and A after the screening, I asked the director if The White Line is going to receive a commercial release in South Africa and she assured me it will. When The White Line completes the festival circuit and does receive a commercial release, audiences should make an effort to watch it.
The White Line is a fascinating portrait of interracial love at a time when immorality was infused with political supremacy and the desires of the individual was crushed by the unjust laws of the pre-independence Apartheid South African state which governed the barren South West African territory.
Namibian director Desiree Kahikopo's engrossing film The White Line gets a film rating of 7.5 out of 10 and is recommended viewing. Audiences should watch this film, but be aware that it deals with the issue of racism explicitly.
Hobbs & Shaw
Director: David Leitch
Cast: Dwayne Johnson, Jason Statham, Vanessa Kirby, Idris Elba, Helen Mirren, Ryan Reynolds, Kevin Hart, Cliff Curtis
Deadpool 2 and Atomic Blonde director David Leitch returns with a sure fire blockbuster, a spin off from the Fast and Furious franchise Hobbs and Shaw.
Lawmaker Luke Hobbs played by Dwayne Johnson and British bouncer Deckard Shaw played by Jason Statham team up on an unlikely mission to save the world from a deadly virus and a crazy cyber-genetically altered superhuman wonderfully played by Idris Elba (Thor: Ragnarok, Molly's Game, The Mountain Between Us) who is after Deckard's feisty sister Hattie played by Vanessa Kirby (Mission Impossible: Fallout) and proves to be a muscular and worthy villain for Hobbs and Shaw.
As the action moves swiftly from the sleek skyscrapers of London's financial district to Moscow and then for a more exotic finale in Samoa, Hobbs and Shaw ticks all the right boxes to ensure that this is an entertaining action packed ballbuster with an outlandish plot, some witty one liners mostly provided by cameo appearances by Kevin Hart and Ryan Reynolds.
The action is crazy, the stunts are amazing and as Hobbs and Shaw and Hattie desperately try to stop the spread of a deadly virus aptly known as The Snowflake effect which will kill the world's population within 72 hours of going airborne, they get some hefty help from the entire island of Samoa lead by Luke Hobbs's crazy brother Jonah.
There are even guest appearances by Oscar winner Helen Mirren as Deckard's mother Queenie looking absolutely ravishing even though she is stuck behind bars in a British prison and New Zealand actor Cliff Curtis (Colombiana, Die Hard 4.0, Whale Rider) plays Hobbs's older brother Jonah who gathers the troops for the final Samoan showdown.
Let's face it with Hollywood superstars Jason Statham and Dwayne Johnson in an buddy action movie, it's sure to be a blockbuster and judging by how fill the cinema was on a Saturday matinee, Hobbs and Shaw is recommended for all those Fast and Furious fans who love fast cars, action and some damn funny one liners.
Recommended viewing, Hobbs and Shaw gets a Film Rating of 7 out of 10.
Please note all further film images are provided courtesy of United International Pictures
The Current War
Director: Alfonso Gomez-Rejon
Cast: Benedict Cumberbatch, Michael Shannon, Nicholas Hoult, Tom Holland, Katherine Waterston, Tuppence Middleton, Matthew Macfadyen, Damien Molony, John Schwab, Conor MacNeill
Film Rating: 8 out of 10 – Highly Recommended Viewing
Director Alfonso Gomez-Rejon served as second unit director to Martin Scorsese, Nora Ephron and Alejandro Gonzalez Inarritu and follows his second feature film Me and Earl and the Dying Girl with The Current War featuring a host of British and American stars including Oscar nominee Benedict Cumberbatch (The Imitation Game) as electricity inventor Thomas Edison opposite Oscar nominee Michael Shannon (Nocturnal Animals) as George Westinghouse.
Set in America in the 1880's and the events leading up to the Chicago World Fair in 1893, Westinghouse develops alternative current electricity while Edison creates direct current electricity. As both Westinghouse and Edison woo the financial support of investment banker J. P. Morgan wonderfully played by Matthew Macfadyen (Pride and Prejudice, The Nutcracker and the Four Realms) they develop electricity and its current at an alarming pace lighting up first the American eastern seaboard and then stretching West to the Mid-West and beyond.
Soon the ethics of producing powerful electric currents are called into question when a New York government official Rudolf Young played by John Schwab is planning the first execution via the electric chair of convicted wife killer William Kemmler played by Irish actor Conor MacNeill.
The conflict within The Current War is between Westinghouse and Edison while the eccentric and penniless immigrant Nikola Tesla wonderfully played by Nicholas Hoult (The Favourite, A Single Man) invents the capacity for electricity to be automated and used in machines. Tesla was also credited with harnessing the power of the Niagara Falls for hydroelectricity which produces limitless amounts of current.
It's no coincidence that Elon Musk's electric car company Tesla is named after this enigmatic inventor who never received the credit due to him while alive as he got caught between the rivalry of Westinghouse, Edison and the manipulative banker J. P. Morgan who produced the capital to start one of the most famous electricity companies in the world: General Electric.
The Current War is a fast paced story of how 19th century America was electrified by Edison and Westinghouse and the rivalry which consumed them yet changed society forever.
Director Alfonso Gomez-Rejon smartly employs fast paced editing and some stylistic flourishes to keep The Current War engaging, light and historically fascinating. Audiences should look out for Tom Holland (Spiderman, Far from Home, The Lost City of Z) as Edison's loyal assistant Samuel Insull and Katherine Waterston (Inherent Vice, Fantastic Beasts) as Marguerite Westinghouse and Tuppence Middleton (The Imitation Game, Jupiter Ascending) as the long suffering Mary Edison.
For history buffs, catch The Current War which gets a film rating of 8 out 10 and is especially relevant today considering that now the human population depend upon electricity.
Back of the Moon
Director: Angus Gibson
Cast: Richard Lukunku, Moneoa Monash,Lemogang Tsipa, Israel Matseke-Zulu, Sicelo Dlamini, Siyabonga Thwala
One of the best films I saw at the 40th Durban International Film Festival http://ccadiff.ukzn.ac.za/ was director Angus Gibson's period gangster film Back of the Moon featuring an all-star South African cast including Lemogang Tsipa (The Eye in the Sky, Beyond the River) as the ruthless gangster Ghost.
Back of the Moon deservedly won Best South African Feature Film at the Durban International Film Festival #DIFF 2019.
Back of the Moon is set in Sophiatown in 1958 as the South African Apartheid government are about to enforce removals of the Sophiatown residents out of the district to Meadowlands which is on the outskirts of Johannesburg.
Director Angus Gibson captures all the brutal essence of a gangster film, with the notorious gang The Vipers causing havoc at the Back of the Moon, while Sophiatown's local celebrity Eve Msomi glitters as the main act at the more upmarket Casablanca nightclub.
The Vipers gang go behind their leader Badman's back and unbeknownst to him kidnap Eve as she dazzles the crowd at the Casablanca nightclub on a fateful night. Badman was asleep and woke up to discover his gang taunting Eve. Badman orders the Viper gang to leave but orders Eve to stay. Eve is on the verge of leaving Sophiatown for London to start a new life with her kind manager but as they plan to escape the brutality of Apartheid South Africa in the 1950's which threatens to strip Sophiatown of its precarious glamour and all that it represents, they inadvertently get caught up in a fateful night they will never forget with Badman and his vicious Viper gang members.
In a wonderful scene between Badman and Eve, he makes her a couple of tea and Eve replies by saying "I didn't know gangsters make tea."
Badman has to contest with Eve's boxer boyfriend while Ghost makes a dangerous bid to control the Vipers. Ghost is brilliantly played by Lemogang Tsipa whose lethal addiction to the gangster life takes its toll on all those around him.
Back of the Moon is gorgeously filmed, extremely well-acted and offers a unique and often forgotten snapshot of the half demolished ghetto Sophiatown before it was obliterated from its location while the ambiance and memories of Sophiatown linger on in the collective national psyche filled with elegy and brutality.
21st century audiences must view Back of the Moon as a period gangster film, with the femme fatale, the evil gangster and all those caught in between, a sort of South African retro version of director Barry Levinson's Oscar winning 1991 American gangster film Bugsy starring Warren Beatty, Ben Kingsley and Annette Bening.
Back of the Moon gets a film rating of 7.5 out of 10 and is one of the best South African period films about Sophiatown and will surely add to South Africa's growing and impressive film canon.
Highly recommended viewing but not for sensitive viewers due to some disturbingly violent scenes.
Men in Black International
Director: F. Gary Gray
Cast: Chris Hemsworth, Tessa Thompson, Liam Neeson, Rafe Spall, Rebecca Ferguson, Emma Thompson, Kumail Nanjiani, Kayvan Novak
The Fate of The Furious and Straight Outta Compton F. Gary Gray desperately tries to reunite the Men in Black franchise first initiated by Tommy Lee Jones and Will Smith. The long awaited reinvention, Men in Black International is a slight misnomer as the two Men in Black are Agent H for Henry played by Chris Hemsworth (Rush, Thor, The Avengers) and Agent M for Molly played by Hemsworth's Thor Ragnorak co-star Tessa Thompson.
Oscar winner Emma Thompson (Howard's End, Sense and Sensibility) pops up periodically as Agent O who promises Agent M that they are working on The Men in Black title? A possible feminist reinvention?
While director F. Gary Gray methodically ticks all the right boxes in this bizarre space action film which moves swiftly from New York to London, Paris and Marrakesh, he fails to uplift this film to the quirky originality of the first Men in Black possibly because of the over-exposure of Chris Hemsworth and Tessa Thompson.
Their onscreen chemistry worked in Thor: Ragnarok but starts to wear dangerously thin in Men in Black International.
Thompson lands up playing the smart New Yorker next to Hemsworth's dashing clean shaven pin up boy Agent H who feels nothing at sleeping with aliens or wearing pink trousers in a rather bizarre sequence on an Italian island with a vampish Rebecca Ferguson (Mission Impossible: Fallout, The Greatest Showman) as a three armed intergalactic weapons dealer Riza.
Men in Black International is a fun film, but the aliens play second fiddle to the real conflict between the humans in a fairly predictable story about a malevolent force planning on attacking planet Earth. Naturally the new 21st century Men and Women In Black are suited and booted to protect the population from the scum of the universe.
Men In Black International gets a film rating of 6 out of 10 and could have been so much smarter, funnier and inspiring, but instead comes off as a paint by numbers diversity sci-fi action comedy which ticks all the boxes even those that don't exist.
MIB International is saved by Rafe Spall (Life of Pi) and Liam Neeson (Cold Pursuit, The Commuter, Taken) although even their performances are lacklustre in a messy storyline saved by exotic locations and slick gadgetry.
Audiences should not expect a return to form or onscreen chemistry which the original 1997 film produced or the 2002 and 2012 sequels all directed by Barry Sonnenfeld.
Spiderman: Far From Home
Director: Jon Watts
Cast: Tom Holland, Jake Gyllenhaal, Samuel L. Jackson, Marisa Tomei, Jon Favreau, Cobie Smulders, Zendaya, Angourie Rice, Tony Revolori
Spiderman: Homecoming 38 years old director Jon Watts returns with a sequel Spiderman: Far From Home which follows directly on from Avengers: Endgame and Captain Marvel so theoretically this film is strictly for Marvel fans who have been following the series of MCU films.
British rising star Tom Holland reprises his role as the geeky school kid Peter Parker aka Spiderman and this time we join him and his friends on a summer science trip to Europe taking in the best locations including Venice, Prague and Berlin.
However at the insistence of Aunt May, wonderfully played by Oscar winner Marisa Tomei (My Cousin Vinny) Peter Parker packs his Spiderman suit for the trip to the continent. As predicted the moment they are in Venice enjoying the canals a mysterious elemental force wreaks havoc on the Venetian waterways and is miraculously saved by Mysterio aka Quentin Beck wonderfully played with a sly malevolence by Oscar nominee Jake Gyllenhaal (Brokeback Mountain).
Naturally the impressionable Peter Parker trusts Quentin Beck with some sophisticated technology produced by Stark industries only for Mysterio to go all Donnie Darko on us.
Nick Fury played with relish by Oscar nominee Samuel L. Jackson (Pulp Fiction) enlists the help of the awkward school going kid Peter Parker to save Europe from total destruction specifically London and Venice. Spiderman must not only figure out who the real enemy is but also pluck up the courage to kiss the love of his life MJ played by Zendaya (The Greatest Showman) and trust her enough to reveal his true identity.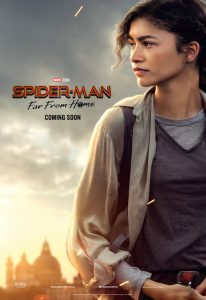 Humour in Spiderman: Far From Home is provided by Flash Thompson played by Guatemalan-American actor Tony Revolori (The Grand Budapest Hotel) who has some witty one liners and Spiderman's father figure is played by Happy Hogan played zest by Jon Favreau (Iron Man).
What makes Spiderman: Far from Home so brilliant are the dazzling visual effects especially displayed with professional dexterity in the film's second half. Gyllenhaal is brilliant as the crazy computer genius Quentin Beck and is a perfect foil to the charming but insatiably awkward Spiderman for the Instagram generation wonderfully acted by Tom Holland who beats Tobey Maguire in the Sam Riami trilogy and the doomed casting of Andrew Garfield in The Amazing Spiderman.
In any event, the amount Disney paid Sony to use Spiderman in the Marvel Avengers cinematic universe is worth its weight in gold judging by how fill a Saturday matinee was at the theatre.
Spiderman: Far from Home gets a Film Rating of 8 out of 10 and is worth seeing for the brilliant visual effects, great onscreen chemistry between Gyllenhaal and Holland and a perfect action adventure film which will surely inspire the millennials to embrace this crazy web slinger who likes taking selfies as he flies around Manhattan skyscrapers.