Avengers: Endgame
Directors: Anthony & Joe Russo
Cast: Robert Downey Jr, Chris Hemsworth, Mark Ruffalo, Chris Evans, Scarlett Johansson, Jeremy Renner, Paul Rudd, Robert Redford, Michael Douglas, Josh Brolin, Gwyneth Paltrow, Don Cheadle, Anthony Mackie, Chadwick Boseman, Benedict Cumberbatch, Tilda Swinton, Brie Larson, Tom Holland, Karen Gillen, Zoe Saldana, Evangeline Lilly, Tessa Thompson, Rene Russo, Elizabeth Olsen, Sebastian Stan, Tom Hiddleston, Danai Gurira, Benedict Wong, Pom Klementieff, Dave Bautista, Chris Pratt, Vin Diesel, Letitia Wright, John Slattery, Jon Favreau, Hayley Atwell, Natalie Portman, Marisa Tomei, Angela Bassett, Michelle Pfeiffer, William Hurt, Cobie Smulders, Linda Cardellini, Frank Grillo, Hiroyuki Sanada, James D'Arcy, Bradley Cooper, Samuel L. Jackson, Ty Simpkins    
Marvel Cinematic Universe continues with the highly anticipated sequel to Avengers: Infinity War with Avengers: Endgame featuring all the famous superheroes that fans have grown to love including Iron Man, Captain America, Thor, The Hulk, Antman, Hawkeye and Captain Marvel as they band together to go back in time to retrieve the infinity stones to reverse the evil Thanos's ultimate revenge at the end of Infinity War where he made half the population vanish including such beloved heroes as Spiderman, Black Panther and Doctor Strange.
As Endgame starts, Ironman is stuck in space, Thor takes to drink in the New Asgard and Captain America is despondent that the Avengers are at their lowest point ever.
Captain Marvel played by Brie Larson rallies the troops along with Black Widow played by Scarlett Johansson. Jeremy Renner returns sporting a fantastic haircut as Clint Barton, aka Hawkeye to assist the remaining Avengers as they devise a time travel device to allow them to go back in time to three separate intergalactic locations to retrieve the highly precious and powerful Infinity Stones. It's the ultimate Time Heist as Antman points out.
What follows is a fantastic feast of Superheroes which directors Anthony and Joe Russo will have hard core Marvel fans both laughing and crying at the deluge of their cinematic idols as they all band together to destroy the evil Thanos.
While some of the plot points in this three hour long superhero extravaganza don't all get resolved, it certainly opens up a whole lot of new possibilities such a possible separate Hawkeye film? Sequels to the hugely successful Black Panther and Guardians of the Galaxy are both on the cards as well as another Spiderman film. So there is no shortage of geek fan crushing that will occur in Avengers: Endgame and the subsequent films to follow. Once again Marvel knocks it out of the park judging by the lucrative response at the international box office.
Avengers: Endgame is a culmination of all the Marvel films of the last decade and hints at a new start for some of the lesser known superheroes to flesh out their story lines. Let's face it with an overcrowded universe, audiences will battle to identify with any one superhero but rather applaud and cheer at the massive team of Avengers and all their trusted sidekicks. Audiences should look out for cameos by Tessa Thompson as Valkyrie, Sebastian Stan as the Winter Soldier and of course Thor's malevolent brother Loki played by Tom Hiddleston.
Avengers: Endgame is definitely for Marvel fans and trust me everyone from the previous films are in it. It's definitely worth seeing and gets a film rating of 7.5 out of 10.
Shazam!
Director: David F. Sandberg
Cast: Zachary Levi, Mark Strong, Djimon Hounsou, Michelle Borth, Jack Dylan Grazer, Asher Angel, Adam Brody, Cooper Andrews, Grace Fulton, John Glover
D. C. Comics finally made a feel good superhero film without too many dark undertones in director David F. Sandberg's hilarious and quirky kid turned adult superhero film Shazam! featuring Zachary Levi (Thor: Ragnarok) in the title role as the grown up caped crusader and the younger boy version whose real name is Billy Batson wonderfully played by Asher Angel.
British actor Mark Strong (Kingsman, The Golden Circle, Miss Sloane, Tinker Tailor Soldier Spy) is cast as the evil villain Dr Sivana who unleashes the monstrous Seven Deadly Sins onto an unsuspecting population in Philadelphia and eventually battles Shazam! in a wonderful amusement park showdown.
Whilst Wonder Woman and Aquaman were real grown up superheroes Shazam is an orphaned kid Billy Batson who inherits superhero powers including super-human strength and the ability to charge cellphones with large voltages of electricity from a mysterious wizard played by an unrecognizable Djimon Hounson Oscar nominated star of In America and Blood Diamond.
Shazam! is not to be taken too seriously but is terrifically entertaining especially when the adult version of the superhero is played with such mirth by Chuck TV star Zachary Levi in one of the dorkiest superhero costumes ever invented. Shazam! is a great family film and will particularly resonate with ten year old boys and teenagers.
Like with Wonder Woman and Aquaman, DC Comics got it right with the light hearted humorous film Shazam! This caped crusader action film is definitely worth seeing and gets a film rating of 7 out 10.
Audiences should look out for cameos by Adam Brody (Lovelace, Mr. and Mrs Smith), Michelle Borth from Hawaii 50 fame and a particularly brilliant performance by Jack Dylan Grazer as the crippled orphan boy with a sharp mouth Freddy Freeman who becomes Billy's sidekick.
The Bookshop
Director: Isabel Coixet
Cast: Emily Mortimer, Bill Nighy, Patricia Clarkson, Honor Kneafsey, James Lance, Jorge Suquet, Hunter Tremayne, Frances Barber
Elegy and Endless Night Spanish director Isabel Coixet brings to the screen Penelope Fitzgerald's poignant novel The Bookshop set in a small East Anglian town in 1959. The story centres around a relatively young widow Florence Greene wonderfully played by British actress Emily Mortimer (Mary Poppins Returns, The Sense of an Ending, Hugo, Shutter Island) who decides to open a book shop in this remote gossip ridden environment.
While naturally stocking the classics like Thackeray, Dickens and George Eliot, Mrs Greene decides to sell more controversial literature including Ray Bradbury's dystopian classic Fahrenheit 451 and Vladimir Nabokov's scandalous novel Lolita.
In a genteel correspondence with a mysterious reclusive bibliophile Edmund Brundish superbly played by British screen legend Bill Nighy (Their Finest, Pride, Wrath of the Titans), Florence gradually draws Brundish out of his reclusive liar as she continually sends him fascinating literary works.
However. like in many conservative small towns, the idea of a progressive bookshop which could disseminate radical ideas soon finds opposition amongst the townsfolk headed by the snobbish and influential Violet Gamart, played with menace and sophistication by Oscar nominee Patricia Clarkson (Pieces of April).
Violet's wicked emissary is the slippery playboy Milo North played by James Lance (Bel Ami, Marie Antoinette) who ultimately betrays Florence Greene as slowly but surely each of the town's inhabitant's turns against her best literary endeavors.
The Bookshop is a slow moving poignant drama about a women's wish to fill a lifelong dream and a community who finds repulsion their best way to combat any radical innovative changes such as a well-stocked and resourceful bookshop. Director Isabel Coixet displays her art house aesthetic in The Bookshop to comment incisively on the cruelty of a small English town which is just emerging out of the post-World War II shock and horror, only to find themselves not quite ready to embrace an innovative literary aesthetic, which eventually become fashionable in the 1960's.
Spanish director Isabel Coixet's The Bookshop receives a film rating of 6.5 out of 10 and is a subtle portrait of narrow mindedness which will not give audiences that expected cathartic release that accompanies happy endings.
The Bookshop is recommended viewing for those that enjoy European Art House cinema even though this literary themed film is set in Britain.
Dumbo
Director: Tim Burton
Cast: Colin Farrell, Michael Keaton, Danny DeVito, Eva Green, Alan Arkin, Nico Parker, Finley Hobbins, Roshan Seth, Lars Eidinger
Director Tim Burton reunites his stars Michael Keaton and Danny DeVito from the 1992 smash hit sequel Batman Returns in Disney's live action remake of Dumbo also starring Colin Farrell and Eva Green.
The setting is a travelling circus in post-war Missouri where Dumbo is born to a mother elephant and whose long ears enable the baby elephant to fly at the coaxing of a feather with the help of children Milly and Joe Farrier played by Nico Parker and Finley Hobbins.
The children's father and returning World War I hero Holt Farrier is played by Colin Farrell (Roman J. Israel Esq, The Beguiled, Widows).
Danny DeVito (Big Fish, The War of the Roses, Get Shorty) stars as Max Medici who comically runs the travelling circus. Screenwriter Ehren Kruger does take a while to get the story of Dumbo off the ground and the first half of the film does appear to be slightly unexciting.
Luckily, the moment Michael Keaton and Eva Green appear on screen, Dumbo becomes a fascinating tale of intrigue, dreams dashed, benevolent dictatorships and corporate greed which allows for the wholesale exploitation of animals for circus tricks which naturally is an overarching theme in this Disney tale of reunions, captivity, animal cruelty and entertainment.
In any case, what is a Disney movie without a moral cause and Dumbo is no exception.
Visually, Dumbo is fascinating and the production design and costumes are brilliant and slightly garish which is what to expect in a Tim Burton film who directed such classics as Sweeney Todd, The Demon Barber of Fleet Street, Ed Wood, Big Eyes and Alice in Wonderland.
As the action moves swiftly from the Missouri plains to New York where Keaton's flamboyant entrepreneur V. A. Vandevere played with a chilling panache by Oscar nominee Michael Keaton (Birdman) buys Medici's circus to be supposedly incorporated into Vandevere's lavish amusement park Dreamland financed by a ruthless banker J. Griffin Remington played by Oscar winner Alan Arkin (Little Miss Sunshine) .
It's at Dreamland where Dumbo has to perform daring circus tricks which prompts him to fly around the tent with precarious set pieces collapsing all around the poor elephant. It's also at Dreamland that Vendevere's wicked intentions are revealed much to the horror of Medici and the one armed Holt Farrier.
Eva Green's sympathetic Parisian acrobat is a breath of fresh air amidst the CGI heavy retelling of Dumbo which is entertaining and certainly spectacular but does fall short of the mark.
Unfortunately director Tim Burton misses the mark with Dumbo but the gorgeous production design outshines the lacklustre story line which might not produce tears in viewers' eyes.
Dumbo gets a film rating of 7 out of 10 but as a lavish post-war circus film it could have been absolutely phenomenal but remains adequately entertaining. Ideal viewing for children and is definitely a film worth seeing on the Big Screen.
The South African Film and Television Awards (SAFTA'S) were held on Saturday 2nd March 2019 at Suncity Resort and Casino in the North West Province, South Africa
Best Film: Sew the Winter to my Skin
S
Best Director: Daryne Joshua – Ellen, The Ellen Pakkies Story
Best Actress: Jill Levenberg – Ellen, The Ellen Pakkies Story
Best Actor: Jarrid Geduld – Ellen, The Ellen Pakkies Story
Best Supporting Actor: Zoliswa Xaluva – Sew the Winter to my Skin
Best Supporting Actress: Ilse Klink – Stroomop
Director: Hans Petter Moland
Cast: Liam Neeson, Laura Dern, Tom Bateman, Micheal Richardson Michael Eklund, Emmy Rossum, John Doman, Julia Jones, Gus Halper
The originality of Norwegian director Hans Petter Moland's thriller Cold Pursuit cannot be ignored.
The revenge action film set in Colorado is an American remake of a Norwegian film In Order of Disappearance which artfully combines deadpan humour with witty one liners featuring an array of strange drug dealing gangsters in Denver, Colorado who Nels Coxman systematically takes revenge on after his son is supposedly killed by a heroin overdose.
Coxman is played by action man Liam Neeson who has reignited his career after the success of the Taken franchise and followed with such films as Non-Stop and The Commuter.
Nels's son Kyle is played by Liam Neeson and the late Natasha Richardson's son Micheal Richardson and his wife Grace is played by Oscar nominee Laura Dern (Rambling Rose) although Dern's scenes in Cold Pursuit are extremely minimal.
Emmy Rossum (Poseidon, The Day After Tomorrow, The Phantom of the Opera) stars as the down to earth Kehoe cop Kim Dash as she witnesses the turf war heat up between the drug gangs of the local Colorado Red Indians and a ruthless group of Denver based gangsters headed up by the psychotic Viking wonderfully played with just the right amount of nefarious imbalance by British rising star Tom Bateman (Murder on the Orient Express).
As the bodies pile up and the vengeful Coxman slowly starts circling in on the lethal Viking, a final showdown occurs in the ski resort town of Kehoe, Colorado, where nothing really happens except wealthy Americans come and ski and get high. Until now that is.
Cold Pursuit is a deadpan revenge thriller with a Nordic twist, featuring a fascinating supporting cast of thugs and middlemen with names like Speedo, Dante and Limbo including a brief cameo by True Crime: The Menendez Murders star Gus Halper as the sex crazed Bone, who has a penchant for seducing motel maids.
Audiences that enjoyed such dark crime films as Fargo and Things To Do in Denver When You are Dead, will love Cold Pursuit, a snow covered revenge thriller with a body count to rival Taken.
Action fans who love Liam Neeson's style of cinema, will enjoy Cold Pursuit, which gets a film rating of 7 out of 10.
Deep End
Durban based film director Eubulus Timothy makes superb use of Durban Beachfront in his cross cultural surf drama Deep End starring Carishma Basday and Greg Kriek (The Recce).
Deep End centres on the story of an independently minded South African Indian young woman who is desperate to escape the clutches of her father played by TV personality turned actor Mahendra Raghunath as she embraces the surf culture of Durban which historically was only made up of young white people.
The competitive surfing world clashes with the arranged marriages family orientated world of a Hindi South African family as the main character Sunitha Patel takes to the waves in a bid to surf where she meets disgraced American surfer Corey Taylor who is lying low in South Africa. Corey is ironically played by South African actor Greg Kriek who was so brilliant in the South African Afrikaans war drama The Recce which has just won Best Foreign Feature Drama at the Idyllwild indie film festival in California – http://www.idyllwildcinemafest.com/awards-iifc-2019/
But back to Durban and what better way to show off the city's miles of beautiful beaches and warm Indian Ocean, by making a surf film set in a city synonymous with some of the best surfing in the world.
Deep End is by no means a brilliant film and at times the storyline and script is slightly contrived but director Eubulus Timothy does the best he can with a film that not only shows off Durban's delightful coastline but focuses on two very fascinating subcultures – the surfing community in Durban as well as Durban's unique Indian cultural dynamic which is exemplified in the forbidden cross-cultural romance between Corey Taylor and Sunitha Patel.
There is also some comic moments thrown in to Deep End and the middle section of the film could have been edited more efficiently. Overall if you want to support South African cinema then Deep End is a fun filled cross cultural surfing movie which fantastically showcasing Durban as a surfing city with beautiful beaches and a superb vibe especially showcasing urban locations including North Beach and the hip Florida Road precinct in Morningside.
Deep End is a fun filled surf film and gets a film rating of 6.5 out of 10. Recommended viewing for some light home grown entertainment.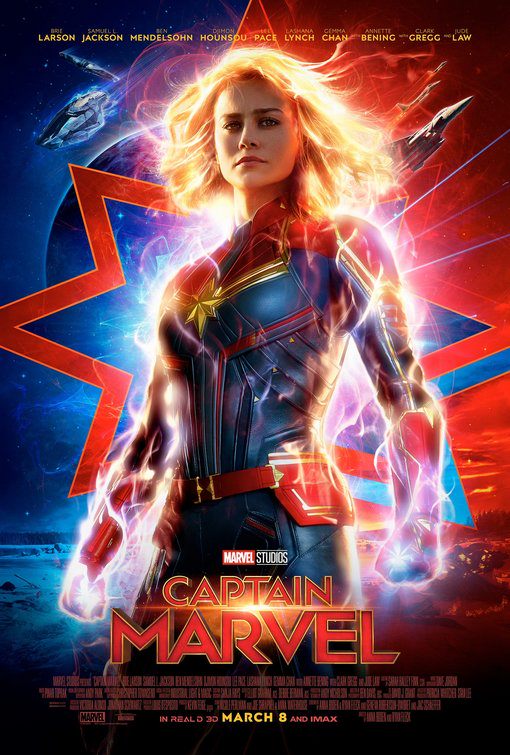 Captain Marvel
Directors: Anna Boden & Ryan Fleck
Cast: Brie Larson, Samuel L. Jackson, Annette Bening, Jude Law, Ben Mendelsohn, Lashana Lynch, Lee Pace, Clark Gregg, Gemma Chan, Djimon Hounson, Chris Evans, Scarlett Johansson, Rune Temte
Just before Avengers: Endgame hits theatres, Marvel had to introduce one more superhero to the galaxy of stars. It's the Retro intergalactic Captain Marvel wonderfully played by Oscar winner Brie Larson also known as Airforce Pilot Carol Danvers who gets whisked into space to become indoctrinated by the Kree Civilization, an advanced alien race headed up by the mysterious Supreme Being icily played by Annette Bening in her Marvel Comics debut.
Audiences can be forgiven for thinking that they had bought cinema tickets to a Star Trek reboot as the first twenty minutes of Captain Marvel is entirely set in space. Until Captain Marvel miraculously escapes an intergalactic feud between the Kree and the Skrull tribes and lands up in Los Angeles in 1995 in a blockbuster video store of all places, the film effortlessly shifts its location from outer space to a particular time and place.
In California, Captain Marvel teams up with a youthful Nick Fury wonderfully played by Samuel L. Jackson whose screen chemistry with Brie Larson is electrifying.   
Like all the other Marvel films and particularly those that loved Avengers: Infinity War, then Captain Marvel is a fun mixture of superhero and Guardians of the Galaxy and fits right in with the current trajectory the Marvel films are going. More significantly it is the first entirely female centred superhero film, with Brie Larson doing a sterling job, although admittedly the film does not quite match up to DC Comics's brilliant Wonder Woman directed by Patty Jenkins.
There is sufficient plot twists, location changes as Captain Marvel and Nick Fury travel to Louisiana to discover her real human identity as Airforce Pilot Carol Danvers as they team up with fellow co-pilot Maria Rambeau played by rising British star Lashana Lynch.
Oscar nominee Jude Law (The Talented Mr Ripley) plays the arrogant Kree commander Yon Rogg who proves to be a worthy adversary to Captain Marvel.
Captain Marvel is a fun filled retro intergalactic romp of a film engagingly written and populated with some witty one liners. Brie Larson pulls off the role of the latest female action superhero with credibility and nuance as she struggles to discover her real identity and where her role as Captain Marvel fits in to the larger Avengers scheme of things.
Flashy visual effects and some great onscreen chemistry save Captain Marvel from being just another superhero film and this gets a film rating of 7 out of 10.
Audiences should definitely see Captain Marvel before watching Avengers: Endgame. Recommended Viewing for Marvel fans only and regular attendees of Comicon.
3 Days to Go
Director: Bianca Isaac
Cast: Leeanda Reddy, Kajal Bagwandeen, Lilette Dubey, Jonathan Boynton-Lee, Jailoshini Naidoo, Rahul Brijnath, Tumi Morake, Kiara Govender
In my 2019 bid to support South African cinema, I went to see a local film 3 Days to Go directed by Bianca Isaac. 3 Days to Go is basically a Durban Family reunion film focusing on a slightly dysfunctional South African Indian family whose father passes away unexpectedly.
As the mother and now grieving widow of the family brilliantly played by Lillette Dubey last seen in The Best Exotic Marigold Hotel and The Second Best Exotic Marigold Hotel calls her children together for a Hindi burial, the siblings are forced to confront the strained relations between them as well as the twisted rivalries which have developed of the years.
Local stars Leeanda Reddy, Kajal Bagwandeen and Jailoshini Naidoo (Keeping up the Kandasamy's) play the three sisters Janet, Melissa and Amy while there is naturally an irresponsible gambling brother Riki played by 31 Million Reasons star Rahul Brijnath, who unknowingly puts the family in danger.  Top Billing TV presenter turned actor Jonathan Boynton-Lee stars as Reddy's love interest.
The best scenes in the film are between Reddy and Boynton-Lee whose natural screen presence holds the film together. Lilette Dubey does a reasonably good job portraying the matriarch Laksmi Isaac considering that she has acted opposite Dev Patel, Dame Judi Dench and Richard Gere in the Marigold Hotel films.
Director Bianca Isaac could have done with some editing as the middle of 3 Days to Go, as the plot seemed slightly directionless and melodramatic, however, I did like the ending of the film especially with the entire family on Durban beachfront overlooking the warm Indian Ocean.
On that note, Bianca Isaac could have showed off more locations in Durban in 3 Days to Go, but perhaps it was due to budgetary constraints or lack of directorial imagination.
3 Days to Go is not a brilliant film, but it is a good attempt at a South African family drama with a uniquely Durban twist. However it does point out that the South African film industry is miles behind the international films being released. But as with all burgeoning industries, this unique and multi-faceted film industry does have lots of potential and is a step in the right direction.
3 Days to Go get a film rating of 6.5 out of 10 and will have a distinctly local South African appeal.
The films translation beyond the borders of South Africa will be severely limited, due to the insular and mostly provincial cultural references. Recommended viewing for those that love South African melodrama.
The 91st Academy Awards took place on Sunday 24th February 2019 at the Dolby Theatre, Hollywood, Los Angeles, California
Best Picture: Green Book
Best Director: Alfonso Cuaron – Roma
Best Actor: Rami Malek – Bohemian Rhapsody
Best Actress: Olivia Colman – The Favourite
Best Supporting Actor: Mahershala Ali – Green Book
Best Supporting Actress: Regina King – If Beale Street Could Talk
Best Original Screenplay: Green Book
Best Adapted Screenplay: Spike Lee – BlackkKlansman
Best Cinematography: Roma
Best Costume Design: Black Panther
Best Make up & Hairstyling: Vice
Best Visual Effects: First Man
Best Film Editing: Bohemian Rhapsody
Best Sound Editing: Bohemian Rhapsody
Best Sound Mixing: Bohemian Rhapsody
Best Production Design: Black Panther
Best Documentary Feature: Free Solo
Best Original Score: Ludwig Goransson – Black Panther
Best Original Song: Shallow from A Star is Born
Best Animated Feature Film: Spiderman: Into the Spiderverse
Best Foreign Language Film: Roma – directed by Alfonso Cuaron