Back of the Moon
Director: Angus Gibson
Cast: Richard Lukunku, Moneoa Monash,Lemogang Tsipa, Israel Matseke-Zulu, Sicelo Dlamini, Siyabonga Thwala
One of the best films I saw at the 40th Durban International Film Festival http://ccadiff.ukzn.ac.za/ was director Angus Gibson's period gangster film Back of the Moon featuring an all-star South African cast including Lemogang Tsipa (The Eye in the Sky, Beyond the River) as the ruthless gangster Ghost.
Back of the Moon deservedly won Best South African Feature Film at the Durban International Film Festival #DIFF 2019.
Back of the Moon is set in Sophiatown in 1958 as the South African Apartheid government are about to enforce removals of the Sophiatown residents out of the district to Meadowlands which is on the outskirts of Johannesburg.
Director Angus Gibson captures all the brutal essence of a gangster film, with the notorious gang The Vipers causing havoc at the Back of the Moon, while Sophiatown's local celebrity Eve Msomi glitters as the main act at the more upmarket Casablanca nightclub.
The Vipers gang go behind their leader Badman's back and unbeknownst to him kidnap Eve as she dazzles the crowd at the Casablanca nightclub on a fateful night. Badman was asleep and woke up to discover his gang taunting Eve. Badman orders the Viper gang to leave but orders Eve to stay. Eve is on the verge of leaving Sophiatown for London to start a new life with her kind manager but as they plan to escape the brutality of Apartheid South Africa in the 1950's which threatens to strip Sophiatown of its precarious glamour and all that it represents, they inadvertently get caught up in a fateful night they will never forget with Badman and his vicious Viper gang members.
In a wonderful scene between Badman and Eve, he makes her a couple of tea and Eve replies by saying "I didn't know gangsters make tea."
Badman has to contest with Eve's boxer boyfriend while Ghost makes a dangerous bid to control the Vipers. Ghost is brilliantly played by Lemogang Tsipa whose lethal addiction to the gangster life takes its toll on all those around him.
Back of the Moon is gorgeously filmed, extremely well-acted and offers a unique and often forgotten snapshot of the half demolished ghetto Sophiatown before it was obliterated from its location while the ambiance and memories of Sophiatown linger on in the collective national psyche filled with elegy and brutality.
21st century audiences must view Back of the Moon as a period gangster film, with the femme fatale, the evil gangster and all those caught in between, a sort of South African retro version of director Barry Levinson's Oscar winning 1991 American gangster film Bugsy starring Warren Beatty, Ben Kingsley and Annette Bening.
Back of the Moon gets a film rating of 7.5 out of 10 and is one of the best South African period films about Sophiatown and will surely add to South Africa's growing and impressive film canon.
Highly recommended viewing but not for sensitive viewers due to some disturbingly violent scenes.
Men in Black International
Director: F. Gary Gray
Cast: Chris Hemsworth, Tessa Thompson, Liam Neeson, Rafe Spall, Rebecca Ferguson, Emma Thompson, Kumail Nanjiani, Kayvan Novak
The Fate of The Furious and Straight Outta Compton F. Gary Gray desperately tries to reunite the Men in Black franchise first initiated by Tommy Lee Jones and Will Smith. The long awaited reinvention, Men in Black International is a slight misnomer as the two Men in Black are Agent H for Henry played by Chris Hemsworth (Rush, Thor, The Avengers) and Agent M for Molly played by Hemsworth's Thor Ragnorak co-star Tessa Thompson.
Oscar winner Emma Thompson (Howard's End, Sense and Sensibility) pops up periodically as Agent O who promises Agent M that they are working on The Men in Black title? A possible feminist reinvention?
While director F. Gary Gray methodically ticks all the right boxes in this bizarre space action film which moves swiftly from New York to London, Paris and Marrakesh, he fails to uplift this film to the quirky originality of the first Men in Black possibly because of the over-exposure of Chris Hemsworth and Tessa Thompson.
Their onscreen chemistry worked in Thor: Ragnarok but starts to wear dangerously thin in Men in Black International.
Thompson lands up playing the smart New Yorker next to Hemsworth's dashing clean shaven pin up boy Agent H who feels nothing at sleeping with aliens or wearing pink trousers in a rather bizarre sequence on an Italian island with a vampish Rebecca Ferguson (Mission Impossible: Fallout, The Greatest Showman) as a three armed intergalactic weapons dealer Riza.
Men in Black International is a fun film, but the aliens play second fiddle to the real conflict between the humans in a fairly predictable story about a malevolent force planning on attacking planet Earth. Naturally the new 21st century Men and Women In Black are suited and booted to protect the population from the scum of the universe.
Men In Black International gets a film rating of 6 out of 10 and could have been so much smarter, funnier and inspiring, but instead comes off as a paint by numbers diversity sci-fi action comedy which ticks all the boxes even those that don't exist.
MIB International is saved by Rafe Spall (Life of Pi) and Liam Neeson (Cold Pursuit, The Commuter, Taken) although even their performances are lacklustre in a messy storyline saved by exotic locations and slick gadgetry.
Audiences should not expect a return to form or onscreen chemistry which the original 1997 film produced or the 2002 and 2012 sequels all directed by Barry Sonnenfeld.
Spiderman: Far From Home
Director: Jon Watts
Cast: Tom Holland, Jake Gyllenhaal, Samuel L. Jackson, Marisa Tomei, Jon Favreau, Cobie Smulders, Zendaya, Angourie Rice, Tony Revolori
Spiderman: Homecoming 38 years old director Jon Watts returns with a sequel Spiderman: Far From Home which follows directly on from Avengers: Endgame and Captain Marvel so theoretically this film is strictly for Marvel fans who have been following the series of MCU films.
British rising star Tom Holland reprises his role as the geeky school kid Peter Parker aka Spiderman and this time we join him and his friends on a summer science trip to Europe taking in the best locations including Venice, Prague and Berlin.
However at the insistence of Aunt May, wonderfully played by Oscar winner Marisa Tomei (My Cousin Vinny) Peter Parker packs his Spiderman suit for the trip to the continent. As predicted the moment they are in Venice enjoying the canals a mysterious elemental force wreaks havoc on the Venetian waterways and is miraculously saved by Mysterio aka Quentin Beck wonderfully played with a sly malevolence by Oscar nominee Jake Gyllenhaal (Brokeback Mountain).
Naturally the impressionable Peter Parker trusts Quentin Beck with some sophisticated technology produced by Stark industries only for Mysterio to go all Donnie Darko on us.
Nick Fury played with relish by Oscar nominee Samuel L. Jackson (Pulp Fiction) enlists the help of the awkward school going kid Peter Parker to save Europe from total destruction specifically London and Venice. Spiderman must not only figure out who the real enemy is but also pluck up the courage to kiss the love of his life MJ played by Zendaya (The Greatest Showman) and trust her enough to reveal his true identity.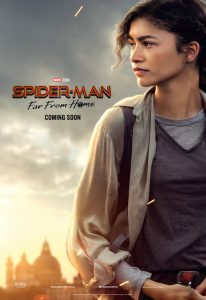 Humour in Spiderman: Far From Home is provided by Flash Thompson played by Guatemalan-American actor Tony Revolori (The Grand Budapest Hotel) who has some witty one liners and Spiderman's father figure is played by Happy Hogan played zest by Jon Favreau (Iron Man).
What makes Spiderman: Far from Home so brilliant are the dazzling visual effects especially displayed with professional dexterity in the film's second half. Gyllenhaal is brilliant as the crazy computer genius Quentin Beck and is a perfect foil to the charming but insatiably awkward Spiderman for the Instagram generation wonderfully acted by Tom Holland who beats Tobey Maguire in the Sam Riami trilogy and the doomed casting of Andrew Garfield in The Amazing Spiderman.
In any event, the amount Disney paid Sony to use Spiderman in the Marvel Avengers cinematic universe is worth its weight in gold judging by how fill a Saturday matinee was at the theatre.
Spiderman: Far from Home gets a Film Rating of 8 out of 10 and is worth seeing for the brilliant visual effects, great onscreen chemistry between Gyllenhaal and Holland and a perfect action adventure film which will surely inspire the millennials to embrace this crazy web slinger who likes taking selfies as he flies around Manhattan skyscrapers.
Yesterday
Director: Danny Boyle
Cast: Himesh Patel, Lily James, Joel Fry, Ellise Chappell, Ed Sheeran, Meera Syal, Sanjeev Bhaskar, Kate McKinnon, James Corden 
Thanks to a preview screening organized by United International Pictures at Suncoast Cinecentre, Durban, I was fortunate enough to see Oscar winning director Danny Boyle's latest film Yesterday with a screenplay by Love Actually writer Richard Curtis.
Imagine a world without The Beatles Songs? Or a world without Coca-Cola and Cigarettes? Or Even Harry Potter?
This is the premise of screenwriter Richard Curtis's latest romantic musical comedy Yesterday directed by Oscar winning director of Slumdog Millionaire Danny Boyle and starring Himesh Patel as Jack Malik a struggling musician and Lily James (The Darkest Hour, Cinderella) as his long suffering manager Ellie Appleton set mainly in Suffolk, England.
After an inexplicable worldwide blackout, Jack gets hit by a bus and wakes up missing two teeth and in a sort of alternative reality whereby he soon realizes that this world does not know any of The Beatles songs including Yesterday, Eleanor Rigby, Hey Jude, All You Need is Love and Back in the U.S.S. R.
As Jack played with a sort of goofy naivety by East Enders star Himesh Patel starts initially playing a Beatles song to his parents Sheila and Jed played by Meera Syal and Sanjeev Bhaskar (London Boulevard, The Kumars at No. 42), he is astonished that they have never heard of the most influential and greatest pop band in the world, The Beatles. Then Jack has to remind himself that he is living in an alternative universe which distracts him from the real love of his life Ellie who has constantly supported him throughout his struggling music career.
Lily James is brilliant as Suffolk maths teacher Ellie and she lifts the film from being a completely contrived musical fantasy into a semi-believable cinematic offering which allows director Danny Boyle to use all his artistic embellishments to make Yesterday more invigorating than what it really is.
Yesterday is a 21st century slightly contrived musical tribute to The Beatles set in the Instagram age of political correctness and diversity where even the likes of singer Ed Sheeran cannot lift the humour in this film with the exception of one funny scene when Sheeran visits Jack late at night at his family home and encounters his irritating yet lovable dad Jed, wonderfully played with comic timing by Sanjeev Bhaskar.
Ultimately, Yesterday is about a lingering love affair between Ellie and Jack as he is seduced by the fame and fortune associated with lucrative streaming contracts in California in the form of a vampish American music manager Debra Hammer played by Kate McKinnon.
Despite the musical tribute to the Beatles and the quirky plot, Yesterday didn't quite resolve itself as a satisfying film even with some comic moments. Yesterday gets a film rating of 7 out of 10. Recommended viewing for those that enjoy a light romantic musical comedy.
The White Crow
Director: Ralph Fiennes
Cast: Oleg Ivenko, Ralph Fiennes, Louis Hofmann, Adele Exarchopoulos, Raphael Personnaz, Chulpan Khamatova, Zach Avery
Oscar nominee Ralph Fiennes (The English Patient, Schindler's List) directs this elegant ballet biopic of acclaimed Russian male dancer Rudolph Nureyev who defected to France in 1961.
Oleg Ivenko plays the volatile but supremely talented ballet dancer Nureyev who dreams only of dancing in the West. This opportunity arises when the Kirov ballet company does a tour to Paris in London in 1961. While in Paris, Nureyev desperately tries to escape the surveillance of the repressive soviet regime who jealously watch the Kirov's Ballet's every move.
The Leningrad Ballet company comes out of a bleak soviet society under the rule of Krushev to the glamour of Paris in the early 1960's where a handful of Soviet ballet dancers led by the audacious Nureyev socializes with French ballerina's and intellectuals led by Clara Saint, wonderfully played by Adele Exarchopoulos (Blue is the Warmest Colour).
With a screenplay by Oscar nominated screenwriter David Hare (The Hours, The Reader) based upon Julie Kavanaugh's book Rudolf Nureyev: A Life, The White Crow is mostly subtitled with dialogue in Russian and French and is strictly for ballet fans.
The White Crow could have been edited slightly and while the transformation plot is elegantly told, the acting by the mostly Russian and French cast is extremely good and the tension in the film is heightened during the dramatic defection that Rudolf Nureyev does at a Paris airport filmed in extreme close up with Fiennes behind the camera taking control of the diplomatic action brilliantly.
There are some exquisite ballet sequences in The White Crow but what I loved about this film was its depiction of the transformation of Rudolf Nureyev from a shy Soviet peasant boy into one of the most audacious and beautifully talented male ballet dancers of the 20th century, a role that Oleg Ivenko pulls off beautifully highlighting his artistic volatility, his discipline as a dancer and his unyielding ambition, in which he had to sacrifice his country and family to achieve international stardom, something Nureyev was determined to achieve.
The White Crow subtly hints at Nureyev's homosexuality but in an effortlessly way especially his love affair with East German dancer Teja Kremke played with stark beauty by German actor Louis Hofmann (Red Sparrow). French rising star Raphael Personnaz (Anna Karenina) also stars as one of the French male ballet dancers Pierre Lacotte who plays a crucial role in Nureyev's defection to the West.
If you love ballet and would like to learn more about the early life of Rudolf Nureyev then this film is highly recommended. The White Crow gets a film rating of 8.5 out of 10 will appeal to a niche audience. An elegant biopic without any of the usual Hollywood flashiness.
Rocketman
Director: Dexter Fletcher
Cast: Taron Egerton, Jamie Bell, Richard Madden, Bryce Dallas Howard, Charlie Rowe, Tate Donovan, Steve Mackintosh, Tom Bennett
Eddie the Eagle director Dexter Fletcher reunites with his star Taron Egerton in the Elton John Musical fantasy drama Rocketman with Egerton taking on the daunting task of playing a still living musical icon, Sir Elton John.
Rocketman chronicles the early life and rise to stardom of Elton John, his abandonment issues that he had with his father, his overpowering sense of worthlessness that he felt at the hands of his dominating mother, wonderfully played against type by Bryce Dallas Howard (The Help, Jurassic World).
All these issues, coupled with his unique piano playing abilities proved that he is a talented musician destined for superstardom. However that stardom which Elton John achieved came at a price, as he has terrible addiction issues with drugs and alcohol which director Dexter Fletcher chooses to emphasize.
Essentially Rocketman focuses on addiction and interweaves Elton John's personal journey with that of musical fantasy a different approach to director Brian Singer's Bohemian Rhapsody which stuck to a chronological account of Queen lead singer Freddie Mercury and his interactions with his band. Bohemian Rhapsody is a far superior film than Rocketman especially saved by an Oscar winning performance by Rami Malek.
Rocketman has some good performance and Taron Egerton does a good job of portraying a living musical legend Elton John a flamboyant showman, a glamorous pianist with a penchant for outrageous outfits who is not only struggling with his addiction issues but with his homosexuality in the form of his toxic love affair with former manager John Reid played by Richard Madden (Cinderella). It is really Billy Elliott star Jamie Bell's sympathetic performance as Elton John's best friend and song writer Bernie Taupin who supports Elton through thick and thin, which gives the film some insightful emotional depth.
Notable cameo's include Vanity Fair star Charlie Rowe as Ray Williams and Tate Donovan as Californian music organizer Doug Weston. Rocketman features flamboyant costumes, foot tapping music and a great performance by Taron Egerton and will definitely appeal to audiences that enjoyed Bohemian Rhapsody.
Rocketman is a musical drama that focuses more on the perils of excess and the struggles with addiction than on Elton John's fantastic musical abilities and is not a biopic but an imaginative musical fantasy which gets a film rating of 7.5 out of 10.
Godzilla II: King of the Monsters
Director: Michael Dougherty
Cast: Kyle Chandler, Vera Farmiga, Millie Bobby Brown, Sally Hawkins, Ken Watanabe, Bradley Whitford, Charles Dance, Thomas Middleditch, Ziyi Zhang (The Grandmaster, The House of Flying Daggers, Crouching Tiger, Hidden Dragon) , C. C. H. Pounder (Baghdad Cafe), Anthony Ramos, O'Shea Jackson Jr
Director Michael Dougherty's Godzilla II: King of the Monsters should be viewed within the same context as Legendary pictures predecessor films Gareth Edwards's 2014 film Godzilla and director Jordan Vogt-Roberts Kong: Skull Island
Returning to the cast are scientists Dr Ishiro Serizawa and Dr Vivienne Graham played by Oscar nominee's Ken Watanabe (The Last Samurai) and Sally Hawkins (The Shape of Water).
Amidst the re-emergence of Godzilla and the global threat of his fellow titans, a selection of invasive species called Mothra, Rodan and the three headed dragon Ghidorah, there is the familial conflict of the Russell family. There is the father Mark played by Kyle Chandler (Argo, Super 8, First Man) and estranged wife Dr Emma Russell played by Oscar nominee Vera Farmiga (Up in the Air) and their beloved daughter Madison played by Stranger Things star Millie Bobby Brown.
As Dr Russell and Madison are captured by the ruthless Jonah Alan played by Charles Dance (White Mischief), Mark Russell with the help of crypto-zoological agency Monarch scientists to unleash Godzilla who is released to fight Ghidorah from the plains of Mexico to the fiery urban landscape of contemporary Boston, Massachusetts.
If viewers are Monster movie fans, then Godzilla II: King of the Monsters is sure to satisfy them with amazing production design and dazzling visual effects as the primordial clash of the titans begins.
Also in the cast are Thomas Middleditch (The Wolf of Wall Street, Kong: Skull Island) as Sam Coleman, Oscar nominee David Strathairn (Good Night, and Good Luck) as Admiral William Stenz who is hell bent on launching nuclear firepower at the Titans to save the earth from being ravaged by monsters.
Other supporting cast members include C.C.H. Pounder from Avatar, Anthony Ramos (A Star is Born), Bradley Whitford (The Post) and Chinese superstar Ziyi Zhang from such classic films as The Grandmaster, The House of Flying Daggers and Ang Lee's Oscar winning film Crouching Tiger, Hidden Dragon.
As far as plot goes, Godzilla II: King of the Monsters is basically a family drama about the Russell's as parents fight each other for custody of Madison superbly played by Millie Bobby Brown framed within a larger war between enormous monsters including the trustworthy Godzilla as he battles Mothra, Rodan and the three-headed dragon Ghidorah who likes to devastate cities like the Dragons in the HBO series Game of Thrones.
Godzilla II: King of the Monsters gets a film rating of 7 out of 10 and is extremely enjoyable for those that love monster movies as this cinematic piece is jam packed with crazy beasts ravaging the earth, which serves as an allegorical tale of the unprecedented effects of climate change on this planet.
Aladdin
Director: Guy Ritchie
Cast: Will Smith, Mena Massoud, Naomi Scott, Marwan Kenzari, Navid Negahban, Billy Magnussen
Director Guy Ritchie is known for making distinctly quirky British films like Sherlock Holmes and King Arthur: Legend of the Sword, so it's surprising to find that Disney has hired the renegade director to be at the helm of a light and fluffy live action version of Aladdin which is at once glossy and glamorous.
Fortunately, Aladdin is saved by a superb performance by the titular star of the film, Egyptian born actor Mena Massoud who grew up in Canada and nails the role. Massoud's chemistry especially opposite Hollywood superstar Will Smith (Bad Boys, Wild Wild West) as the Genie is brilliant and although his singing is not as satisfying as his female star Naomi Scott who plays the beautiful Princess Jasmine.
Audiences should not compare this live action version of Aladdin to the 1992 animated film which featured an unforgettable performance by the late comic actor Robin Williams as the Genie. This is a 21st century version of Aladdin and Disney casts the film very cleverly to remake this classic tale.
The evil Jafar played by Dutch actor Marwan Kenzari seeks to oust the street wise thief Aladdin in a bid to steal the magic lamp and court the gorgeous Princess Jasmine wonderfully played by Naomi Scott who is locked up in her palace unable to see the kingdom in which she will one day inherit.
Her protective father, the Sultan played by Navid Negahban (American Assassin, American Sniper) refuses to let his daughter venture out into the city streets so Princess Jasmine is forced to conceal her identity where she first meets Aladdin a street urchin who steals her gold bracelet although he blames it on Abu his faithful monkey.
Channeling his Fresh Prince of Bel Air days, Will Smith does an adequate job as the Genie and Mena Massoud holds his own as Aladdin and many of the well-recognized songs from Aladdin including You Need a Friend like Me will be sure to please younger audiences.
Director Guy Ritchie abandons his usual stylistic flourishes and makes a paint by numbers version of Aladdin in keeping with the Disney tradition which at times is vibrant and exhilarating with flamboyant costumes although he does veer straight into Bollywood territory.
Aladdin is certainly very entertaining, although I did find the middle of the film lacking in a cohesive structure and at times the pacing of the film is off, but director Guy Ritchie delivers a family friendly Disney musical which is rare as it's not normally where his cinematic talents lie.
Aladdin gets a film rating of 7.5 out of 10 and is not brilliant but very entertaining and will certainly appeal to a much younger audience judging by the average age in a Saturday matinee.
Disney once again delivers a hit musical with diversity, vibrancy and a storyline which will have a broad appeal. Recommended viewing for all those that love exotic musicals with a distinctly Eastern flair.
John Wick 3 – Parabellum
Director: Chad Stahelski
Cast: Keanu Reeves, Halle Berry, Ian McShane, Laurence Fishburne, Asia Kate Dillon, Lance Reddick, Anjelica Huston, Said Taghmaoui, Jerome Flynn, Robin Lord Taylor, Jason Mantzoukas
Director Chad Stahelski assembles an all-star cast for the action packed third installment of the John Wick franchise including Oscar winner Halle Berry (Monster's Ball) as fellow assassin Sofia along with the fabulous Oscar winner Anjelica Huston (Prizzi's Honour) as the Director. Naturally the superfit Keaun Reeves (Dangerous Liaisons, My Own Private Idaho, The Matrix) reprises his role as the uber cool assassin John Wick who is on the run after committing a sacrificial act by killing a member of the Assassin's Guild on the grounds of the lavish Continental Hotel in New York City.
In John Wick 3, Parabellum a bounty is placed on Wick's head and even the shady Russian mafia cannot assist him as the adjudicator comes for his head, featuring a supremely wicked performance by the androgynous actress Asia Kate Dillon who is so brilliant as the mathematical investment banker in the series Billions.
As the rain-soaked atmospheric and hyper-realistic action moves from New York City to Casablanca and then back again, John Wick and his ally Sofia manage to annihilate every assassin which comes for them. There are Ninjas on motorbikes, there is John Wick riding a horse down a Manhattan street. There are vicious dogs which attack a fellow Moroccan based assassin Berrada played by Game of Thrones star Jerome Flynn.
The coolest cast members by far are Ian McShane as the sophisticated unflappable manager of the Continental Winston and Laurence Fishburne who reprises his role as the Bowery King.
Audiences can expect triple the amount of action, unbelievable production design, outlandish stunts and non-stop hyper-realistic entertainment which just continually builds on what the previous two films started. Expect an unbelievably high body count.
John Wick 3 – Parabellum is not for everyone but will certainly satisfy the bloody palate of insatiable action fans. Keanu Reeves delivers as the muscular non-stop assassin who doesn't even shed his trademark black suit and tie in the middle of the Sahara as he continually battles the bizarre code of the High Council and the strange Assassin's Guild where everyone is out for each other's blood.
The sets are amazing, the action frenetic and audiences will either love or hate the hyper-realism but stylistically director Chad Stahelski out does himself to ensure that the third instalment of John Wick is a symphony of death and destruction which satisfies a broad range of international fans. Audiences should look out for a great cameo by French Moroccan star Said Taghmaoui (Wonder Woman, The Infiltrator) as The Elder.
John Wick 3 – Parabellum gets a film rating of 7.5 out of 10 and is strictly for hard core action fans otherwise anyone else watching might find the film laughable.
Gloria Bell
Director: Sebastian Lelio
Cast: Julianne Moore, John Turturro, Brad Garrett, Michael Cera, Rita Wilson, Jeanne Tripplehorn, Caren Pistorius, Barbara Sukowa, Sean Astin, Holland Taylor
Foreign Language film Oscar winner for A Fantastic Woman, Chilean director Sebastian Lelio recreates an English language version of his Chilean film Gloria called Gloria Bell set in contemporary Los Angeles and starring Oscar winner Julianne Moore (Still Alice).
Moore plays a fifty something divorced woman Gloria Bell who has a mundane insurance job during the day in a downtown L. A. company but who trawls the disco nightclubs in the evening sipping martini's and dancing with strange men.
Whilst Julianne Moore is brilliant as Gloria Bell a woman who is prone to people pleasing which includes her rather awkward interactions with her grown up children Peter played by Juno star Michael Cera and Anne played by South African born immigrant Caren Pistorius (The Light Between Oceans, Mortal Engines).
Gloria even tries to placate her anxious co-worker Melinda who is on verge of losing her job in a particularly noteworthy scene on an office balcony overlooking downtown L. A. Melinda is played by famed German actress Barbara Sukowa (Atomic Blonde, Hannah Arendt, Lola).
When it comes to men, Gloria despite her disco dancing antics does not have as much luck as she meets the divorcee with serious baggage issues Arnold wonderfully played against type by John Turturro (Fading Gigolo, Barton Fink, Jungle Fever).
Gloria desperately tries to navigate this new relationship with the weird Arnold as he battles to cut ties with his ex-wife and children and is desperately jealous when Gloria introduces him to her ex-husband Dustin played by Brad Garrett and his new wife Fiona played by Jeanne Tripplehorn (Basic Instinct, The Firm, Mickey Blue Eyes). The only two women Gloria can rely on in times of crisis are her best friend Vicky played by Rita Wilson and her wealthy mother Hillary, a superb cameo by comedic star Holland Taylor.
Director Lelio lets many scenes linger too long for a film which lacks a fast moving storyline yet Gloria Bell is held together by a fabulous performance by Julianne Moore as she inhabits all the garish interior scenes of L. A. nightclubs and Vegas casinos.
Gloria Bell is an interesting portrait of a woman's journey of self-discovery as she truly becomes an independent woman after she realizes that she cannot rely on her children or the men in her life.
Whilst I have not seen the original 2013 Chilean film Gloria which Sebastian Lelio also directed, audiences might find this Americanized version Gloria Bell slightly bland and very slow moving despite the superb performances and catchy musical score.
Gloria Bell gets a film rating of 6.5 out of 10 and is saved by Julianne Moore's terrific performance but unfortunately becomes a slow moving story of a woman finding her own independence.
My impression was that Gloria Bell simply did not translate well into a contemporary American version despite the auteur efforts of director Sebastian Lelio.