Antman

and

the Wasp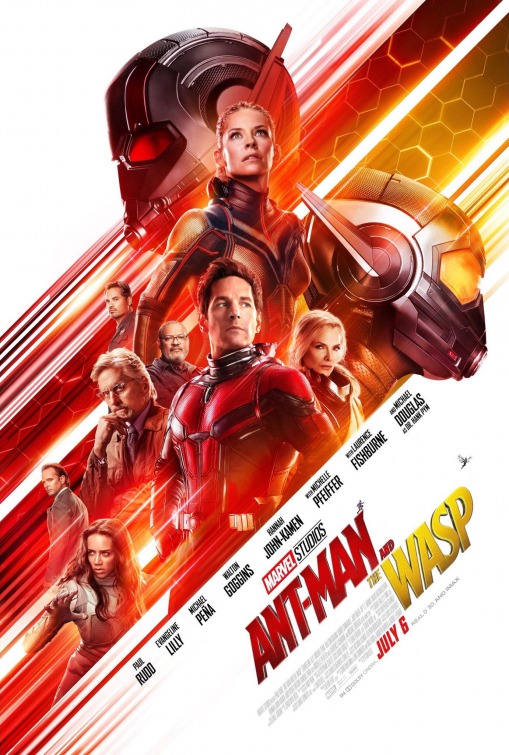 Director: Peyton Reed
Cast: Paul Rudd, Evangeline Lilly, Michael Douglas, Michelle Pfeiffer, Michael Pena, Walton Goggins, Hannah John-Kamen, Laurence Fishburne, Bobby Cannavale, Judy Greer, David Dastmalchian, Randall Park
The Marvel Cinematic Universe is continually expanding with a sequel to the 2015 film Antman, entitled Antman and the Wasp, reprising the original cast along with some newcomers including Walton Goggins (Tomb raider) as Sonny Burch and Oscar nominee Michelle Pfeiffer (Dangerous Liaisons) as Janet van Dyne, long lost wife of Hank Pym played again by veteran Oscar winner Michael Douglas (Wall Street).
Director Peyton Reed returns at the helm with Paul Rudd as Scott Lang aka Antman and Evangeline Lilly as Hope van Dyne aka the Wasp and while most of the nifty action consisting of shrinking or growing strange objects from cars to Hello Kitty dispensers, at times the storyline would seem puerile, it's nevertheless fun entertainment for the kids.
Antman and the Wasp's main storyline consists of the three main characters trying to retrieve a portable laboratory so they can blast themselves into some mystifying quantum realm to retrieve the lost Janet played by Pfeiffer, the narrative is punctuated by some funny scenes provided by Michael Pena who purely shines as Antman's friend Luis in this otherwise malleable superhero drama without many plot twists or a really definable villain.
Of course, clearly aimed at the Marvel fans who have enjoyed the original Antman, Black Panther and The Avengers: Infinity War, Antman and the Wasp is a fun filled comic caper of seismic proportions held together by the witty charm of Paul Rudd as the reluctant supposedly housebound superhero who is desperately trying to be the coolest Dad in San Francisco.
Personally, I would have liked to see more of the hugely talented Michelle Pfeiffer on screen, who appears to be making a major cinematic comeback, but Antman and The Wasp is worth seeing for its radically disproportionate special effects and a particularly clever car chase sequence along the hilly streets of downtown San Francisco. Take the kids, they will love it!
With malleable dimensions, Antman and The Wasp gets a film rating of 7.5 out of 10 and is recommended viewing for those that enjoyed the original film. 
Book
Club
Director: Bill Holderman
Cast: Jane Fonda, Diane Keaton, Candice Bergen, Mary Steenburgen, Andy Garcia, Craig T. Nelson, Don Johnson, Richard Dreyfuss, Alicia Silverstone
Screenwriter Bill Holderman who assisted Michael Arndt in the cinematic adaptation of Bill Bryson's novel A Walk in the Woods, shows his adept hand at directing in the star studded Book Club featuring some legendary Hollywood stars including Oscar winners Jane Fonda (Coming Home, Klute) and Diane Keaton (Annie Hall) along with Candice Bergen (Gandhi, Rules Don't Apply) and Oscar winner Mary Steenburgen (Melvin and Howard).
The four female leads play lifelong friends who form a Book Club based on their mutual love for Erica Jong's scandalous seminal feminist novel Fear of Flying published in 1973 which controversially delved into female sexuality. Over forty years later, the four friends played by these wonderful and still radiant stars, reunite and discuss the Fifty Shades of Grey trilogy.
In an ironic twist of casting, Don Johnson, father of Dakota Johnson who stars in the Fifty Shades Trilogy is featured as Jane Fonda's character Vivian's love interest Arthur, as he attempts to repeatedly woo the wealthy Californian hotelier.
Certainly, Book Cub is aimed at a particular demographic and age group, but what is so refreshing to see is that all these actresses appearing together onscreen in another female driven narrative comedy which is an older, yet quite different version of the all-female cast of the recent Oceans 8 film.
Set mainly in California and Arizona, Book Club is surprisingly enjoyable (even if you are not a wealthy American woman over the age of 70) but it is important that these films continue to be made as it allows older actresses to dazzle viewers onscreen.
And speaking of dazzling, Jane Fonda at 80 years old looks absolutely gorgeous and truly holds her own in this sparkling film as does Diane Keaton as she creates perfect onscreen chemistry in the scenes with her macho pilot Mitchell played by Andy Garcia (The Godfather Part III, Kill the Messenger).
As the Book Club ladies, over bottles of Chardonnay, reassess their love lives in the light of literary stimulation courtesy of Fifty Shades of Grey, Book Club remains a charming, whimsical film about finding or reigniting love in the evening of one's life.
All the leading ladies look more like Fifty Shades of Gorgeous and certainly Book Club is highly recommended as a 21st century re-examination of female sexuality framed by a contemporary social movement which is increasingly dominating pop culture – the MeToo Movement, making this film all the more relevant.
Book Club receives a film rating of 7 out of 10 and audiences should see it to witness the fabulous Jane Fonda shine onscreen again like she did in Paolo Sorrentino's superb 2015 film Youth.
Oceans 8
Director: Gary Ross
Cast: Sandra Bullock, Cate Blanchett, Anne Hathaway, Rihanna, Helena Bonham Carter, Sarah Paulson, Elliott Gould, Richard Armitage, Dakota Fanning, Mindy Kaling
Pleasantville director Gary Ross assembles a truly star studded female cast in the feminine version of Steven Soderbergh's Oceans 11 starring Oscar winners Sandra Bullock (The Blind Side), Cate Blanchett (The Aviator, Blue Jasmine), Anne Hathaway (Les Miserables) alongside Oscar nominated British actress Helena Bonham Carter (The Wings of the Dove), Rihanna and Sarah Paulson (Carol, 12 Years a Slave) as together they pull off a daring jewellery heist during the prestigious Met Gala held annually by Vogue Magazine at the Metropolitan Museum of Art in New York.
Sandra Bullock plays Debbie Ocean, a newly paroled con artist who teams up with the streetwise New Yorker Lou played by Blanchett as they devise a cunning plan to rob the Met Gala and place the blame on Debbie's egotistical art dealing ex-boyfriend Claude Becker played by Richard Armitage.
In short, Oceans 8 is a cleverly written revenge flick with lots of diamonds, a fabulous cast and glamorous settings beautifully assisted by comedian James Corden as the extremely thorough insurance investigator John Frazier, who adds some dry British humour to the entirely fashionable affair.
Audiences should watch out for some well-placed cameo's by veteran Oscar nominated star Elliott Gould (Bob & Carol & Ted & Alice) as Reuben and Dakota Fanning (Man on Fire, War of the Worlds) as Penelope Stern.
What holds Oceans 8 together is the fantastic onscreen chemistry between Sandra Bullock, Cate Blanchett and Anne Hathaway, all of whom make this fashionable heist film thoroughly entertaining.
Oceans 8 is an enjoyable con film with a refreshingly female take on the heist genre, proving that women can do it just as brilliantly as men, which is especially pertinent in the wake of the momentous MeToo movement which rocked Hollywood in 2017 amidst a series of sexual abuse scandals.
Definitely a glittering film for the ladies, Oceans 8 is an ideal girls night out adventure heist with beautiful clothes, diamonds to die for and an inside peak at possibly one of the most glamorous events on the American social circuit, the incredibly gorgeous Met Gala.
Oceans 8, with its slick cons and twisting narrative definitely proves the line immortalized by Marilyn Monroe that Diamonds are a Girl's Best Friend. The film gets a rating of 7.5 out of 10.
Finding Your
Feet
Director: Richard Loncraine
Cast: Imelda Staunton, Celia Imrie, Timothy Spall, Joanna Lumley, John Sessions, David Hayman, Phoebe Nicholls
Oscar nominee Imelda Staunton (Vera Drake) plays Sandra in the British comedy Finding your Feet directed by Richard III and Wimbledon director Richard Loncraine.
Sandra discovers during her husband's retirement party that he has been having an affair for five years which sends her on a journey of self-discovery as she gradually shrugs off the snobbery of her former life and moves in with her hippie older sister Bif played by Celia Imrie (The Best Exotic Marigold Hotel, The Cure for Wellness).
Bif leads a completely unconventional life with the help of her friend Charlie played by British star Timothy Spall (Mr Turner) and soon the pair introduce the uptight Sandra to dance classes and a flash mob dance contest in Piccadilly Circus to create awareness for the aged.
With the able assistance of Bif's hilarious friend Jackie wonderfully played by Absolutely Fabulous star Joanna Lumley, Sandra soon takes up dancing and discovers an entirely different world made all the more charming by the blossoming courtship with Charlie as they wonder down Oxford Street to see the Christmas Lights.
Finding your Feet is a truly delightful British comedy set mainly in London and also in Rome, which adds to the glamour of the film, held together by superb performances by Imelda Staunton and Celia Imrie who play sisters rediscovering their sibling relationship after years of estrangement.
Highly recommended for audiences that enjoyed such films as The Best Exotic Marigold Hotel, Tea with Mussolini and Four Weddings and a Funeral, Finding Your Feet proves that it's never too late to reinvent yourself and discover romance again.
Finding your Feet gets a film rating of 7 out of 10 and is a charming British comedy with a sufficient dash of poignancy to satisfy the tastes of more mature audiences.
Jurassic World:
Fallen Kingdom
Director: J. A. Bayona
Cast: Bryce Dallas Howard, Chris Pratt, Rafe Spall, Jeff Goldblum, James Cromwell, Toby Jones, Geraldine Chaplin, Ted Levine, BD Wong, Isabella Sermon, Justice Smith
Spanish director J. A. Bayona brings an impressive sense of Gothic Horror to the sequel to 2015's Jurassic World, in the his latest film Jurassic World: Fallen Kingdom which is both riveting and tantalizingly watchable without reverting completely into blockbuster CGI overload. Although that said, the volcanic sequence on Isla Nuba off the coast of Costa Rica is brilliantly staged.
Familiar cast members return including Bryce Dallas Howard as Claire Dering who teams up with macho dinosaur wrangler Owen Grady wonderfully played by Chris Pratt whose phenomenal career path as rocketed since his casting as Peter Quill aka Star-Lord in Marvel's The Guardians of the Galaxy.
Rafe Spall (Life of Pi) plays the villainous Eli Mills assistant to the immensely wealthy Benjamin Lockwood, played by James Cromwell (The Queen). Audiences should look out for a stand out performance by Isabella Sermon as Lockwood's tenacious granddaughter Maisie who has to eventually contend with some monsters in her own childhood bedroom.
Watching over young Maisie is her guardian Iris played by the daughter of silent screen star Charlie Chaplin, Geraldine Chaplin (The Impossible, The Wolfman, The Age of Innocence) whom it is so refreshing to see on the big screen again.
As the dinosaurs of Jurassic World: Fallen Kingdom are consequently rescued just as the volcano at Isla Nuba threatens to make these ancient creatures extinct, a new threat develops on the massive Lockwood country estate in Northern California whereby director J. A. Bayona skillfully uses all the traits of Gothic Horror to add a fascinating twist to a blockbuster sequel with enough suspense to keep audiences entertained while also emphasizing the perennial issue of endangered species, something which endangered wildlife are constantly at risk of becoming in the increasingly technological 21st century.
Audiences that enjoyed the 2015 Jurassic World, will undoubtedly love this authentic and imaginative sequel.
Jurassic World: Fallen Kingdom gets a film rating of 7.5 out of 10 and recommended for audiences that harbour an abiding fascination for dinosaurs.
Chappaquiddick
Director: John Curran
Cast: Jason Clarke, Kate Mara, Olivia Thirlby, Ed Helms, Bruce Dern, Jim Gaffagan, Taylor Nichols, Lexie Roth
Many films have been made about the Kennedys or those related to them, most recently being Pablo Larrain's beautiful film Jackie featuring an Oscar worthy performance by Natalie Portman.
While The Painted Veil director John Curran's film Chappaquiddick is no masterpiece and is quite slow moving, it nevertheless remains a fascinating account of one of the Kennedy's lesser known political scandals.
This involved Senator Edward Kennedy, superbly played by Australian actor Jason Clarke (Zero Dark Thirty, The Great Gatsby), who was the fourth son of the Kennedy clan and the only surviving son after his three older brothers died successively.
Chappaquiddick takes place in Martha's Vineyard in the summer of 1969, two days before American astronaut Neil Armstrong successfully landed on the moon. Edward Kennedy and his cousin Joseph Gargan played by The Hangover star Ed Helms host a small decadent party on Chappaquiddick an island off Martha's Vineyard in Massachusetts. Among the guests is Mary Jo Kepechne played by former House of Cards star Kate Mara who gets fatally entangled with Senator Edward Kennedy.
As the evening progresses Edward and Mary Jo go on a moonlight drive around the island but this romantic venture turns into tragedy when after becoming intoxicated Edward unknowingly drives the car off a low bridge and it plunges into a river and he escapes the accident unscathed, while poor Mary Jo gets trapped in the drowning automobile and dies. The worst part is that Edward Kennedy walked away from the scene of a fatal accident and then later tried to cover it up using his family's considerable political influence.
Chappaquiddick deals with the aftermath of the tragic event and the engulfing political scandal it could have for the ambitious Senator Edward Kennedy who is desperate to follow in his two older brothers' political careers with JFK becoming US president and Robert Kennedy becoming a US senator, both of whom got assassinated during the turbulent 1960's.
What makes Chappaquiddick so fascinating is the way in which Edward Kennedy, with a cool emotional detachment and often seeking advice from his wheelchair bound father Joseph Kennedy, wonderfully played by veteran actor and Oscar nominee Bruce Dern (Nebraska) whose only word of wisdom is alibi.
The patriarch of the powerful political dynasty which is the Kennedys, based at their family compound in Hyannis port, Massachusetts, is determined to protect the Kennedy legacy, despite numerous tragic events and subsequent scandals.
Chappaquiddick is a riveting historical drama about a political scandal which literally gets eclipsed by the men landing on the moon on the same weekend. As compared to Jackie, Chappaquiddick lacks grandiosity and elegance, but remains relevant as to how political scandals are essentially covered up and the flow of information is conspicuously controlled.
Recommended for viewers that enjoy American historical films, Chappaquiddick gets a film rating of 7 out of 10. My only criticism is that sections of the film could have been edited to avoid repetition and the script required insightful dialogue.
Solo:

a Star Wars Story
Director: Ron Howard
Cast: Alden Ehrenreich, Woody Harrelson, Emilia Clarke, Paul Bettany, Donald Glover, Thandie Newton, Erin Kellyman, Jon Favreau, Linda Hunt
I have to confess I am a huge Star Wars fan. Ever since the first trilogy I saw when I was a kid, I have been hooked.
Well, when rumours circulated in the film trade press that there was going to be an origins story for Han Solo – it certainly piqued my curiosity. The casting was superb. The boyish charm of Alden Ehrenreich last seen in Warren Beatty's Rules Don't Apply is perfectly cast as the Young Han Solo, a role made famous by the Hollywood star Harrison Ford.
With steady direction by Ron Howard, Solo: A Star Wars Story is a brilliant prequel recommended especially for fans of the original trilogy, extracting elements out of The Empire Strikes Back and The Return of the Jedi.
To add to the continuity, Donald Glover plays the young gambler Lando Calrissian last seen on the Bespin Cloud City in The Empire Strikes Back and played back then by Billy Dee Williams. Glover is superb as the young Lando, a carefree gambler who gambles the millennium falcon in a space contest with the equally adventurous Han Solo.
Solo: A Star Wars Story also features Oscar nominee Woody Harrelson as the smuggler Tobais Beckett who teams up with Han Solo on a raid on an icy planet to steal some explosive mineral for the nefarious Dryden Vos, wonderfully played by British star Paul Bettany.
Game of Thrones star Emilia Clarke plays the intergalactic femme fatale Qi'ra who facilitates between Han Solo and his enemy Vos. As Beckett advises Han solo in the cutthroat world of smuggling and intergalactic piracy, trust no one.
Westworld star Thandie Newton briefly appears as Beckett's love interest Val, a fearless fellow smuggler.
The magnificent scenes in the film belong to those between Lando and Han, which establishes a friendship based on rivalry and pure competitiveness as each recognize a rogue quality in each other. Alden Ehrenreich and Donald Glover are cleverly cast as these two iconic space heroes.
Solo: A Star Wars Story is an entertaining hyperspace glimpse into the origins of an infamous intergalactic Smuggler as possibly one of George Lucas's best loved characters, the charming risk taker pilot Han Solo which both Ford and now Ehrenreich captured so perfectly onscreen.
With stunning production design and beautiful cinematography, Solo: A Star Wars Story gets a film rating of 8 out of 10.
Highly recommended viewing for fans that love Star Wars films and fondly remember the original trilogy which shaped their love for sci-fi.
Deadpool 2
Director: David Leitch
Cast: Ryan Reynolds, T. J. Miller, Josh Brolin, Morena Baccarin, Eddie Marsan
Ryan Reynolds reprises his role as kickass superhero Deadpool in the sequel which quite frankly disappointed on all levels. Perhaps, my mood wasn't quite into hyper-vulgarity or sleazy violence or spoof making.
Deadpool 2 makes fun out of everything from Barbra Streisand in Yentl to the X-Men franchise as well as creating a messy comic book pastiche which doesn't take itself or the audience to seriously. My view is that as sequels go, this was terrible.
The only redeeming feature of Deadpool 2, is Oscar nominee Josh Brolin (Milk) superb turn as the tortured villain Cable an intergalactic strongman who comes back to the contemporary world to try and stop a mutant teenager Firefist played by Julian Dennison from running rampage in a creepy orphanage run by a sinister headmaster played by the ubiquitous Eddie Marsan (7 Days in Entebbe, Mark Felt, The Exception).
Morena Baccarin reprises her role as Wade Wilson's girlfriend Vanessa whose romantic life gets tragically cut short.
Audiences definitely have to be in the right frame of mind to watch Deadpool 2 and perhaps I wasn't. That said, some will find it hilarious while others find it stupid.
Ryan Reynolds obviously doesn't take his career that seriously and let's hope there is not going to be a third Deadpool, but knowing the ever expanding Marvel Cinematic Universe there is always room for more.
Deadpool 2 gets a Film Rating 6 out of 10 and is strictly recommended for audiences that enjoyed the original film.
Ultimately, every film finds a unique audience.
Avengers:
Infinity War
Directors: Anthony and Joe Russo
Cast: Robert Downey Jr, Chris Evans, Chris Hemsworth, Chris Pratt, Mark Ruffalo, Scarlett Johansson, Don Cheadle, Benedict Cumberbatch, Tom Holland, Chadwick Boseman, Zoe Saldana, Tom Hiddleston, Idris Elba, Paul Bettany, Elizabeth Olsen, Anthony Mackie, Sebastian Stan, Danai Gurira, Peter Dinklage, Dave Bautista, Vin Diesel, Bradley Cooper, Gwyneth Paltrow, Josh Brolin, Benicio del Toro, William Hurt, Letitia Wright, Pom Klementieff, Carrie Coon, Winston Duke
Following the phenomenal success of Thor: Ragnorak and Black Panther, Marvel has capitalized on its extended cinematic universe with the new Avengers: Infinity War featuring a plethora of superheroes from Spiderman to Ironman, from Captain America to The Hulk not to mention bringing in the Guardians of the Galaxy gang for additional support.
If Avengers: Infinity War feels a bit excessive, that's because it probably is combining the Avengers franchise with that of the more quirky Guardians of the Galaxy. Some fantastic moments occur when Spiderman played by Tom Holland meets Peter Quill aka StarLord played by Chris Pratt or when Iron Man, played by Robert Downey Jr disagrees with the wizard Doctor Strange played by Benedict Cumberbatch. The snappy dialogue is sometimes lost amidst the greater quest to fight the evil universe destroyer Thanos played by Josh Brolin.
Thanos is equally conflicted about having to gather all the infinity stones including the one for Souls in which he has to make a choice between himself and his adopted daughter Gamora played by Zoe Saldana. In the meantime, his evil minions are wreaking havoc on earth in New York and in the magical technologically advanced African kingdom of Wakanda where Vision played by Paul Bettany along with Captain America  and Scarlett Witch played by Elizabeth Olsen seek the assistance of Black Panther played by Chadwick Boseman.
Audiences have to suspend their disbelief but judging by how packed the cinemas are for Avengers Infinity War, they are quite happy to do so. This film is pure sci-fi fantasy with little of the action taking place on earth. Most of the fight sequences occur on outer galactic planets like Titan.
Thor needs his hammer back and seeks the help of Eitri played by Peter Dinklage who forges a brilliant new weapon out of a powerful star, the celestial capability of which was last seen on the forgotten kingdom of Asgard.
Whilst directing brothers Anthony and Joe Russo compile an absolute Geekfest with Avengers: Infinity War with enough alien creatures and superheroes to stockpile Comicon for the next decade, it's a clear sign that the Marvel Universe has ambitious plans to expand even further.
That said Avengers: Infinity War has a convoluted story line weighed down by too many subplots but if viewers see it as a precursor to a second film then they will not find the surprise ending so disruptive….
Avengers: Infinity War gets a film rating 7.5 out of 10 and is strictly for Marvel comic book fans who have followed all the films from the original Iron Man 10 years ago.
The visual effects are fantastic as will be the box office receipts. See it to believe it.
Mark Felt:
The Man Who Brought Down the White House
Director: Peter Landesman
Cast: Liam Neeson, Diane Lane, Josh Lucas, Tony Goldwyn, Kate Walsh, Marton Csokas, Tom Sizemore, Eddie Marsan, Ike Barinholtz, Maika Monroe, Michael C. Hall, Bruce Greenwood, Julian Morris
Parkland and Concussion director Peter Landesman takes on another factual drama in his detail heavy fictional account of the Watergate scandal called Mark Felt: The Man Who Brought Down the Whitehouse.
It's April 1972 and Mark Felt, deputy assistant director of the FBI deftly underplayed by a haggard looking Liam Neeson is hoping to get the job of Director of the FBI after the death of J. Edgar Hoover.
Oscar nominee Liam Neeson (Schindler's List) plays Mark Felt brilliantly, underplaying the amount of stress he is under when Felt is by-passed for the directorship for a Nixon crony Gray played by Hungarian actor Marton Csokas (Noah, The Equalizer).
Felt, who always played his cards very close to his chest, realizes that there is a massive conspiracy within government agencies. These fears are confirmed when the magnitude of the Watergate scandal broke in 1972 in which covert ex-spies where caught red handed breaking into the National Democratic Convention headquarters at the Watergate Hotel just prior to the November elections.
President Nixon got re-elected in November 1972 but Mark Felt soon realizes that a move by the government to capture the integrity and independence of the FBI when the slimy Billy Sullivan is poking around headquarters. Sullivan is suitably played by Tom Sizemore who hasn't been in many films recently but is most remembered for his roles in Natural Born Killers, Saving Private Ryan, Black Hawk Down and Heat.
If audiences like detailed political docudrama then Mark Felt is for them.
Don't expect action in this drama which is saved by memorable scenes between Neeson and his co-star Oscar nominee Diane Lane (Unfaithful, Trumbo) who plays his wife Audrey Felt as the couple also battle with the disappearance of their wayward daughter Joan played by Maika Monroe (Independence Day).
Mark Felt is a fascinating portrayal of one man's ability to stick to his own ethics at a time when the Nixon administration was beyond reproach as Felt clandestinely feeds classified information to Washington Post journalist Bob Woodward played by Julian Morris and Time magazine journalist Sandy Smith played by Bruce Greenwood.
Felt was indeed the man who brought down the White House and in media circles was known only as deepthroat, a rather sexy title for an informant and extremely valuable source to the Fourth Estate which eventually caused the impeachment of President Richard Nixon and his administration.
Despite the intrigue, Mark Felt does get caught up in the details and scores a film rating of 7 out of 10. It is nevertheless a fascinating film for those that enjoy an intriguing docudrama. 
The film does feature a superb supporting cast including Eddie Marsan, Michael C. Hall, Tony Goldwyn and Josh Lucas. Recommended for viewers that enjoyed director Peter Landesman's previous American historical drama Parkland about the assassination of JFK.