The Forest
There is no film poster available at the time of publication
Director: Roman Zhigalov
Cast: Oleg Shibayev, Natalya Rychlova, Oleg Feoktistov, Maria Avramkova
As seen at DIFF 2018 https://durbanfilmfest.co.za/
Spoiler Alert Valid for Date of Commercial Release if applicable
As the 2018 Durban International Film Festival coincided with the BRICS Summit happening in Johannesburg and the BRICS Film Festival which ran concurrently with DIFF2018, there were many films from Brazil, Russia, India and China.
Whilst I am a fan of all films from these countries, I have also been particularly impressed with Russian cinema as its cinematic style is so refreshingly foreign and opposite to commercial American cinema. Director Nikita Mikhailkov's brilliant and cutting political drama Burnt by the Sun (1994) comes to mind, which won the Best Foreign Language Film Oscar in 1995.
At DIFF 2018, I watched director Roman Zhigalov gut-wrenching family drama The Forest set in rural Russia.
The Forest is a depressing tale about the implosion of a nuclear family, whereby the father's sawmill gets expropriated by the state (the government actually burns it down as the father is unwilling to hand it over to the state), which should be a lesson about the economic consequences should South Africa's ruling party's proceed incautiously with the ridiculous decision to expropriate land without compensation, a burning political issue ahead of the 2019 National Elections.
The ideology of expropriation is essentially communist and director Roman Zhigalov makes this statement very clear in The Forest as well as highlighting many of the social ills currently plaguing Russia including rampant alcoholism, rape, teen pregnancy and a clearly disillusioned working class, who are constantly bullied by state officials.
The Forest tells the story of sixteen year old boy Danila who has an illicit affair with Katya a woman twice his age which leads to devastating and violent consequences both in their community and beyond.
Beautifully shot and well edited, The Forest is a stark reminder that poverty stricken rural Russia is a far cry from the tourist friendly images of Moscow and St Petersburg which frequently flashed across the international media during the recent 2018 FIFA World Cup held across Russia.
Stylistically brutal and uncompromising, The Forest is for serious viewers of Russian cinema and those that are not easily offended by rape scenes, drunken violence and nuclear families being torn apart by sexual repression and betrayal. Not for sensitive viewers.
The Forest gets a film rating of 7 out of 10 and is possibly one of the most depressing films I have seen all year. Clearly it was director Roman Zhigalov intention to show cinematic realism in all its horrifying detail.
The Recce
Director: Johannes Ferdinand van Zyl
Cast: Greg Kriek, Christia Visser, Marius Weyers, Grant Swanby, Albert Maritz, Elsabe Daneel, Maurice Carpede
Set in 1981 in Angola and Apartheid South Africa, The Recce seen at the film's premiere at the Durban International Film Festival (insert website) DIFF 2018, director Johannes Ferdinand van Zyl combines some stylistic flourishes to create a vivid and tense depiction of the experiences of the films main hero Henk Viljoen a Recce who is caught behind enemy lines and presumed Killed In Action.
South African star Greg Kriek brilliantly plays Henk who leaves his pregnant wife Nicola played by Christia Visser behind as he ventures forth deep within enemy territory, behind the Angolan border in a treacherous guerrilla war which claimed many lives and was a clandestine Southern African war of attrition fought by the Apartheid South African government far north in the then Soviet infiltrated Angola, just above Namibia which was then known as South West Africa.
With the dialogue mainly in Afrikaans, The Recce is a brave portrayal of a soldier's desire to survive in an increasingly cruel and hostile landscape where no one can be trusted.
Grant Swanby (Beyond the River) plays Henk's English speaking corporal Corporal Le Roux, who realizes that they are all fighting a pointless war in brutal terrain. Also featured in the cast are well known South African stage and screen actor Marius Weyers (Blood Diamond, Gandhi) as the hard-drinking General Piet Visagie and Maurice Carpede as Impi Buthelezi.
Watching The Recce is like watching the Afrikaans version of Peter Berg's nail biting military drama Lone Survivor and those that enjoy a well-orchestrated war film should see this South African film depicting a distinct period in this country's history which left an indelible mark on the South African older white male psyche particularly those that were military active in the early 1980's prior to the transition to democracy in 1994.
Despite some tangential scenes in the film's first half, director Johannes Ferdinand van Zyl's The Recce is as engrossing as it is terrifying and has a particularly brilliant ending, one which will shock audiences and leave them questioning the futility of warfare.
Due to its very specific subject matter, The Recce will obviously have more resonance in South Africa than internationally as the film refers to the 1980's, a turbulent decade in this country's fascinating and multi-dimensional history.
Strictly for fans of decent war films, The Recce gets a film rating of 7.5 out of 10.
The Tale
Director: Jennifer Fox
Cast: Laura Dern, Ellen Burstyn, Common, Jason Ritter, Elizabeth Debicki, Frances Conroy, Isabelle Nelisse, John Heard
Spoiler Alert Valid until airing on M-Net on Monday 6th August 2018
Please note that this is a Made for TV film and will not be released in commercial cinemas.
Documentary filmmaker Jennifer Fox creates a searing autobiographical film called The Tale which had its South African premiere at the Durban International Film Festival DIFF 2018 https://www.durbanfilmfest.co.za/.
The Tale features a superb performance by Emmy and Golden Globe winner Laura Dern (Big Little Lies) who plays a fictionalized version of director Jennifer Fox who has to confront strange and uncomfortable memories of her past as a young girl, when her mother played by Oscar winner Ellen Burstyn (Alice Doesn't Live Here Anymore) discovers a story she wrote when she was thirteen about an illicit affair that she had with a creepy gym coach, 40 year old divorcee Bill played with suitably skin-crawling detail by Jason Ritter.
As the narrative of The Tale unwinds through a series of carefully constructed flashbacks, Jennifer is forced to confront the fact that while she was doing horse riding on a farm in the Carolina's with the strict Mrs G, crisply played by The Night Manager star Elizabeth Debicki (The Great Gatsby) she was not only groomed for child abuse but becoming the victim.
The Tale confronts in horrific detail the strange and bizarre almost Lolita like affair that Bill initiates  with the young Jennifer expertly played by Isabelle Nelisse in many scenes that would be deeply disturbing to sensitive viewers.
Released by HBO films, The Tale is a made for Television film. Director Jennifer Fox beautifully reveals to audiences the nature of memory and the action taken by the grown-up Jennifer to confront her abuser. This significant film is a harrowing and brave account of child abuse which is especially pertinent in the era of the #MeToo Campaign.
Anchored by nuanced performances by both Dern who is nominated again at the 2018 Emmy Awards and Ellen Burstyn, The Tale is highly recommended viewing and intelligently explores the elusive nature of forgotten childhood memories which frequently blur the lines of morality and shows that any form of abuse damages boundaries both psychologically and sexually.
The Tale won Best Screenplay at DIFF 2018 and is also nominated for Best Limited Series or TV Movie at the Primetime Emmy Awards which is taking place in September 2018. The Tale will be aired on the South African subscription channel M-Net on Monday 6th August 2018.
The Tale gets a film rating of 8 out of 10.
Mission Impossible:
Fallout
Director: Christopher McQuarrie
Cast: Tom Cruise, Henry Cavill, Sean Harris, Rebecca Ferguson, Vanessa Kirby, Simon Pegg, Ving Rhames, Wes Bentley, Michelle Monaghan, Angela Bassett, Frederick Schmidt
If the formula works, stick to it. Better yet, embellish on it and make it superb. If this is the maxim that brought superstar Tom Cruise to work again with writer director of Mission Impossible: Rogue Nation, then it proves that it works in the highly thrilling adrenaline fuelled sequel Mission Impossible: Fallout set mainly in London and Paris.
Cleverly bringing elements of the original 1996 Mission Impossible, the tightly controlled script adds some new characters in the form of the gorgeous blond femme fatale White Widow wonderfully played with suitable panache by The Crown star Vanessa Kirby who plays the daughter of the elusive espionage facilitator Max, played by Vanessa Redgrave in the original Mission Impossible.
Simon Pegg, Ving Rhames and Michelle Monaghan reunite with Tom Cruise once again reprising his role as the IMF agent Ethan Hunt in a convoluted double crossing narrative in which arch enemy Solomon Lane played by Sean Harris is extracted in a daring sequence on the Parisian streets.
Newcomer to the franchise is Henry Cavill (The Man from U.N.C.L.E) as CIA assassin August Walker who brings a whole new level of male rivalry in the testosterone fueled action sequences containing Walker and Hunt.
Rebecca Ferguson returns as the lethal Ilsa Faust who is moonlighting as a Mi6 agent but secretly helping Ethan Hunt and his team.
From a spectacular rave sequence in Paris to the exteriors of The Tate Modern in London, Mission Impossible Fallout is a brilliant, gritty action film which proves that the combination of McQuarrie as writer and director and Tom Cruise as star is a winning formula.
Unbelievable helicopter stunts over Kashmir and a chase sequence in Paris, makes Mission Impossible: Fallout a must see action films especially recommended for fans of Rogue Nation and Ghost Protocol.
Ethan Hunt's best intentions fallout as everything goes south literally in this superb sixth installment of the hugely successfully spy series.
Highly recommended viewing and possibly one of the best so far, Mission Impossible Fallout gets a film rating of 9 out of 10.
Mamma Mia!
Here We Go Again
Director: Ol Parker
Cast: Amanda Seyfried, Lily James, Dominic Cooper, Christine Baranski, Julie Walters, Celia Imrie, Pierce Brosnan, Stellan Skarsgard, Colin Firth, Cher, Meryl Streep, Jeremy Irvine, Josh Dylan, Hugh Skinner, Jessica Keenan Wynn
The Best Exotic Marigold Hotel screenwriter Ol Parker does behind the camera as director for the much anticipated sequel / prequel Mamma Mia! Here We Go Again featuring the original cast from Mamma Mia! (2008) including some fabulous additions such as pop diva Cher and Cinderella's Lily James as the young Donna.
Shot mostly on location in Croatia, doubling for the Greek Isles, Mamma Mia! Here We Go Again is strictly for ABBA fans and those who loved the original 2008 film.
Thanks to a preview screening organized by United International Pictures at Suncoast Cinecentre, Durban, I was fortunate enough to see Mamma Mia! Here We Go Again whose highlights included Cher's superb rendition of the song Fernando sung to her long lost love and some crisply orchestrated numbers featuring Lily James and a plethora of gorgeous young men played by Jeremy Irvine, Hugh Skinner and Josh Dylan respectively, who all represent the younger versions of Sophie's three Dads played in the original film by Pierce Brosnan, Oscar winner Colin Firth (The King's Speech) and Stellan Skarsgard.
While the storyline is as haphazard as a lost yacht in the Mediterranean, the singing and the music for Mamma Mia! Here We Go Again is what audiences should come and see this musical comedy for.
With a bigger cast and some daring lines uttered by the wine swigging Tanya played by Christine Baranski (The Bird Cage) including "Be Still my Beating Vagina", Mamma Mia! Here We Go Again is a sparkling musical comedy with the pure aim of reviving all those toe-tapping ABBA songs.
There is sufficient Man Candy both young and old to satisfy a diverse range of female audiences and in the immortal words of BBC Talk Show Host Graham Norton on interviewing pop diva Cher – "This is one of the gayest films being released in 2018!"
Leave your worries at the door and enjoy Mamma Mia, Here We Go Again which gets a film rating of 7.5 out of 10, held together by two sensational performances by Lily James and Cher.
Skyscraper
Director: Rawson Marshall Thurber
Cast: Dwayne Johnson, Neve Campbell, Pablo Schreiber, Noah Taylor, Roland Moller, Tzi Ma, Byron Mann
How do you make an American action star appeal to an Asian market? Cast Dwayne Johnson in an action thriller entitled Skyscraper set in Hong Kong.
Dwayne Johnson plays Will Sawyer an American security expert who is hired by a Hong Kong Tech billionaire to assess the security of his latest project – a 220 story skyscraper named the Pearl built in Kowloon, Hong Kong, a sophisticated high rise which dwarfs other structures of its size like the Burj Khalifa in Dubai and the Empire State Building in New York.
Before the upper levels of the lavish Pearl can be occupied, extortionist terrorists led by Kores Botha played by Roland Moller set fire to the 96th floor. Sawyer's wife Sarah played by Neve Campbell (The Company, Scream, 54) and young children are trapped in the upper floors.
Despite having a prosthetic leg and not completely physically able, Sawyer manages to hijack a crane and enter the skyscraper to find out exactly what plot is afoot.
If this plot sounds far-fetched it probably is, but director of Easy A and We're the Millers Rawson Marshall Thurber does not give the audience time to contemplate the technicalities as he gleefully recreates a fusion of Die Hard and The Towering Inferno in the action packed and sure to thrill, Skyscraper aided by exquisite cinematography by Oscar winner Robert Elswit (There Will Be Blood).
Den of Thieves star Pablo Schreiber has a brief appearance as Sawyer's friend Ben, but the main hero besides Dwayne Johnson in this film, is the actual skyscraper itself an elegantly designed super structure with a pearl at the top which miraculously turns into a visual hall of mirrors surely inspired by the opening sequence from the Bond film The Man with the Golden Gun.
Audiences should leave their self-doubt at the door and go and watch the action packed Skyscraper which effectively makes use of the 3D viewing to give cinema goers a justified sense of vertigo.
Skyscraper is packed with brilliant sequences that are sure to leave audiences gasping, neatly wrapped up in under two hours and perfectly set in an exotic location like Hong Kong. Cleverly plotted, well-filmed and superbly marketed Skyscraper is another reason why Dwayne Johnson has become one of the 21st century's leading action stars.
Skyscaper gets a film rating of 7 out of 10 and will definitely be a hit with action fans that love a certifiable thrill ride.
Antman

and

the Wasp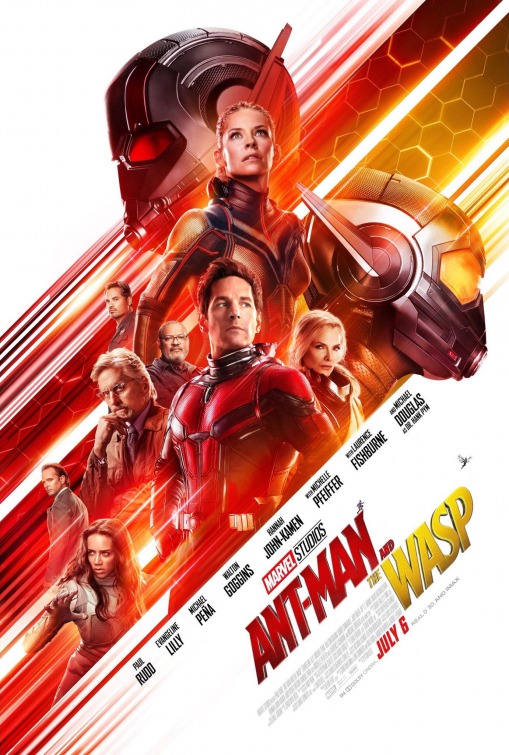 Director: Peyton Reed
Cast: Paul Rudd, Evangeline Lilly, Michael Douglas, Michelle Pfeiffer, Michael Pena, Walton Goggins, Hannah John-Kamen, Laurence Fishburne, Bobby Cannavale, Judy Greer, David Dastmalchian, Randall Park
The Marvel Cinematic Universe is continually expanding with a sequel to the 2015 film Antman, entitled Antman and the Wasp, reprising the original cast along with some newcomers including Walton Goggins (Tomb raider) as Sonny Burch and Oscar nominee Michelle Pfeiffer (Dangerous Liaisons) as Janet van Dyne, long lost wife of Hank Pym played again by veteran Oscar winner Michael Douglas (Wall Street).
Director Peyton Reed returns at the helm with Paul Rudd as Scott Lang aka Antman and Evangeline Lilly as Hope van Dyne aka the Wasp and while most of the nifty action consisting of shrinking or growing strange objects from cars to Hello Kitty dispensers, at times the storyline would seem puerile, it's nevertheless fun entertainment for the kids.
Antman and the Wasp's main storyline consists of the three main characters trying to retrieve a portable laboratory so they can blast themselves into some mystifying quantum realm to retrieve the lost Janet played by Pfeiffer, the narrative is punctuated by some funny scenes provided by Michael Pena who purely shines as Antman's friend Luis in this otherwise malleable superhero drama without many plot twists or a really definable villain.
Of course, clearly aimed at the Marvel fans who have enjoyed the original Antman, Black Panther and The Avengers: Infinity War, Antman and the Wasp is a fun filled comic caper of seismic proportions held together by the witty charm of Paul Rudd as the reluctant supposedly housebound superhero who is desperately trying to be the coolest Dad in San Francisco.
Personally, I would have liked to see more of the hugely talented Michelle Pfeiffer on screen, who appears to be making a major cinematic comeback, but Antman and The Wasp is worth seeing for its radically disproportionate special effects and a particularly clever car chase sequence along the hilly streets of downtown San Francisco. Take the kids, they will love it!
With malleable dimensions, Antman and The Wasp gets a film rating of 7.5 out of 10 and is recommended viewing for those that enjoyed the original film. 
Book
Club
Director: Bill Holderman
Cast: Jane Fonda, Diane Keaton, Candice Bergen, Mary Steenburgen, Andy Garcia, Craig T. Nelson, Don Johnson, Richard Dreyfuss, Alicia Silverstone
Screenwriter Bill Holderman who assisted Michael Arndt in the cinematic adaptation of Bill Bryson's novel A Walk in the Woods, shows his adept hand at directing in the star studded Book Club featuring some legendary Hollywood stars including Oscar winners Jane Fonda (Coming Home, Klute) and Diane Keaton (Annie Hall) along with Candice Bergen (Gandhi, Rules Don't Apply) and Oscar winner Mary Steenburgen (Melvin and Howard).
The four female leads play lifelong friends who form a Book Club based on their mutual love for Erica Jong's scandalous seminal feminist novel Fear of Flying published in 1973 which controversially delved into female sexuality. Over forty years later, the four friends played by these wonderful and still radiant stars, reunite and discuss the Fifty Shades of Grey trilogy.
In an ironic twist of casting, Don Johnson, father of Dakota Johnson who stars in the Fifty Shades Trilogy is featured as Jane Fonda's character Vivian's love interest Arthur, as he attempts to repeatedly woo the wealthy Californian hotelier.
Certainly, Book Cub is aimed at a particular demographic and age group, but what is so refreshing to see is that all these actresses appearing together onscreen in another female driven narrative comedy which is an older, yet quite different version of the all-female cast of the recent Oceans 8 film.
Set mainly in California and Arizona, Book Club is surprisingly enjoyable (even if you are not a wealthy American woman over the age of 70) but it is important that these films continue to be made as it allows older actresses to dazzle viewers onscreen.
And speaking of dazzling, Jane Fonda at 80 years old looks absolutely gorgeous and truly holds her own in this sparkling film as does Diane Keaton as she creates perfect onscreen chemistry in the scenes with her macho pilot Mitchell played by Andy Garcia (The Godfather Part III, Kill the Messenger).
As the Book Club ladies, over bottles of Chardonnay, reassess their love lives in the light of literary stimulation courtesy of Fifty Shades of Grey, Book Club remains a charming, whimsical film about finding or reigniting love in the evening of one's life.
All the leading ladies look more like Fifty Shades of Gorgeous and certainly Book Club is highly recommended as a 21st century re-examination of female sexuality framed by a contemporary social movement which is increasingly dominating pop culture – the MeToo Movement, making this film all the more relevant.
Book Club receives a film rating of 7 out of 10 and audiences should see it to witness the fabulous Jane Fonda shine onscreen again like she did in Paolo Sorrentino's superb 2015 film Youth.
Oceans 8
Director: Gary Ross
Cast: Sandra Bullock, Cate Blanchett, Anne Hathaway, Rihanna, Helena Bonham Carter, Sarah Paulson, Elliott Gould, Richard Armitage, Dakota Fanning, Mindy Kaling
Pleasantville director Gary Ross assembles a truly star studded female cast in the feminine version of Steven Soderbergh's Oceans 11 starring Oscar winners Sandra Bullock (The Blind Side), Cate Blanchett (The Aviator, Blue Jasmine), Anne Hathaway (Les Miserables) alongside Oscar nominated British actress Helena Bonham Carter (The Wings of the Dove), Rihanna and Sarah Paulson (Carol, 12 Years a Slave) as together they pull off a daring jewellery heist during the prestigious Met Gala held annually by Vogue Magazine at the Metropolitan Museum of Art in New York.
Sandra Bullock plays Debbie Ocean, a newly paroled con artist who teams up with the streetwise New Yorker Lou played by Blanchett as they devise a cunning plan to rob the Met Gala and place the blame on Debbie's egotistical art dealing ex-boyfriend Claude Becker played by Richard Armitage.
In short, Oceans 8 is a cleverly written revenge flick with lots of diamonds, a fabulous cast and glamorous settings beautifully assisted by comedian James Corden as the extremely thorough insurance investigator John Frazier, who adds some dry British humour to the entirely fashionable affair.
Audiences should watch out for some well-placed cameo's by veteran Oscar nominated star Elliott Gould (Bob & Carol & Ted & Alice) as Reuben and Dakota Fanning (Man on Fire, War of the Worlds) as Penelope Stern.
What holds Oceans 8 together is the fantastic onscreen chemistry between Sandra Bullock, Cate Blanchett and Anne Hathaway, all of whom make this fashionable heist film thoroughly entertaining.
Oceans 8 is an enjoyable con film with a refreshingly female take on the heist genre, proving that women can do it just as brilliantly as men, which is especially pertinent in the wake of the momentous MeToo movement which rocked Hollywood in 2017 amidst a series of sexual abuse scandals.
Definitely a glittering film for the ladies, Oceans 8 is an ideal girls night out adventure heist with beautiful clothes, diamonds to die for and an inside peak at possibly one of the most glamorous events on the American social circuit, the incredibly gorgeous Met Gala.
Oceans 8, with its slick cons and twisting narrative definitely proves the line immortalized by Marilyn Monroe that Diamonds are a Girl's Best Friend. The film gets a rating of 7.5 out of 10.
Finding Your
Feet
Director: Richard Loncraine
Cast: Imelda Staunton, Celia Imrie, Timothy Spall, Joanna Lumley, John Sessions, David Hayman, Phoebe Nicholls
Oscar nominee Imelda Staunton (Vera Drake) plays Sandra in the British comedy Finding your Feet directed by Richard III and Wimbledon director Richard Loncraine.
Sandra discovers during her husband's retirement party that he has been having an affair for five years which sends her on a journey of self-discovery as she gradually shrugs off the snobbery of her former life and moves in with her hippie older sister Bif played by Celia Imrie (The Best Exotic Marigold Hotel, The Cure for Wellness).
Bif leads a completely unconventional life with the help of her friend Charlie played by British star Timothy Spall (Mr Turner) and soon the pair introduce the uptight Sandra to dance classes and a flash mob dance contest in Piccadilly Circus to create awareness for the aged.
With the able assistance of Bif's hilarious friend Jackie wonderfully played by Absolutely Fabulous star Joanna Lumley, Sandra soon takes up dancing and discovers an entirely different world made all the more charming by the blossoming courtship with Charlie as they wonder down Oxford Street to see the Christmas Lights.
Finding your Feet is a truly delightful British comedy set mainly in London and also in Rome, which adds to the glamour of the film, held together by superb performances by Imelda Staunton and Celia Imrie who play sisters rediscovering their sibling relationship after years of estrangement.
Highly recommended for audiences that enjoyed such films as The Best Exotic Marigold Hotel, Tea with Mussolini and Four Weddings and a Funeral, Finding Your Feet proves that it's never too late to reinvent yourself and discover romance again.
Finding your Feet gets a film rating of 7 out of 10 and is a charming British comedy with a sufficient dash of poignancy to satisfy the tastes of more mature audiences.