Posts Tagged 'Anne Hathaway'
Oceans 8
Director: Gary Ross
Cast: Sandra Bullock, Cate Blanchett, Anne Hathaway, Rihanna, Helena Bonham Carter, Sarah Paulson, Elliott Gould, Richard Armitage, Dakota Fanning, Mindy Kaling, Awkwafina
Pleasantville director Gary Ross assembles a truly star studded female cast in the feminine version of Steven Soderbergh's Oceans 11 starring Oscar winners Sandra Bullock (The Blind Side), Cate Blanchett (The Aviator, Blue Jasmine), Anne Hathaway (Les Miserables) alongside Oscar nominated British actress Helena Bonham Carter (The Wings of the Dove), Rihanna and Sarah Paulson (Carol, 12 Years a Slave) as together they pull off a daring jewellery heist during the prestigious Met Gala held annually by Vogue Magazine at the Metropolitan Museum of Art in New York.
Sandra Bullock plays Debbie Ocean, a newly paroled con artist who teams up with the streetwise New Yorker Lou played by Blanchett as they devise a cunning plan to rob the Met Gala and place the blame on Debbie's egotistical art dealing ex-boyfriend Claude Becker played by Richard Armitage.
In short, Oceans 8 is a cleverly written revenge flick with lots of diamonds, a fabulous cast and glamorous settings beautifully assisted by comedian James Corden as the extremely thorough insurance investigator John Frazier, who adds some dry British humour to the entirely fashionable affair.
Audiences should watch out for some well-placed cameo's by veteran Oscar nominated star Elliott Gould (Bob & Carol & Ted & Alice) as Reuben and Dakota Fanning (Man on Fire, War of the Worlds) as Penelope Stern.
What holds Oceans 8 together is the fantastic onscreen chemistry between Sandra Bullock, Cate Blanchett and Anne Hathaway, all of whom make this fashionable heist film thoroughly entertaining.
Oceans 8 is an enjoyable con film with a refreshingly female take on the heist genre, proving that women can do it just as brilliantly as men, which is especially pertinent in the wake of the momentous MeToo movement which rocked Hollywood in 2017 amidst a series of sexual abuse scandals.
Definitely a glittering film for the ladies, Oceans 8 is an ideal girls night out adventure heist with beautiful clothes, diamonds to die for and an inside peak at possibly one of the most glamorous events on the American social circuit, the incredibly gorgeous Met Gala.
Oceans 8, with its slick cons and twisting narrative definitely proves the line immortalized by Marilyn Monroe that Diamonds are a Girl's Best Friend. The film gets a rating of 7.5 out of 10.
Alice

Through

the

Looking Glass
Director: James Bobin
Cast: Mia Waskowska, Johnny Depp, Anne Hathaway, Helena Bonham Carter, Sacha Baron Cohen, Lindsay Duncan, Rhys Ifans, Stephen Fry, Timothy Spall, Michael Sheen, Richard Armitage, Andrew Scott, Alan Rickman
Contrary to popular belief the author of Alice Through the Looking Glass was not high on drugs although the latest film version by James Bobin seems to suggest otherwise. Victorian author Lewis Carroll was prone to doses of Laudanum but certainly not to hallucinations due to any mind altering drugs. Carroll whose real name was Charles Lutwidge Dawson did hang out with the Pre-Raphaelites and obviously possessed a vivid imagination.
Following the immense success of director Tim Burton's Alice in Wonderland in 2010, Alice Through the Looking Glass fortunately reassembles the same cast with a much larger part for Johnny Depp as the Mad Hatter.
Additions to the new film, include British comedian Sacha Baron Cohen (Hugo, Borat, The Dictator) as Father Time and Rhys Ifans (Notting Hill) as the misplaced father of the Mad Hatter, Zanik Hightopp.
Mia Wasikowska reprises her role as Alice Kingsleigh and Lindsay Duncan (Birdman) stars as her mother Helen Kingsleigh.
Visually, Alice Though the Looking Glass is a real treat, a sublime and whimsical journey into a fantasy world in which Alice must travel through time and a looking glass and not only battle Father Time but the evil Red Queen of Hearts, wonderfully played again by Helena Bonham Carter.
This time the evil Queen seeks vengeance upon her sister Mirana, played with virginal innocence by Anne Hathaway, plunging Wonderland into chaos as the Queen of Hearts against the warnings of Father Time, confronts a past version of herself, a jealous little girl who was blamed for her sister's naughty tricks of stealing tarts.
Whilst Alice Through The looking Glass will certainly appeal to a younger female audience, its themes are certainly of an adult nature – never regret the past, never try and take revenge on your family and most importantly always strive for what is your rightful inheritance. Mia Wasikowa is utterly believable as the headstrong Alice who in the prologue of the film is battling to save her late father's ship from being taken away by greedy Victorian creditors.
Alice Through the Looking Glass, despite some big names in the cast is a brilliant ensemble piece, beautifully told and superbly directed by James Bobin under the guidance of Tim Burton.
Naturally Depp is completely whacky and delightful as the incorrigible mad hatter, but it's really Sacha Baron Cohen who steals the show as the ubiquitous Father Time who proves that time is really on our side, despite the proverbial warning.
This rewarding sequel is fun, visually fantastic and highly recommended viewing, a whimsical journey through the looking glass into a parallel universe in which time paradoxically becomes an embodiment of both past regrets and future reconciliations.
THE  66th BAFTA AWARDS /
THE BRITISH ACADEMY FILM AWARDS
Took place on Sunday 10th February 2013 in London
BAFTA WINNERS IN THE FILM CATEGORY:
Best Film: Argo
Best Director: Ben Affleck – Argo
Best Actor: Daniel Day-Lewis – Lincoln
Best Actress: Emmanuelle Riva – Amour
Best Supporting Actor: Christoph Waltz – Django Unchained
Best Supporting Actress: Anne Hathaway – Les Misérables
Rising Star: Juno Temple
Best British Film: Skyfall directed by Sam Mendes

Best Original Screenplay: Quentin Tarantino – Django Unchained
Best Adapted Screenplay: David O. Russell – Silver Linings Playbook
Best Costume Design: Anna Karenina
Best Foreign Language Film: Amour directed by Michael Haneke
Source: 66th BAFTA Awards
The

Intern
Director: Nancy Meyers
Cast: Robert de Niro, Anne Hathaway, Rene Russo, Nat Wolff, Adam DeVine, Celia Weston, Anders Holm, Andrew Rannells, Zack Pearlman
American director and screenwriter Nancy Meyers has always been brilliant at churning a reasonable collection of romantic comedies touching quite often on the social nuances of contemporary American culture. The director of What Women Want and Something's Gotta Give, now teams up two Oscar winners the legendary Robert de Niro (Raging Bull, Silver Linings Playbook) with Anne Hathaway (Les Miserables, The Devil Wears Prada) in a wonderful romantic comedy The Intern focusing on a widower Ben Whitaker who finds after his wife's death has far too much time on his hands.
Whitaker, fastidious, presentable and dependable, expressively played by de Niro applies for a position as an intern at an online fashion site, which is young chic start-up which basically sells and delivers new clothing bought on the internet much like the South African versions Zando and Spree.
The start-up aptly named About the Fit is managed and owned by the driven entrepreneur Jules Ostin played by Hathaway who at first channels too much of her character from The Devil Wears Prada, but then finds her own form for the successful working mother with a stay at home husband, Matt, played by Anders Holm.
Initially, the internship program is designed to give senior citizens a chance to work in the digital era and exposure to the 21st century work environment, which Meyers accurately draws some brilliant observations between the baby boom (born during or after World War 2) generation and the millennial generation (born in the 1990's), a divide made all the more problematic with the fast acceleration of digital and online technologies. The fact that Whitaker spent most of his career printing New York telephone directories and one of the naive receptionists asks if they still make phone books, is testament to this generation gap.
The narrative of The Intern takes on some more serious issues in the second half of the film, after a rather languid beginning punctuated only by some jokes and a caper involving stealing a laptop. The film is brilliantly enlightened by the accessible Rene Russo (Nightcrawler, Thor) as the company masseur Fiona in a wonderful scene where she massages Whitaker at his desk, much to the delight of the twenty year olds sitting on either side of him.
As the film progresses, director Nancy Meyers gives more scope for her two main leads to show some real acting talent even though the script at times is slightly saccharine. De Niro's character Whitaker really is used as a vehicle, both literally (he becomes Jules's driver) and figuratively as a means of Jules realizing that her career is not as important as her marriage and that sometimes its wisdom not business acumen that can help save a company which is threatening to become too successful too soon. A pitfall of many start up tech companies especially in the increasingly attention demanding digital age.
The Intern is recommended viewing for those that enjoy romantic comedies with a bit more depth, reasonably well written and soothingly directed by Meyers. This is a great, feel good comedy without resorting to crude language or stupid antics.
70th Golden Globe Awards
Took place on Sunday 13th  January 2013 hosted by the Hollywood Foreign Press Association
Golden Globe Winners in The Film Categories:
Best Film Drama – Argo
Best Director: Ben Affleck – Argo
Best Film Musical or Comedy – Les Miserables
Best Actor Drama: Daniel Day-Lewis – Lincoln
Best Actress Drama: Jessica Chastain – Zero Dark Thirty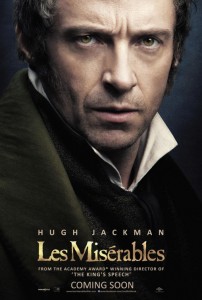 Best Actor Musical or Comedy: Hugh Jackman – Les Miserables
Best Actress Musical or Comedy: Jennifer Lawrence – Silver Linings Playbook
Best Supporting Actor: Christoph Waltz – Django Unchained
Best Supporting Actress: Anne Hathaway – Les Miserables
Best Foreign Language Film: Amour (France)
Source: http://en.wikipedia.org/wiki/70th_Golden_Globe_Awards
Interstellar
Director: Christopher Nolan
Cast: Matthew McConaughey, Anne Hathaway, Jessica Chastain, Michael Caine, John Lithgow, Casey Affleck, Matt Damon, Wes Bentley, Ellen Burstyn, David Oyelowo, Topher Grace, Timothee Chalamet
Memento meets Gravity in director Christopher Nolan's epic space opera, Interstellar, a convoluted time travel astrophysical fantasy about a NASA astronaut who gets caught up in a mission to travel to an alternative Galaxy in a bid to save the remaining humanity on earth from a dwindling supply of oxygen.
Assembling an all star cast is what director Nolan does best at insuring that his films have credibility as a blockbuster and with a range of stars, yet unlike Inception or The Prestige, his earlier films which dealt with dreams and magic, Interstellar tends to emulate the great director Stanley Kubrick's masterpiece: 2001: A Space Odyssey, yet falls short of its celestial aspirations, by not being a touch more sinister.
In parts, Interstellar is brilliant and ambitious, wonderfully scored with atmospheric music by Hans Zimmer and incredibly shot with those signature spiralling shots that Nolan is so fond of. However, Interstellar suffers from two shortcomings, taking the films weighty significance too seriously and secondly a serious lack of editing. The first and last sections of Interstellar weighs down the brilliance and absolute clarity of the middle section.
With McConaughey fresh from his Oscar win on Dallas Buyers Club coupled with Hathaway fresh from her win in Les Miserables it seems like a perfect casting choice, but it's flawed by its very contrivance. The part which does stand out so brilliantly is that of Murphy superbly played by the underrated Oscar nominee Jessica Chastain as Cooper's grownup and embittered daughter who is hell bent in following in her father's footsteps and traveling beyond the black hole to discover the reason for the earth's imminent demise. Watch out for cameo appearances by Ellen Burstyn, Wes Bentley and David Oyelowo.
Fellow Oscar nominee Casey Affleck is also good as the stubborn yet stoical brother of Murphy in a part which is severely underwritten along with that of Oscar winner Michael Caine as Professor Brand who plays Hathaway's enigmatic father, a scientist who masterminds the space exploration from the outset knowing that the intended consequences of such a doomed mission are dire and certainly revelatory at best.
Interstellar 's post-structural narrative gets more blurred, the further the astronauts travel through a celestial wormhole, around a vast system known as Gargantuan, soon realizing that their mission much like their own destiny is doomed to fail, resulting in a multitude of Lazarus missions.
The only subversive element is a rescued astronaut Mann, wonderfully played by Matt Damon, found on a frozen wasteland of a planet which seems to be the only alternative to the dust clad environment of a doomed earth, who is wily in his attempts to escape his icy predicament.
With a script by Jonathan Nolan, Interstellar suffers from too little said and not enough explained, while most of the narrative rests on some remarkably clever visual clues which only make sense in the last section of the film, which resembles a pastiche of Inception mixed with an unquantifiable mystical factor.
The cast with a threadbare script had little else to work on besides their own doomed destinies and the terrors of space. Thus there is loads of human anguish thrown in along with some stunning visuals, but at nearly three hours long Interstellar could have been expertly edited to make a more concise tale of 21st century doomed space exploration. Besides Anne Hathaway just doesn't cut it as an astronaut and should stick to period dramas, where at least the claustrophobia is explained by historical context and not subliminal infinity.
As an avid fan of Christopher Nolan films and trust me I loved The Dark Knight Trilogy and Inception, I personally found Interstellar fascinating yet an ultimately flawed and slightly contrived piece of cinema crippled by its unendurable length, without enough plot twists to generate sufficient audience excitement. Like Inception, Interstellar will certainly be open to discussion.
Get Smart
Director: Peter Segal
Cast: Steve Carrell, Anne Hathaway, Alan Arkin, Terry Crews, Terence Stamp
Review originally published in July 2008
After Anne Hathaway's wonderful performances in Brokeback Mountain, The Devil Wears Prada and Becoming Jane, I was intrigued to discover her cast opposite comedian Steve Carrell (The 40Year Old Virgin) for the Spy adventure, Get Smart, a big screen adaptation of the 1960's American comedy TV show.
Get Smart started off as quite an amusing film, more spoof than serious action, but what occurs is that the first half of the film, making excellent use of its initial stylish Moscow and Russian locations, fares better than the second half, set in a tired-seen-it-before downtown Los Angeles. With Mel Brooks famed for such classic comedies as To Be or Not to Be as an executive producer, I was expecting a comedy, however the joke in Get Smart starts running thin to such an extent that by the end of the film, it seems to be more on the audience who actually spent time and effort sitting through a two-hour movie, than on this half-hearted affair comprising of a mismatched pastiche of James Bond and Mission Impossible films, with scenes reminiscent of Octopussy and Entrapment combined with more high-octane car and plane chase sequences certainly suggestive of the Terminator movies.
Steve Carrell is a talented actor as noted in such independent films as Little Miss Sunshine, yet his particular style of comedy is confusing at times, sometimes serious, but capably funny. His lack of desire at playing the character completely straight or inanely goofy, gives the audience a mixed idea of Get Smart's main protagonist Maxwell Smart, a desk-bound covert analyst who gets the opportunity to experience the long-anticipated thrills of dangerous espionage fieldwork.
Anne Hathaway, who makes the best of the material of this shallow spoof whose greatest flaw is not taking itself too seriously, seems almost lost as to how to play the super-efficient Agent 99, deadpan or with a comedic wit, leaving her floundering as the better half of a miscast screen couple. Either way she is left grappling for a more meaningful character, not to mention storyline, only to be left smirking on the sidelines, almost acknowledging herself that Get Smart falls short of the mark, which is clearly a waste for such a talented actress.
In the hands of a more astute director such as the brilliantly comic Blake Edwards, this film could have been a really witty sophisticated and stylish spy-drama in the vein of the classic Pink Panther movies, especially given the talents involved. Director, Peter Segal whose previous Adam Sandler movies, The Longest Yard and Anger Management, fails to pool the adequate acting resources and whilst there are too few genuinely hilarious moments in Get Smart, most notably the lavatory scene in the airplane and the sequences set in Russia, particularly Moscow, while the Hollywood finale leaves one wishing for a more substantial filmic experience.
Such great character actors like Alan Arkin and Terence Stamp are wasted in this poorly directed film, which could have been so much sharper than what it was aiming for. Get Smart saving grace is that it portrays Moscow as smarter than Hollywood, which inevitably is always worth a laugh.
Don Jon
Director: Joseph Gordon-Levitt
Stars: Joseph Gordon-Levitt, Scarlett Johansson, Tony Danza, Julianne Moore, Glenne Headley, Brie Larsen
Joseph Gordon-Levitt's directorial debut is impressive as he explores the sexual maturity of a young New Jersey barman in the hilariously bold and truthful Don Jon, in which he also wrote and takes the title role. Gordon-Levitt clearly knows he has good screen presence and after a string of appearances in successful films recently from The Dark Knight Rises to Lincoln to Premium Rush, as an actor he has obtained the confidence to write, direct and star in Don Jon, which at times is like a young man's version of a Woody Allen movie without the Manhattan neuroses.
Gordon-Levitt plays a young narcissist bar tender Joe Martello, who pumps iron at his local gym looking into a mirror, goes to the local nightclub and scores girls frequently with his boyish looks and dim-witted charm. Even after sex with a voluptuous babe, Don Jon sneaks off to his laptop and watches porn. And that's where the problem lies!
Don Jon cleverly explores the seldom discussed male obsession with pornography and more incisively the increasing internet driven phenomenon of porn addiction. For Martello's private vice is never found out until he starts dating the gorgeous yet demanding Barbara Sugarman wonderfully played by Scarlett Johansson (Girl with a Pearl Earring, Vicky Christina Barcelona, Hitchcock) who invariably catches him watching online porn.
Interspersed with the relationship with Barbara, is Don Jon's rival relationship with his overbearing aggressive father in some superb scenes with Tony Danza of the 80's TV series Who's The Boss? and Jon's own relationship with the local Catholic Church, where he attends mass every Sunday and always land up in the confession, revealing to an unforeseen priest his past week's sexual activities and exploits. As director Gordon-Levitt deftly explore the filmic relationship between sex and guilt as he splices religious iconography with explicit scenes of pornography.
If Don Jon through its humour and boldness touches a nerve with its male audience, then it's succeeded! Gordon-Levitt 's Don Jon is at that tender age in a young man's life when he has broken away from the family home but not quite settled down with his own family. His mother Angela is all gush and glamour, purposefully overplayed by Glenne Headley (Dirty Rotten Scoundrels) while Jon's sister is silent, sitting at the dining room table texting and observing (a droll cameo by Brie Larsen) offering only one salient observation about her brother's relationship with the sultry Barbara.
What raises Don Jon from being a crass comedy is Gordon-Levitt's handling of the delicate subject of porn addiction along with a brilliant performance by Oscar nominee Julianne Moore who plays the free-thinking, pot smoking Esther who befriends Jon in his night college course. Then of course Julianne Moore was in such sexually explicit films as Boogie Nights and Chloe, so that casting was perfect.
Don Jon explores the affect pornography can have on real relationships, while honestly examines the sexual maturity of a young man in the digital age as he balances his sexual urges with guilt and family in contemporary New Jersey. A recommended, thought-provoking and very funny film, Don Jon is recommended viewing, a clever film by new director Gordon-Levitt whose talents now seem limitless.
85th Academy Awards / The Oscars
24th February 2013
Oscar Winners at the 85th Annual Academy Awards
Best Film – Argo
Best Director – Ang Lee – Life of Pi
Best Actor – Daniel Day-Lewis – Lincoln
Best Actress – Jennifer Lawrence – Silver Linings Playbook
Best Supporting Actor – Christoph Waltz – Django Unchained
Best Supporting Actress – Anne Hathaway – Les Miserables
Best Original Screenplay – Quentin Tarantino – Django Unchained
Best Adapted Screenplay – Chris Terrio – Argo
Best Foreign Language Film – Amour directed by Michael Haneke (Austria)
Best Documentary – Searching for Sugarman
Best Cinematography – Claudio Miranda – Life of Pi
Best Editing – William Goldenberg – Argo
Best Sound Editing – Per Hallberg, Karen Baker Landers – Skyfall
& Paul N. J. Ottosson – Zero Dark Thirty (tie for this Oscar).
Best Original Song – "Skyfall" by Adele – Skyfall
Best Original Score – Mychael Danna – Life of Pi
Best Costume Design – Jacqueline Durran – Anna Karenina
Best Production Design – Rick Carter, Jim Erickson – Lincoln
Source: http://www.oscars.org/
Les Miserables
Watching Tom Hooper's sumptuous film version of Les Miserables, I felt like I was back in a Theatre in London's West End witnessing the spectacular musical which has been a hit in both the West End and Broadway for decades. Director Hooper's insistence that all the actors sing every song and not do any lip-syncing pays off making Les Miserables a magnificent emotionally charged film never straying far from the theatrical version. See Les Miserables on the biggest cinema screen available and with all the brilliant Dolby surround sound and viewers will experience the true beauty of such  ambitious musical theatricality.
From the Oscar-winning director of the King's Speech, this film version of Les Miserables was in brilliant hands and he has chosen a superb cast to star in the musical adaptation of Victor Hugo's early 19th century novel about the perils and poverty brought on in France as a result of the Napoleonic Wars.  Not since Rob Marshall's stunning cinematic version of Chicago, have I enjoyed a film version of a West End musical so much.
Hugh Jackman who is no stranger to Broadway is perfectly cast as the embittered reformed thief Jean Valjean and Anne Hathaway is superb as the tragic Fantine, a seamstress who turns to prostitution to survive and protect her daughter Cosette from impoverishment. Both Hathaway and  Jackman have deservedly won 2013 Golden Globe Awards for Best Supporting Actress and Actor in a musical or comedy. Hooper shoots all the great songs of Les Miserables close up capturing the raw emotion of the actors turned singers as they perform I Dreamed a Dream, Master of the House and Suddenly.
Les Miserables is big on emotion, epic in scale especially the production design and the faithful early 19th century costumes and director Hooper has skilfully managed to create the perfect blend of romance, sorrow, heroism and injustice, painting a distinctly French cinematic canvas enough to make Victor Hugo proud. Rising British star Eddie Redmayne last seen opposite Michelle Williams in My Week with Marilyn and Amanda Seyfried are gorgeous as the young lovers:  the revolutionary Marius and the demure yet mature Cosette.
Helena Bonham Carter and Sacha Baron Cohen provide some comic relief amidst all this sumptuous misery as the scheming tavern owners out to deceive Valjean. Oscar Winner Russell Crowe plays Javert the treacherous constable out to finally catch up with the ever illusive Valjean.
With a brilliant score by Claude-Michel Schonberg and expert direction by Tom Hooper, Les Miserables is a must see for any musical lover and is breathtaking in its scope, brutality and visual imagery especially the rousing depiction of the 1832 Paris uprisings. All the cast are perfect and it's no wonder that the film has received such critical acclaim so far.
For those that are unsure of seeing a two and a half hour film of Les Miserables, I never looked at my watch once, being completely enthralled in this gorgeous, emotional and spectacular cinematic masterpiece, successfully bringing the theatricality of a West End musical to the Big Screen. Highly Recommended!