Posts Tagged 'Benedict Cumberbatch'
Doctor Strange in the Multiverse of Madness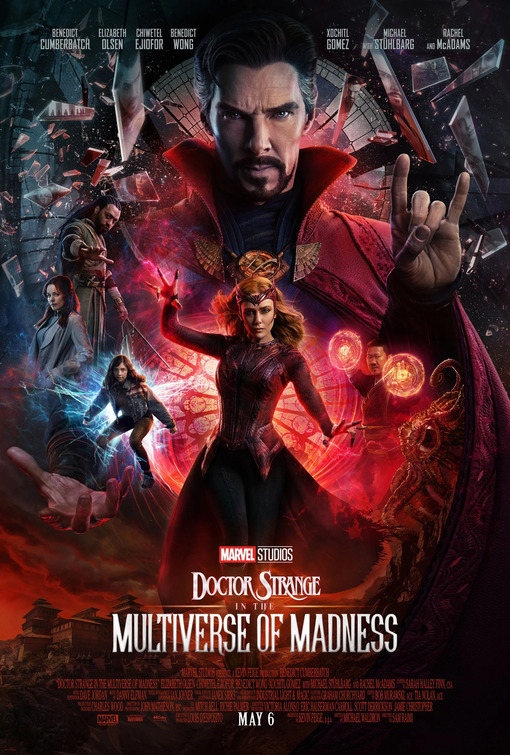 Director: Sam Raimi
Cast: Benedict Cumberbatch, Elizabeth Olsen, Rachel McAdams, Chiwetel Ejifor, Benedict Wong, Xochitel Gomez, Michael Stuhlbarg, John Krasinki, Patrick Stewart, Hayley Atwell, Lashana Lynch, Anson Mount
Running Time: 2 hours and 6 minutes
Film Rating: 6 out of 10
Six years after the first Doctor Strange film was made in 2016, Oscar nominee Benedict Cumberbatch (The Imitation Game, The Power of the Dog) reprises his role as the neurosurgeon turned warlock Doctor Steven Strange in director Sam Raimi's utterly bizarre sequel Doctor Strange in the Multiverse of Madness starring a new batch of stars while only Rachel McAdams, Benedict Wong and Chiwetel Ejifor reprise their roles from the first film.
Director Sam Raimi best known for doing the original Spiderman trilogy with Tobey Maguire and Kirsten Dunst but the director is far better known for helming some classic horror flicks including Drag Me to Hell in 2009 and The Evil Dead in 1981, takes this Doctor Strange sequel and turns the superhero genre on its head and transforms it into a ghoulish mixture of the bizarre with an extremely heavy dash of CGI thrown in. The storyline is incoherent and utterly weird.
This time Doctor Strange has to save a multiverse superhero called America Chavez played by Xochitel Gomez from the clutches of the Scarlett Witch also known as Wanda Maximoff wonderfully played with a demonic edge by Elizabeth Olsen (Avengers: Infinity War, Wind River) as she seeks to use America's superpowers to open the elusive book of Ashanti. Elizabeth Olsen is by far the best actress in this film as she gives the Scarlett Witch a degree of emotional depth and conflicting maternal instinct, making her character a far more unlikely villain.
Plenty of witchcraft and dream walking abound through a multitude of crazy universes including a particularly bizarre scene whereby Doctor Strange faces the Illuminati made up of Baron Mondo played by Chiwetel Ejifor (12 Years a Slave, Dirty Pretty Things, Kinky Boots), Captain Carter played by Hayley Atwell and wait for it…. an X-Men Professor and one of the characters of The Fantastic Four. Clearly this is not the multiverse of reality one expects.
Here the film completely loses the plot and director Sam Raimi goes for an utter freak show of scary scenes involving ghosts and demons instead of rounding off the narrative in a tightly controlled script.
After watching Benedict Cumberbatch deliver such a brilliant performance in The Power of the Dog, he looked continually anguished throughout this film at having to do a Doctor Strange sequel and not even a good one at that.
Essentially, my question is that if Marvel is so desperate to control the cinematic universe why did they get a horror director to take charge of what is meant to be a superhero film?
After watching the success of Spiderman: No Way Home and the excellent origin film The Batman, I was quite disappointed with the visual mess that is Doctor Strange in the Multiverse of Madness even despite some lavish special effects.
Doctor Strange in the Multiverse of Madness gets a film rating of 6 out of 10 and audiences should expect a superhero film which is way more scary than expected.
Spiderman: No Way Home
Director: Jon Watts
Cast: Tom Holland, Zendaya, Marisa Tomei, Benedict Cumberbatch, Jon Favreau, Jamie Foxx, Benedict Wong, Willem Dafoe, Alfred Molina, Charlie Cox, J. K. Simmons, Tobey Maguire, Andrew Garfield, Angourie Rice, Rhys Ifans, Thomas Haden Church, Tom Hardy, Jacob Batalon, Tony Revolori
Film rating: 7.5 out of 10
Running Time: 2 hours and 28 minutes
Director Jon Watts went all out in the third Spiderman film to feature Tom Holland in Spiderman: No Way Home, capitalizing on both the success of all the previous Spiderman films and expertly capitalizing on Sony's new deal with Marvel Studios to incorporate Spiderman into The Avengers as part of a multi-million dollar trademark agreement between Sony and Disney Studios.
The sprightly Tom Holland reprises his role as Spiderman, but now he has completed school and him and his friends are applying to go to MIT which is the prestigious Massachusetts Institute of Technology in Boston.
Before Peter Parker aka Spiderman can enter college, he has to deal with the immense media fallout of his alter ego being blown wide open by the previous villain Mysterio played by Jake Gyllenhaal in 2019's Spiderman: Far From Home.
With pure imagination and skill, director Jon Watts makes Spiderman: No Way Home a far darker comic book adventure as Peter Parker has to contend with some uninvited guests from his previously unknown past, courtesy of a spell which he requested the pompous wizard Doctor Strange to cast on everyone forgetting that Peter Parker is in fact Spiderman. The spell obviously goes terribly wrong….
Much to his horror, some past evil villains emerge to take revenge again on Spiderman including Oscar winner Jamie Foxx (Ray) as Electro; Oscar nominee Willem Dafoe (Platoon, Shadow of a Vampire, The Florida Project, At Eternity's Gate) as the Green Goblin and Alfred Molina as Doc Octopus.
Spidey has to contend with these new villains as well as pressure from an increasingly gruff Doctor Strange played again by Oscar nominee Benedict Cumberbatch (The Imitation Game) who continually treats the young Peter Parker like an irresponsible college kid, which he essentially is.
Without giving any spoilers away, Spiderman: No Way Home is a fun filled Super hero film which will be sure to satisfy all the fans of the previous films. Audiences must stay beyond the closing credits to catch a glimpse of another Marvel monster who is desperate to meet the wayward web slinger.
Tom Holland does a wonderful job as Spiderman and even looks quite buff in the role compared to the first to films, but it is really director Jon Watts that makes the entire 2 and a half hour spectacle visually impressive channelling all that influence which acclaimed British director Christopher Nolan had on him. Clearly, Inception played a big part in Jon Watt's directorial maturity.
Spiderman: No Way Home gets a film rating of 7.5 out of 10 and is immensely enjoyable family viewing.
Judging by how full the cinema was, this film is the theatrical blockbuster that 2021 so desperately needs. Watch it in cinemas now.
The Power of the Dog
Director: Jane Campion
Cast: Benedict Cumberbatch, Kirsten Dunst, Kodi Smit-McPhee, Jesse Plemons, Keith Carradine, Frances Conroy, Alistair Sewell, George Mason, Thomasin McKenzie, Alice Englert
Film Rating: 9 out of 10
Running Time: 2 hours and 6 minutes
This film is only available to watch on the Netflix streaming service
After a hiatus from filmmaking for over a decade, acclaimed New Zealand film maker and director Jane Campion returns with a tightly wrought Western style family drama The Power of the Dog which recently had its glamourous world premiere at the 2021 Venice International Film Festival.
Set in Montana in 1925, The Power of the Dog is a superbly directed cinematic adaptation of a novel by Thomas Savage about Rose Gordon and her son Peter Gordon played respectfully by Kirsten Dunst (Interview with a Vampire, Marie Antoinette, The Beguiled) who gives an Oscar worthy performance and Kodi Smit-McPhee (Romeo and Juliet, The Road) who deserves an Oscar nomination for Best Supporting Actor at the 2022 Academy Awards.
Smit-McPhee's performance is truly phenomenal matched only by the film's other brilliant performance given by Oscar nominee Benedict Cumberbatch (The Imitation Game) as the hyper-masculine and brutish Phil Burbank, a charismatic Montana rancher. British star Benedict Cumberbatch also deserves another Oscar nomination for Best Actor for his performance in The Power of the Dog.
When Phil's younger brother George Burbank, played by Kirsten Dunst's real life husband Jesse Plemons marries the fragile Rose Gordon, he attempts to introduce Rose and her son Peter into the life of the wealthy Burbank family, Montana ranchers complete with land, arrogance and an absolute disdain for the native Americans.
Rose has to contend with sharing the sprawling mansion in Montana with her vile and threatening brother-in-law Phil Burbank, who feels nothing at gelding cattle barehanded or swimming naked in a local river covered in mud. Phil is ruthless, nasty and filled with pent-up-rage. Cumberbatch's performance is absolute startling as he plays against type and every scene with him and Kirsten Dunst crackles with tension and that underlying threat of violence.
Into this electrifying atmosphere, quietly appears Rose's son Peter Gordon who is studying to be a surgeon, a shy and awkward young man with a sinister habit of vivisection and harbouring a covert sexual desire.
Peter Gordon is mocked openly by Phil Burbank and his gang of macho ranchers for being a nancy boy or a faggot. He wears strange shoes and displays no interest in anything physical especially tennis.
When Phil Burbank and Peter Gordon strike up an unlikely bond, Rose cannot cope with her fragile son being bullied by her brutish brother-in-law and takes to the bottle.
Despite the fact that The Power of the Dog should have been shown at cinemas and is only available on Netflix, one cannot help but imagine watching director Jane Campion's film on a big screen for as a masterful director she paints beautiful and complex cinematic strokes, touching on such issues as sexuality, addiction, power dynamics and more significantly the devious mind of the male psyche.
Every shot of The Power of the Dog is beautifully crafted and the entire narrative which is psychological in nature is expertly acted by Benedict Cumberbatch, Kirsten Dunst and Kodi Smit-McPhee.
The Power of the Dog is not going to appeal to everyone, but that wasn't director Jane Campion's intentions. Her Oscar winning film The Piano didn't either.
If viewers loved The Piano then they will enjoy The Power of the Dog, a masterful tale of sinister family dynamics, of voyeurism and forbidden sexual desire, of lust and carnage with an ending that is both disturbing and brilliant.
The Mauritanian
Director: Kevin Macdonald
Cast: Tahar Rahim, Jodie Foster, Shailene Woodley, Denis Menochet, Benedict Cumberbatch, Clayton Boyd, Langley Kirkwood
The Last King of Scotland director Kevin Macdonald tackles a divisive subject in his latest film, The Mauritanian, which focuses on the mistreatment of inmates at the notorious Guantanamo Bay prison in Cuba run by the Americans post 9/11 for the rendition, capture and torture of suspected terrorists linked to the Twin Towers attack in New York in September 2001.
The Mauritanian was shot in the Western Cape, South Africa in 2019 and features an international cast including French actor Tahar Rahim as the unfortunate prisoner Mohamedou Ould Slahi. Rahim's performance is superb, displaying a levity which conceals the horrific torture that Slahi endured included waterboarding and psychological torture.
To add some significance to the cast, is another brilliant performance by two time Oscar winner Jodie Foster (The Accused, The Silence of the Lambs) as the hard-edged defence attorney Nancy Hollander who is joined by her young assistant Teri Duncan played by Shailene Woodley (The Descendants, The Fault in my Stars) to build a case for Slahi's release.
Oscar nominee Benedict Cumberbatch (The Imitation Game) plays American military prosecutor Stuart Couch who is meant to convict Mohemedou Ould Slahi of colluding with the 9/11 terrorists in Germany back when he was living there. Couch's prosecution rests on the assumption that Slahi is definitely guilty until all the redacted files on his capture and initial confession are released as privileged information for both sides of the law.
Told in a series of flashbacks to Slahi's childhood in Mauritania which is a North West African country located at the edge of the Sahara Desert, The Mauritanian is a fascinating true story of one man's wrongful detention and the years it took through justifiable legal processes to release him from Guantanamo Bay.
As a film based on a real life event, director Kevin Macdonald tends to over-emphasize the torture scenes, which are numerous and disturbing and under-emphasizes the American political climate in which the legal case was being conducted in.
Audiences must remember that The Mauritanian is a British film, which justifies the inexplicable casting of Benedict Cumberbatch as a quintessential American complete with a Southern accent. What holds this film together are the two diametrically opposed performances of Jodie Foster as defence lawyer Nancy Hollander and the outstanding Tahar Rahim as the client, Mohemedou Ould Slahi, a foreigner trapped in a strange prison which is above the law, basically a victim surrounded by wolves.
The script for The Mauritanian was not brilliant and the film could have been edited extensively, which explains the reason this BBC film missed the cut at the 2021 Oscar nominations.
The Mauritanian gets a film rating of 7.5 out of 10 and is worth watching but comes with a warning of some disturbing torture scenes.
1917
Director: Sam Mendes
Cast: Dean-Charles Chapman, George McKay, Daniel Mays, Colin Firth, Benedict Cumberbatch, Andrew Scott, Mark Strong, Claire Duburcq, Richard Madden
After being entangled with the Bond franchise and directing two films specifically Skyfall and Spectre, director Sam Mendes returns to a more intimate yet visually astounding portrait of war in the spectacular film 1917.
1917 is a major cinematic achievement as the entire film is done in one shot echoing Joe Wright's astounding directing achievement in his World War Two drama Atonement. Mendes does something better. He directs 1917 from the point of view of two soldiers Lance Corporal Blake played by Dean-Charles Chapman (Blinded by the Light) and Lance Corporal Schofield played by George Mackay (Captain Fantastic, Pride).
Set in less than a twenty-four hour period on the 6th April 1917, this incredible film follows the terrorizing journey of two young British soldiers who are tasked with delivering a message deep in enemy territory that will prevent 1,600 men from walking into a deadly trapped set by the Germans in Northern France.
What makes 1917 so utterly riveting is not so much the acting as the visual interpretation of this harrowing journey beautifully photographed by Oscar winning cinematographer Roger Deakins (Blade Runner: 2049) with a haunting original score by Thomas Newman.
1917 is the reason to still watch films in the cinema – it is absolutely perfect and as war films go, this is one of the finest multi-layered interpretation of trench warfare ever conceived on film. Sam Mendes does a sterling job in memory of his Grandfather who fought in World War One.
1917 is a masterpiece of film making, poignant, riveting and epic, a massive landscape punctuated by the most intimate and heart wrenching scenes especially the night sequence in a burnt out French Village which has a fiery backdrop or the spectacular river sequence which eventually leads to the final scene which is equally explosive, while portraying all the intimacies and horrors of War.
With brief scenes by supporting actors including Oscar winner Colin Firth (The King's Speech) and Oscar Nominee Benedict Cumberbatch (The Imitation Game), 1917 belongs to the two relatively unknown young actors Dean-Charles Chapman and George Mackay, who betray all the horror, devastation and exhaustion of trench warfare combined with the nonchalance of killing.
1917 is an incisive portrait of courage and bravery and of men finding their compassion while being tested under the most brutal circumstances. Everyone should watch this film. Sam Mendes has achieved his cinematic masterpiece.
Cinematically and historically, 1917 is highly recommended viewing and gets a film rating of 9.5 out of 10. Experience this film in a cinema. It's breath taking.
The Current War
Director: Alfonso Gomez-Rejon
Cast: Benedict Cumberbatch, Michael Shannon, Nicholas Hoult, Tom Holland, Katherine Waterston, Tuppence Middleton, Matthew Macfadyen, Damien Molony, John Schwab, Conor MacNeill
Film Rating: 8 out of 10 – Highly Recommended Viewing
Director Alfonso Gomez-Rejon served as second unit director to Martin Scorsese, Nora Ephron and Alejandro Gonzalez Inarritu and follows his second feature film Me and Earl and the Dying Girl with The Current War featuring a host of British and American stars including Oscar nominee Benedict Cumberbatch (The Imitation Game) as electricity inventor Thomas Edison opposite Oscar nominee Michael Shannon (Nocturnal Animals) as George Westinghouse.
Set in America in the 1880's and the events leading up to the Chicago World Fair in 1893, Westinghouse develops alternative current electricity while Edison creates direct current electricity. As both Westinghouse and Edison woo the financial support of investment banker J. P. Morgan wonderfully played by Matthew Macfadyen (Pride and Prejudice, The Nutcracker and the Four Realms) they develop electricity and its current at an alarming pace lighting up first the American eastern seaboard and then stretching West to the Mid-West and beyond.
Soon the ethics of producing powerful electric currents are called into question when a New York government official Rudolf Young played by John Schwab is planning the first execution via the electric chair of convicted wife killer William Kemmler played by Irish actor Conor MacNeill.
The conflict within The Current War is between Westinghouse and Edison while the eccentric and penniless immigrant Nikola Tesla wonderfully played by Nicholas Hoult (The Favourite, A Single Man) invents the capacity for electricity to be automated and used in machines. Tesla was also credited with harnessing the power of the Niagara Falls for hydroelectricity which produces limitless amounts of current.
It's no coincidence that Elon Musk's electric car company Tesla is named after this enigmatic inventor who never received the credit due to him while alive as he got caught between the rivalry of Westinghouse, Edison and the manipulative banker J. P. Morgan who produced the capital to start one of the most famous electricity companies in the world: General Electric.
The Current War is a fast paced story of how 19th century America was electrified by Edison and Westinghouse and the rivalry which consumed them yet changed society forever.
Director Alfonso Gomez-Rejon smartly employs fast paced editing and some stylistic flourishes to keep The Current War engaging, light and historically fascinating. Audiences should look out for Tom Holland (Spiderman, Far from Home, The Lost City of Z) as Edison's loyal assistant Samuel Insull and Katherine Waterston (Inherent Vice, Fantastic Beasts) as Marguerite Westinghouse and Tuppence Middleton (The Imitation Game, Jupiter Ascending) as the long suffering Mary Edison.
For history buffs, catch The Current War which gets a film rating of 8 out 10 and is especially relevant today considering that now the human population depend upon electricity.
Avengers: Endgame
Directors: Anthony & Joe Russo
Cast: Robert Downey Jr, Chris Hemsworth, Mark Ruffalo, Chris Evans, Scarlett Johansson, Jeremy Renner, Paul Rudd, Robert Redford, Michael Douglas, Josh Brolin, Gwyneth Paltrow, Don Cheadle, Anthony Mackie, Chadwick Boseman, Benedict Cumberbatch, Tilda Swinton, Brie Larson, Tom Holland, Karen Gillen, Zoe Saldana, Evangeline Lilly, Tessa Thompson, Rene Russo, Elizabeth Olsen, Sebastian Stan, Tom Hiddleston, Danai Gurira, Benedict Wong, Pom Klementieff, Dave Bautista, Chris Pratt, Vin Diesel, Letitia Wright, John Slattery, Jon Favreau, Hayley Atwell, Natalie Portman, Marisa Tomei, Angela Bassett, Michelle Pfeiffer, William Hurt, Cobie Smulders, Linda Cardellini, Frank Grillo, Hiroyuki Sanada, James D'Arcy, Bradley Cooper, Samuel L. Jackson, Ty Simpkins    
Marvel Cinematic Universe continues with the highly anticipated sequel to Avengers: Infinity War with Avengers: Endgame featuring all the famous superheroes that fans have grown to love including Iron Man, Captain America, Thor, The Hulk, Antman, Hawkeye and Captain Marvel as they band together to go back in time to retrieve the infinity stones to reverse the evil Thanos's ultimate revenge at the end of Infinity War where he made half the population vanish including such beloved heroes as Spiderman, Black Panther and Doctor Strange.
As Endgame starts, Ironman is stuck in space, Thor takes to drink in the New Asgard and Captain America is despondent that the Avengers are at their lowest point ever.
Captain Marvel played by Brie Larson rallies the troops along with Black Widow played by Scarlett Johansson. Jeremy Renner returns sporting a fantastic haircut as Clint Barton, aka Hawkeye to assist the remaining Avengers as they devise a time travel device to allow them to go back in time to three separate intergalactic locations to retrieve the highly precious and powerful Infinity Stones. It's the ultimate Time Heist as Antman points out.
What follows is a fantastic feast of Superheroes which directors Anthony and Joe Russo will have hard core Marvel fans both laughing and crying at the deluge of their cinematic idols as they all band together to destroy the evil Thanos.
While some of the plot points in this three hour long superhero extravaganza don't all get resolved, it certainly opens up a whole lot of new possibilities such a possible separate Hawkeye film? Sequels to the hugely successful Black Panther and Guardians of the Galaxy are both on the cards as well as another Spiderman film. So there is no shortage of geek fan crushing that will occur in Avengers: Endgame and the subsequent films to follow. Once again Marvel knocks it out of the park judging by the lucrative response at the international box office.
Avengers: Endgame is a culmination of all the Marvel films of the last decade and hints at a new start for some of the lesser known superheroes to flesh out their story lines. Let's face it with an overcrowded universe, audiences will battle to identify with any one superhero but rather applaud and cheer at the massive team of Avengers and all their trusted sidekicks. Audiences should look out for cameos by Tessa Thompson as Valkyrie, Sebastian Stan as the Winter Soldier and of course Thor's malevolent brother Loki played by Tom Hiddleston.
Avengers: Endgame is definitely for Marvel fans and trust me everyone from the previous films are in it. It's definitely worth seeing and gets a film rating of 7.5 out of 10.
Avengers:
Infinity War
Directors: Anthony and Joe Russo
Cast: Robert Downey Jr, Chris Evans, Chris Hemsworth, Chris Pratt, Mark Ruffalo, Scarlett Johansson, Don Cheadle, Benedict Cumberbatch, Tom Holland, Chadwick Boseman, Zoe Saldana, Tom Hiddleston, Idris Elba, Paul Bettany, Elizabeth Olsen, Anthony Mackie, Sebastian Stan, Danai Gurira, Peter Dinklage, Dave Bautista, Vin Diesel, Bradley Cooper, Gwyneth Paltrow, Josh Brolin, Benicio del Toro, William Hurt, Letitia Wright, Pom Klementieff, Carrie Coon, Winston Duke
Following the phenomenal success of Thor: Ragnorak and Black Panther, Marvel has capitalized on its extended cinematic universe with the new Avengers: Infinity War featuring a plethora of superheroes from Spiderman to Ironman, from Captain America to The Hulk not to mention bringing in the Guardians of the Galaxy gang for additional support.
If Avengers: Infinity War feels a bit excessive, that's because it probably is combining the Avengers franchise with that of the more quirky Guardians of the Galaxy. Some fantastic moments occur when Spiderman played by Tom Holland meets Peter Quill aka StarLord played by Chris Pratt or when Iron Man, played by Robert Downey Jr disagrees with the wizard Doctor Strange played by Benedict Cumberbatch. The snappy dialogue is sometimes lost amidst the greater quest to fight the evil universe destroyer Thanos played by Josh Brolin.
Thanos is equally conflicted about having to gather all the infinity stones including the one for Souls in which he has to make a choice between himself and his adopted daughter Gamora played by Zoe Saldana. In the meantime, his evil minions are wreaking havoc on earth in New York and in the magical technologically advanced African kingdom of Wakanda where Vision played by Paul Bettany along with Captain America  and Scarlett Witch played by Elizabeth Olsen seek the assistance of Black Panther played by Chadwick Boseman.
Audiences have to suspend their disbelief but judging by how packed the cinemas are for Avengers Infinity War, they are quite happy to do so. This film is pure sci-fi fantasy with little of the action taking place on earth. Most of the fight sequences occur on outer galactic planets like Titan.
Thor needs his hammer back and seeks the help of Eitri played by Peter Dinklage who forges a brilliant new weapon out of a powerful star, the celestial capability of which was last seen on the forgotten kingdom of Asgard.
Whilst directing brothers Anthony and Joe Russo compile an absolute Geekfest with Avengers: Infinity War with enough alien creatures and superheroes to stockpile Comicon for the next decade, it's a clear sign that the Marvel Universe has ambitious plans to expand even further.
That said Avengers: Infinity War has a convoluted story line weighed down by too many subplots but if viewers see it as a precursor to a second film then they will not find the surprise ending so disruptive….
Avengers: Infinity War gets a film rating 7.5 out of 10 and is strictly for Marvel comic book fans who have followed all the films from the original Iron Man 10 years ago.
The visual effects are fantastic as will be the box office receipts. See it to believe it.
Thor

:

Ragnarok
Director: Taika Waititi
Cast: Chris Hemsworth, Mark Ruffalo, Tom Hiddleston, Cate Blanchett, Anthony Hopkins, Jeff Goldblum, Idris Elba, Tessa Thompson, Benedict Cumberbatch, Karl Urban, Ray Stevenson, Scarlett Johansson, Luke Hemsworth, Sam Neill, Taika Waititi
New Zealand director Taika Waititi was Oscar nominated back in 2005 for his Live Action Short film Two Cars, One Night.
Marvel Studios recruited him to inject new life into the Thor films and that he certainly does with Thor: Ragnarok, a neon inspired family feud of mythical proportions featuring Thor played again by hunky Australian actor Chris Hemsworth along with his pesky brother Loki played by Tom Hiddleston and new addition to the family Hela played with vampish delight by Oscar winner Cate Blanchett (The Aviator, Blue Jasmine).
Thor returns to Asgard only to discover that Loki has banished Odin, their father to a virtual retirement home. Upon a brief visit, the brothers discover that Odin, wonderfully played with a sombre delight by Oscar winner Anthony Hopkins (The Silence of the Lambs) has got an elder daughter Hela who was banished from Asgard for being the Goddess of Death and wreaking havoc on the nine realms.
Cate Blanchett relishes her role as Hela, the Goddess of Death, inspired by Maleficent and certainly quite intent on destroying her defiant younger brothers.
Thor and Loki land up on a weird dystopian outer planet overseen by the demonic Grand Master, a superbly camp performance by Jeff Goldblum (Jurassic Park, Independence Day), who immediately instructs Thor to fight in a massive arena against a formidable beast: The Hulk. Enter Bruce Banner aka The Hulk, played with bewildering amusement by Mark Ruffalo (The Avengers, Foxcatcher, Spotlight).
Eventually Thor gets Loki, The Hulk and a hard-drinking Valkyrie played by Tessa Thompson last seen in the HBO series Westworld, to return to Asgard to defeat the demonic Hela who is assisted by a reluctant henchman Skurge played by Karl Urban (Dredd, Star Trek and The Loft).
The only criticism is that the middle section of Thor: Ragnarok detracts from the film's central narrative, which is essentially a legendary family conflict.
Thor: Ragnarok is a fun-filled comic book film which thankfully does not take itself or the characters too seriously and is a clear indication that Marvel films are definitely trying to create memorable characters for the lucrative toy manufacturing market just before Christmas.
As with all the latest Marvel films, franchise opportunities abound. Thor: Ragnarok is light-hearted and hellishly entertaining. Audiences should look out for a great cameo by Benedict Cumberbatch reprising his role as the illusive Doctor Strange.
If audiences enjoyed The Avengers and the first two Thor films, then they will definitely savour Thor: Ragnarok which is comically inspired from another Marvel hit franchise, The Guardians of the Galaxy.
Thor: Ragnarok gets a film rating of 7.5 out of 10.
Doctor
Strange
Director: Scott Derrickson
Cast: Benedict Cumberbatch, Rachel McAdams, Chiwetel Ejiofor, Tilda Swinton, Benedict Wong, Mads Mikkelsen, Michael Stulbarg, Benjamin Bratt, Scott Adkins, Chris Hemsworth
Marvel is certainly expanding their cinematic universe at a rapid rate. First it was The Avengers and then The Guardians of the Galaxy and now they have turned their attention to the mystical antihero Doctor Strange, transforming the comic book character into a visually dazzling film version by director Scott Derrickson.
Heavily influenced by Christopher Nolan's surreal city scape bending visuals in his 2010 blockbuster Inception, Doctor Strange is a spectacular anti-hero film centred on an arrogant neurosurgeon wonderfully played by Oscar nominee Benedict Cumberbatch (The Imitation Game).
As the film begins, audiences catch a glimpse of Doctor Strange medical expertise as well as his supreme arrogance and wealth. However all that suave egotistical bravado comes crashing down when he plunges his sports car off a cliff outside New York City and soon loses all nerve sensations in his hand.
At first he is naturally devastated and despite being comforted by sometime lover and co-worker Dr Christine Palmer, played by Oscar nominee Rachel McAdams (Spotlight), Doctor Strange sets off for an alternative cure prompted by a meeting with a miracle paraplegic Jonathan Pangborn played by Benjamin Bratt (Love in the Time of Cholera, Traffic).
Naturally the action shifts to Kathmandu, Nepal, where Doctor Strange is introduced to the mystical arts by the shaven head guru The Ancient One, superbly played by Oscar winner Tilda Swinton (Michael Clayton). The best dialogue in the film are reserved for Cumberbatch and Swinton as The Ancient One strips Doctor Strange of his arrogance and he discovers a mystical world of parallel universes and scriptures written in ancient languages.
Soon Doctor Strange takes a liking to a flying crimson cape and has sideburns to match Frankenstein. With a new mystical persona, Doctor Strange delves into pure fantasy with brilliant mind bending visual effects to match.
The Visual Effects are so inspiring that they should get an Oscar on their own. In this case Doctor Strange has come up trumps with a perfect cast, most of them Oscar nominees and winners and a strong narrative which establishes more films in the Defenders Universe.
As the action shifts to Hong Kong, Doctor Strange with the help of Mordo played by Oscar Nominee Chiwetel Ejiofor (12 Years a Slave) and Wong played by Benedict Wong, this diverse mystical trio must battle the evil and embittered Kaecilius played by Danish actor Mads Mikkelsen (Casino Royale) who is intent on unleashing dark forces on planet earth in a bid to achieve immortality.
Doctor Strange is visually brilliant and superbly acted by the cast, due to some clever casting choices by Marvel Studios. The fact that Tilda Swinton, initially known for her art house films like Sally Potter's Orlando and Benedict Cumberbatch seen in British period films like Atonement and Creation are both in a Marvel's Anti-Hero movie is testament to how seriously the film studio takes their brand as they continuously expand all the various superhero franchises and even delve into quirky Sci-Fi.
Audiences must stay seated after the credits as Doctor Strange has an unexpected meeting with Asgard's protector…
Highly recommended viewing for those that enjoy all of Marvel's films or would love to visit Comicon.