A Rainy Day in New York
Director: Woody Allen
Cast: Elle Fanning, Timothee Chalamet, Selena Gomez, Liev Schreiber, Jude Law, Diego Luna, Rebecca Hall, Cherry Jones, Will Rogers
Oscar winning director and veteran scriptwriter Woody Allen (Hannah and Her Sisters, Annie Hall) delivers another witty slice of New York life filled with paranoia, lust and intrigue featuring all the hot young stars of the Instagram generation: Elle Fanning (The Beguiled) Timothee Chalamet (Call Me By Your Name) and music celebrity turned actress Selena Gomezn (Rudderless) in his new film A Rainy Day in New York.
Oscar nominee Timothee Chalamet (Call Me By Your Name) plays Gatsby Welles a disgruntled privileged millennial who accompanies his sweet and sometimes naïve girlfriend Ashleigh Enright wonderfully played with a bubbling effervesce by indie film darling Elle Fanning (Mary Shelley, The Beguiled, Maleficent) to New York City to interview the difficult middle aged film director Roland Pollard superbly played by Live Schreiber (The Reluctant Fundamentalist, Spotlight) who goes off the rails after the screening of his latest film and suffers an artistic breakdown.
As Ashleigh and Gatsby get inadvertently separated in the Big Apple, Ashleigh gets caught up with the foibles of hot movie star Francisco Vega played by Mexican star Diego Luna (Y Tu Mama Tambien, Milk, Rogue One: A Star Wars Story) and scriptwriter Ted Davidoff wonderfully played with just the right amount of neurosis by Oscar nominee Jude Law (The Talented Mr Ripley) who confronts his wife Connie played by Rebecca Hall (Frost/Nixon, Vicky Cristina Barcelona) for having an affair.
Gatsby meets the wise cracking Shannon in a breakout performance by Selena Gomez on a student film project and they hit it off while afterwards he attempts to drown his sorrows at a glamourous cocktail bar in Manhattan where he meets a mysterious beautiful blond woman.
Back in his own territory, Woody Allen delivers a very funny scripted film about a day in the life of paranoid New Yorkers as the weather deteriorates along with their moral values. Chalamet and Fanning are brilliant as the two main protagonists proving once again director Allen's ability to cast the hot young stars of contemporary cinema.
There are some terrific cameo performances especially by Cherry Jones (Boy Erased, Whisky Tango Foxtrot) as Gatsby's supposedly snobbish society mother who reveals to him her rather bizarre past much to her son's utter despair.
For those that love classic Woody Allen films, make a plan to watch A Rainy Day in New York – it's hilarious, funny and smart with a suitable twist at the end.
 A Rainy Day in New York gets a film rating of 7.5 out of 10 and is superbly scripted by Woody Allen with some great one liners including how to ruin your life brilliantly and ably uses all of New York's legendary locations including the Metropolitan Museum of Art.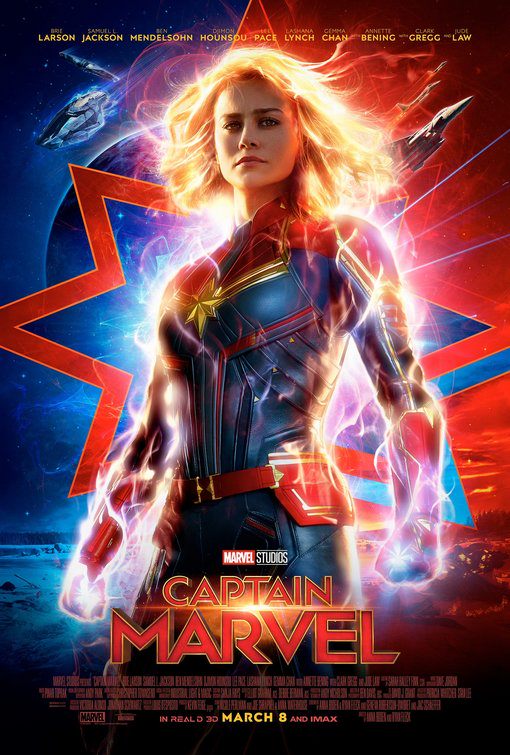 Captain Marvel
Directors: Anna Boden & Ryan Fleck
Cast: Brie Larson, Samuel L. Jackson, Annette Bening, Jude Law, Ben Mendelsohn, Lashana Lynch, Lee Pace, Clark Gregg, Gemma Chan, Djimon Hounson, Chris Evans, Scarlett Johansson, Rune Temte
Just before Avengers: Endgame hits theatres, Marvel had to introduce one more superhero to the galaxy of stars. It's the Retro intergalactic Captain Marvel wonderfully played by Oscar winner Brie Larson also known as Airforce Pilot Carol Danvers who gets whisked into space to become indoctrinated by the Kree Civilization, an advanced alien race headed up by the mysterious Supreme Being icily played by Annette Bening in her Marvel Comics debut.
Audiences can be forgiven for thinking that they had bought cinema tickets to a Star Trek reboot as the first twenty minutes of Captain Marvel is entirely set in space. Until Captain Marvel miraculously escapes an intergalactic feud between the Kree and the Skrull tribes and lands up in Los Angeles in 1995 in a blockbuster video store of all places, the film effortlessly shifts its location from outer space to a particular time and place.
In California, Captain Marvel teams up with a youthful Nick Fury wonderfully played by Samuel L. Jackson whose screen chemistry with Brie Larson is electrifying.   
Like all the other Marvel films and particularly those that loved Avengers: Infinity War, then Captain Marvel is a fun mixture of superhero and Guardians of the Galaxy and fits right in with the current trajectory the Marvel films are going. More significantly it is the first entirely female centred superhero film, with Brie Larson doing a sterling job, although admittedly the film does not quite match up to DC Comics's brilliant Wonder Woman directed by Patty Jenkins.
There is sufficient plot twists, location changes as Captain Marvel and Nick Fury travel to Louisiana to discover her real human identity as Airforce Pilot Carol Danvers as they team up with fellow co-pilot Maria Rambeau played by rising British star Lashana Lynch.
Oscar nominee Jude Law (The Talented Mr Ripley) plays the arrogant Kree commander Yon Rogg who proves to be a worthy adversary to Captain Marvel.
Captain Marvel is a fun filled retro intergalactic romp of a film engagingly written and populated with some witty one liners. Brie Larson pulls off the role of the latest female action superhero with credibility and nuance as she struggles to discover her real identity and where her role as Captain Marvel fits in to the larger Avengers scheme of things.
Flashy visual effects and some great onscreen chemistry save Captain Marvel from being just another superhero film and this gets a film rating of 7 out of 10.
Audiences should definitely see Captain Marvel before watching Avengers: Endgame. Recommended Viewing for Marvel fans only and regular attendees of Comicon.
Fantastic Beasts 2:
The Crimes of Grindelwald
Director: David Yates
Cast: Eddie Redmayne, Johnny Depp, Katherine Waterston, Zoe Kravitz, Jude Law, Dan Fogler, Ezra Miller, Kevin Guthrie (Dunkirk), Carmen Ejogo, Callum Turner (Assassin's Creed, Victor Frankenstein), Alison Sudol, Poppy Corby-Teuch
Harry Potter and the Deathly Hallows director David Yates who was at the helm of the original stylish Oscar winning Fantastic Beasts film returns to direct the highly anticipated sequel Fantastic Beasts 2: The Crimes of Grindelwald featuring a star studded cast including Oscar winner Eddie Redmayne who reprises his role of the magical creature loving Newt Scamander and Oscar nominee Jude Law as a young and decidedly flamboyant Dumbledore, who makes an audacious cameo.
This time Scamander has to contend with the malignant and mysterious wizard Grindelwald wonderfully played by Oscar nominee Johnny Depp who is determined to upset the delicate balance between the real and magical realms.
Katherine Waterston returns as the elusive Tina Goldstein as does Dan Fogler as Scamander's faithful American sidekick Jacob Kowalski. Other regulars include Zoe Kravitz as Leta Lestrange and Alison Sodol as Queenie Goldstein along with Ezra Miller as the troubled Credence Barebone who is on a quest to discover his parentage.
Whilst the plot of The Crimes of Grindelwald is as mystifying as Credence's real identity, Fantastic Beasts 2 is visually impressive particularly in the second half of the film.
Some of the dialogue in the film was stilted, yet Fantastic Beasts like any Franchise film speaks mainly to its fans and those that have religiously followed all the Harry Potter films will be equally satisfied with this exotic sequel set mainly in Paris. The French Ministry of Magic sequence is spectacular and a cinematic highlight.
Whether Fantastic Beasts 2 will garner any attention in the 2019 awards season remains to be seen, although the production design is beautiful, I did find the first half of the film particularly dim or perhaps it was my limited understanding of this convoluted plot which made numerous references to the original Harry Potter films.
If viewers loved Fantastic Beasts and Where to Find Them, then they will certainly cherish this magnificent sequel especially Johnny Depp as the villainous Grindelwald whose numerous crimes include recruiting Credence for more diabolical mischief…
For purely technical reasons, Fantastic Beasts: The Crimes of Grindelwald gets a film rating of 7.5 out of 10.
It's a magical and visually dazzling fantasy film hinting at many sequels in the works. Highly recommending viewing for serious J. K. Rowling fans and those that loved the first Fantastic Beasts.
King Arthur:
Legend of the Sword
Director: Guy Ritchie
Cast: Charlie Hunnam, Jude Law, Eric Bana, Djimon Hounsou, Astrid Berges-Frisbey, Aidan Gillen, Freddie Fox, Annabelle Wallis, Craig McKinley, David Beckham
Despite the miserably wet and cold weather, I popped off one Sunday evening to see director Guy Ritchie's highly anticipated film King Arthur: Legend of the Sword featuring Pacific Rim star Charlie Hunnam who embodies all the muscular traits of a young would be king who has to fight his tyrannical uncle. That uncle is played by Jude Law (Wilde, Sherlock Holmes) as the vicious Vortigern.
Vortigern who has been seduced by far darker forces betrays his brother King Uther played by Eric Bana (The Other Boleyn Girl) and even murders his own wife. Talk about sibling rivalry.
Arthur who grows up in a pre-medieval London brothel soon learns to fend for himself against unsuspecting invading Vikings and toughens up enough to become a muscular young man who is selected to return to Vortigern's castle to stand in line with a queue of brawny lads hoping to be able to pull the sword out of the stone.
That legendary sword Excalibur is rightfully pulled out by Arthur and Vortigern identifies his nephew as his true threat and plans to execute him in a spectacular fashion in front of all his ragged followers who out of fear have sworn fealty to a bloodthirsty deranged king.
Fortunately Arthur has some allies who are determined to shape his royal destiny including the sorceress The Mage played by Spanish star Astrid Berges-Frisbey (I, Origins) and Bedivere played by Djimon Hounsou (Blood Diamond) who both assist Arthur in avenging his father's death and claiming his rightful place at the Table.
In King Arthur, Guy Ritchie employs all his trademark dexterous narrative techniques with lots of witty dialogue that he displayed in the Sherlock Holmes films while deftly maintaining the pace of a legendary action blockbuster, making this one of his biggest studio films.
Hunnam is perfectly cast as the dashing yet brawny King Arthur while Jude Law is suitably vile as Vortigern who believes the only way to quell the masses is through fear.
Whilst King Arthur: The Legend of the Sword could have used a romantic subplot, it remains a mythical and muscular popcorn film which shies away from resorting to loads of gore in order to keep the age restriction fairly low at PG 13.
Audiences should watch out for the deadly archer Bill played by Aiden Gillen last seen as Littlefinger in HBO's Game of Thrones and the duplicitous maiden Maggie played by British star Annabelle Wallis soon to be seen in the Tom Cruise action remake of The Mummy.
King Arthur: Legend of the Sword is an enjoyable action film heavily influenced by such hit series as Vikings and Game of Thrones but does not punch above its own weight and Ritchie keeps his quirky directorial style to a minimum unlike his previous spy caper The Man From Uncle.
With Hunnam's box office star power on the rise and Guy Ritchie set to direct more Arthurian sequels, King Arthur: Legend of the Sword gets a rating of 7.5 out of 10.
Genius
Director: Michael Grandage
Cast: Colin Firth, Jude Law, Nicole Kidman, Laura Linney, Guy Pierce, Dominic West, Vanessa Kirby
Jude Law reunites with his Cold Mountain co-star Nicole Kidman and shares the screen with Oscar winner Colin Firth (The King's Speech) in actor turned director Michael Grandage's handsome literary film, Genius which premiered at the 37th Durban International Film Festival – http://www.durbanfilmfest.co.za/
Genius is based upon the biography of Max Perkins written by A. Scott Berg and transformed into an enlightening screenplay by John Logan.
Set in New York in the late 1920's and on the brink of the Great Depression, Colin Firth gives a measured and subtle performance as the literary editor Max Perkins who has to contend with the overzealous and brilliant Carolingian writer Thomas Wolfe wonderfully played by Jude Law (The Talented Mr Ripley) who has written a masterpiece, Look Homeward, Angel but needs the editing skills of the diligent Max Perkins to edit the text into a readable novel.
Perkins was responsible for editing the literary works of Ernest Hemingway played in this film by Dominic West (Testament of Youth) and F. Scott Fitzgerald post his Parisian phase, played by Guy Pearce (L.A. Confidential). Genius is the examination of a male bond and friendship which strikes up between the reserved and slightly conservative Perkins and the wild and exuberant Thomas Wolfe, whose patronage is supported by the jealous and possessive Aline Bernstein superbly played by Nicole Kidman (The Hours).
Genius is about the evolution of a literary text, from creation through editing to publication, and how that process can be fraught with distraction, despair and most importantly passion.
Perkins neglects his long suffering wife Louise played by Oscar nominee Laura Linney (Kinsey, Mr Holmes) and his family of daughters. Perkins unwittingly and perhaps subconsciously finds solace in the male friendship of the erratic and gifted Thomas Wolfe, although their affection for each other borders upon the homo-erotic, which both Aline and Louise can perceive and are certainly threatened by.
Firth wears a hat for the majority of the film and only at the end of Genius after he admits his true feelings for the incorrigible Wolfe, does he take it off. Perkin's hat serves as a signifier of conformity in the film, despite the raging modernist and Bloomsbury movement which was engulfing Paris and London at the times. New York was still fairly conservative by European standards especially as the full effects of the Great Depression are realized by American society.
Despite an Oscar worthy cast and ambitious literary intentions, Genius is not a superb film in the same vein that The Hours was or Christopher Hampton's Carrington, yet it is worth watching and would appeal to audiences who possess sophisticated literary tastes.
Nevertheless with polished production values, and brilliant performances by Jude Law and Nicole Kidman, Genius is an informative portrayal of a hugely talented writer Thomas Wolfe who never quite achieved the same international posthumous recognition as F. Scott Fitzgerald or Ernest Hemingway.
Genius is recommended viewing and certainly a reason to rediscover the literary works of Wolfe who wrote Look Homeward, Angel  and Of Time and The River.
Spy
Director: Paul Feig
Cast: Melissa McCarthy, Jude Law, Jason Statham, Rose Byrne, Bobby Cannavale, Alison Janney, Miranda Hart, Morena Baccarin
There is a confession to be made. I am not a huge Melissa McCarthy fan having missed most of her films which have made her famous including Bridesmaids, The Heat and Tammy. So it was with a mixture of trepidation and curiosity that I went to see director Paul Feig's comedy thriller Spy mainly because I am a huge Jude Law fan. So I thought it would be interesting to see whether such a diverse cast such as Melissa McCarthy, Oscar Nominee Jude Law (The Talented Mr Ripley, Sherlock Holmes), action star Jason Statham (The Expendibles 3, Transporter Trilogy), Bobby Cannavale (Blue Jasmine, Danny Collins) and Rose Byrne (Annie, Marie Antoinette) could elevate such a film as Spy.
Despite its exotic locations from Varna in Bulgaria, to Paris, Rome and Budapest, Spy is a second rate thriller which attempts with some hilarious if not crude consequences attempts to feminize the espionage genre, and more specifically rip off the ultimate Spy films, The James Bond Franchise.
The 007 franchise have nothing to worry about as Spy is so second rate and middle of the road, even the predictable narrative could not have threatened the Bond films as a serious competitor.
Let's face it. Spy is really a comedy especially with the likes of Melissa McCarthy, British comedian Miranda Hart and Bridesmaids co-star Rose Byrne thrown in. But Jude Law? Seriously after making appearances in such exceptional films as The Talented Mr Ripley, Hugo, Sherlock Holmes and Anna Karenina, I wondered what he was doing in such a ridiculous film.
Spy is a fun filled and crass comedy which should appeal to all Melissa McCarthy fans however I would have thought that writer and director Paul Feig could have been more inventive when ripping off the James Bond franchise. The storyline is predictable, vaguely funny and even the villains Sergio de Luca and Rayna Boyanov played by Cannavale and Byrne are not seriously menacing but come off as clichés of the more heinous megalomaniacs
Even Alison Janney (The Way Way Back, The Hours) as CIA director Elaine Crocker does not save this film. Although Jason Statham is suitably funny as the rogue spy Rick Ford who is constantly threatened by females in his line of duty. Audiences should watch Spy on a Saturday afternoon as it's certainly not the most taxing film to watch but enjoyable in its own lazy and crude style. Look out for a cameo by Curtis Jackson also known as 50c
The  53rd BAFTA Awards /
The British Academy Film Awards
Took place on 9th April 2000 in London
BAFTA Winners in the Film Category:
Best Director: Pedro Almodóvar – All About My Mother (Todo sobre mi madre)
Best Actor: Kevin Spacey – American Beauty
Best Actress: Annette Bening – American Beauty
Best Supporting Actor: Jude Law – The Talented Mr Ripley
Best Supporting Actress: Maggie Smith – Tea with Mussolini
Best British Film: East is East
Best Original Screenplay: Charlie Kaufman – Being John Malkovich
Best Adapted Screenplay: Neil Jordan – The End of the Affair
Best Foreign Language Film: All About My Mother (Todo sobre mi madre) Spain
Source: http://en.wikipedia.org/wiki/53rd_British_Academy_Film_Awards
The Grand Budapest Hotel
Director: Wes Anderson
Cast: Ralph Fiennes, Jude Law, F. Murray Abraham, Harvey Keitel, Willem Dafoe, Adrien Brody, Owen Wilson, Bill Murray, Tom Wilkinson, Tilda Swinton
Moonrise Kingdom director Wes Anderson assembles a hugely talented ensemble cast led by the irresistable Ralph fiennes as Gustave H. a suave Concierge at The Grand Budapest Hotel who gets embroiled in a whimsical art theft after his benefactor dies mysteriously and her evil son Dimitri played by Adrien Brody pursues the eloquent and flamboyant Gustave in a fictitious republic of Zubrowka representative of a modern day Yugoslavia or even The Czech Republic, but emblematic of a crumbling decadent and ravaged Eastern Europe.
The Grand Budapest Hotel is a wonderful plot, inventive, hilarious, witty and beautifully orchestrated matched by a superb ensemble cast the likes of which haven't been seen on screen for years including Oscar nominees F. Murray Abraham (Amadeus), Harvey Keitel (Bugsy), Willem Dafoe (Shadow of a Vampire), Bill Murray (Lost in Translation), Edward Norton (Primal Fear), Tom Wilkinson (Michael Clayton), Saoirse Ronan (Atonement) and Jude Law (The Talented Mr Ripley) – all consummate character actors and brilliant performers in the own right.
Each perfectly constructed shot in the Grand Budapest Hotel is a pastiche of old European movies and landscapes reminiscent of a time between the wars when civility was still in fashion. When Old European Hotels were lavish and comfortable establishments with Bell Boys, Lift Operators, Chefs and naturally charming yet slimy Concierges adding to the intrigue of its elegance. When Hotels were places to spend a week, when time was plentiful and guests came to languish in the extraordinary facilities of these beautifully decadent Hotels which populated the ski slopes and small towns of Austria, Germany, Italy and Switzerland.
Even though, the fictional country, Zubrowka is representative of a mixture of Eastern European countries which all suffered under the Nazi's and then under the Communists, the institutional history of such a charming hotel remained the centre of a town's attraction, where legends of its fabled guests were passed down over the decades. The Grand Budapest Hotel reflects an era when Art Nouveau reigned supreme especially in the 1930's. This comedy set in 1932, featuring a complicated and whimsical if not absolutely witty plot is deftly handled by screenwriter Anderson who makes sure each of his cast members whether on screen for a second or for several scenes delivers a perfect performance.
The cast also includes Lea Seydoux, Mathieu Amalric, Owen Wilson and Tilda Swinton. Inspired by the works of 20th century Austrian writer Stefan Zweig, The Grand Budapest Hotel is expertly crafted, dazzlingly assembled and wonderfully executed. A real treat of a film which will sure to delight audiences for years to come much like the Hotel whose guests found its hidden charms suitably enchanting. Highly recommended viewing and a winner of the Grand Jury Prize at the 2014 Berlin Film Festival, The Grand Budapest Hotel is marvelous, whimsical, witty and comical with an underlying menace attached to the action, making the comedy almost tragic in its relevance.
Three Sixty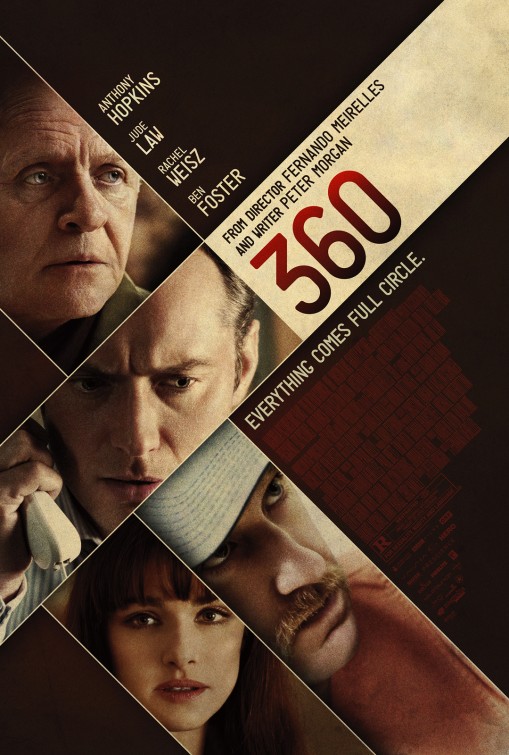 From the Brazilian Director Fernando Meirelles whose previous films include the Oscar-winning adaptation of the John le Carre novel, The Constant Gardner and the highly acclaimed City of God, comes his latest film Three Sixty collaborating with Oscar winning scriptwriter Peter Morgan (The Queen) who deftly interweaves a complex narrative tapestry focusing on humanity's ever spinning carousel of desires connecting each character around the world. Three Sixty premiered at the 2011 London International Film Festival and the 2012 Durban International Film Festival and is a brilliant virtuoso look at how humanity is connected through love, weakness, temptation and sex.
Three Sixty features an international cast and is a series of interconnected character studies set in Vienna, Bratislava, Paris, London, Denver and Phoenix and includes wonderful yet brief performances by Rachel Wiesz, who garnered an Oscar for Best Supporting Actress in The Constant Gardner, Jude Law, Ben Foster, Marianne Jean-Baptiste (Secrets and Lies) and Oscar winner Anthony Hopkins as well as a host of lesser known Eastern European, Brazilian and French stars.
Three Sixty is a thought-provoking look at how sexual desire traverses all geographical boundaries while love, temptation, blackmail and infidelity abound around the globe connecting all nationalities, cultures and religions. Watch out for a wonderful performance by Anthony Hopkins as a recovering alcoholic searching for his missing daughter in Phoenix, Arizona or Jude Law as a less than proper British business man Michael Daly being caught in a web of blackmail in Vienna and Rachel Wiesz as his wife Rose who is far from faithful back in London.
The real star of the film is Ben Foster in a superb cameo as a shaven-head ex-con Tyler, recently paroled sex offender stranded in the snowbound Denver International Airport en route to Phoenix struggling with his inner demons. Russian actor Vladimir Vdovichenkov makes an impression playing Sergei a Russian gangster's driver willing to make a break from an abusive boss and escape with an innocent woman. Three-Sixty is in German, French, Portuguese and English but is a spell bounding portrayal of humanity traveling around the globe and taking all their urges, desires and ambitions with them, a surprising sexual thriller by one of international cinema's more enigmatic and brilliant directors. Recommended as a thought-provoking film and will surely make any viewer want to hop on a plane to an exotic city and escape, transfer or express one's own forbidden sexual desires…
Contagion
Steven Soderbergh's gripping medical thriller Contagion follows a similar non-linear structure to his previous Oscar winning film Traffic about the US-Mexican drug trade and features a brilliant cast including Oscar Winners Gwyneth Paltrow, Matt Damon, Kate Winslet, Marion Cotillard and Oscar Nominees Jude Law and Laurence Fishburne.
With a fantastic musical score by Cliff Martinez, Contagion is a horrifying look out how a highly contagious immunodefiency-virus spreads like wild fire around the world from Macau to Atlanta, from Hong Kong to London through any form of human contact especially in the ease of frequent international travel.
The deadly effects of the virus and how the world population reacts to the onset of a disease so deadly that it threatens the survival of the human race is at the core of Contagion. While the ensemble cast are superb, it is Jennifer Ehle as Dr Ally Hextall in an unusually prolific role, previously seen in Wilde, Pride and Glory and Possession who shines as a scientist who races to develop a vaccine to prevent the spread of the rapidly complex and mutating virus.
The always suave Laurence Fishburne plays Dr Ellis Cheever, Head of the Center for Disease Control in Atlanta and Jude Law features as a conspiracy theorist Alan Krumweide who while in San Francisco tracks the virus online and also how the pharmaceutical industry makes a fortune once a vaccine is developed.
Contagion is a scary and provocative film and raises serious questions about the survival of the fittest and the ethics of managing disease control in light of a deep preservation for continued existence of the human race. Viewers will definitely be washing their hands several times after seeing this absorbing thriller especially the pivotal and brilliant final scene. Whether it be drugs or a virus, both Traffic and Contagion deal with issues of control and the distribution of power in society and the effects of a debilitating affliction that knows no boundaries. Recommended viewing.