Posts Tagged 'Judi Dench'
Murder

on the Orient Express
Director: Kenneth Branagh
Cast: Kenneth Branagh, Johnny Depp, Michelle Pfeiffer, Daisy Ridley, Manuel Garcia-Rulfo, Penelope Cruz, Josh Gad, Derek Jacobi, Lucy Boynton, Olivia Colman, Judi Dench, Willem Dafoe, Leslie Odom Jr. Tom Bateman
Oscar nominee Kenneth Branagh (My Week with Marilyn) both stars as the infamous Belgian detective Hercule Poirot  and directs another remake of the classic Agatha Christie novel Murder on the Orient Express featuring a stunning cast including Oscar nominees Michelle Pfeiffer (Dangerous Liaisons, The Fabulous Baker Boys), Johnny Depp (Sweeney Todd, the Demon Barber of Fleet Street) and Oscar winners Penelope Cruz (Vicky Cristina Barcelona) and Judi Dench (Shakespeare in Love).
Sporting a profoundly massive mustache, Branagh takes Hercule Poirot to new extremes in this 21st century remake which is glossy and possesses sumptuous production design but like all extremely long train journeys is boring in the middle, despite the spectacular scenery.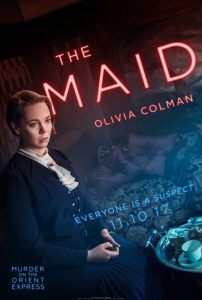 Murder on the Orient Express is set in 1934 and starts off promisingly with a fantastic opening, attention grabbing scene at the Wailing Wall in Jerusalem and then moves on to the Orient Express, a luxury train service which travels from the chaotic train station in Istanbul right across Europe to Paris.
As the gangster Edward Ratchett is found murdered in his compartment, stabbed multiple times everybody becomes a suspect on the Orient Express and soon Poirot has to interview all the cast as the train is stuck in an icy tunnel somewhere over Yugoslavia. A tangle of strangers confined to a luxury train which has gone off the rails.
Everybody is not what they seems, which is natural considering this is an Agatha Christie novel and while the cast does an admirable job, it is really Michelle Pfeiffer who wows audiences with her demure yet slightly vicious portrayal of globetrotting husband seeker Caroline Hubbard who stands out among a fairly impressive ensemble cast. Pfeiffer really acts.
Dame Judi Dench's turn as Princess Dragomiroff is hardly noticeable, while the best scenes in the film are between Pfeiffer and Branagh.
It is refreshing to see Michelle Pfeiffer making such a glorious big screen come back as she truly is a brilliant actress, not to mention singer – for she also sang the film's original song at the end.
Without revealing who the killer is, needless to say Kenneth Branagh will be returning with another big screen adaptation of an Agatha Christie novel, Death on the Nile. Should be fascinating if only he would curb that mustache.
Audiences that enjoyed the original seventies film adaptations of the Agatha Christie novels, will enjoy this ambitious if slightly flawed remake. Think Evil Under the Sun.
Recommended viewing but whether the film will dazzle at the box-office in an increasingly cluttered 21st century CGI film line-up remains to be seen. Murder on the Orient Express gets a film rating of 7 out of 10.
Tulip Fev

e

r
Director: Justin Chadwick
Cast: Alicia Vikander, Christoph Waltz, Dane DeHaan, Cara Delevingne, Judi Dench, Jack O'Connell, Kevin McKidd, Holliday Grainger, Tom Hollander, Zach Galifianakis, Joanna Scanlan, David Harewood, Sebastian Armesto, Matthew Morrison, Douglas Hodge
British director Justin Chadwick (The Other Boleyn Girl, Mandela: The Long Walk to Freedom, The First Grader) tackles a cinematic version of Deborah Moggarch's novel Tulip Fever with the literary assistance of Anna Karenina screenwriter Tom Stoppard.
Assembling an international cast including Oscar winner Christoph Waltz (Django Unchained) and fellow Oscar winner Alicia Vikander (The Danish Girl), Tulip Fever is set in Amsterdam in 1623 at the height of the Tulip trade which flourished in the Netherlands and was in essence the first stock market which blossomed illicitly behind Tavern doors and co-opted by solicitous nuns who grew the beautiful flowers in sacred abbeys away from the hustle of Dutch city life.
With sumptuous costumes by Michael O'Connor and suitably dark production design by Simon Elliott, Tulip Fever focuses on the young orphan Sophia Sandvoort superbly played by Vikander who is forced to marry the wealthy yet childless Burgermeester (local mayor) Cornelious Sandvoort played by Waltz.
Like all Dutch noblemen, Sandvoort commissions a young and impoverished painter to paint the couple's portrait, a 17th century trend which made Rembrandt famous. In steps the exuberant and excitable Jan van Loos played by Dane DeHaan (Valerian, Kill Your Darlings).
Soon van Loos falls for the ravishing Sophia and deception is conceived mainly for her to escape from her pompous husband who really wants to impregnate her with his preferably male heir.
In a parallel narrative, Sophia's devoted maid, Maria played by British actress Holliday Grainger (Jane Eyre, The Finest Hours, Cinderella) has fallen for the charming if not smelly fishmonger Willem Bok played by Jack O'Connell (Unbroken) who aspire to get married and have six children together.
In a bizarre twist both Bok and van Loos, two young men desperately trying to increase their liquidity embark on making money on the booming tulip trade, in which the precious bulbs fluctuated in price depending on their rarity and natural beauty of the elusive flower.
Oscar winner Judi Dench (Shakespeare in Love) plays the Abbess who has to sternly guide the young men in the flourishing yet turbulent tulip trade while the Netherlands was expanding its colonial empire to the Dutch East Indies and South Africa.
Despite the slightly convoluted plot and frenetic story line, Tulip Fever is an enjoyable and raunchy period drama held together by amazing performances by the four main leads which serves as a Dutch version of Twelfth Night.
Audiences that enjoyed Girl with a Pearl Earring and Shakespeare in Love, will undoubtedly love Tulip Fever, which provides a fascinating cinematic perspective on the brief but flourishing Tulip trade which made the Netherlands one of the riches countries in Europe especially in the 17th century, establishing their own national stability and making them the money lenders of Europe.
With all the deceit, obsession and money trading, Tulip Fever is a riotous period drama and gets a film rating of 7 out of 10.
Tulip Fever is recommended viewing as a historical drama with a uniquely Dutch twist.
Victoria & Abdul
Director: Stephen Frears
Cast: Judi Dench, Ali Fazal, Olivia Williams, Tim Piggott-Smith, Michael Gambon, Eddie Izzard, Julian Wadham, Simon Callow, Paul Higgins
The unlikely friendship of Queen Victoria and Abdul Karim, a Muslim clerk from Agra who is sent to England from Colonial India to present a special coin to her majesty is the subject of a sumptuous and shrewdly observed film by veteran director Stephen Frears (Dangerous Liaisons, The Queen, Philomena).
Victoria and Abdul has to be viewed in conjunction with the 1997 John Madden film Mrs Brown also starring Oscar winner Judi Dench (Shakespeare in Love) as the grand old queen which in that film follows her widow like infatuation with the Scottish highlander John Brown played by Billy Connolly.
The British director of Florence Foster Jenkins makes a clever narrative choice in telling the story from Abdul's perspective, as he goes on a fascinating journey into the heart of the English court with its strange pomposity and royal etiquette.
Abdul is expertly played by Indian actor Ali Fazal (Fast and Furious 7), who is handsome, devoted and downright smitten with this cantankerous monarch who sees him as a beautiful embodiment of all that is exotic about the vast subcontinent that was 19th century colonial India, a country that ironically Queen Victoria was never allowed to visit for fear of being assassinated.
Victoria, much to the horror of her conservative retinue of court staff and advisors, takes a shine to the bold and outspoken Abdul and requests that he become her munchee, her teacher on all things Indian from delicacies like mangoes to religious and cultural practices. A pertinent request considering that at the time, 19th century India was ruled by England when its rapid colonial expansion globally allowed Queen Victoria to bizarrely assume the title of Empress of India even though she had never set foot on the distant sub-continent.
As the friendship between Queen Victoria and Abdul Karim blossoms at first comically and later as a form of emotional attachment, it becomes the source of anticipated ridicule from her own son Bertie, the Prince of Wales played with suitable arrogance by Eddie Izzard as well as the British Prime Minister Lord Salisbury wonderfully played by Michael Gambon (Brideshead Revisited).
In one of the best lines of the film Lord Salisbury mentions to Queen Victoria at a gorgeous state banquet that the British Empire has annexed Zululand to which the monarch replies whatever for?
In the twilight of her exceptionally long reign and as the 19th century draws to a close, Victoria realizes that her unconventional friendship with Abdul is her last jaunt at joviality even elevating him to a senior adviser and taking him on a trip to Florence, Italy where they are both fortunate enough to meet Puccini played with panache by character actor Simon Callow (A Room with a View, Maurice).
The cross cultural appeal of Victoria and Abdul should keep international audiences interested in this previously unknown friendship between an aging British monarch and a young, handsome Indian clerk, whose precarious protection at court was only valid while the Queen remained alive.
The shocking end sequence of Victoria and Abdul is a cruel reminder of how colonialism always excluded the other even when they were desperately trying to appease their colonizer.
As a brilliantly observed piece of largely ignored historical fact which only came to light through the discovery of Abdul's journals in 2010, Victoria and Abdul is a beautiful period film, held together by two magnificently nuanced performances by both Judi Dench and Ali Fazal, both whom deserve Oscar nominations.
Victoria and Abdul gets a film rating of 8 out of 10 and will be enjoyed by audiences that cherished director Gurinder Chadha's equally impressive Anglo-Indian drama The Viceroy's House set during the partition of India, half a century in later.
THE  55TH BAFTA AWARDS /
THE BRITISH ACADEMY FILM AWARDS
Took place on the 24th February 2002 in London
BAFTA WINNERS IN THE FILM CATEGORY:
Best Film: The Lord of the Ring: The Fellowship of the Ring
Best Director: Peter Jackson – The Lord of the Ring: The Fellowship of the Ring
Best Actor: Russell Crowe – A Beautiful Mind
Best Actress: Judi Dench – Iris
Best Supporting Actor: Jim Broadbent – Moulin Rouge
Best Supporting Actress: Jennifer Connelly – A Beautiful Mind
Best British Film: Gosforth Park
Best Original Screenplay: Amélie (Le fabuleux destin d'Amélie Poulain) – Jean-Pierre Jeunet and Guillaume Laurant
Best Adapted Screenplay: Shrek
Best Visual Effects: The Lord of the Ring: The Fellowship of the Ring
Best Foreign Language Film: Love's a Bitch (Amores perros)  directed by Alejandro González Iñárritu (Mexico)
The Second Best

Exotic

Marigold

Hotel
Director: John Madden
Cast: Judi Dench, Maggie Smith, Dev Patel, Celia Imrie, Diana Hardcastle, Richard Gere, Ronald Pickup, David Strathairn, Penelope Wilton, Bill Nighy, Tamsin Greig
After the surprise success of the delightful 2012 film, The Best Exotic Marigold Hotel, it is no wonder that director John Madden decided to do a companion film and organize a more extravagant and blissful reunion of the cast of the first film with newcomers Richard Gere, no longer the Gigolo, and David Strathairn to make up the male parts for the Second Best Exotic Marigold Hotel set in Jaipur, Mumbai and San Diego.
Whilst the original film was a sort of bitter-sweet adventure, the second film is a celebration and continuation of everything so wonderful and colourful about the possibility of spending one's Twilight years in the exotic location of Jaipur. This is Shady Pines with colour and vibrancy, wit and humour and proves that the older generation of actors can still pull off a charming and marvellous sequel infused with the energetic Sonny wonderfully played again by Dev Patel (Slumdog Millionaire) and his impending wedding to Sunaina played by Tina Desai.
In The Second Best Exotic Marigold Hotel, Sonny has big plans for expansion and hopes to acquire another rambling hotel in Jaipur to extend his collection of gorgeous establishments for the aged and semi-retired. The scenes between Patel and veteran actress Maggie Smith are crackling with wit and exuberance especially as they approach a major hotel chain based in San Diego for some much needed venture capital to expand their business enterprise.
Back in India, director John Madden expands his palette from the first film and each shot of The Second Best Marigold Hotel is a simulacrum of all the great films made about that subcontinent from David Lean's A Passage to India and Mira Nair's Monsoon Wedding making for a positively blissful and gorgeous cinematic reunion.
Subtly directed and beautifully acted, although the story is at times whimsical, each of the British actors from Celia Imrie and Diana Hardcastle to Ronald Pickup and Bill Nighy have more scope and depth in this companion piece which will surely delight all audiences who so enjoyed The Best Exotic Marigold Hotel.
Silver haired Richard Gere's role as an enigmatic guest Guy Chambers and seducer of Sonny's mom add to the romance of the Jaipur establishment. The structure of the film is centred around the marriage of Sonny and Sunaina from the lavish engagement party to the actual flamboyant and vibrant wedding. Intertwined with the portrait of young love, is the growing affection between Evelyn and Douglas played with the usual quirkiness by Bill Nighy.
The scenes between Dench and Smith are poignant and nuanced, both Oscar winning accomplished actresses as they give viewers a sense that their imminent cinematic retirement is drawing near, yet their stardom will last forever. Oscar winners Maggie Smith and Judi Dench have had amazing stage and screen careers and it is encouraging to see them still commanding the big screen in an age of the digital blockbuster.
Whilst The Second Best Exotic Marigold Hotel is not as brilliant or as unique as the first film, it still stands on its own as a delightfully fine companion piece. Judging how packed the cinema was, there is a huge market out there for these gorgeous films aimed at retired viewers who are not always willing to sit through some of the Hollywood commercial cinema which makes up the bulk of the studio releases.
The Second Best Marigold Hotel is recommended viewing for those that enjoyed the first film, and similar movies like Enchanted April, Tea with Mussolini and Ladies in Lavender.
Casino
Royale
Director: Martin Campbell
Cast: Daniel Craig, Eva Green, Mads Mikkelson, Judi Dench, Jesper Christensen, Jeffrey Wright
After a four year hiatus with the Lee Tamahori directed Die Another Day, (2002) the hugely successful Bond franchise returns with a glossy and brilliant cinematic adaptation of Ian Fleming's first novel, Casino Royale originally published in 1953.
Director Martin Campbell (Goldeneye) updates Fleming's novel to the 21st century and the Bond franchise controversially introduces the new blond Bond, a blue eyed hunk named Daniel Craig whose film credits include Love is the Devil and Sylvia.
Judi Dench reprises her role as M while Jeffrey Wright takes on the role of Felix Leiter. Bond girl and femme fatale, Vesper Lynd is coolly played by the French actress Eva Green (The Dreamers) and the villain, a swindler, money launderer and compulsive gambler the infamous Le Chiffre is wonderfully played by Danish actor Mads Mikkelsen.
With a gritty opening sequence in Prague followed by a spectacular stunt and action sequence in Madagascar, viewers are reintroduced to Bond as a tough, rebellious British secret agent who is after the elusive source of Ellipsis, codename for an international terrorist money laundering ring with ties to Le Chiffre and his overseer the mysterious Mr White played by Jesper Christiansen, first seen in the Ugandan jungle.
As the action moves swiftly around the world from The Bahamas to Montenegro to Venice, Casino Royale is a superb and ambitious adaptation of the 007 novel, as all the central characters gamble with each other's lives and motives, with Bond even getting caught in a horrendous torture sequence nearly breaks his British patriotism as well as his manhood. Bond's love for Vesper Lynd is consecrated in a Hotel room in Montenegro while he is in between playing in an international high stakes poker, superbly teased out and the onscreen chemistry between Craig and Mikkelsen as Bond and Villain is palpable and nefarious.
Complimenting this classic hero/villain tension is the intense partnering of Bond and Lynd, with a matching chemistry between Green and Craig, showing that both actors are consummate performers and expertly cast together.
Besides the awesome stunts, the superb action and the intense gambling, Casino Royale belongs to Daniel Craig who makes the role of Bond his own and really proves his weight as the new Bond for the 21st century, as demonstrated recently with two more Bond films Quantum of Solace (2008) and the hugely popular Skyfall (2012).
Retrospectively Casino Royale pays homage to all the elegant Bond films of the 1960s especially Dr No and Goldfinger as well as the Pierce Brosnan films of the late 1990s such as Goldeneye and Tomorrow Never Dies. Gone are the spectacular sets and outlandish plots of The Spy Who Loved Me and Moonraker which characterised the Bond films of the 1970's, even though those films were the most popular of the Roger Moore series.
Casino Royale is glossy film noir with a great supporting cast, exotic locations and some jaw dropping sequences including the iconic shot of Daniel Craig emerging out of the Caribbean surf in nothing but swimming trunks, oddly enough paying homage to Dr No and Die Another Day.
Casino Royale is 142 minutes long and by far one of the best Bond films made in the expanding 007 filmography, memorable, thrilling and unsuspectingly heart wrenching. This is definitely a vintage Bond film and one to keep for all the ardent franchise collectors. Absolutely Brilliant.
Ideally Casino Royale should be watched before Quantum of Solace as the two films complement each other stylistically and the plot follows on chronologically.
Philomena
Director: Stephen Frears
Cast: Judi Dench, Steve Coogan, Michelle Fairley, Mare Winningham, Peter Hermann, Sean Mahon
British director Stephen Frears certainly brings out the best in his female leads in his stunning filmography. Who can forget Glenn Close in Dangerous Liaisons or Angelica Huston in The Grifters? Or more recently Helen Mirren in her Oscar winning performance in The Queen?
Frears manages to bring out the subtle naivety and unearthed guilt in Judi Dench's Oscar nominated brilliant performance in the title role of Philomena a fascinating almost picaresque account of two people Philomena Lee and Martin Sixsmith in their quest to locate Philomena's long lost son.
Philomena terrorized by Irish nuns and who fell pregnant after a brief encounter with a young man in Limerick back in the 1950's, unknowingly gives up her young son at a reclusive Irish convent where the nuns reigned supreme, punishing young women who succumbed to the temptations of the flesh, by forcibly removing their unwanted children. This unorthodox form of adoption involved selling the small children to wealthy Americans to financially benefit the local nunnery, a practice which Sixsmith, a former Media Liaison Officer and now freelance journalist discovers to his horror and moral indignation.
Martin Sixsmith, Cambridge educated and living in Knightsbridge, an intellectual snob has to come down a level when he takes on the case of Philomena's abandoned son who has gone missing fifty years earlier. Sixsmith, superbly played by comic actor Steve Coogan in one of the his best onscreen performances takes the slightly naive and streetwise Philomena on a journey to Washington DC to discover where her son is.
With his persistent investigative journalism skills, Sixsmith at the coaxing of his editor Sally Mitchell played by Games of Thrones actress Michelle Fairley soon realizes that Philomena's son who would be 50 years old, was a legal advisor to the Republican Party in Washington D.C., but more revealingly was a closeted homosexual living during the era of denialism which blighted the initial impact of the AIDS epidemic in the years of the Reagan and the first Bush administration, namely the mid 1980's to mid 1990's.
More shockingly, Philomena and Sixsmith return to the convent aptly named the Sisters of the Sacred Heart to discover the awful truth about the fate of her son and the scandalous lengths the Catholic Church went to, to cover up not only his birth and illegal adoption, but those of many other children in the early 1950's. An unfortunate fate which awaited all unwed Catholic girls in Ireland in that equally repressive era.
With his usual dexterity, Stephen Frears spins out an engrossing narrative around the journey that Philomena and Sixsmith embark on from Ireland to America and back again, puncturing the odyssey with nostalgic home video footage of the life of the lost son.
Dench's  performance is subtle, gentle yet determined portraying both conviction and blind faith in Catholicism, which ironically deprived her of her only son and used shame and guilt to cover up the transaction. Sixsmith's character also serves as a substitute son in Philomena emphasized in one hilarious scene in a Washington Hotel room where the only way to gain entry is to state that Philomena is his mother. With masterly performances by Dench and Coogan, Philomena is an acerbic, witty and tragic tale of revelation and forgiveness, expertly directed by Frears with a suitably poignant musical score by Alexandre Desplat. Highly recommended viewing and based upon the real story, The Lost Child of Philomena Lee by Martin Sixsmith.
2013 Venice International Film Festival Winners
Venice International Film Festival, known as La Biennale di Venezia takes place annually
in late August, early September and is regarded as the oldest Film Festival in the World.
Golden Lion (Best Film): Sacro Gra directed by Gianfranco Rosi (documentary)
Silver Lion (Best Director): Alexandros Avranas for the film Miss Violence (Greece)
Best Actor: Themis Panou – Miss Violence
Best Actress: Elena Cotta – Via Castellana Bandiera 
Best Screenplay: Steve Coogan and Jeff Pope – Philomena starring Steve Coogan and Judi Dench
Skyfall
From Shanghai to Scotland, Skyfall, the 23rd film in the James Bond franchise is both an intriguing espionage thriller closer to a John le Carre novel, yet beautifully retaining all the quintessential 007 traits which have made all the Bond films the most successful franchise in cinema history from fast cars, exotic locations, dangerous animals and naturally nubile Bond girls leading the smartly suited spy to the evil villain who is always masterminding destruction, mayhem or in this case, revenge.
*
There was much anticipation leading up to Skyfall as it also marked 50 years of James Bond, when the first Bond film burst on the screen in 1962 introducing Sean Connery as Bond in the exotic Dr No. Whilst a lot has changed in 50 years, the essence of Bond as a suave, international spy chasing after megalomaniac villains in far corners of the globe has always been the same. In Skyfall, whilst there is more angst explored in the relationship between Bond and M, there is an equal share for the hideously brilliant villain, Raoul Silva, played with psychotic panache by Oscar-winner Javier Bardem who is hell bent on revenging M, head of Mi6 for allowing him to be captured by the Chinese as the British relinquished Hong Kong in 1997.
*
Skyfall also marks a departure from other Bond films in that there is less exotic locations outside the UK but more British based action which is equally thrilling especially the Tennyson quoting assassination sequence in Westminster or the brilliant explosive climax at Bond's long forgotten Scottish family estate Skyfall in rural Scotland.
What really raises the level Skyfall is the brilliant direction by Sam Mendes of American Beauty and Revolutionary Road fame, who not being an action director brings more dysfunctional characterization and interpersonal twists to the Skyfall narrative complimented by the brilliant acting talents of Bardem apparently handpicked by Daniel Craig to play the villain and of course Dame Judi Dench as M, Bond's shadowy, yet tough mother figure. All Bond's mother issues are resolved in Skyfall along with coming to terms with a tragic childhood in the remote Scottish highlands.
*
Skyfall is superb yet not conventional multi-layered Bond film crisply shot by Roger Deakins's excellent photography especially noticeable in the Shanghai Skyscraper sequence, and while the action sequences are not as outlandish as some of the previous more bizarre Bond films such as Moonraker or The Spy Who Loved Me, this is the threadbare, recession hit 21st century and not the lavish late 1970's.
Daniel Craig holds his own in his third portrayal as Bond and is more comfortable in this iconic role as a razor-sharp, still sexy and slightly jaded spy always ready for action. From a fabulous attention-grabbing chase scene in Istanbul to the wonderful opening sequence which is both lethal and seductive, choreographed to British singer Adele's gorgeous rendition of the themesong: Skyfall, viewers are promised a seductive, slick and emotionally engaging Bond film.
*
Of particular note is the engaging encounter between Bond and the ruthless suggestive villain Silva, an expert internet hacker in an abandoned island outside the Special Administrative Region of Macau. The scene between Craig and Bardem is absolutely superb with Javier Bardem using the full range of deviancy as the enemy of Mi6 and a ruthless hypnotic villain. Skyfall is razor sharp cinema, occasionally funny and essentially British and promises not the end of a franchise but an elegant re-alignment of the Bond universe for the Second Decade of the 21st century living up to the charming Bond family motto, The World is Not Enough….
My Week with
Marilyn
My Week with Marilyn directed by Simon Curtis is a charming film about the clashing of vanities in a more subtle and polite society following the filming of the musical comedy The Late Prince which would become 1957 film The Prince and the Showgirl teaming up the great British Theatre personality Laurence Olivier and 1950's American screen goddess Marilyn Monroe at Britain's legendary Pinewood Studios.
Michelle Williams takes the part of Marilyn Monroe and might not be as voluptuous physically, but her brilliant performance of the doomed and fragile screen icon Monroe who was a legendary flirt and a consummate movie star is layered and superb. Kenneth Branagh is equally brilliant as the vain and pompous Laurence Olivier whose  divergence into cinema with the Prince and the Showgirl was beset with problems on the Pinewood studios set especially made more difficult by the pill-popping, temperamental and sultry Monroe.
The clash between Monroe and Olivier went far deeper than vanity or fame, it was also a conflict of their two vastly different styles of acting. Monroe was trained in the Lee Strasberg school of method acting  popular in Hollywood, California originally pioneered by Constantin Stanislavski and refers to the method of actors drawing on their own personal emotions and memories in their onscreen portrayals.  Olivier was a London Shakespearian theatre actor and was quite unused to the medium of film.
Monroe felt and acted in the moment which worked brilliantly on the short takes of cinema, whilst Olivier was trained in the more established tradition of  Classical Theatre where thespians  rehearsed and performed a repertoire of theatre from Greek tragedy to plays by Sheridan, Shakespeare, Chekov and Noel Coward and prepared for their roles by learning their lines down to the last iambic pentameter and essentially being on time and in full costume. Their vastly different styles of acting is exemplified in the original 1957 film, The Prince and the Showgirl.
My week with Marilyn is told through the eyes of a 3rd Assistant Director Colin Clark played with surprising vigour by rising British Star Eddie Redmayne who is smitten by the tantalizing Marilyn Monroe and has a wonderful supporting cast including Zoe Wanamaker as Paula Strasberg, Dominic Cooper as Hollywood agent Milton Greene along with Julia Ormond as Laurence Olivier's wife Vivien Leigh and Dougray Scott as playwright Arthur Miller, Marilyn's husband at the time of shooting Prince and the Showgirl. Watch out for a great cameo by Dame Judi Dench playing the great Shakespearean actress Dame Sybil Thorndike. Where My Week with Marilyn excels is how beautifully it illustrates how divergent British and American cultures were especially in the 1950's and how the clashing of vanities between the screen siren Monroe and the theatrical Olivier underlined both these stars own vulnerabilities and their strengthens.
Casting of Williams and Branagh as legendary stars Monroe and Olivier was critical in making My Week with Marilyn a lovely and substantial film about the making of film itself and the insecurities and drama that goes on between a Screen siren who knew how to titillate the public especially men and an aging theatre actor desperate to make his cinematic debut.  Both Williams and Branagh deserved earned Oscar nominations for Best Actress and Best Supporting Actor but lost out to Meryl Streep for The Iron Lady and Christopher Plummer for Beginners at the 2012 84th Academy Awards.