Posts Tagged 'Lucy Boynton'
Bohemian
Rhapsody
Director: Bryan Singer
Cast: Rami Malek, Lucy Boynton, Gwilym Lee, Ben Hardy, Aiden Gillen, Mike Myers, Allen Leech, Tom Hollander, Aaron McCusker
What The Usual Suspects director Bryan Singer's semi biopic about Freddie Mercury Bohemian Rhapsody lacks in shock value, rising star Egyptian American actor Rami Malek makes up for in sheer acting talent. Malek's superb performance of Freddie Mercury holds the entire fantastical film about one of the 20th century's greatest rock bands Queen together.
Bohemian Rhapsody taken from Queen's six minute rock opera which catapulted them to international superstardom is a fascinating portrayal of the rise and decline of the most outrageous and notorious lead singers in music history – a sort of 1980's version of Jim Morrison of The Doors fame.
Malek's tour de force of a performance as the mercurial and super talented Freddie Mercury as he swiftly shrugs off his immigrant persona to embrace the counter culture which swept through British rock music in the 1970's and 1980's which originated in the lead singer antics of Sid Vicious of the Punk band The Sex Pistols.
As fame and fortune engulf Queen, the fellow band members are eclipsed by the flamboyant and androgynous performance of Freddie Mercury who is afraid to admit to the world publicly of his real sexuality yet is quite willing to risk all sorts of deviant pleasures under the decadent influence of Irish homosexual companion Paul Prenter wonderfully played  against type by Allen Leech last seen as the Chauffeur in Julian Fellowes hit TV series Downton Abbey.
What director Bryan Singer cleverly avoids is alienating the mainstream audience that will no doubt rush to watch Bohemian Rhapsody by making this rock biopic too risqué but he rather hints at Mercury's off stage antics especially in London, Rio de Janeiro and Munich. Nothing is going to shock the audience beyond a couple of kissing scenes.
Fortunately, Malek's performance is not the sort of disturbing viewing generated by the Emmy winning performance of Darren Criss as the gay serial killer Andrew Cunanan in the Ryan Murphy TV series The Assassination of Gianni Versace.
Instead, Rami Malek dazzles as Freddie Mercury in every frame of the film, convincing the audience that Mercury was the ultimate performer. Bohemian Rhapsody's success belongs to Malek's electrifying performance.
As Queen becomes phenomenally successful in the late 1970's and early 1980's to their tremendous difficulty in not only staying together as a band but also resolving differences with music executives and more significantly keeping the outrageous and utterly flamboyant Freddie Mercury in check.
Bohemian Rhapsody charts the course of a music sensation which broke all conventions and become the innovative chart topping British band. As the film's narrative heads towards Queen's sensational performance at the 1985 Live Aid Concert in Wembley Stadium, which broke all audience records, Singer points to the testament of Queen's continuing popularity even after Mercury's tragic diagnosis in the midst of the 1980's AIDS epidemic.
Audiences should prepare for tears and enthusiasm for Queen's music but most of all, come prepared to be blown away by the sensationally transformative performance of Rami Malek as Freddy Mercury.
Bohemian Rhapsody gets a film rating of 8 out 10 and will definitely score Golden Globe and Oscar nominations.
Murder

on the Orient Express
Director: Kenneth Branagh
Cast: Kenneth Branagh, Johnny Depp, Michelle Pfeiffer, Daisy Ridley, Manuel Garcia-Rulfo, Penelope Cruz, Josh Gad, Derek Jacobi, Lucy Boynton, Olivia Colman, Judi Dench, Willem Dafoe, Leslie Odom Jr. Tom Bateman
Oscar nominee Kenneth Branagh (My Week with Marilyn) both stars as the infamous Belgian detective Hercule Poirot  and directs another remake of the classic Agatha Christie novel Murder on the Orient Express featuring a stunning cast including Oscar nominees Michelle Pfeiffer (Dangerous Liaisons, The Fabulous Baker Boys), Johnny Depp (Sweeney Todd, the Demon Barber of Fleet Street) and Oscar winners Penelope Cruz (Vicky Cristina Barcelona) and Judi Dench (Shakespeare in Love).
Sporting a profoundly massive mustache, Branagh takes Hercule Poirot to new extremes in this 21st century remake which is glossy and possesses sumptuous production design but like all extremely long train journeys is boring in the middle, despite the spectacular scenery.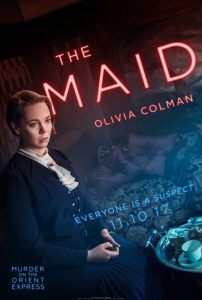 Murder on the Orient Express is set in 1934 and starts off promisingly with a fantastic opening, attention grabbing scene at the Wailing Wall in Jerusalem and then moves on to the Orient Express, a luxury train service which travels from the chaotic train station in Istanbul right across Europe to Paris.
As the gangster Edward Ratchett is found murdered in his compartment, stabbed multiple times everybody becomes a suspect on the Orient Express and soon Poirot has to interview all the cast as the train is stuck in an icy tunnel somewhere over Yugoslavia. A tangle of strangers confined to a luxury train which has gone off the rails.
Everybody is not what they seems, which is natural considering this is an Agatha Christie novel and while the cast does an admirable job, it is really Michelle Pfeiffer who wows audiences with her demure yet slightly vicious portrayal of globetrotting husband seeker Caroline Hubbard who stands out among a fairly impressive ensemble cast. Pfeiffer really acts.
Dame Judi Dench's turn as Princess Dragomiroff is hardly noticeable, while the best scenes in the film are between Pfeiffer and Branagh.
It is refreshing to see Michelle Pfeiffer making such a glorious big screen come back as she truly is a brilliant actress, not to mention singer – for she also sang the film's original song at the end.
Without revealing who the killer is, needless to say Kenneth Branagh will be returning with another big screen adaptation of an Agatha Christie novel, Death on the Nile. Should be fascinating if only he would curb that mustache.
Audiences that enjoyed the original seventies film adaptations of the Agatha Christie novels, will enjoy this ambitious if slightly flawed remake. Think Evil Under the Sun.
Recommended viewing but whether the film will dazzle at the box-office in an increasingly cluttered 21st century CGI film line-up remains to be seen. Murder on the Orient Express gets a film rating of 7 out of 10.