Posts Tagged 'Michael Fassbender'
The Snowman
Director: Tomas Alfredson
Cast: Michael Fassbender, Rebecca Ferguson, Charlotte Gainsbourg, Chloe Sevigny, Val Kilmer, J. K. Simmons, James D'Arcy, Toby Jones, Jonas Karlsson, Jakob Oftebro, David Dencik
Norwegian novelist Jo Nesbo's thriller The Snowman is brought to cinematic life by Iranian screenwriter Hossein Amini and co-written by Peter Staughan. Tinker Tailor Soldier Spy director Tomas Alfredson brings this bleak Norwegian thriller to the big screen with a constantly icy landscape concerning a ruthless and psychopathic serial killer who kills his victims every time the snow begins falling, which in a Scandinavian winter, would be consistently often.
Assembling an international cast including Oscar nominee Michael Fassbender (12 Years a Slave, Steve Jobs) as hard-drinking detective Harry Hole opposite art house actress Charlotte Gainsbourg, the muse of Danish auteur Lars von Trier who starred in such films as Anti-Christ and Nymphomaniac as his ex-girlfriend Rakel, personally I had high hopes for this thriller being a captivating cinematic experience. My criticism is that in The Snowman, the character relationships were not clearly defined, which made navigating this thriller virtually impossible.
Having not read the Jo Nesbo novel, I found this film version slightly lacklustre especially in the slow moving first half. Despite a refreshing change of watching an entire film shot in Norway, The Snowman didn't quite pack the same verve as David Fincher's utterly compelling film version of Stieg Larsson's blockbuster thriller The Girl with the Dragon Tattoo.
Rebecca Ferguson who appeared in Life and Florence Foster Jenkins also stars as co-detective Kathrine Bratt who is harbouring secrets of her own especially as she tries to entice Norwegian businessman Arve Stop played by Oscar winner J. K. Simmons (Whiplash) into a honey trap, since he has a peculiar penchant for photographing beautiful girls. Rarely seen actor Val Kilmer (Kiss Kiss Bang Bang, Heat and Pollock) makes a welcome comeback as Gert Rafto a Bergen based detective following a similar murder case years earlier.
While The Snowman's narrative visibility is as convoluted as the blurry icy landscape of Oslo and Bergen, the acting comes off as flat and uninspired. Which is a great pity considering the film's acting talent.
Fassbender does a reasonably good job of bringing some dimension to Harry Hole, the lonely but observant detective, however one gets the sense that he wasn't committed to the role as he was in director Justin Kurzel's Macbeth. Although the role of Macbeth is substantially more interesting.
Perhaps the reason for my lukewarm response to this supposedly icy thriller was that I had a nightmarish cinematic experience coupled with expectations that director Tomas Alfredson would make an equally impressive film as his gripping adaptation of John le Carre's Tinker Tailor Soldier Spy.
The Snowman for all its gripping plot-twists, peppered with gruesome murders, gets a film rating of 6.5 out of 10.
Assassin's

Creed
Director: Justin Kurzel
Cast: Michael Fassbender, Marion Cotillard, Jeremy Irons, Charlotte Rampling, Michael K. Williams, Denis Menochet, Khalid Abdalla, Callum Turner, Brendan Gleeson, Brian Gleeson.
Whilst Australian director Justin Kurzel's Assassin's Creed does not match up to the theatricality of his cinematic version of Macbeth featuring the same two leads, Oscar nominee Michael Fassbender (12 Years a Slave) and Oscar winner Marion Cotillard (La Vie en Rose), the film version of the popular videogame Assassin's Creed is by no means boring.
Assassin's Creed like Warcraft does justice to the videogame and with glossy production values and a superb supporting cast including Oscar winner Jeremy Irons (Reversal of Fortune) as Rikkin and Oscar nominee Charlotte Rampling (45 Years, Angelheart) as High Priest of the Knights Templar Ellen Kaye, the film has an atmospheric quality as the action shifts from contemporary Madrid to the Spanish Inquisition in Seville to a gloomy rain drenched London.
Fassbender all muscled and taut, plays convicted murderer Callum Lynch who is about to be sentenced to death via lethal injection in Huntsville, Texas only to wake up in a specialist facility run by Abstergo Industries on the outskirts of Madrid where the gorgeous and sleek, Sofia Rikkin played by Cotillard administers him in a bizarre program to cure him of his inborn tendency for violence. The program includes the hunky and shirtless captive (Fassbender) being plugged into the animus which allows Lynch to channel the vivid experiences of his violent ancestors.
As for the rather confusing time-jumping narrative, the whole story hinges on the Assassins protecting the key to freewill the Apple of Eden from the Knights Templar, whose contemporary equivalent appears to be the shady corporation behind Abstergo Industries headed up by the mysterious Rikkin, who Irons embodies with a silky velvet voice filled with menace reminiscent of his creepy portrayal of Claus von Bulow in Reversal of Fortune.
As video game adaptations go, Warcraft was a better film, while Kurzel's Assassin's Creed does justice to the genre although the film would only really appeal to fans of the game familiar with the basic premise of the elaborate sword wielding fight sequences which are mostly set in 15th century Seville.
Whilst it is a cinematic pleasure to see Irons, Rampling, Fassbender and Cotillard all share the same screen, one wishes it was for a masterful spy drama or a film about political intrigue rather than a video game adaptation. Fassbender and Cotillard acting abilities are naturally not put to such good use as they were in Kurzel's visionary production of Macbeth, Assassin's Creed will no doubt appeal to the gamers most of whom are male, judging by the patriarchal nature of the plot.
After all, Man's free will was exercised by his taking of the apple in the Garden of Eden which the voluptuous Eve offered to him according to biblical legend. The key to freewill and the power to control it is all that the Knights Templar are after.
Assassin's Creed is recommended for those gamers which enjoy a cinematic pastiche of the future and the ancient worlds moulded together in a Spanish setting as the Assassins battle the Knights Templar in a vicious bid to halt the cure for violence. Audiences should look out for cameo appearances by Brendan Gleeson as Callum's father Joseph Lynch and Michael Kenneth Williams as Moussa.
X-Men:
Apocalypse
Cast: Jennifer Lawrence, Michael Fassbender, James McAvoy, Rose Byrne, Oscar Isaac, Nicholas Hoult, Sophie Turner, Tye Sheridan, Olivia Munn, Josh Helman, Ben Hardy, Kodi Smit-McPhee, Lucas Till, Evan Peters
Director Bryan Singer's latest film forms the conclusion of a prequel trilogy. X-Men Apocalypse is a pastiche of 80's paranoia even though the main villain Apocalypse originates from Ancient Egypt and is set upon decimating the world of man and mutants circa 1983, having risen out of a gold pyramid in modern day Egypt and decides annihilation is in order.
Reassembling much of the cast of X-Men: First Class, X-Men Apocalypse stars Jennifer Lawrence (The Hunger Games Trilogy) as Raven/Mystique, James McAvoy (Victor Frankenstein) as Charles Xavier, Michael Fassbender (Macbeth) as Magneto, Nicholas Hoult as Hank McCoy/Beast and Game of Thrones star Sophie Turner as a young Jean Grey and Rose Byrne returns as Moira Mactaggert who first confronts the devastating power of Apocalypse in Cairo and alerts Charles Xavier and his band of mutants to the imminent danger.
Despite some of the mutants not wanting to be drawn into another conflict, they soon all bandy together when they realize how dangerous Apocalypse is, in his unrelenting quest to destroy human civilization circa 1983 and along with that eighties world, the parallel community of the mutants.
X-Men: Apocalypse is more mutants versus a more formidable mutant, than man vs mutant, although like always Magneto has several changes of conscience especially after seeing his young wife and daughter accidentally killed in a Polish forest. Soon Erik Lehnsherr aka Magneto unleashes all his anger and becomes the perfect ally for Apocalypse's annihilating antics.
Much of the action alternates between America, Poland and Egypt and whilst X-Men: Apocalypse does not have that some groovy retro feel as the seventies set X-Men: First Class, there are some distinct 1980's signifiers including a collage of Reagan material, nuclear armament as well as stock images pointing to the last decade of the cold war, where mistrust defined global politics.
Bryan Singer knows how to direct such a large ensemble cast even though audiences at times might get a sense of Mutant overload, but then again this is X-Men: Apocalypse and the more superhumans the better. X-Men: Apocalypse is definitely a case of the Unusual Suspects.
Clearly the cast of this film had great fun making it and the visual effects are truly inspiring especially the Egyptian sequence when the Mutants take on Apocalypse with his band of malevolent mutants including Psylocke played by Olivia Munn and birdman Angel played by Ben Hardy.
Audiences should also watch out for Tye Sheridan as a young Cyclops and Kodi Smit-McPhee as the turquoise teleporter Nightcrawler, who Mystique discovers in a cage fight in East Berlin.
X-Men: Apocalypse is recommended viewing for those that enjoyed X-Men: First Class and X-Men: Days of Future Past, all three films now make up the prequel trilogy. Marvel is certainly milking a lucrative franchise for all its worth and audiences are lapping up the ever expanding mutant universe.
Macbeth
Director: Justin Kurzel
Cast: Michael Fassbender, Marion Cotillard, Sean Harris, David Thewlis, Elizabeth Debicki, Paddy Considine, Jack Reynor, David Hayman
Australian director Justin Kurzel's bold and bloody version of Macbeth envisions a bleak and brutal landscape where Scottish noblemen plot against each other all for the right to become King.
Possibly Shakespeare's most bloodthirsty play about power, vengeance and fealty, Macbeth has proved to be a perennial favourite among film makers and theatre performers alike. In this version, the two pivotal roles are played by Oscar nominee Michael Fassbender (12 Years a Slave) and Oscar winner Marion Cotillard (La Vie en Rose) and the combination of their immense talent can be relished as they present a complex interpretation of the scheming Macbeth and Lady Macbeth.
Soon the ambitious couple plot to murder King Duncan of Scotland, played by David Thewlis as he visits their family castle. Macbeth stabs King Duncan multiple times while he is sleeping and promptly dispatches his guards too. Macbeth blames this ungodly crime on the heir apparent, the King's son Malcolm, played by Jack Reynor, who flees to England to gather an army.
Macbeth claims the Scottish crown for himself but soon absolute power corrupts malignantly and the callous couple plot again to kill Banquo, a friend of Macbeth's and a rival Scottish nobleman.
During the infamous banquet scene, which is the best in the film, Macbeth in front of his royal retinue is tormented by the images of Banquo's ghost appearing among the guests to such an extent that he breaks down in front of the Scottish court.
The tyrannical Macbeth wanders into the misty highlands and seeks solace with the three prophetic witches who tell him that his right to be king is threatened by Macduff, "Beware Macduff, Beware the Thane of Fife!"
In the most brutal scene in the film, Macbeth's soldiers capture Lady Macduff, played by an unrecognizable Elizabeth Debicki (The Great Gatsby) and her three children, whose fate is sealed upon a fiery pyre.
In the final act, Macduff, played by Sean Harris (Mission Impossible: Rogue Nation) returns with ten thousand soldiers and storms Macbeth's castle and in a fiery confrontation, the two enemies seek vengeance amidst a burning and unforgiving battle, when Birnam wood comes to Dunsinane.
Kurzel's vision of Macbeth is bloody and dark, the production design comprising strong earthy colours like deep reds, browns and shining gold. The costumes are traditional and authentic.
Cotillard is brilliant as the deceptively innocent Lady Macbeth, a magnetic and hauntingly beautiful queen who challenges her husband to commit heinous crimes, only to discover that Macbeth is willing to go to unmentionable lengths to retain his crown.
This 21st century film version of Macbeth is heavily influenced by HBO's Game of Thrones and is as violent, spectacular and riveting as the hit series, making Shakespeare's Scottish play accessible to a whole new generation of viewers. This is an epic portrayal of twisted fealty, rivalry and horrific ambition, held together by two masterful actors playing iconic characters, imbuing their scenes together with a brilliant Machiavellian mischief, bordering on insanity and unchecked bloodlust.
Visually stunning, violent and superbly atmospheric, this vivid version of Macbeth is one not to be missed by cinema lovers and Shakespeare scholars alike.
Frank
Director: Lenny Abrahamson
Starring: Michael Fassbender, Maggie Gyllenhaal, Domhnall Gleeson. Scoot McNairy, Francois Civil, Tess Harper
Director Lenny Abrahamson's quirky film Frank which premiered at the Durban International Film Festival examines the pressures of belonging to a rock band and the celebrity status attached to its lead singer. The fact that this lead singer Frank wears a giant false head for three quarters of the film is both alienating and annoying and serves its point about the underlying pressures of mounting celebrity facing a bands lead singer or frontman. Take Adam Levine of Maroon 5 or Harry Styles from One Direction for example. Except with these bands unlike Frank's bands obscure name, at least the music is palatable, not to mention commercially viable.
Frank as a film was so bizarre and utterly random as the narrative follows Jon played by Domhnall Gleeson (Anna Karenina, Dredd, True Grit), son of Irish actor Brendan Gleeson, an aspiring songwriter who becomes the keyboardist and journeys with the band from a remote Irish location to the hippie South by South West music concert in Austin Texas. The band members are all clearly deranged and part of some grand lunatic fringe reinforced by the irrepressible Clara, wonderfully played by Maggie Gyllenhaal (Hysteria) and by the lead singer Frank played by Fassbender, which clearly begs the question what was he thinking after being attached to such prestigious films as 12 Years a Slave, Shame and Jane Eyre.
Although parts of the film are hilarious and very funny, other parts are equally irritating and stupid which just goes to show how Youtube got such a massive following so quickly. Post any ridiculous video online as a social media experiment and there will always be a plethora of bored American teenagers waiting to watch it on Youtube. Then maybe that is the point of this film.
Only towards the films end are explanations given as to why the lead singer is wearing this massive false head as seen in the poster after Jon tracks him down to his parent's home in Bluff City, Kansas and Frank's mother played by indie star Tess Harper explains the singers childhood trauma which lead to some deviant form of mental obsession.
Frank is well executed as a film about band members on the road, but too bizarre to be taken seriously and lacks the visual punch of Paolo Sorrento's spectacularly weird road trip film This Must Be the Place. Viewers will differ in opinion regarding Frank, as there was much laughter coming from the cinema auditorium at a DIFF http://www.durbanfilmfest.co.za/ screening.
Director Lenny Abrahamson's Frank will have a very limited appeal, not helped by the onscreen presence (or lack there of) of Gyllenhaal and Fassbender, whose chemistry together is pointlessly obliterated and nullified by a giant false head. Frank will definitely not be everyone's cup of tea, but will have comic appeal for those that appreciate deadpan humour and the effortless blending of banal social media.
X-Men:
Days of Future Past
Director: Bryan Singer
Cast: Hugh Jackman, Jennifer Lawrence, Ian McKellan, Patrick Stewart, Halle Berry, Michael Fassbender, James McAvoy, Nicholas Hoult, Anna Paquin, Ellen Page, Shawn Ashmore, Peter Dinklage, Famke Janssen, James Marsden, Karine Vanasse, Evan Peters, Josh Helman
Which director could resist bringing such a fabulous a-list cast together in one film?
Naturally the original X-Men director Bryan Singer who takes this huge cinematic opportunity to reboot the X-Men franchise and include the original cast members in a mutant time travel fantasy which sees Wolverine, Storm, Raven and Magneto and Professor Xavier battling literally against time in a war to save the mutants from utter destruction at the hands of evil humans, represented by none other than Dr Bolivar Trask, wonderfully played by Peter Dinklage, whose star is clearly rising after the phenomenal success of the allegorical revenge fantasy series Game of Thrones.
Set between 1973 and presumably the present day of 2013, so a forty year time span, the original X-Men including Magneto and Professor Xavier played by Ian McKellan and Patrick Stewart send Wolverine aka Logan back forty years to confront a younger version of themselves and change a pivotal moment in history, the capture of the uniquely chameleon Raven played by Oscar winner Jennifer Lawrence from being captured by the duplicitious Trask. Wolverine with all the braun and charm of the original series gamely played by Hugh Jackman confronts a younger Xavier (a wonderful turn by James McAvoy) and convinces him to set Magneto free from a metal less prison in the heart of the Pentagon in Washington D. C.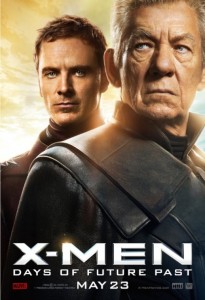 In a spell bounding special effects sequence, Xavier, Beast and Wolverine with the able assistance of Quiksilver played with charm by Evan Peters free the unpredictable Erik Lehnsherr aka Magneto and together they go in search of Raven/Mystique as she infiltrates a Vietnamese peace signing ceremony in Paris in 1973 in a bid to assassinate the formidable weapons specialist Dr Bolivar Trask who is hellbent on obliterating all mutants with new Transformeresque type machines known as the Sentinels.
The rest of the action packed hugely spectacular X-Men Days of Future Past is a time travel mutant orgy in the same vein as Marvel's film The Avengers was with a bunch of superheroes coming together to battle the evil Loki. The cast is just as spectacular and director Singer gives as much screen time as possible to the prolific actors as well as to the lesser cast members but its his lingering cinematic gaze on the gorgeous male cast including Nicholas Hoult (A Single Man) as Beast, Michael Fassbender (Shame) as Erik, James McAvoy (Atonement) as a younger Xavier that gives this superhero mutant fantasy a distinctly homoerotic quality seldom seen in other superhero films.
By their nature superheroes are slightly narcissistic (look at Man of Steel, Batman, Iron Man) but especially so in X-Men Days of Future Past. The female superheroes in this film pale in comparison to their attention grabbing male counterparts with director Singer even giving Wolverine a nude scene as he wakes up in a New York apartment overlooking Time Square in the swinging seventies.
Ultimately, X-Men Days of Future Past is a Hollywood vehicle to reboot the old X-Men franchise and breath fresh life into the cast of the younger selves seen in X-Men: First Class. The film is wonderfully retro in parts and adds to the glamour of recreating the 1970's on screen with Fassbender and McAvoy looking particularly fetching as the younger Magneto and Xavier. Gone are all the dark overtones of the earlier X-Men films and in this invigorated version, all the mutants look glossy, stylized and supremely accessible. This is a Hollywood blockbuster not just for its multitude of stars but also for the riveting special effects, never mind the convoluted narrative. A must see film for all fans of the X-Men movies and those that follow such commercial gloss with vigour.
12 Years a Slave
Director: Steve McQueen
Starring: Chiwetel Ejiofor, Michael Fassbender, Paul Dano, Sarah Paulson, Lupita Nyong'o, Paul Giamatti, Benedict Cumberbatch, Brad Pitt, Quvenzhané Wallis, Michael Kenneth Williams
Based upon Solomon Northup's groundbreaking novel, 12 Years a Slave published in 1853 http://en.wikipedia.org/wiki/12_Years_a_Slave, British director Steve McQueen brings the critically acclaimed film version to the big screen exposing the cruelty, violence and brutality of the slave trade in the Antebellum Deep South prior to the American Civil War. Audiences have to bear in mind that 12 years a Slave is set in 1841, the first half of the 19th century when America having broken away from Britain was expanding its nation commercially especially in the Southern States like Georgia, Louisiana and basically most South Eastern states below the Mason-Dixon line from Virginia downwards.
Nevertheless, director McQueen emphasizes the emotional and physical imprisonment of both slave and slave owner in a terrifying master servant relationship which is based entirely on commerce and the expansion of agricultural land in the vast cotton-picking states of the American South East where slave owners viewed slaves as their personal property to be bought, sold or exchanged for debts as part of payment for arable land. Despite the commercial exchange and vicious currency of slavery, this does not excuse the devastating effects it had on the African American people who become slaves often ripping families apart as well as being subjected to all sorts of human rights abuses which would be unimaginable in a 21st century America with Barack Obama as president.
Slavery is a tough subject to contextualize onscreen and British director McQueen takes the challenge head on and show through the extraordinarily horrific experience of Solomon Northup (superbly played by British actor Chiwetel Ejiofor) who as a free man in Saratoga, New York travels as part of a minstrel band to Washington DC where after a drunken night is drugged and sold into slavery and literally shipped down the Mississippi river to the slave port of New Orleans.
Northup first becomes the property of seemingly benevolent land owner Ford played by Benedict Cumberbatch (The Fifth Estate), but after an altercation with the vicious plantation manager Tibeats an excellent cameo by Paul Dano, is transferred as part of a debt owing to the even more sadistic plantation owner Epps brutally played by Michael Fassbender. On Epps's cotton picking Louisiana plantation, Northup meets the vulnerable but tough Patsey (an excellent performance by screen newcomer and Kenyan actress Lupita Nyong'o) who becomes the forbidden object of desire by the psychotic, bored and lustful Epps.
It is really Nyong'o's Patsey who endures rape, torture and a particularly cruel whipping scene which elevates 12 Years a Slave into a shocking and harrowing portrayal of the absolute horrific conditions of 19th century slavery in the deep South, conditions so horrendous that the Northern states eventually intervened in a bid to abolish slavery resulting in the bloody American Civil War from 1861 to 1865 – http://en.wikipedia.org/wiki/American_Civil_War.
McQueen's film while at times lacking in narrative structure, is still an absorbing historical portrayal of humanity's capacity to inflict cruelty and suffering on their fellow humans, a point which Brad Pitt's character Bass emphasizes and who eventually assists Northup in his bid for emancipation. Shot in the suffocating heat of a Louisiana summer, 12 Years a Slave is atmospheric, brilliantly acted and deeply disturbing and a testament to man's own ability to survive under vicious circumstances.
Whilst 12 Years a Slave won People's Choice Award at the 2013 Toronto International Film Festival and has nine 2014 Oscar nominations, it is really the breakout performance of Lupita Nyong'o who shines amongst a British American cast including Alfre Woodard, Sarah Paulson, Paul Giamatti and Benedict Cumberbatch and Quvenzhané Wallis from Beasts of the Southern Wild as Northup's daughter Margaret.
This is recommended viewing for lovers of historical films, but be warned 12 Years a Slave is cruel, violent and shocking, which is exactly McQueen's intention in showing up Slavery as one of Mankind's most atrocious historical eras, a completely ruthless and harrowing practice, offering a contemporary cinematic counterpoint to the 1939 classic Gone With the Wind.
2013 Toronto International Film Festival Winners
Toronto International Film Festival (TIFF) takes place every year in September in Toronto, Canada.
Films which premiere at Toronto are often nominated for Academy Awards the following year.
TIFF does not hand out individual prizes for Best Actor or Actress but focuses on among others the following awards:
People's Choice Award & Best Canadian Feature Film
Opening Night Film: The Fifth Estate directed by Bill Condon starring Benedict Cumberbatch, Daniel Bruhl, Dan Stevens, David Thewlis, Alicia Vikander, Laura Linney, Stanley Tucci and Carice van Houten
People's Choice Award: 12 Years a Slave directed by Steve McQueen starring Chiwetel Ejiofor, Michael Fassbender, Brad Pitt, Paul Giamatti, Alfre Woodard, Benedict Cumberbatch, Paul Dano and Sarah Poulson
Best Canadian Feature Film: When Jews were Funny directed by Alan Zweig (documentary) starring Howie Mandel, Shelley Berman, Norm Crosby, Shecky Greene, Jack Carter, David Steinberg
Source: http://en.wikipedia.org/wiki/2013_Toronto_Film_Festival
2011 Venice International Film Festival Winners
Venice International Film Festival, known as the Biennale di Venezia takes place annually
in late August, early September and is known as the oldest Film Festival in the World.
Winners of the 2011 Venice International Film Festival are as follows: –
Golden Lion (Best Film): Faust directed by Alexander Sokurov
Silver Lion (Best Director): Cai Shangjun for People Mountain People Sea
Best Actor: Michael Fassbender – Shame
Best Actress: Deanie Ip – A Simple Life
Source: http://en.wikipedia.org/wiki/Venice_International_Film_Festival
Prometheus
Ridley Scott's much anticipated prequel to Alien, Prometheus contains astounding visuals and superb special effects and thematically centres on the anthropological term of first contact whereby mankind goes into deep space in search of their mysterious origins and discovers species bent on annihilation. Featuring an all star international cast including Noomi Rapace from the Swedish version of The Girl with the Dragon Tattoo, as the pivotal role of Shaw, Michael Fassbender from Xmen: First Class and Inglorious Basterds as David and South African Hollywood superstar Charlize Theron as Meredith Vickers, Prometheus follows the terrifying journey of the Prometheus spaceship into an unchartered planet to discover the origins of mankind.
Whilst the origin of species  remains questionable this film theorises that it is all down to a gradual mutation of DNA and naturally instinctive survival is paramount, in this case one species dominating the others through treachery and deceit. In Greek Mythology Prometheus is a titan who is credited with the creation of man but is also punished by Zeus for the theft of fire for human use – http://en.wikipedia.org/wiki/Prometheus. In the sci-fi universe of Prometheus man's creation and the discovery of something infinitely more powerful than fire is all consuming.
Man's insatiable quest for knowledge about their origins and his desire for answers that leads the motley crue of the ship to discover not one, but two alien races, one whose DNA feeds off the originator like a parasite and transforms into something purely evil and instantly recognizable. The only answer to creation provided in this film is to the question that the dubious David asks about his maker to Shaw's love interest the doomed Dr Holloway played by Logan Marshall-Green last seen in 2009's Brooklyn's Finest.
As in the visually spectacular Blade Runner, Ridley Scott's iconic dreamlike vision of the future set in Los Angeles in 2019, which now as it happens is not that far off, Prometheus is set in 2095 and predicts humans quest to discover other life forms, a journey, which like most space travel in the 21st century is predominantly sponsored by large commercial corporations represented in this film by the icy crew manager Vickers played by Theron. Prometheus like Blade Runner and Alien is pure sci-fi thriller with some astounding visuals but leaves the audience  slightly lost in space as the elusive narrative drifts towards a rather sudden and unpredictable climax.
Where the plotlines rupture with some fascinating twists, it is the technical superiority of this film which triumphs making Prometheus eclipse Avatar on so many levels and is worth watching on a cinematic widescreen with digitally enhanced surround sound.
Like Alien, Thelma and Louise and GI Jane, Ridley Scott has often relied on strong female leads to carry his films, and Noomi Rapace is brilliantly cast as the gritty Dr Elizabeth Shaw and carries the intensity of such a murky monochromatic  movie. Best scene is Shaw's speedy self diagnosis and instant electronic caesarian. Prometheus is brilliant as a Sci-Fi film and an enigmatic prequel, but is not Ridley Scott's best work, yet still thoroughly entertaining but not quite as terrifying as the original Alien movies or the horrific Event Horizon and like Avatar could have been enhanced by a Sigourney Weaver cameo.