Posts Tagged 'Rachel Weisz'
Black Widow
Director: Cate Shortland
Cast: Oscar nominee Scarlett Johansson (Marriage Story; Jojo Rabbit), Oscar nominee Florence Pugh (Little Women), Oscar winner Rachel Weisz (The Constant Gardener), BAFTA Nominee Ray Winstone (Nil By Mouth; That Summer!) Oscar winner William Hurt (Kiss of the Spider Woman), David Harbour, O-T Fagbenle, Olga Kurylenko
Film Rating: 8 out of 10 – and this film is currently showing in cinemas
Marvel's phase four of blockbuster Superhero films was meant to kick off in 2020 with the highly anticipated release of the spinoff film Black Widow, focusing on the origin story of the more elusive Avenger, Black Widow aka Natasha Romanoff and her extended espionage family.
Unfortunately, the Coronavirus Pandemic wreaked havoc in 2020 with theatrical release dates, forcing parent company Disney to push back the date to mid-2021 and also allowing Disney sufficient time to develop their online streaming service Disney Plus.
The Disney owned Marvel studio's big female driven film of 2020 Black Widow, finally did get released in mid-2021 and simultaneously went onto streaming on Disney Plus prompting the main star Oscar nominee Scarlett Johansson (Marriage Story; Jojo Rabbit) to sue Disney for contractual misconduct as she was hoping to reap some of the benefits of Black Widow, like she presumably did in the biggest Box office success of 2019, the theatrically released Avengers: Infinity War, which grossed billions of dollars worldwide in cinema ticket sales in the pre-pandemic era of packed cinemas.
Despite all the impending litigation, Black Widow is a superb spy film, directed by Australian director Cate Shortland with a fantastically talented cast besides Scarlett Johansson.
Completely upstaging Johansson is 2019's Oscar nominated breakout star of Little Women, Florence Pugh as the feisty "younger sister" Yelena Belevoa. Florence Pugh steals every scene in Black widow as the wisecracking Yelena along with the equally talented Oscar winner Rachel Weisz (The Constant Gardener) who plays Black Widow and Yelena's mysterious "mother" Melina.
There is the Red Guardian himself, the "father" of Natasha and Yelena, wonderfully played with a humorous bravado bordering on the crazy by character actor David Harbour (Black Mass, Suicide Squad, Quantum of Solace).
Black Widow's entire plot of Russian sleeper agents living in mid-Western America is carefully lifted from the hit TV series The Americans and director Cate Shortland pays homage to the 007 film Moonraker as she steers an entirely female lead Jason Bourne style action film.
Taking place in several global locations including Morocco, Norway and Budapest, Black Widow, which for all its narrative inconsistencies is absolutely saved by superb acting on the part of Scarlett Johansson, Florence Pugh and the really evil Russian villain, Dreykov superbly played by highly talented BAFTA Nominee Ray Winstone (Nil By Mouth; That Summer!) who is a sinister megalomaniac, who is paranoid about losing control of the sleeper international Black Widow program.
Winston mirrors French actor Michael Lonsdale's performance as Hugo Drax in Moonraker.
For all the drama, both on and off screen, Black Widow is fantastic to watch, with some memorable female lead action sequences and gets a film rating of 8 out of 10.
See it now on the Big Screen and support Scarlett Johansson's bid to recover her take of the Box Office earnings. Highly recommended viewing and way above standard for a Marvel film especially considering the talent involved.
THE 72nd BAFTA AWARDS /
THE BRITISH ACADEMY FILM AWARDS
Took place on Sunday 10th February 2019 in London
at the Royal Albert Hall
BAFTA Winners in the Film Category:
Best Film: Roma
Best Director: Alfonso Cuaron
Best Actor: Rami Malek – Bohemian Rhapsody
Best Actress: Olivia Colman – The Favourite
Best Supporting Actress: Rachel Weisz – The Favourite
Best Supporting Actor: Mahershala Ali – Green Book
Best Original Screen Play: Deborah Davis & Tony McNamara – The Favourite
Best Adapted Screenplay: BlackkKlansman
British Rising Star Award: Letitia Wright
Best British Film: The Favourite
Best Cinematography: Roma
Outstanding Debut Film: Beast
Best Foreign Language Film: Roma
Best Costume Design: Sandy Powell – The Favourite
Best Visual Effects: Black Panther
The Favourite
Director: Yorgos Lanthimos
Cast: Olivia Colman, Rachel Weisz, Emma Stone, Joe Alwyn, Nicholas Hoult, Mark Gatiss, James Melville, Timothy Innes, Basil Eidenbenz
When Queen Mary II died in 1694 and her husband King William III died in 1702, the British throne passed to Mary's sister Queen Anne in 1702 who bore 17 children through her marriage to Prince George of Denmark all of whom died in childbirth. The reign of Queen Anne was short lived, having only occupied the throne for 12 years.
Greek art house director Yorgos Lanthimos provides a bizarre parody of royal favouritism, jealousy and court rivalry in his lavish critically acclaimed period film The Favourite set during Queen Anne's reign at the beginning of the 18th century. Audiences should note that this is not an accurate historical drama in the vein of director Shekhar Kapur's epic films Elizabeth and Elizabeth, The Golden Age in which Cate Blanchett played the Virgin Queen. The Favourite is meant to be viewed as a parody.
The Favourite is a spiteful royal romp which has three deliciously brilliant portrayals of different women at its core.
Oscar winner Rachel Weisz (The Constant Gardner) is absolutely superb as the manipulative and influential Lady Sarah who is usurped in her position at the court by her young cousin a feisty Abigail wonderfully portrayed by Oscar winner Emma Stone (La La Land).
Both women are trying to gain favour with the sickly and constantly bored Queen Anne beautifully played by British actress Olivia Colman who gives a career best performance as a Queen who is both commanding and fickle, a female regent constantly plagued by the death of all her children and her inability to produce a viable heir.
With gorgeous costumes by Sandy Powell and a brittle inventive script by Deborah Davis and Tony McNamara, Yorgos Lanthimos's inventive portrayal of British Royalty is both cheeky, outrageous and utterly thought-provoking, a vicious parody of those who hold power and the others who circle precariously around the centre of that regal orbit.
Beautifully constructed and wonderfully filmed, The Favourite is not going to be everyone's cup of perfectly brewed tea but it will certainly challenge viewers' perception of the pedestal that royalty places itself on.
Love it or hate it, The Favourite is a challenging and lavish film about vile characters, utter debauchery and a satirical look at how powerful women can outwit each other, while the vain and ineffectual men particularly Harley played by Nicholas Hoult (A Single Man) and Masham played by Joe Alwyn (Billy Lynn's Long Halftime Walk) are mere pawns in this whimsical game of deception and influence over a powerful Queen that was equally swayed by her closest companions.
The Favourite gets a film rating of 9 out of 10 and is utterly bizarre, a ravishing parody of royalty which will leave an inedible impression on the viewer.
My Cousin Rachel
Director: Roger Michell
Cast: Rachel Weisz, Sam Claflin, Iain Glen, Holliday Grainger, Pierfrancesco Favino, Andrew Knott, Tim Barlow
South African born British based director Roger Michell has been responsible for such films as Notting Hill, Changing Lanes, Morning Glory and Hyde Park on Hudson. Michell returns with a cinematic adaptation of the Victorian Gothic romantic drama by Daphne du Maurier My Cousin Rachel set in the dramatic cliffs of Devon and Cornwall and also in Florence Italy.
My Cousin Rachel is a handsome cinematic production held together by a suitably ambiguous performance by Oscar winner Rachel Weisz (The Constant Gardener, Youth) as Rachel Ashley who arrives in England to seduce the impressionably young Philip Ashley wonderfully played with besotted bewilderment by Sam Claflin (Me Before You, Their Finest and The Riot Club) who is proving to be one Britain's rising young actors.
When young Philip's legal guardian travels to Tuscany to recuperate and then mysteriously dies, leaving Philip's claim to his cousin's massive estate in a precarious position, Philip travels to Italy to uncover the source of the mystery surrounding his new relative the beautiful Rachel. Upon arrival in Italy he does not meet Rachel but the Italian lawyer handling his cousin's affairs played by Pierfrancesco Favino (Rush, Angels and Demons), who Philip suspects is conniving with Rachel to steal Philip's rightful inheritance.
Back in England, advised by his godfather Nick Kendall played by Game of Thrones star Iain Glen and his daughter Louisa played by Holliday Grainger (Cinderella, The Finest Hours and Anna Karenina), Philip is initially weary of Rachel as she sets foot on English soil soon to arrive at the family home at dusk.
Incredibly dramatic, the one thing Philip has not had in his life is any female influences so naturally he is completely beguiled by the beautiful and exotic half Italian Rachel who makes such a fashionable entrance in local society, which is enough to cause a mild scandal.
But as family jewels are generously given away and as Philip approaches his 25th birthday upon which he will rightfully inherit his cousin's massive estate, intrigue within the landed gentry is heightened by the scheming and provocative Rachel who often dressed in mourning is portrayed as a sort of Black Widow, a woman with a rumoured  history of killing off husbands to profit off their inheritances.
My Cousin Rachel is the Victorian femme fatale, a noir female character who is subtly undermining all that the male hero is trying to achieve, which in this case is quenching his unbridled lust matched only by Rachel's own unbridled extravagance. Sexual tensions simmer as the scheming continues, but as the narrative draws to a dramatic conclusion, My Cousin Rachel leaves audiences with a portrait of a woman with considerably dubious intentions.
My Cousin Rachel gets a film rating of 7 out of 10 and will be enjoyed by audiences that love period dramas with a touch of the Victorian Gothic, especially scenes of luminous pearls cascading down darkened candlelit staircases.
Youth
Director: Paolo Sorrentino
Cast: Michael Caine, Harvey Keitel, Rachel Weisz, Paul Dano, Jane Fonda, Nate Dern, Ed Stoppard, Tom Lipinski, Alex Beckett, Alex Macqueen
Italian director Paolo Sorrentino first caught my attention with the visually impressive film, This Must be the Place about an aging rocker who leaves England and travels across America. The film starred Sean Penn. Then Sorrentino made the beautiful La Dolce Vita inspired masterpiece, The Great Beauty set in Rome about an aging playboy who reflects on his life of indulgence and decadence.
Now, Sorrentino returns with another visually impressive film Youth starring Michael Caine, Harvey Keitel and Jane Fonda. Youth is film as art.
A sublime and intriguing cinematic meditation on both the horrors and concealed desires of aging. It is a superb film, especially the last third of the film, which is so visually arresting and gorgeous it will be difficult for viewers not to be moved.
Set mainly in a luxurious Swiss Spa resort which naturally focuses on well-being, health and vitality, Youth centres on the uncomplicated friendship between two aging celebrities, Fred Ballinger, superbly played by Oscar winner Michael Caine (The Cider House Rules) and film director Mick Boyle also brilliantly played by Harvey Keitel (Casino, The Piano).
Oscar winner Rachel Weisz (The Constant Gardener) also stars as Ballinger petulant but continuously sad daughter and assistant, who happens to be married to Boyle's son.
Paul Dano (There will be Blood) appears as a hip Hollywood actor who is experimenting with his next major onscreen role. He finally decides to choose Desire over Horror.
The repartee between Keitel and Caine is superb, punctuated by some fantastically crafted scenes on aging bodies recuperating under the guidance of the Swiss. Ballinger is also constantly being pestered by the Queen of England's emissary to conduct a concert of one of his most prolific works, Simple Songs, which was created as a sign of his complicated love for his wife.
Youth is a beautiful film, wonderfully shot, taking full advantage of the pristine Swiss countryside and surrounding mountain ranges. What is even more captivating in the film, is Michael Caine's droll and almost nonchalant performance as the reluctant composer who is being enticed at every turn to come out of semi-retirement.
Caine's performance is phenomenal considering how few well-written roles there are in Hollywood for actors over the age of seventy in this youth obsessed digitized contemporary culture that currently influence Western cinema. Which brings us to the second most captivating scene in the film, the mind-blowing moment between Harvey Keitel and screen legend and icon, Jane Fonda (Barbarella, The China Syndrome, The Butler). In such a brief scene, Fonda is sizzling and absolutely defines the film.
Fonda plays Brenda Morrell a high maintenance Hollywood diva who unexpectedly arrives at the Swiss resort to break some startling news to her director Mick Boyle. This scene is cinematically brilliant in that it occurs just after Ballinger and Boyle are drooling over the voluptuous Miss Universe as she takes a dip in the same swimming pool they are in.
Youth is a cinematic feast, a gorgeous and rich meditation on the wonders and horrors of grow old gracefully. Aesthetically challenging, Youth is highly recommended viewing and worth a visit for a discerning audience who like their films to be inventive, invigorating and poignant.
63rd Golden Globe Awards
Took place on Sunday  16th January 2006 hosted by the Hollywood Foreign Press Association
Golden Globe Winners in The Film Categories:
Best Film Drama: Brokeback Mountain
Best Film Musical or Comedy: Walk the Line
Best Actor Drama: Philip Seymour Hoffman – Capote
Best Actress Drama: Felicity Huffman – TransAmerica
Best Actor Musical or Comedy: Joaquin Phoenix – Walk the Line
Best Actress Musical or Comedy: Reese Witherspoon – Walk the Line

Best Supporting Actor: George Clooney – Syriana
Best Supporting Actress :Rachel Weisz – The Constant Gardener
Best Director: Ang Lee – Brokeback Mountain
Best Foreign Language Film: Paradise Now (Palestine)
Source:
Oz, the Great and Powerful
Sam Raimi, the director of the original Spiderman trilogy, has reinvented the great tale of the 1939 Judy Garland classic The Wizard of OZ in his unique, but tepid version in Oz, the Great and Powerful starring James Franco (Milk, 127 Hours) as the self-infatuated and egotistical conman wizard Oz. The film's opening sequence is truly hilarious, shot in black and white and set in a mid-Western state fair in Kansas in 1905, where Oz, also known as Oscar Diggs poses as a Wizard and puts on a less than illustrious show to try and dazzle the conservative rural community of this Mid-Western American state. Assisted with a comic glee by Frank played by the underutilized Zach Braff, Oz is soon wooing audiences into all sorts of illusions and magic tricks, some of which fall short of magnificence.
However in an attempt to escape the county fair strongman, Oz gets caught up on a balloon in a tornado as one does in Kansas and soon finds himself transported to the radiant and colourful land of Oz where he meets the bewitching Theodora, underplayed by the smouldering Mila Kunis (Black Swan) who soon takes Oz on the yellow brick road to meet her supposedly evil sister Evanora, played with malicious panache by Oscar Winner Rachel Weisz (The Fountain, The Constant Gardiner).
Evanora upon showing Oz the mountains of gold stored in the Emerald city soon cons him into tracking down the Wicked Witch in a bid to steal her magic wand. Oz journeys to the dark forest along with a china girl and a pet flying monkey and tracks down the supposed evil witch who turns out to be Glinda the Good, beautifully played by Michelle Williams (My Week with Marilyn, Blue Valentine), who obviously took the role so that her daughter Mathilda could see one of her movies. The rest of Oz, the Great and Powerful is light, candied entertainment with the occasional witty line, but really lacking in the true imaginative retelling found in Tim Burton's brilliant Alice in Wonderland or in the dark magic realism of Guillermo del Toro's Pan's Labyrinth.
Even the flying baboons are not that scary. Raimi who is renowned for making brilliant horror films (Drag Me to Hell and The Evil Dead), find himself caught up in the world of Oz without the necessary desire to make the fantasy vaguely fascinatingly edgy, but rather predictable and very tame. The best lines in the film are taken by Williams and Weisz who know how to play sassy witches, trying to compete for the attentions of the goofy Wizard, slightly overplayed by Franco.
Oz the Great and Powerful will definitely appeal to younger viewers and lacks some of the edginess seen in some of the more recent revisionist fairytale cinematic offerings. My only thought throughout this version was where the heck was Dorothy? She was stuck in celluloid legacy as Judy Garland in the MGM original.
The only one with sparkling shoes was Glinda the Good, which audiences briefly caught a glimpse in the last few scenes of the film. Fascinating and fabulous as it is, like the Oz's final projected appearance in the Emerald City, much of the film is filled with hot air, but is nevertheless entertaining in parts.
78th Academy Awards
5th March 2006
Oscar Winners at the 78th Academy Awards
Best Picture: Crash
Best Director: Ang Lee – Brokeback Mountain
Best Actor: Philip Seymour Hoffman – Capote
Best Actress: Reese Witherspoon – Walk the Line
Best Supporting Actor: George Clooney – Syriana
Best Supporting Actress: Rachel Weisz – The Constant Gardener
Best Original Screenplay: Paul Haggis & Robert Moresco – Crash
Best Adapted Screenplay: Larry McMurtry and Diana Ossana – Brokeback Mountain
Best Foreign Language Film: Tsotsi directed by Gavin Hood (South Africa)
Best Documentary Feature: March of the Penguins directed by Luc Jacquet and Yves Darondeau
Best Original Score: Gustavo Santaolalla – Brokeback Mountain
Best Cinematography: Dion Beebe – Memoirs of a Geisha
Best Costume Design: Colleen Atwood – Memoirs of a Geisha
Best Film Editing: Hughes Winborne – Crash
Best Visual Effects: King Kong
Source: http://en.wikipedia.org/wiki/78th_Academy_Awards
The Bourne Legacy
Director: Tony Gilroy
Cast: Jeremy Renner, Rachel Weisz, Albert Finney, Corey Stoll, Edward Norton, David Strathairn, Joan Allen, Stacy Keach, Sam Gilroy, Scott Glenn
Tony Gilroy the screenwriter for the original three Bourne movies takes the director's chair in the fourth installment of the Bourne movies The Bourne Legacy featuring an all star cast including Jeremy Renner as Aaron Cross, Rachel Wiesz as Dr Marta Shering. The Bourne Legacy also features Edward Norton as Eric Nyer and Stacy Keach as Mark Turso along with brief appearances by David Strathairn, Joan Allen and Albert Finney. The Bourne Legacy has all the excitement, espionage and action of the first three Bourne movies except for Jason Bourne himself, whose character lurks in the fourth installment as a shadow, with this film's tag line being suitably appropriate There was never just one.
The Bourne Legacy picks up soon after the third Bourne film ends, The Bourne Ultimatum (2007) when Jason Bourne played by Matt Damon deftly vanishes into the Manhattan morning traffic, swopping its urban location for icy Alaska where viewers are introduced to Aaron Cross bringing a muscularity to the role is the superb Jeremy Renner another drug-modified recruit employed by a shady covert agency within the CIA, battling hungry wolves and his own survival in this gorgeous Alaskan wilderness.
Matt Damon in the first two Bourne films always had this stern yet slightly confused look on his face as he was globetrotting across Europe trying to work out who wanted him dead without vocalize his unique dilemma. Jeremy Renner is wonderfully vocal and expressive in his portrayal of Aaron Cross who soon has to flee Alaska and head for Maryland to discover the supplier of the shady drugs he is taking from a less than orthodox Pharmaceutical company in Bethesda, Maryland.
Cross soon teams up with Marta who after surviving a horrific laboratory shooting, trusts in Cross as her number 5 patient and they flee America for the Philippines.  The Bourne Legacy might lack some of the directorial flourishes of the more experienced action directors of the original visceral Bourne Trilogy Doug Liman (Mr and Mrs Smith) and Paul Greengrass (United 93), but retains all the traits of the original movies: exotic locations, shady government agencies and of course a brilliant chase sequence in the overpopulated streets of Manila.
Two particular noteworthy scenes are Cross's encounter with a wolf in Alaska and the superbly shot motorbike chase sequence in Manila. The chemistry between Wiesz and Renner is genuine and they make a great onscreen couple something which was lacking in the original films especially when Matt Damon's love interest Franka Potente was eliminated in The Bourne Supremacy.
The Bourne Legacy continues in the tradition of the first three films and viewers who have seen that trilogy will be impressed by Tony Gilroy's recreation of the Bourne universe complete with physical violence, ruthless assassins and spectacular action sequences complete with some really well timed dialogue especially between Renner and Wiesz. Gilroy as director was also responsible for the superb Michael Clayton and Duplicity and does not disappoint in The Bourne Legacy. The chase sequence in the Philippines deserves an Oscar for Best Sound Editing. Recommended viewing for those who love spy thrillers and enjoy Jeremy Renner's always unnerving on screen performances as seen in The Hurt Locker and The Town and proves that Renner has what it takes to be a leading man.
Three Sixty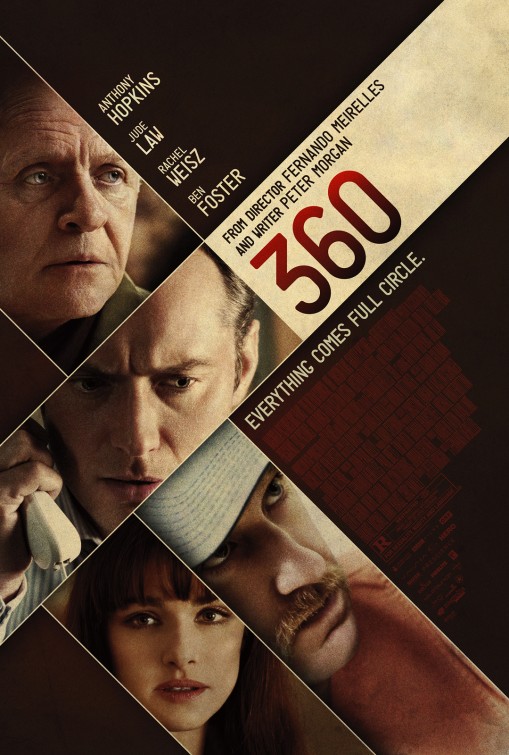 From the Brazilian Director Fernando Meirelles whose previous films include the Oscar-winning adaptation of the John le Carre novel, The Constant Gardner and the highly acclaimed City of God, comes his latest film Three Sixty collaborating with Oscar winning scriptwriter Peter Morgan (The Queen) who deftly interweaves a complex narrative tapestry focusing on humanity's ever spinning carousel of desires connecting each character around the world. Three Sixty premiered at the 2011 London International Film Festival and the 2012 Durban International Film Festival and is a brilliant virtuoso look at how humanity is connected through love, weakness, temptation and sex.
Three Sixty features an international cast and is a series of interconnected character studies set in Vienna, Bratislava, Paris, London, Denver and Phoenix and includes wonderful yet brief performances by Rachel Wiesz, who garnered an Oscar for Best Supporting Actress in The Constant Gardner, Jude Law, Ben Foster, Marianne Jean-Baptiste (Secrets and Lies) and Oscar winner Anthony Hopkins as well as a host of lesser known Eastern European, Brazilian and French stars.
Three Sixty is a thought-provoking look at how sexual desire traverses all geographical boundaries while love, temptation, blackmail and infidelity abound around the globe connecting all nationalities, cultures and religions. Watch out for a wonderful performance by Anthony Hopkins as a recovering alcoholic searching for his missing daughter in Phoenix, Arizona or Jude Law as a less than proper British business man Michael Daly being caught in a web of blackmail in Vienna and Rachel Wiesz as his wife Rose who is far from faithful back in London.
The real star of the film is Ben Foster in a superb cameo as a shaven-head ex-con Tyler, recently paroled sex offender stranded in the snowbound Denver International Airport en route to Phoenix struggling with his inner demons. Russian actor Vladimir Vdovichenkov makes an impression playing Sergei a Russian gangster's driver willing to make a break from an abusive boss and escape with an innocent woman. Three-Sixty is in German, French, Portuguese and English but is a spell bounding portrayal of humanity traveling around the globe and taking all their urges, desires and ambitions with them, a surprising sexual thriller by one of international cinema's more enigmatic and brilliant directors. Recommended as a thought-provoking film and will surely make any viewer want to hop on a plane to an exotic city and escape, transfer or express one's own forbidden sexual desires…