Posts Tagged 'Samuel L. Jackson'
The Protege
Director: Martin Campbell
Cast: Maggie Q, Michael Keaton, Samuel L. Jackson, Patrick Malahide, Robert Patrick
Polish Vietnamese actress Maggie Q embraces her Vietnamese roots in the action film The Protégé deftly directed by Casino Royale director Martin Campbell as she plays an assassin Anna who seeks to avenge the death of her mentor Moody played again by the ubiquitous Oscar nominee Samuel L. Jackson (Pulp Fiction).
Anna travels from her plush London residence to Da Nang in Vietnam to track down the mysterious Mr Hayes played by Patrick Malahide (The World is Not Enough, Mortal Engines) but first she has to encounter the rather elegant fixer Rembrandt wonderfully played by Oscar nominee Michael Keaton (Birdman).
Michael Keaton steals the show in The Protégé lighting up the screen with his razor sharp one liners as he banters with Maggie Q in a sizzling scene stealer at a lavish restaurant in Da Nang, which is clearly inspired by any Bond film more specifically The Man with the Golden Gun.
While the script for The Protégé is a bit sketchy and there are large sections of the storyline which are completely glossed over until the final 15 minutes of the film, director Martin Campbell manages to keep the slick adult action film entertaining and exciting with enough exotic locations to cloak this entire film in a 007 vibe but without the budget or the production studio to elevate the film onto a higher level.
Nevertheless, The Protégé is action-packed and enjoyable, cruel and elegant, an engaging storyline which is saved by a brilliant performance by Michael Keaton who saves this thriller from being formulaic despite a body count to rival The John Wick franchise.
There is a brief appearance by Robert Patrick (Terminator 2: Judgement Day) as an American biker guy Billy Boy and Samuel L. Jackson just plays another version of himself which audiences have seen in countless similar roles.
The Protégé is a great way to spend two hours, with plenty of action and enough exotic locations from Romania to Vietnam to keep audiences satisfied, however one cannot shake the feeling when watching this film, that it is entirely B-grade but necessary and fun.
The Protégé won't win any awards but it's an entertaining assassin action film with shady characters and an unexpected twist that is both riveting and explosive. Michael Keaton is by far the best in the film.
The Protégé gets a film rating of 6.5 out of 10 and is worth seeing just to witness the on screen chemistry between the gorgeous Maggie Q and Michael Keaton.
The
Hitman's Wife's Bodyguard
Director: Patrick Hughes
Cast: Ryan Reynolds, Salma Hayek, Samuel L. Jackson, Antonio Banderas, Frank Grillo, Morgan Freeman, Richard E. Grant, Tom Hopper, Caroline Goodall, Rebecca Front
It's always good to get the same director and writer back for the sequel. In this case director Patrick Hughes reunites with screenwriter Tom O'Connor for the even crazier sequel to 2017's The Hitman's Bodyguard with 2021's The Hitman's Wife's Bodyguard reuniting the cast of the original: Ryan Reynolds, Salma Hayek and Samuel L. Jackson who star in what is best described as a globetrotting action movie on speed.
If viewers need pure and unadulterated escapism, then get to the cinema now and watch The Hitman's Wife's Bodyguard with a supporting cast that includes Oscar winner Morgan Freeman (Million Dollar Baby) as Reynold's character Michael Bryce's mentor Senior and Oscar nominee Antonio Banderas (Pain and Glory) as the evil Greek Villain Aristotle Papadopoulos.
This crazy foul-mouthed action films starts off with Michael Bryce having therapy for his trauma after realizing that he is a failed bodyguard and then soon Bryce is reunited with Sonia Kincaid, played with a mad cap brilliance by Salma Hayek on the Italian resort island of Capri. Sonia is desperate to find her estranged hitman husband the equally foul-mouthed and violent Darius Kincade played by Samuel L. Jackson who had no trouble reprising this role.
The violence and mayhem inducing trio are soon recruited by an Interpol agent Bobby O'Neil wonderfully played by the macho Italian-American actor Frank Grillo (The Grey, Captain America and the Winter Soldier) to stop psycho Greek shipping tycoon Papadopoulos played with a lavish sophistication by Banderas who is intent on destroying Europe's complex digital infrastructure, causing the EU economy to collapse.
The action in this film is completely over the top, punctuated by some really cool plot points such as the continually battered Michael Bryce sending voice notes to his future self, wishing him a AAA day.
As the outlandish story jet sets around Italy from Portofino to Florence to Rome, the action sequences are crazy and unoriginal, even borrowing an exact series of action scenes from The Spy who Loved Me.
Besides the bad language and often incoherent script, the only other highlight are the brief scenes that Hayek and Banderas share together reigniting their blazing screen presence first developed in their 1995 film Desperado directed by Mexican director Robert Rodriguez. Then of course there is the ultra-funny Ryan Reynolds who is hilarious as the bruised Michael Bryce who appears to survive every assassination attempt under the Tuscan sun.
Catch this crazy spy spoof The Hitman's Wife's Bodyguard only in cinemas now which gets a film rating of 6.5 out of 10. This is classic Millennium studio content which sells box office tickets and attracts the big stars to their action adventure films.
Spiderman: Far From Home
Director: Jon Watts
Cast: Tom Holland, Jake Gyllenhaal, Samuel L. Jackson, Marisa Tomei, Jon Favreau, Cobie Smulders, Zendaya, Angourie Rice, Tony Revolori
Spiderman: Homecoming 38 years old director Jon Watts returns with a sequel Spiderman: Far From Home which follows directly on from Avengers: Endgame and Captain Marvel so theoretically this film is strictly for Marvel fans who have been following the series of MCU films.
British rising star Tom Holland reprises his role as the geeky school kid Peter Parker aka Spiderman and this time we join him and his friends on a summer science trip to Europe taking in the best locations including Venice, Prague and Berlin.
However at the insistence of Aunt May, wonderfully played by Oscar winner Marisa Tomei (My Cousin Vinny) Peter Parker packs his Spiderman suit for the trip to the continent. As predicted the moment they are in Venice enjoying the canals a mysterious elemental force wreaks havoc on the Venetian waterways and is miraculously saved by Mysterio aka Quentin Beck wonderfully played with a sly malevolence by Oscar nominee Jake Gyllenhaal (Brokeback Mountain).
Naturally the impressionable Peter Parker trusts Quentin Beck with some sophisticated technology produced by Stark industries only for Mysterio to go all Donnie Darko on us.
Nick Fury played with relish by Oscar nominee Samuel L. Jackson (Pulp Fiction) enlists the help of the awkward school going kid Peter Parker to save Europe from total destruction specifically London and Venice. Spiderman must not only figure out who the real enemy is but also pluck up the courage to kiss the love of his life MJ played by Zendaya (The Greatest Showman) and trust her enough to reveal his true identity.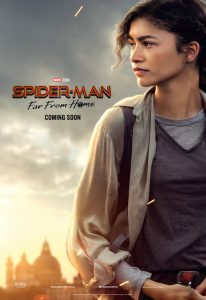 Humour in Spiderman: Far From Home is provided by Flash Thompson played by Guatemalan-American actor Tony Revolori (The Grand Budapest Hotel) who has some witty one liners and Spiderman's father figure is played by Happy Hogan played zest by Jon Favreau (Iron Man).
What makes Spiderman: Far from Home so brilliant are the dazzling visual effects especially displayed with professional dexterity in the film's second half. Gyllenhaal is brilliant as the crazy computer genius Quentin Beck and is a perfect foil to the charming but insatiably awkward Spiderman for the Instagram generation wonderfully acted by Tom Holland who beats Tobey Maguire in the Sam Riami trilogy and the doomed casting of Andrew Garfield in The Amazing Spiderman.
In any event, the amount Disney paid Sony to use Spiderman in the Marvel Avengers cinematic universe is worth its weight in gold judging by how fill a Saturday matinee was at the theatre.
Spiderman: Far from Home gets a Film Rating of 8 out of 10 and is worth seeing for the brilliant visual effects, great onscreen chemistry between Gyllenhaal and Holland and a perfect action adventure film which will surely inspire the millennials to embrace this crazy web slinger who likes taking selfies as he flies around Manhattan skyscrapers.
Avengers: Endgame
Directors: Anthony & Joe Russo
Cast: Robert Downey Jr, Chris Hemsworth, Mark Ruffalo, Chris Evans, Scarlett Johansson, Jeremy Renner, Paul Rudd, Robert Redford, Michael Douglas, Josh Brolin, Gwyneth Paltrow, Don Cheadle, Anthony Mackie, Chadwick Boseman, Benedict Cumberbatch, Tilda Swinton, Brie Larson, Tom Holland, Karen Gillen, Zoe Saldana, Evangeline Lilly, Tessa Thompson, Rene Russo, Elizabeth Olsen, Sebastian Stan, Tom Hiddleston, Danai Gurira, Benedict Wong, Pom Klementieff, Dave Bautista, Chris Pratt, Vin Diesel, Letitia Wright, John Slattery, Jon Favreau, Hayley Atwell, Natalie Portman, Marisa Tomei, Angela Bassett, Michelle Pfeiffer, William Hurt, Cobie Smulders, Linda Cardellini, Frank Grillo, Hiroyuki Sanada, James D'Arcy, Bradley Cooper, Samuel L. Jackson, Ty Simpkins    
Marvel Cinematic Universe continues with the highly anticipated sequel to Avengers: Infinity War with Avengers: Endgame featuring all the famous superheroes that fans have grown to love including Iron Man, Captain America, Thor, The Hulk, Antman, Hawkeye and Captain Marvel as they band together to go back in time to retrieve the infinity stones to reverse the evil Thanos's ultimate revenge at the end of Infinity War where he made half the population vanish including such beloved heroes as Spiderman, Black Panther and Doctor Strange.
As Endgame starts, Ironman is stuck in space, Thor takes to drink in the New Asgard and Captain America is despondent that the Avengers are at their lowest point ever.
Captain Marvel played by Brie Larson rallies the troops along with Black Widow played by Scarlett Johansson. Jeremy Renner returns sporting a fantastic haircut as Clint Barton, aka Hawkeye to assist the remaining Avengers as they devise a time travel device to allow them to go back in time to three separate intergalactic locations to retrieve the highly precious and powerful Infinity Stones. It's the ultimate Time Heist as Antman points out.
What follows is a fantastic feast of Superheroes which directors Anthony and Joe Russo will have hard core Marvel fans both laughing and crying at the deluge of their cinematic idols as they all band together to destroy the evil Thanos.
While some of the plot points in this three hour long superhero extravaganza don't all get resolved, it certainly opens up a whole lot of new possibilities such a possible separate Hawkeye film? Sequels to the hugely successful Black Panther and Guardians of the Galaxy are both on the cards as well as another Spiderman film. So there is no shortage of geek fan crushing that will occur in Avengers: Endgame and the subsequent films to follow. Once again Marvel knocks it out of the park judging by the lucrative response at the international box office.
Avengers: Endgame is a culmination of all the Marvel films of the last decade and hints at a new start for some of the lesser known superheroes to flesh out their story lines. Let's face it with an overcrowded universe, audiences will battle to identify with any one superhero but rather applaud and cheer at the massive team of Avengers and all their trusted sidekicks. Audiences should look out for cameos by Tessa Thompson as Valkyrie, Sebastian Stan as the Winter Soldier and of course Thor's malevolent brother Loki played by Tom Hiddleston.
Avengers: Endgame is definitely for Marvel fans and trust me everyone from the previous films are in it. It's definitely worth seeing and gets a film rating of 7.5 out of 10.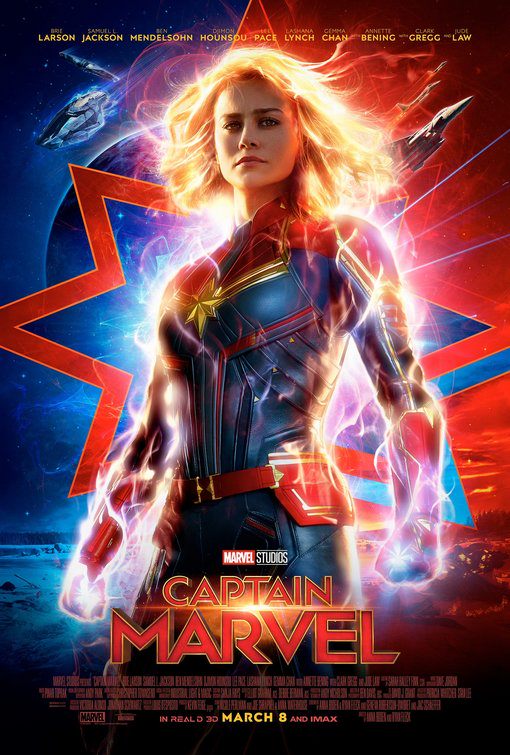 Captain Marvel
Directors: Anna Boden & Ryan Fleck
Cast: Brie Larson, Samuel L. Jackson, Annette Bening, Jude Law, Ben Mendelsohn, Lashana Lynch, Lee Pace, Clark Gregg, Gemma Chan, Djimon Hounson, Chris Evans, Scarlett Johansson, Rune Temte
Just before Avengers: Endgame hits theatres, Marvel had to introduce one more superhero to the galaxy of stars. It's the Retro intergalactic Captain Marvel wonderfully played by Oscar winner Brie Larson also known as Airforce Pilot Carol Danvers who gets whisked into space to become indoctrinated by the Kree Civilization, an advanced alien race headed up by the mysterious Supreme Being icily played by Annette Bening in her Marvel Comics debut.
Audiences can be forgiven for thinking that they had bought cinema tickets to a Star Trek reboot as the first twenty minutes of Captain Marvel is entirely set in space. Until Captain Marvel miraculously escapes an intergalactic feud between the Kree and the Skrull tribes and lands up in Los Angeles in 1995 in a blockbuster video store of all places, the film effortlessly shifts its location from outer space to a particular time and place.
In California, Captain Marvel teams up with a youthful Nick Fury wonderfully played by Samuel L. Jackson whose screen chemistry with Brie Larson is electrifying.   
Like all the other Marvel films and particularly those that loved Avengers: Infinity War, then Captain Marvel is a fun mixture of superhero and Guardians of the Galaxy and fits right in with the current trajectory the Marvel films are going. More significantly it is the first entirely female centred superhero film, with Brie Larson doing a sterling job, although admittedly the film does not quite match up to DC Comics's brilliant Wonder Woman directed by Patty Jenkins.
There is sufficient plot twists, location changes as Captain Marvel and Nick Fury travel to Louisiana to discover her real human identity as Airforce Pilot Carol Danvers as they team up with fellow co-pilot Maria Rambeau played by rising British star Lashana Lynch.
Oscar nominee Jude Law (The Talented Mr Ripley) plays the arrogant Kree commander Yon Rogg who proves to be a worthy adversary to Captain Marvel.
Captain Marvel is a fun filled retro intergalactic romp of a film engagingly written and populated with some witty one liners. Brie Larson pulls off the role of the latest female action superhero with credibility and nuance as she struggles to discover her real identity and where her role as Captain Marvel fits in to the larger Avengers scheme of things.
Flashy visual effects and some great onscreen chemistry save Captain Marvel from being just another superhero film and this gets a film rating of 7 out of 10.
Audiences should definitely see Captain Marvel before watching Avengers: Endgame. Recommended Viewing for Marvel fans only and regular attendees of Comicon.
The

Hitman's

Bodyguard
Director: Patrick Hughes
Cast: Ryan Reynolds, Samuel L. Jackson, Gary Oldman, Salma Hayek, Elodie Yung, Joaquim de Almeida, Sam Hazeldine, Rod Hallett, Richard E. Grant
Despite an international cast, director Patrick Hughes stylistically violent action film The Hitman's Bodyguard becomes a warped buddie movie with Samuel L. Jackson starring as Darius Kincaid a foulmouthed assassin who unwillingly teams up with the executive protection agent Michael Bryce played by Canadian Deadpool star Ryan Reynolds.
After an explosive opening sequence in Manchester, England and then followed by an equally hectic sequence in Coventry, Bryce is tasked with transporting Kincaid intact to the International Criminal Court in The Hague, Netherlands to testify against evil Belarussian dictator Vladislav Dukhovich played by Oscar nominee Gary Oldman (Tinker Tailor Soldier Spy) complete with dodgy accent.
What was Gary Oldman thinking appearing in such a film?
Then again what was another Oscar nominee Mexican star Salma Hayek (Frida) thinking appearing as the equally foulmouthed Honduran jailbird Sonia Kincaid wife to Darius?
Even the two sequences with Hayek and Jackson are drizzled in bloodshed which is pitiful considering that it detracts from any potential onscreen chemistry.
Clearly all the stars involved in The Hitman's Bodyguard did not act in this film to further their careers.
Then again, obviously the director of The Expendables 3, Patrick Hughes knows that his audience is not going to take the film too seriously if he packs The Hitman's Bodyguard with excessive violence that the film becomes stylistically nauseating especially considering the events that are currently happening in 21st century Europe including multiple random acts of terror in every city from London to Barcelona.
The only redeeming feature of The Hitman's Bodyguard besides the onscreen sparing between Reynolds and Jackson is the multi chase sequence in Amsterdam involving a ski boat, motorcycle and various vehicles along the Dutch canals.
Action fans will be satisfied as basically every city featured in The Hitman's Bodyguard gets shot at and blown to smithereens from Manchester to Amsterdam to The Hague.
Unlike director Edgar Wright's excellent Southern crime caper Baby Driver, the action sequences in The Hitman's Bodyguard is repulsively manufactured and the violence is deliberately pornographic. The story is definitely thin on content which underscores the question why such normally bankable stars including Ryan Reynolds, Gary Oldman and Samuel L. Jackson would consider acting in such an excessively violent film without a pause to think what the real cinematic message conveys: That violence is acceptable internationally?
Even the brief appearances by character actors Richard E. Grant and Portuguese star Joaquim de Almeida as a sinister Interpol agent do not redeem the narrative in any significant way.
The Hitman's Bodyguard gets a film rating of 6.5 out of 10 and is big on action, violence, bloodshed and a massive body count (mostly of mean looking Belarussians) and low on nuanced content. Entertaining to an extent but way over done.
Kong:

Skull Island
Director: Jordan Vogt-Roberts
Cast: Tom Hiddleston, Brie Larson, Samuel L. Jackson, John C. Reilly, John Goodman, John Ortiz, Shea Whigham, Corey Hawkins, Tian Jing, Toby Kebbell, Jason Mitchell, Richard Jenkins, Thomas Mann
The allusions to Apocalypse Now and Joseph Conrad's novel The Heart of Darkness are rife in newcomer director Jordan Vogt-Roberts action packed seventies set adventure film Kong: Skull Island.
Featuring an international cast including British actor Tom Hiddleston, Oscar winner Brie Larson (Room), John Goodman, Samuel L. Jackson, John C. Reilly and Tian Jing (The Great Wall), Kong: Skull Island wastes no time on characterization or dramatic build up but rushes straight into an adrenaline filled action film set at the end of the Vietnam war in 1973.
With a retro seventies soundtrack to match, Bill Randa played by John Goodman and Houston Brooks played by 24: Legacy's Corey Hawkins get the go ahead from Senator Willis briefly played by Richard Jenkins (Eat, Pray, Love) to assemble a military team and journey to a mysterious storm ridden island in the South Pacific on an exploratory mission.
The team consists of soldiers hanging for some more action after the American withdrawal from Vietnam including Preston Packard played by Samuel L. Jackson and Cole played by Shea Whigham (American Hustle) along with anti-war photographer Mason Weaver played by Larson and golden boy James Conrad, played by Hiddleston (Thor: The Dark World).
As they approach Skull Island and drop seismic charges on the lush and malignant landscape, the team soon discover that a massive beast is guarding the island from vicious lizards. That beast is King Kong, that giant gorilla last seen on top of the Empire State building with a blond in his palm. Reference Peter Jackson's 2005 epic King Kong.
Director Jordan Vogt-Roberts cleverly wastes no time in cutting straight to the action as various teams on the island are separated only to be individually preyed upon by a variety of nefarious creatures including giant spiders. While Packard and his band of mercenary soldiers are keen on annihilating Kong, Mason and James stumble upon Hank Marlow, a crazed but good natured World War II pilot who accidentally landed on Skull Island back in 1944 and never left, even befriending the silent locals who worship Kong as their sole protector.
Marlow is superbly played by character actor John C. Reilly, a role clearly referencing Dennis Hopper's frenetic photojournalist in Apocalypse Now without the looming intensity of a Mister Kurtz watching over his horrific empire. Reilly brings empathy to the role of Marlow, another clear reference to The Heart of Darkness and advises the more sympathetic team that Kong is not that bad. A fact which is vividly illustrated by Mason Weaver's wonderful encounter with the gigantic beast.
Brie Larson gives a resilient performance as the only strong female lead in a basically all male film and has the best screen time with Kong, realizing that much like those brave soldiers hunting Kong, they are all as confused about this rapid reversal in the environmental food chain.
Kong: Skull Island is unadulterated adventure, punctuated with cool photographic stills of exotic ethnography to capture a unique and terrifying experience where myth and science meet.
With the help of a groovy seventies soundtrack and a stand out performance by John C. Reilly, Kong Skull Island gets a film rating of 7.5 out of 10. Highly recommended viewing.
XXX

: The Return of

Xander Cage
Director: D. J. Caruso
Cast: Vin Diesel, Toni Collette, Samuel L. Jackson, Donnie Yen, Ruby Rose, Deepika Padukone, Nina Dobrev, Rory McCann, Ice Cube, Hermione Corfield, Michael Bisping, Tony Jaa, Kris Wu
Franchise star Vin Diesel returns in the third instalment of the XXX series, unimaginatively named XXX: The Return of Xander Cage directed by D. J. Caruso (Disturbia, Eagle Eye and I am Number Four).
Assembling a diverse multinational cast ensures its broader international box office appeal especially in Asia. Joining the cast of XXX: The Return of Xander Cage are Ruby Rose, Danish Bollywood star Deepika Padukone, Kris Wu, Scottish actor from HBO's Game of Thrones, Rory McCann (Clash of the Titans), Donnie Yen (Rogue One: A Star Wars Story) and Thai actor Tony Jaa (Furious 7).
As the action moves swiftly from The Dominican Republic to a jungle rave in the Philippines, then onto the final showdown in Detroit, this popcorn film delivers for sheer enjoyment ably assisted by a great supporting cast including Australian actress Toni Collette (Muriel's Wedding, Hitchcock) and veteran star Samuel L. Jackson (Kingsman: The Secret Service, Avengers: The Age of Ultron) reprising his role of Augustus Gibbons founder of the covert extreme sports unit XXX.
Whilst there is not enough of the mind blowing stunts that made the original XXX film in 2002 so captivating, there are a fair share including skiing in a jungle (I kid you not), jet skiing off the Philippine coastline and the usual array of car chases, satellites crashing down on major cities to keep audiences thoroughly entertained.
The plot involves a device known as Pandora's Box which can bring down orbital satellites and hold superpowers to ransom. Naturally, Xander Cage and his team of rebels are asked to retrieve and deliver Pandora's Box to supposedly safe hands by a blonde haired Jane Marke played by Toni Collette.
The gorgeous Hermoine Corfield (Mission Impossible: Rogue Nation, Mr Holmes) pops up as a sexy hacker in London, making the British capital more sexy than it really is as her opening sequence involves her swimming in a rooftop heated pool.
To make the plot more interesting there is a couple of twists where the real villain is not clearly identified until half way through, but director Caruso approaches the XXX film like a comic book pastiche heavily reliant on CGI and giving audiences exactly what they want: fantastic thrills in exotic locations and enough action to satisfy any adrenaline junkie.
XXX: The Return of Xander Cage is a fun filled action film, which thankfully doesn't take itself too seriously and delivers an enjoyable popcorn thrill ride made all the more amusing by Vin Diesel's continued smirk on his face and a surprise addition to the cast to link up the franchise into a XXX trilogy. Similar to the hugely successful Fast and Furious franchise, there is bound to be a fourth film in the XXX series now that the producers have received funding from the Shanghai Media Group.
Audiences will enjoy XXX: The Return of Xander Cage for action and laughs but it doesn't deliver anything more than it's expected to.
The Legend

of

Tarzan
Director: David Yates
Cast: Alexander Skarsgard, Margot Robbie, Christoph Waltz, Samuel L. Jackson, Djimon Hounsou, Ben Chaplin, Jim Broadbent, Osy Ikhile, Antony Acheampong
British director David Yates who was responsible for Harry Potter and the Half Blood Prince and Harry Potter and the Deathly Hallows returns to the director's chair headlining a re-imagining of the mythical Tarzan, in the new visually astounding film, The Legend of Tarzan, featuring Swedish hunk Alexander Skarsgard in the titular role.
Tarzan, also known as Lord Greystoke, John Clayton is accompanied by his beautiful and vivacious wife Jane, wonderfully played by Margot Robbie (The Wolf of Wall Street, Whiskey Tango Foxtrot) and an American emissary George Washington Williams played against type by Oscar nominee Samuel L. Jackson (Pulp Fiction, Kingsman: Secret Service). The villain in Legend of Tarzan is played by none other than Austrian Oscar winner Christoph Waltz (Spectre, Django Unchained) who portrays the evil and repugnant Leon Rom. The year is 1884 and the colonization of Africa by European powers is gaining rapid and unparalleled momentum.
Set in the beautiful and vast Belgian Congo, when King Leopold was rapaciously raping the Congo of its mineral wealth, particularly diamonds using slave labour and devious means including turning warring local tribes against each other. One such tribe headed by Chief Mbonga muscularly played by Djimon Hounsou (Blood Diamond) wants Tarzan's head on a plate and makes an unlikely pact with the unscrupulous Rom, who will stop at nothing to complete his reigning monarch's ambitious colonial plans.
John and Jane Clayton are persuaded to leave the comforts of late Victorian England behind and head for the exotic and wild plains of the Belgian Congo, where they soon confront the evil Leon Rom and his multitude of force publique officers who are out to enslave and enforce the will of the Belgian monarch upon the unsuspecting locals.
What really makes The Legend of Tarzan worth seeing is the brilliant incorporation of superb visual effects using performance capture technology for a vivid portrayal of the wildlife featured in the film, mainly the gorillas, lions and hordes of wildebeest. The brilliantly featured gorillas are a highlight. These creatures of the wild, raised baby Tarzan as one of their own, teaching him the laws of the jungle and how important it is to respect the hierarchy of the Animal Kingdom.
Whilst Skarsgard's performance of the iconic Tarzan is not perfect, he certainly has the muscular and gorgeous body to pull off this particularly physical role. After all the success of casting a male actor as Tarzan depends entirely on his physique. The well chiselled Skarsgard is naturally born for this role.
Margot Robbie breathes new life into Jane, as a feisty independent American woman who has attitude and her best scenes ironically shine through when played opposite the scheming villain Rom. In terms of dialogue, the best scene is between Robbie and Waltz as they dine precariously together on a steamer travelling down the Congo River, in a visual reference to The Heart of Darkness.
The Legend of Tarzan is better than anticipated, with magnificent visual effects elevating the film out of cinematic parody. It's a well plotted, action filled and entertaining film, a worthwhile trip to the cinema where audiences can delve into a real adventure story which features the exotic and the brave.
In this version, the shirtless Tarzan swinging in the proverbial jungle should keep many swooning for years to come.
The
Avengers

:

Age of Ultron
Director: Joss Whedon
Cast: Chris Evans, Chris Hemsworth, Robert Downey Jr, Don Cheadle, Paul Bettany, Mark Ruffalo, Jeremy Renner, Scarlett, Johansson, Samuel L. Jackson, Elizabeth Olsen, Aaron Taylor-Johnson, James Spader, Cobie Smulders, Hayley Atwell, Stellan Skarsgard, Thomas Kretschmann, Julie Delpy, Andy Serkis, Anthony Mackie.
The Avengers are back in director and writer Joss Whedon's much anticipated sequel The Avengers: Age of Ultron featuring all the Marvel superheroes and some new ones in a CGI laden special effects extravaganza, which is at times confusing and other times absolutely fascinating. At a running time of two hours and twenty minutes, director Whedon has sufficient screen time to flesh out all the characters individually as well as give nuance to some of their more complicated relationships.
Like the relationship between The Hulk, aka Bruce Banner wonderfully played by Oscar nominee Mark Ruffalo (Foxcatcher) and the Black Widow played by Scarlett Johansson who seems to be the only avenger that can calm the Hulk's penchant for destructive anger.
The relationship between goodie two shoes Steve Rogers aka Captain America, played by Chris Evans and Nordic God Thor played by the hunky Chris Hemsworth is also subtly explored considering that the former is a World War two hero and the latter from another dimension.
Robert Downey Jr reprises his role as egotistical Billionaire Tony Stark, aka Iron Man and his irrepressible desire to mould any technological discovery, in this case the power artificial intelligence to his own advantage.
The Age of Ultron refers to the ubiquitous Altron a powerful A.I. force which is hell bent on human destruction and vain enough to realize that he can survive the aftermath, beautifully voiced with an underlying menace by James Spader (Bad Influence, more recently in the hit TV show The Black List).
The sexy Jeremy Renner as Clint Barton aka Hawkeye 's character is fleshed out as a devoting family man which is entirely incongruous with his status as a member of the Avengers, but hey who cares?
Elizabeth Olsen and Aaron Taylor-Johnson play evil orphaned Eastern European twins Pietro and Maximoff who soon turn on Ultron when they realize his megalomaniac tendencies. Even Lord of the Rings' Andy Serkis makes an appearance as a South African mercenary Ulysses Klaue and the Johannesburg downtown sequence is truly phenomenal to watch as is the action scene in Seoul, South Korea.
If audiences get confused with who all the avengers are, there are ample filmic references to each of their own background stories from Thor: The Dark World, including a brief appearance by Idris Elba and also Captain America's Agent Carter, played by Hayley Atwell. Marvel is indeed expanding their universe exponentially and if The Avengers: Age of Ultron's audience figures are anything to go by, this will prove to be another superhero box office smash hit.
The Avengers: Age of Ultron is fun entertainment and definitely aimed at Iron Man, Thor and Captain America cinema fans especially all the witty references and innuendo's involving lifting Thor's hammer which are neatly laced into a script which may seem convoluted but then again when it comes to Artificial Intelligence its more an infinite mess which at some point needs to be reined in.
Audiences should look out for brief cameos by Anthony Mackie, Stellan Skarsgard, Julie Delpy, Don Cheadle and Thomas Kretschmann. If The Avengers: Age of Ultron appears to be a pastiche of all the previous Marvel films, then director Joss Whedon has certainly achieved the impossible, not to mention making a narrative out of the dangers of artificial intelligence plausible and entertaining.
It's best for audiences to suspend their disbelief and enjoy The Avengers: The Age of Ultron for what it is: a comic book orgy with a giant budget and loud, awe-inspiring special effects which will be sure to nurture any young adult's imagination for awhile.