Posts Tagged 'Vladimir Vdovichenkov'
August 12th, 2012 |
Author:
davidrwalker
Three Sixty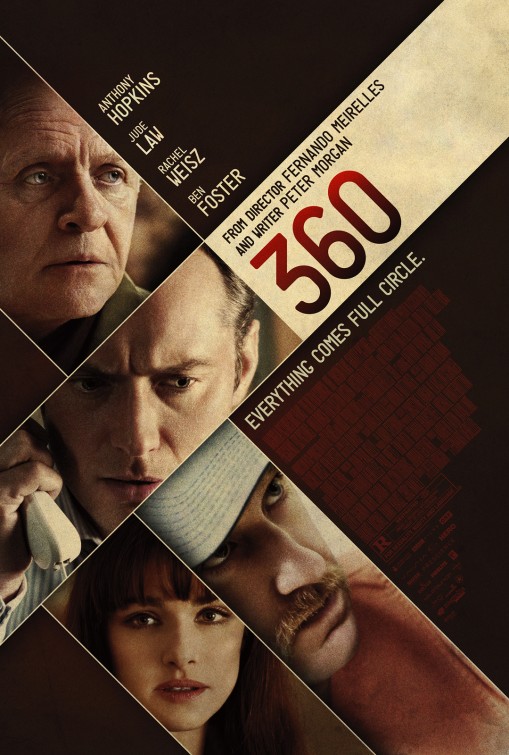 From the Brazilian Director Fernando Meirelles whose previous films include the Oscar-winning adaptation of the John le Carre novel, The Constant Gardner and the highly acclaimed City of God, comes his latest film Three Sixty collaborating with Oscar winning scriptwriter Peter Morgan (The Queen) who deftly interweaves a complex narrative tapestry focusing on humanity's ever spinning carousel of desires connecting each character around the world. Three Sixty premiered at the 2011 London International Film Festival and the 2012 Durban International Film Festival and is a brilliant virtuoso look at how humanity is connected through love, weakness, temptation and sex.
Three Sixty features an international cast and is a series of interconnected character studies set in Vienna, Bratislava, Paris, London, Denver and Phoenix and includes wonderful yet brief performances by Rachel Wiesz, who garnered an Oscar for Best Supporting Actress in The Constant Gardner, Jude Law, Ben Foster, Marianne Jean-Baptiste (Secrets and Lies) and Oscar winner Anthony Hopkins as well as a host of lesser known Eastern European, Brazilian and French stars.
Three Sixty is a thought-provoking look at how sexual desire traverses all geographical boundaries while love, temptation, blackmail and infidelity abound around the globe connecting all nationalities, cultures and religions. Watch out for a wonderful performance by Anthony Hopkins as a recovering alcoholic searching for his missing daughter in Phoenix, Arizona or Jude Law as a less than proper British business man Michael Daly being caught in a web of blackmail in Vienna and Rachel Wiesz as his wife Rose who is far from faithful back in London.
The real star of the film is Ben Foster in a superb cameo as a shaven-head ex-con Tyler, recently paroled sex offender stranded in the snowbound Denver International Airport en route to Phoenix struggling with his inner demons. Russian actor Vladimir Vdovichenkov makes an impression playing Sergei a Russian gangster's driver willing to make a break from an abusive boss and escape with an innocent woman. Three-Sixty is in German, French, Portuguese and English but is a spell bounding portrayal of humanity traveling around the globe and taking all their urges, desires and ambitions with them, a surprising sexual thriller by one of international cinema's more enigmatic and brilliant directors. Recommended as a thought-provoking film and will surely make any viewer want to hop on a plane to an exotic city and escape, transfer or express one's own forbidden sexual desires…
Posted in
DIFF
,
Fernando Meirelles
|
Tags:
Anthony Hopkins
,
Ben Foster
,
Jude Law
,
Marianne Jean-Baptiste
,
Rachel Weisz
,
Vladimir Vdovichenkov
|
Comments Closed