Elvis
Director: Baz Luhrmann
Cast: Austin Butler, Tom Hanks, Olivia deJonge, Kodi Smit-McPhee, Kelvin Harrison Jr, Luke Bracey, Dacre Montgomery
Running Time: 2 hours and 39 Minutes
Film Rating: 8.5 out of 10
Outlandish Australian director Baz Luhrmann (Moulin Rouge, Romeo and Juliet) returns to the big screen after a nine year hiatus after 2013's The Great Gatsby, with a brittle and glitzy biopic of the King of Rock n Roll, Elvis Presley simply entitled Elvis starring an incredible Austin Butler in the title role opposite two time Oscar winner Tom Hanks (Philadelphia, Forrest Gump) as his shady business advisor Colonel Tom Parker.
In a similar vein to Rami Malek's transformative performance as Freddie Mercury in 2018's Bohemian Rhapsody, American star Austin Butler (Once Upon a Time in Hollywood) does a superb job portraying Elvis Presley from the incredibly gifted singer who transforms into the most legendary musical performer of all time who combined expert showmanship with extravagant costumes and lewd gyrations of his pelvis much to the delight of his infinite female fans.
Elvis Presley was the original rock star before all the other rock stars came along in the 1980's, he was the trailblazer, the film star and unbelievably talented singer who got financially abused by his controlling business advisor Parker who sought only to commodify Elvis's talent so he pay off his own gambling debts.
Director Baz Luhrmann captures the zeitgeist of what made Elvis Presley so original, from his Baptist revival roots in segregated Tennessee to become the most famous rock n roll star of the 1950's through to the 1970's as the film takes us to Elvis's troubled residency at the International hotel in fabulous Las Vegas, when Presley realizes that he has been duped into a contract which he cannot get out of.
Elvis's unbelievable fame came at a cost to his family, his wife Priscilla played beautifully by Olivia deJonge and as he tried to cope with his immense fame, and the undue influence of the sleazy Tom Parker superbly played by Tom Hanks who coaxes Elvis to stay on stage no matter what using all kinds of narcotics to keep the show going. After all this was Las Vegas and crimes of lust and perversion pervaded sin city.
Director and screen writer Baz Luhrmann hints at so many different themes in this brilliant and dazzling biopic from segregation to discrimination, from exploitation to extravagance, but at the heart of this glittering film are two exceptionally well-conceived performances by Austin Butler and Tom Hanks as two lonely men reaching for eternity.
Unlike Colonel Tom Parker, Elvis Presley's fame is unsurpassed and legendary. Elvis was the original rock star, the King which defined a generation and created Rock n Roll with a subtle touch of gospel and blues thrown in. Presley invented youth culture when it never existed back in the 1950's.
Austin Butler deserves an Oscar for his dazzling performance as Elvis Presley and the costume designs by Oscar winning designer Catherine Martin are equally sizzling. Martin won Oscars for her work on The Great Gatsby and Moulin Rouge and is married to the director.
For those that love musical biopics, Elvis is highly recommended viewing, a poignant and sparkling tribute to the King of Rock n Roll who conquered Las Vegas and became legendary.
Elvis gets a film rating of 8.5 out of 10 and is brilliant, absorbing and alluring.
Jurassic World: Dominion
Director: Colin Trevorrow
Cast: Chris Pratt, Bryce Dallas Howard, Laura Dern, Sam Neill, Jeff Goldblum, Campbell Scott, Omar Sy, Isabella Sermon, DeWanda Wise, Dichen Lachman, Mamoudou Athie
Running Time: 2 hours 26 minutes
Film Rating: 7 out of 10
To round off the reboot trilogy of Jurassic World which started in 2015, director Colin Trevorrow returns to the director's chair for the third and final instalment Jurassic World: Dominion reuniting the new cast Chris Pratt and Bryce Dallas Howard with the cast of the original 1993 Jurassic Park film consisting of Oscar winner Laura Dern (Marriage Story) as Ellie Sattler, Sam Neill as Alan Grant and the ever quirky Jeff Goldblum as Ian Malcolm.
In the 2022 version, Dinosaurs mix freely with humans in a bizarre social world however something is amiss when giant locusts start attacking the food supply in West Texas.
Campbell Scott (The Sheltering Sky) plays a peevish version of a Steve Jobs type character, Lewis Dodgson who runs an extremely shady Biosyn Tech company in the Dolomite Mountains in Italy and is involved in all sorts of weird genetic engineering, playing God with creatures which just become more lethal and uncontrollable as the story unfolds.
Dodgson and his gang of thieves kidnap Maisie Lockwood from the guardianship of Owen Grady and Claire Dearing played respectively by Chris Pratt and by Bryce Dallas Howard.
In the meantime Sattler and Grant investigate the splurge of these giant locusts at the highly sophisticated Biosyn Tech company headquarters, where literally everything goes wrong including letting loose some Apex predators.
Dodgson's greedy fascination with genetic engineering and dinosaurs sees him become a pathetic villain. Unfortunately, Campbell Scott is not a strong enough actor to play a convincing villain. For Jurassic World: Dominion, the producers needed a really charismatic actor to play the evil villain who is akin to Hugo Drax in Moonraker.
Before the entire world's food supply gets threatened, Sattler realises that the mutation of the locusts need to be stopped before the general population is three meals away from anarchy.
The first half of Jurassic World: Dominion is really action packed particularly the chase sequence on Malta however the second half in the Dolomite Mountains is nothing original and is really the same group of characters being threatened by scary dinosaurs. The kids will love it!
DeWanda Wise is fantastic as the kickass aeroplane pilot for hire Kayla Watts and Mamoudou Athie is equally good as the only honest employee left at BioSyn. Audiences should look out for Dichen Lachman from the Animal Kingdom TV series as the ruthless henchwoman Santos.
Judging by how packed the cinema was, Jurassic World: Dominion is not a bad summer blockbuster film and gets a film rating of 7 out of 10.
If audiences enjoyed the first two films, then they will love this one. The third installment has all the ingredients of an action packed exotic film filled with dinosaurs, fascinating side characters and sweeping shots of unbelievable locations from Malta to Texas to the Italian alps.
Top Gun: Maverick
Director: Joseph Kosinki
Cast: Tom Cruise, Jennifer Connelly, Miles Teller, Jon Hamm, Glen Powell, Lewis Pullman, Val Kilmer, Ed Harris, Monica Barbaro
Running Time: 2 hours and 11 minutes
Film Rating: 8.5 out of 10
Only the Brave and Oblivion director Joseph Kosinski does a sterling job directing the highly anticipated long awaited sequel to the 1986 smash hit Top Gun directed by the late British director Tony Scott. Fortunately, superstar Tom Cruise reprises his role as test pilot Pete "Maverick" Mitchell as he returns to the San Diego Airforce base to train a new set of elite air force pilots including Lt. Bradley "Rooster" Bradshaw the son of the original Rooster and Maverick's wingman in the 1986 film.
This time the younger Rooster is played superbly by prolific actor Miles Teller of Whiplash fame as he tries to prove himself as a test fighter pilot while reconciling his father's legacy and his grudge against Maverick, the less than orthodox fighter pilot instructor.
Following a glittering and highly successful film premiere at the 2022 Festival du Cannes, in which Tom Cruise and co-stars showed off Top Gun: Maverick to the Cinema world and now on world wide release, Top Gun: Maverick as a 2022 cinematic spectacle does not disappoint as the screenwriters skillfully weave elements of the original Top Gun film into this stunning adrenalin fueled film filled with bravado, awe-inspiring aviation stunts and a group of muscular and strong test pilots all vying to be the best. Watch out for the infamous beach scene.
Pete Mitchell's only concern in teaching his new group of recruits besides building team spirit is to make sure every member of the team comes home from their nefarious mission against an omniscient and unmentionable enemy alive and kicking. Maverick, which is his call sign, tells all of the young aspiring pilots, don't think, just do it because time is the enemy.
Throughout the story of Top Gun: Maverick there are hints to the original film which was a 1980's smash hit blockbuster and launched Tom Cruise as a superstar.
Complete with glossy shots of Maverick riding a motorbike into the Californian sun or assisting his love interest Penny wonderfully played by Oscar winner Jennifer Connelly (A Beautiful Mind) steering a huge yacht off the coast of San Diego, Top Gun: Maverick works as a glossy and sleek homage to the 1980's action film and a tribute to military aviation, which does not disappoint. In fact it glows in admiration at the courage and spectacle of fighter jets doing dog fights across icy landscapes.
As a film and a fitting sequel to the original, Top Gun: Maverick excels on every level and shines through as Tom Cruise's passion project a film that he had to get made right and with the correct co-stars.
All the supporting cast of Top Gun: Maverick are superb including Oscar nominee Ed Harris (Pollock) as Chester Cain, Jon Hamm as Admiral Beau "Cyclone" Simpson, actor Bill Pullman's son Lewis Pullman as Lt Robert "Bob" Floyd and of course the other alpha male of the squadron Glen Powell as Lt Jake "Hangerman" Seresin.
Audiences should watch the original film first, however Top Gun: Maverick is equally thrilling providing a stand alone big screen spectacle of flying, action and tension seldom seen in 21st century cinema.
Saturated with golden Californian sunshine and a huge dash of nostalgia, Top Gun: Maverick is a brilliant aviation film and will certainly keep audiences engaged especially in the last section of the film as Maverick and the young Rooster land in enemy territory.
As an adrenalin fuelled fighter jet action film, Top Gun: Maverick gets a film rating of 8.5 out of 10 and is highly recommended viewing only to be appreciated on the big screen.
Doctor Strange in the Multiverse of Madness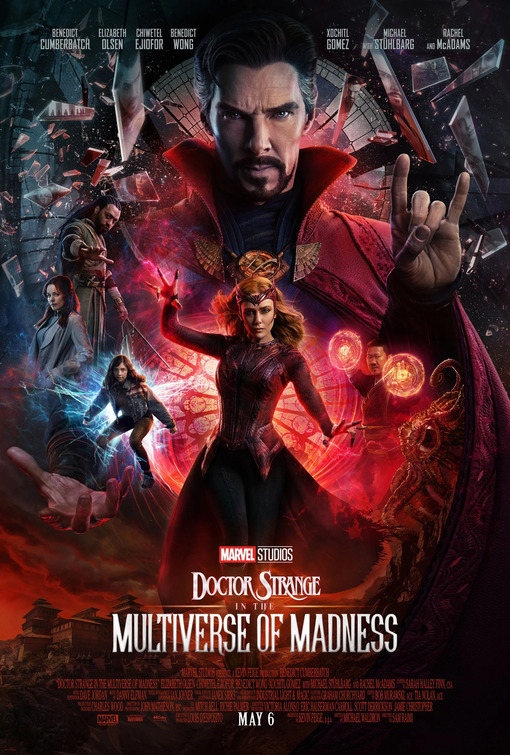 Director: Sam Raimi
Cast: Benedict Cumberbatch, Elizabeth Olsen, Rachel McAdams, Chiwetel Ejifor, Benedict Wong, Xochitel Gomez, Michael Stuhlbarg, John Krasinki, Patrick Stewart, Hayley Atwell, Lashana Lynch, Anson Mount
Running Time: 2 hours and 6 minutes
Film Rating: 6 out of 10
Six years after the first Doctor Strange film was made in 2016, Oscar nominee Benedict Cumberbatch (The Imitation Game, The Power of the Dog) reprises his role as the neurosurgeon turned warlock Doctor Steven Strange in director Sam Raimi's utterly bizarre sequel Doctor Strange in the Multiverse of Madness starring a new batch of stars while only Rachel McAdams, Benedict Wong and Chiwetel Ejifor reprise their roles from the first film.
Director Sam Raimi best known for doing the original Spiderman trilogy with Tobey Maguire and Kirsten Dunst but the director is far better known for helming some classic horror flicks including Drag Me to Hell in 2009 and The Evil Dead in 1981, takes this Doctor Strange sequel and turns the superhero genre on its head and transforms it into a ghoulish mixture of the bizarre with an extremely heavy dash of CGI thrown in. The storyline is incoherent and utterly weird.
This time Doctor Strange has to save a multiverse superhero called America Chavez played by Xochitel Gomez from the clutches of the Scarlett Witch also known as Wanda Maximoff wonderfully played with a demonic edge by Elizabeth Olsen (Avengers: Infinity War, Wind River) as she seeks to use America's superpowers to open the elusive book of Ashanti. Elizabeth Olsen is by far the best actress in this film as she gives the Scarlett Witch a degree of emotional depth and conflicting maternal instinct, making her character a far more unlikely villain.
Plenty of witchcraft and dream walking abound through a multitude of crazy universes including a particularly bizarre scene whereby Doctor Strange faces the Illuminati made up of Baron Mondo played by Chiwetel Ejifor (12 Years a Slave, Dirty Pretty Things, Kinky Boots), Captain Carter played by Hayley Atwell and wait for it…. an X-Men Professor and one of the characters of The Fantastic Four. Clearly this is not the multiverse of reality one expects.
Here the film completely loses the plot and director Sam Raimi goes for an utter freak show of scary scenes involving ghosts and demons instead of rounding off the narrative in a tightly controlled script.
After watching Benedict Cumberbatch deliver such a brilliant performance in The Power of the Dog, he looked continually anguished throughout this film at having to do a Doctor Strange sequel and not even a good one at that.
Essentially, my question is that if Marvel is so desperate to control the cinematic universe why did they get a horror director to take charge of what is meant to be a superhero film?
After watching the success of Spiderman: No Way Home and the excellent origin film The Batman, I was quite disappointed with the visual mess that is Doctor Strange in the Multiverse of Madness even despite some lavish special effects.
Doctor Strange in the Multiverse of Madness gets a film rating of 6 out of 10 and audiences should expect a superhero film which is way more scary than expected.
Downton Abbey: A New Era
Director: Simon Curtis
Cast: Maggie Smith, Hugh Dancy, Hugh Bonneville, Michelle Dockery, Dominic West, Tuppence Middleton, Elizabeth McGovern, Imelda Staunton, Penelope Wilton, Allen Leech, Nathalie Baye, Laura Haddock, Joanne Froggatt, Laura Carmichael, Sophie McShera, Robert James-Collier, Samantha Bond, Phyllis Logan, Jim Carter, Brendan Coyle, Michael Fox, Harry Hadden-Paton, Kevin Doyle, Charlie Watson, Jonathan Zaccai, Douglas Reith
Running Time: 2 hours and 5 minutes
Film Rating: 7.5 out of 10
Capitalizing on the success of the 2019 film Downton Abbey, a star studded sequel returns in its all glittering allure and this time Lady Violet Crawley wonderfully played with her usual coy dexterity by Oscar winner Maggie Smith (California Suite, The Prime of Miss Jean Brodie) reveals to her large and extended family at Downton that she has a villa in the South of France that was mysteriously left to her by a long last lover.
As Lady Crawley departs the gorgeously decorated drawing room she leaves with a final comment: "I will say good night and leave you all to discuss my mysterious past."
Oscar winning screenwriter of the acclaimed Robert Altman 2001 film Gosford Park, Julian Fellowes once again returns to fine form with a familiar cast and adds a touch of glamour as half the cast set off for the French Riviera to meet the previous owners a French mother and son, wonderfully played by Nathalie Baye (Catch Me if You Can) and Jonathan Zaccai.
As Lady Mary, beautifully played once again with a crisp diction by Michelle Dockery, holds the fort at Downton Abbey as some fast and fashionable film people arrive to use the lavish estate as a location for what they would soon learn to be one of their last silent films.
The film crew is headed up by the dashing director Jack Barber wonderfully played by Hugh Dancy (Hysteria, Late Night) accompanied with flamboyance by the film's stars Myrna Dagleish played by Laura Haddock and the male lead Guy Dexter superbly played with nuance by Dominic West (Chicago, Colette, Tomb Raider) as he reveals that he has hidden desires..
Fellowes cleverly gives all the cast members from the servants to the landed gentry equal screen time and an intriguing backstory, condensing the entire narrative into a poignant yet lavish affair which delicately reflects England and the Mediterranean at the end of the 1920's, an evolving world which saw cinema become talkies, in which American novelist F. Scott Fitzgerald made the French Riviera fashionable in July.
From the beautiful costumes to the witty dialogue, from the elegant subplots to the age old rivalry between the British and the French, Downton Abbey: A New Era is a cinematic treat expertly crafted with an ensemble cast that achieve a formidable pitch with humour and grace.
Definitely made for the fans of the brilliant TV series and the 2019 film, Downton Abbey: A New Era is highly recommended viewing and a perfect cinematic outing, which gets a film rating of 7.5 out of 10.
The Lost City
Directors: Adam and Aaron Nee
Cast: Sandra Bullock, Channing Tatum, Brad Pitt, Daniel Radcliffe, Oscar Nunez, Da'Vine Joy Randolph, Bowen Yang, Hector Anibal, Thomas Forbes-Johnson
Running Time: 1 hour and 52 minutes
Film Premiere: South by South West Film Festival – Austin, Texas, USA SXSWFF – March 2022
Film Rating: 7 out of 10
Directing duo and brothers Adam and Aaron Nee bring the fun filled adventure comedy The Lost City starring Sandra Bullock as best selling romance novelist Loretta Sage and Channing Tatum as her handsome buff cover model Dash as they have to contend with an evil media mogul wonderfully played with a sort of British panache by Harry Potter star Daniel Radcliffe.
The Lost City had its world premiere at the South by South West Film Festival in Austin, Texas, USA in March 2022 and clearly the brothers drew massive inspiration from the highly successful 1984 adventure film Romancing the Stone starring Michael Douglas, Kathleen Turner and Danny Devito.
The onscreen chemistry between Oscar winner Sandra Bullock (The Blind Side) and Magic Mike star Channing Tatum is undeniable and clearly both actors had loads of fun making this popcorn adventure film. Audiences should look out for a brief appearance by Oscar winner Brad Pitt (Once Upon a Time in Hollywood) who plays the action man Jack Trainer who when initially rescuing Loretta Sage says to him:
"Why are you so Handsome?"
Trainer replies casually after taking out six swarthy looking Dominicans, "My Father was a Weatherman!"
Other notable performances is Da'Vine Joy Randolph (The United States vs. Billie Holiday) as Loretta's exasperated publisher and book agent Beth Hatten who takes it upon herself to track down her No. 1 wayward romance adventure novelist Loretta Sage after mysteriously being kidnapped by the crazy Abigail Fairfax played by Daniel Radcliffe (Victor Frankenstein, Kill Your Darlings, Harry Potter and the Deathly Hallows) who clearly relished the chance of playing the villain in The Lost City.
It was comforting to see a near full auditorium when watching The Lost City and if audiences love an entertaining action adventure comedy then this film is for them.
Directors Adam and Aaron Nee kept the tone of the film extremely light making it a pure escapist adventure film helped by the sheer entertainment value of seeing the Miss Congeniality star Sandra Bullock act opposite two much younger leading men: the hilarious Channing Tatum and the super talented Daniel Radcliffe.
Take the kids, go and watch The Lost City, it's a well-rounded adventure film shot in the Dominican Republic. The Lost City gets a film rating of 7 out of 10 and is recommended viewing.
The 75th British Academy Film Awards, also known as the BAFAs, were held on 13 March 2022 at the Royal Albert Hall in London, honouring the best national and foreign films of 2021.
Best Film: The Power of the Dog
Best Director: Jane Campion – The Power of the Dog
Best Actor: Will Smith – King Richard
Best Actress: Joanna Scanlan – After Love
Best Supporting Actor: Troy Kotsur – CODA
Best Supporting Actress: Ariana de Bose – West Side Story
Best British Film: Belfast directed by Kenneth Branagh
Best Original Screenplay: Licorice Pizza – Paul Thomas Anderson
Best Adapted Screenplay: CODA
Best Costume Design: Jenny Beavan – Cruella
Best Foreign Language Film: Drive My Car directed by Ryûsuke Hamaguchi
Rising Star Award: Lashana Lynch
Ambulance
Director: Michael Bay
Cast: Jake Gyllenhaal, Yahya Abdul-Mateen II, Eiza Gonzalez, Garret Dillahunt, Keir O'Donnell, Jackson White, Moses Ingram, Colin Woodell, Cedric Sanders
Running Time: 2 hours and 16 minutes
Film Rating: 6.5 out of 10
Transformers and Armageddon director Michael Bay returns to the big screen with a California heist film Ambulance set in downtown Los Angeles and features to foster brothers Danny and Will Sharp played respectively by Oscar nominee Jake Gyllenhaal (Brokeback Mountain) and Emmy winner Yahya Abdul-Mateen II (Watchmen).
Danny lures Will into helping him with one last heist job at a Federal building in downtown Los Angeles and soon everything literally goes pear-shaped and amidst a massive shootout, Danny and Will escape in an ambulance transporting a wounded police officer played by Jackson White and accompanied by a beautiful headstrong paramedic Cam Thompson played by Eiza Gonzalez last seen in Baby Driver.
Captain Monroe, played by Garrett Dillahunt (12 Years a Slave, No Country for Old Men) and his band of armed policemen try to pursue the Ambulance until Danny Sharp unwittingly calls in the assistance of the Mexican gang to distract the police as the chase continues through the myriad of freeways, off ramps and roadways of downtown Los Angeles.
Director Michael Bay frames the city shots of Los Angeles with some sweeping takes including all the downtown skyscrapers whilst also managing to capture the trauma and anxiety of what is happening inside the Ambulance including keeping police officer Zach alive while the vehicle is being shot at and chased incessantly.
As the situation becomes increasingly desperate, the outlandish narrative takes too long to wrap up even though the action keeps audiences glued to the screen. At 2 hours and 16 minutes, Ambulance could have been edited by at least half an hour.
If audiences enjoy a good action, car chase bank robbery film, then Ambulance is just for you. It's filled with crazy car chases, sweeping road carnage and enough plot twists to keep audiences guessing right up until the medical vehicle reaches its intended destination.
Jake Gyllenhaal and Yahya Abdul-Mateen II both are very good in their respective roles particularly the latter as he realizes how crazy his estranged foster brother really is. Let's face it, Jake Gyllenhaal can play crazy in a cool kind of way!
Ambulance is an entertaining heist action film, big on flashy images of a city scape twisted by glass skyscrapers and fast cars on freeways featuring some desperate characters trying to get out of a really tense situation.
Ambulance gets a film rating of 6.5 out of 10 and while not entirely plausible, it certainly is a perfect popcorn action flick.
94th Academy Awards took place on Sunday 27th March 2022 at the Dolby Theatre in Hollywood, Los Angeles.
Best Picture: CODA
Best Director: Jane Campion – The Power of the Dog
Best Actor: Will Smith – King Richard
Best Actress: Jessica Chastain – The Eyes of Tammy Faye
Best Supporting Actor: Troy Kotsur – CODA
Best Supporting Actress: Ariana deBose – West Side Story
Best Original Screenplay: Kenneth Branagh – Belfast
Best Adapted Screenplay: Sian Heder – CODA
Best Cinematography: Greig Fraser – Dune
Best Costume Design: Jenny Beavan – Cruella
Best Make up & Hairstyling: The Eyes of Tammy Faye
Best Visual Effects: Dune
Best Film Editing: Joe Walker – Dune
Best Sound: Dune
Best Production Design: Dune
Best Documentary Feature: Summer of Soul directed by Questlove, Joseph Patel, Robert Fyvolent and David Dinerstein
Best Documentary Short Subject: The Queen of Basketball – directed by Ben Proudfoot
Best Live Action Short Film:
Best Original Score: Hans Zimmer – Dune
Best Original Song: No Time to Die – Billie Eilish and Finneas O'Connell
Best Animated Feature Film: Encanto
Best Animated Short Film:
Best Foreign Language Film: Drive My Car directed by Ryusuke Hamaguchi (Japan)
Mothering Sunday
Director: Eva Husson
Cast: Odessa Young, Josh O'Connor, Oscar winner Colin Firth (The King's Speech), Oscar winner Olivia Colman (The Favourite), Oscar winner Glenda Jackson (Women in Love, A Touch of Class), Patsy Ferran, Emma D'Arcy, Caroline Harker, Emily Woof, Sope Dirisu, Craig Crosbie, Simon Shepherd
Running Time: 1 hour 44 minutes
Film Rating: 7 out of 10
In a similar tone to director Joe Wright's film adaptation of Ian McEwan's novel Atonement, French director Eva Husson boldly adapts acclaimed British author Graham Swift's 2016 period romance novel Mothering Sunday to the big screen featuring some startlingly fresh and candid performances by Odessa Young and Josh O'Connor as the ill-fated lovers.
Rising star Josh O'Connor best known for his portrayal of the young Prince Charles in the Netflix series The Crown plays the only surviving son Paul Sheringham, a wealthy aristocrat who has an explicit affair with the house maid of his parents' best friends The Nivens, wonderfully played respectively by Oscar winners Colin Firth (The King's Speech) and Olivia Colman (The Favourite).
The nubile and unconventional housemaid in question is the beautiful Jane Fairchild, gorgeously played by the Australian actress Odessa Young.
Set almost entirely on a beautiful Spring day on the 30th March 1924, Jane Fairchild takes advantage of her liberty and commits to an illicit liaison with Paul Sheringham at his family estate before he is meant to meet his parents and future fiancée Emma Hobday played by Emma D'Arcy for a lavish lunch. Much of the film takes place during this gorgeous day as Paul and Jane spend a forbidden and passionate morning together while some of Paul's stuffy family members and friends are expecting his arrival at a very elegant lunch at Henley on Thames.
Mothering Sunday is a French take on how they view the British upper classes and director Eva Husson beautifully uses the young lovers in all their nudity to expose the decay of the rigid class lines that used to keep the British class system intact, which began unravelling spectacularly between the two World Wars.
Without the moral depth or psychological complexity of Atonement, Mothering Sunday is a stunning and sensual period film about forbidden love and the journey one young woman takes to becoming a writing, her courage to change her accepted place in society and evolve from being a housemaid to eventually becoming a famous writer.
At the end of the film the central character is seen in contemporary times and Jane Fairchild as a mature and established writer is portrayed by 1970's Oscar winner and screen legend Glenda Jackson (A Touch of Class, Women in Love) as she ruminates thoughtfully on her success at becoming a famous writer while looking back on that one fateful encounter with a posh young man which would change her life and inspire her creative genius.
Mothering Sunday is a languid British period film which is drawn out in parts but equally provocative.
Held together by a top calibre supporting cast, Mothering Sunday gets a film rating of 7 out of 10 and is worth seeing especially for the central performances by the two young and talented stars: Josh O'Connor and Odessa Young.