Posts Tagged 'Olivia Colman'
Mothering Sunday
Director: Eva Husson
Cast: Odessa Young, Josh O'Connor, Oscar winner Colin Firth (The King's Speech), Oscar winner Olivia Colman (The Favourite), Oscar winner Glenda Jackson (Women in Love, A Touch of Class), Patsy Ferran, Emma D'Arcy, Caroline Harker, Emily Woof, Sope Dirisu, Craig Crosbie, Simon Shepherd
Running Time: 1 hour 44 minutes
Film Rating: 7 out of 10
In a similar tone to director Joe Wright's film adaptation of Ian McEwan's novel Atonement, French director Eva Husson boldly adapts acclaimed British author Graham Swift's 2016 period romance novel Mothering Sunday to the big screen featuring some startlingly fresh and candid performances by Odessa Young and Josh O'Connor as the ill-fated lovers.
Rising star Josh O'Connor best known for his portrayal of the young Prince Charles in the Netflix series The Crown plays the only surviving son Paul Sheringham, a wealthy aristocrat who has an explicit affair with the house maid of his parents' best friends The Nivens, wonderfully played respectively by Oscar winners Colin Firth (The King's Speech) and Olivia Colman (The Favourite).
The nubile and unconventional housemaid in question is the beautiful Jane Fairchild, gorgeously played by the Australian actress Odessa Young.
Set almost entirely on a beautiful Spring day on the 30th March 1924, Jane Fairchild takes advantage of her liberty and commits to an illicit liaison with Paul Sheringham at his family estate before he is meant to meet his parents and future fiancée Emma Hobday played by Emma D'Arcy for a lavish lunch. Much of the film takes place during this gorgeous day as Paul and Jane spend a forbidden and passionate morning together while some of Paul's stuffy family members and friends are expecting his arrival at a very elegant lunch at Henley on Thames.
Mothering Sunday is a French take on how they view the British upper classes and director Eva Husson beautifully uses the young lovers in all their nudity to expose the decay of the rigid class lines that used to keep the British class system intact, which began unravelling spectacularly between the two World Wars.
Without the moral depth or psychological complexity of Atonement, Mothering Sunday is a stunning and sensual period film about forbidden love and the journey one young woman takes to becoming a writing, her courage to change her accepted place in society and evolve from being a housemaid to eventually becoming a famous writer.
At the end of the film the central character is seen in contemporary times and Jane Fairchild as a mature and established writer is portrayed by 1970's Oscar winner and screen legend Glenda Jackson (A Touch of Class, Women in Love) as she ruminates thoughtfully on her success at becoming a famous writer while looking back on that one fateful encounter with a posh young man which would change her life and inspire her creative genius.
Mothering Sunday is a languid British period film which is drawn out in parts but equally provocative.
Held together by a top calibre supporting cast, Mothering Sunday gets a film rating of 7 out of 10 and is worth seeing especially for the central performances by the two young and talented stars: Josh O'Connor and Odessa Young.
The Lost Daughter
Director: Maggie Gyllenhaal
Cast: Olivia Colman, Jessie Buckley, Dakota Johnson, Oliver Jackson-Cohen, Ed Harris, Peter Sarsgaard, Jack Farthing, Dagmara Dominiczyk
Film Rating: 8 out of 10
Running time: 2 hours and 1 minute
Taking its inspiration right out of the equally sinister 1990 film The Comfort of Strangers, directed by Paul Schrader, actress turned director Maggie Gyllenhaal directs an entirely unsettling film The Lost Daughter all set on a remote island in Greece, populated by some fascinating characters including some menacing beach goers.
Directors seldom make purely psychological thrillers nowadays which were extremely fashionable in the 1960's and 1970's. It is with a stroke of luck that Maggie Gyllenhaal managed to cast the granddaughter of Tippi Hendren, the star of such classic Alfred Hitchcock films such as The Birds and Marnie, Dakota Johnson (The Social Network, Bad Times at the El Royale) alongside Oscar winner Olivia Colman (The Favourite) in The Lost Daughter.
This film is mostly shot in extreme close up, which gives audiences an unsettling intimacy with the characters involved all of whom are slightly off kilter particularly Leda, another stunning performance by Olivia Colman, who plays a lonesome middle age comparative literature professor who travels to Greece to take a break from her daughters back home.
On the exotic and hot Greek island, she has a sinister encounter with the highly strung Nina, a devilishly beautiful performance by Dakota Johnson and Nina's extended family which are vaguely hinted to be part of some nefarious crime organization.
Leda is an emotionally damaged woman contemplating her own role as a mother, as she often reflects back to her younger self, which are featured in a series of raunchy flashbacks featuring an absolutely superb Jessie Buckley (Doolittle, Misbehaviour) who deserves an Oscar nomination for her role as the younger Leda as she is navigating motherhood and her fractious relationship with her average male partner Joe, played by Jack Farthing. For the younger Leda desires more and yearns for another existence than just being a mother to two very demanding young daughters.
The younger Leda embarks on a passionate affair with a fellow professor, a wonderfully erudite Professor Hardy played by Peter Sarsgaard (An Education, Jackie, Black Mass, Kinsey).
As The Lost Daughter weaves it's complex narrative between the past and the present, the older Leda must confront her weird emotional impulses and her strange flirtations with the men on the island, particularly Lyle played by Oscar nominee Ed Harris (The Hours, Pollack, The Truman Show, Apollo 13) and the younger beach boy Toni played by Oliver Jackson-Cohen.
Based on the novel by the bestselling author of My Brilliant Friend Elena Ferrante, The Lost Daughter is a brooding mix of menace and desire, a psychologically twisted tale of crushing responsibilities, abandonment and reconnection, held together by two exceptionally good performances by Olivia Colman and Jessie Buckley.
Psychological thrillers generally do not have mass appeal, but director Maggie Gyllenhaal does a skilful job of dissecting a complicated issue around maternity and natural responsibility while casually mixes it up with forbidden sexual desire and pervasive fear.
The Lost Daughter gets a film rating of 8 out of 10 and is remarkable for its haunting unique quality as a cinematic gem.
The Father
Director: Florian Zeller
Cast: Anthony Hopkins, Olivia Colman, Rufus Sewell, Olivia Williams, Imogen Poots, Mark Gatiss
Film Rating 9.5 out of 10
French playwright Florian Zeller, deftly converts his play about a father suffering from dementia into a beautifully wrought and touching film called The Father featuring two absolutely brilliant performances by Oscar winner Anthony Hopkins (The Silence of the Lambs) as Anthony, a retired engineer living in a plush London apartment and his daughter Anne played in a heart wrenching performance by Oscar winner Olivia Colman (The Favourite).
Sir Anthony Hopkins at the age of 83 inhabits every frame of this beautiful film, as the ageing Anthony, deceptively clinging onto an imagined reality which is forever shifting, an emotional minefield made treacherous and poignant by the enduring love of his daughter Anne, who has to not only take care of her father but make the extraordinarily difficult decision to place her father in a care facility so that she can continue with her life.
Hopkins won the 2021 Best Actor Oscar for this film. His performance is incredible, utterly nuanced and touching, at once witty and incorrigible but endearing and extremely moving.
Olivia Colman is also extraordinary, conveying all the emotional difficulty of a middle aged daughter who is desperate to move on with her life, especially at the urgent request of her charming but ruthless husband Paul played by Rufus Sewell (The Illusionist, A Knight's Tale, Judy).
What makes The Father such an impressive film is the complex script co-written by Oscar winning screenwriter Christopher Hampton (Dangerous Liaisons) along with Florian Zeller and the ever-shifting non-linear narrative is expertly edited by Yorgos Lamprinos, deceptively drawing the audience into a world which is both imaginary and instantly recognizable. The last battle ground in a family is always the home.
Significantly, The Father is a sharp and relevant film commenting on how the elderly are treated and how they can suffer emotionally, psychologically and mentally, without fully grasping what is happening to them. How this old age deterioration of dementia can have a devastating effect on their children.
Intelligently acted and elegantly crafted, The Father is a stunning work of dramatic art expertly transferred to the cinema.
Based on the play by Florian Zeller, The Father is a masterclass of screen acting and gets a film rating of 9.5 out of 10. Highly recommended viewing.
Venice International Film Festival, known as La Biennale di Venezia takes place annually in late August, early September and is regarded as the oldest Film Festival in the World
Golden Lion (Best Film): Roma directed by Alfonso Cuaron
Grand Jury Prize: The Favourite directed by Yorgos Lanthimos
Silver Lion (Best Director): Jacques Audiard – The Sisters Brothers
Best Actor: Willem Dafoe – At Eternity's Gate
Best Actress: Olivia Colman – The Favourite
Best Screenplay Award – Joel and Ethan Coen – The Ballad of Buster Scruggs
The 91st Academy Awards took place on Sunday 24th February 2019 at the Dolby Theatre, Hollywood, Los Angeles, California
Best Picture: Green Book
Best Director: Alfonso Cuaron – Roma
Best Actor: Rami Malek – Bohemian Rhapsody
Best Actress: Olivia Colman – The Favourite
Best Supporting Actor: Mahershala Ali – Green Book
Best Supporting Actress: Regina King – If Beale Street Could Talk
Best Original Screenplay: Green Book
Best Adapted Screenplay: Spike Lee – BlackkKlansman
Best Cinematography: Roma
Best Costume Design: Black Panther
Best Make up & Hairstyling: Vice
Best Visual Effects: First Man
Best Film Editing: Bohemian Rhapsody
Best Sound Editing: Bohemian Rhapsody
Best Sound Mixing: Bohemian Rhapsody
Best Production Design: Black Panther
Best Documentary Feature: Free Solo
Best Original Score: Ludwig Goransson – Black Panther
Best Original Song: Shallow from A Star is Born
Best Animated Feature Film: Spiderman: Into the Spiderverse
Best Foreign Language Film: Roma – directed by Alfonso Cuaron
THE 72nd BAFTA AWARDS /
THE BRITISH ACADEMY FILM AWARDS
Took place on Sunday 10th February 2019 in London
at the Royal Albert Hall
BAFTA Winners in the Film Category:
Best Film: Roma
Best Director: Alfonso Cuaron
Best Actor: Rami Malek – Bohemian Rhapsody
Best Actress: Olivia Colman – The Favourite
Best Supporting Actress: Rachel Weisz – The Favourite
Best Supporting Actor: Mahershala Ali – Green Book
Best Original Screen Play: Deborah Davis & Tony McNamara – The Favourite
Best Adapted Screenplay: BlackkKlansman
British Rising Star Award: Letitia Wright
Best British Film: The Favourite
Best Cinematography: Roma
Outstanding Debut Film: Beast
Best Foreign Language Film: Roma
Best Costume Design: Sandy Powell – The Favourite
Best Visual Effects: Black Panther
The Favourite
Director: Yorgos Lanthimos
Cast: Olivia Colman, Rachel Weisz, Emma Stone, Joe Alwyn, Nicholas Hoult, Mark Gatiss, James Melville, Timothy Innes, Basil Eidenbenz
When Queen Mary II died in 1694 and her husband King William III died in 1702, the British throne passed to Mary's sister Queen Anne in 1702 who bore 17 children through her marriage to Prince George of Denmark all of whom died in childbirth. The reign of Queen Anne was short lived, having only occupied the throne for 12 years.
Greek art house director Yorgos Lanthimos provides a bizarre parody of royal favouritism, jealousy and court rivalry in his lavish critically acclaimed period film The Favourite set during Queen Anne's reign at the beginning of the 18th century. Audiences should note that this is not an accurate historical drama in the vein of director Shekhar Kapur's epic films Elizabeth and Elizabeth, The Golden Age in which Cate Blanchett played the Virgin Queen. The Favourite is meant to be viewed as a parody.
The Favourite is a spiteful royal romp which has three deliciously brilliant portrayals of different women at its core.
Oscar winner Rachel Weisz (The Constant Gardner) is absolutely superb as the manipulative and influential Lady Sarah who is usurped in her position at the court by her young cousin a feisty Abigail wonderfully portrayed by Oscar winner Emma Stone (La La Land).
Both women are trying to gain favour with the sickly and constantly bored Queen Anne beautifully played by British actress Olivia Colman who gives a career best performance as a Queen who is both commanding and fickle, a female regent constantly plagued by the death of all her children and her inability to produce a viable heir.
With gorgeous costumes by Sandy Powell and a brittle inventive script by Deborah Davis and Tony McNamara, Yorgos Lanthimos's inventive portrayal of British Royalty is both cheeky, outrageous and utterly thought-provoking, a vicious parody of those who hold power and the others who circle precariously around the centre of that regal orbit.
Beautifully constructed and wonderfully filmed, The Favourite is not going to be everyone's cup of perfectly brewed tea but it will certainly challenge viewers' perception of the pedestal that royalty places itself on.
Love it or hate it, The Favourite is a challenging and lavish film about vile characters, utter debauchery and a satirical look at how powerful women can outwit each other, while the vain and ineffectual men particularly Harley played by Nicholas Hoult (A Single Man) and Masham played by Joe Alwyn (Billy Lynn's Long Halftime Walk) are mere pawns in this whimsical game of deception and influence over a powerful Queen that was equally swayed by her closest companions.
The Favourite gets a film rating of 9 out of 10 and is utterly bizarre, a ravishing parody of royalty which will leave an inedible impression on the viewer.
Took Place on Sunday the 6th January 2019 in Los Angeles hosted by the Hollywood Foreign Press Association – Here are the 2019 Winners in the Film Categories
Best Motion Picture – Drama
"Bohemian Rhapsody"
Best Director – Motion Picture
Alfonso Cuaron ("Roma")
Best Actress in a Motion Picture – Drama:
Glenn Close ("The Wife")
Best Actor in a Motion Picture – Drama:
Rami Malek ("Bohemian Rhapsody")
Best Motion Picture – Musical or Comedy:
"Green Book"
Best Actress in a Motion Picture – Musical or Comedy:
Olivia Colman ("The Favourite")
Best Actor in a Motion Picture – Musical or Comedy:
Christian Bale ("Vice")
Best Actress in a Supporting Role in any Motion Picture:
Regina King ("If Beale Street Could Talk")
Best Actor in a Supporting Role in any Motion Picture:
Mahershala Ali ("Green Book")
Best Motion Picture – Animated:
"Spider-Man: Into the Spider-Verse"
Best Motion Picture – Foreign Language Film:
"Roma"


Best Screenplay – Motion Picture:
Peter Farrelly, Nick Vallelonga, Brian Currie ("Green Book")
Best Original Score – Motion Picture:
Justin Hurwitz ("First Man")


Murder

on the Orient Express
Director: Kenneth Branagh
Cast: Kenneth Branagh, Johnny Depp, Michelle Pfeiffer, Daisy Ridley, Manuel Garcia-Rulfo, Penelope Cruz, Josh Gad, Derek Jacobi, Lucy Boynton, Olivia Colman, Judi Dench, Willem Dafoe, Leslie Odom Jr. Tom Bateman
Oscar nominee Kenneth Branagh (My Week with Marilyn) both stars as the infamous Belgian detective Hercule Poirot and directs another remake of the classic Agatha Christie novel Murder on the Orient Express featuring a stunning cast including Oscar nominees Michelle Pfeiffer (Dangerous Liaisons, The Fabulous Baker Boys), Johnny Depp (Sweeney Todd, the Demon Barber of Fleet Street) and Oscar winners Penelope Cruz (Vicky Cristina Barcelona) and Judi Dench (Shakespeare in Love).
Sporting a profoundly massive mustache, Branagh takes Hercule Poirot to new extremes in this 21st century remake which is glossy and possesses sumptuous production design but like all extremely long train journeys is boring in the middle, despite the spectacular scenery.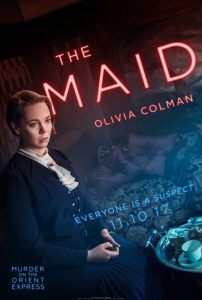 Murder on the Orient Express is set in 1934 and starts off promisingly with a fantastic opening, attention grabbing scene at the Wailing Wall in Jerusalem and then moves on to the Orient Express, a luxury train service which travels from the chaotic train station in Istanbul right across Europe to Paris.
As the gangster Edward Ratchett is found murdered in his compartment, stabbed multiple times everybody becomes a suspect on the Orient Express and soon Poirot has to interview all the cast as the train is stuck in an icy tunnel somewhere over Yugoslavia. A tangle of strangers confined to a luxury train which has gone off the rails.
Everybody is not what they seems, which is natural considering this is an Agatha Christie novel and while the cast does an admirable job, it is really Michelle Pfeiffer who wows audiences with her demure yet slightly vicious portrayal of globetrotting husband seeker Caroline Hubbard who stands out among a fairly impressive ensemble cast. Pfeiffer really acts.
Dame Judi Dench's turn as Princess Dragomiroff is hardly noticeable, while the best scenes in the film are between Pfeiffer and Branagh.
It is refreshing to see Michelle Pfeiffer making such a glorious big screen come back as she truly is a brilliant actress, not to mention singer – for she also sang the film's original song at the end.
Without revealing who the killer is, needless to say Kenneth Branagh will be returning with another big screen adaptation of an Agatha Christie novel, Death on the Nile. Should be fascinating if only he would curb that mustache.
Audiences that enjoyed the original seventies film adaptations of the Agatha Christie novels, will enjoy this ambitious if slightly flawed remake. Think Evil Under the Sun.
Recommended viewing but whether the film will dazzle at the box-office in an increasingly cluttered 21st century CGI film line-up remains to be seen. Murder on the Orient Express gets a film rating of 7 out of 10.
Hyde Park on Hudson
Told from the innocent perspective of Franklin D. Roosevelt's distant cousin Daisy Suckley, Hyde Park on Hudson is a charming film about a collection of fascinating historical figures namely the pivotal meeting between Franklin D. Roosevelt (FDR) and King George VI and should be viewed as a companion piece to The King's Speech. Veteran American actor Bill Murray takes the part of FDR and Olivia Williams plays his wife Eleanor Roosevelt, and British actor Samuel West (Howards End) takes the part of King George VI. Set in upstate New York, Hyde Park on Hudson tells of a weekend in the summer of 1939 when the recently crowned King George VI and queen Elizabeth, both whom are reeling from the scandal surrounding the 1936 abdication of his brother King Edward VIII in favour of marrying American divorcee Wallis Simpson gorgeously told in Madonna's companion film W/E.
The visit of the British monarchy to the American president is meant to bolster American support for Great Britain as the threat of World War II looms with Nazi Germany invading most of Europe and in fact World War II did break out three months later.
Besides the international magnitude of the time, the film centres more on the eccentric Franklin D. Roosevelt America's president during World War II who crippled by polio resorts to having a string of extramarital affairs including one with his distant cousin Daisy and who despite his physical ailments does not let that deter him from enjoying life and running such a powerful country as the USA. Especially pertinent in the film is the after dinner discussion between the King, who suffering from a speech impediment is soon put at ease by the magnanimous and charming FDR. It shows two politically important men that despite their physical and social impediments have more in common and their strategic meeting soon eases any tension between the United States and Great Britain forging the beginning of a special relationship which is still active more than 70 years later.
Director Roger Michell's Hyde Park on Hudson is an intriguing tale of great political leaders who are viewed through the context of their private frailties and how they triumph not just for their own countries sake but that of the enormous publicity which marked such a visit by a British Monarch and his wife on American soil, in the face of a looming World War. Soon his Royal Highness the King of England is munching on a hotdog in an American style Barbecue and is effortlessly drawn into the less stuffy social conventions of Americans on their home turf. Bill Murray (Lost in Translation) is brilliant as the charming and quite naughty FDR (with his cigarette holders and exotic stamp collection) along with Olivia Williams (The Ghost Writer) cast as the forthright Eleanor Roosevelt. Laura Linney is perfect as the awe-inspired, slightly naive Daisy who is caught in the middle of such a significant historical event.
Beautifully filmed as a period piece, if a tad dark in some scenes, but a fun and interesting comedy serving as a comparison of the differences between British and American cultures and social customs reminiscent of some of the best Merchant Ivory films which are unfortunately no longer made. Recommended!