Posts Tagged 'Ryan Gosling'
First Man
Director: Damien Chazelle
Cast: Ryan Gosling, Claire Foy, Jason Clarke, Corey Stoll, Ciaran Hinds, Kyle Chandler, Patrick Fugit, Christopher Abbott, Olivia Hamilton, Pablo Schreiber, Shea Whigham, Lukas Haas, Corey Michael Smith
Thanks to a preview screening organized by United International Pictures at Suncoast Cinecentre, Durban, I was fortunate enough to see director Damien Chazelle's highly anticipated Neil Armstrong biopic First Man starring an excellent Ryan Gosling and Golden Globe winner Claire Foy as his wife Janet Armstrong.
First Man was based on an intelligently written screenplay by Josh Singer based upon the James R. Hansen book First Man: The Life of Neil Armstrong.
In the space race between America and the Soviets in the 1960's, there was a desperate bid to successfully land a man on the moon, a pledge that iconic President John F. Kennedy made to the American public which in turn put pressure on NASA to not only train astronauts but successfully prepare them physically, psychologically and emotionally for a lunar trip.
What the Oscar winning director of La La Land Damien Chazelle does so beautifully is contrast the massive effort and technical implications of sending men to the moon with a complex family drama about Neil and Janet Armstrong as they desperate recover from the death of their young daughter Karen from a Brain Tumour.
Not only does this tragedy pull on the fabric of their marriage, but its Neil Armstrong's absolute determination that he is going to be the first man on the moon and be the best astronaut America has ever seen. Oscar nominee Ryan Gosling (La La Land, Half Nelson) gives a nuanced performance as Neil Armstrong, a father continually haunted by the death of his young daughter while the moon taunts him every evening, as if to say when are you actually coming to visit me?
Janet Armstrong superbly played by Claire Foy who deserves an Oscar nomination for her performance grows increasingly frantic at the prospect that while she has to be a mother to two young boys, there is a real danger that her husband might not return from a dangerous mission to the moon because of the infinite dangers involved.
In contrast to the familial tension at home, the actual attempts to get to the moon are impressively captured onscreen with mesmerizing sound effects suitably accompanied by an incredible musical score by Oscar winner Justin Hurwitz (La La Land) which truly makes First Man a remarkable and utterly impressionable film – This is truly great cinema held together by cerebral images and perfect on point portrayals of Neil and Janet Armstrong by  Ryan Gosling and Claire Foy, who both brilliantly hold the film together emotionally and psychologically.
Audiences should watch out for a superb cameo by Corey Stoll as the outspoken Buzz Aldrin who feels nothing about remarking about an astronaut's failure at his own funeral or how he was not a good pilot.
First Man is a complex, intelligently directed portrayals of one of the defining moments of the 20th century – Neil Armstrong's historic walk on the Moon and the build up which preceded this significant event.
Highly recommended viewing, First Man receives a film rating of 9.5 out of 10 and is truly a cinematic achievement that will take audiences literally to the moon and back. Utterly superb.
Blade Runner 2049
Director: Denis Villeneuve
Cast: Ryan Gosling, Harrison Ford, Robin Wright, Jared Leto, Dave Bautista, Ana de Armas, David Dastmalchian, Edward James Olmos, Barkhad Abdi, Sylvia Hoeks, Tomas Lemarquis, Mackenzie Davis, Sean Young, Hiam Abbass
When Ridley Scott's original Blade Runner appeared on cinema screens in 1982 it was hailed as a visionary science fiction film about replicants in Los Angeles in 2019.
The film developed an instant cult following and become a prime example of Post Modern Film Noir, with its blend of 1940's costumes coupled with a dystopian future of a vast city laid bare by global warming and sinister corporations filled with surreal images of a multi-national world overtaken by replicant animals and a rapidly depleting human population most of whom had gone off world to the colonies in outer space.
Thirty five years later, there is finally a sequel, the highly anticipated Blade Runner 2049 featuring Ryan Gosling as K and veteran actor Harrison Ford reprising his role as Deckard.
Directed by French Canadian Denis Villeneuve, who brought cinema lovers his excellent impressionistic films Arrival and Sicario, this is by far his best and most ambitious film yet.
With Blade Runner 2049 he had a lot of visionary expectations to live up to and with the able assistance of Oscar nominee cinematographer Roger Deakins, Blade Runner 2049 is a visual feast, a mind blowing and sophisticated contemplation on the nature of what humanity is, of what fabricated genealogy is and more significantly where our species are heading in a future increasingly popularized with invasive technology. Artificial intelligence, virtual reality, augmented operating systems to name a few.
If contemporary audiences are expecting a straight forward sci-fi sequel then don't watch Blade Runner 2049. It's advisable to watch the first film so that you as a viewer can understand all the cinematic references to the original that Villeneuve densely packs into this version along with some stand out performances particularly by Harrison Ford as the older Deckard as he appears exiled in an abandoned casino in a vacated Las Vegas to Dutch actress Sylvia Hoeks as the uber-cool yet vicious replicant Luv along with Robin Wright as K's LAPD hard-drinking superior Lieutenant Joshi. Cuban actress Ana de Armas (War Dogs) also stars as a virtual projection of K's love interest Joi to compensate for his increasing alienation in this post-apocalyptic landscape.
What is most captivating about Blade Runner 2049 is the subliminal images and the dexterous use of colour filters particularly in the chic scenes with new arch villain Niander Wallace played with a psychopathic God complex by Oscar winner Jared Leto (Dallas Buyer's Club).
The ratcheting up of the pace in Blade Runner 2049 is remarkable especially in the film's second half elegantly assisted by a phenomenal original score by Hans Zimmer and Benjamin Wallfisch.
To tell audiences anything else about Blade Runner 2049, would be to reveal vital spoiler alerts and sinister plot twists.
Blade Runner 2049 is fantastic cinema on an epic, visionary scale and its magnitude would be lost if viewers saw the film on anything smaller than a massive screen complete with surround sound.
Blade Runner 2049 is superb viewing and gets a film rating of 9 out of 10.
A ravishing tour-de-force in post-modern semiotic brilliance, this film is not to be missed by those that loved the original Blade Runner.
La La Land
Director: Damien Chazelle
Cast: Ryan Gosling, Emma Stone, J. K. Simmons, Finn Wittrock, Rosemarie DeWitt, John Legend, Josh Pence
After the success of Whiplash, writer and director Damien Chazelle achieves the virtually impossible, a magnificent and dazzling modern day musical set in Los Angeles which is fresh, original and utterly captivating. La La Land pairs two of Hollywood's hottest stars the dapper and ever charming Ryan Gosling (The Nice Guys, The Big Short) with the quirky and talented Emma Stone (Magic in the Moonlight) in one of the best on screen pairings ever seen on film.
La La Land is superb, a gorgeous brightly coloured ode to all those that have ever dreamed, that have harboured artistic expression, to those that have repeatedly been told to relentlessly follow your dreams. If you are talented and passionate then they will come true. But like all dreams, however magical there is always a price to pay.
Unashamedly, La La Land is also a tribute to Los Angeles, a glorious picture perfect film to all the major attractions of the magical city of stars where dreams come to be realized or dashed, where glamour is epitomized, where everyone wants to sing and dance and act on film.
La La Land sets the tone for a lavish musical, with the opening number starting as a traffic jam on one of the city's major highways transforming into an extraordinary sing and dance number. Soon Mia an aspiring actress played with relish and nuance by Oscar nominee Emma Stone (Birdman) surrounded by a bevy of beautiful flat mates unexpectedly meets Sebastian a jazz-obsessed pianist whose dreams entwine in a seasonal musical which pays homage to Casablanca and Singing in the Rain.
Chazelle's directorial style pays tribute to auteurs such as Robert Altman, David Lynch and Pedro Almodovar and his superb sense of timing is matched by his brilliant screenplay especially in the romantic scenes between Mia and Sebastian as they both embark on a romantic affair which is impulsive and beautiful from their first date watching Rebel without a Cause at the Rialto to their dancing under the stars at the iconic Griffin Observatory.
With an original score by Justin Hurwitz and some catchy tunes like City of Stars, La La Land will captivate audiences with its fanciful colours, its bold delight at music and refusal not to become too serious. In fact, La La Land is simply masterful in every way from the beautiful costumes mostly in primary colours to the fabulous production design, this film is like a tonic for everything cruel and horrible that is happening in the world.
Like a cinematic soufflé, La La Land hits all the right notes made all the more poignant by the fantastic performances by Gosling and Stone assisted with some wonderful cameo's by John Legend, Rosemarie DeWitt and Oscar winner J. K. Simmons (Whiplash).
La La Land is the third collaboration of Stone and Gosling after Crazy, Stupid, Love and Gangster Squad and clearly this Hollywood chemistry is working judging by all the critical acclaim.
This is cinema at its best. La La Land is utterly phenomenal, a marvellous musical which is just what audiences are longing for: a visually spectacular tribute to the dreamers which makes living purely inspirational.
74th GOLDEN GLOBE AWARDS
Took place on Sunday 8th  January 2017 hosted by
the Hollywood Foreign Press Association in Beverly Hills, California
GOLDEN GLOBE WINNERS IN THE FILM CATEGORIES:
Best Film Drama: Moonlight
Best Film, Musical / Comedy: La La Land
Best Director: Damien Chazelle – La La Land
Best Actor Drama: Casey Affleck – Manchester by the Sea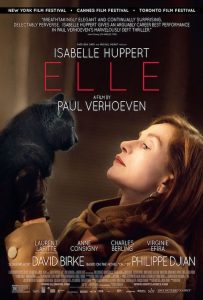 Best Actress Drama: Isabelle Huppert – Elle
Best Actor M/C: Ryan Gosling – La La Land
Best Actress M/C: Emma Stone – La La Land
Best Supporting Actor: Aaron Taylor-Johnson – Nocturnal Animals
Best Support Actress: Viola Davis – Fences
Best Foreign Language Film: Elle directed by Paul Verhoeven (France)
2016 Toronto International
Film Festival Winners
Toronto International Film Festival (TIFF) takes place every year in September in Toronto, Canada.
Films which premiere at Toronto are often nominated for Academy Awards the following year.
TIFF does not hand out individual prizes for Best Actor or Actress but focuses on amongst others the following awards:
People's Choice Award & Best Canadian Feature Film
Opening Night Film: The Magnificent Seven directed by Antoine Fuqua starring Denzel Washington, Chris Pratt and Ethan Hawke
People's Choice Award: La La Land directed by Damien Chazelle – starring Ryan Gosling, Emma Stone, Finn Wittrock, J. K. Simmons & Rosemarie DeWitt
Best Canadian Film: Those who make Revolution only Dig their Graves Halfway directed by Mathieu Denis and Simon Lavoie
The Nice Guys
Director: Shane Black
Cast: Ryan Gosling, Russell Crowe, Kim Basinger, Matt Bomer, Angourie Rice, Margaret Qualley, Beau Knapp
Russell Crowe reunites with his L.A. Confidential co-star Kim Basinger along with Ryan Gosling in the Buddy action film The Nice Guys set in Los Angeles in 1977, amidst a sleazy world of fading porn stars, smog and gas restrictions.
Actually, Kiss Kiss Bang Bang director Shane Black sums up The Nice Guys in the opening sequence of the film, with a young boy stealing a porn magazine from under his parents bed, only to narrowly escape a sports car driving through the house whereby he discovers the curvaceous body of the porn star Misty Mountains, bloodied and trapped in a wrecked car asking "How do you like my car?"
Sex and driving are equated multiple times in this seventies L. A. crime caper romp.
Oscar nominee Ryan Gosling (Half Nelson, Drive) teams up with Oscar winner Russell Crowe (A Beautiful Mind, Gladiator) for a seventies buddy movie in the vein of Starsky and Hutch although slightly more X-rated and definitely more violent. If the plot appears slightly convoluted that's because it's meant to be and possibly points to one of the structural weaknesses of the film.
But the on-screen bromance between Gosling and Crowe is perfect and central to what makes The Nice Guys such a humourous and quirky film. That and Gosling's character, Holland March, a sleazy hard drinking and hapless private eye who is trying to keep his life together while raising a teenage daughter Holly superbly played by Angourie Rice. The disorganized March's relationship with his daughter is what makes this film work as it is the central motivating factor forcing him to get his act together, acting as the emotional core of an otherwise macho buddy film.
The action sequences are wild and spectacular including a bizarre sequence at a studio 54 inspired party in a Bellair mansion as well as the dazzling finale at the Bonaventura Hotel in downtown Los Angeles at the 1978 California car show which goes haywire when JohnnyBoy a Detroit assassin wonderfully played against type by Matt Bomer (The Normal Heart, Magic Mike) attempts to retrieve an important porn film which implicates highranking officials in the American auto industry as well as a ruthless and cold California Chief Justice Judith Kuttner played by Oscar winner Kim Basinger.
Shane Black's The Nice Guys is not a perfect film, but rather a homage to the late 1970's California, a society obsessed with fame, cars and fading porn stars as well as a hedonistic desire to escape the worst of the post-Nixon Watergate scandal.
Highly recommended viewing if audiences enjoy a quirky seventies tale with off the wall action, lots of retro style and peppered with witty dialogue which will keep them guessing. It's also a chance to see two brilliant Hollywood actors take a turn at physical comedy especially Gosling who is hilarious in the smoking on the toilet with a gun in his hand bathroom scene.
Audiences should also look out for Val Kilmer's son Jack Kilmer as the impressionable projectionist Chet who unwillingly gets caught up in the whole investigation initiated by The Nice Guys while searching for the mysterious girl in the yellow dress named Amelia.
The Big
Short
Director: Adam McKay
Cast: Steve Carell, Ryan Gosling, Brad Pitt, Christian Bale, Marisa Tomei, Melissa Leo, Hamish Linklater, Jeremy Strong, Finn Wittrock, John Magaro, Rafe Spall, Margot Robbie, Selena Gomez, Jeffry Griffin, Billy Magnussen, Max Greenfield, Tracy Letts
The critically acclaimed film The Big Short is a highly inventive tale of how six men predicted the collapse of the US housing market and actually made money off this economic disaster.
Christian Bale turns in a brilliant Oscar nominated performance as the socially awkward Dr Michael Burry, a neurologist suffering from Asperger's Syndrome who gives up medicine to become a hedge fund manager in director Adam McKay's frenetic financial diatribe The Big Short, about the collapse of the American housing market in 2007 and 2008, which precipitated the worst international financial crisis since the Great Depression back in 1929.
Joining Bale in the cast are Oscar nominees Ryan Gosling (Half Nelson) as Wall Street trader Jared Vennett, Steve Carell (Foxcatcher) as hedge fund manager Mark Baum and Brad Pitt (Moneyball) as reclusive banker Ben Rickett. These four men together with two young eager investors Charlie Geller played by John Maguro (Carol) and Jamie Shipley played by Finn Wittrock all predict the imminent collapse of the US housing market due to the instability of unsecured sub-prime mortgages.
Through a series of inter related events between 2005 and 2007, these guys develop a system of credit default swaps by betting against the housing market which like the Tech industry bubble, eventually burst in 2008 bringing down Lehman Brothers in September 2008, one of the world's largest investment banks, and forcing the entire global economy into a devastating recession.
What makes the entire dodgy financing worse is that the banks and the international rating agencies collude to actually validate the profiting of these credit default swaps, causing the Biggest Short in economic history which inevitably lead to no income and no jobs for millions of people worldwide.
Best Line in the film is prophetically "In five years' time, everyone is going to be blaming the immigrants and the poor."
Financial films are never exciting unless the director makes the viewer totally engrossed in what they are watching. Fortunately Anchorman director Adam McKay through some inventive directing and skillful editing along with a fascinating script by Charles Randolph which makes The Big Short an utterly engrossing film.
The Big Short is anchored down by four great performances by Pitt, Carell, Gosling and particularly Bale. Christian Bale and Steve Carell are particularly good and while some of the narrative devices are quite ingenious like Jared Vennett directly addressing the audience or using celebrities like Margot Robbie and Selena Gomez to explain the financial fundamentals especially of synthetic collateralized debt obligations (CDOs), the latter of which ironically taking place at a Blackjack table in Las Vegas.
The Big Short is an engaging, masculine portrayal of greed and power running unabated and the most frightening part about the story is that it is all true. The effects of the 2008 global financial meltdown are still being felt around the world in 2016.
Audiences should also look out for cameos by Melissa Leo and Marisa Tomei along with Rafe Spall (Life of Pi) and Hamish Linklater (Magic in the Moonlight). Unlike Scorsese's The Wolf of Wall Street or Oliver Stone's Wall Street, Adam McKay's The Big Short does not glamourize greed but rather sheds light on how reckless and unchecked rampant capitalism has its pitfalls as the entire world was to find out in September 2008.
The scary part is that, these real life characters portrayed in The Big Short made money off the eventual collapse of a national housing market and some of the larger Banks got away with dishing out unsecured loans to unsuspecting home buyers simply by restructuring the debt packages.
The Big Short is highly recommended viewing for those that enjoy financial films with edge, tenacity and an inventive style without resorting to profanity or decadence.
The Place Beyond the Pines

Director: Derek Cianfrance
Cast: Bradley Cooper, Ryan Gosling, Rose Byrne, Dane DeHaan, Eva Mendes, Ray Liotta, Ben Mendelsohn, Bruce Greenwood, Mahershala Ali, Emory Cohen
Critically acclaimed Blue Valentine director Derek Cianfrance's absorbing and poignant three act family drama, The Place Beyond the Pines is almost Shakespearean in nature as the narrative delves into the psyche of contemporary masculinity and the legacy that men leave behind for their sons. That legacy is naturally shaped by the actions and deeds that a man did whose triumphs or sins will haunt the next generation.
The film opens with a motorbike stunt sequence in a metal ball in which three stunt riders' ride around in a seeming and noisy symmetry. Ryan Gosling (Drive, Gangster Squad) is introduced as Luke who as a down on his luck, tattooed stunt driver earns money at the local fairs in upstate New York, Schenectady to be exact. After a brief one night stand with a local waitress Romina played by Eva Mendes, the itinerant stunt rider Luke returns to the town a year later to discover that he has fathered a one year old son.
Cash-strapped and desperate, he befriends a local two bit mechanic who says that the quickest way to make some serious cash is to rob a couple of local banks using his unique stunt riding skill set. Desperate to offer some form of financial support to Eva and his newborn baby, Gosling soon goes on a Bank robbing spree. After a serious of successful stints, one last job goes horribly wrong and Gosling's fate as a man and a father gets inextricably tied in with a young and ambitious local cop Avery Cross, superbly played by Bradley Cooper (who really has excelled in the serious acting stakes since his remarkable Oscar nominated performance in Silver Linings Playbook).
The Place Beyond the Pines is an intimately shot and skilfully directed study of masculinity by Derek Cianfrance and the intricate sprawling story line is both riveting and powerful as the actions of both men, Gosling and Cross reverberate for the next two decades.
This is a brilliant piece of film noir assisted by a remarkable supporting cast including a wonderfully menacing performance by Ray Liotta as a corrupt cop Deluca and Dane DeHaan as Gosling's confused but vulnerable teenage son Jason. Whilst the female characters are intentionally underwritten, it really is Mendes who excels in a grittier role as a mother who has to bring up a son whilst keeping a secret about his real father's criminal past.
The Place Beyond the Pines is about legacy, betrayal, corruption, aggression and ambition in a small town American community which sees two men from opposite social spectrums both portrayed alternatively as victim and hero in the narrative who make the wrong choices for all the supposedly right reasons, only to have those choices impact their own son's destinies.
Cianfrance deserves an Oscar nomination for his gripping direction as he deftly captures the intensity and brooding atmosphere of small town America where every man is angling for a better life despite the consequences and their own circumstances. The Place Beyond the Pines is a highly recommended film which will firmly elevate Oscar Nominees Ryan Gosling and Bradley Cooper as two of the most promising actors of their generation. This gripping crime drama also stars Rose Byrne as Avery Cross's wife Jennifer and Bruce Greenwood as District Attorney Bill Kilcullen.
Gangster Squad
Director: Ruben Fleischer
Cast: Josh Brolin, Ryan Gosling, Emma Stone, Anthony Mackie, Giovanni Ribisi, Holt McCallany, Michael Pena, Sean Penn, Sullivan Stapleton, Nick Nolte, Mireille Enos, Josh Pence
Based upon the fascinating non-fiction book, Gangster Squad by Paul Lieberman, the beautifully yet violent cinematic rendition of the story of how an elite group of LA cops formed a Gangster Squad to tackle the effects of organized crime in post-wars Los Angeles, is thrilling to watch, engrossing and thoroughly entertaining. Featuring an all star cast including Ryan Gosling as Jerry Wooters, Josh Brolin as Jack O'Mara, Emma Stone as Grace Faraday and Sean Penn as the malevolent gangster Mickey Cohen who terrorized the Hollywood Boulevard in the early days of the city of angels growth is both visceral and heartfelt.
Giovanni Ribisi and Michael Pena also star as electronics expert Conwell Keeler and Officer Navidad Ramirez respectively in this brotherhood tale of elite cops fighting the influences of organized crime in the form of the vicious New York immigrant Mickey Cohen. Whilst Paul Lieberman's novel goes into a truly in depth analysis of the origins of organized crime in Los Angeles, before and after the 2nd World War especially as California and Nevada become ripe for the East Coast families to increase their criminal activities. In this case Chicago crime emissary Jack Dragnet, played by Jon Polito is soon wiped out by Mickey Cohen who will go to any lengths to become Los Angeles's crime boss.
Directed by Ruben Fleischer, Gangster Squad skips over much of the social history in favour of making a sleek, glamorous and violent film about the sharp shooting and mischievous Squad which successfully undermined Mickey Cohen's grip on the city of Angels in the late 40's and early 50's. Not nearly as measured and brilliant as Barry Levinson's film Bugsy about Bugsy Seigel's establishment of Las Vegas in the late 40's, Gangster Squad comes off more as a nostalgic pastiche of all great Gangster films from the same genre most notably The Untouchables, Bugsy and the brilliant L. A. Confidential.
Gangster Squad features a smooth talking Ryan Gosling in what is really an ensemble piece about a group of men who go to any lengths to undermine the mob king in their town often at their own personal costs. Gosling's screen time with Emma Stone is fabulous along with some particular brilliant and captivating action sequences, Gangster Squad is held together by a brilliant cast, fabulous sets and a superb retelling of an emerging city out of the clutches of crime and into those of glamour and cinema, which is what Los Angeles is more famous for today.
Recent more grittier films about Los Angeles downtown crime film like End of Watch also starring Michael Pena shot in a Southlands TV series style has not changed the image that LA is still a city plagued by foreign criminal organizations or crazy criminals as immortalized in Quentin Tarantino's Pulp Fiction and not so much by East Coast immigrants as it was in the first half of the 20th century.
Paul Lieberman's book Gangster Squad is a brilliant read as his detailed history of the city of Angels in the mid 20th century is perfectly captured and exceptionally well researched.  The Hollywood film version of Gangster Squad is by all respects a brilliantly recreated 1940's handsome cinematic experience complete with Slapsy Maxies also starring Nick Nolte as Chief Parker and Anthony Mackie as Officer Coleman Harris and worth watching for the quirky dialogue, well orchestrated action sequences,  and will surely delight those fans who loves similar styled mobster movies!
Drive
Nicholas Winding Refn's noir cinematic version of the James Sallis novel Drive is an intoxicatingly brutal thrill ride, with superb stunts, minimal dialogue and hectic violence. Machismo has always been linked with knifes, guns and naturally cars symbolizing the American culture of survival, greed and the right to bear arms.
Drive is set in urban Los Angeles and follows the bizarre story of Driver played with a cool lethal charm by Ryan Gosling (The Ides of March, Blue Valentine) who befriends a next door neighbour sultry diner waitress Irina played by Carey Mulligan (An Education). Driver becomes the protector of Irina and her young son Benicio while the father is away in prison. Upon the father's return, Standard played by Oscar Isaac (W/E) persuades Driver to help him out with one last heist of a pawn shop in the San Fernando Valley in a bid to pay off some protection money. The heist goes horribly wrong and much blood is shed and in a series of horrifically violent scenes, Driver goes to any lengths to protect the girl from the vicious mob boss Mr Rose played with an elegant urbanity by Albert Brooks.
Nicholas Winding Refn scooped the Best Director prize at the 2011 Cannes Film Festival and upon a second viewing of Drive it is easy to see why. Each shot is gorgeously framed, from the car chases to the aerials shots of Los Angeles at night. As the first half of the film moves from a romance and some character building the second half of Drive is thrilling to watch with some unbelievable sequences especially the nefarious nightclub sequence whereby man's capacity for violence is framed against beautiful shots of voluptuous strippers and Nino's restaurant sequence whereby Driver donning the mask from his former stunt car driving days eerily takes a glimpse inside the pizzeria before preparing for the kill.
In the final sequence of the film, Driver in his blood spattered scorpion jacket, framed by a city skyline tells Mr Rose of the parable of the Scorpion and the Frog. Drive is pure 21st century film noir with just the skilful balance of violence, suspense and drama, making it one of the most engaging films about man's obsession with cars and his primal need for violence and survival. Riveting and memorable, Drive also stars Ron Perlman, Christina Hendricks and Bryan Cranston as Driver's boss Shannon.