Posts Tagged 'Scarlett Johansson'
Black Widow
Director: Cate Shortland
Cast: Oscar nominee Scarlett Johansson (Marriage Story; Jojo Rabbit), Oscar nominee Florence Pugh (Little Women), Oscar winner Rachel Weisz (The Constant Gardener), BAFTA Nominee Ray Winstone (Nil By Mouth; That Summer!) Oscar winner William Hurt (Kiss of the Spider Woman), David Harbour, O-T Fagbenle, Olga Kurylenko
Film Rating: 8 out of 10 – and this film is currently showing in cinemas
Marvel's phase four of blockbuster Superhero films was meant to kick off in 2020 with the highly anticipated release of the spinoff film Black Widow, focusing on the origin story of the more elusive Avenger, Black Widow aka Natasha Romanoff and her extended espionage family.
Unfortunately, the Coronavirus Pandemic wreaked havoc in 2020 with theatrical release dates, forcing parent company Disney to push back the date to mid-2021 and also allowing Disney sufficient time to develop their online streaming service Disney Plus.
The Disney owned Marvel studio's big female driven film of 2020 Black Widow, finally did get released in mid-2021 and simultaneously went onto streaming on Disney Plus prompting the main star Oscar nominee Scarlett Johansson (Marriage Story; Jojo Rabbit) to sue Disney for contractual misconduct as she was hoping to reap some of the benefits of Black Widow, like she presumably did in the biggest Box office success of 2019, the theatrically released Avengers: Infinity War, which grossed billions of dollars worldwide in cinema ticket sales in the pre-pandemic era of packed cinemas.
Despite all the impending litigation, Black Widow is a superb spy film, directed by Australian director Cate Shortland with a fantastically talented cast besides Scarlett Johansson.
Completely upstaging Johansson is 2019's Oscar nominated breakout star of Little Women, Florence Pugh as the feisty "younger sister" Yelena Belevoa. Florence Pugh steals every scene in Black widow as the wisecracking Yelena along with the equally talented Oscar winner Rachel Weisz (The Constant Gardener) who plays Black Widow and Yelena's mysterious "mother" Melina.
There is the Red Guardian himself, the "father" of Natasha and Yelena, wonderfully played with a humorous bravado bordering on the crazy by character actor David Harbour (Black Mass, Suicide Squad, Quantum of Solace).
Black Widow's entire plot of Russian sleeper agents living in mid-Western America is carefully lifted from the hit TV series The Americans and director Cate Shortland pays homage to the 007 film Moonraker as she steers an entirely female lead Jason Bourne style action film.
Taking place in several global locations including Morocco, Norway and Budapest, Black Widow, which for all its narrative inconsistencies is absolutely saved by superb acting on the part of Scarlett Johansson, Florence Pugh and the really evil Russian villain, Dreykov superbly played by highly talented BAFTA Nominee Ray Winstone (Nil By Mouth; That Summer!) who is a sinister megalomaniac, who is paranoid about losing control of the sleeper international Black Widow program.
Winston mirrors French actor Michael Lonsdale's performance as Hugo Drax in Moonraker.
For all the drama, both on and off screen, Black Widow is fantastic to watch, with some memorable female lead action sequences and gets a film rating of 8 out of 10.
See it now on the Big Screen and support Scarlett Johansson's bid to recover her take of the Box Office earnings. Highly recommended viewing and way above standard for a Marvel film especially considering the talent involved.
Marriage Story
Director: Noah Baumbach
Cast: Adam Driver, Scarlett Johansson, Laura Dern, Ray Liotta, Alan Alda, Julie Hagerty, Lucas Neff, Merritt Wever, Azhy Robertson
Please note Marriage Story is only available on Netflix and did not receive a comprehensive theatrical release.
The Squid and the Whale director Noah Baumbach brings an incisive story of a contemporary marriage disintegrating in his Netflix's released film Marriage Story starring Oscar nominated actor Adam Driver (BlackKklansman) as Charlie the husband and Scarlett Johansson (Lost in Translation, Vicky Cristina Barcelona) as Nicole who make up a trendy young New York couple.
Nicole is an aspiring stage and screen actress who falls in love and marries Charlie an off-Broadway theatre director. The couple have an eight year old son Henry played by Azhy Robertson (Juliet, Naked). Very rapidly and much to Charlie's shock and surprise, their marriage starts disintegrating when Nicole discovers that her husband had a brief affair with a theatre intern.
Expertly played by Scarlett Johansson, Nicole moves back to Los Angeles where she stays with her mother Sandra played by Julie Hagerty (Flying High). There, she enlists the assistance of a hard as nails California divorce attorney Nora Fanshaw superbly played by Oscar nominee Laura Dern (Rambling Rose, Wild).
When the hard reality of divorcing Charlie comes into focus, Nicole has to grapple with all sorts of issues such as child custody and marital finances especially since Charlie has just received a massive Arts Grant to direct a Broadway production with a group of theatre actors back in New York.
Charlie, featuring an outstanding performance by Adam Driver, is suddenly forced to go to Los Angeles to also enlist a divorce lawyer, a cut-throat shark named Jay Marotta wonderfully played by Ray Liotta (Goodfellas, Kill the Messenger).
Writer and director Noah Baumbach incisively dissects the dissolution of a marriage as Charlie and Nicole become embroiled in a bitter divorce battle which is overshadowed by the vicious divorce lawyers as each of their lives becomes an incriminating portrait of how a marriage, a partnership shatters into a million pieces with their son Henry caught in the middle.
In Marriage Story, Noah Baumbach perfectly examines the emotional effects of a divorce on a couple who really haven't considered all the ramifications of a traumatic separation. Adam Driver expertly portrays the emotional toll a father has as he uproots his career in New York to try and sort out a divorce which is being sued for in a Californian courtroom.
Adam Driver is terrific as Charlie and is really a brilliant actor, whose talent was exceptionally displayed in director Spike Lee's masterful dissection of race relations in 1970's Colorado in his Oscar winning film BlackKKlansman.
Set between New York and Los Angeles, Marriage Story is the 21st century version of the Oscar winning 1979 film Kramer vs Kramer and is recommended viewing for those that have the Netflix streaming service. The performances are brilliant.
Marriage Story gets a film rating of 8 out of 10.
Avengers: Endgame
Directors: Anthony & Joe Russo
Cast: Robert Downey Jr, Chris Hemsworth, Mark Ruffalo, Chris Evans, Scarlett Johansson, Jeremy Renner, Paul Rudd, Robert Redford, Michael Douglas, Josh Brolin, Gwyneth Paltrow, Don Cheadle, Anthony Mackie, Chadwick Boseman, Benedict Cumberbatch, Tilda Swinton, Brie Larson, Tom Holland, Karen Gillen, Zoe Saldana, Evangeline Lilly, Tessa Thompson, Rene Russo, Elizabeth Olsen, Sebastian Stan, Tom Hiddleston, Danai Gurira, Benedict Wong, Pom Klementieff, Dave Bautista, Chris Pratt, Vin Diesel, Letitia Wright, John Slattery, Jon Favreau, Hayley Atwell, Natalie Portman, Marisa Tomei, Angela Bassett, Michelle Pfeiffer, William Hurt, Cobie Smulders, Linda Cardellini, Frank Grillo, Hiroyuki Sanada, James D'Arcy, Bradley Cooper, Samuel L. Jackson, Ty Simpkins    
Marvel Cinematic Universe continues with the highly anticipated sequel to Avengers: Infinity War with Avengers: Endgame featuring all the famous superheroes that fans have grown to love including Iron Man, Captain America, Thor, The Hulk, Antman, Hawkeye and Captain Marvel as they band together to go back in time to retrieve the infinity stones to reverse the evil Thanos's ultimate revenge at the end of Infinity War where he made half the population vanish including such beloved heroes as Spiderman, Black Panther and Doctor Strange.
As Endgame starts, Ironman is stuck in space, Thor takes to drink in the New Asgard and Captain America is despondent that the Avengers are at their lowest point ever.
Captain Marvel played by Brie Larson rallies the troops along with Black Widow played by Scarlett Johansson. Jeremy Renner returns sporting a fantastic haircut as Clint Barton, aka Hawkeye to assist the remaining Avengers as they devise a time travel device to allow them to go back in time to three separate intergalactic locations to retrieve the highly precious and powerful Infinity Stones. It's the ultimate Time Heist as Antman points out.
What follows is a fantastic feast of Superheroes which directors Anthony and Joe Russo will have hard core Marvel fans both laughing and crying at the deluge of their cinematic idols as they all band together to destroy the evil Thanos.
While some of the plot points in this three hour long superhero extravaganza don't all get resolved, it certainly opens up a whole lot of new possibilities such a possible separate Hawkeye film? Sequels to the hugely successful Black Panther and Guardians of the Galaxy are both on the cards as well as another Spiderman film. So there is no shortage of geek fan crushing that will occur in Avengers: Endgame and the subsequent films to follow. Once again Marvel knocks it out of the park judging by the lucrative response at the international box office.
Avengers: Endgame is a culmination of all the Marvel films of the last decade and hints at a new start for some of the lesser known superheroes to flesh out their story lines. Let's face it with an overcrowded universe, audiences will battle to identify with any one superhero but rather applaud and cheer at the massive team of Avengers and all their trusted sidekicks. Audiences should look out for cameos by Tessa Thompson as Valkyrie, Sebastian Stan as the Winter Soldier and of course Thor's malevolent brother Loki played by Tom Hiddleston.
Avengers: Endgame is definitely for Marvel fans and trust me everyone from the previous films are in it. It's definitely worth seeing and gets a film rating of 7.5 out of 10.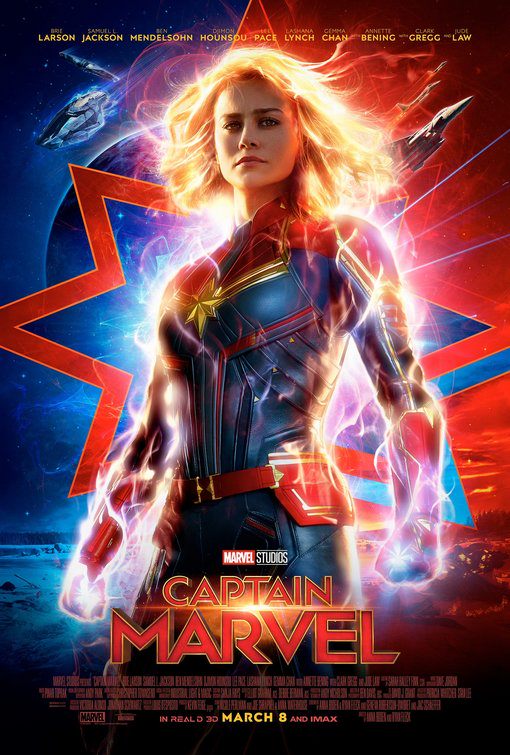 Captain Marvel
Directors: Anna Boden & Ryan Fleck
Cast: Brie Larson, Samuel L. Jackson, Annette Bening, Jude Law, Ben Mendelsohn, Lashana Lynch, Lee Pace, Clark Gregg, Gemma Chan, Djimon Hounson, Chris Evans, Scarlett Johansson, Rune Temte
Just before Avengers: Endgame hits theatres, Marvel had to introduce one more superhero to the galaxy of stars. It's the Retro intergalactic Captain Marvel wonderfully played by Oscar winner Brie Larson also known as Airforce Pilot Carol Danvers who gets whisked into space to become indoctrinated by the Kree Civilization, an advanced alien race headed up by the mysterious Supreme Being icily played by Annette Bening in her Marvel Comics debut.
Audiences can be forgiven for thinking that they had bought cinema tickets to a Star Trek reboot as the first twenty minutes of Captain Marvel is entirely set in space. Until Captain Marvel miraculously escapes an intergalactic feud between the Kree and the Skrull tribes and lands up in Los Angeles in 1995 in a blockbuster video store of all places, the film effortlessly shifts its location from outer space to a particular time and place.
In California, Captain Marvel teams up with a youthful Nick Fury wonderfully played by Samuel L. Jackson whose screen chemistry with Brie Larson is electrifying.   
Like all the other Marvel films and particularly those that loved Avengers: Infinity War, then Captain Marvel is a fun mixture of superhero and Guardians of the Galaxy and fits right in with the current trajectory the Marvel films are going. More significantly it is the first entirely female centred superhero film, with Brie Larson doing a sterling job, although admittedly the film does not quite match up to DC Comics's brilliant Wonder Woman directed by Patty Jenkins.
There is sufficient plot twists, location changes as Captain Marvel and Nick Fury travel to Louisiana to discover her real human identity as Airforce Pilot Carol Danvers as they team up with fellow co-pilot Maria Rambeau played by rising British star Lashana Lynch.
Oscar nominee Jude Law (The Talented Mr Ripley) plays the arrogant Kree commander Yon Rogg who proves to be a worthy adversary to Captain Marvel.
Captain Marvel is a fun filled retro intergalactic romp of a film engagingly written and populated with some witty one liners. Brie Larson pulls off the role of the latest female action superhero with credibility and nuance as she struggles to discover her real identity and where her role as Captain Marvel fits in to the larger Avengers scheme of things.
Flashy visual effects and some great onscreen chemistry save Captain Marvel from being just another superhero film and this gets a film rating of 7 out of 10.
Audiences should definitely see Captain Marvel before watching Avengers: Endgame. Recommended Viewing for Marvel fans only and regular attendees of Comicon.
Avengers:
Infinity War
Directors: Anthony and Joe Russo
Cast: Robert Downey Jr, Chris Evans, Chris Hemsworth, Chris Pratt, Mark Ruffalo, Scarlett Johansson, Don Cheadle, Benedict Cumberbatch, Tom Holland, Chadwick Boseman, Zoe Saldana, Tom Hiddleston, Idris Elba, Paul Bettany, Elizabeth Olsen, Anthony Mackie, Sebastian Stan, Danai Gurira, Peter Dinklage, Dave Bautista, Vin Diesel, Bradley Cooper, Gwyneth Paltrow, Josh Brolin, Benicio del Toro, William Hurt, Letitia Wright, Pom Klementieff, Carrie Coon, Winston Duke
Following the phenomenal success of Thor: Ragnorak and Black Panther, Marvel has capitalized on its extended cinematic universe with the new Avengers: Infinity War featuring a plethora of superheroes from Spiderman to Ironman, from Captain America to The Hulk not to mention bringing in the Guardians of the Galaxy gang for additional support.
If Avengers: Infinity War feels a bit excessive, that's because it probably is combining the Avengers franchise with that of the more quirky Guardians of the Galaxy. Some fantastic moments occur when Spiderman played by Tom Holland meets Peter Quill aka StarLord played by Chris Pratt or when Iron Man, played by Robert Downey Jr disagrees with the wizard Doctor Strange played by Benedict Cumberbatch. The snappy dialogue is sometimes lost amidst the greater quest to fight the evil universe destroyer Thanos played by Josh Brolin.
Thanos is equally conflicted about having to gather all the infinity stones including the one for Souls in which he has to make a choice between himself and his adopted daughter Gamora played by Zoe Saldana. In the meantime, his evil minions are wreaking havoc on earth in New York and in the magical technologically advanced African kingdom of Wakanda where Vision played by Paul Bettany along with Captain America  and Scarlett Witch played by Elizabeth Olsen seek the assistance of Black Panther played by Chadwick Boseman.
Audiences have to suspend their disbelief but judging by how packed the cinemas are for Avengers Infinity War, they are quite happy to do so. This film is pure sci-fi fantasy with little of the action taking place on earth. Most of the fight sequences occur on outer galactic planets like Titan.
Thor needs his hammer back and seeks the help of Eitri played by Peter Dinklage who forges a brilliant new weapon out of a powerful star, the celestial capability of which was last seen on the forgotten kingdom of Asgard.
Whilst directing brothers Anthony and Joe Russo compile an absolute Geekfest with Avengers: Infinity War with enough alien creatures and superheroes to stockpile Comicon for the next decade, it's a clear sign that the Marvel Universe has ambitious plans to expand even further.
That said Avengers: Infinity War has a convoluted story line weighed down by too many subplots but if viewers see it as a precursor to a second film then they will not find the surprise ending so disruptive….
Avengers: Infinity War gets a film rating 7.5 out of 10 and is strictly for Marvel comic book fans who have followed all the films from the original Iron Man 10 years ago.
The visual effects are fantastic as will be the box office receipts. See it to believe it.
Thor

:

Ragnarok
Director: Taika Waititi
Cast: Chris Hemsworth, Mark Ruffalo, Tom Hiddleston, Cate Blanchett, Anthony Hopkins, Jeff Goldblum, Idris Elba, Tessa Thompson, Benedict Cumberbatch, Karl Urban, Ray Stevenson, Scarlett Johansson, Luke Hemsworth, Sam Neill, Taika Waititi
New Zealand director Taika Waititi was Oscar nominated back in 2005 for his Live Action Short film Two Cars, One Night.
Marvel Studios recruited him to inject new life into the Thor films and that he certainly does with Thor: Ragnarok, a neon inspired family feud of mythical proportions featuring Thor played again by hunky Australian actor Chris Hemsworth along with his pesky brother Loki played by Tom Hiddleston and new addition to the family Hela played with vampish delight by Oscar winner Cate Blanchett (The Aviator, Blue Jasmine).
Thor returns to Asgard only to discover that Loki has banished Odin, their father to a virtual retirement home. Upon a brief visit, the brothers discover that Odin, wonderfully played with a sombre delight by Oscar winner Anthony Hopkins (The Silence of the Lambs) has got an elder daughter Hela who was banished from Asgard for being the Goddess of Death and wreaking havoc on the nine realms.
Cate Blanchett relishes her role as Hela, the Goddess of Death, inspired by Maleficent and certainly quite intent on destroying her defiant younger brothers.
Thor and Loki land up on a weird dystopian outer planet overseen by the demonic Grand Master, a superbly camp performance by Jeff Goldblum (Jurassic Park, Independence Day), who immediately instructs Thor to fight in a massive arena against a formidable beast: The Hulk. Enter Bruce Banner aka The Hulk, played with bewildering amusement by Mark Ruffalo (The Avengers, Foxcatcher, Spotlight).
Eventually Thor gets Loki, The Hulk and a hard-drinking Valkyrie played by Tessa Thompson last seen in the HBO series Westworld, to return to Asgard to defeat the demonic Hela who is assisted by a reluctant henchman Skurge played by Karl Urban (Dredd, Star Trek and The Loft).
The only criticism is that the middle section of Thor: Ragnarok detracts from the film's central narrative, which is essentially a legendary family conflict.
Thor: Ragnarok is a fun-filled comic book film which thankfully does not take itself or the characters too seriously and is a clear indication that Marvel films are definitely trying to create memorable characters for the lucrative toy manufacturing market just before Christmas.
As with all the latest Marvel films, franchise opportunities abound. Thor: Ragnarok is light-hearted and hellishly entertaining. Audiences should look out for a great cameo by Benedict Cumberbatch reprising his role as the illusive Doctor Strange.
If audiences enjoyed The Avengers and the first two Thor films, then they will definitely savour Thor: Ragnarok which is comically inspired from another Marvel hit franchise, The Guardians of the Galaxy.
Thor: Ragnarok gets a film rating of 7.5 out of 10.
Ghost in the Shell
Director: Rupert Sanders
Cast: Scarlett Johansson, Michael Pitt, Pilou Asbaek, Takeshi Kitano, Juliette Binoche, Peter Ferdinado, Daniel Henshall, Yutaka Izumihara, Chin Han
Humanity's tendency towards self-destruction and rejuvenation is carefully examined in director Rupert Sanders futuristic thriller Ghost in the Shell featuring Scarlett Johansson (Lost in Translation), Michael Pitt and Danish actor Pilou Asbaek.
Drawing influences from Ridley Scott's ground breaking film Blade Runner, Ghost in the Shell is based on a manga or Japanese comic of the same name by Masamune Shirow .
Johansson plays a cybernetically enhanced soldier with a human brain and a robot body Major who specializes in counter terrorism. Set in an advanced rendition of a nameless Asian city in the future with holographic images projected onto luminous skyscrapers, Major goes into retrieve a cyber geisha who hacks into the augmented brain of a corporate designer who is murdered.
As the backstory of Ghost in the Shell unfolds, Major was designed by Dr Ouerlet played with suitable panache by Oscar winning French actress Juliette Binoche (The English Patient). However when Dr Ouerlet is also targeted by cyber humans Major along with the assistance of Batou played by Danish actor Pilou Asbaek rushes to save her creator.
As Batou and Major trace the hack to a Yakuza nightclub, Batou gets injured in an explosion while Major confronts the source of the hack, the mysterious Kuze awkwardly played by American actor Michael Pitt who first rose to fame by appearing naked alongside Eva Green and Louis Garrel (Saint Laurent) in Bernardo Bertolucci's ménage-a-trois film The Dreamers set in Paris in 1968.
Major experiences glitches or flashbacks to her former life and embarks on a quest to find out what really happened to her human body before she was cyber enhanced by the mysterious Tanka corporation run by the crazed CEO Cutter played by British character actor Peter Ferdinando (300: Rise of an Empire).
Despite the convoluted plot, is Ghost in the Shell worth watching?
If you are a serious fan of Anime yes. If you enjoyed Blade Runner, this sci-fi film will certainly not live up to expectations and occasionally be lost in translation.
Visually the film is astounding, yet in terms of originality Ghost in the Shell is nothing extraordinary and many of the philosophical reference points will be lost as the narrative descends into another inexplicable action film.
Cinema enthusiasts should note that Masamune Shirow original manga was heavily influenced by the Hungarian philosopher Arthur Koestler non-fiction 1967 publication Ghost in the Machine about humanity's ability to self-destruct based on the Phenomenological concept of mind body dualism introduced by British behaviourist philosopher Gilbert Ryle in his 1949 book Concept of the Mind.
Phenomenology is the philosophical study of the structures of experiences and consciousness something which director Rupert Sanders attempts to convey in Ghost in the Shell through Johansson's firm portrayal of Major rediscovering her anatomical past.
Ghost in the Shell gets a rating of 7 out of 10 enhanced by its glossy visual effects although the acting needed serious stimulation and the bizarre characters required an authenticity check.
Sources:
https://en.wikipedia.org/wiki/The_Ghost_in_the_Machine
https://en.wikipedia.org/wiki/Arthur_Koestler#Fiction_.28nove
https://en.wikipedia.org/wiki/Manga = Japanese Manga
https://en.wikipedia.org/wiki/Anime – Anime = Japanese hand drawn or computer animation
https://en.wikipedia.org/wiki/Phenomenology (philosophy) – Phenomenology = philosophical study of structures and experiences
2016 Berlin International
Film Festival Winners
The 66th annual Berlin International Film Festival was held from 11th to the 21st February, 2016
The Berlin International Film Festival known as the Berlinale takes places annually in February and is regarded as one of the most prestigious film festivals in the world.
Opening Night Film: Hail, Caesar! directed by Joel and Ethan Coen starring Josh Brolin, George Clooney, Alden Ehrenreich, Tilda Swinton, Ralph Fiennes, Jonah Hill, Scarlett Johansson, Frances McDormand and Channing Tatum
Golden Bear for Best Film:  Fire at Sea  by Gianfranco Rosi
Silver Bear for Best Director:  Mia Hansen-Løve for Things to Come
Silver Bear for Best Actor:  Majd Mastoura for Hedi
Silver Bear for Best Actress:  Trine Dyrholm for The Commune
Silver Bear for Best Script: Tomasz Wasilewski for United States of Love
Captain

America

: Civil War
Director: Anthony and Joe Russo
Cast: Robert Downey Jr, Chris Evans, Scarlett Johansson, Elizabeth Olsen, Daniel Bruhl, Anthony Mackie, Jeremy Renner, Chadwick Boseman, William Hurt, Paul Bettany, Martin Freeman, Tom Holland, Alfre Woodard, Frank Grillo, Don Cheadle, Sebastian Stan, Paul Rudd, Emily Van Camp, John Kani, Marisa Tomei
I was never a fan of superhero comics as a kid, but as an adult, the superhero films have captured my imagination. Who can forget The Dark Knight Trilogy by Christopher Nolan who reinvented Batman? Or the recent Batman v Superman blockbuster by Zack Snyder, a sure precursor to the Justice League films set for release in 2017 and 2018?
Moving away from DC comics, their direct rival Marvel has expanded their superhero universe exponentially and in the third installment of Captain America: Civil War, a more iconic superhero pops up, Spiderman curtesy of a Marvel and Sony sharing agreement to reinvent Spiderman within The Avengers universe. Smart move on the part of Marvel and especially Sony whose two previous Spiderman reincarnations were faltering: The Amazing Spiderman and its psychedelic sequel.
Captain America: Civil War features a plethora of superheroes, so many in fact that the inevitable showdown which the title refers to is quite spectacular to behold.
Captain America leads the one camp as he defends his friend Bucky Barnes aka The Winter Soldier, played by Sebastian Stan along with the help of Sam Wilson, aka The Falcon played by Anthony Mackie (The Hurt Locker, Antman), Antman played by the hilarious Paul Rudd, Hawkeye returning from retirement played by the roguish Jeremy Renner.
The other camp is headed up by opinionated tech billionaire Iron Man, wonderfully played again by Robert Downey Jnr, joined by the War Machine played by Don Cheadle (Iron Man 2) and Black Widow played by Scarlett Johansson. Tony Stark aka Iron Man also enlists the help of a young and precocious Peter Parker, wonderfully played by young British actor Tom Holland (The Impossible) as he reinvents Spiderman promising an energetic reinvention when Holland will appear in his stand alone film called Spiderman: Homecoming.
Adding some much needed diversity to The Avengers universe, Black Panther played by Chadwick Boseman (Gods of Egypt), who is also starring in his own origin Black Panther film coming in 2018 also joins team Iron Man as he aggressively fights Bucky Barnes who he believes is responsible for the death of his father, a suitable cameo by South African acting legend John Kani (Coriolanus, The Ghost and the Darkness).
While the Clash of the Superheroes is spectacular and at times appears like a spandex orgy it is really Daniel Bruhl (Rush, Woman in Gold) as the master villain Zemo who has instigated the division between the Avengers as revenge for what occurred in The Avengers: The Age of Ultron, in which his whole family was killed in a supernatural skirmish in some fictional East European country.
Captain America: Civil War is a superb superhero film as the Russo brothers who direct this third instalment of the Captain America trilogy dexterously managing to combine all these diverse superheroes in a brilliant duel whilst also introducing some new and iconic characters. Fans of Iron Man, Ant Man and all The Avengers films will relish this caper standoff sure to capture the imaginations of many Comic con fans and paving the way for Marvel's relentless cinematic expansion of all their gang of masked crusaders, a sure rival to DC Comics Justice League, although both superhero franchises will definitely benefit financially at the box office.
Captain America: Civil War is highly recommended viewing especially for some superb cameos by seasoned character actors including William Hurt, Alfre Woodard, Martin Freeman and Marisa Tomei.
THE  57TH BAFTA AWARDS /
THE BRITISH ACADEMY FILM AWARDS
Took place on Sunday 15th February 2004 in London
BAFTA WINNERS IN THE FILM CATEGORY:
Best Film:  The Lord of the Rings: The Return of the King
Best Director: Peter Weir – Master and Commander: The Far Side of the World
Best Actor: Bill Murray – Lost in Translation
Best Actress: Scarlett Johansson – Lost in Translation
Best Supporting Actor: Bill Nighy – Love Actually
Best Supporting Actress: Renée Zellweger – Cold Mountain
Best British Film: Touching the Void
Best Original Screenplay: The Station Agent – Thomas McCarthy
Best Adapted Screenplay: The Lord of the Rings: The Return of the King – Philippa Boyens, Peter Jackson, and Fran Walsh
Best Visual Effects: The Lord of the Rings: The Return of the King
Best Foreign Language Film: In This World directed by Michael Winterbottom