Archive for the 'Jon Watts' Category
Spiderman: Far From Home
Director: Jon Watts
Cast: Tom Holland, Jake Gyllenhaal, Samuel L. Jackson, Marisa Tomei, Jon Favreau, Cobie Smulders, Zendaya, Angourie Rice, Tony Revolori
Spiderman: Homecoming 38 years old director Jon Watts returns with a sequel Spiderman: Far From Home which follows directly on from Avengers: Endgame and Captain Marvel so theoretically this film is strictly for Marvel fans who have been following the series of MCU films.
British rising star Tom Holland reprises his role as the geeky school kid Peter Parker aka Spiderman and this time we join him and his friends on a summer science trip to Europe taking in the best locations including Venice, Prague and Berlin.
However at the insistence of Aunt May, wonderfully played by Oscar winner Marisa Tomei (My Cousin Vinny) Peter Parker packs his Spiderman suit for the trip to the continent. As predicted the moment they are in Venice enjoying the canals a mysterious elemental force wreaks havoc on the Venetian waterways and is miraculously saved by Mysterio aka Quentin Beck wonderfully played with a sly malevolence by Oscar nominee Jake Gyllenhaal (Brokeback Mountain).
Naturally the impressionable Peter Parker trusts Quentin Beck with some sophisticated technology produced by Stark industries only for Mysterio to go all Donnie Darko on us.
Nick Fury played with relish by Oscar nominee Samuel L. Jackson (Pulp Fiction) enlists the help of the awkward school going kid Peter Parker to save Europe from total destruction specifically London and Venice. Spiderman must not only figure out who the real enemy is but also pluck up the courage to kiss the love of his life MJ played by Zendaya (The Greatest Showman) and trust her enough to reveal his true identity.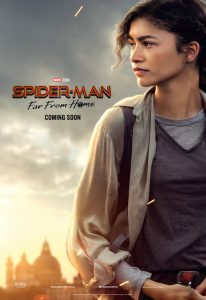 Humour in Spiderman: Far From Home is provided by Flash Thompson played by Guatemalan-American actor Tony Revolori (The Grand Budapest Hotel) who has some witty one liners and Spiderman's father figure is played by Happy Hogan played zest by Jon Favreau (Iron Man).
What makes Spiderman: Far from Home so brilliant are the dazzling visual effects especially displayed with professional dexterity in the film's second half. Gyllenhaal is brilliant as the crazy computer genius Quentin Beck and is a perfect foil to the charming but insatiably awkward Spiderman for the Instagram generation wonderfully acted by Tom Holland who beats Tobey Maguire in the Sam Riami trilogy and the doomed casting of Andrew Garfield in The Amazing Spiderman.
In any event, the amount Disney paid Sony to use Spiderman in the Marvel Avengers cinematic universe is worth its weight in gold judging by how fill a Saturday matinee was at the theatre.
Spiderman: Far from Home gets a Film Rating of 8 out of 10 and is worth seeing for the brilliant visual effects, great onscreen chemistry between Gyllenhaal and Holland and a perfect action adventure film which will surely inspire the millennials to embrace this crazy web slinger who likes taking selfies as he flies around Manhattan skyscrapers.
Spiderman
Homecoming
Director: Jon Watts
Cast: Tom Holland, Michael Keaton, Marisa Tomei, Jon Favreau, Gwyneth Paltrow, Donald Glover, Bokeem Woodbine, Tyne Daly, Logan Marshall-Green, Jennifer Connelly, Laura Harrier, Angourie Rice, Zendaya
Young British star Tom Holland, who was riveting as Naomi Watt's son Lucas in director J. A. Bayona's The Impossible, takes on the iconic superhero role of Spiderman in the Sony Marvel reboot of the webslinger franchise in the captivating Spiderman Homecoming directed by Jon Watts.
Since Marvel entered into a rights partnership agreement to use the Sony copyrighted superhero in Captain America: Civil War when audiences first caught a brief glimpse of Tom Holland as the new Spiderman it was inevitable that he would get a film of his own.
Spiderman Homecoming is thoroughly entertaining augmented by Holland's spunky performance as the brash young Peter Parker who is struggling to complete High School while also being mentored by Tony Stark, aka Iron Man, played by Robert Downey Jnr. The young Spidey has allusions of grandeur of being inducted into the Avengers army but Tony Stark is rather letting him prove his worth first.
In a poignant moment, Stark says to Peter Parker, if you are nothing without this suit then the suit will mean nothing. In other words, the clothes do not maketh the man.
Parker, played with humour and courage by Holland soon proves his worth and apparent screen appeal when while revealing his alter ego to his best friend also has to contend with an evil villain Vulture wonderfully played by Oscar nominee Michael Keaton (Birdman) and his protective aunt May, whom he loves dearly played by another Oscar winner Marisa Tomei (My Cousin Vinny).
While all this parental authority weighs down on the young webslinger he soon finds his own feet as he saves his science group from a diabolical end in the Washington monument whilst on a school trip to Washington D. C. The Washington monument and the action packed ferry sequences are two of the best in Spider Homecoming, both scenes being awash with symbolic American patriotism.
The irony is that Tom Holland is British is not lost on a more erudite viewer of pop culture.
Spider Homecoming has with some great cameo's including Jon Favreau as Happy Hogan, Gwyneth Paltrow as Pepper Potts and Bokeem Woodbine of Fargo TV series fame as Herman Schultz, Vulture's evil sidekick known as Shocker 2. Logan Marshall-Green (Prometheus) plays the ill-advised first evil sidekick Shock 1.
Parker's love interest is high school crush Liz played by Laura Harrier which allows for the narrative to set up an interesting twist towards the end and will definitely satisfy any lack of diversity disclaimers.
Audiences should forget Tobey Maguire as Spiderman in the Sam Raimi Trilogy or the ill-fated Amazing Spiderman films starring Andrew Garfield. Tom Holland presents a revitalized savvy young superhero which will ensure the franchise's continued survival in the cluttered Marvel universe as he will next be appearing in the anticipated The Avengers: Infinity War.
You never too old to watch Spiderman.
Spiderman Homecoming is blissfully entertaining and gets a film rating of 7.5 out of 10.