Posts Tagged 'Tom Holland'
Uncharted
Director: Ruben Fleischer
Cast: Tom Holland, Mark Wahlberg, Antonio Banderas, Sophia Ali, Tati Gabrielle, Steven Waddington
Film Rating: 7 out of 10
Running Time: 1 hour 56 minutes
Gangster Squad and Venom director Ruben Fleischer delivers a slick and glossy adventure film Uncharted set in New York City, Barcelona and the Philippines featuring the man of the moment British star Tom Holland as Nathan Drake opposite Oscar nominee Mark Wahlberg (The Departed, The Fighter) as Victor Sullivan.
Based upon the Playstation action adventure video game, Uncharted tracks the adventures of the treasure hunter Nathan Drake as he searches for his long last brother whose last words are "Things are lost but not gone". Nathan gets ensnarled into an international search for the Spanish explorer Magellan's gold which is rumoured to be somewhere in the Philippines archipelago.
Drake teams up with trickster Victor Sullivan as they track down an infamous gold and ruby encrusted ancient cross from a swish auction house in New York City to Barcelona as the duo come across an array of equally dodgy characters including the wealthy Spaniard Santiago Moncada wonderfully played by Oscar nominee Antonio Banderas (Pain and Glory) the mysterious Braddock played by Tati Gabrielle and the gruff Scotsman played by Steven Waddington (The Last of the Mohicans, The Imitation Game).
While the first half of Uncharted takes a while to get going, the onscreen chemistry between Tom Holland and Mark Wahlberg is mesmerizing particularly as it is mostly the extremely buff and energetic Tom Holland fresh from his hugely successful blockbuster Spiderman: No Way Home that performs most of the outrageous stunts from dangling from light fitting in Manhattan to sky diving out of aeroplanes with sports cars over the Philippines.
The second half of Uncharted is pure entertainment much like a real action adventure story and is worth seeing. While the script of Uncharted is not superb, it's also not meant to be as this is a film based on a video game. The main idea is to have the live action characters embodied on screen by two extremely likeable actors who should attract a large audience.
Clearly Tom Holland and Mark Wahlberg had loads of fun making this film and ensuring that audiences leave the cinema with a smile on their face as the closing credits role on. And be sure to stay beyond the ending for a hint that Uncharted will be the start of a franchise.
Look out for a captivating Sophia Ali as Chloe Frazer as the love interest of Nathan Drake.
Uncharted is basically an Indiana Jones for the Instagram generation and which better actor to put in lead role than the gorgeous Tom Holland who proves he can hold his own in a big budget action film which doesn't involve spandex or CGI.
Fabulously entertaining and packed with action and adventure, Uncharted gets a film rating of 7 out of 10. Recommended viewing.
Spiderman: No Way Home
Director: Jon Watts
Cast: Tom Holland, Zendaya, Marisa Tomei, Benedict Cumberbatch, Jon Favreau, Jamie Foxx, Benedict Wong, Willem Dafoe, Alfred Molina, Charlie Cox, J. K. Simmons, Tobey Maguire, Andrew Garfield, Angourie Rice, Rhys Ifans, Thomas Haden Church, Tom Hardy, Jacob Batalon, Tony Revolori
Film rating: 7.5 out of 10
Running Time: 2 hours and 28 minutes
Director Jon Watts went all out in the third Spiderman film to feature Tom Holland in Spiderman: No Way Home, capitalizing on both the success of all the previous Spiderman films and expertly capitalizing on Sony's new deal with Marvel Studios to incorporate Spiderman into The Avengers as part of a multi-million dollar trademark agreement between Sony and Disney Studios.
The sprightly Tom Holland reprises his role as Spiderman, but now he has completed school and him and his friends are applying to go to MIT which is the prestigious Massachusetts Institute of Technology in Boston.
Before Peter Parker aka Spiderman can enter college, he has to deal with the immense media fallout of his alter ego being blown wide open by the previous villain Mysterio played by Jake Gyllenhaal in 2019's Spiderman: Far From Home.
With pure imagination and skill, director Jon Watts makes Spiderman: No Way Home a far darker comic book adventure as Peter Parker has to contend with some uninvited guests from his previously unknown past, courtesy of a spell which he requested the pompous wizard Doctor Strange to cast on everyone forgetting that Peter Parker is in fact Spiderman. The spell obviously goes terribly wrong….
Much to his horror, some past evil villains emerge to take revenge again on Spiderman including Oscar winner Jamie Foxx (Ray) as Electro; Oscar nominee Willem Dafoe (Platoon, Shadow of a Vampire, The Florida Project, At Eternity's Gate) as the Green Goblin and Alfred Molina as Doc Octopus.
Spidey has to contend with these new villains as well as pressure from an increasingly gruff Doctor Strange played again by Oscar nominee Benedict Cumberbatch (The Imitation Game) who continually treats the young Peter Parker like an irresponsible college kid, which he essentially is.
Without giving any spoilers away, Spiderman: No Way Home is a fun filled Super hero film which will be sure to satisfy all the fans of the previous films. Audiences must stay beyond the closing credits to catch a glimpse of another Marvel monster who is desperate to meet the wayward web slinger.
Tom Holland does a wonderful job as Spiderman and even looks quite buff in the role compared to the first to films, but it is really director Jon Watts that makes the entire 2 and a half hour spectacle visually impressive channelling all that influence which acclaimed British director Christopher Nolan had on him. Clearly, Inception played a big part in Jon Watt's directorial maturity.
Spiderman: No Way Home gets a film rating of 7.5 out of 10 and is immensely enjoyable family viewing.
Judging by how full the cinema was, this film is the theatrical blockbuster that 2021 so desperately needs. Watch it in cinemas now.
Dolittle
Director: Stephen Gaghan
Cast: Robert Downey Jr, Antonio Banderas, Michael Sheen, Jim Broadbent, Jessie Buckley, Harry Collett, Emma Thompson, Octavia Spencer, Rami Malek, Marion Cotillard, Tom Holland, Ralph Fiennes, Selena Gomez, Carmel Laniado, Kumail Nanijani, John Cena, Frances de la Tour
Oscar nominee Robert Downey Jr (Chaplin, Tropic Thunder) takes on the mischievous role of Victorian animal doctor John Dolittle who has an amazing ability to communicate with animals which includes a menagerie of beasts and birds including a timid Gorilla, a Polar Bear and a bossy Parrot voiced by Oscar winner Emma Thompson (Howards End) in the heart-warming film Dolittle which is definitely an ideal film for parents to accompany their children to.
Dolittle is a delightful film if slightly boisterous at times with a really simple plot about a young boy named Tommy Stubbins played by Harry Collett who accidentally shoots a squirrel and then takes the poor creature to the infamous Dr Dolittle to seek his assistance. Stubbins is roped into assisting a young and comatose Queen Victoria played by Jessie Buckley (Judy) by a Lady Rose played by Carmel Laniado.
Both Stubbins and Lady Rose ask for the assistance of the eccentric and reclusive Dr Doolittle wonderfully played by Robert Downey Jr to assist in finding the source of Queen Victoria's condition.
Soon Dr Dolittle and Stubbins plus the menagerie embark on a nautical adventure to a mysterious island to find a cure for Queen Victoria but along the way they get stranded in Montevideo, an exotic island run by the crazy King Rassouli played by Oscar nominee Antonio Banderas (Pain and Glory) who also happens to be Dolittle's belated father-in-law. Doolittle's gorgeous wife Lily Doolittle has mysteriously vanished.
While Dolittle's storyline is slim, it really is a fun filled film about a doctor who has the amazing ability to talk to animals with an overall message of conservation and appreciation of animals which the younger generation will be able to enjoy.
The villain in Dolittle is Dr Blair Mudly marvelously played by Michael Sheen (Frost, Nixon) and there is also a cameo appearance by Oscar winner Jim Broadbent (Iris) as Lord Thomas Bagley who is suspiciously watching over young Queen Victoria's supposed demise.
Dolittle is a raucous animal film with a fantastic voice cast including the talents of Oscar winner Rami Malek (Bohemian Rhapsody), Tom Holland, Oscar nominee Ralph Fiennes (Schindler's List) and Oscar winner Octavia Spencer (The Help) which all help bring the screen animals to life with vitality and without the pretensions. The visual effects are extraordinary.
Dolittle is recommended viewing, a crazy fun-filled family film with a fabulous cast of characters and animals and is suitable for the entire family.
Dolittle gets a film rating of 6.5 out of 10 and is by no means a masterpiece nor does it pretend to be cinematic gold. It's a light enjoyable adventure film filled with sufficient animals to populate a zoo.
The Current War
Director: Alfonso Gomez-Rejon
Cast: Benedict Cumberbatch, Michael Shannon, Nicholas Hoult, Tom Holland, Katherine Waterston, Tuppence Middleton, Matthew Macfadyen, Damien Molony, John Schwab, Conor MacNeill
Film Rating: 8 out of 10 – Highly Recommended Viewing
Director Alfonso Gomez-Rejon served as second unit director to Martin Scorsese, Nora Ephron and Alejandro Gonzalez Inarritu and follows his second feature film Me and Earl and the Dying Girl with The Current War featuring a host of British and American stars including Oscar nominee Benedict Cumberbatch (The Imitation Game) as electricity inventor Thomas Edison opposite Oscar nominee Michael Shannon (Nocturnal Animals) as George Westinghouse.
Set in America in the 1880's and the events leading up to the Chicago World Fair in 1893, Westinghouse develops alternative current electricity while Edison creates direct current electricity. As both Westinghouse and Edison woo the financial support of investment banker J. P. Morgan wonderfully played by Matthew Macfadyen (Pride and Prejudice, The Nutcracker and the Four Realms) they develop electricity and its current at an alarming pace lighting up first the American eastern seaboard and then stretching West to the Mid-West and beyond.
Soon the ethics of producing powerful electric currents are called into question when a New York government official Rudolf Young played by John Schwab is planning the first execution via the electric chair of convicted wife killer William Kemmler played by Irish actor Conor MacNeill.
The conflict within The Current War is between Westinghouse and Edison while the eccentric and penniless immigrant Nikola Tesla wonderfully played by Nicholas Hoult (The Favourite, A Single Man) invents the capacity for electricity to be automated and used in machines. Tesla was also credited with harnessing the power of the Niagara Falls for hydroelectricity which produces limitless amounts of current.
It's no coincidence that Elon Musk's electric car company Tesla is named after this enigmatic inventor who never received the credit due to him while alive as he got caught between the rivalry of Westinghouse, Edison and the manipulative banker J. P. Morgan who produced the capital to start one of the most famous electricity companies in the world: General Electric.
The Current War is a fast paced story of how 19th century America was electrified by Edison and Westinghouse and the rivalry which consumed them yet changed society forever.
Director Alfonso Gomez-Rejon smartly employs fast paced editing and some stylistic flourishes to keep The Current War engaging, light and historically fascinating. Audiences should look out for Tom Holland (Spiderman, Far from Home, The Lost City of Z) as Edison's loyal assistant Samuel Insull and Katherine Waterston (Inherent Vice, Fantastic Beasts) as Marguerite Westinghouse and Tuppence Middleton (The Imitation Game, Jupiter Ascending) as the long suffering Mary Edison.
For history buffs, catch The Current War which gets a film rating of 8 out 10 and is especially relevant today considering that now the human population depend upon electricity.
Spiderman: Far From Home
Director: Jon Watts
Cast: Tom Holland, Jake Gyllenhaal, Samuel L. Jackson, Marisa Tomei, Jon Favreau, Cobie Smulders, Zendaya, Angourie Rice, Tony Revolori
Spiderman: Homecoming 38 years old director Jon Watts returns with a sequel Spiderman: Far From Home which follows directly on from Avengers: Endgame and Captain Marvel so theoretically this film is strictly for Marvel fans who have been following the series of MCU films.
British rising star Tom Holland reprises his role as the geeky school kid Peter Parker aka Spiderman and this time we join him and his friends on a summer science trip to Europe taking in the best locations including Venice, Prague and Berlin.
However at the insistence of Aunt May, wonderfully played by Oscar winner Marisa Tomei (My Cousin Vinny) Peter Parker packs his Spiderman suit for the trip to the continent. As predicted the moment they are in Venice enjoying the canals a mysterious elemental force wreaks havoc on the Venetian waterways and is miraculously saved by Mysterio aka Quentin Beck wonderfully played with a sly malevolence by Oscar nominee Jake Gyllenhaal (Brokeback Mountain).
Naturally the impressionable Peter Parker trusts Quentin Beck with some sophisticated technology produced by Stark industries only for Mysterio to go all Donnie Darko on us.
Nick Fury played with relish by Oscar nominee Samuel L. Jackson (Pulp Fiction) enlists the help of the awkward school going kid Peter Parker to save Europe from total destruction specifically London and Venice. Spiderman must not only figure out who the real enemy is but also pluck up the courage to kiss the love of his life MJ played by Zendaya (The Greatest Showman) and trust her enough to reveal his true identity.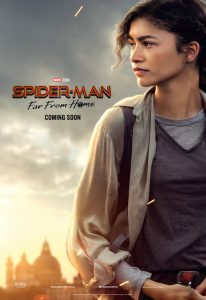 Humour in Spiderman: Far From Home is provided by Flash Thompson played by Guatemalan-American actor Tony Revolori (The Grand Budapest Hotel) who has some witty one liners and Spiderman's father figure is played by Happy Hogan played zest by Jon Favreau (Iron Man).
What makes Spiderman: Far from Home so brilliant are the dazzling visual effects especially displayed with professional dexterity in the film's second half. Gyllenhaal is brilliant as the crazy computer genius Quentin Beck and is a perfect foil to the charming but insatiably awkward Spiderman for the Instagram generation wonderfully acted by Tom Holland who beats Tobey Maguire in the Sam Riami trilogy and the doomed casting of Andrew Garfield in The Amazing Spiderman.
In any event, the amount Disney paid Sony to use Spiderman in the Marvel Avengers cinematic universe is worth its weight in gold judging by how fill a Saturday matinee was at the theatre.
Spiderman: Far from Home gets a Film Rating of 8 out of 10 and is worth seeing for the brilliant visual effects, great onscreen chemistry between Gyllenhaal and Holland and a perfect action adventure film which will surely inspire the millennials to embrace this crazy web slinger who likes taking selfies as he flies around Manhattan skyscrapers.
Avengers: Endgame
Directors: Anthony & Joe Russo
Cast: Robert Downey Jr, Chris Hemsworth, Mark Ruffalo, Chris Evans, Scarlett Johansson, Jeremy Renner, Paul Rudd, Robert Redford, Michael Douglas, Josh Brolin, Gwyneth Paltrow, Don Cheadle, Anthony Mackie, Chadwick Boseman, Benedict Cumberbatch, Tilda Swinton, Brie Larson, Tom Holland, Karen Gillen, Zoe Saldana, Evangeline Lilly, Tessa Thompson, Rene Russo, Elizabeth Olsen, Sebastian Stan, Tom Hiddleston, Danai Gurira, Benedict Wong, Pom Klementieff, Dave Bautista, Chris Pratt, Vin Diesel, Letitia Wright, John Slattery, Jon Favreau, Hayley Atwell, Natalie Portman, Marisa Tomei, Angela Bassett, Michelle Pfeiffer, William Hurt, Cobie Smulders, Linda Cardellini, Frank Grillo, Hiroyuki Sanada, James D'Arcy, Bradley Cooper, Samuel L. Jackson, Ty Simpkins    
Marvel Cinematic Universe continues with the highly anticipated sequel to Avengers: Infinity War with Avengers: Endgame featuring all the famous superheroes that fans have grown to love including Iron Man, Captain America, Thor, The Hulk, Antman, Hawkeye and Captain Marvel as they band together to go back in time to retrieve the infinity stones to reverse the evil Thanos's ultimate revenge at the end of Infinity War where he made half the population vanish including such beloved heroes as Spiderman, Black Panther and Doctor Strange.
As Endgame starts, Ironman is stuck in space, Thor takes to drink in the New Asgard and Captain America is despondent that the Avengers are at their lowest point ever.
Captain Marvel played by Brie Larson rallies the troops along with Black Widow played by Scarlett Johansson. Jeremy Renner returns sporting a fantastic haircut as Clint Barton, aka Hawkeye to assist the remaining Avengers as they devise a time travel device to allow them to go back in time to three separate intergalactic locations to retrieve the highly precious and powerful Infinity Stones. It's the ultimate Time Heist as Antman points out.
What follows is a fantastic feast of Superheroes which directors Anthony and Joe Russo will have hard core Marvel fans both laughing and crying at the deluge of their cinematic idols as they all band together to destroy the evil Thanos.
While some of the plot points in this three hour long superhero extravaganza don't all get resolved, it certainly opens up a whole lot of new possibilities such a possible separate Hawkeye film? Sequels to the hugely successful Black Panther and Guardians of the Galaxy are both on the cards as well as another Spiderman film. So there is no shortage of geek fan crushing that will occur in Avengers: Endgame and the subsequent films to follow. Once again Marvel knocks it out of the park judging by the lucrative response at the international box office.
Avengers: Endgame is a culmination of all the Marvel films of the last decade and hints at a new start for some of the lesser known superheroes to flesh out their story lines. Let's face it with an overcrowded universe, audiences will battle to identify with any one superhero but rather applaud and cheer at the massive team of Avengers and all their trusted sidekicks. Audiences should look out for cameos by Tessa Thompson as Valkyrie, Sebastian Stan as the Winter Soldier and of course Thor's malevolent brother Loki played by Tom Hiddleston.
Avengers: Endgame is definitely for Marvel fans and trust me everyone from the previous films are in it. It's definitely worth seeing and gets a film rating of 7.5 out of 10.
Avengers:
Infinity War
Directors: Anthony and Joe Russo
Cast: Robert Downey Jr, Chris Evans, Chris Hemsworth, Chris Pratt, Mark Ruffalo, Scarlett Johansson, Don Cheadle, Benedict Cumberbatch, Tom Holland, Chadwick Boseman, Zoe Saldana, Tom Hiddleston, Idris Elba, Paul Bettany, Elizabeth Olsen, Anthony Mackie, Sebastian Stan, Danai Gurira, Peter Dinklage, Dave Bautista, Vin Diesel, Bradley Cooper, Gwyneth Paltrow, Josh Brolin, Benicio del Toro, William Hurt, Letitia Wright, Pom Klementieff, Carrie Coon, Winston Duke
Following the phenomenal success of Thor: Ragnorak and Black Panther, Marvel has capitalized on its extended cinematic universe with the new Avengers: Infinity War featuring a plethora of superheroes from Spiderman to Ironman, from Captain America to The Hulk not to mention bringing in the Guardians of the Galaxy gang for additional support.
If Avengers: Infinity War feels a bit excessive, that's because it probably is combining the Avengers franchise with that of the more quirky Guardians of the Galaxy. Some fantastic moments occur when Spiderman played by Tom Holland meets Peter Quill aka StarLord played by Chris Pratt or when Iron Man, played by Robert Downey Jr disagrees with the wizard Doctor Strange played by Benedict Cumberbatch. The snappy dialogue is sometimes lost amidst the greater quest to fight the evil universe destroyer Thanos played by Josh Brolin.
Thanos is equally conflicted about having to gather all the infinity stones including the one for Souls in which he has to make a choice between himself and his adopted daughter Gamora played by Zoe Saldana. In the meantime, his evil minions are wreaking havoc on earth in New York and in the magical technologically advanced African kingdom of Wakanda where Vision played by Paul Bettany along with Captain America  and Scarlett Witch played by Elizabeth Olsen seek the assistance of Black Panther played by Chadwick Boseman.
Audiences have to suspend their disbelief but judging by how packed the cinemas are for Avengers Infinity War, they are quite happy to do so. This film is pure sci-fi fantasy with little of the action taking place on earth. Most of the fight sequences occur on outer galactic planets like Titan.
Thor needs his hammer back and seeks the help of Eitri played by Peter Dinklage who forges a brilliant new weapon out of a powerful star, the celestial capability of which was last seen on the forgotten kingdom of Asgard.
Whilst directing brothers Anthony and Joe Russo compile an absolute Geekfest with Avengers: Infinity War with enough alien creatures and superheroes to stockpile Comicon for the next decade, it's a clear sign that the Marvel Universe has ambitious plans to expand even further.
That said Avengers: Infinity War has a convoluted story line weighed down by too many subplots but if viewers see it as a precursor to a second film then they will not find the surprise ending so disruptive….
Avengers: Infinity War gets a film rating 7.5 out of 10 and is strictly for Marvel comic book fans who have followed all the films from the original Iron Man 10 years ago.
The visual effects are fantastic as will be the box office receipts. See it to believe it.
The Lost City of Z
Director: James Gray
Cast: Charlie Hunnam, Robert Pattinson, Tom Holland, Sienna Miller, Franco Nero, Angus McFadyen, Edward Ashley
The Immigrant director James Gray's handsome exploratory film The Lost City of Z had its South African premiere at the 38th Durban International Film Festival http://www.durbanfilmfest.co.za/. Starring Charlie Hunnam in the role of British explorer Percy Fawcett who establishes his inherent masculinity in the opening shot of the film as Fawcett hunts deer on an estate in Ireland during the Edwardian era.
Hunnam embodies the role of the hunky and courageous explorer Percy Fawcett who according to legend was the inspiration behind Indiana Jones and also whose life was briefly drawn upon in the Charles Sturridge film A Handful of Dust starring James Wilby and Kristin Scott Thomas.
Although The Lost City of Z is set during an earlier period pre World War 1 and in the early 1920's it documents the extraordinarily bizarre story of Fawcett who with the backing of the Royal Geographic Society travels to the unexplored border of Bolivia and Brazil deep in the Amazon jungle and becomes convinced that there is indeed evidence of a much earlier advanced population that lived there in a illusive city of Z, an exotic place hidden in the jungle filled with gold far removed from the civilized establishment of Europe.
After several tormented expeditions to the heart of the Amazon with his aide-de-camp Henry Costin played by Robert Pattinson, his geographical explorations are halted when world war one breaks out and Percy is forced to fight, leaving his frustrated wife Nina played by Sienna Miller (Foxcatcher, American Sniper) to look after his three children.
Nina sees the value of her husband's expeditions but wishes that as a woman she has more influence to assist him, such as accompanying him to the tropics, a desire which Sienna Miller conveys beautifully in her screen portrayal.
Angus Macfayden (We Bought a Zoo,) plays the disruptive financier and explorer James Murray who Fawcett and Costin abandon on a second expedition to the Amazon just before WW1 breaks out. Murray attempts to discredit's Fawcett's reputation as an explorer.
Despite internal society politics and world war, The Lost City of Z is a fascinating portrayal of one man's quest to discover The Other, the truly exotic even if it means possibly endangering his own life and that of his son Jack played by Tom Holland (Spiderman Homecoming). Fawcett in his quest for discovery pays the ultimate price of a nobleman obsessed with a savage jungle.
Audiences should watch out for a cameo by veteran Italian actor Franco Nero (Django, Django Unchained) as the decadent Baron De Gondoriz who has established a debauched Portuguese outpost deep in the Amazon complete with naked tribes and operatic performances.
With a screenplay by James Gray and David Grann based upon the book The Lost City of Z, the film version is fascinating if slightly long in the middle, yet definitely worth watching if audiences enjoyed such ethnographic films as At Play in the Fields of the Lord and of course A Handful of Dust.
The Lost City of Z gets a film rating of 7.5 out of 10.
Source: Percy Fawcett – https://en.wikipedia.org/wiki/Percy_Fawcett
Spiderman
Homecoming
Director: Jon Watts
Cast: Tom Holland, Michael Keaton, Marisa Tomei, Jon Favreau, Gwyneth Paltrow, Donald Glover, Bokeem Woodbine, Tyne Daly, Logan Marshall-Green, Jennifer Connelly, Laura Harrier, Angourie Rice, Zendaya
Young British star Tom Holland, who was riveting as Naomi Watt's son Lucas in director J. A. Bayona's The Impossible, takes on the iconic superhero role of Spiderman in the Sony Marvel reboot of the webslinger franchise in the captivating Spiderman Homecoming directed by Jon Watts.
Since Marvel entered into a rights partnership agreement to use the Sony copyrighted superhero in Captain America: Civil War when audiences first caught a brief glimpse of Tom Holland as the new Spiderman it was inevitable that he would get a film of his own.
Spiderman Homecoming is thoroughly entertaining augmented by Holland's spunky performance as the brash young Peter Parker who is struggling to complete High School while also being mentored by Tony Stark, aka Iron Man, played by Robert Downey Jnr. The young Spidey has allusions of grandeur of being inducted into the Avengers army but Tony Stark is rather letting him prove his worth first.
In a poignant moment, Stark says to Peter Parker, if you are nothing without this suit then the suit will mean nothing. In other words, the clothes do not maketh the man.
Parker, played with humour and courage by Holland soon proves his worth and apparent screen appeal when while revealing his alter ego to his best friend also has to contend with an evil villain Vulture wonderfully played by Oscar nominee Michael Keaton (Birdman) and his protective aunt May, whom he loves dearly played by another Oscar winner Marisa Tomei (My Cousin Vinny).
While all this parental authority weighs down on the young webslinger he soon finds his own feet as he saves his science group from a diabolical end in the Washington monument whilst on a school trip to Washington D. C. The Washington monument and the action packed ferry sequences are two of the best in Spider Homecoming, both scenes being awash with symbolic American patriotism.
The irony is that Tom Holland is British is not lost on a more erudite viewer of pop culture.
Spider Homecoming has with some great cameo's including Jon Favreau as Happy Hogan, Gwyneth Paltrow as Pepper Potts and Bokeem Woodbine of Fargo TV series fame as Herman Schultz, Vulture's evil sidekick known as Shocker 2. Logan Marshall-Green (Prometheus) plays the ill-advised first evil sidekick Shock 1.
Parker's love interest is high school crush Liz played by Laura Harrier which allows for the narrative to set up an interesting twist towards the end and will definitely satisfy any lack of diversity disclaimers.
Audiences should forget Tobey Maguire as Spiderman in the Sam Raimi Trilogy or the ill-fated Amazing Spiderman films starring Andrew Garfield. Tom Holland presents a revitalized savvy young superhero which will ensure the franchise's continued survival in the cluttered Marvel universe as he will next be appearing in the anticipated The Avengers: Infinity War.
You never too old to watch Spiderman.
Spiderman Homecoming is blissfully entertaining and gets a film rating of 7.5 out of 10.
THE  70th BAFTA AWARDS /
THE BRITISH ACADEMY FILM AWARDS
Took place on Sunday 12th February 2017 in London at the Royal Albert Hall
BAFTA WINNERS IN THE FILM CATEGORY:
Best Film: La La Land
Best Director: Damien Chazelle – La La Land
Best Actor: Casey Affleck – Manchester by the Sea
Best Actress: Emma Stone – La La Land
Best Supporting Actor: Dev Patel – Lion
Best Supporting Actress: Viola Davis – Fences
Rising Star Award: Tom Holland
Best British Film: I, Daniel Blake directed by Ken Loach
Best Original Screenplay: Kenneth Lonergan – Manchester by the Sea
Best Adapted Screenplay: Luke Davies – Lion
Best Costume Design: Madeline Fontaine – Jackie
Best Foreign Language Film: Son of Saul – directed by Lazlo Nemes
Best Animated Film: Kubo and the Two Strings
Source: https://en.wikipedia.org/wiki/70th_British_Academy_Film_Awards