Posts Tagged 'Jessica Chastain'
94th Academy Awards took place on Sunday 27th March 2022 at the Dolby Theatre in Hollywood, Los Angeles.
Best Picture: CODA
Best Director: Jane Campion – The Power of the Dog
Best Actor: Will Smith – King Richard
Best Actress: Jessica Chastain – The Eyes of Tammy Faye
Best Supporting Actor: Troy Kotsur – CODA
Best Supporting Actress: Ariana deBose – West Side Story
Best Original Screenplay: Kenneth Branagh – Belfast
Best Adapted Screenplay: Sian Heder – CODA
Best Cinematography: Greig Fraser – Dune
Best Costume Design: Jenny Beavan – Cruella
Best Make up & Hairstyling: The Eyes of Tammy Faye
Best Visual Effects: Dune
Best Film Editing: Joe Walker – Dune
Best Sound: Dune
Best Production Design: Dune
Best Documentary Feature: Summer of Soul directed by Questlove, Joseph Patel, Robert Fyvolent and David Dinerstein
Best Documentary Short Subject: The Queen of Basketball – directed by Ben Proudfoot
Best Live Action Short Film:
Best Original Score: Hans Zimmer – Dune
Best Original Song: No Time to Die – Billie Eilish and Finneas O'Connell
Best Animated Feature Film: Encanto
Best Animated Short Film:
Best Foreign Language Film: Drive My Car directed by Ryusuke Hamaguchi (Japan)
The 355
Director: Simon Kinberg
Cast: Jessica Chastain, Penelope Cruz, Diane Kruger, Lupita Nyong'o, Sebastian Stan, Edgar Ramirez, Bingbing Fan, Jason Flemying, Leo Staar, John Douglas Thompson, Sylvester Groth
Film Rating: 6.5 out of 10
Running time: 2 hours and 4 minutes
If viewers don't take this film too seriously, then they will find it extremely entertaining. The 355 is a great Sunday afternoon film to watch, with lots of action, big name international stars and enough shady villains to make a group of female spy operatives' band together to search for a mysterious secret weapon stolen in Bogota, Colombia, which lands up going around the globe from Paris to Shanghai.
Producer turned director Simon Kinberg assembles a truly international cast of beautiful women including Oscar winners Penelope Cruz (Vicky Cristina Barcelona) as Graciela Rivera and Lupita Nyong'o (12 Years a Slave) as British operative Khadijah Adiyeme along with Oscar nominee Jessica Chastain (Zero Dark Thirty, The Help) as American operative Mace and German actress Diane Kruger (The Infiltrator, Inglourious Basterds) as Marie Schmidt.
Their search takes them to an exotic auction in Shanghai whereby audiences are introduced to the fifth member of the fabulous team, Chinese operative Lin Mi Sheng played by famous Chinese star Bingbing Fan.
The action is terrific and the film's second half improves remarkably as the five women bond over kicking ass, eluding the bad guys of which there are many and basically sticking together so that the real villain Elijah Clarke played by British actor Jason Flemyng (Lock, Stock and Two Smoking Barrels) cannot get this highly dangerous digital device and sell it to the highest bidder.
All the men in the film are portrayed extremely one dimensionally, either as frustrated house husbands whether in Bogota or London or as nasty villains as portrayed by Flemying and Romanian American actor Sebastian Stan (I, Tonya, Logan Lucky) as the murky CIA operative Nick Fowler who delivers a handsome performance dripping with swagger and menace.
Audiences should look out for a brief appearance by Venezuelan actor Edgar Ramirez (Jungle Cruise, Point Break, The Girl on the Train) as Luis Rojas whose only scene with the phenomenal Penelope Cruz could have been more seductive.
The scriptwriters for The 355 did not provide sufficient back story for all these gorgeous ladies, except focused on the action scenes and a plot which is confusing and preposterous.
The 355 is a fun-filled female action film about spies that can look deadly glamorous and survive in a man's world in which they prove who is really in charge.
Considering all the talent involved, The 355 gets a film rating of 6.5 out of 10 and is enjoyable but could have been so much better.
Molly's
Game
Director: Aaron Sorkin
Cast: Jessica Chastain, Idris Elba, Kevin Costner, Michael Cera, Jeremy Strong, Graham Greene, Chris O'Dowd, Justin Kirk, J. C. MacKenzie
The Social Network, Moneyball and Steve Jobs screenwriter Aaron Sorkin makes his directorial debut in Molly's Game featuring a powerfully hard core performance by Oscar nominee Jessica Chastain (The Help, Zero Dark Thirty) who is basically in every frame of the 2 hour and 20 minute expose of the decadent world of illicit high stakes poker.
Chastain plays Molly Bloom a savvy and smart young woman who in a bid to escape the clutches of her persuasive and pushy father Larry Bloom, a stand out performance by Oscar winner Kevin Costner (Dances with Wolves), leaves Colorado and heads to Los Angeles where she starts working for a slimeball misogynist Dean Keith played by Jeremy Strong who asks her to set up and run a regular Tuesday night poker game with a $10 000 buy in.
Soon the shrewd and street smart Bloom takes the poker game away from Keith and sets up her own High Class games at a luxurious suite at a Beverley Hills hotel aided by the dubious Player X played by Canadian actor Michael Cera (Superbad, Juno).
Sorkin tells and retells Molly's rise and fall from power through a series of carefully crafted narrative flashbacks in between scenes with Molly Bloom and her New York defense attorney wonderfully played by Idris Elba (The Mountain Between Us, Star Trek Beyond).
With Sorkin's trademark flair for snappy dialogue and producing a distinct visual style of his own, Molly's Game is a fascinating portrait of a young woman who gets dangerously and illegally caught up in the world of high stakes poker where she eventually becomes subjected to the whims of vain and powerful men, most of whom are gambling addicts and would think nothing of sitting at a poker table until dawn betting their fortunes away just to prove who is a winning player.
Within this highly competitive masculine world, Molly Bloom gets indicted for organizing poker games with among others the Russian mafia in New York as well as Hollywood film stars, producers, rock stars and East Coast Trust fund babies.
Jessica Chastain is stunning in Molly's Game and keeps the pace of this lengthy film, portraying a decadent Madame who presides over a glamorous boudoir for men to gamble, drink and flirt with gorgeous supermodels or as her book publisher says, she was the keeper of a very expensive and indulgent man cave.
At the heart of the story, which could have been edited in sections, is Molly's complex relationship with her father who she was always goading from her rebellious teenage years to her earlier childhood attempts at becoming an Olympic ski jumper in Salt Lake City.
If audiences enjoyed The Social Network and Steve Jobs, then they will love Molly's Game, a decadent tale of one woman who bet her good name and reputation on the house.
Molly's Game gets a film rating of 7.5 out of 10 and is worth seeing for a remarkable performance by Jessica Chastain who really proves her talent as the heroine in this gritty, seductive tale about greed and power.
Huntsman:
The Winters War
Director: Cedric Nicolas-Troyan
Cast: Chris Hemsworth, Jessica Chastain, Emily Blunt, Charlize Theron, Nick Frost, Alexandra Roach, Sam Claflin, Rob Brydon, Sheridan Smith, Sophie Cookson
The evil queen stakes just got higher in the prequel to Snow White and the Huntsman, Huntsman: Winter War which is directed by French visual effects supervisor turned director Cedric Nicolas-Troyan. His previous visual effects credits include Pirates of the Caribbean: Dead Man's Chest, Snow White and the Huntsman and Solstice.
Australian actor Chris Hemsworth returns as Erik the Huntsman along with South African Oscar winner Charlize Theron (Monster, Mad Max: Fury Road) as the vicious queen Ravenna.
New to the cast are Jessica Chastain (Zero Dark Thirty, Interstellar) as Erik's estranged wife Sara and an equally evil queen, Ravenna's sister the Ice Queen Freya wonderfully played by Emily Blunt (The Devil Wears Prada, Into the Woods).
Interestingly this is a female action film and that's why Huntsman: Winters War works so well although it's not as good as the original 2012 Rupert Sanders film Snow White and the Huntsman.
Visually, Huntsman is quite dazzling especially in the second half of the film, and director Cedric Nicholas-Troyan makes full use of all the latest CGI available especially when the gorgeous Ravenna emerges out of the illustrious gold mirror looking fabulous.
In actual fact Ravenna's outfit, which Charlize Theron naturally uses to its full potential is sure to inspire many a drag queen in the future, wonderfully emboldened with beautiful eye make-up and a fabulous gold head dress to match, a rival to Angelina Jolie's outfits in Maleficent. Simply gorgeous. Who cares if she is an evil queen, when she looks so stunning!
Jessica Chastain is suitably bold and kickass as Erik's opinionated wife who manages to save his life from a collection of hideous goblins which looked as if they escaped from the set of Pan's Labyrinth.
Emily Blunt is wonderful as Ravenna's younger sister Queen Freya whose heart has been turned to ice by the sudden and inexplicable death of her baby daughter who she naturally blames her husband for.
Audiences should watch out for British comedian Nick Frost as a smart-mouthed dwarf Nion and Alexandra Roach as Doreena last seen in Cuban Fury and The Iron Lady as well as Sam Claflin as William, Freya's doomed husband.
Whilst Huntsman: Winters War is wonderful to watch, the dialogue could have been better written, yet the story is pure escapism, fantasy with a large dose of femme fatale and a couple Erik and Sara who eventually put aside their differences to defeat the evil sisters who are entirely without mercy and vicious to the core.
Huntsman: Winters War is recommended viewing for those that enjoyed Snow White and the Huntsman and should look forward to the third instalment in a film series which was clearly designed to be part of a fantasy trilogy.
The
Martian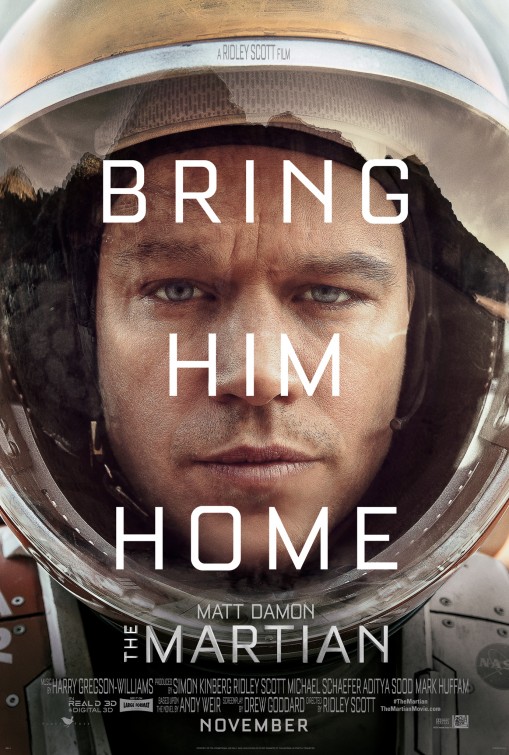 Director: Ridley Scott
Cast: Matt Damon, Jessica Chastain, Kate Mara, Sebastian Stan, Chiwetel Ejiofor, Jeff Daniels, Sean Bean, Kristen Wiig, Michael Pena, Donald Glover
Oscar winner Matt Damon (Good Will Hunting) takes the lead role in director Ridley Scott's visually stunning adaptation of the Andy Weir novel, The Martian as he stars as Mark Watney, an astronaut who after a sandstorm on Mars gets stranded on the red planet by his fellow crew members who abandon him unknowingly to head back to earth.
The crew members include Captain Melissa Lewis played by Oscar nominee Jessica Chastain (Zero Dark Thirty), Beth Johanssen played by Kate Mara, Chris Beck played by Sebastian Stan (Captain America: The Winter Soldier), Rick Martinez played by Michael Pena (Antman, American Hustle) and Norwegian actor Aksel Hennie (Hercules) as Alex Vogel.
Meanwhile back at the Johnson Space Centre in Houston, Texas, NASA headquarters, Director Teddy Sanders played by Jeff Daniels channeling his role in Aaron Sorkin's TV Series, The Newsroom, announces that Watney is dead. Back on Mars, Watney is alive and has to figure out a way to survive on a planet with minimal oxygen and no sustainable ecosystem to grow his own food supply, an obvious metaphor for the dwindling food supply on planet Earth. Watch out for a superb supporting role by Oscar nominee Chiwetel Ejiofor (12 Years a Slave) as Vincent Kapoor who firmly believes in finding Watney and bring him back to Earth.
Luckily Watkins is a trained botanist so with ingenuity and a lot of dry humour, he manages to harvest a small crop of potatoes inside the Mars man-made habitat. This is where Damon really inhabits the role of a lone space colonizer, the only man left on Mars who has to survive and adapt to his hostile and surreal environment, ironically while listening to 70's disco music. Best line in the film is:
"Neil Armstrong, eat your heart out!"
As the team at NASA scramble to figure out a way to rescue Watney after receiving an encrypted message from him letting them know he is still alive, Watney has to use all his own resources to remain resilient until a rescue mission, however precarious is assembled. Whilst the astrophysics of the rescue mission, will go over the head of most viewers, what makes The Martian such an enlightening cinematic experience are the stunning almost ethereal visual effects, held together by an Oscar worthy performance by Matt Damon as he contemplates that he could perish on this desolate and largely uninhabitable planet, if the rescue mission fails.
The rest of the cast are largely viewed in supporting roles, including Chastain as the steely Captain of the Hermes space craft, they support Damon's character both psychologically, emotionally and spiritually as Watney gradually learns that back on Earth he is becoming a symbol of a lone survivor who if he manages to return home safely will definitely have a legendary tale to tell.
With breathtaking cinematography by Dariusz Wolski and production design by Arthur Max, The Martian is definitely in the same league as Alphonso Cuaron's 2013 Oscar winner Gravity and humanizes space travel without delving to deeply into the philosophical elements of the infinite universe as done in Stanley Kubrick's 2001: A Space Odyssey or more recently Christopher Nolan's visually compelling but laden Interstellar which oddly enough also featured Jessica Chastain and Matt Damon.
With a running time of 141 minutes, The Martian is a superbly told adventure story about one man's fight to survive and his resilient desire to return to Earth, brilliantly acted by Matt Damon and beautifully directed by Oscar nominee Ridley Scott (Alien, Prometheus, Blade Runner, Gladiator).
Highly recommended viewing especially in a cinema. Do not wait for The Martian to come on TV as the visual and sound effects will certainly be lost.
A Most Violent Year
Director: J. C. Chandor
Cast: Jessica Chastain, Oscar Isaac, Albert Brooks, Alessandro Nivola, Elizabeth Marvel, David Oyelowo, Christopher Abbott, Ben Rosenfeld, Elyes Gabel
Margin Call director J. C. Chandor directs Oscar nominee Jessica Chastain (Zero Dark Thirty) and Golden Globe nominee Oscar Isaac (Inside Llewyn Davis) in the atmospheric thriller A Most Violent Year about the corruption and double dealings in the trucking industry circa New York City 1981.
Chastain and Isaac play a hard core 80's couple, Abel and Anna Morales who have mysteriously made a substantial sum of money through their transport business Standard Oil which Anna's father helped set up. Abel is trying desperately to remain an honourable man in his business dealings despite the fact that his trucks seem to be constantly being hijacked on the New York freeways. At first Abel suspects a rival trucking billionaire who has links to the Mafia, Peter Forente beautifully played with a lithe sinister style by Alessandro Nivola (Coco Avant Chanel).
The title of the film refers to the statistics that 1981 was New York's most violent year in the city's history, with crime, corruption, hijacking as well as shootings and murders. Despite this, the film itself is not as violent as one would assume, but director J. C. Chandor maintains the pace and at times even leaves visual signifier that the film alludes to violence as opposed to showing actual violence.
This is especially evident in the scene when the Morales, driving on the way back from a late night dinner hit a deer and Anna, wonderfully played with a hardness by Chastain promptly gets out the car and shoots the animal dead, when her husband hesitates.
Oscar Isaac also reunites with Drive co-star Albert Brooks who plays the couples shady attorney Andrew Walsh. With a running time of 125 minutes, the second half of A Most Violent Year could have picked up the pace, the 1980's crime thriller is held together tightly by the performances of Oscar Isaac and Jessica Chastain, especially the latter who is superb as the hard edged wife who continually persuades her husband to fight violence with violence. Naturally this eventually occurs when Julian, an immigrant truck driver, played by Elyes Gabel goes missing and also another truck belonging to Standard Oil is stolen.
Audiences that like a sophisticated thriller with a more contextual character study will enjoy A Most Violent Year, but those expecting an action film should give it a miss.
The cast also includes David Oyelowo (The Paper Boy and Jack Reacher) as assistant DA Lawrence who is constantly threatening the Morales livelihood. A Most Violent Year is a fascinating film, layered with each textured shot paying homage to film noir aimed at viewers that enjoy a more intricate narrative despite its nefarious title.
70th Golden Globe Awards
Took place on Sunday 13th  January 2013 hosted by the Hollywood Foreign Press Association
Golden Globe Winners in The Film Categories:
Best Film Drama – Argo
Best Director: Ben Affleck – Argo
Best Film Musical or Comedy – Les Miserables
Best Actor Drama: Daniel Day-Lewis – Lincoln
Best Actress Drama: Jessica Chastain – Zero Dark Thirty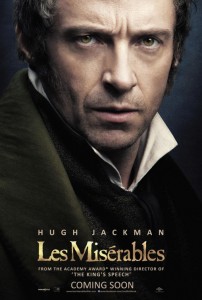 Best Actor Musical or Comedy: Hugh Jackman – Les Miserables
Best Actress Musical or Comedy: Jennifer Lawrence – Silver Linings Playbook
Best Supporting Actor: Christoph Waltz – Django Unchained
Best Supporting Actress: Anne Hathaway – Les Miserables
Best Foreign Language Film: Amour (France)
Source: http://en.wikipedia.org/wiki/70th_Golden_Globe_Awards
Interstellar
Director: Christopher Nolan
Cast: Matthew McConaughey, Anne Hathaway, Jessica Chastain, Michael Caine, John Lithgow, Casey Affleck, Matt Damon, Wes Bentley, Ellen Burstyn, David Oyelowo, Topher Grace, Timothee Chalamet
Memento meets Gravity in director Christopher Nolan's epic space opera, Interstellar, a convoluted time travel astrophysical fantasy about a NASA astronaut who gets caught up in a mission to travel to an alternative Galaxy in a bid to save the remaining humanity on earth from a dwindling supply of oxygen.
Assembling an all star cast is what director Nolan does best at insuring that his films have credibility as a blockbuster and with a range of stars, yet unlike Inception or The Prestige, his earlier films which dealt with dreams and magic, Interstellar tends to emulate the great director Stanley Kubrick's masterpiece: 2001: A Space Odyssey, yet falls short of its celestial aspirations, by not being a touch more sinister.
In parts, Interstellar is brilliant and ambitious, wonderfully scored with atmospheric music by Hans Zimmer and incredibly shot with those signature spiralling shots that Nolan is so fond of. However, Interstellar suffers from two shortcomings, taking the films weighty significance too seriously and secondly a serious lack of editing. The first and last sections of Interstellar weighs down the brilliance and absolute clarity of the middle section.
With McConaughey fresh from his Oscar win on Dallas Buyers Club coupled with Hathaway fresh from her win in Les Miserables it seems like a perfect casting choice, but it's flawed by its very contrivance. The part which does stand out so brilliantly is that of Murphy superbly played by the underrated Oscar nominee Jessica Chastain as Cooper's grownup and embittered daughter who is hell bent in following in her father's footsteps and traveling beyond the black hole to discover the reason for the earth's imminent demise. Watch out for cameo appearances by Ellen Burstyn, Wes Bentley and David Oyelowo.
Fellow Oscar nominee Casey Affleck is also good as the stubborn yet stoical brother of Murphy in a part which is severely underwritten along with that of Oscar winner Michael Caine as Professor Brand who plays Hathaway's enigmatic father, a scientist who masterminds the space exploration from the outset knowing that the intended consequences of such a doomed mission are dire and certainly revelatory at best.
Interstellar 's post-structural narrative gets more blurred, the further the astronauts travel through a celestial wormhole, around a vast system known as Gargantuan, soon realizing that their mission much like their own destiny is doomed to fail, resulting in a multitude of Lazarus missions.
The only subversive element is a rescued astronaut Mann, wonderfully played by Matt Damon, found on a frozen wasteland of a planet which seems to be the only alternative to the dust clad environment of a doomed earth, who is wily in his attempts to escape his icy predicament.
With a script by Jonathan Nolan, Interstellar suffers from too little said and not enough explained, while most of the narrative rests on some remarkably clever visual clues which only make sense in the last section of the film, which resembles a pastiche of Inception mixed with an unquantifiable mystical factor.
The cast with a threadbare script had little else to work on besides their own doomed destinies and the terrors of space. Thus there is loads of human anguish thrown in along with some stunning visuals, but at nearly three hours long Interstellar could have been expertly edited to make a more concise tale of 21st century doomed space exploration. Besides Anne Hathaway just doesn't cut it as an astronaut and should stick to period dramas, where at least the claustrophobia is explained by historical context and not subliminal infinity.
As an avid fan of Christopher Nolan films and trust me I loved The Dark Knight Trilogy and Inception, I personally found Interstellar fascinating yet an ultimately flawed and slightly contrived piece of cinema crippled by its unendurable length, without enough plot twists to generate sufficient audience excitement. Like Inception, Interstellar will certainly be open to discussion.
LAWLESS
The Road director John Hillcoat's violent adaptation of the novel The Wettest County in the World by Matt Bondourant is graphic, gritty and riveting. Featuring the bad boys of 21st century cinema, Lawless teams Shia LaBeauf (Wall Street, Money Never Sleeps, Transformers) with Tom Hardy (Warrior, The Dark Knight Rises) and Jason Clarke (Zero Dark Thirty) as the true life Bondourant  bootlegging brothers of Franklin County, Virginia, circa 1920.
Narrated by the youngest and naturally the most flashiest brother Jack Bondourant played brilliantly by La Beouf, Lawless tells of how the three brothers enter the bloody world of bootlegging during Prohibition America and how their claim to fame besides their protectiveness of each other is their invincibility. Sooner Jack goes into business with the fugitive Chicago Floyd Banner (a great cameo by Oscar Nominee Gary Oldman) and illegally transports whisky and moonshine across county lines. Up against a sadistic and vain deputy sheriff Charlie Rakes played with a subtle brutality by Guy Pierce (L. A. Confidential), what ensues is a violent turf war brought on by the prohibition and all the illegal, criminal activities which develop at an unrelenting pace.
Jessica Chastain (The Help, Zero Dark Thirty), plays Maggie Beauford the storekeeper and eventual love interest for the seemingly invincible Forrest Bondourant  gruffly acted by the ever talented Tom Hardy, whilst the oldest brother Howard, played by Jason Clarke fresh from the horrors of World War 1 is the quiet and slightly sociopathic type. Lawless is a rural gangster film, which moves the action away from the major cities like Chicago,  New York and Atlantic City (as seen in the classic The Untouchables and the brilliant HBO series Boardwalk Empire) and depicts the Virginia trio as a tough, seemingly invincible band of brothers who will go to any lengths to protect their operation and survive during the 1920's and 30's.
Whilst Lawless focuses too much on the violence, and not enough on the characters motivation, it is clear that all three brothers possess vicious tendencies when protecting themselves and each other in their bid for survival. Mia Wasikowska (Jane Eyre) stars as the Quaker's daughter Bertha Minnix, a potential love interest for Jack and it's in scenes between Wasikowska and LaBeouf in which the script is the strongest.
Lawless is a bloody slice in more ways than one of Prohibition era American history and is not for sensitive viewers as director Hillcoat goes for more of the brutality and less of the morality in this gripping tale of brutal brothers surviving against all odds, and proving that when it comes to turf wars, blood is always thicker than moonshine.
Zero Dark Thirty
Oscar winning director Kathryn Bigelow's brilliant yet riveting film Zero Dark Thirty is a masterful film, held together by a central performance by Jessica Chastain as CIA Intelligence Operative Maya and a superb script by Mark Boal, who also collaborated with Bigelow on the equally impressive The Hurt Locker.
This complex film opens with the flight recordings of the United 93 plane that crashed in Pennsylvania during the September 2001 US Terror attacks sparking an obsessive and frustrating hunt for the Al Qaeda mastermind Osama Bin Laden by the CIA and specifically Maya initially from the hostile environment of Pakistan then based at the CIA headquarters in Langley, Virginia. The narrative charts a veritable timeline of terror that has characterized the first decade of the 21st century, from 9/11 to the London Transport bombings in July 2005, to the Marriott Hotel bombing in Islamabad in September 2008 to the suicide bombing at the American military base, Camp Chapman in Khost, Afghanistan in December 2009.
Zero Dark Thirty is a brilliant spy thriller and unlike Argo, is deadly serious in every respect and is grounded in much historical research and investigative journalism, noted in the detailed script by Mark Boal. As in The Hurt Locker, Bigelow once again casts her central character in a completely hostile and extremely dangerous environment and the petite Maya as the tenacious CIA operative who skilfully leads the hunt for and final execution of Al Qaeda leader Osama Bin Laden, the mastermind behind many international terrorist attacks, most notably 9/11 and the 2005 London bombings.
Bigelow as a director takes on a larger canvas than in the Iraq War in The Hurt Locker and shows that the decade long hunt for America's most wanted enemy was an international affair from Pakistan to Poland to Kuwait involving CIA black sites, detailed surveillance and lots of political wrangling.
Tradecraft
A notable narrative shift is from the film's first half set under the Bush administration where torture, rendition and revenge were the CIA's chief instruments of capturing Al Qaeda terrorists to the second half set after November 2008 under the Obama administration where detailed surveillance, dedication and  almost positive certainty of terrorist tradecraft which ultimately lead to the riveting  elimination of Osama Bin Laden at a compound in Abbottabad, Pakistan in May 2011, Zero Dark Thirty is deadpan in its presentation of one nations hunt for a master terrorist and the extraordinary sacrifice and lengths these CIA operatives went to in finally achieving their goal.
Jessica Chastain performance is simply superb and has already garnered a 2013 Golden Globe Award and truly shows her talent and diversity in the role of Maya but also points to Kathryn Bigelow ability  to bring out the best performance ever in her leading actors, as was the case with Jeremy Renner in The Hurt Locker. The final sequence involving the storming of the Abbottabad compound, believed to be Bin Ladin's hideout by elite American soldiers is truly nerve-wracking cinema, shot with Bigelow's trademark directorial detachment cut through with absolute documentary styled realism.
Zero Dark Thirty has a great supporting cast including Jason Clarke as the CIA torturer Dan, Kyle Chandler as CIA Pakistan operations chief Joseph Bradley along with Mark Strong, Jennifer Ehle and James Gandolfini, but it is really Chastain's obsessive portrayal of CIA Operative Maya, a woman battling to gain respect in a male dominated espionage arena, that shows her true talent. The pace of Zero Dark Thirty is fast and yet measured enough to show the time involved assisted by an original score by Alexandre Desplat and with cutting edge sound editing, the audience is immediately immersed in a deeply fascinating portrait of America's covert hunt for that nation's Enemy Number One. Highly Recommended and definitely Oscar worthy.