Posts Tagged 'Lin-Manuel Miranda'
In The Heights
Director: Jon M. Chu
Cast: Anthony Ramos, Corey Hawkins, Jimmy Smits, Melissa Barrera, Leslie Grace, Jimmy Smits, Gregory Dias IV, Daphine Rubin-Vega, Dascha Polanca, Lin-Manuel Miranda, Olga Merediz, Marc Anthony
Crazy Rich Asians director Jon M. Chu takes on the ambitious project of adapting a Broadway musical In the Heights into a film adaptation and unfortunately the finished product while dazzling and funky has limited appeal and should have been edited considerably.
In the Heights was written by Lin-Manuel Miranda who has a small cameo role as a cool drink seller and based upon the novel by Quiara Alegria Hudes, is set exclusively in the mainly Puerto Rican and Dominican neighbourhood of Washington Heights in Spanish Harlem, New York.
Last seen in a supporting role in the Oscar winning A Star is Born opposite Bradley Cooper and Lady Gaga, Anthony Ramos expertly takes on the main role of Usnavi as a young thirty something Bodega owner who runs a mom and pop store in the heights with the help of his naughty but sharp cousin Sonny wonderfully played by Gregory Dias IV. It's refreshing to see the talented Anthony Ramos headlining a film.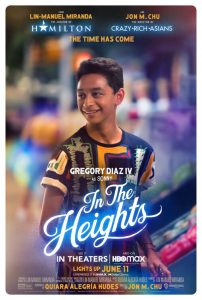 Audiences should watch out for a cameo by Jennifer Lopez's ex-husband Marc Anthony as Sonny's drug fuelled deadbeat father.
Usnavi starts off the film by telling a story to his young children and their friends about the community of Washington Heights and soon the screen explodes into a dazzling dance sequence of exuberant characters and a community which is proud of its Latino roots even if their economic advancement is often stymied by the affluent New York establishment.
With the exception of Sonny and Usnavi's Cuban grandmother Abuella Claudia played by the brilliant Olga Merediz, the rest of the characters are portrayed with flippant glamour and without much depth including the love interest between Benny played by Corey Hawkins (Kong: Skull Island, BlackKKlansman) and Nina Rosario played by Leslie Grace.
Even well-known actor Jimmy Smits (Rogue One: A Star Wars Story) as Nina's father Kevin Rosario who is desperate to uplift himself out of the Latino community he is born into, does not get enough screen time or suitable characterization. The conflict between Nina and her father is deepened by her terrible experience at Stanford, an Ivy League University in California.
The dance numbers in In the Heights are uneven, some of them are excellent especially the sequence with Claudia on a subway train channelling her Cuban immigrant roots while others are terrible including the rap number in the communal swimming pool.
As the story unfolds, the film does not find its feet until the second half when New York is plunged into a three day blackout during a summer heatwave. When the blackout occurs, the real depth of In the Heights ironically shines through.
In the Heights is an enjoyable musical about a section of the Latino community which seldom gets a spotlight shone on them. Despite some good performances, In the Heights at 2 hours and 23 minutes could have been drastically edited.
If viewers love fun musicals then watch In the Heights which gets a film rating 7 out of 10, but this area specific musical has limited appeal.
Mary Poppins Returns
Director: Rob Marshall
Cast: Emily Blunt, Ben Whishaw, Emily Mortimer, Meryl Streep, Colin Firth, Lin-Manuel Miranda, Pixie Davies, Nathanael Saleh, Joel Dawson, Dick van Dyke, Angela Lansbury
Chicago and Memoirs of a Geisha director Rob Marshall returns with another hit musical Mary Poppins Returns featuring Emily Blunt as Mary Poppins immortalized by Julie Andrews in the original 1964 hit film Mary Poppins.
Fortunately Emily Blunt is such an accomplished actress that she nails the part of Mary Poppins to absolute perfection ably assisted by Broadway star Lin-Manuel Miranda as Jack the lamplighter who between the two of them share most of the musical numbers.
Brideshead Revisited and Skyfall star Ben Whishaw plays Michael Banks and his sister Jane Banks is played by Emily Mortimer. The real stars of Mary Poppins Returns are the three Banks children John, Anabel and Georgie wonderfully played by Nathanael Saleh, Pixie Davies and Joel Dawson respectively.
Mary Poppins Returns is Disney in full swing for the 21st century and the musical numbers are brilliant especially the lamp lighters dance sequence as well as some well-placed cameo's by Oscar winner Meryl Streep (Sophie's Choice, Kramer vs Kramer and The Iron Lady) as the garish and outrageous cousin Topsy along with Oscar nominee Angela Lansbury (Gaslight, The Manchurian Candidate, The Picture of Dorian Gray) as the Balloon Lady and Golden Globe nominee Dick van Dyke (Mary Poppins) as Mr Dawes.
Other notable stars are Oscar winner Colin Firth (The King's Speech) as the evil bank manager Wilkins who is completely unsympathetic to the plight of Michael Banks whose Cherry Tree Lane house in Depression era London is about to be repossessed unless Mr Banks can find share certificates which can prove he has some form of collateral to retain his family home.
Oscar nominee Julie Walters (Billy Elliott, Educating Rita) stars as the housekeeper Ellen who manages to keep the chaotic Banks household in some form of domestic stability.
Cleverly Mary Poppins Returns captures the magic of a whimsical musical for a 21st century audience while paying homage to the original 1964 film which made a star out of Julie Andrews who also won an Oscar for her iconic performance in 1965. Emily Blunt, with her pithy and clipped English accent, is superb as the no nonsense nanny who ignites imagination in the three young Banks children while handling all the brilliant musical numbers.
Highly recommended viewing for the entire family, director Rob Marshall does a brilliant job with Mary Poppins Returns and is definitely worth seeing.
Mary Poppins Returns gets a film rating of 8 out of 10 and is absolutely brilliant. If Disney is going to do a sequel so long after the original film you can bet that it's going to be spit spot!