Posts Tagged 'Jimmy Smits'
In The Heights
Director: Jon M. Chu
Cast: Anthony Ramos, Corey Hawkins, Jimmy Smits, Melissa Barrera, Leslie Grace, Jimmy Smits, Gregory Dias IV, Daphine Rubin-Vega, Dascha Polanca, Lin-Manuel Miranda, Olga Merediz, Marc Anthony
Crazy Rich Asians director Jon M. Chu takes on the ambitious project of adapting a Broadway musical In the Heights into a film adaptation and unfortunately the finished product while dazzling and funky has limited appeal and should have been edited considerably.
In the Heights was written by Lin-Manuel Miranda who has a small cameo role as a cool drink seller and based upon the novel by Quiara Alegria Hudes, is set exclusively in the mainly Puerto Rican and Dominican neighbourhood of Washington Heights in Spanish Harlem, New York.
Last seen in a supporting role in the Oscar winning A Star is Born opposite Bradley Cooper and Lady Gaga, Anthony Ramos expertly takes on the main role of Usnavi as a young thirty something Bodega owner who runs a mom and pop store in the heights with the help of his naughty but sharp cousin Sonny wonderfully played by Gregory Dias IV. It's refreshing to see the talented Anthony Ramos headlining a film.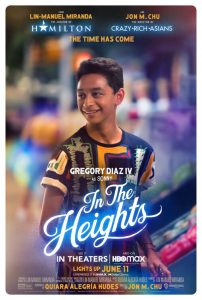 Audiences should watch out for a cameo by Jennifer Lopez's ex-husband Marc Anthony as Sonny's drug fuelled deadbeat father.
Usnavi starts off the film by telling a story to his young children and their friends about the community of Washington Heights and soon the screen explodes into a dazzling dance sequence of exuberant characters and a community which is proud of its Latino roots even if their economic advancement is often stymied by the affluent New York establishment.
With the exception of Sonny and Usnavi's Cuban grandmother Abuella Claudia played by the brilliant Olga Merediz, the rest of the characters are portrayed with flippant glamour and without much depth including the love interest between Benny played by Corey Hawkins (Kong: Skull Island, BlackKKlansman) and Nina Rosario played by Leslie Grace.
Even well-known actor Jimmy Smits (Rogue One: A Star Wars Story) as Nina's father Kevin Rosario who is desperate to uplift himself out of the Latino community he is born into, does not get enough screen time or suitable characterization. The conflict between Nina and her father is deepened by her terrible experience at Stanford, an Ivy League University in California.
The dance numbers in In the Heights are uneven, some of them are excellent especially the sequence with Claudia on a subway train channelling her Cuban immigrant roots while others are terrible including the rap number in the communal swimming pool.
As the story unfolds, the film does not find its feet until the second half when New York is plunged into a three day blackout during a summer heatwave. When the blackout occurs, the real depth of In the Heights ironically shines through.
In the Heights is an enjoyable musical about a section of the Latino community which seldom gets a spotlight shone on them. Despite some good performances, In the Heights at 2 hours and 23 minutes could have been drastically edited.
If viewers love fun musicals then watch In the Heights which gets a film rating 7 out of 10, but this area specific musical has limited appeal.
Rogue One:

A Star Wars Story
Director: Gareth Edwards
Cast: Felicity Jones, Diego Luna, Forest Whitaker, Mads Mikkelsen, Riz Ahmed, Alan Tudyk, Ben Mendelsohn, Jimmy Smits, Donnie Yen, Wen Jiang, Alistair Petrie, Genevieve O'Reilly, Carrie Fisher, James Earl Jones
British director Gareth Edwards grew up on the original Star Wars Trilogy like most young kids born in the 1970's and was heavily influenced by directors George Lucas and Steven Spielberg. The Godzilla and Monsters director pays homage to the original Star Wars trilogy in the superb spinoff film, Rogue One: A Star Wars Story featuring a diverse ensemble cast.
In the lead roles are British actress and Oscar nominee Felicity Jones (The Theory of Everything, Inferno) as Jyn Eso and Mexican star Diego Luna (Milk, Elysium) as Cassian Andor along with Danish actor Mads Mikkelsen (Casino Royale) as Eso's father Galen Eso and unrecognizable Riz Ahmed (The Reluctant Fundamentalist) as treasonous Empire pilot turned Rebel Bodhi Rook.
Audiences must remember that Rogue One: A Star Wars Story is a prequel to the original Star Wars film made in 1977 and centres on the rebels lead by Eso who plan on stealing the plans to the Empire's galactic weapon of mass destruction, The Death Star. As the film unfolds and there is lots of inter-planetary travelling, Eso along with Andor and an Empire droid wonderfully played by Alan Tudyk battle the mighty Empire commandeered by an evil Orson Krennic superbly played by the blue eyed Australian star Ben Mendelsohn (Mississippi Grind).
What is most impressive about Rogue One: A Star Wars Story is the tight narrative and impressive visual effects, the plot ably written by screenwriters Tony Gilroy and Chris Weitz who pepper the action packed intergalactic journey with visual treasures and homages to the original Star Wars trilogy which dazzled the world back in the 1970's and 1980's.
Any fanboy or girl of the original trilogy especially the first two films, Star Wars and The Empire Strikes Back will appreciate all the references in Rogue One: A Star Wars Story including the Death Star, brief appearances by the malignant Darth Vader voiced again by James Earl Jones and even a glimpse of R2D2 and C3PO as the droids wave goodbye to Eso and the gang as they travel to Scarrif, a tropical island planet with an Empire base which resembles the Palm Jumeirah in Dubai resulting in one of the best battle sequences seen in any of the Star Wars films.
Director Edwards sets the bar high with Rogue One with a tight storyline, witty dialogue and solid central performances by Felicity Jones and Diego Luna. There is also some influential supporting roles including Oscar winner Forest Whitaker (The Last King of Scotland) as Saw Gerrera who is Jyn Eso's guardian after her father Galen is mysteriously captured by the Empire Stormtroopers and Jimmy Smits (Star Wars: Revenge of the Sith) reprising his role as Senator Bail Organa.
Rogue One: A Star Wars Story is a superb prequel, a visual sci-fi feast which will have specific appeal to the dedicated fans of the Star Wars franchise. Now that George Lucas has sold the rights to Disney, the Star Wars universe is going to expand exponentially and in more innovative ways, cashing in at the all international box offices as each new film gets released.
This is highly recommended viewing for lovers of this extraordinarily imaginative Sci Fi franchise. If you love Star Wars then don't miss Rogue One, it's a classic.