Posts Tagged 'Johnny Depp'
Fantastic Beasts 2:
The Crimes of Grindelwald
Director: David Yates
Cast: Eddie Redmayne, Johnny Depp, Katherine Waterston, Zoe Kravitz, Jude Law, Dan Fogler, Ezra Miller, Kevin Guthrie (Dunkirk), Carmen Ejogo, Callum Turner (Assassin's Creed, Victor Frankenstein), Alison Sudol, Poppy Corby-Teuch
Harry Potter and the Deathly Hallows director David Yates who was at the helm of the original stylish Oscar winning Fantastic Beasts film returns to direct the highly anticipated sequel Fantastic Beasts 2: The Crimes of Grindelwald featuring a star studded cast including Oscar winner Eddie Redmayne who reprises his role of the magical creature loving Newt Scamander and Oscar nominee Jude Law as a young and decidedly flamboyant Dumbledore, who makes an audacious cameo.
This time Scamander has to contend with the malignant and mysterious wizard Grindelwald wonderfully played by Oscar nominee Johnny Depp who is determined to upset the delicate balance between the real and magical realms.
Katherine Waterston returns as the elusive Tina Goldstein as does Dan Fogler as Scamander's faithful American sidekick Jacob Kowalski. Other regulars include Zoe Kravitz as Leta Lestrange and Alison Sodol as Queenie Goldstein along with Ezra Miller as the troubled Credence Barebone who is on a quest to discover his parentage.
Whilst the plot of The Crimes of Grindelwald is as mystifying as Credence's real identity, Fantastic Beasts 2 is visually impressive particularly in the second half of the film.
Some of the dialogue in the film was stilted, yet Fantastic Beasts like any Franchise film speaks mainly to its fans and those that have religiously followed all the Harry Potter films will be equally satisfied with this exotic sequel set mainly in Paris. The French Ministry of Magic sequence is spectacular and a cinematic highlight.
Whether Fantastic Beasts 2 will garner any attention in the 2019 awards season remains to be seen, although the production design is beautiful, I did find the first half of the film particularly dim or perhaps it was my limited understanding of this convoluted plot which made numerous references to the original Harry Potter films.
If viewers loved Fantastic Beasts and Where to Find Them, then they will certainly cherish this magnificent sequel especially Johnny Depp as the villainous Grindelwald whose numerous crimes include recruiting Credence for more diabolical mischief…
For purely technical reasons, Fantastic Beasts: The Crimes of Grindelwald gets a film rating of 7.5 out of 10.
It's a magical and visually dazzling fantasy film hinting at many sequels in the works. Highly recommending viewing for serious J. K. Rowling fans and those that loved the first Fantastic Beasts.
Murder

on the Orient Express
Director: Kenneth Branagh
Cast: Kenneth Branagh, Johnny Depp, Michelle Pfeiffer, Daisy Ridley, Manuel Garcia-Rulfo, Penelope Cruz, Josh Gad, Derek Jacobi, Lucy Boynton, Olivia Colman, Judi Dench, Willem Dafoe, Leslie Odom Jr. Tom Bateman
Oscar nominee Kenneth Branagh (My Week with Marilyn) both stars as the infamous Belgian detective Hercule Poirot and directs another remake of the classic Agatha Christie novel Murder on the Orient Express featuring a stunning cast including Oscar nominees Michelle Pfeiffer (Dangerous Liaisons, The Fabulous Baker Boys), Johnny Depp (Sweeney Todd, the Demon Barber of Fleet Street) and Oscar winners Penelope Cruz (Vicky Cristina Barcelona) and Judi Dench (Shakespeare in Love).
Sporting a profoundly massive mustache, Branagh takes Hercule Poirot to new extremes in this 21st century remake which is glossy and possesses sumptuous production design but like all extremely long train journeys is boring in the middle, despite the spectacular scenery.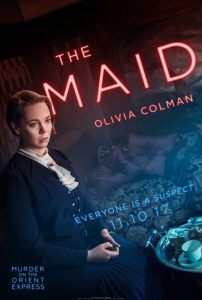 Murder on the Orient Express is set in 1934 and starts off promisingly with a fantastic opening, attention grabbing scene at the Wailing Wall in Jerusalem and then moves on to the Orient Express, a luxury train service which travels from the chaotic train station in Istanbul right across Europe to Paris.
As the gangster Edward Ratchett is found murdered in his compartment, stabbed multiple times everybody becomes a suspect on the Orient Express and soon Poirot has to interview all the cast as the train is stuck in an icy tunnel somewhere over Yugoslavia. A tangle of strangers confined to a luxury train which has gone off the rails.
Everybody is not what they seems, which is natural considering this is an Agatha Christie novel and while the cast does an admirable job, it is really Michelle Pfeiffer who wows audiences with her demure yet slightly vicious portrayal of globetrotting husband seeker Caroline Hubbard who stands out among a fairly impressive ensemble cast. Pfeiffer really acts.
Dame Judi Dench's turn as Princess Dragomiroff is hardly noticeable, while the best scenes in the film are between Pfeiffer and Branagh.
It is refreshing to see Michelle Pfeiffer making such a glorious big screen come back as she truly is a brilliant actress, not to mention singer – for she also sang the film's original song at the end.
Without revealing who the killer is, needless to say Kenneth Branagh will be returning with another big screen adaptation of an Agatha Christie novel, Death on the Nile. Should be fascinating if only he would curb that mustache.
Audiences that enjoyed the original seventies film adaptations of the Agatha Christie novels, will enjoy this ambitious if slightly flawed remake. Think Evil Under the Sun.
Recommended viewing but whether the film will dazzle at the box-office in an increasingly cluttered 21st century CGI film line-up remains to be seen. Murder on the Orient Express gets a film rating of 7 out of 10.
Pirates of the Caribbean:
Salazar's Revenge
Directors: Joachim Ronning and Espen Sandberg
Cast: Johnny Depp, Javier Bardem, Geoffrey Rush, Brenton Thwaites, Kaya Scodelario, Kevin McNally, David Wenham, Orlando Bloom, Keira Knightley, Stephen Graham
Viewers can be forgiven for thinking that they are on a spectacular Disney theme park ride, when watching the highly entertaining opening sequence of Pirates of the Caribbean: Salazar's Revenge co-directed by Joachim Ronning and Espen Sandberg.
Pirates of the Caribbean: Salazar's Revenge was released in South Africa, Europe and the UK under this title but is also known as Pirates of the Caribbean: Dead Men Tell No Tales in America possibly for trademark reasons.

This fifth installment of the hugely successful Pirates franchise which made stars out of Orlando Bloom and Keira Knightley, not to mention cementing Johnny Depp's status as a massive box office drawcard, is maximum entertainment. Depp's performance as the wayward pirate Captain Jack Sparrow was Oscar nominated back in 2003 for Pirates of the Caribbean: The Curse of the Black Pearl.
As the film opens we see Australian actor Brenton Thwaites (Maleficent, Gods of Egypt) as Henry Turner conversing miraculously underwater with his trapped father Will Turner played again by Orlando Bloom (Pirates of the Caribbean: At World's End).
Henry makes a pact to find Poseidon's Trident which will undo all the curses which have befallen pirates and sailors alike in the turbulent waters of the Caribbean, thus freeing his father from his watery confinement.
Under another such curse is Salazar, the archetypal villain wonderfully played with a Spanish accent by Oscar winner Javier Bardem (No Country for Old Men) who is a ghostly pirate trapped for eternity in an unholy state keen on exacting revenge on every pirate and sailor he encounters, more specifically Captain Jack Sparrow who he blames for tricking him into sailing into the Devil's Triangle, cursing his Spanish crew forever.
After an attention grabbing opening sequence involving a chaotic bank robbery on the British controlled island of Saint Martin, Captain Sparrow reluctantly gathers his crew again including Henry Turner and newcomer Carina Smyth played by Kaya Scodelario as they escape the island and set sail in search of the elusive Poseidon's trident. The bloodthirsty Salazar has made an unlikely pact with another of Sparrow's enemies Hector Barbossa wonderfully played by Oscar winner Geoffrey Rush (Shine).
While Pirates of the Caribbean: Salazar's Revenge is fantastic entertainment with alluring special effects, the plot and direction is occasionally ambivalent lacking a unity of vision in certain sequences.
Besides the swashbuckling, the cameo appearances and a relentlessly fast narrative which taps into a pervasive Pirates mythology which subscribes to the notion that they are outlaws, reckless and merciless, this version of Pirates of the Caribbean is worth seeing especially since it deftly introduces the franchise to a younger audience with the love affair between Carina and Henry, promising of more sequels to come.
Perhaps the action might seem implausible or downright fantastical, but Pirates delivers on its franchise promise and gets a rating of 7.5 out of 10.
Fans of the previous films, will enjoy this version especially the welcome re-appearance of its most notable anti-hero, the rum-sipping, wise-cracking and perverse Jack Sparrow played with suitable delinquency by Johnny Depp.
Alice

Through

the

Looking Glass
Director: James Bobin
Cast: Mia Waskowska, Johnny Depp, Anne Hathaway, Helena Bonham Carter, Sacha Baron Cohen, Lindsay Duncan, Rhys Ifans, Stephen Fry, Timothy Spall, Michael Sheen, Richard Armitage, Andrew Scott, Alan Rickman
Contrary to popular belief the author of Alice Through the Looking Glass was not high on drugs although the latest film version by James Bobin seems to suggest otherwise. Victorian author Lewis Carroll was prone to doses of Laudanum but certainly not to hallucinations due to any mind altering drugs. Carroll whose real name was Charles Lutwidge Dawson did hang out with the Pre-Raphaelites and obviously possessed a vivid imagination.
Following the immense success of director Tim Burton's Alice in Wonderland in 2010, Alice Through the Looking Glass fortunately reassembles the same cast with a much larger part for Johnny Depp as the Mad Hatter.
Additions to the new film, include British comedian Sacha Baron Cohen (Hugo, Borat, The Dictator) as Father Time and Rhys Ifans (Notting Hill) as the misplaced father of the Mad Hatter, Zanik Hightopp.
Mia Wasikowska reprises her role as Alice Kingsleigh and Lindsay Duncan (Birdman) stars as her mother Helen Kingsleigh.
Visually, Alice Though the Looking Glass is a real treat, a sublime and whimsical journey into a fantasy world in which Alice must travel through time and a looking glass and not only battle Father Time but the evil Red Queen of Hearts, wonderfully played again by Helena Bonham Carter.
This time the evil Queen seeks vengeance upon her sister Mirana, played with virginal innocence by Anne Hathaway, plunging Wonderland into chaos as the Queen of Hearts against the warnings of Father Time, confronts a past version of herself, a jealous little girl who was blamed for her sister's naughty tricks of stealing tarts.
Whilst Alice Through The looking Glass will certainly appeal to a younger female audience, its themes are certainly of an adult nature – never regret the past, never try and take revenge on your family and most importantly always strive for what is your rightful inheritance. Mia Wasikowa is utterly believable as the headstrong Alice who in the prologue of the film is battling to save her late father's ship from being taken away by greedy Victorian creditors.
Alice Through the Looking Glass, despite some big names in the cast is a brilliant ensemble piece, beautifully told and superbly directed by James Bobin under the guidance of Tim Burton.
Naturally Depp is completely whacky and delightful as the incorrigible mad hatter, but it's really Sacha Baron Cohen who steals the show as the ubiquitous Father Time who proves that time is really on our side, despite the proverbial warning.
This rewarding sequel is fun, visually fantastic and highly recommended viewing, a whimsical journey through the looking glass into a parallel universe in which time paradoxically becomes an embodiment of both past regrets and future reconciliations.
Black
Mass
Director: Scott Cooper
Cast: Johnny Depp, Joel Edgerton, Benedict Cumberbatch, Kevin Bacon, Adam Scott, Corey Stoll, David Harbour, Peter Sarsgaard, Dakota Johnson, Julianne Nicholson, Juno Temple.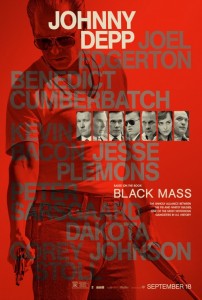 Crazy Heart director Scott Cooper brings to life a gripping and violent cinematic adaptation of the 2001 non-fiction book Black Mass: The True Story of an Unholy Alliance Between the FBI and the Irish Mob by Dick Lehr and Gerard O'Neill based upon the exploits of Irish-American crime lord and fugitive James "Whitey" Bulger played with a menace not seen on screen since Sweeney Todd, The Demon Barber of Fleet Street, by Oscar nominee Johnny Depp.
Cooper assembles an all-star cast including Benedict Cumberbatch (The Fifth Estate) as Whitey Bulger's brother and senator William Bulger, Joel Edgerton (The Great Gatsby, Warrior) in a career defining performance as conflicted FBI agent John Connolly, Dakota Johnson as James Bulger's wife Lindsey and David Harbour (Quantum of Solace) as Connolly's co-worker John Morris.
Audiences should look out for Kevin Bacon as FBI boss Charles McGuire and a stunning cameo by Peter Sarsgaard (Blue Jasmine) as coked up Florida businessman Brian Halloran and Corey Stoll as the non-nonsense prosecutor Fred Whysak.
James "Whitey" Bulger superbly played by Depp in his most menacing performance yet, is a pure psychopath whose relentless ambition is to rid his own South Boston gang, known as the Winter Hill gang not only of informants, who he casually kills at the drop of a hat but of their main opposition the Italian mafia in the form of the Angiulo Brothers which control North Boston.
Bulger and his band of thugs control South Boston and he soon becomes a so-called informant at the request of oily FBI agent Connolly whose childhood loyalty to Bulger is blinded by the real monster that Bulger has become. This is a man who strangles a prostitute with his bare hands, who casually shoots his friend in the head after a bar room altercation, yet will simultaneously sit down and play cards with his elderly mother. Insight in to the source of Bulger's psychopathic behaviour comes from a line in Black Mass, when he admits to doing trials for LSD during an eight year prison stint in Alcatraz and Levenworth.
The tipping point in Bulger's blood thirst occurs when his young son unexpectedly dies from Reyes syndrome after an allergic reaction to aspirin. Bulger's manipulation of his alliance with Connolly is brilliantly portrayed in Black Mass with Australian actor Joel Edgerton giving a remarkable performance akin to that of Matt Damon in Martin Scorsese's The Departed.
Connolly is heavily beholden to Bulger and his professional and personal judgement suffers after his close association with such a violent mobster, highlighting the extent of corruption endemic in American cities in the 1980's. Even Connolly's wife Marianne played by Julianne Nicholson last seen in August: Osage County remarks on her husband's new clothes and his flashy almost cocky swagger.
Joel Edgerton deserves an Oscar nomination for his role in Black Mass as does Johnny Depp, although at times the menace portrayed by Depp obliterates any audience empathy for his character. For James "Whitey" Bulger is a true psychopath, blood thirsty, unpredictable, paranoid and completely ruthless. Audiences should be warned of some exceptionally violent scenes in Black Mass, akin to Scorsese's Goodfellas or Tarantino's Reservoir Dogs.
Scott Cooper skilfully directs Black Mass and uses the multi-talented cast to bring to cinema the true story of American gangsters in South Boston in the 1970's and 1980's while remaining faithful to the source material, based on a meticulously researched screenplay by Jez Butterworth and Mark Mallouk.
Whether Black Mass will garner nominations in the upcoming awards season remains to be seen, but as a film it is worth watching and brilliantly acted. Highly recommended viewing for those that enjoyed Kill the Messenger and The Departed.
65th Golden Globe Awards
The 65th Golden Globe Awards, honoring the best in film and television of 2007, were scheduled to be presented by the Hollywood Foreign Press Association on January 13, 2008. However, due to the Writers Guild of America strike, the traditional awards ceremony did not take place;[1] instead, the winners were announced at a news conference at 6:00 pm PST on that day (02:00 January 14 UTC).
Golden Globe Winners in The Film Categories:
Best Film Drama: Atonement
Best Film Musical or Comedy: Sweeney Todd, the Demon Barber of Fleet Street
Best Actor Drama: Daniel Day-Lewis – There will be Blood
Best Actor Musical or Comedy: Johnny Depp – Sweeney Todd, the Demon Barber of Fleet Street
Best Actress Musical or Comedy: Marion Cotillard – La Vie en Rose
Best Actress Drama: Julie Christie – Away from Her
Best Supporting Actor: Javier Bardem – No Country for Old Men
Best Supporting Actress : Cate Blanchett – I'm Not There
Best Director: Julian Schnabel – The Diving Bell and the Butterfly
Best Foreign Language Film – The Diving Bell and the Butterfly (France, USA)
Source: http://en.wikipedia.org/wiki/65th_Golden_Globe_Awards
Into the Woods
Director: Rob Marshall
Cast: Anna Kendrick, Emily Blunt, Meryl Streep, James Corden, Chris Pine, Johnny Depp, Tracey Ullman, Christine Baranski, Lucy Punch, Tammy Blanchard, Daniel Huttlestone, Lilla Crawford, Billy Magnussen, Mackenzie Murzy
Memoirs of a Geisha and Chicago director Rob Marshall strikes gold with this cinematic adaptation of the Stephen Sondheim Broadway musical Into The Woods featuring a fabulous ensemble cast made all the better by Meryl Streep playing the meddling Witch.
Imagine Little Red Riding Hood teaming up with Jack the Giant Slayer, Cinderella and a forlorn Rapunzel, that is Into The Woods, a wonderful mixture of all the classic fairy tales thrown together in a delightful musical which is hinged with darkness and loaded with metaphors and familial moral codes about life's unpredictability.
Director Marshall brings out the best in his cast including a superb performance by Emily Blunt as the barren Bakers Wife along with the irrepressible Meryl Streep as the evil Witch who asks the Baker, played by British actor James Corden to collect Cinderella's golden slipper, a white cow, a lock of Rapunzel's hair and a red cape naturally belonging to Red Riding Hood.
Oscar nominee Anna Kendrick (Up in The Air) holds her own as the doomed Cinderella who is wooed by a shameless prince played by Chris Pine (Jack Ryan, Shadow Recruit, Horrible Bosses 2). Cinderella's evil stepmother is superbly played by Christine Baranski of The Good Wife fame and The Birdcage. Audiences should also watch out for British comedian Tracey Ullman who plays Jack's exasperated mother. Child stars Daniel Huttlestone and Lilla Crawford are amazing as Jack the Giant Slayer and Little Red Riding Hood.
Three times Oscar winner Meryl Streep reunites with her Devil Wears Prada co-star Emily Blunt, and it is clear that both these actresses keep this wonderful musical firmly rooted in brilliance. Blunt is absolutely amazing, delivering some quick witted lines and belting out some wonderful songs while Streep relishes the chance to play the blue haired vain and selfish Witch who is desperate to reclaim her lost beauty by reversing a curse placed on her. The Witch also incidentally holds her daughter Rapunzel played by Mackenzie Murzy hostage in a tower and much to her horror, has fallen for a young but clumsy prince played by the gorgeous newcomer Billy Magnussen.
Oscar nominee Johnny Depp who was spine chillingly excellent in another Sondheim musical film, Tim Burton's Sweeney Todd, the Demon Barber of Fleet Street makes a brief appearance as the cross dressing wolf who terrorizes Little Red Riding Hood.
Even though Into The Woods is aimed at children, there are certainly slightly darker adult undertones to this extraordinary film as unlike the fairy tales, not everyone lives happily ever after. For those that enjoy expertly directed and acted big screen musicals, like Chicago, Les Miserables and Hairspray, then Into The Woods is definitely recommended viewing.
Stephen Sondheim's Into The Woods is a truly imaginative, witty and fabulous fable sure to enchant both adults and children alike and as a stage production it would be equally extraordinary to watch.

The Lone Ranger
Director: Gore Verbinski
Cast: Johnny Depp, Armie Hammer, Barry Pepper, James Badge Dale, Ruth Wilson, Helena Bonham Carter, William Fichtner
Hi Ho Silver the Lone Ranger is back! But who can take Armie Hammer seriously after appearing as the hapless Prince in Mirror Mirror? The only time he was brilliant was playing the identical blue blood Winklevoss twins in David Fincher's superb Oscar winning film The Social Network.
In Disney's wisdom they have cast Armie Hammer alongside Johnny Depp in a Jerry Bruckheimer produced Gore Verbinski film, the much anticipated The Lone Ranger. Of course Depp channeling his more successful screen character of Jack Sparrow from The Pirates of the Caribbean franchise, is less convincing as Tonto, the lone Cormanche Red Indian who betrays his tribe for the lure of silver.
Unlike the brilliant Coen brothers rendition of True Grit or director James Mangold fierce Western 3:10 to Yuma, The Lone Ranger feels too much like a ride at a Disney theme park, whether it be in Orlando or Anaheim. Fortunately for The Lone Ranger, director Gore Verbinski saves the film from being a complete farce with a striking balance of visuals, great cinematography evoking the mythic Wild West and a bizarre mixture of cowboy brutality and dazzling action sequences mostly to do with the Transcontinental Railway expansion towards California.
Hammer plays Texas Ranger, John Reid, aka The Lone Ranger who arrives in a spectacular fashion in the town of Colby, Texas in 1869 at the height of the American-Indian wars over land, expansion and minerals. The unwitting Reid soon teams up with the resourcefully quirky Tonto and in a particularly bizarre sequence discover his pristine white horse aptly named Silver in a desert plateau. The unlikely duo go on a quest to stop the vicious outlaw Butch Cavendish, played with particular relish by William Fichtner, from the hit series Prison Break and the expansionist railway magnate Cole played by British actor Tom Wilkinson who both plan to mine the silver trial.
Dodging scorpions, arrows, the relentless great desert, reckless trains, the Lone Ranger and Tonto soon find themselves embroiled in a plot by the chairman of the Transcontinental Railway Company to enrich himself through the transportation of discovered silver across the Wild West to San Francisco. Historically placing The Lone Ranger, in the height of the late 19th century industrial revolution, the film veers between comic farce and historical diatribe about the destruction of the indigenous Indian tribes of the Wild West by the evil expansionist Americans at the prospect of mineral wealth and deadly industrial progress.
Whilst the slaughtering of the Comanche at the hands of the better equipped American Cavalry, is vividly contextualized in the broader vision of civilizing the Wild Wild West of the latter 19th century, it does little to elevate the plot out of comic action. The Lone Ranger is unevenly told, with the second half of the film far outweighing the sketchy narrative of the first, and at over two and a half hours long, this feature could have done with some seriously crisp editing.
There is a great supporting cast to help prop up the unlikely onscreen paring of Hammer and Depp, with the likes of Helena Bonham Carter as Madame Red Harrington, Barry Pepper as the confused Cavalry officer Fuller along with blockbuster newcomer James Badge Dale as Dan Reid and British actress Ruth Wilson (last seen as Princess Betsy in Anna Karenina) playing his ill-destined wife Rebecca.
The Lone Ranger is fun entertainment and purely fictionalized Western with lots of scraggly Cowboys and noble Indians fighting it out amidst the gorgeous scenery of the great untamed plains of Texas, Utah and Nevada.  The downside is that the comic element does not quite sustain itself in the midst of director Verbinski and the trio of screenwriters attempting a more historically correct statement of how the White Man's progress across America was through the destruction of the continent's indigenous Indian tribes. Recommended for a fun Western romp, but The Lone Ranger should stick to being a superficial action comedy about Cowboys and Indians without the political relevance thrown in and is definitely not in the same blockbuster category as The Pirates of the Caribbean.
Pirates of the Caribbean: On Stranger Tides
The fourth installment of the Pirates of the Caribbean franchise seems to be weighted down in the middle by a plot which falters considerably in managing the antics of Captain Jack Sparrow competing against Blackbeard in their quest for the fountain of youth without the support of his original team. Johnny Depp reprises his role as the outrageous pirate which garnered him an Oscar nomination for Best Actor in the first film in 2003, Pirates of the Caribbean: The Curse of the Black Pearl. While On Stranger Tides is in the hands of Chicago and Nine director Rob Marshall and not Gore Verbinski who directed the first three Pirates films, is lighter in tone, the action less dramatic and a meandering storyline which is as elusive as a mermaids tear.
Gone are Keira Knightley and Orlando Bloom who did not sign up for the fourth film leaving Captain Jack Sparrow adrift in a new version fighting Blackbeard and wooing the mercurial Angelica, played by Penelope Cruz, who looks equally surprised at being cast in a Walt Disney film. Cruz is far better suited to art house films like Vicky Christina Barcelona and Volver, than in a Hollywood Blockbuster, although her rendition of Angelica as a fiery counterpoint to Sparrow's wild antics  is certainly worth the praise.
Geoffrey Rush reprises his role as Captain Barbarossa and Ian McShane plays Blackbeard with an elegant malice, emanating villainy and evil in all his immoral endeavours. Johnny Depp does not manage to top his original performance in the first Pirates film, as by now his Keith Richards style take on Jack Sparrow as over the top has been all too familiarized. From such a versatile actor like Depp, he requires exciting characters to stretch his formidable talents, which director Tim Burton understands beautifully casting him in most of his films from Edward Scissorhands, to Sweeney Todd and more recently Alice in Wonderland.
Pirates of the Caribbean: on Stranger Tides should have been called the Fountain of Youth, while the entire characters quest for the illustrious fountain whose powers can only be harnessed with a mermaids tear has a plotline dangerously close to Raiders of the Lost Ark. After a brilliant start in the grimy streets of Georgian London and a daring and explosive action sequence, On Stranger Tides becomes adrift both figuratively and literally as the search for the fountain of youth is misguided by a floundering subplot of a Christian missionary being seduced by a coy mermaid, one can't help feel that Sparrow was the only one carrying the voyages further without support from his winning team. The success of the first three films hinged on the brilliant combination of Johnny Depp, Orlando Bloom and Keira Knightly as the trio who bravely battle pirates on the high seas from Captain Barbarossa to Davy Jones to monsters and sea goddesses like Calypso.
In this fourth installment, although Cruz and Depp are tantalizing in the main roles there is not enough screen time for both these highly competent actors to truly develop a brilliant repartee. Much of the witty and comic  dialogue is smothered by the action sequences which had the timing been perfect, On Stranger Tides would have shared the success of the preceding Pirates films, which is more to do with director Rob Marshall whose talents are more adept at directing musicals and historical epics than a Hollywood special effects laden blockbuster. Director Rob Marshall vision of Pirates is more lavish, sexier and less action packed.
Pirates of the Caribbean: on Stranger Tides will surely draw the crowds but is in no way a superior film when viewed as part of a Franchise, and while it begins brilliantly, the middle seems bogged down with subplot and the ending lacks any spectacular finale demonstrated in At World's End. Disney seems to be taking all the viewers for a long and illustrious journey on a voyage which is in danger of losing its lustre and originality. Bring back Will Turner and Elizabeth Swann to help Jack Sparrow reinvigorate the Pirates of the Caribbean.
The Tourist
Florian Henckel von Donnersmarck stylish comic thriller The Tourist is more a film to showcase some European and British talent than it is a blockbuster for the two major American stars, Angelina Jolie and Johnny Depp.
Jolie and Depp shine as the leading couple especially in a wonderful scene at the Hotel Daniela in Venice, when Jolie who plays Elize Ward tells Frank (the Tourist) that after a dinner out, he has to sleep on the couch in the deluxe suite. Frank imagines the glamorous Elize undressing in the next bedroom, as he curls up on the crimson sofa with his spy novel.  The next morning Frank is suddenly escaping Russian gunmen on the rooftops of  Venetian villas and falls victim to the idiosyncrasies of the Italian police force when questioned about his supposed pursuers.
Venice is a much a character in The Tourist as the rest of the cast, and the ancient Italian city built on water is murky with a seductive intrigue whilst von Donnersmarck shows off this superb location, from wide-angle shots of the Piazza San Marco to subtle references in the script. One of the characters a cameo by Rufus Sewell even says if this intrigue had happened someplace else it would not be the same as it happening Venice.
The Tourist is a tribute to sophisticated comedies of the fifties and sixties complete with gorgeous costumes, a dash of intrigue and a beautiful location to match. Depp and Jolie are a wonderful pair as foils to each other's deceptions. There is obvious tribute to the James Bond films in the Tourist, from Moonraker and Casino Royale both set in Venice, to Timothy Dalton as the head of M16 and a sinister impressive performance by Steven Berkoff, playing the billionaire gangster Shaw, reprising the role of the villain as he did with menace in the 1983 James Bond film Octopussy.
The Tourist is a heady cocktail of intrigue, deception, humour and glamour letting the audience feel that like the title, they too have travelled on holiday to an exotic location and discovered a world unfamiliar to their own.
Director von Donnersmarck won the 2007 Oscar for best Foreign language film for The Lives of Others
and is clearly enjoying making a less serious more glossy cinematic production whilst not compromising on the European style and sophistication of The Tourist's main locations, Paris and Venice.
Which always begs the question, why would a maths teacher from Madison, Wisconsin in the American mid-West be traveling alone on a TGV from Paris to Venice?