Posts Tagged 'Christoph Waltz'
No Time to Die
Director: Cary Jojo Fukunaga
Cast: Daniel Craig, Lea Seydoux, Rami Malik, Lashana Lynch, Naomie Harris, Ralph Fiennes, Ana de Armas, Christoph Waltz, Jeffrey Wright, Rory Kinnear, Billy Magnussen, Ben Whishaw, David Dencik, Dali Benssalah
Film Rating: 8.5 out of 10
Running time: 2 hours and 43 minutes
In the highly anticipated 25th Bond film which was delayed for 18 months due to the coronavirus pandemic, producers Barbara Broccoli and Michael G. Wilson were determined to wait until they could screen No Time to Die on cinema screens and their wish was granted.
Finally with the release of No Time to Die, all the original cast from Spectre are back plus some new additions including Ana de Armas (Knives Out, Blade Runner 2049) as Paloma, Lashana Lynch (Captain Marvel) as Nomi and the excellent Rami Malek as the villain Lyutsifer Safin. The sophisticated French actress Lea Seydoux (Spectre, The Grand Budapest Hotel) reprises her role back as Dr Madeleine Swann.
Oscar winner Rami Malik (Bohemian Rhapsody) relishes the role of Bond villain echoing Dr No, a psychotic megalomaniac who is violent and will stop at nothing for world domination. Naturally Lyutsifer Safin has his own private island in the disputed waters between Japan and Russia, a nod to You Only Live Twice.
Daniel Craig is brilliant in his fifth and final outing as James Bond navigating a shifting cultural and social world, representing in essence the sassy and glorious character of Noni wonderfully played by Lashana Lynch as we first glimpse them interact in a nightclub in Jamaica.
Ralph Fiennes is back as M, Naomie Harris and Ben Whishaw are also back as Moneypenny and Q respectively. Jeffrey Wright is back as CIA agent Felix Leiter. All the usual suspects appear.
Without revealing any of the complex and protracted plot, containing some massive surprises, No Time to Die is an impressive Bond film, slightly weighty in the middle but cinematically perfect with crisp production design by Mark Tildesley and gorgeous cinematorgraphy by Linus Sandgren.
As the action moves around the globe, from Italy to the tropical beaches of Jamaica to Norway and then to the Safin's futuristic lair on a disputed island which is clearly inspired by Blade Runner 2049, No Time to Die will simultaneously keep Bond fans in awe and frustrate those that have been loyal to the franchise since its original inception back in 1962 with Dr No. So much has changed.
No Time To Die is a very long film, running at 2 hours and 43 minutes but it's worth seeing for the glorious scenery, the unbelievable stunt sequences and the amazing plot twists while the screenwriters pay homage to many of the previous Bond films and even transcending the 007 franchise and updating the technology to the 2020's.
What remains to be seen is where will the franchise go from here?
Beautifully directed by Cary Jojo Fukunaga, No Time to Die is a technically brilliant film with an amazing international cast which will keep audiences literally on the edge of their seat. No spoilers were revealed, so viewers just go and find out what all the fuss is about.
No Time to Die gets a film rating of 8.5 out of 10 and is highly recommended viewing.
Tulip Fev

e

r
Director: Justin Chadwick
Cast: Alicia Vikander, Christoph Waltz, Dane DeHaan, Cara Delevingne, Judi Dench, Jack O'Connell, Kevin McKidd, Holliday Grainger, Tom Hollander, Zach Galifianakis, Joanna Scanlan, David Harewood, Sebastian Armesto, Matthew Morrison, Douglas Hodge
British director Justin Chadwick (The Other Boleyn Girl, Mandela: The Long Walk to Freedom, The First Grader) tackles a cinematic version of Deborah Moggarch's novel Tulip Fever with the literary assistance of Anna Karenina screenwriter Tom Stoppard.
Assembling an international cast including Oscar winner Christoph Waltz (Django Unchained) and fellow Oscar winner Alicia Vikander (The Danish Girl), Tulip Fever is set in Amsterdam in 1623 at the height of the Tulip trade which flourished in the Netherlands and was in essence the first stock market which blossomed illicitly behind Tavern doors and co-opted by solicitous nuns who grew the beautiful flowers in sacred abbeys away from the hustle of Dutch city life.
With sumptuous costumes by Michael O'Connor and suitably dark production design by Simon Elliott, Tulip Fever focuses on the young orphan Sophia Sandvoort superbly played by Vikander who is forced to marry the wealthy yet childless Burgermeester (local mayor) Cornelious Sandvoort played by Waltz.
Like all Dutch noblemen, Sandvoort commissions a young and impoverished painter to paint the couple's portrait, a 17th century trend which made Rembrandt famous. In steps the exuberant and excitable Jan van Loos played by Dane DeHaan (Valerian, Kill Your Darlings).
Soon van Loos falls for the ravishing Sophia and deception is conceived mainly for her to escape from her pompous husband who really wants to impregnate her with his preferably male heir.
In a parallel narrative, Sophia's devoted maid, Maria played by British actress Holliday Grainger (Jane Eyre, The Finest Hours, Cinderella) has fallen for the charming if not smelly fishmonger Willem Bok played by Jack O'Connell (Unbroken) who aspire to get married and have six children together.
In a bizarre twist both Bok and van Loos, two young men desperately trying to increase their liquidity embark on making money on the booming tulip trade, in which the precious bulbs fluctuated in price depending on their rarity and natural beauty of the elusive flower.
Oscar winner Judi Dench (Shakespeare in Love) plays the Abbess who has to sternly guide the young men in the flourishing yet turbulent tulip trade while the Netherlands was expanding its colonial empire to the Dutch East Indies and South Africa.
Despite the slightly convoluted plot and frenetic story line, Tulip Fever is an enjoyable and raunchy period drama held together by amazing performances by the four main leads which serves as a Dutch version of Twelfth Night.
Audiences that enjoyed Girl with a Pearl Earring and Shakespeare in Love, will undoubtedly love Tulip Fever, which provides a fascinating cinematic perspective on the brief but flourishing Tulip trade which made the Netherlands one of the riches countries in Europe especially in the 17th century, establishing their own national stability and making them the money lenders of Europe.
With all the deceit, obsession and money trading, Tulip Fever is a riotous period drama and gets a film rating of 7 out of 10.
Tulip Fever is recommended viewing as a historical drama with a uniquely Dutch twist.
The Legend

of

Tarzan
Director: David Yates
Cast: Alexander Skarsgard, Margot Robbie, Christoph Waltz, Samuel L. Jackson, Djimon Hounsou, Ben Chaplin, Jim Broadbent, Osy Ikhile, Antony Acheampong
British director David Yates who was responsible for Harry Potter and the Half Blood Prince and Harry Potter and the Deathly Hallows returns to the director's chair headlining a re-imagining of the mythical Tarzan, in the new visually astounding film, The Legend of Tarzan, featuring Swedish hunk Alexander Skarsgard in the titular role.
Tarzan, also known as Lord Greystoke, John Clayton is accompanied by his beautiful and vivacious wife Jane, wonderfully played by Margot Robbie (The Wolf of Wall Street, Whiskey Tango Foxtrot) and an American emissary George Washington Williams played against type by Oscar nominee Samuel L. Jackson (Pulp Fiction, Kingsman: Secret Service). The villain in Legend of Tarzan is played by none other than Austrian Oscar winner Christoph Waltz (Spectre, Django Unchained) who portrays the evil and repugnant Leon Rom. The year is 1884 and the colonization of Africa by European powers is gaining rapid and unparalleled momentum.
Set in the beautiful and vast Belgian Congo, when King Leopold was rapaciously raping the Congo of its mineral wealth, particularly diamonds using slave labour and devious means including turning warring local tribes against each other. One such tribe headed by Chief Mbonga muscularly played by Djimon Hounsou (Blood Diamond) wants Tarzan's head on a plate and makes an unlikely pact with the unscrupulous Rom, who will stop at nothing to complete his reigning monarch's ambitious colonial plans.
John and Jane Clayton are persuaded to leave the comforts of late Victorian England behind and head for the exotic and wild plains of the Belgian Congo, where they soon confront the evil Leon Rom and his multitude of force publique officers who are out to enslave and enforce the will of the Belgian monarch upon the unsuspecting locals.
What really makes The Legend of Tarzan worth seeing is the brilliant incorporation of superb visual effects using performance capture technology for a vivid portrayal of the wildlife featured in the film, mainly the gorillas, lions and hordes of wildebeest. The brilliantly featured gorillas are a highlight. These creatures of the wild, raised baby Tarzan as one of their own, teaching him the laws of the jungle and how important it is to respect the hierarchy of the Animal Kingdom.
Whilst Skarsgard's performance of the iconic Tarzan is not perfect, he certainly has the muscular and gorgeous body to pull off this particularly physical role. After all the success of casting a male actor as Tarzan depends entirely on his physique. The well chiselled Skarsgard is naturally born for this role.
Margot Robbie breathes new life into Jane, as a feisty independent American woman who has attitude and her best scenes ironically shine through when played opposite the scheming villain Rom. In terms of dialogue, the best scene is between Robbie and Waltz as they dine precariously together on a steamer travelling down the Congo River, in a visual reference to The Heart of Darkness.
The Legend of Tarzan is better than anticipated, with magnificent visual effects elevating the film out of cinematic parody. It's a well plotted, action filled and entertaining film, a worthwhile trip to the cinema where audiences can delve into a real adventure story which features the exotic and the brave.
In this version, the shirtless Tarzan swinging in the proverbial jungle should keep many swooning for years to come.
THE  66th BAFTA AWARDS /
THE BRITISH ACADEMY FILM AWARDS
Took place on Sunday 10th February 2013 in London
BAFTA WINNERS IN THE FILM CATEGORY:
Best Film: Argo
Best Director: Ben Affleck – Argo
Best Actor: Daniel Day-Lewis – Lincoln
Best Actress: Emmanuelle Riva – Amour
Best Supporting Actor: Christoph Waltz – Django Unchained
Best Supporting Actress: Anne Hathaway – Les Misérables
Rising Star: Juno Temple
Best British Film: Skyfall directed by Sam Mendes

Best Original Screenplay: Quentin Tarantino – Django Unchained
Best Adapted Screenplay: David O. Russell – Silver Linings Playbook
Best Costume Design: Anna Karenina
Best Foreign Language Film: Amour directed by Michael Haneke
Source: 66th BAFTA Awards
Spectre
Director: Sam Mendes
Cast: Daniel Craig, Lea Seydoux, Christoph Waltz, Naomie Harris, Monica Bellucci, Ben Whishaw, Ralph Fiennes, Rory Kinnear, Dave Bautista, Andrew Scott, Jesper Christensen
British director Sam Mendes follows up his 2012 blockbuster Skyfall, with the 24th installment of the 007 franchise aptly named Spectre, which serves as a pastiche of all previous Bond films, but particularly referencing Casino Royale, Quantum of Solace and Skyfall.
With a truly spectacular opening sequence shot during the Day of the Dead festival in the sprawling and crowded central plaza of Mexico City, Spectre promises better and bigger cinematic moments. On all accounts, Spectre delivers although at times, the Bond film could have been more tightly edited.
The action sequences in Mexico City, Rome and Tangier are gripping and the production design and cinematography are quite startling, shading the film between sequences of extreme illumination and murky darkness in keeping with the sinister undertone pervading the entire narrative.
Mexico City and Tangier are beautifully done, with gorgeous colours contrasting against the monochromatic elegance of the Roman streets at midnight or the snow covered Austrian Alps during ski season.
The Tangier scenes are clearly influenced by Bernardo Bertolucci's classic film, The Sheltering Sky, especially when Bond and Dr Swann disembark from the Moroccan train into a sweltering Saharan desert, while the previous action on board mirrors that of The Spy Who Loves Me. Audiences should watch out for Dave Bautista (Guardians of the Galaxy) as the Spectre henchman Mr Hinx who has a penchant for popping a man's eyes out with his thumb nails.
Daniel Craig returns as James Bond looking slightly weary and a tad less nimble but nevertheless maintaining a smirk on his face along with those dazzling blue eyes. In a stroke of genius casting, French actress Lea Seydoux is brilliant as Dr Madeleine Swann, daughter of the Pale King, whilst the villain is suitably menacing and at times slightly camp, Franz Oberholzer better known as the evil mastermind with a penchant for white Persian cats, last seen in You Only Live Twice, On Her Majesty's Secret Service and Diamonds are Forever.
Naturally, Oscar winner Christoph Waltz (Inglourious Basterds, Django Unchained) is fabulous as Bond's crazed arch enemy, but somehow does not make as brilliant an impression as Javier Bardem did as Raoul Silva in Skyfall.
With the absence of Judi Dench as M, Ralph Fiennes, appears craggy and irritable as the new M, reminiscent of the original M in the 1960's Bond films. Refreshingly, Naomie Harris as Moneypenny and Ben Whishaw as the technically gifted Q have bigger roles in Spectre, acting always as Bond's necessary sidekicks. Watch out for a brief but glamourous cameo by Monica Bellucci as Lucia Sciarra and Jesper Christensen as the ubiquitous Mr White, last seen in Quantum of Solace.
Spectre, which stands for the Special Executive for Counter-intelligence, Terrorism, Revenge and Extortion is subtly portrayed as a pervasive and dangerous shadow organisation responsible for all sorts of international atrocities, which in the 21st century is particularly apt. As the visual references abound throughout Mendes's Spectre, it will only be the serious Bond fans that will spot all those cinematic clues. In this respect, Spectre pays tribute to the success of the longest running film franchise ever, without undermining its inherent and enduring appeal.
Spectre is highly recommended viewing for ardent Bond fans, although some might find this film slightly long and the narrative muddled, but then again, one has to identify all the past 007 signifiers, for Spectre to be truly appreciated.
The question remains, much like the creepy opening sequence, is there life after Spectre?
THE  63rd BAFTA AWARDS /
THE BRITISH ACADEMY FILM AWARDS
Took place on Sunday 21st February 2010 in London
BAFTA WINNERS IN THE FILM CATEGORY:
Best Film: The Hurt Locker
Best Director: Kathryn Bigelow – The Hurt Locker
Best Actor: Colin Firth – A Single Man
Best Actress: Carey Mulligan – An Education
Best Supporting Actor: Christoph Waltz – Inglourious Basterds
Best Supporting Actress: Mo'Nique – Precious
Rising Star Award: Kristen Stewart
Best British Film: Fish Tank directed by Andrea Arnold
Best Original Screenplay: The Hurt Locker – Mark Boal
Best Adapted Screenplay: Up in the Air – Jason Reitman and Sheldon Turner
Best Costume Design: The Young Victoria
Best Foreign Language Film: A Prophet directed by Jacques Audiard (France/Italy)
Source: 63rd BAFTA Awards
Big
Eyes
Director: Tim Burton
Cast: Amy Adams, Christoph Waltz, Danny Huston, Jason Schwartzman, Terence Stamp, Krysten Ritter, Jon Polito
Golden Globe winner Amy Adams (American Hustle) gives a sterling and nuanced performance as the American artist Margaret Keane in director Tim Burton's 1960's San Francisco set drama Big Eyes.
Whilst Margaret Keane was more commercial and was certainly not in the same vein of other celebrated female artists like Frida Kahlo or Georgia O'Keefe, her rise to fame as the painter of the Big Eyes series is certainly extraordinary and filled with intrigue. In a chauvinist society of the late 1950's it was unheard of for a woman to leave her husband, and this is what the brave Margaret Keane does leaving upstate California for the more liberal art community of San Francisco with her young daughter Jane in tow, the true inspiration for her Big Eyes series.
In San Francisco Margaret becomes enchanted with the smooth talking Walter Keane, a budding artist but a commercial realtor by trade. Walter Keane, claiming to have spent some time in Paris, is wonderfully if slightly overplayed by Austrian actor and Oscar winner Christoph Waltz (Django Unchained, Inglourious Basterds). After a quick marriage, Walter soon recognizes the commercial potential of his wife Margaret's art, which mainly consisted of paintings using oils and mixed media of women, children and animal with unusually big eyes.
After an initial showing of the works in a San Francisco nightclub, Walter Keane claims that he is the artist of these works and when commercial success strikes thanks to the purchasing of several painting by the heir to the Olivetti fortune, Walter Keane soon opens his own gallery, simply called the Keane Gallery where the posters of the paintings sell more than the actual art itself.
Before Andy Warhol, Keane was the pioneer of pop art and although the works weren't particularly imaginative, there was something inspiring and commercially viable about the big eyes paintings.
However the plot twist to Burton's film Big Eyes, is Margaret Keane's desperate bid for freedom from her deranged husband after she discovers that Walter was not the artist he claimed to be. Margaret Keane with daughter in tow flees to Honolulu in Hawaii and then after a sort of spiritual rebirth whereby she ironically becomes a Jehovah's Witness, she claims that she was the original artist of the Big Eyes series on Hawaii radio much to the horror of the American art world. The rest as they say is artistic legal history.
As a film about art, Big Eyes does not match up to similar films such as the brilliant Pollock, Frida or even the late Robert Altman's film Vincent and Theo, but as a story about the crazy commercialization of art over any form of visual integrity, Big Eyes is a fascinating cinematic adventure, more so because its true.
Amy Adams is mesmerizing as the tortured and vulnerable Margaret Keane, and makes this real life story as bizarre as it really occurred, believable and informative. Watch out for priceless cameos by Jason Schwartzman (Marie Antoinette, The Grand Budapest Hotel) as a snobby art dealer, Terence Stamp (Valkyrie; Priscilla, Queen of the Desert) as senior New York Times art critic John Canaday and Danny Huston (Hitchcock, Birth) as San Francisco journalist Dan Nolan who initially befriends the charismatic yet crazy Walter Keane.
Big Eyes is recommended viewing for students of Pop Art, lovers of films about artists and for those that appreciate an informative tale of a really extraordinary woman, Margaret Keane –http://en.wikipedia.org/wiki/Margaret_Keane who despite the age she lived in eventually become famous in her own right.
70th Golden Globe Awards
Took place on Sunday 13th  January 2013 hosted by the Hollywood Foreign Press Association
Golden Globe Winners in The Film Categories:
Best Film Drama – Argo
Best Director: Ben Affleck – Argo
Best Film Musical or Comedy – Les Miserables
Best Actor Drama: Daniel Day-Lewis – Lincoln
Best Actress Drama: Jessica Chastain – Zero Dark Thirty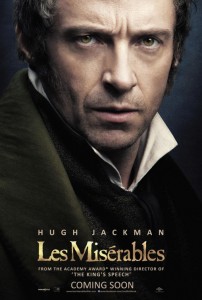 Best Actor Musical or Comedy: Hugh Jackman – Les Miserables
Best Actress Musical or Comedy: Jennifer Lawrence – Silver Linings Playbook
Best Supporting Actor: Christoph Waltz – Django Unchained
Best Supporting Actress: Anne Hathaway – Les Miserables
Best Foreign Language Film: Amour (France)
Source: http://en.wikipedia.org/wiki/70th_Golden_Globe_Awards
67th Golden Globe Awards
Took place on Sunday 17th January 2010 hosted by the Hollywood Foreign Press Association
Golden Globe Winners in The Film Categories:
Best Film Drama: Avatar
Best Director: James Cameron – Avatar
Best Film Musical or Comedy: The Hangover
Best Actor Drama: Jeff Bridges – Crazy Heart
Best Actress Drama: Sandra Bullock – The Blind Side
Best Actor Musical or Comedy: Robert Downey Jr. – Sherlock Holmes
Best Actress Musical or Comedy: Meryl Streep – Julie and Julia
Best Supporting Actor: Christoph Waltz – Inglourious Basterds
Best Supporting Actress: Monique – Precious
Best Foreign Language Film: The White Ribbon (Germany)
Source: http://en.wikipedia.org/wiki/67th_Golden_Globe_Awards
Horrible

Bosses 2
 Director: Sean Anders
Cast: Jason Bateman, Jason Sudeikis, Charlie Day, Jennifer Aniston, Chris Pine, Christoph Waltz, Kevin Spacey, Jamie Foxx
The original comedy Horrible Bosses was hugely hilarious, so the question begs why spoil it with a sequel?
Especially in light of the 2008 economic recession, Hollywood has increasingly fallen prey to the sequel syndrome as a way of generating additional work for actors and more profits for the main film studios. Not every successful original comedy or action film needs to be made into a sequel. Horrible Bosses 2 and Red 2 are example of this money making cinematic phenomenon which started in the 1980's. Think The Lethal Weapon, Rambo and Die Hard franchises.
Director Sean Anders's Horrible Bosses 2 has very little to do with Bosses and a lot to do with three losers Dale, Kurt and Nick played with great glee by Jason Sudeikis, Charlie Day and Jason Bateman who after appearing on Good Morning Los Angeles TV show get conned into selling their shower buddy product to a wealthy but unscrupulous industrialist Bert Hanson played by Oscar Winner Christoph Waltz (Django Unchained) and his spoiled playboy son, Rex wonderfully portrayed by Chris Pine (Jack Ryan: Shadow Recruit, Star Trek).
So begins a rather lame ploy on the classic Stockholm syndrome plot as the gang of three attempt to kidnap Pine and in a rather strange twist of events gets manipulated by him into extorting a huge ransom sum for his so called release. The dialogue is not that funny, the script lazy, not to mention the appearance of highly talented Oscar Winner Kevin Spacey (The Usual Suspects), who was one of the original Horrible Bosses, is completely underutilized.
Even Jennifer Aniston (We are the Millers, The Bounty Hunter) reprisal of her role as a nymphomaniac dentist Dr Julia Harris, also one of the original Horrible Bosses does not save the blighted plot. The best scenes in the film are actually provided by Oscar Winner Jamie Foxx (Ray) as MotherF*cker Jones and of course Pine who has a field day as the manipulative kidnap victim.
This sequel is really cashing in on the success of the first film and let's hope that Hollywood does not make a third without there being a more credible and inventive storyline. Audiences who loved the first film, might be disappointed, so save Horrible Bosses 2 for some lazy Saturday afternoon viewing.