Posts Tagged 'Emma Stone'
Cruella
Director: Craig Gillespie
Cast: Emma Stone Emma Thompson, Mark Strong, Joel Fry, Paul Walter Hauser, John McCrea, Emily Beecham, Kayvan Novak, Kirby Howell-Baptiste
Disney's retelling of 101 Dalmatians paid off in the lavish and expertly crafted live action film Cruella featuring Oscar winner Emma Stone (La La Land) channelling her inner psycho diva as the fashion mad anti-heroine Estella who becomes the villainous Cruella de Ville.
I, Tonya director Craig Gillespie sets Cruella in the vicious fashion world of the 1970's as Cruella and her arch rival the narcissist and extremely evil Baroness wonderfully played against type by another Oscar winner Emma Thompson (Howard's End, Sense and Sensibility) as she draws inspiration from Meryl Streep's performance in The Devil Wears Prada. In this Avant-Garde and fabulously retro Cruella, the battlefield is the infamous Liberty's department store in Central London, the playground of 1970's fashion.
Thompson and Stone are perfectly cast as arch rivals who are determined to rip each other to shreds both figuratively and physically using everything at their disposal from Dalmatians to deception.
With double Oscar winner costume designer Jenny Beavan (A Room with a View, Mad Max: Fury Road) creating the most outrageous costumes for both Cruella and The Baroness, the costumes and makeup are unbelievable and absolutely amazing. The musical score is another winner, adding to the film's funky and swanky feel.
The male actors in Cruella take a notable backseat to the main plot of a rag to riches Cruella who fights her way literally to the top of the London fashion scene.
There is the exception with Cruella's fellow thieves Jasper expertly played by Joel Fry (Yesterday) and Horace played by extremely talented character actor Paul Walter Hauser (I, Tonya; BlackKklansman; Richard Jewell). Both Horace and Jasper become Cruella/Estella's aides and assistants as she effortlessly slips between two opposing personalities, one good and the other evil, almost like a fashionable female version of Joker which garnered an Oscar win for Joaquin Phoenix in 2020.
Naturally evil triumphs over good as Cruella soon realizes that to beat a formidable opponent like the vile Baroness who treats all her staff as lowly minions, you have to become a cold hearted and ruthless Diva. Something which Cruella can relate to.
British actor Mark Strong (1917, Shazam!, Zero Dark Thirty) who plays the obsequious and loyal valet represents the stabilizing force in both Cruella and the Baroness's lives as he delicately shifts the war between the two powerful female forces in favour of the younger, while revealing a devastating family secret.
Disney hit gold with this lavish version of Cruella thanks to two equally brilliant performances by two exceptional actresses: Emma Stone and Emma Thompson.
Cruella is tantamount to the Joker seizing editorial power over Vanity Fair. This elegant Disney version gets a film rating of 7.5 out of 10 and is insightfully directed by Craig Gillespie.
The Favourite
Director: Yorgos Lanthimos
Cast: Olivia Colman, Rachel Weisz, Emma Stone, Joe Alwyn, Nicholas Hoult, Mark Gatiss, James Melville, Timothy Innes, Basil Eidenbenz
When Queen Mary II died in 1694 and her husband King William III died in 1702, the British throne passed to Mary's sister Queen Anne in 1702 who bore 17 children through her marriage to Prince George of Denmark all of whom died in childbirth. The reign of Queen Anne was short lived, having only occupied the throne for 12 years.
Greek art house director Yorgos Lanthimos provides a bizarre parody of royal favouritism, jealousy and court rivalry in his lavish critically acclaimed period film The Favourite set during Queen Anne's reign at the beginning of the 18th century. Audiences should note that this is not an accurate historical drama in the vein of director Shekhar Kapur's epic films Elizabeth and Elizabeth, The Golden Age in which Cate Blanchett played the Virgin Queen. The Favourite is meant to be viewed as a parody.
The Favourite is a spiteful royal romp which has three deliciously brilliant portrayals of different women at its core.
Oscar winner Rachel Weisz (The Constant Gardner) is absolutely superb as the manipulative and influential Lady Sarah who is usurped in her position at the court by her young cousin a feisty Abigail wonderfully portrayed by Oscar winner Emma Stone (La La Land).
Both women are trying to gain favour with the sickly and constantly bored Queen Anne beautifully played by British actress Olivia Colman who gives a career best performance as a Queen who is both commanding and fickle, a female regent constantly plagued by the death of all her children and her inability to produce a viable heir.
With gorgeous costumes by Sandy Powell and a brittle inventive script by Deborah Davis and Tony McNamara, Yorgos Lanthimos's inventive portrayal of British Royalty is both cheeky, outrageous and utterly thought-provoking, a vicious parody of those who hold power and the others who circle precariously around the centre of that regal orbit.
Beautifully constructed and wonderfully filmed, The Favourite is not going to be everyone's cup of perfectly brewed tea but it will certainly challenge viewers' perception of the pedestal that royalty places itself on.
Love it or hate it, The Favourite is a challenging and lavish film about vile characters, utter debauchery and a satirical look at how powerful women can outwit each other, while the vain and ineffectual men particularly Harley played by Nicholas Hoult (A Single Man) and Masham played by Joe Alwyn (Billy Lynn's Long Halftime Walk) are mere pawns in this whimsical game of deception and influence over a powerful Queen that was equally swayed by her closest companions.
The Favourite gets a film rating of 9 out of 10 and is utterly bizarre, a ravishing parody of royalty which will leave an inedible impression on the viewer.
Battle of the Sexes
Directors: Valerie Faris & Jonathan Dayton
Cast: Emma Stone, Steve Carell, Andrea Riseborough, Sarah Silverman, Elisabeth Shue, Alan Cumming, Bill Pullman, Eric Christian Olsen, Wallace Langham, Austin Stowell
Little Miss Sunshine and Ruby Sparks directing duo Valerie Faris and Jonathan Dayton take on the extremely pertinent subject of gender inequality in sports in their latest film, Battle of the Sexes, a highly entertaining cinematic recreation of a historic tennis match which took place between the brash egotist and compulsive gambler Bobby Riggs and tennis women's superstar Billie Jean King at the Astrodome in Houston, Texas in 1973.
Oscar winner Emma Stone (La La Land) plays Billie Jean King a tennis champion at the top of her game who is married yet battling with her own sexuality as she meets the provocative Californian hairdresser Marilyn Barnett wonderfully played by Andrea Riseborough (Nocturnal Animals, Birdman).
Oscar nominee Steve Carell (Foxcatcher) plays the exuberant Bobby Riggs, the fiftyish tennis pro and self-proclaimed male chauvinist pig who is having a last gasp at his youth and decides to provoke Billie Jean King into a publicity tennis matched aptly named Battle of the Sexes. Riggs who is a sports hustler and whose lavish career is supported by his wealthy wife Priscilla Riggs superbly played against type by Oscar nominee Elisabeth Shue (Leaving Las Vegas).
Comedian Sarah Silverman stars as the outspoken Gladys Heldman who champions Billie Jean King and a collection of aspiring female tennis players to start their own female tennis match sponsored by Virginia slims cigarettes. This is in response to the chauvinism and unequal pay dispute between the women players and the exorbitant salaries that their male tennis players get which is almost ten times the amount.
The reason for this inequality, as sports commentator and organizer Jack Kramer played by Bill Pullman gives is that the tennis watching public love men's tennis and that the male tennis players have ten times the stamina, strength and speed to sustain an exciting match unlike their less competitive female counterparts. Naturally this outdated mode of thinking has thankfully be reversed by the recent star power of such female tennis champions as Venus and Serena Williams.
Battle of the Sexes is a relevant film not only in terms of recent sexual harassment scandals which has rocked the Hollywood establishment but also in terms of LGTQ rights in sports, a controversial subject which has barely been explored in contemporary cinema.
As Billie Jean King's husband Larry, played by Austin Stowell (Bridge of Spies), says to her lover in one poignant scene, all that sponsorship of hotel rooms, flights and TV coverage would evaporate if King came out as a lesbian. Which she eventually did in the wake of the 1970's queer rights campaign that activists like Harvey Milk and Cleve Jones fought for so vehemently, brilliantly illustrated in the Oscar winning Gus van Sant film Milk.
Battle of the Sexes is a thoroughly entertaining film about two tennis professionals who not only stake the reputations on a publicity tennis match. Battle of the Sexes is peppered with some flamboyant supporting roles including Sarah Silverman and Alan Cumming as Cuthbert Tinling whilst held together by exemplary performances by Stone and Carell.
Battle of the Sexes gets a film rating of 8 out of 10, featuring wonderful seventies tennis costumes by Costume Designer Mary Zophres capturing the zeitgeist of the decade, adding to a thoroughly slick and entertaining sports film.
The 89th Academy Awards / The Oscars
Sunday 26th February 2017
OSCAR WINNERS AT THE 89TH ANNUAL ACADEMY AWARDS
Best Picture: Moonlight
Best Director: Damien Chazelle – La La Land
Best Actor: Casey Affleck – Manchester by the Sea
Best Actress: Emma Stone – La La Land
Best Supporting Actor: Mahershala Ali – Moonlight
Best Supporting Actress: Viola Davis – Fences
Best Original Screenplay: Kenneth Lonergan – Manchester by the Sea
Best Adapted Screenplay: Barry Jenkins & Tarell Alvin McCraney – Moonlight
Best Cinematography: Linus Sandgren  – La La Land
Best Costume Design: Colleen Atwood – Fantastic Beasts and Where to Find Them
Best Make up & Hairstyling: Alessandro Bertolazzi, Giorgio Gregorini, and Christopher Nelson – Suicide Squad
Best Visual Effects: Robert Legato, Adam Valdez, Andrew R. Jones, and Dan Lemmon – The Jungle Book
Best Sound Editing: Sylvain Bellemare –Arrival
Best Sound Mixing: Kevin O'Connell, Andy Wright, Robert Mackenzie, and Peter Grace – Hacksaw Ridge
Best Film Editing: John Gilbert – Hacksaw Ridge
Best Production Design:  David Wasco and Sandy Reynolds-Wasco – La La Land
Best Documentary Feature:  O. J. Made in America directed by Ezra Edelman and Caroline Waterlow
Best Foreign Language Film: The Salesman directed by Asghar Farhadi (Iran)
Source: https://en.wikipedia.org/wiki/89th_Academy_Awards
THE  70th BAFTA AWARDS /
THE BRITISH ACADEMY FILM AWARDS
Took place on Sunday 12th February 2017 in London at the Royal Albert Hall
BAFTA WINNERS IN THE FILM CATEGORY:
Best Film: La La Land
Best Director: Damien Chazelle – La La Land
Best Actor: Casey Affleck – Manchester by the Sea
Best Actress: Emma Stone – La La Land
Best Supporting Actor: Dev Patel – Lion
Best Supporting Actress: Viola Davis – Fences
Rising Star Award: Tom Holland
Best British Film: I, Daniel Blake directed by Ken Loach
Best Original Screenplay: Kenneth Lonergan – Manchester by the Sea
Best Adapted Screenplay: Luke Davies – Lion
Best Costume Design: Madeline Fontaine – Jackie
Best Foreign Language Film: Son of Saul – directed by Lazlo Nemes
Best Animated Film: Kubo and the Two Strings
Source: https://en.wikipedia.org/wiki/70th_British_Academy_Film_Awards
La La Land
Director: Damien Chazelle
Cast: Ryan Gosling, Emma Stone, J. K. Simmons, Finn Wittrock, Rosemarie DeWitt, John Legend, Josh Pence
After the success of Whiplash, writer and director Damien Chazelle achieves the virtually impossible, a magnificent and dazzling modern day musical set in Los Angeles which is fresh, original and utterly captivating. La La Land pairs two of Hollywood's hottest stars the dapper and ever charming Ryan Gosling (The Nice Guys, The Big Short) with the quirky and talented Emma Stone (Magic in the Moonlight) in one of the best on screen pairings ever seen on film.
La La Land is superb, a gorgeous brightly coloured ode to all those that have ever dreamed, that have harboured artistic expression, to those that have repeatedly been told to relentlessly follow your dreams. If you are talented and passionate then they will come true. But like all dreams, however magical there is always a price to pay.
Unashamedly, La La Land is also a tribute to Los Angeles, a glorious picture perfect film to all the major attractions of the magical city of stars where dreams come to be realized or dashed, where glamour is epitomized, where everyone wants to sing and dance and act on film.
La La Land sets the tone for a lavish musical, with the opening number starting as a traffic jam on one of the city's major highways transforming into an extraordinary sing and dance number. Soon Mia an aspiring actress played with relish and nuance by Oscar nominee Emma Stone (Birdman) surrounded by a bevy of beautiful flat mates unexpectedly meets Sebastian a jazz-obsessed pianist whose dreams entwine in a seasonal musical which pays homage to Casablanca and Singing in the Rain.
Chazelle's directorial style pays tribute to auteurs such as Robert Altman, David Lynch and Pedro Almodovar and his superb sense of timing is matched by his brilliant screenplay especially in the romantic scenes between Mia and Sebastian as they both embark on a romantic affair which is impulsive and beautiful from their first date watching Rebel without a Cause at the Rialto to their dancing under the stars at the iconic Griffin Observatory.
With an original score by Justin Hurwitz and some catchy tunes like City of Stars, La La Land will captivate audiences with its fanciful colours, its bold delight at music and refusal not to become too serious. In fact, La La Land is simply masterful in every way from the beautiful costumes mostly in primary colours to the fabulous production design, this film is like a tonic for everything cruel and horrible that is happening in the world.
Like a cinematic soufflé, La La Land hits all the right notes made all the more poignant by the fantastic performances by Gosling and Stone assisted with some wonderful cameo's by John Legend, Rosemarie DeWitt and Oscar winner J. K. Simmons (Whiplash).
La La Land is the third collaboration of Stone and Gosling after Crazy, Stupid, Love and Gangster Squad and clearly this Hollywood chemistry is working judging by all the critical acclaim.
This is cinema at its best. La La Land is utterly phenomenal, a marvellous musical which is just what audiences are longing for: a visually spectacular tribute to the dreamers which makes living purely inspirational.
74th GOLDEN GLOBE AWARDS
Took place on Sunday 8th  January 2017 hosted by
the Hollywood Foreign Press Association in Beverly Hills, California
GOLDEN GLOBE WINNERS IN THE FILM CATEGORIES:
Best Film Drama: Moonlight
Best Film, Musical / Comedy: La La Land
Best Director: Damien Chazelle – La La Land
Best Actor Drama: Casey Affleck – Manchester by the Sea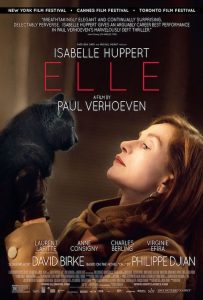 Best Actress Drama: Isabelle Huppert – Elle
Best Actor M/C: Ryan Gosling – La La Land
Best Actress M/C: Emma Stone – La La Land
Best Supporting Actor: Aaron Taylor-Johnson – Nocturnal Animals
Best Support Actress: Viola Davis – Fences
Best Foreign Language Film: Elle directed by Paul Verhoeven (France)
2016 Venice International Film Festival Winners
Venice International Film Festival, known as La Biennale di Venezia takes place annually
in late August, early September and is regarded as the oldest Film Festival in the World
Golden Lion (Best Film): The Woman Who Left by Lav Diaz
Silver Lion (Best Director):  shared between –
Amat Escalante for The Untamed  (No film poster available)
Andrei Konchalovsky for Paradise
Best Actor:  Oscar Martínez for The Distinguished Citizen
Best Actress: Emma Stone for La La Land
Best Screenplay Award: Noah Oppenheim for Jackie
2016 Toronto International
Film Festival Winners
Toronto International Film Festival (TIFF) takes place every year in September in Toronto, Canada.
Films which premiere at Toronto are often nominated for Academy Awards the following year.
TIFF does not hand out individual prizes for Best Actor or Actress but focuses on amongst others the following awards:
People's Choice Award & Best Canadian Feature Film
Opening Night Film: The Magnificent Seven directed by Antoine Fuqua starring Denzel Washington, Chris Pratt and Ethan Hawke
People's Choice Award: La La Land directed by Damien Chazelle – starring Ryan Gosling, Emma Stone, Finn Wittrock, J. K. Simmons & Rosemarie DeWitt
Best Canadian Film: Those who make Revolution only Dig their Graves Halfway directed by Mathieu Denis and Simon Lavoie
Birdman
Or
The Unexpected Virtue of Ignorance
Director: Alejandro Gonzalez Inarritu
Cast: Michael Keaton, Edward Norton, Naomi Watts, Amy Ryan, Emma Stone, Andrea Riseborough, Zach Galifianakis, Lindsay Duncan
Mexican film director Alejandro Gonzalez Inarritu whose previous films include the critically acclaimed Babel, Buitiful and 21 Grams, delivers another cinematic magic realist masterpiece in the electrifying film Birdman or The Unexpected Virtue of Ignorance about the crazy antics which occur backstage on a Broadway production of a play adapted from a Raymond Carver story.
Birdman is comical, fantastical and brilliantly acted by a great ensemble cast but particularly by Michael Keaton as the central character Riggan, a washed up 1990's superhero film star who is desperate to revive his acting career on Broadway.
Michael Keaton delivers a crackling performance as the erratic Riggan, an aging actor on the verge of a nervous breakdown, whose alter ego the superhero film character Birdman keeps whispering in his ear that he should not be taking to the stage but rather resuscitating his failed film career. Riggan also seems to be constantly hounded by a multitude of neurotic woman throughout the film which feeds his own performance anxiety.
Joining the energetic Keaton who just won the 2015 Golden Globe Award for Best Actor in a Musical or Comedy is an impressive ensemble cast including the hugely underrated Edward Norton as Mike Shiner a younger more precocious actor, Emma Stone as Riggan's snappy daughter Sam, Andrea Riseborough as Riggan's neurotic girlfriend Laura, Amy Ryan as Riggan's ex-wife and stabilizing influence on his life, Sylvia. The Hangover star Zach Galifianakis as the exasperated bearded theatre producer Jake and Naomi Watts as a drama queen Lesley.
What makes Birdman or The Unexpected Virtue of Ignorance so utterly absorbing and in parts quite delirious is that Inarritu chooses to film the entire movie as one long tracking shot which keeps the momentum of this frenetic story alive and fresh. Besides the extraordinary direction, a very witty script, there is of course the superb performances by the entire cast who really excelled in a very difficult and strenuous acting stretch reminiscent of Luigi Pirandello's play Six Characters In Search of an Author with a massive dash of Gabriel Garcia Marquez's Magic Realism thrown in.
Visual clues abound along with multiple references to the 21st century super saturated media world of the 21st century. In one of the best scenes of the film Sam (superbly played by Emma Stone) tells her father Riggan that he has lost touch with the world, he does not even have a Facebook Page or a Twitter account and is rarely on social media. As Birdman progresses and in a hilarious sequence with Riggan running through New York's Times Square dressed only in white underpants, which is naturally captured on YouTube, his digital success changes instantly.
Then after a near meltdown with a bottle of Whisky and after Riggan tells the influential theatre critic Tabitha (a superb cameo by Lindsay Duncan) that he should be taken seriously as a stage actor, the opening night of the play arrives and no one can anticipate the final reaction or the review in the New York Times theatre page entitled The Unexpected Virtue of Ignorance.
For anyone that has studied drama or been in a stage production, Birdman is a must see film, as Inarritu expertly captures the confidence, chaos and utter lack of self-consciousness of the wild and crazy cast of this production, as they strip for scene changes, fight with their fellow actors and generally are quite debauched in all sorts of ways unique to the Theatre world.
Birdman imaginatively emphasizes that despite all the social media around especially in 21st century contemporary America, there is nothing quite as exciting as Live Theatre.
Keaton, Norton and Stone are absolutely superb and this film is highly recommended viewing, worthy of all the attention it is currently receiving, much like what every actor in the world constantly craves: rave reviews and becoming a celebrity!