Posts Tagged 'Joaquin Phoenix'
Napoleon
Director: Ridley Scott
Cast: Joaquin Phoenix, Vanessa Kirby, Rupert Everett, Julian Rhind-Tutt, Tahar Rahim, Sinead Cusack, Ben Miles, Paul Rhys, Ludivine Sagnier, Jannis Niewohner, Julian Wadham, Miles Jupp, Edouard Philipponat
Running Time: 2 hours and 38 minutes
Film Review: 9 out of 10
Oscar nominated veteran director Ridley Scott (Thelma and Louise, Gladiator, Black Hawk Down) helms this meaty historical drama Napoleon, which is magnificent held together by two multifaceted performances by Oscar winner Joaquin Phoenix (Joker) as Napoleon and Oscar nominee Vanessa Kirby (Pieces of a Woman) as his wife, lover and soul mate Josephine.
Napoleon is a monumental film starting off with the bloody execution of the last Queen of France Marie Antoinette in 1793 and ending with the completely mind-blowingly epic Battle of Waterloo in 1815. Amidst this vast historical backdrop of war and political intrigue is the scandalous romance of the 19th century the gorgeous and tragic love story of Napoleon and Josephine.
Napoleon a tough, charismatic military general from Corsica in post-revolutionary France proves his military ingenuity and his strategic thinking in securing France's position in an unstable Europe post the shocking and bloody French Revolution. That Corsican ruffian who skilfully eyed an historic opportunity to seize power in the confusion of the last days of the Reign of Tower by Robespierre, swiftly and efficiently rises to power to crown himself Emperor of France. With ruthless decisiveness, Napoleon seizes power through a military coup, compensating for his abandonment of the Egyptian campaign running from 1798 to 1801, in which France tried to conquer Egypt and Syria against the Ottomans to secure trade interests.
There is a macabre scene in Napoleon when he confronts a mummy in Egypt, with the pyramids shimmering in the Mediterranean heat, whereby he takes off the shroud and reveals the skull sitting defiant staring at the Tyrant symbolically revealing to the French Emperor how much death he will eventually cause.
Amidst massive battles at Austerlitz, Waterloo and the failed attack against the wily and clever Russian Tsar Alexander I wonderfully played by French-Finnish actor Edouard Philipponat, Napoleon's tumultuous relationship with Josephine is intricately explored through his frustration at not being able to father a child with her.
From Josephine's viewpoint she has chosen a ruffian, a stubborn brutish man who has changed her destiny and made her an Empress who she simultaneously adores and despises. Kirby and Phoenix are a perfect onscreen couple, their prickly energy is sexually attractive and equally complicated. Like Elizabeth Taylor and Richard Burton in Cleopatra, Joaquin Phoenix and Vanessa Kirby portray a complicated and powerful onscreen couple, allowing audiences to watch their fascinating love affair unravel in spectacular fashion playing out on a world stage in which even 19th century gossip columnists could not get enough of Napoleon and Josephine's salacious love life, complicated by infidelity and infertility, neglect and sexual desire, divorce and estrangement.
Besides the talents of Phoenix and Kirby the rest of the cast is superbly chosen from British actress Sinead Cusack playing Napoleon's mother Letizia Bonaparte (because let's face it even tyrants have mothers) to Julian Rhind-Tutt (Blithe Spirit, Rush) as Sieyes and Ben Miles (Woman in Gold, Red Joan) as French politician Caulaincourt.
Others in the cast include Tahar Rahim (The Mauritanian) as Paul Barras to the talented Rupert Everett (The Comfort of Strangers, A Royal Night Out, The Madness of King George) perfectly cast as the pompous but clever Duke of Wellington, the one adversary who Napoleon cannot defeat despite his best military efforts at the crucial battle of Waterloo in 1815.
As a cinematic epic, Napoleon is elevated by a tonally balanced screenplay by David Scarpa who captures the bizarre and brutal zeitgeist of the first heady years of the Napoleonic wars from 1800-18h15. Scarpa deserves an Oscar nomination for best original screenplay.
Napoleon is gorgeously shot with expert cinematography by Oscar nominated Polish cinematography Dariusz Wolski (News of the World) and superbly directed by Ridley Scott who captures the chaos of war, the brutality of one man's ego and the glamour of ambition combined with the lust to control everything. Napoleon ends off with the battle of Waterloo and a brilliant scene between Joaquin Phoenix and Rupert Everett discussing Napoleon's untimely exile to St Helena in the South Atlantic.
On every level, Napoleon is a charismatic historical film, a multifaceted and brutal epic, a diatribe on man's bloodthirsty ambition to create empires and his lust for celebrity status on a world stage.
Napoleon is a historical epic made with a European flair and in the hands of a veteran director like Ridley Scott this film is superb and robust, held together by two extremely powerful performances by a charismatic Joaquin Phoenix and the beautiful Vanessa Kirby as the dynamic and ruthless power couple who elegantly presided over one of the bloodiest periods of European history at the start of the 19th century.
Visually impressive and beautifully acted, Napoleon deserves recognition at the 2024 Oscars and gets a film rating of 9 out of 10. Utterly astounding and highly recommended viewing but only for those that enjoy grand cinema in the tradition of such Oscar winning films as A Passage to India, The Last Emperor and Amadeus.
THE  73rd BAFTA AWARDS /
THE BRITISH ACADEMY FILM AWARDS
Took place on Sunday 2nd February 2020 in London
at the Royal Albert Hall
BAFTA Winners in the Film Category:
Best Film: 1917
Best Director: Sam Mendes
Best Actor: Joaquin Phoenix – Joker
Best Actress: Renee Zellweger – Judy
Best Supporting Actor: Brad Pitt – Once Upon a Time in Hollywood
Best Supporting Actress: Laura Dern – Marriage Story
Best British Film: 1917
Best Original Screenplay: Han Jan-Win – Parasite
Best Adapted Screenplay: Taika Waititi – JoJo Rabbit
Best Costume Design: Jacqueline Durran – Little Women
Best Visual Effects: 1917
Best Foreign Language Film: Parasite directed by Bong Joon-Ho   
Rising Star Award: Michael Ward
92nd Academy Awards took place on Sunday 9th February 2020 at the Dolby Theatre in Hollywood, Los Angeles, California
Best Picture: Parasite
Best Director: Boon Joon Ho – Parasite
Best Actor: Joaquin Phoenix – Joker
Best Actress: Renee Zellweger – Judy
Best Supporting Actor: Brad Pitt – Once Upon a Time in Hollywood
Best Supporting Actress: Laura Dern – Marriage Story
Best Original Screenplay: Boon Joon Ho – Parasite
Best Adapted Screenplay: Taika Waititi – Jojo Rabbit
Best Cinematography: Roger Deakins – 1917
Best Costume Design: Jacqueline Durran – Little Women
Best Make up & Hairstyling: Bombshell
Best Visual Effects: 1917
Best Film Editing: Ford v Ferrari
Best Sound Editing: Ford v Ferrari
Best Sound Mixing: 1917
Best Production Design: Once Upon a Time in Hollywood
Best Documentary Feature: American Factory
Best Documentary Short Subject: – Learning to Skateboard in a Warzone (If You are a Girl)
Best Live Action Short Film: The Neighbour's Window
Best Original Score: Hilda Gudnadotter – Joker
Best Original Song: Elton John – Rocketman
Best Animated Feature Film: Toy Story 4
Best Foreign Language Film: Boon Joon Ho – Parasite
Took Place on Sunday the 5th January 2020 in Los Angeles hosted by the Hollywood Foreign Press Association – Here are the 2020 Winners in the Film Categories
Best Film Drama: 1917
Best Film, Musical or Comedy: Once Upon a Time in Hollywood
Best Director: Sam Mendes – 1917
Best Actor Drama: Joaquin Phoenix – Joker
Best Actress Drama: Renee Zellweger – Judy
Best Actor, M/C: Taron Egerton – Rocketman
Best Actress, M/C: Awkwafina – The Farewell
Best Supporting Actor: Brad Pitt – Once Upon a Time in Hollywood
Best Supporting Actress: Laura Dern – Marriage Story
Best Foreign Language Film: Parasite directed by Boon Joon Ho (South Korea)
Best Original Screenplay – Quentin Tarantino – Once Upon a Time in Hollywood
Best Animated Feature: Missing Link
Joker
Director: Todd Phillips
Cast: Joaquin Phoenix, Robert de Niro, Zazie Beetz Frances Conroy, Brett Cullen, Shea Whigham, Glenn Fleishler, Leigh Gill
The Hangover director Todd Phillips plays a sick and twisted joke on audience members that expect Joker to be a conventional superhero origin story.
Joker won the Best Film at the 2019 Venice International Film Festival and is absolutely brilliant, diabolically clever and deeply disturbing thanks to an unbelievable onscreen performance by Joaquin Phoenix as Arthur Fleck, a struggling clown and stand-up comedian in a garbage ridden Gotham who transforms with nefarious elegance into Joker, the arch enemy of Bruce Wayne aka Batman.
Joaquin Phoenix has delivered some stunning film performances first in Gus Van Sant's To Die For and then for his Oscar nominated roles as the vicious Emperor Commodus in Ridley Scott's Roman epic Gladiator (2000) followed by his performance as musician Johnny Cash in James Mangold's Walk the Line (2005) and more recently as Freddie Quell in Paul Thomas Anderson's The Master (2012).
Phoenix's performance in Joker is utterly phenomenal as he physically transforms into Arthur Fleck, whose sinewy body holds a promise of vicious intent as he discovers that his mother Penny who he has to wash and bathe was discarded by the wealthy Thomas Wayne played by Brett Cullen (The Dark Knight Rises).
Arthur is told by an unsympathetic counselor that Gotham is cutting social services which includes his medication while in the mean streets his clown gigs are becoming increasingly hostile. He is attacked by juvenile delinquents for holding up a sign saying Everything Must Go.
Arthur's desire to be a stand-up comedian is ridiculed on live Television by professional Talk Show host Murray Franklin superbly played by Oscar winner Robert de Niro (Raging Bull, The Godfather Part II).
Amidst the gritty streets of Gotham, Arthur Fleck's sanity slowly unravels, the ties that bind him to conventional behaviour prove useless as he comes off his meds and psychopathically starts killing entitled bullies on subway trains. An incessant smoker, Arthur watches the deterioration of his mother Penny played by Frances Conroy (The Tale, Shopgirl, Broken Flowers). After being invited onto Murray Franklin's sarcastic talk show, Arthur paints on the clown make up and delivers a masterful narcissistic monologue, whereby the Joker is born. The results are riveting.
Arthur Fleck violently disregards the advice of his fellow clowns Randall played by Glenn Fleischer (Suburbicon) and Gary played by Leigh Gill (Fantastic Beasts and Where to Find Them) in a particularly disturbing scene which is both funny and scary.
Joaquin Phoenix delivers an Oscar worthy performance as Arthur Fleck who transforms into Joker, a psychotic violent lunatic that thrives on chaos and disenchantment in a crowded Gotham overrun by ruthless men and an uncaring upper class. Not since Heath Ledger's Oscar winning performance as The Joker in Christopher Nolan's The Dark Knight, has there been an equally spine-chilling performance of this perennial and chaotic comic book villain.
Joker gets a film rating of 9 out of 10 is essential viewing, a dark mirror for a 21st century society which accurately reflects just how crazy it is out there. The politics of fear reign supreme.
2017 CANNES FILM FESTIVAL WINNERS
Winners of the five main prizes at the 2017 Cannes Film Festival were as follows: –
Palm d'Or: – The Square directed by Ruben Ostlund
Best Director: Sofia Coppola – The Beguiled starring Colin Farrell, Nicole Kidman, Kirsten Dunst and Elle Fanning

(No film poster available for You Were Never Really Here)
Best Actor: Joaquin Phoenix – You Were Never Really Here
Best Actress: Diane Kruger – In the Fade
Best Screenplay: prize shared between Yorgos Lanthimos and Efthymis Filippou for The Killing of a Sacred Deer
(The Killing of a Sacred Deer stars Nicole Kidman and Colin Farrell)
& Lynne Ramsay for You Were Never Really Here
(You Were Never Really Here also stars Alessandro Nivola, John Doman and Ekaterina Samsonov)
Source: https://en.wikipedia.org/wiki/2017_Cannes_Film_Festival
Inherent
Vice
Director: Paul Thomas Anderson (Magnolia, There will be Blood, The Master, Boogie Nights)
Cast: Joaquin Phoenix, Katherine Waterston, Josh Brolin, Reese Witherspoon, Eric Roberts, Jena Malone, Michael Kenneth Williams, Benicio del Toro, Owen Wilson, Martin Short, Martin Donovan, Maya Rudolph, Serena Scott Thomas
In the spirit of Magnolia and Boogie Nights, director Paul Thomas Anderson assembles an eclectic cast of stars for his cinematic adaptation of the Thomas Pynchon novel Inherent Vice with Oscar nominee Joaquin Phoenix (The Master, Gladiator) as stoner private detective Larry Doc Sportello who goes on a labyrinthine search for his ex-girlfriend Shasta Hepworth played by Katherine Waterston (Michael Clayton, Taking Woodstock).
Set in 1971, during the Nixon administration, in California, Inherent Vice is a rambling and extended tour de force of the hippie's drug culture of Southern California involving kinky and corrupt cops especially Lt Detective Christian "BigFoot" Bjornsen wonderfully played by the orally fixated Josh Brolin, straight laced deputy district attorneyPenny Kimball played by Reese Witherspoon and an elusive government informant Coy Harlingen played by Owen Wilson.
Oscar winner for director Steven Soderbergh's Traffic Benicio del Toro also makes a brief appearance as Doc's legal adviser Sauncho Smilax Esq, but this is very much Phoenix's film and he inhabits every frame with a sort of woozy ease that is at times prolonged and other times fascinating. This is by no means Phoenix's best performance and does not match his brilliant portrayal of the boozy drifter Freddie Quell in Paul Thomas Anderson's superb critically acclaimed film The Master.
At a running time of just over two and a half hours, one cannot blame the viewer for getting slightly confused and bored. Inherent Vice has an intricate plot with lots of subtexts, subplots and quirky visual references but only serious fans of Paul Thomas Anderson will appreciate his laboured approach in adapting this contemporary novel to the big screen.
The best scenes are actually between Phoenix and Witherspoon who reunite after the success of the Oscar winning James Mangold film Walk the Line. Several of the other quite bizarre sequences are truly amazing to watch but the entire story could have done with some efficient editing.
Audiences should also watch out for cameos by Eric Roberts, Martin Donovan and a crazed Martin Short. While the costumes and production design for Inherent Vice is spot on capturing the origins of the drug fueled and nefarious 1970's, Paul Thomas Anderson film could have used some serious editing as this languid narrative tends to bewilder and obfuscate the viewer, which the point of the story.
Inherent Vice refers to possible drugs being smuggled into America on a mysterious vessel known as The Golden Fang from Indo-China or modern day Vietnam. This film is recommended viewing for those that enjoyed Magnolia and Robert Altman's far superior film Short Cuts. Not sure if Inherent Vice will quite make it to the cult status of The Master.
63rd Golden Globe Awards
Took place on Sunday  16th January 2006 hosted by the Hollywood Foreign Press Association
Golden Globe Winners in The Film Categories:
Best Film Drama: Brokeback Mountain
Best Film Musical or Comedy: Walk the Line
Best Actor Drama: Philip Seymour Hoffman – Capote
Best Actress Drama: Felicity Huffman – TransAmerica
Best Actor Musical or Comedy: Joaquin Phoenix – Walk the Line
Best Actress Musical or Comedy: Reese Witherspoon – Walk the Line

Best Supporting Actor: George Clooney – Syriana
Best Supporting Actress :Rachel Weisz – The Constant Gardener
Best Director: Ang Lee – Brokeback Mountain
Best Foreign Language Film: Paradise Now (Palestine)
Source:
The
Immigrant
Director: James Gray
Cast: Joaquin Phoenix, Marion Cotillard, Jeremy Renner, Dagmara Dominicyk, Angela Sarafyan
With glorious sepia coloured cinematography by Darius Khondji, Ellis Island and early 1920's immigrant New York comes to life in director James Gray's period film The Immigrant, nominated for the 2013 Palm d'Or.
Oscar Winner for La Vie en Rose, French actress Marion Cotillard, speaking both English and Polish gives a complex and nuanced performance as Catholic Polish immigrant Ewa who after arriving on Ellis Island is soon rescued by the crazed opportunistic pimp Bruno, superbly played by Joaquin Phoenix (The Master, Gladiator). The formidably and talented Joaquin Phoenix seems to be director James Gray's cinematic partner and has starred in most of his films including The Yards, Two Lovers and We Own The Night.
Desperate to return to Ellis Island to rescue her sister Magda (played by Armenian actress Angela Sarafyan) who has been quarantined for a contagious lung infection, Ewa soon enters quite bravely into a life of prostitution and cheap vaudeville theatre orchestrated by the erratic sometimes violent Bruno.
With a confident flourish Bruno introduces Ewa to the Doves of the Bandit Roost, a sleezy peep show and late night dive spot for immigrant lowlifes. This is New York in 1921 as prohibition has just been enforced and the raunchy social dynamics has been thrust underground.
Conflicted by what she is forced to do to get money and her overwhelming desire to rescue her sister Magda, Ewa, gorgeous and enigmatic, brave and brazen gets caught between the unpredictable Bruno and his seemingly more stable cousin, a freelance illusionist Orlando, played with flourish and against type by Jeremy Renner (The Hurt Locker, The Town). Ewa first captures a glimpse of the illustrious Orlando when she is sent back to Ellis Island and becomes an unwilling witness to one of his spell bounding illusions.
Soon affection develops between Orlando and Ewa, yet their mutual admiration is constantly thwarted by the controlling and threatening Bruno, who is desperate to make money out of his group of woman who he open flaunts to paying customers under tunnels in New York's Central park.
New York born director James Gray presents a captivating if slightly dim view of the harsh realities of immigrants which arrived in the Big Apple in their thousands following the end of the WW1 leaving a poverty stricken and ruined Europe behind, always in search of the illusive, yet treacherous American Dream.
Naturally Cotillard is ravishing and believable as Ewa and the on screen chemistry between her and Phoenix is palpable almost to the point of tragedy much like it was between Kevin Kline and Meryl Streep in the superb film Sophie's Choice, set almost three decades later.
The Immigrant is majestically shot, evocative, moody and brilliantly acted. It's a classic melodrama reminiscent of early Italian Neo Realist films of the late 1940's. The ambience and production design is beautifully recreated of early 20th century New York in a narrative which highlights that the hardships facing immigrants to any new country are perennial and just as relevant now as it was almost a century.
Lovers of atmospheric melodramas focusing on a nuanced yet doomed love triangle, will enjoy The Immigrant, but for many this film will have a very limited appeal.
2004 Toronto International Film Festival Winners
Toronto International Film Festival (TIFF) takes place every year in September in Canada.
Films which premiere at Toronto are often nominated for Academy Awards the following year.
TIFF does not hand out individual prizes for Best Actor or Actress but focuses on amongst others the following awards:
People's Choice Award & Best Canadian Feature Film
Opening Night Film: Being Julia directed by Istvan Szabo, starring Annette Bening, Jeremy Irons, Michael Gambon, Lucy Punch & Max Irons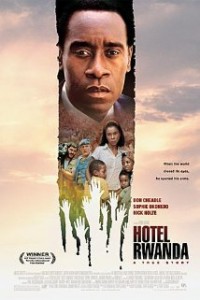 People's Choice Award: Hotel Rwanda directed by Terry George, starring Don Cheadle, Sophie Okonedo, Nick Nolte, Joaquin Phoenix, Xolani Mali
Best Canadian Feature Film: It's All Gone Pete Tong directed by Michael Dowse starring Paul Kaye, Beatriz Batarda & Kate Magowan, Pete Tong
Source:
http://en.wikipedia.org/wiki/2004_Toronto_International_Film_Festival