Posts Tagged 'Hayley Atwell'
Mission: Impossible – Dead Reckoning Part 1
Director: Christopher McQuarrie
Cast: Tom Cruise, Hayley Atwell, Vanessa Kirby, Rebecca Ferguson, Simon Pegg, Ving Rhames, Pom Klementieff, Esai Morales, Shea Wingham, Henry Czerny, Frederick Schmidt, Cary Elwes
Running Time: 2 hours and 43 minutes
Film Rating: 9 out of 10
Taking much inspiration from the original Mission Impossible released in 1998 and directed by Brian de Palma (The Untouchables, Dressed to Kill), director Christopher McQuarrie skilfully and efficiently returns to the Mission Impossible franchise with the final two films to be split up.
Mission: Impossible – Dead Reckoning Part 1 stars the usual suspects, Simon Pegg, Rebecca Ferguson, Ving Rhames and Vanessa Kirby who were all in the previous film which provide a perfect ensemble to the superstar that is Tom Cruise who reprises his most famous role as IMF agent gone rogue Ethan Hunt.
What really sets this Mission Impossible completely apart from the previous films are two things: the digital tech stuff including augmented reality and artificial intelligence and the action. The stunts in this Mission Impossible are unbelievable from the exhilarating train sequence in the Austrian Alps to the unbelievably well shot car chase sequence through the streets of Rome.
Throughout Mission: Impossible – Dead Reckoning Part 1, the audience can see that these are filmmakers and actors that know what they are doing, brilliantly crafting an old fashioned spy drama complete with the Orient Express and some fabulous locations including Rome, the Arabian desert and Venice and imbuing this scintillating narrative with digital deception, technological spy craft and the dire prediction that if humans leave AI unchecked, that entity could become a nefarious enemy.
From the augmented reality sequence in the Abu Dhabi International airport to the unbelievable train sequence in the Austrian Alps, Mission: Impossible – Dead Reckoning Part 1 delivers on every level, from sophisticated production values to a top class cast including the gorgeous British star Hayley Atwell (Brideshead Revisited, The Duchess) as renegade international thief Grace and Easi Morales as the slippery and ruthless villain Gabriel who will command destruction as he tries to find the fabled digital key that can unlock and control a mysterious rogue AI known as the entity.
Tom Cruise as the fearless Ethan Hunt once again delivers a premium spy film, as brilliant as the Bond films and cements his status even at 61 as one of the top Hollywood action stars of the last three decades. Every scene is perfectly constructed, brilliantly filmed and beautifully packaged and paced with enough action to keep audiences absolutely mesmerized for 2 hours and 43 minutes.
French actress Pom Klementieff (Guardians of the Galaxy) holds her own superbly as Gabriel's duplicitous assassin as does American actor Shea Wingham (Take Shelter, Joker) as government agent Briggs eternally chasing after the elusive Ethan Hunt.
Mission: Impossible – Dead Reckoning Part 1 gets a film rating of 9 out of 10 and is a supremely entertaining action film filled with incredible action and innovative technology.
Highly recommended viewing. Audiences should see this film on a Big Screen.
Doctor Strange in the Multiverse of Madness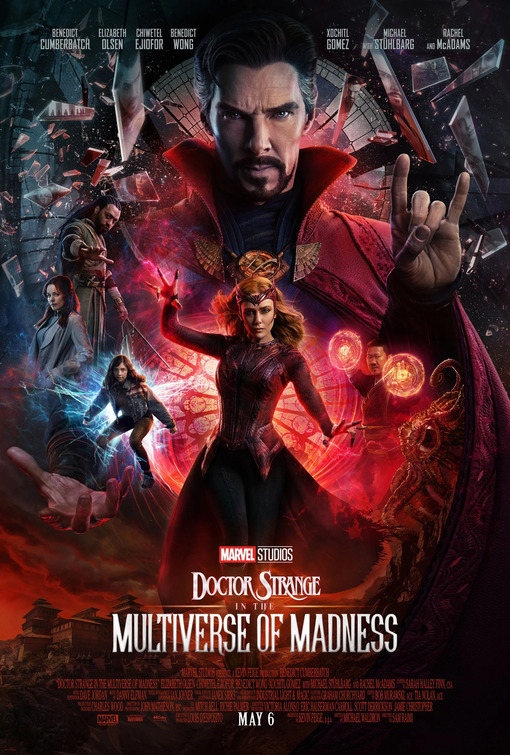 Director: Sam Raimi
Cast: Benedict Cumberbatch, Elizabeth Olsen, Rachel McAdams, Chiwetel Ejifor, Benedict Wong, Xochitel Gomez, Michael Stuhlbarg, John Krasinki, Patrick Stewart, Hayley Atwell, Lashana Lynch, Anson Mount
Running Time: 2 hours and 6 minutes
Film Rating: 6 out of 10
Six years after the first Doctor Strange film was made in 2016, Oscar nominee Benedict Cumberbatch (The Imitation Game, The Power of the Dog) reprises his role as the neurosurgeon turned warlock Doctor Steven Strange in director Sam Raimi's utterly bizarre sequel Doctor Strange in the Multiverse of Madness starring a new batch of stars while only Rachel McAdams, Benedict Wong and Chiwetel Ejifor reprise their roles from the first film.
Director Sam Raimi best known for doing the original Spiderman trilogy with Tobey Maguire and Kirsten Dunst but the director is far better known for helming some classic horror flicks including Drag Me to Hell in 2009 and The Evil Dead in 1981, takes this Doctor Strange sequel and turns the superhero genre on its head and transforms it into a ghoulish mixture of the bizarre with an extremely heavy dash of CGI thrown in. The storyline is incoherent and utterly weird.
This time Doctor Strange has to save a multiverse superhero called America Chavez played by Xochitel Gomez from the clutches of the Scarlett Witch also known as Wanda Maximoff wonderfully played with a demonic edge by Elizabeth Olsen (Avengers: Infinity War, Wind River) as she seeks to use America's superpowers to open the elusive book of Ashanti. Elizabeth Olsen is by far the best actress in this film as she gives the Scarlett Witch a degree of emotional depth and conflicting maternal instinct, making her character a far more unlikely villain.
Plenty of witchcraft and dream walking abound through a multitude of crazy universes including a particularly bizarre scene whereby Doctor Strange faces the Illuminati made up of Baron Mondo played by Chiwetel Ejifor (12 Years a Slave, Dirty Pretty Things, Kinky Boots), Captain Carter played by Hayley Atwell and wait for it…. an X-Men Professor and one of the characters of The Fantastic Four. Clearly this is not the multiverse of reality one expects.
Here the film completely loses the plot and director Sam Raimi goes for an utter freak show of scary scenes involving ghosts and demons instead of rounding off the narrative in a tightly controlled script.
After watching Benedict Cumberbatch deliver such a brilliant performance in The Power of the Dog, he looked continually anguished throughout this film at having to do a Doctor Strange sequel and not even a good one at that.
Essentially, my question is that if Marvel is so desperate to control the cinematic universe why did they get a horror director to take charge of what is meant to be a superhero film?
After watching the success of Spiderman: No Way Home and the excellent origin film The Batman, I was quite disappointed with the visual mess that is Doctor Strange in the Multiverse of Madness even despite some lavish special effects.
Doctor Strange in the Multiverse of Madness gets a film rating of 6 out of 10 and audiences should expect a superhero film which is way more scary than expected.
Blinded by the Light
Director: Gurinder Chadha
Cast: Viveik Kalra, Kulvinder Ghir, Meera Ganatra, Aaron Phagura, Hayley Atwell, Dean-Charles Chapman, Nell Williams, Sally Phillips, Frankie Fox
Sometimes it's the small British films which are the most impressive.
Bend it like Beckham and Viceroy's House director Gurinder Chadha returns with a delightful coming of age story Blinded by the Light a comic snapshot of an Immigrant Pakistani family living in Luton, Northern England in the dark end of the 1980's during Margaret Thatcher's iron grip on Britain.
Blinded by the Light is set in 1987 and focuses on the dreams and aspirations of Javed beautifully played by Viveik Kalra whose struggling to find his identity as a British Asian young male who is harbouring dreams of becoming a successful writer.
Viveik Kalra has already won the breakthrough actor's award at the Seattle International Film Festival and his performance as Javed is spot on, a tortured teenager dealing with an overbearing father, a claustrophobic family and an urge to break free out of Luton, which in 1987 was rife with racial intolerance, economic recession and hardship.
When Javed is sent to the local college to do his A Levels he is encouraged to continue writing poetry and find his own voice by his free thinking English Literature teacher Ms Clay played by Hayley Atwell (Brideshead Revisited, The Duchess). More significantly he befriends Roops played by Aaron Phagura who introduces him to the working class music of The Boss, the New Jersey singer Bruce Springsteen who become famous in the early 1980's. Instantly Javed identifies with the lyrics of Springsteen who becomes his role model.
Springsteen's music helps Javed find his writing voice much to the horror of his conservative father who keeps thinking that Springsteen is a Jewish American.
Blinded by the Light deals with more than one teenager's musical obsession, as director Gurinder Chadha makes insightful comments on racism, following one's dreams and the economic sacrifices an immigrant family has to make when moving to a new country: in this case Britain in the 1980's.
Soon Javed discovers his inner writing talent, learns to stand up to his father and even travels to New Jersey after winning a literary competition. Blinded by the Light is a wonderful musical drama focusing on one young man's dream to leave his bigoted hometown and discover his real talent. In a poignant scene when Javed confronts his hard-working conservative father Malik played by Kulvinder Ghir, he states that "These words paid for my dreams" after he writes an article for the Luton Herald about the local Mosque being threatened with imminent closure.
Blinded by the Light is a gem of a film and gets a rating of 8 out of 10.
Audiences will love this heartwarming story of Javed whose literary dreams are inspired by the lyrics of Bruce Springsteen, although this distinctly British film is personal, relevant and less flashy.
Avengers: Endgame
Directors: Anthony & Joe Russo
Cast: Robert Downey Jr, Chris Hemsworth, Mark Ruffalo, Chris Evans, Scarlett Johansson, Jeremy Renner, Paul Rudd, Robert Redford, Michael Douglas, Josh Brolin, Gwyneth Paltrow, Don Cheadle, Anthony Mackie, Chadwick Boseman, Benedict Cumberbatch, Tilda Swinton, Brie Larson, Tom Holland, Karen Gillen, Zoe Saldana, Evangeline Lilly, Tessa Thompson, Rene Russo, Elizabeth Olsen, Sebastian Stan, Tom Hiddleston, Danai Gurira, Benedict Wong, Pom Klementieff, Dave Bautista, Chris Pratt, Vin Diesel, Letitia Wright, John Slattery, Jon Favreau, Hayley Atwell, Natalie Portman, Marisa Tomei, Angela Bassett, Michelle Pfeiffer, William Hurt, Cobie Smulders, Linda Cardellini, Frank Grillo, Hiroyuki Sanada, James D'Arcy, Bradley Cooper, Samuel L. Jackson, Ty Simpkins    
Marvel Cinematic Universe continues with the highly anticipated sequel to Avengers: Infinity War with Avengers: Endgame featuring all the famous superheroes that fans have grown to love including Iron Man, Captain America, Thor, The Hulk, Antman, Hawkeye and Captain Marvel as they band together to go back in time to retrieve the infinity stones to reverse the evil Thanos's ultimate revenge at the end of Infinity War where he made half the population vanish including such beloved heroes as Spiderman, Black Panther and Doctor Strange.
As Endgame starts, Ironman is stuck in space, Thor takes to drink in the New Asgard and Captain America is despondent that the Avengers are at their lowest point ever.
Captain Marvel played by Brie Larson rallies the troops along with Black Widow played by Scarlett Johansson. Jeremy Renner returns sporting a fantastic haircut as Clint Barton, aka Hawkeye to assist the remaining Avengers as they devise a time travel device to allow them to go back in time to three separate intergalactic locations to retrieve the highly precious and powerful Infinity Stones. It's the ultimate Time Heist as Antman points out.
What follows is a fantastic feast of Superheroes which directors Anthony and Joe Russo will have hard core Marvel fans both laughing and crying at the deluge of their cinematic idols as they all band together to destroy the evil Thanos.
While some of the plot points in this three hour long superhero extravaganza don't all get resolved, it certainly opens up a whole lot of new possibilities such a possible separate Hawkeye film? Sequels to the hugely successful Black Panther and Guardians of the Galaxy are both on the cards as well as another Spiderman film. So there is no shortage of geek fan crushing that will occur in Avengers: Endgame and the subsequent films to follow. Once again Marvel knocks it out of the park judging by the lucrative response at the international box office.
Avengers: Endgame is a culmination of all the Marvel films of the last decade and hints at a new start for some of the lesser known superheroes to flesh out their story lines. Let's face it with an overcrowded universe, audiences will battle to identify with any one superhero but rather applaud and cheer at the massive team of Avengers and all their trusted sidekicks. Audiences should look out for cameos by Tessa Thompson as Valkyrie, Sebastian Stan as the Winter Soldier and of course Thor's malevolent brother Loki played by Tom Hiddleston.
Avengers: Endgame is definitely for Marvel fans and trust me everyone from the previous films are in it. It's definitely worth seeing and gets a film rating of 7.5 out of 10.
Testament of
Youth
Director: James Kent
Cast: Alicia Vikander, Kit Harrington, Taron Egerton, Emily Watson, Dominic West, Hayley Atwell, Miranda Richardson, Colin Morgan, Joanna Scanlan
Swedish actress Alicia Vikander has come a long way from her vivacious debut  as Kitty in Joe Wright's film Anna Karenina.
In director James Kent's film adaptation of the 1930's novel Testament of Youth, Vikander plays aspiring novelist and soon to be pacifist Vera Brittain. The film opens in an idyllic setting  resembling an English summer garden with Vera and her brother Edward played by rising star Taron Egerton, last seen in Legend along with his friends Victor Richardson played by Colin Morgan and the dashing Roland Leighton, wonderfully played by Kit Harrington of the hit HBO TV series Game of Thrones.
As a petulant young woman, Brittain objects to her father buying her a piano and strongly presents her case to her parents played by Emily Watson and Dominic West that all she really desires is to go to Oxford and study literature and classics.
At the outset of Testament of Youth, Vera Brittain is portrayed as a strong-minded young woman who was extremely close to her brother Edward and his group of friends which were all destined to study at Oxford. Destiny has different plans when in 1914, Europe is plunged into the bloody and brutal First World War, which initially everyone who enlisted thought would only lost a couple of months.
Her brother and his friends all enrol into the British army and go and fight in France, in the muddy trenches and soon the War develops into a brutal protracted affair. Vera soon abandons her plans for Oxford and enrols to be a nurse to assist the war effort.
Unlike Joe Wright's brilliant and beautiful adaptation of Ian McEwan's novel Atonement about doomed love during the Second World War, Testament of Youth does not maintain the same emotional resonance although dealing with similar themes. Vikander holds her own as the passionate and outspoken Vera Brittain.
Her quest to find her brother Edward, leads her to the front lines in France in 1917 where she is forced to take care not only for wounded British soldiers but also for the wounded and dying German soldiers, making her realize that despite the politics, war effects everyone equally, a devastating loss for both the victorious and defeated nations.
Which is precisely why over a hundred years later, Armistice Day is still celebrated on the 11th November as a commemoration of those countless lives sacrificed during World War 1 and a warning about the perils of embarking on future wars which is especially relevant in the conflict strewn geo-political arena of the 21st century.
After World War 1, Vera Brittain became a vocal pacifist and an anti-war campaigner. She dealt with her huge grief by publishing all the letters of her brother and his friends as well as her own memoirs in 1933 of that horrific time during the war, where she witnessed the brutality and infinite loss of life first hand as a nurse.
Testament of Youth is a fascinating look at the naivety of war through the eyes of a generation which were obliterated by its devastating effects. At some point the film, does not manage to maximise the emotional resonance, which films like Atonement and The English Patient did so brilliantly.
Nevertheless Testament of Youth remains a damning anti-war indictment and an accurate historical portrait of a lost generation, right down to the soft focus production design and period costumes.
Audiences should look out for cameo appearances by Hayley Atwell (Brideshead Revisited) as well as Miranda Richardson (The Young Victoria, Damage) as the stern Oxford professor who recognizes Vera Brittain's potential as a young writer. Recommended viewing for ardent fans of historical cinema.
Source: Vera Brittain
Ant-

Man
Director: Peyton Reed
Cast: Paul Rudd, Evangeline Lilly, Michael Douglas, Michael Pena, Corey Stoll, Martin Donovan, Bobby Cannavale, Hayley Atwell, Anthony Mackie, Judy Greer
Comedy star Paul Rudd (Our Idiot Brother, Wanderlust) embraces the role of Ant-Man, the latest superhero to join the Marvel Universe. In this case size does matter and Ant-Man's unique ability to shrink to the size of an ant and evade capture while destroying intricate servers is something to marvel at.
Director Peyton Reed's Ant-Man is humorous, hilarious and filled with spectacular moments which will find the audience rooting for the diminutive superhero who is desperate to join the Avengers team. Oscar winner Michael Douglas (Wall Street) plays quantum physicist Dr Hank Pym has developed a unique formula which can reduce a man to the size of an ant and cause damage along with his army of assistant ants. For once this is a superhero who is without any angst, but just an average guy who happens to be a convicted felon desperate to see his daughter again.
Scott Lang, wonderfully played to perfection by Paul Rudd, and for once the casting could not have been better is a down and out cat burglar and at the request of his dumb friends, led by the dim-witted Luis hilariously played by Michael Pena breaks into the San Francisco home of Dr Pym to steal jewels and cash.
Instead, Lang steals an Ant-Man suit and unwittingly shrinks and realizes that this nifty ensemble enables him to escape from most situations, including jail, where he is arrested by his daughter's stepfather Detective Paxton played by the ubiquitous Bobby Cannavale.
Soon Lang is rescued by Dr Pym and his gorgeous daughter Hope van Dyne played by Evangeline Lilly (The Hobbit: Desolation of Smaug) who train Lang to be the elusive Ant-Man.
The evil villain is the megalomaniac scientist Dr Darren Cross, played by Corey Stoll who is keen on developing his own shrinking suit and selling the sought after formula to the sinister Hydra which is out to destroy SHIELD, of whom the Avengers are a part of.
The fact that the final battle between Cross and Ant-Man takes place on top of a Thomas the Tank engine toy in Lang's daughter's bedroom is emblematic of who the target audience is. Nevertheless Ant-Man is visually spectacular, comical and often hilarious and a much better film than anticipated.
This is a superhero movie which does not take the entire genre too seriously, but has huge ambitions to join The Avengers. Fans should watch out for cameo appearances by Anthony Mackie as Falcon and Hayley Atwell as Agent Carter.
Ant-Man may not match up to the likes of Captain America or Iron Man but could certainly prove that size does count and in this case being smaller is infinitely better. The 3-D visual effects are amazing and Rudd keeps the entire film light and quirky. Ant-Man is recommended viewing for those that enjoyed The Avengers and Guardians of the Galaxy.
The
Avengers

:

Age of Ultron
Director: Joss Whedon
Cast: Chris Evans, Chris Hemsworth, Robert Downey Jr, Don Cheadle, Paul Bettany, Mark Ruffalo, Jeremy Renner, Scarlett, Johansson, Samuel L. Jackson, Elizabeth Olsen, Aaron Taylor-Johnson, James Spader, Cobie Smulders, Hayley Atwell, Stellan Skarsgard, Thomas Kretschmann, Julie Delpy, Andy Serkis, Anthony Mackie.
The Avengers are back in director and writer Joss Whedon's much anticipated sequel The Avengers: Age of Ultron featuring all the Marvel superheroes and some new ones in a CGI laden special effects extravaganza, which is at times confusing and other times absolutely fascinating. At a running time of two hours and twenty minutes, director Whedon has sufficient screen time to flesh out all the characters individually as well as give nuance to some of their more complicated relationships.
Like the relationship between The Hulk, aka Bruce Banner wonderfully played by Oscar nominee Mark Ruffalo (Foxcatcher) and the Black Widow played by Scarlett Johansson who seems to be the only avenger that can calm the Hulk's penchant for destructive anger.
The relationship between goodie two shoes Steve Rogers aka Captain America, played by Chris Evans and Nordic God Thor played by the hunky Chris Hemsworth is also subtly explored considering that the former is a World War two hero and the latter from another dimension.
Robert Downey Jr reprises his role as egotistical Billionaire Tony Stark, aka Iron Man and his irrepressible desire to mould any technological discovery, in this case the power artificial intelligence to his own advantage.
The Age of Ultron refers to the ubiquitous Altron a powerful A.I. force which is hell bent on human destruction and vain enough to realize that he can survive the aftermath, beautifully voiced with an underlying menace by James Spader (Bad Influence, more recently in the hit TV show The Black List).
The sexy Jeremy Renner as Clint Barton aka Hawkeye 's character is fleshed out as a devoting family man which is entirely incongruous with his status as a member of the Avengers, but hey who cares?
Elizabeth Olsen and Aaron Taylor-Johnson play evil orphaned Eastern European twins Pietro and Maximoff who soon turn on Ultron when they realize his megalomaniac tendencies. Even Lord of the Rings' Andy Serkis makes an appearance as a South African mercenary Ulysses Klaue and the Johannesburg downtown sequence is truly phenomenal to watch as is the action scene in Seoul, South Korea.
If audiences get confused with who all the avengers are, there are ample filmic references to each of their own background stories from Thor: The Dark World, including a brief appearance by Idris Elba and also Captain America's Agent Carter, played by Hayley Atwell. Marvel is indeed expanding their universe exponentially and if The Avengers: Age of Ultron's audience figures are anything to go by, this will prove to be another superhero box office smash hit.
The Avengers: Age of Ultron is fun entertainment and definitely aimed at Iron Man, Thor and Captain America cinema fans especially all the witty references and innuendo's involving lifting Thor's hammer which are neatly laced into a script which may seem convoluted but then again when it comes to Artificial Intelligence its more an infinite mess which at some point needs to be reined in.
Audiences should look out for brief cameos by Anthony Mackie, Stellan Skarsgard, Julie Delpy, Don Cheadle and Thomas Kretschmann. If The Avengers: Age of Ultron appears to be a pastiche of all the previous Marvel films, then director Joss Whedon has certainly achieved the impossible, not to mention making a narrative out of the dangers of artificial intelligence plausible and entertaining.
It's best for audiences to suspend their disbelief and enjoy The Avengers: The Age of Ultron for what it is: a comic book orgy with a giant budget and loud, awe-inspiring special effects which will be sure to nurture any young adult's imagination for awhile.
Cinderella
Director: Kenneth Branagh
Cast: Lily James, Richard Madden, Cate Blanchett, Helena Bonham Carter, Stellan Skarsgaard, Derek Jacobi, Holliday Grainger, Ben Chaplin, Hayley Atwell
Shakespearean actor and director Kenneth Branagh (Thor, King Henry V) vividly recreates the famous tale of Cinderella in a live action film which despite its sumptuous production design does not match up to other recent onscreen fairy tales most notably the brilliant Snow White and the Huntsman and the equally impressive Maleficent.
Downton Abbey's Lily James takes on the title role of Cinderella and although she is gorgeous to watch onscreen, the famous narrative arc of her tale is not given any particular depth or subliminal meaning. But then again this is a Disney film and the age restriction is parental guidance, with the target audience being young little girls. Judging by the packed cinema on a Saturday afternoon that target market was spot on.
Branagh's Cinderella is lush, gorgeous and beautiful to watch with a spectacular production design by Dante Ferreti and fabulous costumes by Sandy Powell, Oscar winner for her costumes in Martin Scorsese's The Aviator.
Oscar winner for Blue Jasmine and The Aviator Cate Blanchett is wonderful as the wicked stepmother and so is Helena Bonham Carter (The King's Speech, The Wings of a Dove) as Cinderella's quirky fairy godmother who on the evening of the ball given by the crown prince of their kingdom, Cinderella's dress, transportation and footmen are sorted for her great entrance at the Ball.
The Ballroom scene is simply amazing and is undoubtedly the high point of the film, but in a similar vein to the gorgeous reproduction of Anna Karenina, the script and acting for Cinderella suffers under the weight of its own expectation.
One almost gets the feeling that the actors were slightly bored going through this famous fairy tale with the exception of the brief scenes by Blanchett and the cameo by Helena Bonham Carter, Cinderella fails to lift audiences beyond its very light and fluffy message – which is for all young girls to find prince charming and live happily ever after.
Prince Charming in this case is played by British actor and Game of Thrones star Richard Madden, bulging codpiece and all, and his penetrating blue eyes do the acting. Director Branagh strictly keeps this traditional Cinderella aimed at the young children's market obviously upon the instruction of parent company Disney.
Nevertheless, the costumes and the production design are superb and should garner some awards in those categories. Whilst Cinderella lacks the edgier darkness of Snow White and the Huntman and Maleficent, it is still fun to watch especially all those character actors making an appearance from Hayley Atwell, Stellan Skarsgaard and Derek Jacobi.
Disney's Cinderella is recommended viewing for those that loved Mirror Mirror and for all parents who need to take their daughters to see some serious glamour on the big screen. In this case the fabulous glass slipper fits too comfortably and Cinderella and her prince charming do live happily ever after.

Captain

America: The Winter Soldier
Directors: Anthony & Joe Russo
Starring: Chris Evans, Scarlett Johansson, Robert Redford, Samuel L. Jackson, Anthony Mackie, Emily VanCamp, Sebastian Stan, Frank Grillo
Not quite matching up to the brilliance of the Coen brothers or the technical wizardry of the Wachowski brothers of the Matrix series, directing team and brothers Anthony and Joe Russo who directed You, Me and Depree are at the helm of the new Captain America movie with the expert assistance of Joss Wheldon (The Avengers, Cabin in the Woods). Chris Evans reprises his role as Captain America along with Scarlett Johannsen as wise cracking Natasha Romanoff or The Black Widow along with newcomer Anthony Mackie (The Hurt Locker) as Sam Wilson or known as the Falcon. Emily Van Camp (from the TV series Revenge) makes a welcome big screen appearance as SHIELD agent 13 along with Frank Grillo and Callan Mulvey recently seen in 300: Rise of an Empire who all round off the star studded cast.
In Captain America: The Winter Soldier the action is firmly rooted in America's capital Washington DC with the Smithsonian and Virginia as backdrop focusing on the SHIELD headquarters which are duly comprised when an assassination attempt on its leader the aptly named Nick Fury smoothly played by Samuel L. Jackson. The so-called chief of SHIELD Alexander Pierce played by Hollywood veteran Robert Redford appears to have a more sinister agenda.
Captain America aka Steve Rogers teams up with The Black Widow and Falcon to fight the seemingly invincible Winter Soldier who is an evil Hydra byproduct from the Second World War and played by an unrecognizable Sebastian Stan (Black Swan). Where the first Captain America dwelt firmly on America's successful involvement in World War II heading up the allies defeat of Nazi Germany and all its equally nefarious covert operations, Captain America: The Winter Soldier thrusts the WWII all American hero firmly in the 21st century where with the aid of the internet Steve Rogers has managed to catch up on the last 50 years of human history.
There are a couple of references to the original Americana of the first film, but this Captain America sequel takes on a more Transformeresque approach and features lots of brash action sequences clearly initiated by influence from director Joss Wheldon's big budget blockbuster The Avengers. The only criticism of the film was that with all the explosive action taking place, Captain America: Winter Soldier does not effectively use the medium of 3D and could easily have been viewed in traditional 2D.
The nostalgic glamour of 1940's America and Europe during a World War is replaced with high-tech gadgetry of a level resembling a more ambitious and implausible sci-fi film set well beyond the 21st century. Naturally the plot takes a couple of fascinating twists but the entire narrative of Captain America: Winter Soldier lacks a uniformity of vision so clearly tangible in the original film, but this sequel is nevertheless entertaining and will surely please all superhero fans.
Although there is no real love interest like in Captain America – with Hayley Atwell's character considerably aged, the downside of dating a boyfriend who was kept on ice for 50 years! Captain America: The Winter Soldier is another great superhero action film in the Avengers vein with Marvel studios clearly capitalizing on a hugely successful and ever expanding franchise especially after the success of Iron Man 3.
Not to be over analyzed but simply enjoyed in the perennial battle of freedom versus fear or SHIELD versus Hydra, fans of Captain America, Thor and Iron Man will surely not be disappointed. Note to audiences to wait in the cinema beyond the retro 007 end credits for a sneak peak at potential plot of Captain America 3?
Captain America: The First Avenger
Joe Johnston's retro superhero film, Captain America, The First Avenger is a wonderfully evocative 1940s style Americana glamorizing the American involvement in World War II and what better way to achieve this macho propaganda than through the story of Captain America, reluctantly but brilliantly played by Chris Evans who starts the film as an underweight and scrawny all American boy Steve Rogers desperate to enrol in the US Army and contribute to the European theatre of War. A German immigrant scientist, Dr Abraham Erskine played with relish by Stanley Tucci recognizes Rogers ingenuity and enlists him in a top secret research project aimed at fighting the mysterious Nazi supernatural research unit Hydra, headed by the demonic Captain Johann Schmidt, played with sinister pleasure by Hugo Weaving.
************************************************************************************************************************
Evans character Rogers through a specially injected serum is transformed into the brawny and muscular Captain America, a super soldier who initially is used as a ridiculous propaganda figure by the US military driving up conscription and bolstering the armies psyche in their fight against the Nazi's in a glorious cinematic pastiche of Americana complete with showgirls and wartime publicity.
As this is a comic book caper and very far from the actual reality of war, Captain America with the aid of a motley crew of trusted soldiers, an elegant British attache Peggy Carter played by Hayley Atwell of Brideshead Revisited fame and empowered with an arsenal of weapons, military transportation and the like by Howard Stark, Ironman's father, played by the dashing Dominic Cooper from Mamma Mia, Captain America takes on the crazed Captain Schmidt whose powers derive from some Nordic mythological cube, capable of utter destruction.
Captain America is thrilling, glamorous and a great adventure film with tribute being payed to the Indiana Jones franchise whilst keeping in line with similar styled 1940s themed films from Casablanca to Bugsy. Watch out for a fantastic chase sequence in Brooklyn, a twist at the end and definitely a promise of a sequel. The supporting cast are terrific from Tommy Lee Jones as the no nonsense Colonel Phillips to Hugo Weaving bolstering up Chris Evan's performance as the ultimate American superhero.