Doctor Strange in the Multiverse of Madness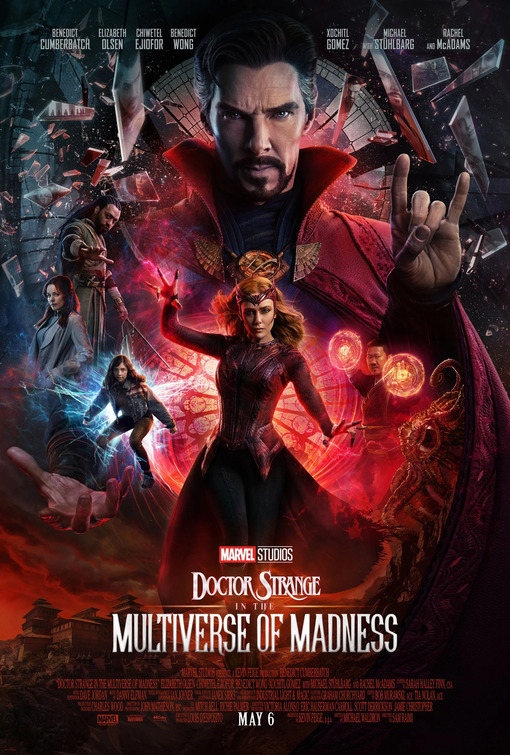 Director: Sam Raimi
Cast: Benedict Cumberbatch, Elizabeth Olsen, Rachel McAdams, Chiwetel Ejifor, Benedict Wong, Xochitel Gomez, Michael Stuhlbarg, John Krasinki, Patrick Stewart, Hayley Atwell, Lashana Lynch, Anson Mount
Running Time: 2 hours and 6 minutes
Film Rating: 6 out of 10
Six years after the first Doctor Strange film was made in 2016, Oscar nominee Benedict Cumberbatch (The Imitation Game, The Power of the Dog) reprises his role as the neurosurgeon turned warlock Doctor Steven Strange in director Sam Raimi's utterly bizarre sequel Doctor Strange in the Multiverse of Madness starring a new batch of stars while only Rachel McAdams, Benedict Wong and Chiwetel Ejifor reprise their roles from the first film.
Director Sam Raimi best known for doing the original Spiderman trilogy with Tobey Maguire and Kirsten Dunst but the director is far better known for helming some classic horror flicks including Drag Me to Hell in 2009 and The Evil Dead in 1981, takes this Doctor Strange sequel and turns the superhero genre on its head and transforms it into a ghoulish mixture of the bizarre with an extremely heavy dash of CGI thrown in. The storyline is incoherent and utterly weird.
This time Doctor Strange has to save a multiverse superhero called America Chavez played by Xochitel Gomez from the clutches of the Scarlett Witch also known as Wanda Maximoff wonderfully played with a demonic edge by Elizabeth Olsen (Avengers: Infinity War, Wind River) as she seeks to use America's superpowers to open the elusive book of Ashanti. Elizabeth Olsen is by far the best actress in this film as she gives the Scarlett Witch a degree of emotional depth and conflicting maternal instinct, making her character a far more unlikely villain.
Plenty of witchcraft and dream walking abound through a multitude of crazy universes including a particularly bizarre scene whereby Doctor Strange faces the Illuminati made up of Baron Mondo played by Chiwetel Ejifor (12 Years a Slave, Dirty Pretty Things, Kinky Boots), Captain Carter played by Hayley Atwell and wait for it…. an X-Men Professor and one of the characters of The Fantastic Four. Clearly this is not the multiverse of reality one expects.
Here the film completely loses the plot and director Sam Raimi goes for an utter freak show of scary scenes involving ghosts and demons instead of rounding off the narrative in a tightly controlled script.
After watching Benedict Cumberbatch deliver such a brilliant performance in The Power of the Dog, he looked continually anguished throughout this film at having to do a Doctor Strange sequel and not even a good one at that.
Essentially, my question is that if Marvel is so desperate to control the cinematic universe why did they get a horror director to take charge of what is meant to be a superhero film?
After watching the success of Spiderman: No Way Home and the excellent origin film The Batman, I was quite disappointed with the visual mess that is Doctor Strange in the Multiverse of Madness even despite some lavish special effects.
Doctor Strange in the Multiverse of Madness gets a film rating of 6 out of 10 and audiences should expect a superhero film which is way more scary than expected.