Posts Tagged 'Anna Paquin'
The Irishman
Director: Martin Scorsese
Cast: Robert de Niro, Al Pacino, Joe Pesci, Bobby Cannavale, Harvey Keitel, Anna Paquin, Stephen Graham, Ray Romano, Jack Huston, Jesse Plemons
Please note this film is currently only available on the Streaming Service Netflix and had a very limited theatrical release in cinemas.
When I heard that the latest Martin Scorsese film, The Irishman was only going to have a Netflix release I was deeply perplexed. Scorsese has always championed the art of cinema, of audiences watching films in a cinema. Especially his films. Scorsese is also passionate about film restoration both digitally and for preservation purposes.
Considering that The Irishman runs for 3 and a half hours, I can understand why Scorsese choose the world's most famous streaming service to release his latest masterpiece. Most of Scorsese's other films run for under 3 hours which is manageable in a cinematic format and palatable for audiences to sit through.
The Irishman is exceptionally long but it is worth the reward considering the talent that Scorsese procured to act in this exceptional film about the mafia, hitmen and Union boss Jimmy Hoffa. His long-time collaborator Oscar winner Robert De Niro (Raging Bull, The Godfather Part II) is sensational as Frank Sheeran who is basically in every frame of this digital masterpiece as is Oscar winner Al Pacino (Scent of a Woman) who is utterly captivating as the Union Teamster boss Jimmy Hoffa who mysteriously disappeared in Detroit in 1975.
Equally brilliant is Oscar winner Joe Pesci (Goodfellas) who came out of acting retirement to star as mafia heavyweight Russell Bufalino who answered to the Detroit and Chicago mafia.
Unfortunately, the part of Frank's disapproving daughter Peggy Sheeran played by Oscar winner Anna Paquin (The Piano) is underwritten and not fully utilized especially in the crucial scenes between her and her father who is basically a hitman for the mob or as some people like to say "I Heard You Paint Houses".
Al Pacino really steals the show as Jimmy Hoffa a larger than life character who refuses to buckle to pressure from the Mafia even when he allowed them to use the union's immense pension money to fund the mob's gambling operations in Las Vegas and Atlantic City in the 1960's and early 1970's.
The Irishman could have had 30 minutes shaved off the film and Scorsese could have released it in cinemas as I personally found the last section of this epic tale dragged considerably especially when trying to view it on a mobile device.
Superb performances by De Niro, Pesci and Pacino make The Irishman worth watching but viewers be sure to have three and a half hours spare. It's a stunning film but could have been edited sufficiently to condense the exceptionally large canvas that Scorsese always tries to paint, except in this case it's a streaming canvas which has made Netflix even wealthier.
The Irishman gets a film rating of 8.5 out of 10 and is recommended viewing purely for the phenomenal acting of such veteran stars as De Niro, Pesci and of course Pacino who is a revelation.
Let's see how The Irishman fares during the 2020 Awards Season although if Al Pacino doesn't win a Best Supporting Actor Oscar for his role, then that is a great cinematic injustice.
X-Men:
Days of Future Past
Director: Bryan Singer
Cast: Hugh Jackman, Jennifer Lawrence, Ian McKellan, Patrick Stewart, Halle Berry, Michael Fassbender, James McAvoy, Nicholas Hoult, Anna Paquin, Ellen Page, Shawn Ashmore, Peter Dinklage, Famke Janssen, James Marsden, Karine Vanasse, Evan Peters, Josh Helman
Which director could resist bringing such a fabulous a-list cast together in one film?
Naturally the original X-Men director Bryan Singer who takes this huge cinematic opportunity to reboot the X-Men franchise and include the original cast members in a mutant time travel fantasy which sees Wolverine, Storm, Raven and Magneto and Professor Xavier battling literally against time in a war to save the mutants from utter destruction at the hands of evil humans, represented by none other than Dr Bolivar Trask, wonderfully played by Peter Dinklage, whose star is clearly rising after the phenomenal success of the allegorical revenge fantasy series Game of Thrones.
Set between 1973 and presumably the present day of 2013, so a forty year time span, the original X-Men including Magneto and Professor Xavier played by Ian McKellan and Patrick Stewart send Wolverine aka Logan back forty years to confront a younger version of themselves and change a pivotal moment in history, the capture of the uniquely chameleon Raven played by Oscar winner Jennifer Lawrence from being captured by the duplicitious Trask. Wolverine with all the braun and charm of the original series gamely played by Hugh Jackman confronts a younger Xavier (a wonderful turn by James McAvoy) and convinces him to set Magneto free from a metal less prison in the heart of the Pentagon in Washington D. C.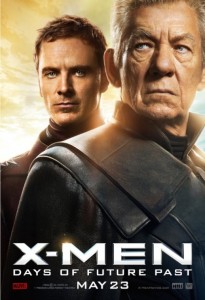 In a spell bounding special effects sequence, Xavier, Beast and Wolverine with the able assistance of Quiksilver played with charm by Evan Peters free the unpredictable Erik Lehnsherr aka Magneto and together they go in search of Raven/Mystique as she infiltrates a Vietnamese peace signing ceremony in Paris in 1973 in a bid to assassinate the formidable weapons specialist Dr Bolivar Trask who is hellbent on obliterating all mutants with new Transformeresque type machines known as the Sentinels.
The rest of the action packed hugely spectacular X-Men Days of Future Past is a time travel mutant orgy in the same vein as Marvel's film The Avengers was with a bunch of superheroes coming together to battle the evil Loki. The cast is just as spectacular and director Singer gives as much screen time as possible to the prolific actors as well as to the lesser cast members but its his lingering cinematic gaze on the gorgeous male cast including Nicholas Hoult (A Single Man) as Beast, Michael Fassbender (Shame) as Erik, James McAvoy (Atonement) as a younger Xavier that gives this superhero mutant fantasy a distinctly homoerotic quality seldom seen in other superhero films.
By their nature superheroes are slightly narcissistic (look at Man of Steel, Batman, Iron Man) but especially so in X-Men Days of Future Past. The female superheroes in this film pale in comparison to their attention grabbing male counterparts with director Singer even giving Wolverine a nude scene as he wakes up in a New York apartment overlooking Time Square in the swinging seventies.
Ultimately, X-Men Days of Future Past is a Hollywood vehicle to reboot the old X-Men franchise and breath fresh life into the cast of the younger selves seen in X-Men: First Class. The film is wonderfully retro in parts and adds to the glamour of recreating the 1970's on screen with Fassbender and McAvoy looking particularly fetching as the younger Magneto and Xavier. Gone are all the dark overtones of the earlier X-Men films and in this invigorated version, all the mutants look glossy, stylized and supremely accessible. This is a Hollywood blockbuster not just for its multitude of stars but also for the riveting special effects, never mind the convoluted narrative. A must see film for all fans of the X-Men movies and those that follow such commercial gloss with vigour.