Posts Tagged 'Ellen Page'
X-Men:
Days of Future Past
Director: Bryan Singer
Cast: Hugh Jackman, Jennifer Lawrence, Ian McKellan, Patrick Stewart, Halle Berry, Michael Fassbender, James McAvoy, Nicholas Hoult, Anna Paquin, Ellen Page, Shawn Ashmore, Peter Dinklage, Famke Janssen, James Marsden, Karine Vanasse, Evan Peters, Josh Helman
Which director could resist bringing such a fabulous a-list cast together in one film?
Naturally the original X-Men director Bryan Singer who takes this huge cinematic opportunity to reboot the X-Men franchise and include the original cast members in a mutant time travel fantasy which sees Wolverine, Storm, Raven and Magneto and Professor Xavier battling literally against time in a war to save the mutants from utter destruction at the hands of evil humans, represented by none other than Dr Bolivar Trask, wonderfully played by Peter Dinklage, whose star is clearly rising after the phenomenal success of the allegorical revenge fantasy series Game of Thrones.
Set between 1973 and presumably the present day of 2013, so a forty year time span, the original X-Men including Magneto and Professor Xavier played by Ian McKellan and Patrick Stewart send Wolverine aka Logan back forty years to confront a younger version of themselves and change a pivotal moment in history, the capture of the uniquely chameleon Raven played by Oscar winner Jennifer Lawrence from being captured by the duplicitious Trask. Wolverine with all the braun and charm of the original series gamely played by Hugh Jackman confronts a younger Xavier (a wonderful turn by James McAvoy) and convinces him to set Magneto free from a metal less prison in the heart of the Pentagon in Washington D. C.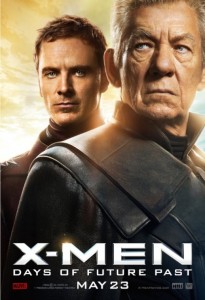 In a spell bounding special effects sequence, Xavier, Beast and Wolverine with the able assistance of Quiksilver played with charm by Evan Peters free the unpredictable Erik Lehnsherr aka Magneto and together they go in search of Raven/Mystique as she infiltrates a Vietnamese peace signing ceremony in Paris in 1973 in a bid to assassinate the formidable weapons specialist Dr Bolivar Trask who is hellbent on obliterating all mutants with new Transformeresque type machines known as the Sentinels.
The rest of the action packed hugely spectacular X-Men Days of Future Past is a time travel mutant orgy in the same vein as Marvel's film The Avengers was with a bunch of superheroes coming together to battle the evil Loki. The cast is just as spectacular and director Singer gives as much screen time as possible to the prolific actors as well as to the lesser cast members but its his lingering cinematic gaze on the gorgeous male cast including Nicholas Hoult (A Single Man) as Beast, Michael Fassbender (Shame) as Erik, James McAvoy (Atonement) as a younger Xavier that gives this superhero mutant fantasy a distinctly homoerotic quality seldom seen in other superhero films.
By their nature superheroes are slightly narcissistic (look at Man of Steel, Batman, Iron Man) but especially so in X-Men Days of Future Past. The female superheroes in this film pale in comparison to their attention grabbing male counterparts with director Singer even giving Wolverine a nude scene as he wakes up in a New York apartment overlooking Time Square in the swinging seventies.
Ultimately, X-Men Days of Future Past is a Hollywood vehicle to reboot the old X-Men franchise and breath fresh life into the cast of the younger selves seen in X-Men: First Class. The film is wonderfully retro in parts and adds to the glamour of recreating the 1970's on screen with Fassbender and McAvoy looking particularly fetching as the younger Magneto and Xavier. Gone are all the dark overtones of the earlier X-Men films and in this invigorated version, all the mutants look glossy, stylized and supremely accessible. This is a Hollywood blockbuster not just for its multitude of stars but also for the riveting special effects, never mind the convoluted narrative. A must see film for all fans of the X-Men movies and those that follow such commercial gloss with vigour.
INCEPTION
Often when you awaken from a dream, there is that split second where you are not sure if you are still dreaming or you have in fact come back to reality. Inception explores that split second and makes an ambitious two hour feature out of that very sense of disorientation.
Christopher Nolan'sdreamworld vision amplified in Inception is an impressive film by the sheer scale of invention, the pace of the action and the intricacy of the plot leaving many a viewer to ponder diverse interpretations. Isn't that what our dreams are about?  Open to diverse interpretations?
After the huge success of The Dark Knight featuring the legendary performance by Heath Ledger, Nolan had to follow up that film with an equally brilliant achievement. With a dream cast including a bunch of Oscar nominated actors from Leonardo di Caprio, to Ellen Page from Juno, to Oscar winner Marion Cotillard from La Vie en Rose supported by Michael Caine, the hugely-underrated Joseph Gorden-Levitt to Ken Watanabe, Inception follows a layered structured narrative with simultaneous action sequences occurring weaving in the notion of merging reality with dreams and how the dreamscape can shift unexpectedly. Christopher Nolan debut on the international cinema scene almost 10 years ago with the brilliant 2001 film Memento
whose central character has to shift through amnesia to discover whether he committed a murder to the more recent The Prestige followed by the phenomenal success of Batman Begins and The Dark Knight. Nolan inhabits the darker recesses of the human psyche and brings a unique quality to every film he creates.
As for his trademarks as a director, watch out for breathtaking shots of Tokyo and Mombasa and taut sequences with explosions and multiple action sequences in Inception. Now that Nolan commands the respect of Hollywood his budgets are bigger and his vision is uncompromising, he is mainstream filmmaker with a twist, coaxing superb performances out of his lead characters from Heath Ledgers unforgettably dark portrayal of the Joker in The Dark Knight to Christian Bale's tortured magician in Victorian England in The Prestige. Here in Inception, Marion Cotillard shines as Mal, Cobb's long last wife along with Leonardo di Caprio as the central character Cobb using dreams to reconstruct a voyage into his guilt-ridden past.
Inception is a film that will torment the viewer in its post-structural form and psychological interpretations are rampant, demonstrating that Nolan is influenced by some mind-altering science fiction classics like Blade Runner and Solaris, as dreams merge with reality. For the dreamscape is emotional and projections are purely there to torment the dreamer or guide them to the inner depths of an already fragmented subconscious, forcing the characters into deeper levels of their own imagination and ultimately grasping for a reality which is inconceivable. Freud would have had a field day with Inception, as dreams, memories, aging and time is altered beyond recognition into a gripping post-linear filmic structure. Like The Dark Knight, the sound editing on Inception is brilliant and is definitely worth viewing in a large surround sound theatre especially to feel and witness the enormity of the directors vision, pace and peculiarities. In The Dark Knight anarchy reigned supreme, whereas in Inception dreams merge into reality and the spinning top remains symbolic.