Posts Tagged 'Peter Dinklage'
Three Billboards outside Ebbing, Missouri
Director: Martin McDonagh
Cast: Frances McDormand, Sam Rockwell, Woody Harrelson, Abbie Cornish, Peter Dinklage, Lucas Hedges, John Hawkes, Christopher Berry, Zeljko Ivanek, Sandy Martin, Amanda Warren
Oscar winner Frances McDormand (Fargo) gives another Oscar winning performance as the tough and angry Mildred Hayes in director Martin MCDonagh's acerbic small town drama Three Billboards outside Ebbing, Missouri.
The In Bruges director paints a visceral picture of a small town populated with angry residents trapped by their own limited destinies as they battle to deal with grief, anger, death and divorce.
Featuring a phenomenally well placed cast, Three Billboards also contains stand out performances by Woody Harrelson as Chief Willoughby, Sam Rockwell as the rash and violent mama's boy cop Dixon, who exudes pent-up aggression in his posture.
There are a host of smaller roles notably played by Peter Dinklage as James, Oscar nominee John Hawkes (Winter's Bone) as Mildred's abusive ex-husband Charlie who has run off with a nineteen year old and Caleb Landry Jones (American Made, Get Out) as the Ebbing advertising manager Red Welby who unknowingly rents out the Billboards.
At the centre of this brittle portrayal of small town America is Frances McDormand as Mildred who is still grieving the rape and murder of her daughter Angela, a case still unsolved by the Ebbing police department.
Their bureaucratic ineptitude prompts Mildred to hire out Three Billboards which cast blame on Chief Willoughby and his team including Dixon and Desk Sergeant played Zeljko Ivanek.
Mildred's anger and her constant profanity to the town's population causes her relationship with her young son, Robbie, superbly played by Oscar nominee Lucas Hedges (Manchester by the Sea) to deteriorate.
Without giving away an intricate plot, Mildred's main battle comes up against Dixon, a tightly wound on point performance by Sam Rockwell who deservedly won the Best Supporting Actor Oscar.
Martin McDonagh's profane script and lively characters should have earned him an Oscar for best original screenplay but more significantly he managed to cast just the right actors in this drama which exemplify all the prejudice, bitterness and anger of being trapped in small town America which has lost touch with current socio-political trends sweeping the major cities.
Three Billboards is a powerful indictment of complacency, a brutal commentary about the violence perpetrated against women everywhere, a lot of which goes unpunished especially in provincial settings like Ebbing, Missouri which are sealed off from the nerve centres of cosmopolitan cities by their paucity and lack of economic opportunities.
It's a relevant film about vengeance, grief and guilt, sharpened by Frances McDormand's superb performance as Mildred Hayes who takes the law into her own hand, challenging authority and disrupting the status quo by hiring Three Billboards to show up the law enforcement as being incompetent idiots.
Three Billboards is highly recommended viewing, which will surely be discussed in years to come as a nerve-wracking examination of gender and social dynamics in localized communities.
The Oscar winning Three Billboards outside Ebbing, Missouri gets a film rating of 9 out of 10.
X-Men:
Days of Future Past
Director: Bryan Singer
Cast: Hugh Jackman, Jennifer Lawrence, Ian McKellan, Patrick Stewart, Halle Berry, Michael Fassbender, James McAvoy, Nicholas Hoult, Anna Paquin, Ellen Page, Shawn Ashmore, Peter Dinklage, Famke Janssen, James Marsden, Karine Vanasse, Evan Peters, Josh Helman
Which director could resist bringing such a fabulous a-list cast together in one film?
Naturally the original X-Men director Bryan Singer who takes this huge cinematic opportunity to reboot the X-Men franchise and include the original cast members in a mutant time travel fantasy which sees Wolverine, Storm, Raven and Magneto and Professor Xavier battling literally against time in a war to save the mutants from utter destruction at the hands of evil humans, represented by none other than Dr Bolivar Trask, wonderfully played by Peter Dinklage, whose star is clearly rising after the phenomenal success of the allegorical revenge fantasy series Game of Thrones.
Set between 1973 and presumably the present day of 2013, so a forty year time span, the original X-Men including Magneto and Professor Xavier played by Ian McKellan and Patrick Stewart send Wolverine aka Logan back forty years to confront a younger version of themselves and change a pivotal moment in history, the capture of the uniquely chameleon Raven played by Oscar winner Jennifer Lawrence from being captured by the duplicitious Trask. Wolverine with all the braun and charm of the original series gamely played by Hugh Jackman confronts a younger Xavier (a wonderful turn by James McAvoy) and convinces him to set Magneto free from a metal less prison in the heart of the Pentagon in Washington D. C.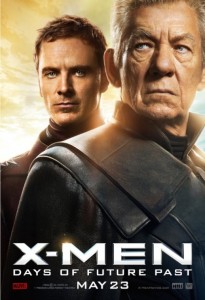 In a spell bounding special effects sequence, Xavier, Beast and Wolverine with the able assistance of Quiksilver played with charm by Evan Peters free the unpredictable Erik Lehnsherr aka Magneto and together they go in search of Raven/Mystique as she infiltrates a Vietnamese peace signing ceremony in Paris in 1973 in a bid to assassinate the formidable weapons specialist Dr Bolivar Trask who is hellbent on obliterating all mutants with new Transformeresque type machines known as the Sentinels.
The rest of the action packed hugely spectacular X-Men Days of Future Past is a time travel mutant orgy in the same vein as Marvel's film The Avengers was with a bunch of superheroes coming together to battle the evil Loki. The cast is just as spectacular and director Singer gives as much screen time as possible to the prolific actors as well as to the lesser cast members but its his lingering cinematic gaze on the gorgeous male cast including Nicholas Hoult (A Single Man) as Beast, Michael Fassbender (Shame) as Erik, James McAvoy (Atonement) as a younger Xavier that gives this superhero mutant fantasy a distinctly homoerotic quality seldom seen in other superhero films.
By their nature superheroes are slightly narcissistic (look at Man of Steel, Batman, Iron Man) but especially so in X-Men Days of Future Past. The female superheroes in this film pale in comparison to their attention grabbing male counterparts with director Singer even giving Wolverine a nude scene as he wakes up in a New York apartment overlooking Time Square in the swinging seventies.
Ultimately, X-Men Days of Future Past is a Hollywood vehicle to reboot the old X-Men franchise and breath fresh life into the cast of the younger selves seen in X-Men: First Class. The film is wonderfully retro in parts and adds to the glamour of recreating the 1970's on screen with Fassbender and McAvoy looking particularly fetching as the younger Magneto and Xavier. Gone are all the dark overtones of the earlier X-Men films and in this invigorated version, all the mutants look glossy, stylized and supremely accessible. This is a Hollywood blockbuster not just for its multitude of stars but also for the riveting special effects, never mind the convoluted narrative. A must see film for all fans of the X-Men movies and those that follow such commercial gloss with vigour.