Black Panther
Director: Ryan Coogler
Cast: Chadwick Boseman, Lupita Nyong'o, Michael B. Jordan, Sterling K. Brown, Daniel Kaluuya, Martin Freeman, Andy Serkis, Forest Whitaker, Danai Gurira, Letitia Wright, Angela Bassett, Winston Duke, John Kani
Marvel successfully diversifies its Avengers universe with an inventive self-sustaining Black Panther film. The Black Panther aka T'Challa who becomes king of the technologically advanced yet exclusive central African kingdom of Wakanda after his father T'Chaka played by South Africa's John Kani is killed in an assassination.
Creed director, Ryan Coogler assembles an all-star cast for Black Panther including Oscar winners Lupita Nyong'o (12 Years a Slave) as Black Panther's love interest, the beautiful and noble Nakia as well as Forest Whitaker (The Last King of Scotland) as Zuri along with Angela Bassett as Black Panther's regal mother and Queen of Wakanda, Ramonda.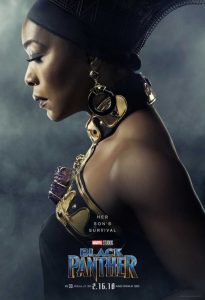 Black Panther has to fight off the likes of a crazy South African mercenary Ulysses Klaue dubiously played with a terrible accent by Andy Serkis (War for the Planet of the Apes) attempting to steal smuggled vibranium from Wakanda at a buying exchange in Busan, South Korea, a scene in the film which is both brilliantly shot and innovatively orchestrated with a virtual reality car chase sequence.
Back on African soil, T'Challa soon realizes that the real enemy is the American born Erik Killmonger wonderfully played by Michael B. Jordan (Fantastic Four). With the able assistance of his cheeky sister Shuri fantastically played by British-Guyanese star Letitia Wright, Black Panther manages to fight Killmonger in a noble duel about the paternal claim to be the future King of Wakanda.
Director Ryan Coogler ingenuously incorporates lots of African tribalism and cool technology into Black Panther however he does take the superhero genre too seriously by unashamedly politicizing it. This is the Avengers after all, which Spiderman has just joined. Superhero movies are meant to be pure escapism, which is precisely why director Taika Waititi's Thor: Ragnorak was such a refreshingly funny movie.
What remains to be seen is how effectively Black Panther will be blended into the mainstream Avengers films with the new Avengers: Infinity War opening soon. Chadwick Boseman is not as convincing as the main hero, Black Panther as his counterpart Michael B. Jordan who relishes playing the ruthless villain.
Lupita Nyong'o holds her own and kicks some butt in Black Panther as does rising star Letitia Wright who is an actress to watch out for. Golden Globe winner Sterling K. Brown has a minor role while Oscar nominee Daniel Kaluuya (Get Out) is suitably untrustworthy as Black Panther's best friend and Wakanda protector W'Kabi.
Whether the much hyped Black Panther's initial success in African cinemas is translated commercially to international audiences globally remains to be seen, yet the effort and rejuvenation of the highly anticipated Black superhero genre is applauded and provides starring roles for a host of African-American stars who have been clamouring for their own identifiable superhero film.
Marvel fans that enjoyed Captain America: Civil War and The Avengers franchise will certainly appreciate Black Panther, despite some uneven performances. At least now there is a guaranteed diversity of fans attending Comic-Con especially since its coming to Johannesburg in late 2018.
For all its vibrant celebrations of African culture, Black Panther gets a film rating of 7 out of 10.
Captain

America

: Civil War
Director: Anthony and Joe Russo
Cast: Robert Downey Jr, Chris Evans, Scarlett Johansson, Elizabeth Olsen, Daniel Bruhl, Anthony Mackie, Jeremy Renner, Chadwick Boseman, William Hurt, Paul Bettany, Martin Freeman, Tom Holland, Alfre Woodard, Frank Grillo, Don Cheadle, Sebastian Stan, Paul Rudd, Emily Van Camp, John Kani, Marisa Tomei
I was never a fan of superhero comics as a kid, but as an adult, the superhero films have captured my imagination. Who can forget The Dark Knight Trilogy by Christopher Nolan who reinvented Batman? Or the recent Batman v Superman blockbuster by Zack Snyder, a sure precursor to the Justice League films set for release in 2017 and 2018?
Moving away from DC comics, their direct rival Marvel has expanded their superhero universe exponentially and in the third installment of Captain America: Civil War, a more iconic superhero pops up, Spiderman curtesy of a Marvel and Sony sharing agreement to reinvent Spiderman within The Avengers universe. Smart move on the part of Marvel and especially Sony whose two previous Spiderman reincarnations were faltering: The Amazing Spiderman and its psychedelic sequel.
Captain America: Civil War features a plethora of superheroes, so many in fact that the inevitable showdown which the title refers to is quite spectacular to behold.
Captain America leads the one camp as he defends his friend Bucky Barnes aka The Winter Soldier, played by Sebastian Stan along with the help of Sam Wilson, aka The Falcon played by Anthony Mackie (The Hurt Locker, Antman), Antman played by the hilarious Paul Rudd, Hawkeye returning from retirement played by the roguish Jeremy Renner.
The other camp is headed up by opinionated tech billionaire Iron Man, wonderfully played again by Robert Downey Jnr, joined by the War Machine played by Don Cheadle (Iron Man 2) and Black Widow played by Scarlett Johansson. Tony Stark aka Iron Man also enlists the help of a young and precocious Peter Parker, wonderfully played by young British actor Tom Holland (The Impossible) as he reinvents Spiderman promising an energetic reinvention when Holland will appear in his stand alone film called Spiderman: Homecoming.
Adding some much needed diversity to The Avengers universe, Black Panther played by Chadwick Boseman (Gods of Egypt), who is also starring in his own origin Black Panther film coming in 2018 also joins team Iron Man as he aggressively fights Bucky Barnes who he believes is responsible for the death of his father, a suitable cameo by South African acting legend John Kani (Coriolanus, The Ghost and the Darkness).
While the Clash of the Superheroes is spectacular and at times appears like a spandex orgy it is really Daniel Bruhl (Rush, Woman in Gold) as the master villain Zemo who has instigated the division between the Avengers as revenge for what occurred in The Avengers: The Age of Ultron, in which his whole family was killed in a supernatural skirmish in some fictional East European country.
Captain America: Civil War is a superb superhero film as the Russo brothers who direct this third instalment of the Captain America trilogy dexterously managing to combine all these diverse superheroes in a brilliant duel whilst also introducing some new and iconic characters. Fans of Iron Man, Ant Man and all The Avengers films will relish this caper standoff sure to capture the imaginations of many Comic con fans and paving the way for Marvel's relentless cinematic expansion of all their gang of masked crusaders, a sure rival to DC Comics Justice League, although both superhero franchises will definitely benefit financially at the box office.
Captain America: Civil War is highly recommended viewing especially for some superb cameos by seasoned character actors including William Hurt, Alfre Woodard, Martin Freeman and Marisa Tomei.