Posts Tagged 'Timothee Chalamet'
Call Me by Your Name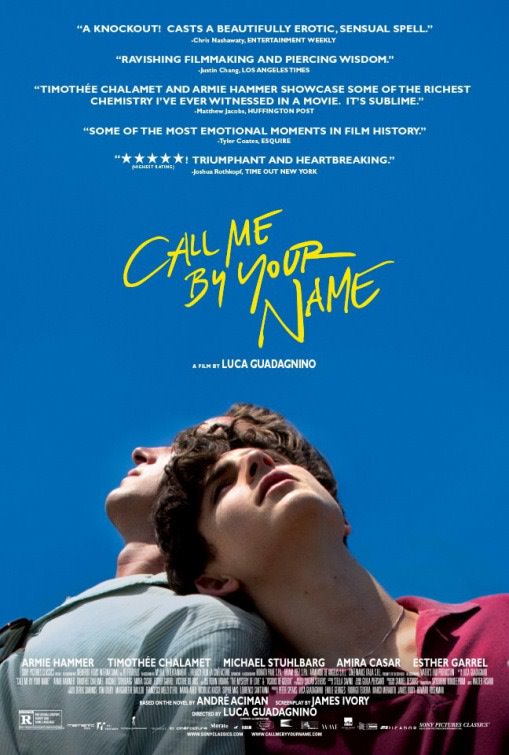 Director:  Luca Guadagnino
Cast: Timothee Chalamet, Armie Hammer, Michael Stuhlbarg, Amira Casar, Esther Garrel, Victorie du Bois
Andre Aciman's sensuous 1988 debut novel Call Me by Your Name is skilfully adapted into a superb screenplay by James Ivory of Merchant Ivory fame and beautifully brought to the big screen by Italian director Luca Guadagnino.
Call Me by Your Name centres on the erotic summer romance of Elio, a young Jewish Italian boy discovering the essence of his sexuality and his parents American house guest, a 24 year old American classics student Oliver wonderfully played by Armie Hammer (The Man from Uncle) in possibly his best on screen role yet, who is staying with the family in the summer of 1983 as a cultural exchange.
It is the break out performance of star Timothee Chalamet as the restless Elio which is the cinematic revelation and as he deftly centres the film in all its beauty skillfully conveying the nonchalance of youth and his perpetual desire for self-discovery.
Elio's parents Mr Perlman played by Michael Stuhlbarg (The Shape of Water) and Annella played by Amira Casar who are a liberal and fairly affluent Italian couple who allow their only son, young Elio all the indulgences of youth.
Director Luca Guadagnino sumptuously captures the Italian country summer creating a gorgeous landscape for Elio and Oliver to indulge in an intimate and erotic affair which is tenderly portrayed without moral judgement or vulgarity, a beautiful depiction of sexual discovery and emotional resonance made poignant by the brevity of their idyllic romance.
In a particularly insightful scene between Elio and his compassionate father, Mr Perlman utters the significant line: "Nature has a cunning way of finding our weakest spot."
Timothee Chalamet captures all the confusion and emotional insecurity of his various sexual encounters with a luminosity seldom seen in cinema today. Chalamet is indeed a star to watch out for. The luxuriant and lingering tone of the film transports audiences into a languid Italian summer, a beautiful sensuous stupor which they will find difficult to relinquish even as the closing credits appear on the screen.
Call Me by Your Name is beautifully acted particularly by its two male leads and superbly shot, making the film a mesmerizing cinematic experience. There are very few films being produced like this today and Luca Guadagnino captures that visual rarity of a first love on screen with a tenderness and beauty which is reminiscent of the Roman statue from antiquity emerging from Lake Garda.
Audiences that enjoyed the early Merchant Ivory films like Maurice and A Room with a View will love Call Me by Your Name.
This evocative film gets a rating of 9.5 out of 10 and is one of the most exquisite films I have seen aided by an equally brilliant soundtrack.
Interstellar
Director: Christopher Nolan
Cast: Matthew McConaughey, Anne Hathaway, Jessica Chastain, Michael Caine, John Lithgow, Casey Affleck, Matt Damon, Wes Bentley, Ellen Burstyn, David Oyelowo, Topher Grace, Timothee Chalamet
Memento meets Gravity in director Christopher Nolan's epic space opera, Interstellar, a convoluted time travel astrophysical fantasy about a NASA astronaut who gets caught up in a mission to travel to an alternative Galaxy in a bid to save the remaining humanity on earth from a dwindling supply of oxygen.
Assembling an all star cast is what director Nolan does best at insuring that his films have credibility as a blockbuster and with a range of stars, yet unlike Inception or The Prestige, his earlier films which dealt with dreams and magic, Interstellar tends to emulate the great director Stanley Kubrick's masterpiece: 2001: A Space Odyssey, yet falls short of its celestial aspirations, by not being a touch more sinister.
In parts, Interstellar is brilliant and ambitious, wonderfully scored with atmospheric music by Hans Zimmer and incredibly shot with those signature spiralling shots that Nolan is so fond of. However, Interstellar suffers from two shortcomings, taking the films weighty significance too seriously and secondly a serious lack of editing. The first and last sections of Interstellar weighs down the brilliance and absolute clarity of the middle section.
With McConaughey fresh from his Oscar win on Dallas Buyers Club coupled with Hathaway fresh from her win in Les Miserables it seems like a perfect casting choice, but it's flawed by its very contrivance. The part which does stand out so brilliantly is that of Murphy superbly played by the underrated Oscar nominee Jessica Chastain as Cooper's grownup and embittered daughter who is hell bent in following in her father's footsteps and traveling beyond the black hole to discover the reason for the earth's imminent demise. Watch out for cameo appearances by Ellen Burstyn, Wes Bentley and David Oyelowo.
Fellow Oscar nominee Casey Affleck is also good as the stubborn yet stoical brother of Murphy in a part which is severely underwritten along with that of Oscar winner Michael Caine as Professor Brand who plays Hathaway's enigmatic father, a scientist who masterminds the space exploration from the outset knowing that the intended consequences of such a doomed mission are dire and certainly revelatory at best.
Interstellar 's post-structural narrative gets more blurred, the further the astronauts travel through a celestial wormhole, around a vast system known as Gargantuan, soon realizing that their mission much like their own destiny is doomed to fail, resulting in a multitude of Lazarus missions.
The only subversive element is a rescued astronaut Mann, wonderfully played by Matt Damon, found on a frozen wasteland of a planet which seems to be the only alternative to the dust clad environment of a doomed earth, who is wily in his attempts to escape his icy predicament.
With a script by Jonathan Nolan, Interstellar suffers from too little said and not enough explained, while most of the narrative rests on some remarkably clever visual clues which only make sense in the last section of the film, which resembles a pastiche of Inception mixed with an unquantifiable mystical factor.
The cast with a threadbare script had little else to work on besides their own doomed destinies and the terrors of space. Thus there is loads of human anguish thrown in along with some stunning visuals, but at nearly three hours long Interstellar could have been expertly edited to make a more concise tale of 21st century doomed space exploration. Besides Anne Hathaway just doesn't cut it as an astronaut and should stick to period dramas, where at least the claustrophobia is explained by historical context and not subliminal infinity.
As an avid fan of Christopher Nolan films and trust me I loved The Dark Knight Trilogy and Inception, I personally found Interstellar fascinating yet an ultimately flawed and slightly contrived piece of cinema crippled by its unendurable length, without enough plot twists to generate sufficient audience excitement. Like Inception, Interstellar will certainly be open to discussion.