Posts Tagged 'Anthony Hopkins'
93rd Academy Awards took place on Sunday 25th April 2021 at the Dolby Theatre in Hollywood, the Union Station in Los Angeles, California and at The British Film Institute in London, United Kingdom
Best Picture: Nomadland
Best Director: Chloe Zhao – Nomadland
Best Actor: Anthony Hopkins – The Father
Best Actress: Frances McDormand – Nomadland
Best Supporting Actor: Daniel Kaluuya – Judas and the Black Messiah
Best Supporting Actress: Yuh-Jung Youn – Minari
Best Original Screenplay: Emerald Fennell –Promising Young Woman
Best Adapted Screenplay: Florian Zeller and Christopher Hampton – The Father
Best Cinematography: Erik Messerschmidt – Mank
Best Costume Design: Ann Roth – Ma Rainey's Black Bottom
Best Make up & Hairstyling: Ma Rainey's Black Bottom
Best Visual Effects: Tenet
Best Film Editing: Mikkel E. G. Nielsen – Sound of Metal
Best Sound: Sound of Metal
Best Production Design: Mank
Best Documentary Feature: My Octopus Teacher (South Africa)
Best Documentary Short Subject: Colette
Best Live Action Short Film: Two Distant Strangers directed by Trevon Free and Martin Desmond Roe
Best Original Score: Trent Reznor, Atticus Ross and Jon Bastiste – Soul
Best Original Song: Fight for You – Judas and the Black Messiah
Best Animated Feature Film: Soul
Best Animated Short Film: If Anything Happens I Love You
Best Foreign Language Film: Another Round – directed by Thomas Vinterberg (Denmark)
Took place on Sunday 11th April 2021 at the Royal Albert Hall in London, England
Best Film: Nomadland
Best Director: Chloe Zhao
Best Actor: Anthony Hopkins – The Father
Best Actress: Frances McDorman – Nomadland
Best Supporting Actor: Daniel Kaluuya – Judas and the Black Messiah
Best Supporting Actress: Yuh-Jung Youn – Minari
Best British Film: Promising Young Woman
Best Original Screenplay: Emerald Fennell – Promising Young Woman
Best Adapted Screenplay: Christopher Hampton and Florian Zeller – The Father
Best Costume Design: Ma Rainey's Black Bottom
Best Visual Effects: Tenet
Best Foreign Language Film: Another Round directed by Thomas Vinterberg (Denmark)
The Father
Director: Florian Zeller
Cast: Anthony Hopkins, Olivia Colman, Rufus Sewell, Olivia Williams, Imogen Poots, Mark Gatiss
Film Rating 9.5 out of 10
French playwright Florian Zeller, deftly converts his play about a father suffering from dementia into a beautifully wrought and touching film called The Father featuring two absolutely brilliant performances by Oscar winner Anthony Hopkins (The Silence of the Lambs) as Anthony, a retired engineer living in a plush London apartment and his daughter Anne played in a heart wrenching performance by Oscar winner Olivia Colman (The Favourite).
Sir Anthony Hopkins at the age of 83 inhabits every frame of this beautiful film, as the ageing Anthony, deceptively clinging onto an imagined reality which is forever shifting, an emotional minefield made treacherous and poignant by the enduring love of his daughter Anne, who has to not only take care of her father but make the extraordinarily difficult decision to place her father in a care facility so that she can continue with her life.
Hopkins won the 2021 Best Actor Oscar for this film. His performance is incredible, utterly nuanced and touching, at once witty and incorrigible but endearing and extremely moving.
Olivia Colman is also extraordinary, conveying all the emotional difficulty of a middle aged daughter who is desperate to move on with her life, especially at the urgent request of her charming but ruthless husband Paul played by Rufus Sewell (The Illusionist, A Knight's Tale, Judy).
What makes The Father such an impressive film is the complex script co-written by Oscar winning screenwriter Christopher Hampton (Dangerous Liaisons) along with Florian Zeller and the ever-shifting non-linear narrative is expertly edited by Yorgos Lamprinos, deceptively drawing the audience into a world which is both imaginary and instantly recognizable. The last battle ground in a family is always the home.
Significantly, The Father is a sharp and relevant film commenting on how the elderly are treated and how they can suffer emotionally, psychologically and mentally, without fully grasping what is happening to them. How this old age deterioration of dementia can have a devastating effect on their children.
Intelligently acted and elegantly crafted, The Father is a stunning work of dramatic art expertly transferred to the cinema.
Based on the play by Florian Zeller, The Father is a masterclass of screen acting and gets a film rating of 9.5 out of 10. Highly recommended viewing.
The Two Popes
Director: Fernando Meirelles
Cast: Anthony Hopkins, Jonathan Pryce, Juan Minujin, Luis Gnecco, Cristina Banegas, Sidney Cole, Libero de Rienzo
Please note The Two Popes is only available on Netflix and did not receive a comprehensive theatrical release.
Brazilian director Fernando Meirelles (Constant Gardener, City of God, 360) brings us a sumptuous glimpse into the conclave or the voting of a new Pope behind the magnificent walls of the Vatican City in Rome in his latest Netflix film The Two Popes starring Oscar winner Anthony Hopkins (The Silence of the Lambs) as Cardinal Ratzinger who become Pope Benedict and Jonathan Pryce (The Wife, Carrington) as the Argentinian Cardinal Jorge Bergoglio who eventually becomes Pope Francis.
The Two Popes focuses on a clash of ideals between a conservative Cardinal Ratzinger expertly played by Hopkins who is intent on holding the Catholic church back from any contemporary reforms or even discussing any recent controversies that have recently tainted the Catholic Church including the sexual abuse scandal which the Oscar winning film Spotlight so brilliantly explored in the American archdiocese in Massachusetts and in other states.
Cardinal Bergoglio superbly played by Jonathan Pryce is a progressive thinking Cardinal who would like to make the Catholic Church accessible to the impoverished masses especially in Latin America where Catholicism dominates so proficiently.
Bergoglio has endured his own dark history in Argentina as he desperately tried to protect the left wing subversive Jesuit priests in Buenos Aires from a brutal right wing military junta which gained power in Argentina in a 1976 coup killing thousands of dissidents known as The Dirty War: https://en.wikipedia.org/wiki/Dirty_War .
Controversially, Bergoglio was viewed in his own country as compromising with the military junta and was exiled in Argentina for many years as punishment for colluding with a regime which forced thousands of people to disappear in Argentina's most brutal decade until democracy was eventually restored in 1983 following the Argentine military defeat by the British during the Falklands War.
The younger Jorge Bergoglio is wonderfully played by Argentinian actor Juan Minujin (Focus) as he deals with the moral dilemma of remaining true to his faith while supposedly appeasing a harsh military dictatorship.
With an insightful script by Anthony McCarten, the most rewarding scenes in The Two Popes are the brilliant scenes between Cardinals Bergoglio and Ratzinger as the older Cardinal announces his intention to renounce the papacy. Both Anthony Hopkins and Jonathan Pryce nail their roles as the respective diametrically opposed Cardinals, speaking in multiple languages who form a formidable bond over Roman pizza and Argentinian football.
The Two Popes is a stunning portrait of two men who hold the fate of the entire Catholic world in their hands yet seemingly toy with subjects ranging from confession to modernization while both revealing their own inner demons. Fernando Meirelles directs the film with his usual visual flourish as the action alternates between the lavish grandeur of the Vatican City to the bustling metropolis of Buenos Aires.
The Two Popes is a stunning portrait of two men who hold the fate of the entire Catholic world in their hands yet seemingly toy with subjects ranging from confession to modernization while both revealing their own inner demons. Fernando Meirelles directs the film with his usual visual flourish as the action alternates between the lavish grandeur of the Vatican City to the bustling metropolis of Buenos Aires.
Thor

:

Ragnarok
Director: Taika Waititi
Cast: Chris Hemsworth, Mark Ruffalo, Tom Hiddleston, Cate Blanchett, Anthony Hopkins, Jeff Goldblum, Idris Elba, Tessa Thompson, Benedict Cumberbatch, Karl Urban, Ray Stevenson, Scarlett Johansson, Luke Hemsworth, Sam Neill, Taika Waititi
New Zealand director Taika Waititi was Oscar nominated back in 2005 for his Live Action Short film Two Cars, One Night.
Marvel Studios recruited him to inject new life into the Thor films and that he certainly does with Thor: Ragnarok, a neon inspired family feud of mythical proportions featuring Thor played again by hunky Australian actor Chris Hemsworth along with his pesky brother Loki played by Tom Hiddleston and new addition to the family Hela played with vampish delight by Oscar winner Cate Blanchett (The Aviator, Blue Jasmine).
Thor returns to Asgard only to discover that Loki has banished Odin, their father to a virtual retirement home. Upon a brief visit, the brothers discover that Odin, wonderfully played with a sombre delight by Oscar winner Anthony Hopkins (The Silence of the Lambs) has got an elder daughter Hela who was banished from Asgard for being the Goddess of Death and wreaking havoc on the nine realms.
Cate Blanchett relishes her role as Hela, the Goddess of Death, inspired by Maleficent and certainly quite intent on destroying her defiant younger brothers.
Thor and Loki land up on a weird dystopian outer planet overseen by the demonic Grand Master, a superbly camp performance by Jeff Goldblum (Jurassic Park, Independence Day), who immediately instructs Thor to fight in a massive arena against a formidable beast: The Hulk. Enter Bruce Banner aka The Hulk, played with bewildering amusement by Mark Ruffalo (The Avengers, Foxcatcher, Spotlight).
Eventually Thor gets Loki, The Hulk and a hard-drinking Valkyrie played by Tessa Thompson last seen in the HBO series Westworld, to return to Asgard to defeat the demonic Hela who is assisted by a reluctant henchman Skurge played by Karl Urban (Dredd, Star Trek and The Loft).
The only criticism is that the middle section of Thor: Ragnarok detracts from the film's central narrative, which is essentially a legendary family conflict.
Thor: Ragnarok is a fun-filled comic book film which thankfully does not take itself or the characters too seriously and is a clear indication that Marvel films are definitely trying to create memorable characters for the lucrative toy manufacturing market just before Christmas.
As with all the latest Marvel films, franchise opportunities abound. Thor: Ragnarok is light-hearted and hellishly entertaining. Audiences should look out for a great cameo by Benedict Cumberbatch reprising his role as the illusive Doctor Strange.
If audiences enjoyed The Avengers and the first two Thor films, then they will definitely savour Thor: Ragnarok which is comically inspired from another Marvel hit franchise, The Guardians of the Galaxy.
Thor: Ragnarok gets a film rating of 7.5 out of 10.
Noah
Director: Darren Aronofsky
Cast: Russell Crowe, Jennifer Connelly, Emma Watson, Logan Lerman, Ray Winstone, Anthony Hopkins, Douglas Booth, Nick Nolte
Oscar winners Russell Crowe (Gladiator) and Jennifer Connelly team up again after their successful onscreen pairing in Ron Howard's A Beautiful Mind, in Black Swan director Darren Aronofsky's allegorical tale Noah, which has less to do with the bible story and more to do with humanity propensity for destroying the planet.
This visually packed tale of Noah, the ark and the great flood which ensues is inventive, patriarchal and slightly disappointing considering Aronofsky's reputation for turning out shocking, if not provocative films like Requiem for a Dream, The Wrestler and his most successful film yet Black Swan, which earned Natalie Portman a Best Actress Oscar in 2011.
Russell Crowe looks increasingly perplexed throughout the film of Noah, almost if he knew this cinematic tale might turn out controversially. The script is stilted and not thrashed out properly and even though the film is in 3D, many of the characters are one dimensional. Which is a pity considering that Aronofsky smaller films do focus on flawed characters trying to grapple with their own success or failure.
British actor Ray Winstone as Tubal-cain and Logan Lerman as Noah's son Ham stand out in the acting stakes in this version of Noah, while Crowe, Connelly and even Emma Watson come across as pathetic individuals caught up in an event greater than their own destinies, even though their destinies are tied in with the flood which devastated a ravaged earth, thanks to the descendants of Cain, who have wrecked havoc on the planet's natural resource.
The whole dynamic of the creation narrative rests on  conflict. Adam and Eve enter the Garden of Eden and are confronted by temptation in the form of a serpent. Their children Cain and Abel battle jealousy and envy with Cain killing Abel, leaving a third brother Seth, of which Noah is descended to recover the familial equilibrium. Then the Creators Wrath returns and after a prophesy from Noah's Grandfather, a wizened Anthony Hopkins that he should build an ark to survive the impending flood, Noah sets his three sons on a mission to complete a gigantic arc to save themselves and a handful of creatures so that a new population can inhabit a cleansed earth. The irony is that Director Aronofsky should not convince big budget Hollywood to give him free reign on an essentially biblical story.
Purists would not be pleased at the cinematic result which is Noah, not to mention that the narrative does not withstand the special effects and somewhere in between the flood, the entire plot is lost. Noah is an overlong allegorical and patriarchal tale with a hint of biblical connotation but is no cinematic masterpiece. Director Aronofsky should return to making small budget shocking films like the psycho sexual ballet thriller, Black Swan. Even Oscar nominated cinematography Matthew Libatique's trademark sheen is lost on the 3D version of Noah.
If Noah had been less about visual effects and more about a conceivable plot, then the film would have been vaguely interesting. Even Emma Watson's (The Bling Ring) turn as Ila, Noah's eldest son's girlfriend and mother-to-be is not nearly as captivating. Where is all the sex, debauchery and shock value normally associated with Aronofsky films?  Noah is fascinating, but not fantastic cinema and would be better if left in 2D with a more fleshed out, stimulating narrative. Noah also stars Douglas Booth and unrecognizable Nick Nolte.
Thor:

The Dark World
From Asgaard to Greenwich, Thor and his hammer are back in the Marvel sequel Thor: The Dark World, moving the action from the arid plains of New Mexico to the nine universes along with London and Stonehenge. The immensely successful Thor in 2010 directed by Kenneth Brannagh assembled a fabulously competent cast including Oscar Winners Anthony Hopkins (Silence of the Lambs) as Thor's father Odin, King of Asgaard and Natalie Portman (Black Swan) as physicist Jane Foster along with Rene Russo as Thor's mother Frigga and Shakespearian actor Tom Hiddleston as malevolent and destructive brother Loki.
Thor: The Dark World reassembles this cast along with Kat Dennings of Two Broke Girls TV series fame as the sharp talking Darcy Lewis for some comic relief, Stellan Skarsgaard as the mad scientist Erik Selvig seen running naked around Stonehenge and newcomer Christopher Eccleston as Malekith the evil Dark Elf who is bent on destroying all known universes through an ethereal substance known as Aether which has the power to envelope all worlds in eternal darkness constituting a thoroughly poisonous universe.
Moving the action from sunny New Mexico in Thor to murky and grey England was a smart move for Thor: The Dark World, however this sequel whilst it has stunning visual effects but not quite to the same level as Zach Snyder's Man of Steel, is certainly entertaining as superhero films go that the rival  Marvel studios are successfully releasing in quick succession after the huge commercial success of The Avengers and Iron Man 3.
Needless to say much of the action of Thor: The Dark World does not take place on earth so the plot is mostly action driven and there is naturally very little new character developments in the various CGI created universes with elegant and glossy Asgaard  taking the centre stage. Chris Hemsworth is naturally good as Thor, a role that will surely become synonymous with his name, but his real acting can be seen in films like Rush. Natalie Portman is fantastic and Anthony Hopkins is going through the character motions. Tom Hiddleston is brilliant as the ambivalently evil Loki set on revenge for his incarceration on Asgaard and look out for rising star Idris Elba as the celestial Asgaard gatekeeper Heimdall.
Basically Thor: The Dark World has stunning visuals, lots of action, a twisted plot without too much characterisation and basically retains its popcorn teenage audience that all the Marvel films are aiming for.
For fans of Thor, this glossy sequel not as tightly directed by Alan Taylor is thin on plot, and will not disappoint fans of the hammer wielding hunk who is part of the Avengers group. Watch out for a brief cameo by Chris Ryan as Captain America. The action is fantastic but not on the level of Pacific Rim or Man of Steel. Also starring Zachary Levi from Chuck fame along with Ray Stevenson and Jaimie Alexander. See Thor: The Dark World in a 3D cinema if possible.
RED 2
Retired and Extremely Dangerous
Director: Dean Parisot
Cast: Bruce Willis, Anthony Hopkins, Catherine Zeta-Jones, Helen Mirren, John Malkovich, Mary-Louise Parker, Neal McDonough, Steven Berkoff, David Thewlis, Byung-Hun Lee, Tim Pigott-Smith, Brian Cox
Despite the inherent violence in the film's narrative, Red 2 is an enjoyable yet not particularly lucid sequel to the 2010 hit Red, which stands for Retired and Extremely Dangerous. Both films are inspired by DC Comics so that should give the audience an indication of what to expect: lots of action, globetrotting assassins and a convoluted story line with a dash of witty one liners.
Considering the calibre of the cast of Red 2, including Oscar Winners Catherine Zeta-Jones (Chicago), Anthony Hopkins (The Silence of the Lambs) and Helen Mirren (The Queen) along with the main stars, Bruce Willis, the fabulous Oscar nominee John Malkovich (Dangerous Liaisons) and Mary-Louise Parker (Red Dragon), this sequel's script could have been sharper. Although thankfully the female stars do elevate the narrative beyond another sort of The Expendables type film, featuring all male action stars over 45 slugging it out with an armoury that could annihilate a small eastern European country. Director Dean Parisot goes for violence over sophisticated repartee, which is a great pity considering the cast he had at his disposal.
Red 2 is hugely entertaining but could have had a less complicated narrative and the action could have been diluted more effectively. There is the perennial car chase scene in Paris (straight out of A View to a Kill), the Kremlin scene in Moscow, straight out of countless spy movies and the more recent A Good Day to Die Hard and an aerial chase sequence across London's slate grey skyline which is definitely inspired by the Bond franchise.
If audiences have not seen Red, then its best to see that first before seeing Red 2, but the premise is simply about an international group of retired spies and assassins (ex CIA, Mi6, Russian intelligence) who inadvertently stumble on a a plan to activate a so-called forgotten nuclear device in Moscow codenamed Project Nightshade after it was left there during the Cold War by a rogue American spy unit. The globe hopping from suburban America to London, Paris and Moscow is great but comically inspired and nothing as brilliant as the elegant cityscape changes seen in Skyfall.
Red 2 also features Byung-Hun Lee as a knife-wielding assassin last seen in GI Joe, Retaliation along with Neal McDonough as the vicious agent Jack Horton, but it is really Mary-Louise Parker's performance which lifts Red 2 out of Comic book banality  as the sharp and sassy Sarah, girlfriend to Frank Moses played by Bruce Willis who is always hankering for more adventure and glamour, spicing up their crumbling romance.
Look out for a hilarious scene at the end of the film set in Caracas. Anymore details, then that would give the game away. Also featuring a briefly seen Steven Berkoff and David Thewlis as the Frog, a Wikileaks inspired classified intelligence hacker. Red 2 is fun viewing, heavy on action, light on content and plausibility!
Hitchcock
In a similar vein that Simon Curtis's film My Week with Marilyn  depicted the events surrounding the filming of the Monroe and Olivier 1957 picture The Prince and the Showgirl, Sacha Gervasi's brilliant film Hitchcock traces the making of Psycho, one of the most pivotal horror films ever made by the legendary director Alfred Hitchcock.
Academy Award winners Anthony Hopkins with lots of prosthetic makeup brings the corpulent Alfred Hitchcock to cinematic life, along with Helen Mirren as his brilliant, sharp-witted wife Alma Reville. Hitchcock centres on how the director and Alma embark on making one of the most shocking films of the time, Psycho.
Hitchcock opens with the 1959 premiere of North by Northwest and the legendary director is restless for a departure from the thriller genre, searching for a more captivating project. Soon Hitchcock reads the 1959 novel Psycho by Robert Bloch based on a documented case of a Wisconsin serial killer and grave robber Ed Gein (played by Michael Wincott in Hitchcock) who terrorized the mid-West in the late 1950's cutting up female corpses in a farmhouse in a serious attempt to deal with his mother issues http://en.wikipedia.org/wiki/Psycho_%281960_film%29.
Alfred Hitchcock is naturally drawn to such a macabre and brutal story and plans to make a shocking film version.
Without the financial backing of Paramount Studios, Hitchcock and Reville put up their own money to finance the picture and the casting begins… Scarlett Johansson (Girl with a Pearl Earring, The Black Dahlia) returns to form as the voluptuous actress Janet Leigh and James D'Arcy (W/E) plays Anthony Perkins along with Jessica Biel (Easy Virtue) as the more conventional actress Vera Miles. Michael Stuhlbarg (A Serious Man) is Hitchcock's faithful agent Lew Wasserman and what follows is a fascinating film about the turmoil of making Psycho, but really focusing on the unique collaborative and at times difficult relationship between Alfred Hitchcock and his brisk, intelligent wife Alma Reville superbly played by Mirren.
Reville collaborated with Hitchcock on many of his films, often rewriting the final scenes of some of his films and was a solid supporter of all his trademark direction. Hopkins is wonderful as Hitchcock who plays the portly director subtly balancing caricature and genius, whilst also revealing his flaws as a sixty year old man who fraught with jealous and suspicion makes one of the most shocking films of his career.
For cinema enthusiasts, Hitchcock whilst skilfully depicting all the stages of film making  from conceptualization and casting, to editing and distribution is a delight as it shows in stylish detail how Psycho despite  all the obstacles ranging from the censorship board to the limited distribution was eventually completed. At the heart of the production was the wonderfully brisk collaboration between Hitchcock and Alma who had to insure that their personal investment in Psycho produced a spine chilling cinematic achievement, one that the audiences would never forget.
A lot of the success of Psycho (1960) was in how the film was edited as Hitchcock returned to a form of American minimalism whilst exploring the murky world of psycho-sexual obsessions from voyeurism to suppression, resulting in absolute rage and brutal murder. The infamous shower scene at the Bates Motel in which Janet Leigh is stabbed by Anthony Perkins is wonderfully recreated and in the editing suite is cut viciously to a horrific musical score after Hitchcock shot the scene from seven different camera angles and not to mention actually physically frightening Leigh himself just to capture the shock factor.
The best line in the film is when Hitchcock is talking to a neurotic screenwriter Joseph Stefano and asks him why he goes to daily psychoanalysis and the answer is
"Oh, the usual reasons: Sex, Rage, My Mother!"
Essentially Hitchcock is a intelligent drama with an edgy script almost comically depicting  how one of the most legendary film directors of that era changed the face of cinema forever with the help of his  quick-witted sophisticated wife Alma Reville. The first time onscreen pairing of Hopkins and Mirren is superb as they portray the intelligent and complex power couple and ably assisted with a great supporting cast, along with Danny Huston as a charming screenwriter Whitfield Cook and Toni Colette as Hitchcock's loyal secretary Peggy Robertson making Hitchcock a must see for all serious film lovers . Disturbing, quirky and definitely recommended viewing, Hitchcock is a must!
Three Sixty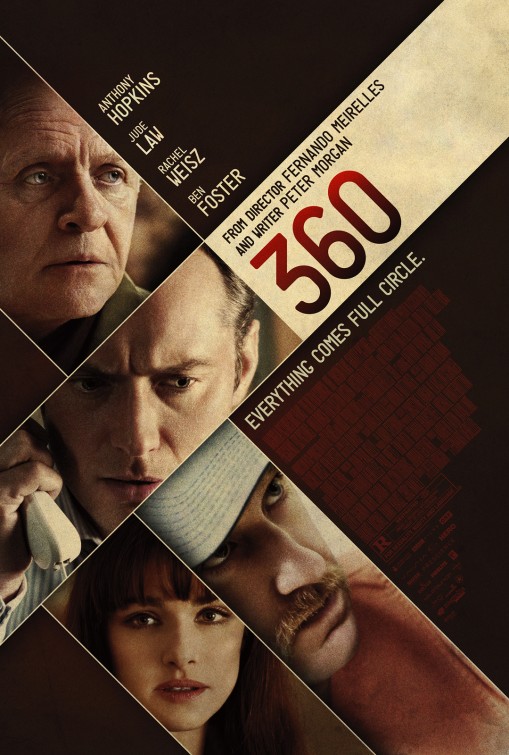 From the Brazilian Director Fernando Meirelles whose previous films include the Oscar-winning adaptation of the John le Carre novel, The Constant Gardner and the highly acclaimed City of God, comes his latest film Three Sixty collaborating with Oscar winning scriptwriter Peter Morgan (The Queen) who deftly interweaves a complex narrative tapestry focusing on humanity's ever spinning carousel of desires connecting each character around the world. Three Sixty premiered at the 2011 London International Film Festival and the 2012 Durban International Film Festival and is a brilliant virtuoso look at how humanity is connected through love, weakness, temptation and sex.
Three Sixty features an international cast and is a series of interconnected character studies set in Vienna, Bratislava, Paris, London, Denver and Phoenix and includes wonderful yet brief performances by Rachel Wiesz, who garnered an Oscar for Best Supporting Actress in The Constant Gardner, Jude Law, Ben Foster, Marianne Jean-Baptiste (Secrets and Lies) and Oscar winner Anthony Hopkins as well as a host of lesser known Eastern European, Brazilian and French stars.
Three Sixty is a thought-provoking look at how sexual desire traverses all geographical boundaries while love, temptation, blackmail and infidelity abound around the globe connecting all nationalities, cultures and religions. Watch out for a wonderful performance by Anthony Hopkins as a recovering alcoholic searching for his missing daughter in Phoenix, Arizona or Jude Law as a less than proper British business man Michael Daly being caught in a web of blackmail in Vienna and Rachel Wiesz as his wife Rose who is far from faithful back in London.
The real star of the film is Ben Foster in a superb cameo as a shaven-head ex-con Tyler, recently paroled sex offender stranded in the snowbound Denver International Airport en route to Phoenix struggling with his inner demons. Russian actor Vladimir Vdovichenkov makes an impression playing Sergei a Russian gangster's driver willing to make a break from an abusive boss and escape with an innocent woman. Three-Sixty is in German, French, Portuguese and English but is a spell bounding portrayal of humanity traveling around the globe and taking all their urges, desires and ambitions with them, a surprising sexual thriller by one of international cinema's more enigmatic and brilliant directors. Recommended as a thought-provoking film and will surely make any viewer want to hop on a plane to an exotic city and escape, transfer or express one's own forbidden sexual desires…