Posts Tagged 'Manuel Garcia-Rulfo'
Murder

on the Orient Express
Director: Kenneth Branagh
Cast: Kenneth Branagh, Johnny Depp, Michelle Pfeiffer, Daisy Ridley, Manuel Garcia-Rulfo, Penelope Cruz, Josh Gad, Derek Jacobi, Lucy Boynton, Olivia Colman, Judi Dench, Willem Dafoe, Leslie Odom Jr. Tom Bateman
Oscar nominee Kenneth Branagh (My Week with Marilyn) both stars as the infamous Belgian detective Hercule Poirot  and directs another remake of the classic Agatha Christie novel Murder on the Orient Express featuring a stunning cast including Oscar nominees Michelle Pfeiffer (Dangerous Liaisons, The Fabulous Baker Boys), Johnny Depp (Sweeney Todd, the Demon Barber of Fleet Street) and Oscar winners Penelope Cruz (Vicky Cristina Barcelona) and Judi Dench (Shakespeare in Love).
Sporting a profoundly massive mustache, Branagh takes Hercule Poirot to new extremes in this 21st century remake which is glossy and possesses sumptuous production design but like all extremely long train journeys is boring in the middle, despite the spectacular scenery.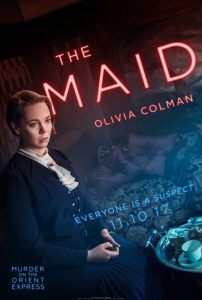 Murder on the Orient Express is set in 1934 and starts off promisingly with a fantastic opening, attention grabbing scene at the Wailing Wall in Jerusalem and then moves on to the Orient Express, a luxury train service which travels from the chaotic train station in Istanbul right across Europe to Paris.
As the gangster Edward Ratchett is found murdered in his compartment, stabbed multiple times everybody becomes a suspect on the Orient Express and soon Poirot has to interview all the cast as the train is stuck in an icy tunnel somewhere over Yugoslavia. A tangle of strangers confined to a luxury train which has gone off the rails.
Everybody is not what they seems, which is natural considering this is an Agatha Christie novel and while the cast does an admirable job, it is really Michelle Pfeiffer who wows audiences with her demure yet slightly vicious portrayal of globetrotting husband seeker Caroline Hubbard who stands out among a fairly impressive ensemble cast. Pfeiffer really acts.
Dame Judi Dench's turn as Princess Dragomiroff is hardly noticeable, while the best scenes in the film are between Pfeiffer and Branagh.
It is refreshing to see Michelle Pfeiffer making such a glorious big screen come back as she truly is a brilliant actress, not to mention singer – for she also sang the film's original song at the end.
Without revealing who the killer is, needless to say Kenneth Branagh will be returning with another big screen adaptation of an Agatha Christie novel, Death on the Nile. Should be fascinating if only he would curb that mustache.
Audiences that enjoyed the original seventies film adaptations of the Agatha Christie novels, will enjoy this ambitious if slightly flawed remake. Think Evil Under the Sun.
Recommended viewing but whether the film will dazzle at the box-office in an increasingly cluttered 21st century CGI film line-up remains to be seen. Murder on the Orient Express gets a film rating of 7 out of 10.
The Magnificent
Seven
Director:  Antoine Fuqua
Cast: Denzel Washington, Chris Pratt, Ethan Hawke, Vincent D'Onofrio, Haley Bennett, Peter Sarsgaard, Manuel Garcia-Rulfo, Luke Grimes, Matt Bomer, Martin Sensmeier, Cam Gigandet
Antoine Fuqua gathers his favourite actors into his latest impressive film.
In Fuqua's bespoke remake of John Sturgeon's 1960 classic film The Magnificent Seven, as an African American film director he reclaims the Western genre in a bold step towards reimagining American Western mythology which will surely shape how cinema goers view the Western film genre.
Gone are the days of Western films primarily being made up of morally dubious cowboys mostly played by dashing European actors fighting savage Red Indians or each other in high noon stand offs.
Director Fuqua's superb The Magnificent Seven is as diverse as Westerns come, showing that while perceptions of the American West have largely been Eurocentric, the real history of the American West was far more complex.
The setting is Rose Creek, California in 1879. A small dusty town a three day ride away from the Californian state capital Sacramento, at the height of the Gold Rush.
Rose Creek is being tormented by a malicious industrialist Bartholomew Bogue wonderfully played against type by character actor Peter Sarsgaard (Blue Jasmine), who not only burns down the moral centre of the town, the church, but casually kills some its town folk, much to the horror of the remaining witnesses.
Rose Creek's town representative, a feisty widow Emma Cullen, played by rising star Haley Bennett enlists the help of sharp shooter Chisolm, expertly played by Oscar winner Denzel Washington (Training Day, Glory).
Chisolm gathers a motley crew of cowboys and one red Indian, consisting of the heavy drinking Irishman Josh Faraday, comically played by Chris Pratt, sharp shooter Goodnight Robicheaux played by Ethan Hawke (Training Day, Before Sunrise), lonesome tracker Jack Horne played by Vincent D'Onofrio, Billy Rocks played by Korean star Byung-hun Lee, Vasquez, played by rising Mexican star Manual Garcia-Rulfo last seen in Cake opposite Jennifer Aniston and finally Native American actor Martin Sensmeier who plays Comanche Indian Red Harvest.
With the gang in tow and the town folk galvanized for action, audiences should expect the final gun battle of Rose creek to be thrilling. Fortunately this is where The Magnificent Seven delivers as the final act of the film is truly brilliant, with superb sound editing and haunting production design, Fuqua pays homage to the original version and to the genre as a whole while deftly reimagining Westerns as a more diverse and multi-cultural affair.
Not since the Coen brothers reworking of the Oscar nominated True Grit, have I enjoyed a Western as much. The Magnificent Seven does justice to its genre assisted by superb performances by Washington and Sarsgaard as opponents with a vicious score to settle.
Audiences that enjoyed James Mangold's 3:10 to Yuma and the Coen brothers True Grit, will love Antoine Fuqua's The Magnificent Seven as he reclaims the Western genre and hopefully opens the doors for this much loved film genre to be bravely re-explored in the 21st century. This is a genre which desperately needs a Hollywood resurgence.
Now if only a director could tackle a film version of Cormac McCarthy's brutal tale of the Mexican frontier wars in his gripping Western novel, Blood Meridian, then that would be a film worth seeing.